By Amy McPherson, on September 3, 2015
Best of the Business Class In-Flight Experience
Flying often takes up a big part of travel, so why not begin and end your journey in the luxury of business class? Roomier seats, luxury toiletries, and menus good enough to make you forget the once-bad connotations of "airplane food". We take a look at the best you can get today when flying Business Class on your travels around the world. Here are the airlines offering the top Business Class in-flight experiences.
Best in Business Class Seats
Seating design can greatly affect the traveller's in-flight experience. Consumers no longer want just the ability to lie flat; they also expect enough space for stretching, dining and lounging around, and airlines have battled each other to provide the comfort and space business-class travellers demand.
Singapore Airlines – Business Class Seats
One of the most awarded and consistent in quality in the airline industry, Singapore Airlines offers travellers the best overall business-class experience, especially when it comes to seating design and configuration.
The airline's famous business-class seats are renowned for their spaciousness and comfort. Its 1-2-1 all-forward-facing seating configuration means every business-class passenger has aisle exit. The new business-class seats introduced to the Boeing 777-300ER aircrafts feature an ergonomic surface that accommodates almost every sitting and sleeping position, adding another layer of sophistication to business-class travel.
Credit: Singapore Airlines
Qatar Airways – Business Class Seats
As for 'seating' awards, Qatar Airways officially claims the crown. Awarded the Skytrax Best Business Class Airline Seat of 2015, Qatar's seats in the skies are spacious, comfortable and – most of all – creative. The design not only provides space for lounging, but also allows for an ottoman and a large work surface complete with laptop power and a USB plug, providing business travellers with must-have necessities.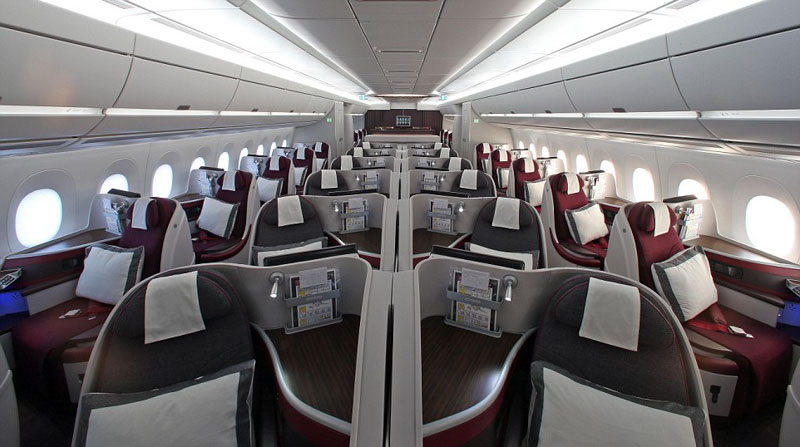 Credit: Qatar Airways
Best in Business Class Dining
One of the perks of travelling business class is the opportunity to sample fine dining while trotting the globe. Not only is airplane food getting better, but more airlines are teaming up with reknowned chefs to take in-air dining to the next level.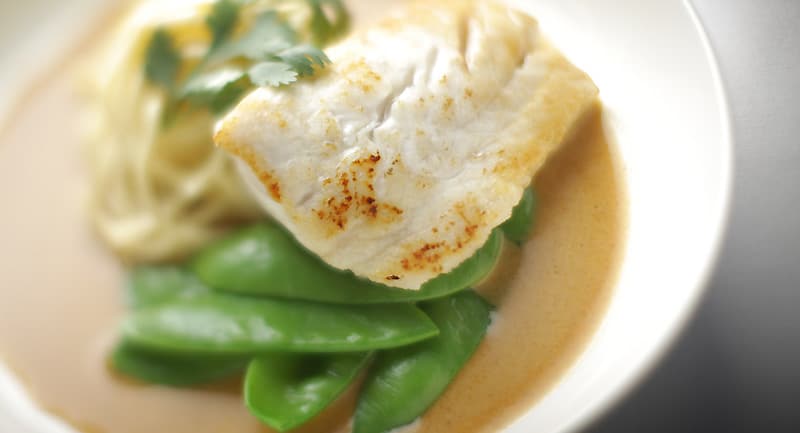 Qantas Airways – Business Class Food
In this spotlight is Australia's Qantas Airways, which has a catering partnership with well-known Australian chef Neil Perry. Perry's Rockpool restaurant was recently named the 'Best Restaurant in Sydney' by popular food magazine Gourmet Traveller. Business-class passengers can order in advance and enjoy a Rockpool-designed menu; you can even pair each course with award-winning Australian wines with the airline's 'Sommeliers in the Sky'.
Credit: Qantas
Turkish Airlines – Business Class Food
Turkish Airlines' business-class dining experience has also set a high benchmark for competitors. The airline's 'Flying Chefs' offer an award-winning menu and extensive beverage list. Although no celebrity chef is onboard, the airline has carefully selected each Flying Chef to ensure good quality and presentation for each course, from hors d'oeuvres to dessert. The friendly crew serves each course, providing passengers a dining experience in true Turkish tradition.
Credit: Turkish Airlines
Best in Business Class Amenities
Qatar Airways teams up with Giorgio Armani; 
Emirates partners with Bulgari;
Air France La Première service keeps it French with Givenchy
and Turkish Airlines' luxury partnership extends to Bentley, Jaguar, Cerruti and Institut Karité.
It's hard to find a famous brand that hasn't been featured in an airline's first class and business class amenities kit.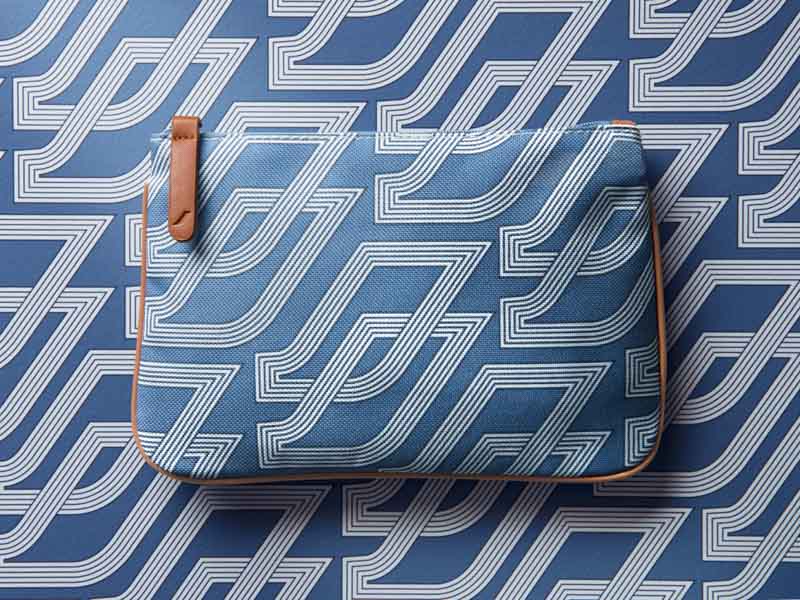 Credit: Air France
Even when the products themselves are lesser-known, the airlines can be quite impressive with their packaging, such as Japan's All Nippon Airways (ANA), which wraps its in-flight creams and gels in miniature Samsonite luggage for First Class flights; and Etihad, whose pouches are designed and weaved in traditional tribal patterns.
Qantas Airways Business Class + Kate Spade
Still other airlines look for the best partners in natural and organic luxury products, such as Qantas, whose offerings wowed the judges of the Skytrax Awards. Qantas took the prize for the 'Best Business Class Comfort Amenities' in 2015 for its offerings of luxurious products from Aurora Spa, a finalist in this year's World Luxury Spa Awards.
Aurora Spa products feature natural, botanically active ingredients that are perfect for calming your dehydrated body in-flight. And its package? A stylish Kate Spade (for women) or Jack Spade (for men) pouch.
Credit: Qantas
Best in Business Class Service
Providing great customer service is of the utmost importance to business-class travellers – it's bound to leave a lasting impression on even the most seasoned travellers.
Long-time Favourites: Singapore Airlines and Cathay Pacific
Both Singapore Airlines and Cathay Pacific are consistent in providing excellent customer service. Crew members for both airlines have a reputation for being well-groomed, friendly, soft-spoken and approachable. They take dining orders promptly but not hurriedly, and they make passengers feel at home.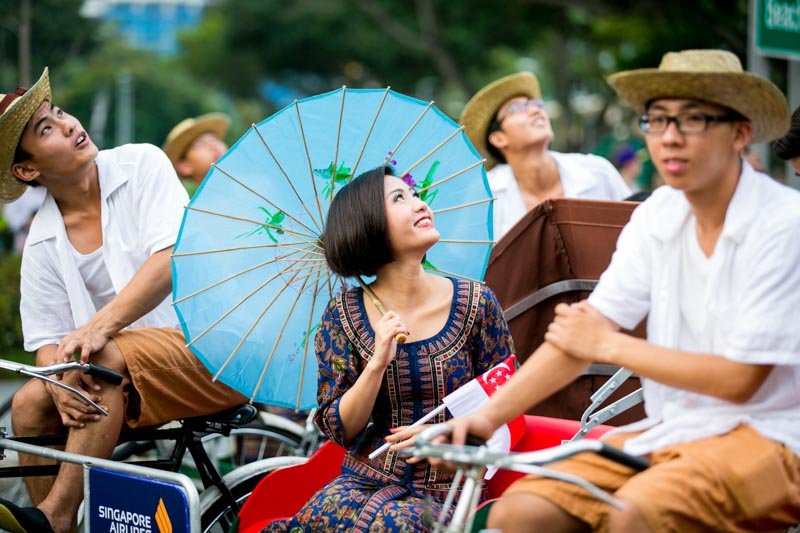 Credit: Singapore Airlines
Up-and-Coming: 3 Airlines from Middle East
Also deserving of honourable mention are the up-and-coming Middle Eastern airlines, which have in the past five years captured the attention of business-class flyers for their customer-service excellence. Although Emirates is already a world-class player in the airline industry, airlines such as Etihad and Qatar Airways both employ industry-leading crew members to provide additional options for business-class travellers seeking exceptional customer service.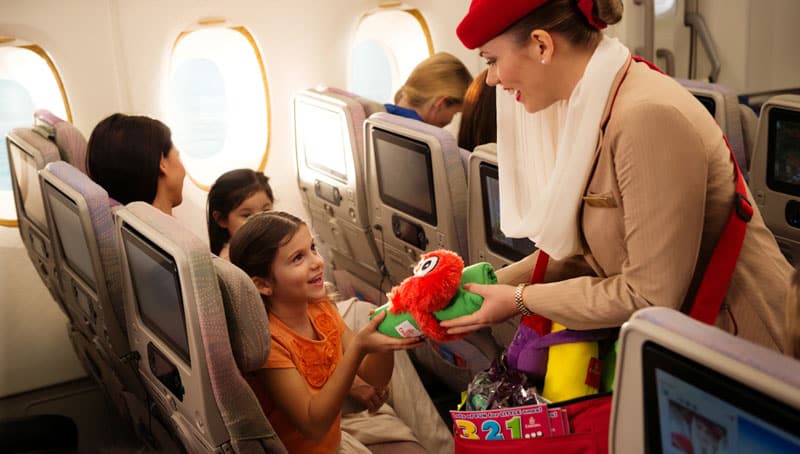 Credit: Emirates
Best in Business Class Lounge
An airport lounge can make or break your business-class experience. The journey begins here, providing a sanctuary from the stress of airport hustle and bustle during transit. As standard, business-class lounges offer meals, toilets, showers, quality reading materials, TV, Wi-Fi and comfortable spaces to stretch out and relax.
In pursuit of excellence, though, some airline lounges offer a lot more – and have become style icons at the same time.
Virgin Atlantic – Business Class Lounge
Virgin Atlantic's lounge at London's Heathrow Airport is an example that exceeds expectations. Named the 'Clubhouse', it aims to create a private, members-only club experience for its business travellers. The quality of the on-site restaurant and bar is often enough to knock travellers' socks off, but there's even a hairdresser and a day spa that offers 15-minute complimentary treatments to premium flyers.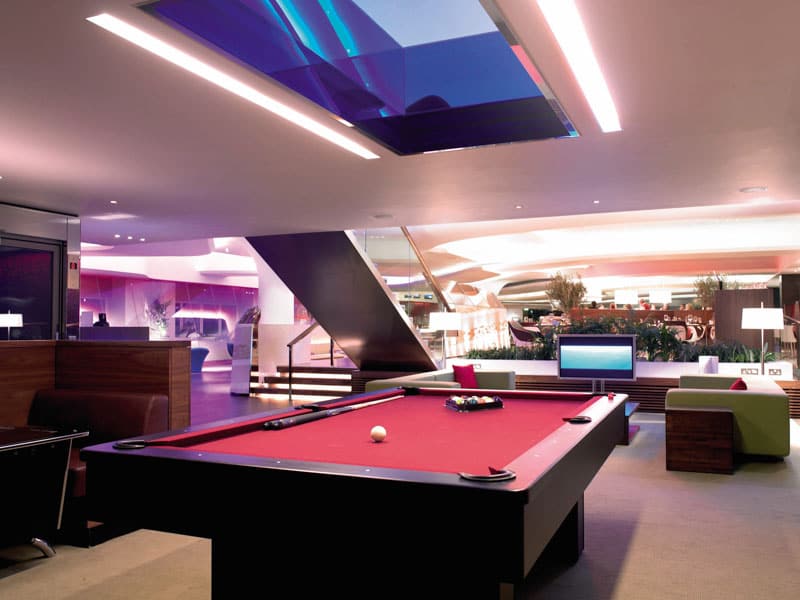 Credit: Virgin Atlantic
Turkish Airlines – Business Class Lounge
Also taking top marks for its business-class lounge is Turkish Airlines' flagship Istanbul lounge. The lounge reduces queues with automatic entry (you scan your boarding pass) and welcomes visitors with traditional Turkish furnishings. The lounge can accommodate 1000 guests, but the spacious design means it never feels crowded.
Among the usual offerings, the Istanbul lounge also has a billiard room, a cinema, teleconference facilities, a library, a car-rally simulator, a golf simulator and a playroom for children. No wonder Skytrax voted it the 'World's Best Business Class Airline Lounge' (and 'World's Best Business Class Lounge Dining') in 2015.
Credit: Turkish Airlines
Feature Image: Qatar Airways