By Cindy Tan, on October 30, 2019
Travel Diary: Best Things To Do in Prague, Czech Republic's Capital City
Prague is the fourth most visited city in Europe after major European capitals such as London, Paris, and Rome. With architectural wonders to offer, it's no wonder more than 8.5 million visitors travel to Prague annually.
Founded during the Romanesque era, the capital city of the Czech Republic is steep in history and culture. Based on architectural gems that survived the destruction in 20th-century Europe, the city started flourishing in the Gothic, Baroque.
Even though Prague was a provincial town in the Austro-Hungarian empire, the city was important to the Habsburg Monarchy. Prague was the capital of Czechoslovakia, which formed after the collapse of the Austro-Hungarian empire. The city also played major roles in both World Wars.
I had heard so much about how beautiful Prague was and of course, I had to put it on my list of cities to visit on my Eurotrip.
Getting around Prague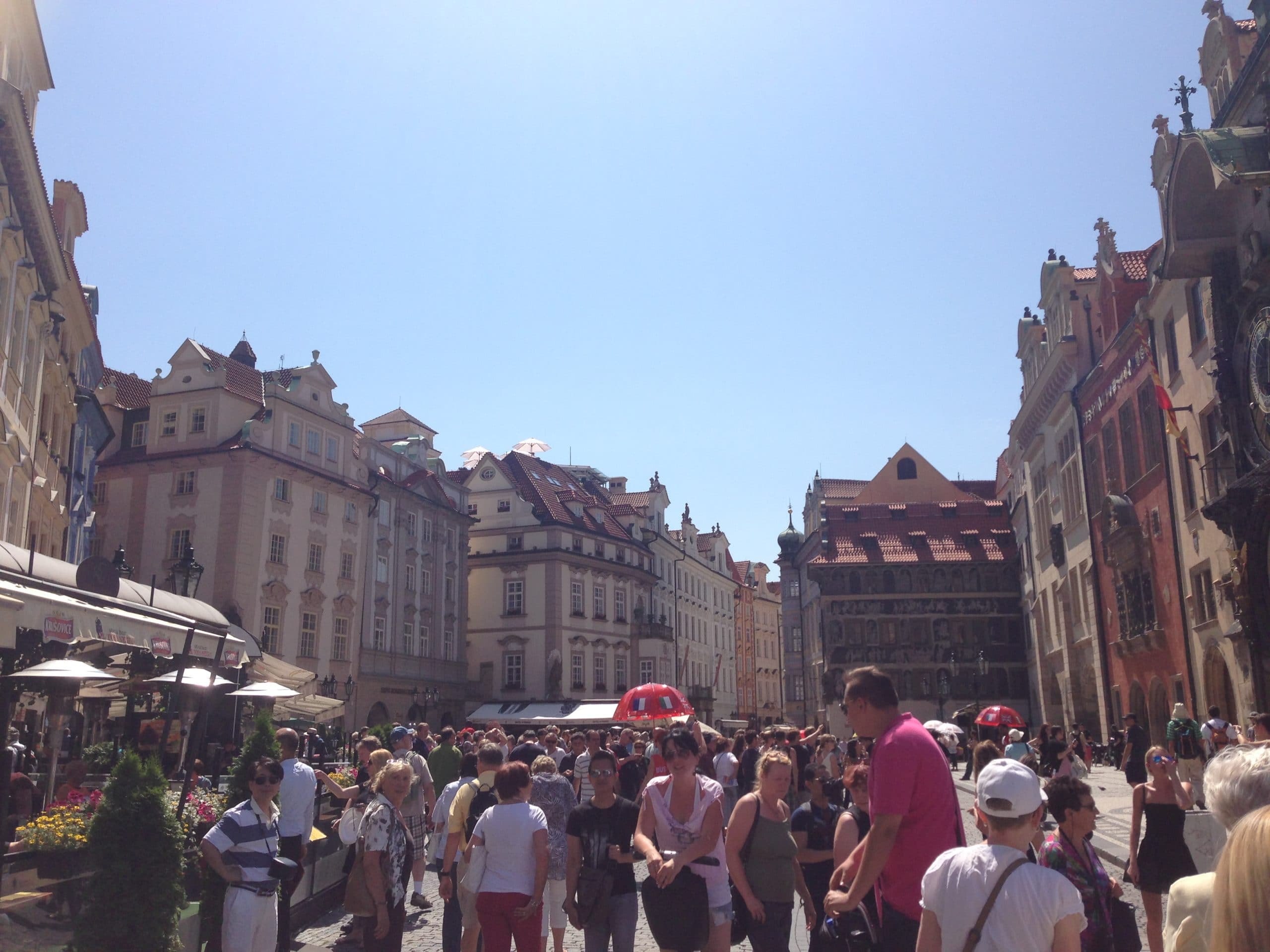 It's best to visit Prague from another city in Central Europe such as Berlin or Vienna. I took a 4-hour coach ride from Berlin. From the bus terminal, I searched on trusty Google Maps for the route that brought me to my accommodation.
Prague has an extensive modern public transportation system that includes the metro, tram, bus, and train. If you're arriving at Prague Airport, purchase a 90-minute ticket, take bus 119, alight at the final stop (Nádraží Veleslavín) and follow the crowd to the Metro that takes you to the city centre.
Sightseeing in Prague

The iconic Astronomical Clock sits close to Old Town Square. Having heard so much about this clock, I decided to see what the big fuss was about. Tourists gather to watch it chime the hour, revealing the 12 apostles passing by and a skeleton ringing the bell.
Old Town is very crowded and touristy, with good reason. Houses and buildings are painted in lovely pastel shades. It's one of the most beautiful places I've ever seen. The Church of Our Lady before Týn sitting in the back in all its Gothic glory adds to the fairytale-like enchantment of the Old Town Square. The church is free to enter. Simply follow the passage behind the row of houses to find the church entrance.
Address: Staroměstské nám., 110 00 Staré Město, Czechia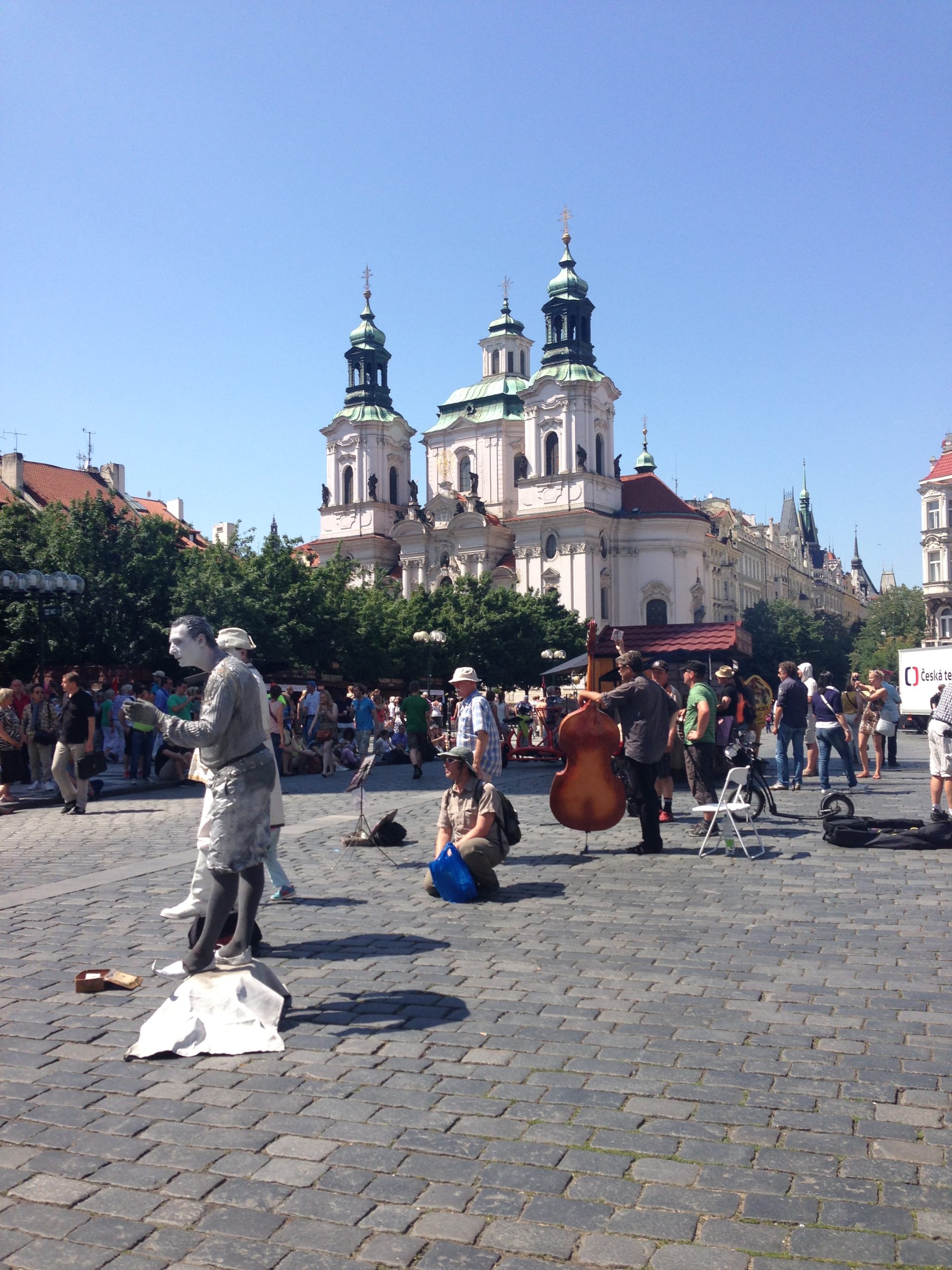 St. Nicholas Church sits on the other side of the square. The Baroque-style church was built in the 18th century, and is also free to enter every day from 10:00 am to 4:00 pm except for Sundays when it comes at noon. You can take photos inside, which is a bonus.
Address: Staroměstské nám. 1101, 110 00 Staré Město, Czechia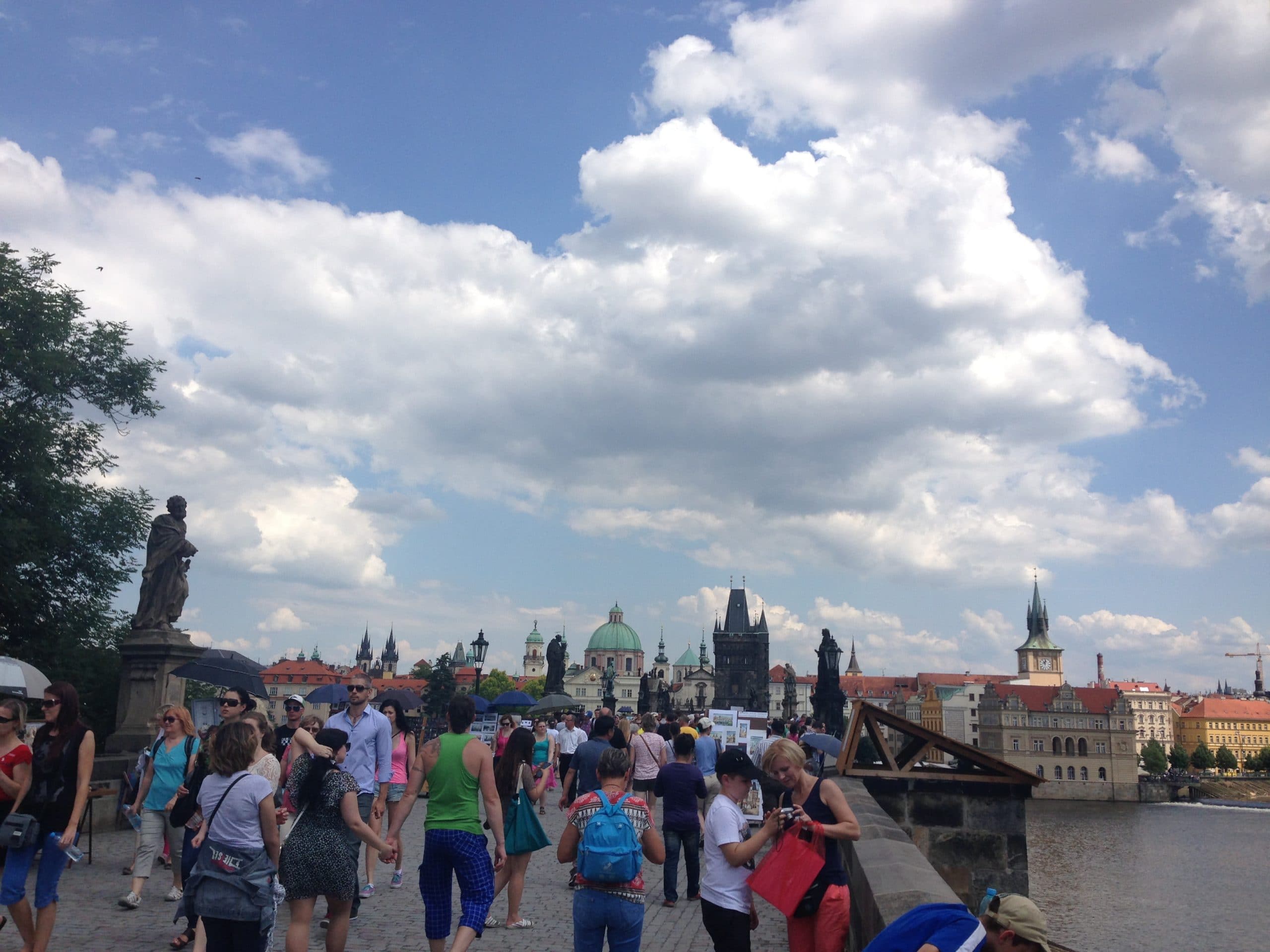 From Old Town, cross the Charles Bridge along the Vltava River into Lesser Town. When crossing, you'll notice the bridge is decorated with Baroque style statues and religious symbols. While beautiful, it gets extremely crowded in the day and I didn't enjoy it much.
Address: Karlův most, 110 00 Praha 1, Czechia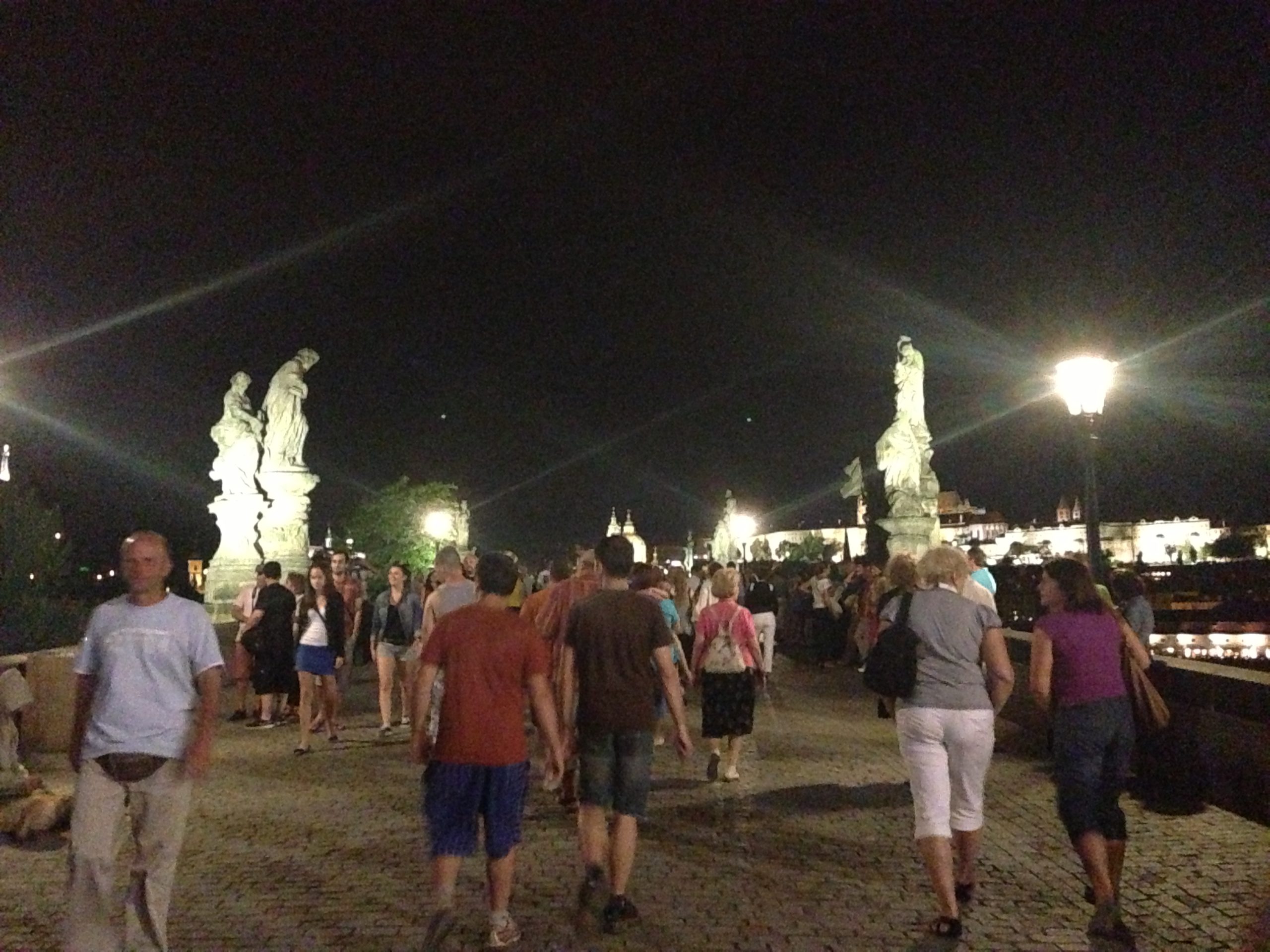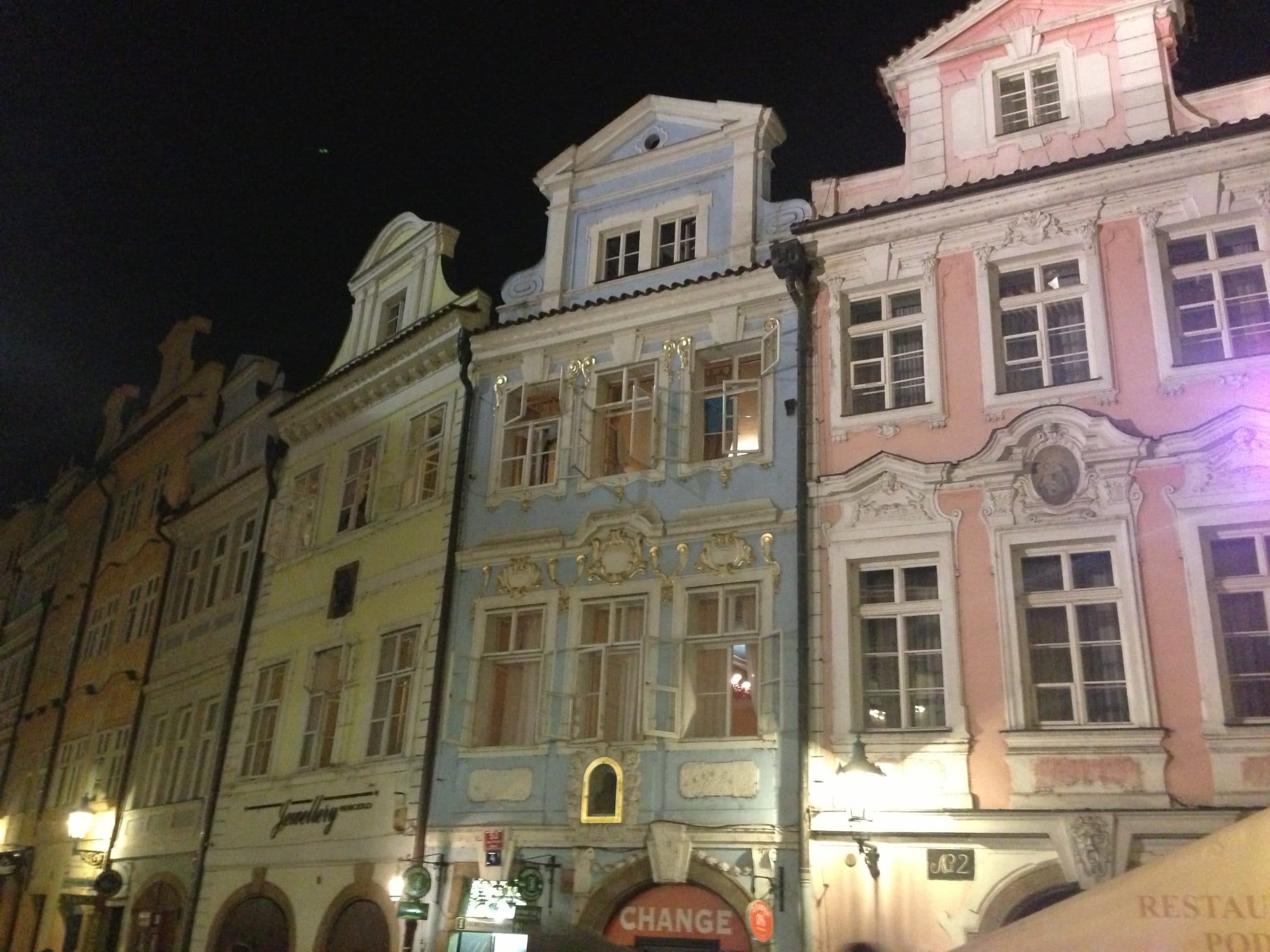 For a different experience, I decided to cross it again at night, and even then, it's not without crowds. There is a different, more peaceful atmosphere at night without vendors and caricature illustrators hawking their goods, though.
After crossing the bridge into Lesser Town, I was greeted by quaint buildings in pastel hues of yellow, blue, and pink. The Franz Kafka Museum and John Lennon Wall are the main attractions in Lesser Town.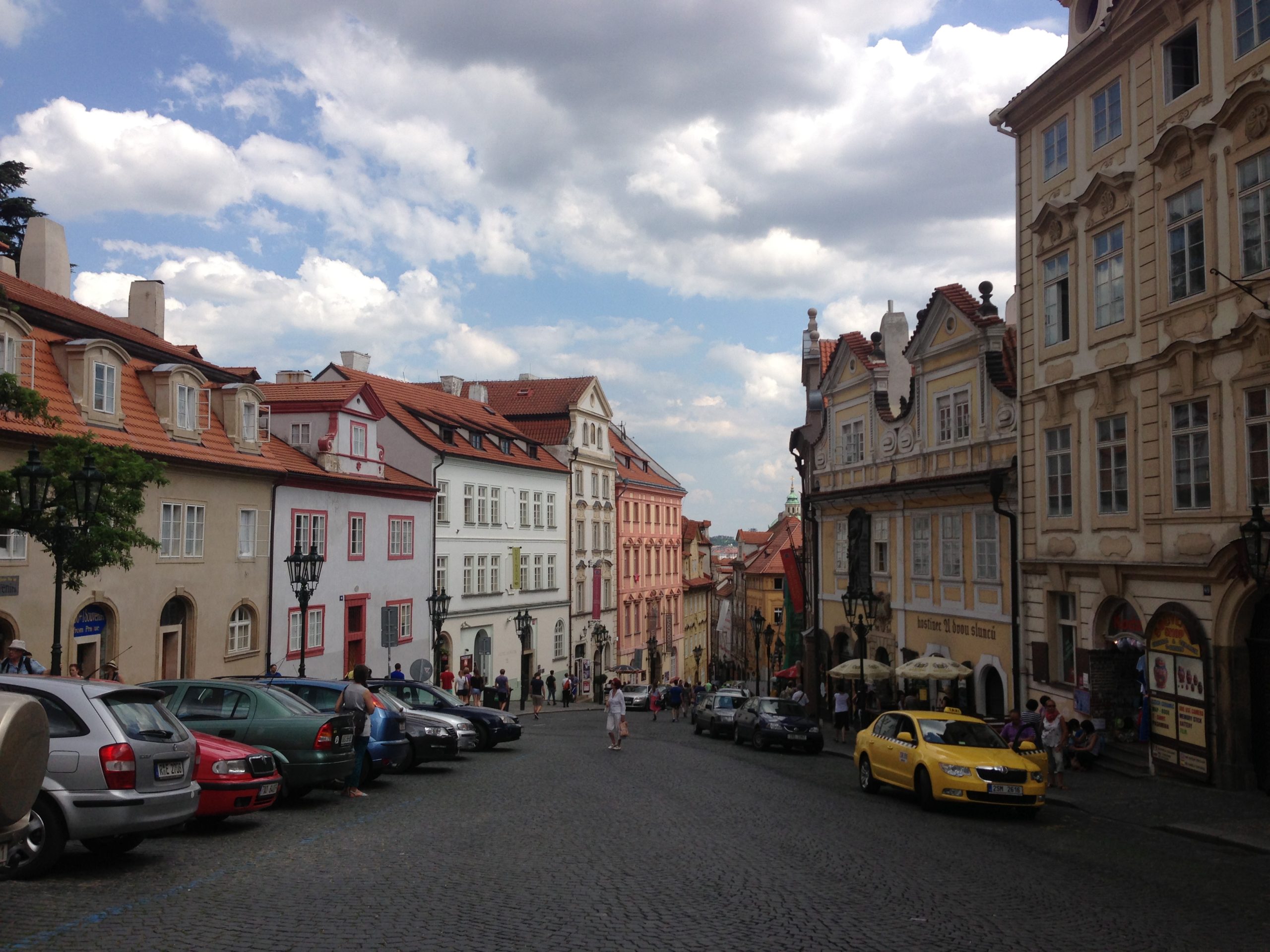 After passing through Lesser Town, I climbed up Nerudova Street to Prague Castle.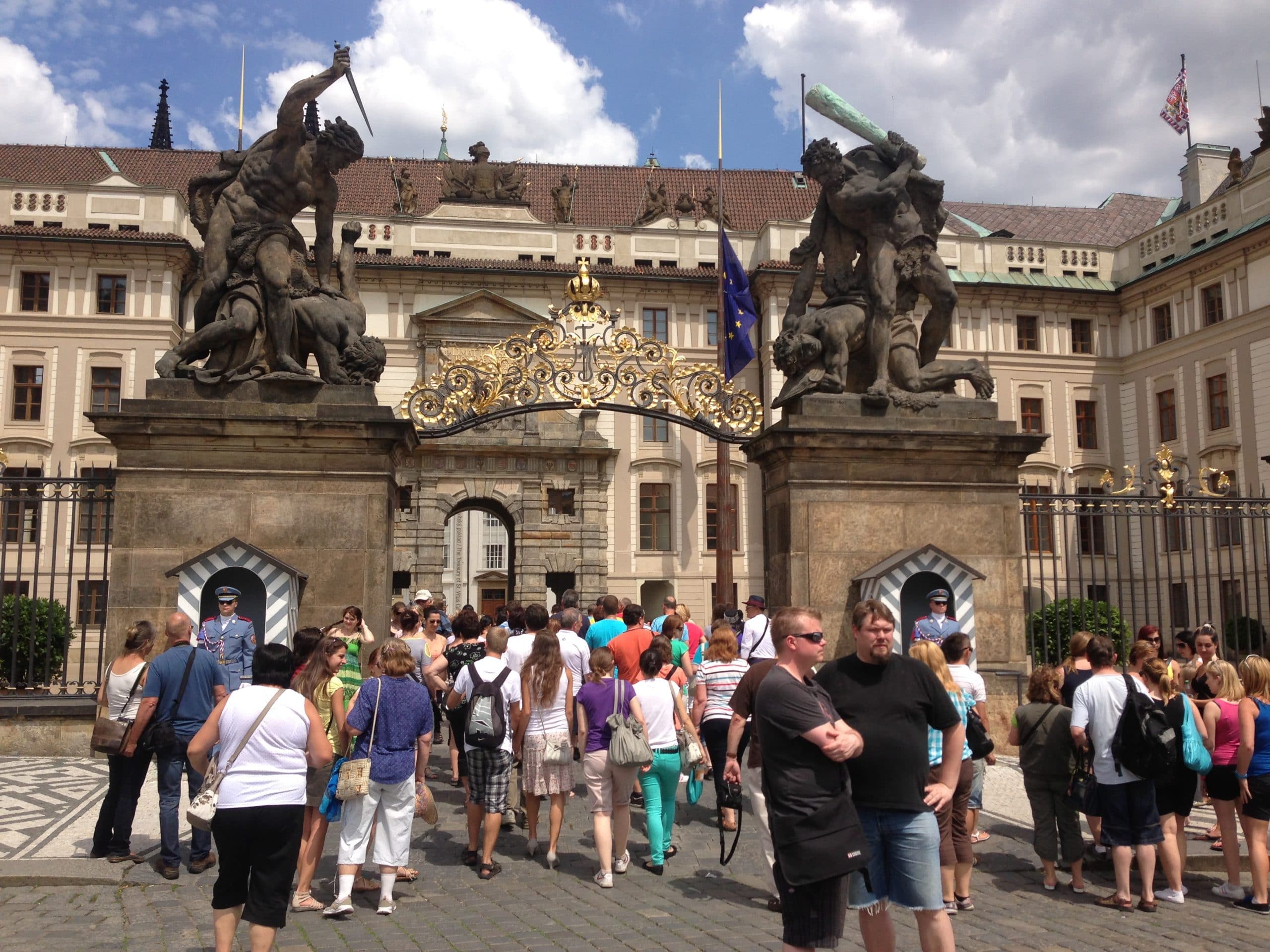 Occupying almost 70,000 square metres, Prague Castle is the largest ancient castle in the world built in the 9th century. It currently serves as the office of the President of the Czech Republic.
Address: Hradčany, 119 08 Prague 1, Czechia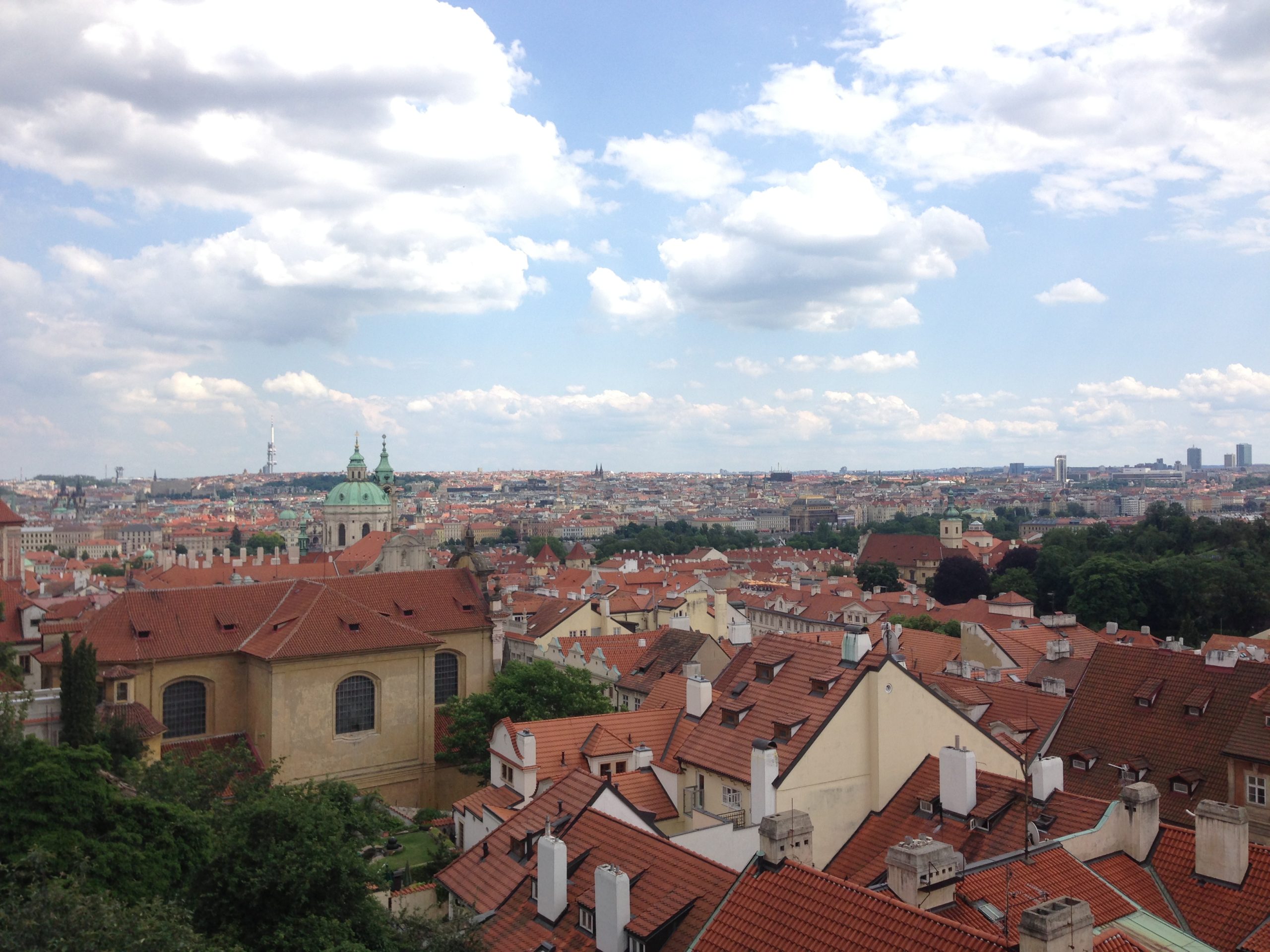 What was most rewarding about climbing uphill to the castle was this panoramic view of the city. To get back into Lesser Town and Old Town via Charles Bridge, simply descend downhill following the same route you got to the castle on.
Stray further from the centre and you'll start seeing less of those colourful houses. Outside of Old Town and Lesser Town, the architecture of Prague becomes grey and drab. Most buildings are in shades of brown, a stark contrast from the colourful Old Town.
However, this unique Deconstructivist building in the New Town stands out from all the Baroque, Gothic, and Art Nouveau architecture around the city. A design collaboration between Croatian-Czech architect Vlado Milunić and famed Canadian-American architect Frank Gehry, the Dancing House mainly serves as office spaces.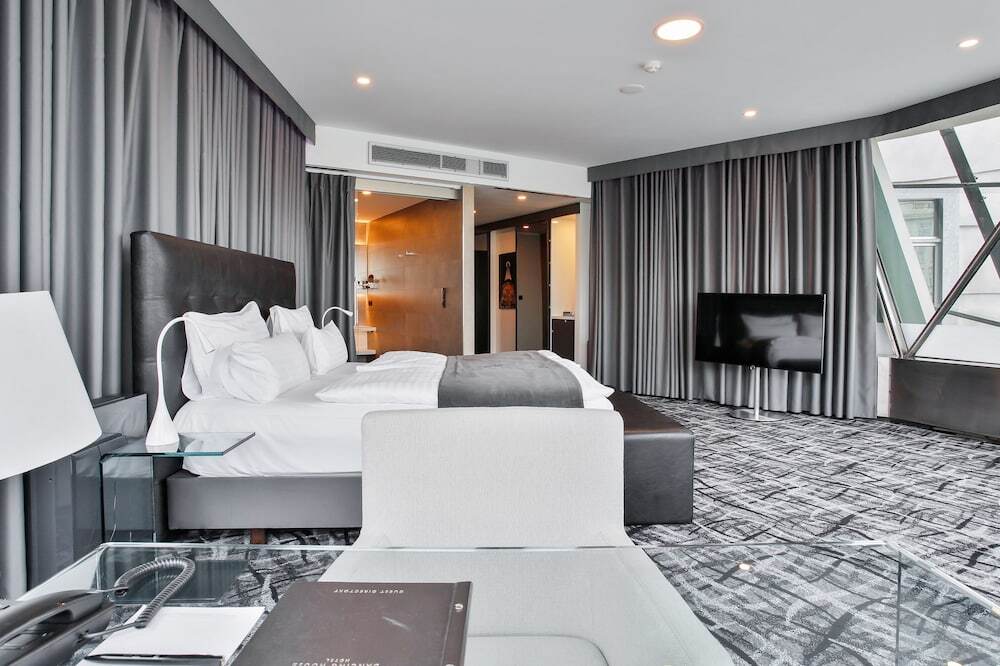 Dancing House Hotel is a stylish 21-room hotel located on two floors of the building, overlooking the Prague Castle and Vltava River. Free buffet breakfast and WiFi are provided. The Fred & Ginger restaurant in on the seventh floor while a glass bar is on the eighth floor.
With a well-connected public transportation system, I recommend booking a hotel outside of the Old Town to avoid the crowd and noise. Prague is a walkable city and you can get to most of the main attractions on foot.
Address: Jiráskovo nám. 1981/6, 120 00 Nové Město, Czechia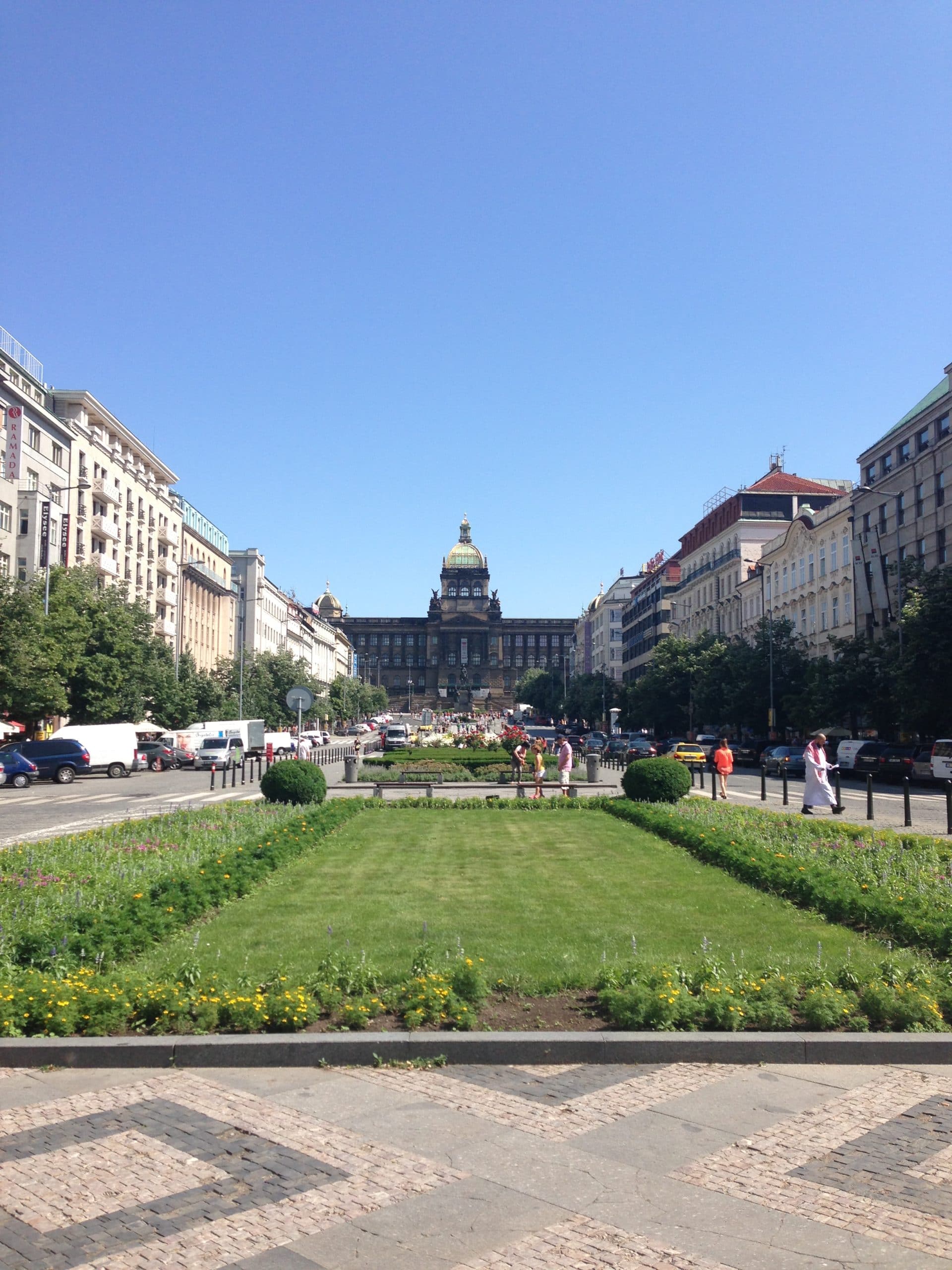 Wenceslas Square is one of the main city squares in the New Town, named after Saint Wenceslas. The neoclassical Czech National Museum sits on the end of the street, while the Prague State Opera is located to the left. The square is surrounded by hotels, restaurants, retail stores and fast food kiosks. Tourists and residents often meet by the statue of St. Wenceslas on his horse.
Address: Václavské náměstí, 110 00 Praha 1
Must-eats in Prague

This is what Czech street food looks like. This fried cheese sandwich (CZK50 or SG $3) from one of the fast-food kiosks along Wenceslas Square was utterly delicious and satisfying. The late Anthony Bourdain ate it in the Prague episode of No Reservations and I knew I had to follow in his footsteps. Topped with mayo, the stringy gooey cheese oozed out of the crispy fried batter as I bit into the sandwich. It hit all the right spots. This is simplicity at its best.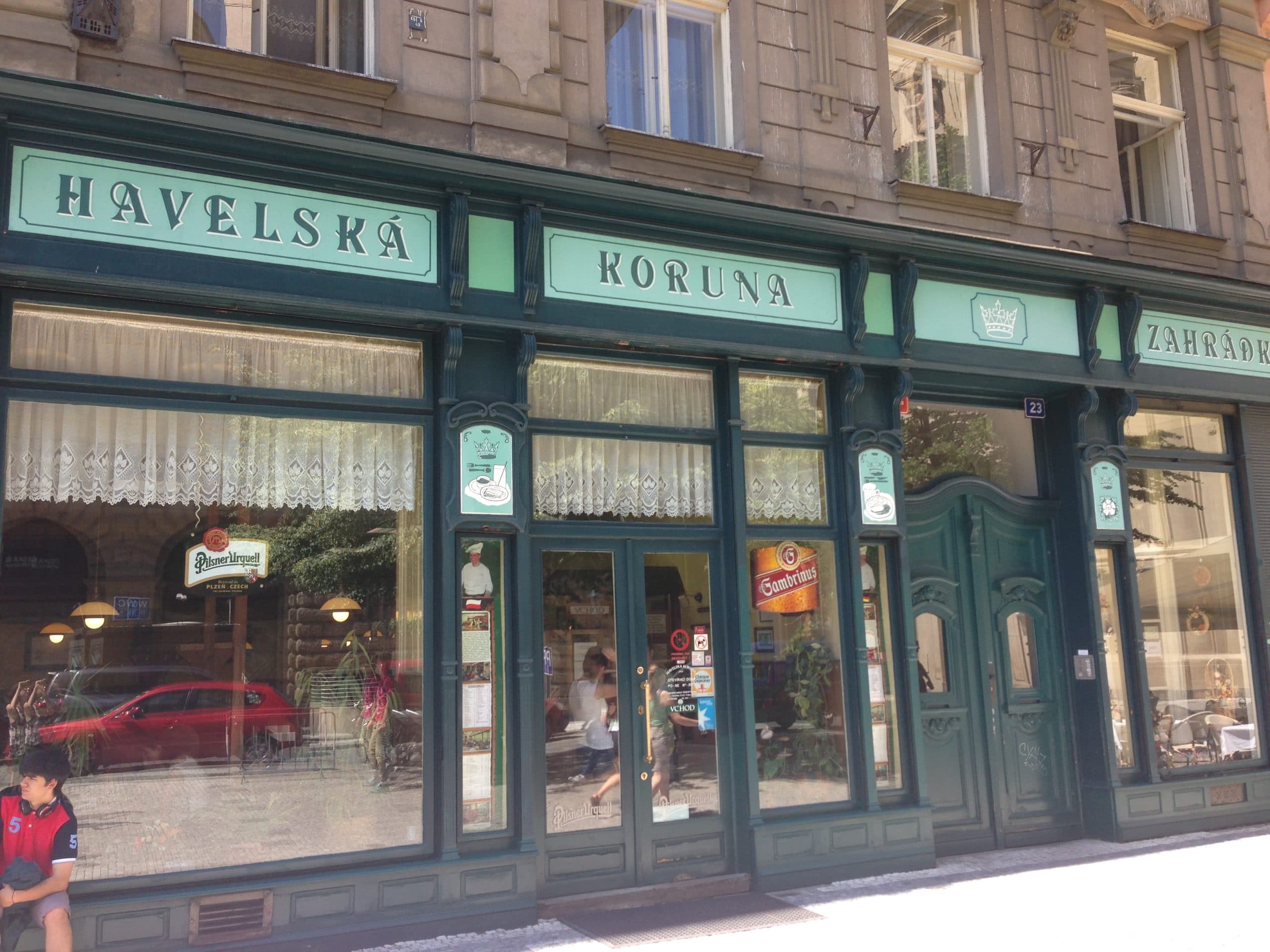 To get a taste of traditional Czech cuisine, dine at Havelska Koruna, a self-service cafeteria in the Old Town that dishes out up to 40 different meals a day. It's cheap, tasty, and fuss-free. Don't expect polite servers or restaurant-style treatment though.
Address: Havelská 501/21 a 23, 110 00 Praha 1 -Staré Město-Staré Město, Czechia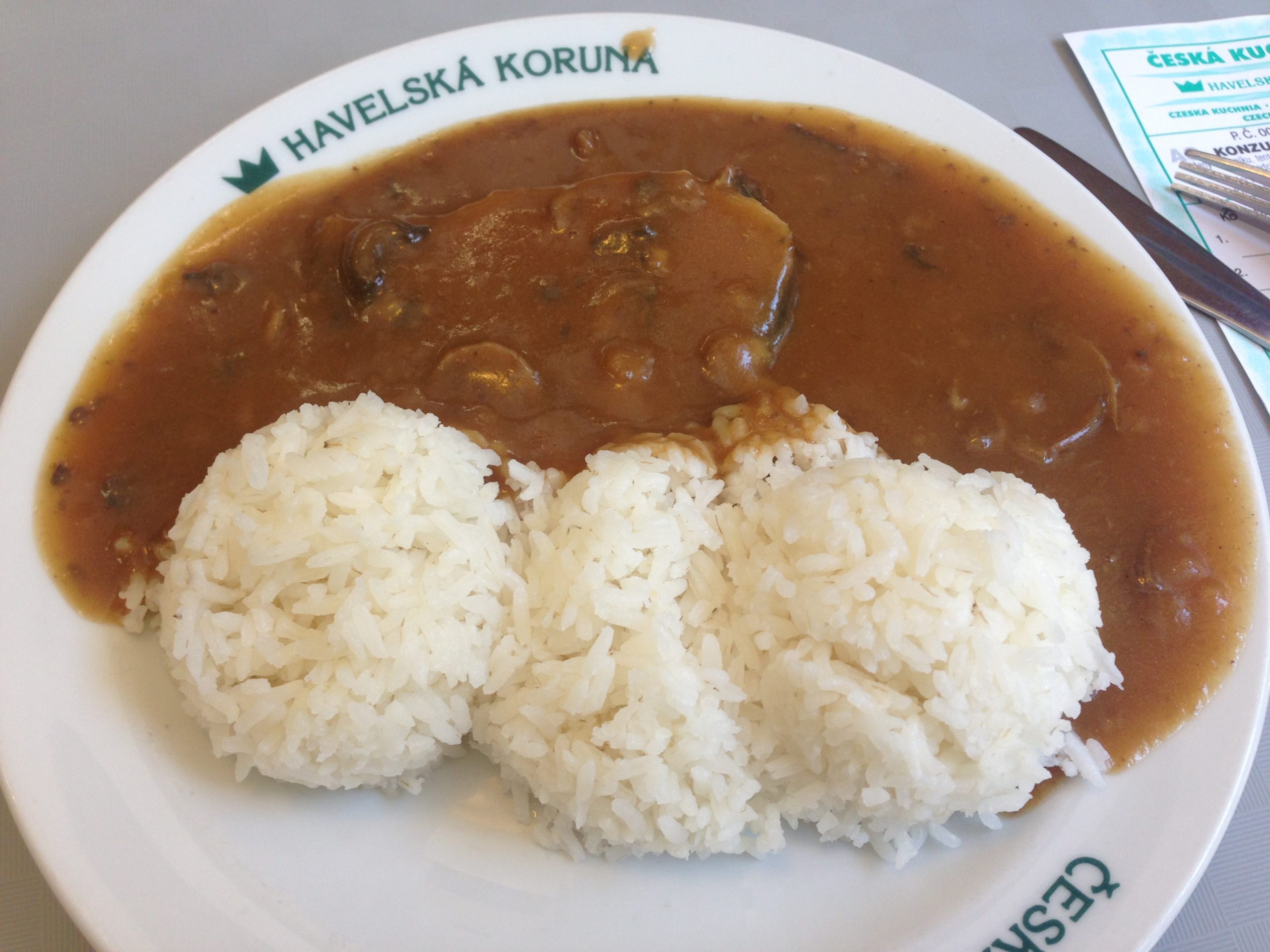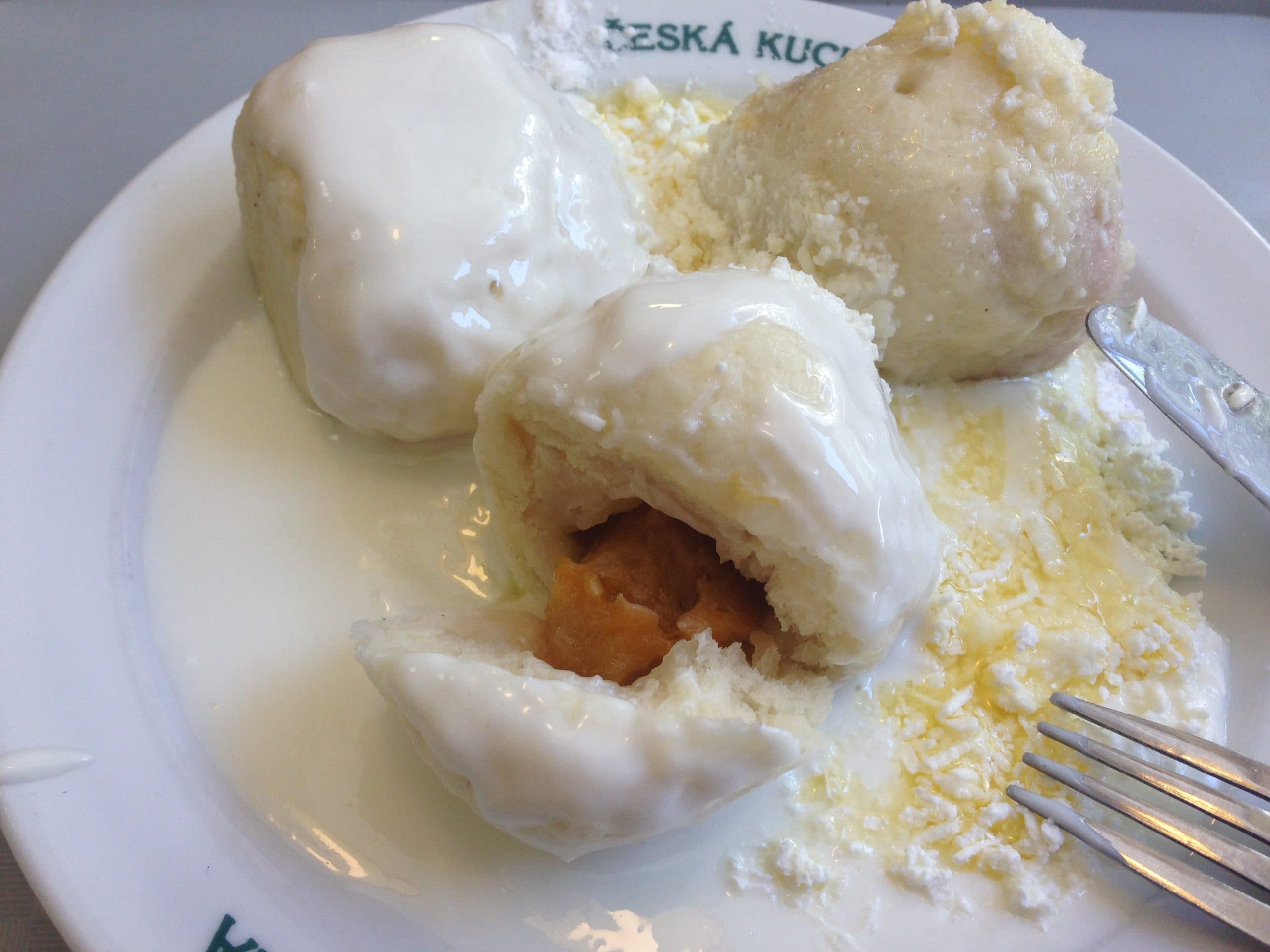 Czech cuisine is heavily meat-based and usually served with mushroom sauce. I had a pork shoulder in mushroom sauce with a side of white rice at around CZK109 (SG $6.50). For dessert, I had fruit dumplings with whipped cottage cheese priced at CZK95 (SG $5.70). The dumplings were bigger than I expected and a challenge to finish, so just order one instead of three.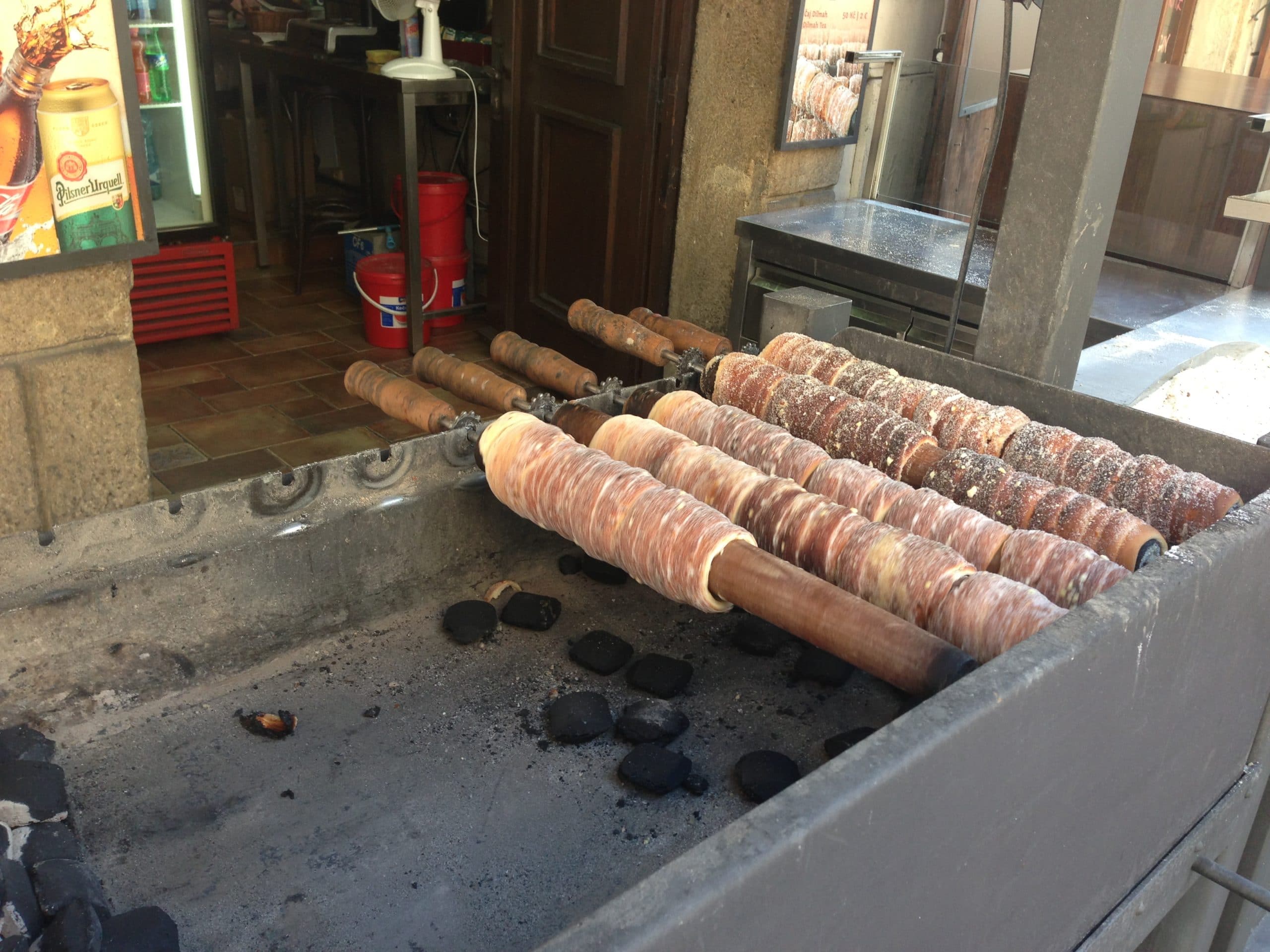 This is Trdelnik, a type of spit cake made from rolled dough wrapped around a stick, grilled, and topped with sugar and walnut mix. This pastry started to gain popularity in 2010 as a marketing gimmick targeted at tourists. It's actually more of a bread than a cake. With a light and fluffy texture, it makes for a good snack.
You'll also find newfangled Trdelnik filled with chocolate or ice cream. However, this pastry originated from the Hungarian speaking part of Romania and locals will tell you that it's not part of traditional Czech cuisine.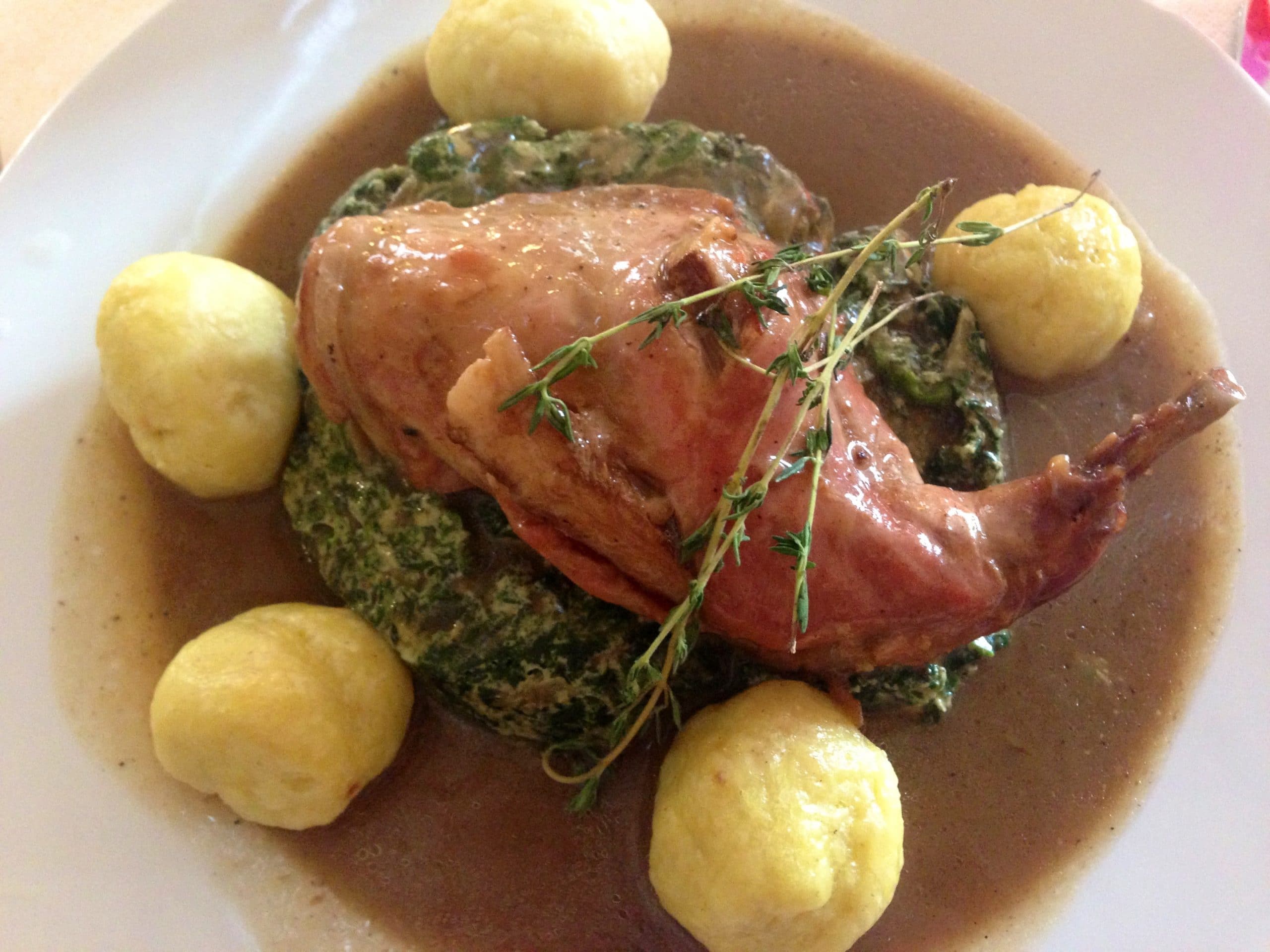 This was one of the best meals I had in Prague. U Bulinu serves up rustic Czech cuisine. I ordered a dish of rabbit leg on a bed of spinach, served with potato dumplings in mushroom sauce priced at CZK289 (SG $17.30). The rabbit leg was tender and tasted like a cross between chicken and duck in flavour and texture. The potato dumplings were plain but tasty when dipped in the gravy between bites.
For those who prefer eating meats they're familiar with, the restaurant also serves steak, pork shoulder, and burgers. The menu items could've changed since I was there, so head there and take your pick of the new offerings.
Address: Budečská 803/2, 120 00 Vinohrady, Czechia
So, is Prague worth a visit? Definitely! I recommend spending a few days here before making your way to another Central European city in the summer. If summer is not your thing, you'll be happy to know Prague is just as beautiful in winter too, especially around Christmas time for the Prague Christmas market.
[tabs]
[tab title="Where to Stay" icon="entypo-suitcase"]
[button style='blue' icon="entypo-suitcase" url='https://www.expedia.com.sg/Prague-Hotels.d180014.Travel-Guide-Hotels' fullwidth='true'] Find Hotels in Prague [/button]
[/tab]
[tab title="Let's Go!" icon="entypo-flight"]
[button icon="entypo-flight" url='https://www.expedia.com.sg/Cheap-Flights-To-Prague.d180014.Travel-Guide-Flights' fullwidth='true'] Flights to Prague [/button]
[/tab]
[/tabs]