By Expedia Singapore, on December 13, 2015
Amazing Festivals in Asia To Experience Throughout the Year
Festivals in Asia in JANUARY
St Jerome's Laneway (Music) Festival
Where: The Meadow, Gardens by the Bay – Singapore
When: January
Calling all hipsters, music fans and concert lovers – St Jerome's Laneway Festival is the event for you. Often referred to simply as 'Laneway', this music event will light up The Meadow at Gardens by the Bay.
The festival was born from a series of weekly shows in a Melbourne bar, and has since grown to a global festival of the best new, up-and-coming and established artists on the scene. Laneway has been running for 5 years in Singapore. The Laneway Festival in Singapore features fresh sounds of talented musicians in the magical setting of Gardens by the Bay.
2015 Lineup: The lineup for the 2015 show looks better than ever, featuring the likes of Banks, Chet Faker, FKA Twigs, Future Islands, Little Dragon, Jungle and local darlings Hanging Up the Moon.
Hipsters get pretty giddy excited about this festival.  If you've never been to the laid-back Laneway Festival, this is the year to do it.
Festivals in Asia in FEBRUARY
Harbin Ice Festival
Where: Harbin, China
When: 5 Jan – End February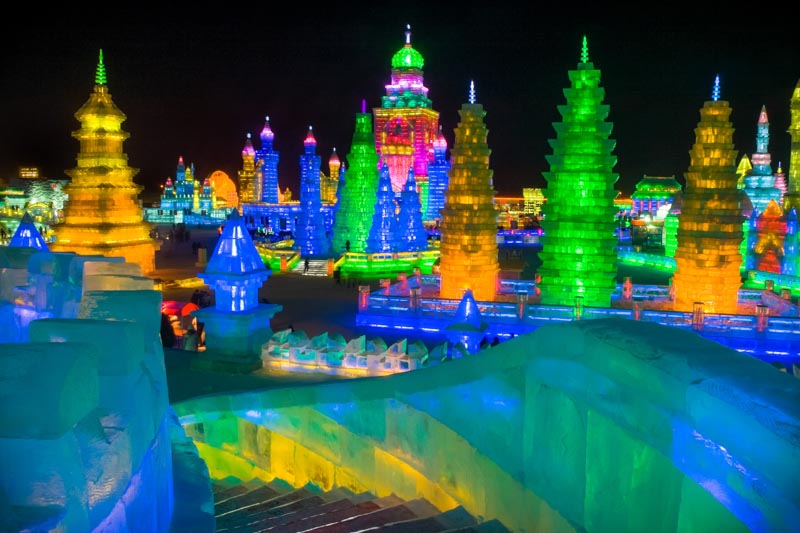 China's Harbin Ice Festival runs from 5 January to 25 February, giving you plenty of opportunity to get to Harbin city to enjoy the largest ice festival in the world. Skiiers and snowboarders will be spoiled for choice at this veritable winter wonderland, with the city's ski resorts offering apres-ski activities and delightfully chilly, snowy surroundings.
Activities at the festival include dog sledding, an international snow sculpture art expo and even winter swimming, while more traditional offerings such as ice skating and romantic sleigh rides are sure to delight travellers from near and far.
There are plenty of different attractions and venues during the festival, but don't go home without checking out Zhaolin Park. Here you'll find a traditional program that showcases the best ice lanterns, complemented by lights, water and natural ice carved into objects including flowers, lions, dragons and waterfalls.
Sapporo Snow Festival
Where: Sapporo, Japan
When: 5 – 11 Feb, 2015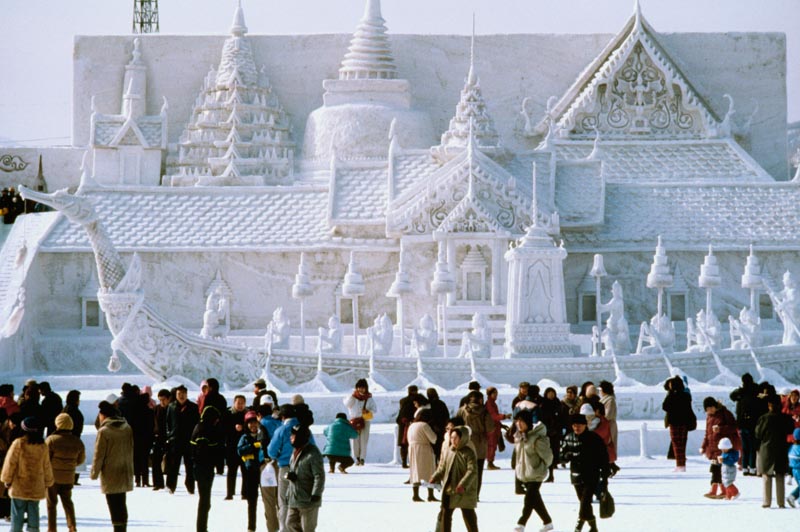 The Sapporo Snow Festival in Japan is another way to celebrate all things winter, taking place in February.
This is one of the largest winter events in the country. The Sapooro Snow Festival pulls in millions of visitors each year. Snow and ice sculptures cover the grounds of Odori Park, Community Dome Tsudome and Suskino's main street. Don't forget your camera, as the sculptures here are truly photo-worthy.
Take your kids along to have snowball fights in the snow or go snow sliding. With excellent snow conditions, other winter activities you can try in Sapooro include skiing, snowboarding and evenWinter Olympics events like curling and luge. For something a little more 'chilled out', pitch a tent and go smelt fishing — fishing through a hole in the frozen surface of a lake.
Save at least half a day for a day trip out to enjoy the Japanese hot springs around Sapporo. Warm up in the open-air hot springs or private baths.
Chinese New Year, Chinese cultural festival
Where: Many cities in Asia including major celebrations in Beijing, Singapore and Taiwan.
When: Varies according to Lunar Calendar.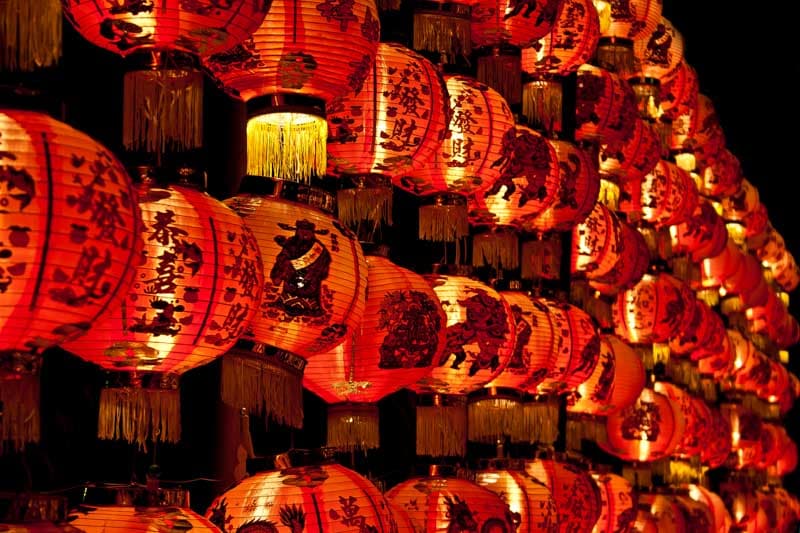 You can bring in the auspicious new year in spectacular style if you're heading to China's capital Beijing, however there are fabulous festivals in Chinatowns the world over including Singapore, Hong Kong, Taiwan and Bangkok; this truly international event is celebrated by billions.
While activities vary from city to city, some aspects are universal – high-energy street parades, dragons and dancing – all washed down with wonderful street food.
Celebrated as Tet in Vietnam – Hue, Hanoi and Ho Chi Minh; Lantern festival in Taiwan. Other great celebrations include Chinese New Year Parades in Bangkok; fireworks in Kuala Lumpur; Southeast Asia's largest Chinese New Year celebrations in Penang.
Tet, as it's known, celebrates the Vietnamese New Year and is the biggest holiday in Vietnam. It's a traditional family holiday where respects are paid to ancestors and people farewell an old year and welcome a new one – cleaning the house, buying new clothes and exchanging gifts. Homes are decorated with lights, lanterns and flowers.
Maha Shivaratri, Hindu Festival
Where: Nepal
When: February 17, 2015

Maha Shivaratri is a Hindu festival – in English 'The Great Night of Shiva' – honouring the great Hindu God Shiva, and celebrated extensively in India and Nepal. Devotees attend shrines throughout Nepal, but one of the main locations is around the temple at Pashupatinath, a few kilometres from Kathmandu.
Pilgrims, children, tourists, street vendors and barely-clothed Sadhus all gather to celebrate the days and nights before and after the festival.  For visitors, it's an intriguing glimpse into the religious life of a fascinating country.
Thaipusam, Hindu Festival
Where: Singapore and Kuala Lumpur
When: Varies. 2015: February 3, 2015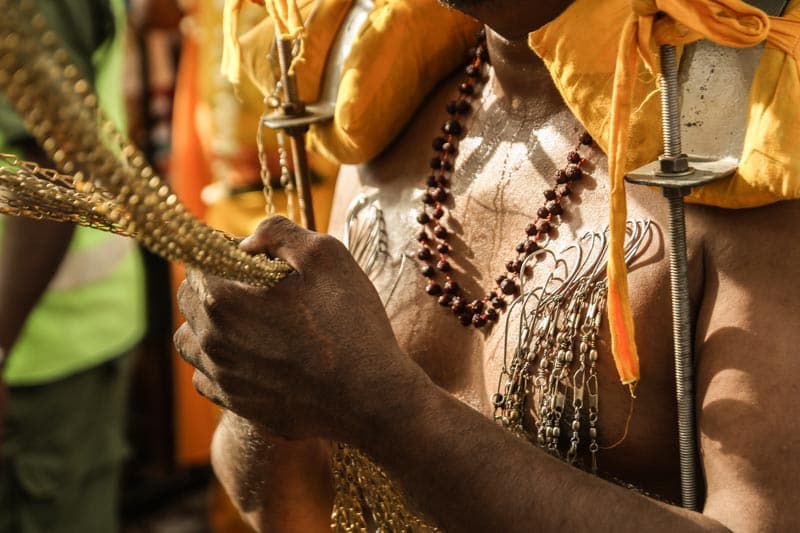 Thaipusam, a key festival in the Tamil Hindu calendar, is celebrated throughout south-east Asia, but most famously at Batu Caves where thousands of devotees and tourists gather each year. Thaipusam is a riot of colour with orange and yellow flowers and fruit, monkeys everywhere, tasty Indian street food, vendors and travelling holy men.
Batu Caves, just 13 km from Kuala Lumpur, are one of the most popular Hindu shrines outside India. The caves are well worth a visit, with interesting limestone formations, the 42-metre high gold statue of Lord Murugan – the Hindu god of war – and lots of monkeys.
Tet Nguyen
Where: Vietnam
When: February 19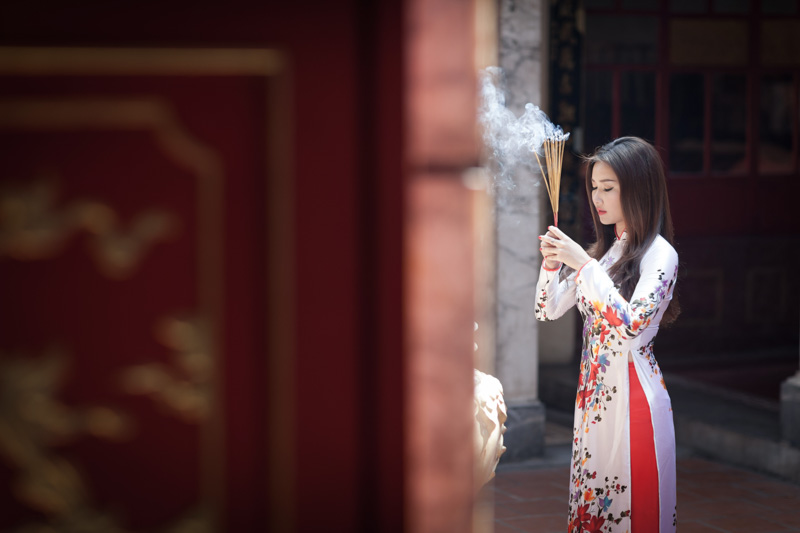 Tet, as it's known, celebrates the Vietnamese New Year and is the biggest holiday in Vietnam. It's a traditional family holiday where respects are paid to ancestors and people farewell an old year and welcome a new one – cleaning the house, buying new clothes and exchanging gifts. Homes are decorated with lights, lanterns and flowers.
Tourists should be aware that some shops, attractions and restaurants may be closed during the first few days of Tet, but the upside is that it's an authentic glimpse into traditional Vietnamese culture and many places – such as beaches and big cities – will be quieter than usual.
Festivals in Asia in MARCH
Cherry Blossom, most popular of Japanese Festivals
When: Varies. February – March.

Where: Japan – Okinawa, Kyoto, Tokyo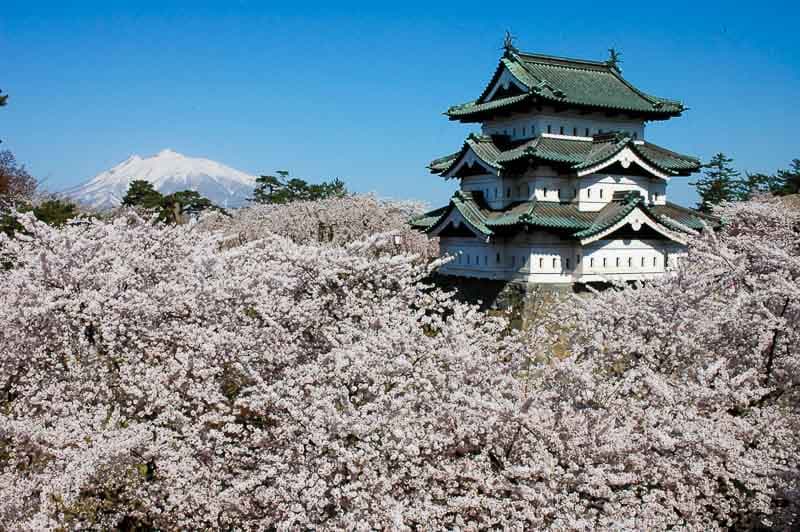 Photo Courtesy of Hirosaki City
Japan's Sakura (Cherry Blossom) Festival needs little introduction, especially if you've been crying over sappy Korean dramas.
The spring festival is celebrated in a short two-week span across Japan. For centuries, the Japanese have enjoyed the blooming of the stunning Cherry Blossom flowers with "Hanami", a picnic under the trees. Grab a bento and some drinks from a supermarket, bring your own mat and celebrate your very own Hanami.
Be sure to check the forecasts at the Japan Tourism website and chase the blossoms across the lovely Japan. It tends to start early in the year in Okinawa, then down to Tokyo later – sometimes even into early April.
Petronas Malaysia Grand Prix
Where: Sepang, Malaysia 
When: 27 – 29 March, 2015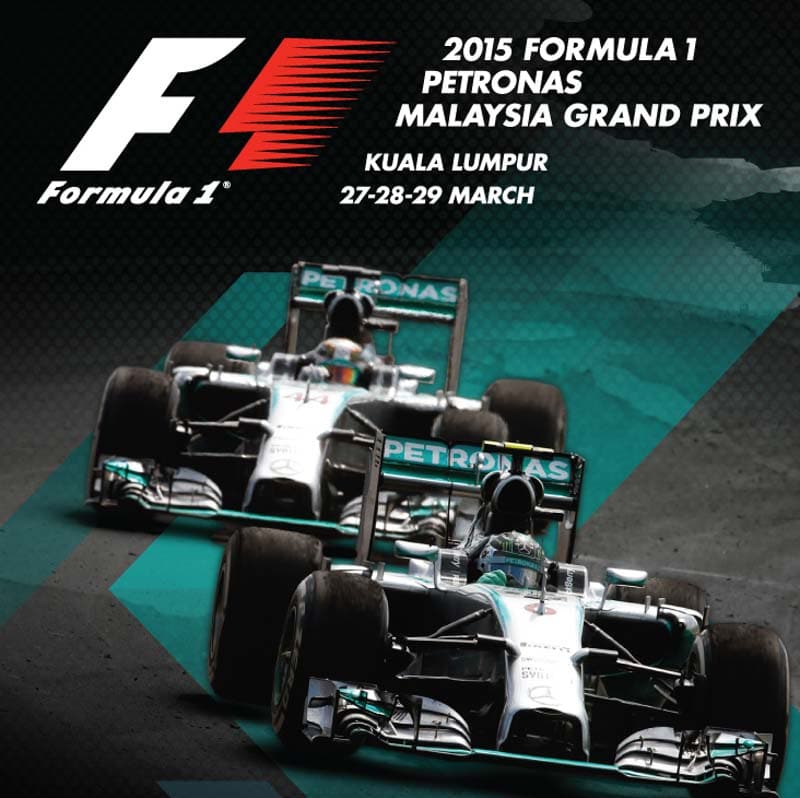 The 2015 Petronas Malaysia Grand Prix is to be held at the Sepang International Circuit. Long before the Singapore F1, the closest Formula One we could get was over in Sepang, which has a great track and the classic day race. Held over three days from 27 March 2015, this event is now in it's 16th year.
The three Formula 1 practice sessions take place on Fri and Saturday, followed by the F1 Qualifying Session on Saturday evening.  Between those sessions, the Malaysian Super Series also heat up the track. Sunday is the big race day. The F1 Grand Prix kicks into gear at 4pm.
This massive international Grand Prix will thrill onlookers with the sheer speed and skill of drivers, plus the size and scale of the event itself. Besides the actual race, there are plenty of interactive events, including a F1 simulator challenge, drivers' autograph session and a bus parade featuring some of your favourite F1 drivers.
One ticket to rule them all – that is, one race ticket can gain you entry to not only the races, but the after-race concert as well. Lenny Kravitz is performing this year!
Friday:
10am – F1 First Practice Session
2pm – F1 Second Practice Session
Saturday:
1pm – F1 Third Practice Session
Sunday:
33opm – Pit Lane Open
4pm – F1 Grand Prix
Holi, India
Where: India – Jaipur, Goa, Rajasthan, Mumbai
When: Varies annually. Usually early March.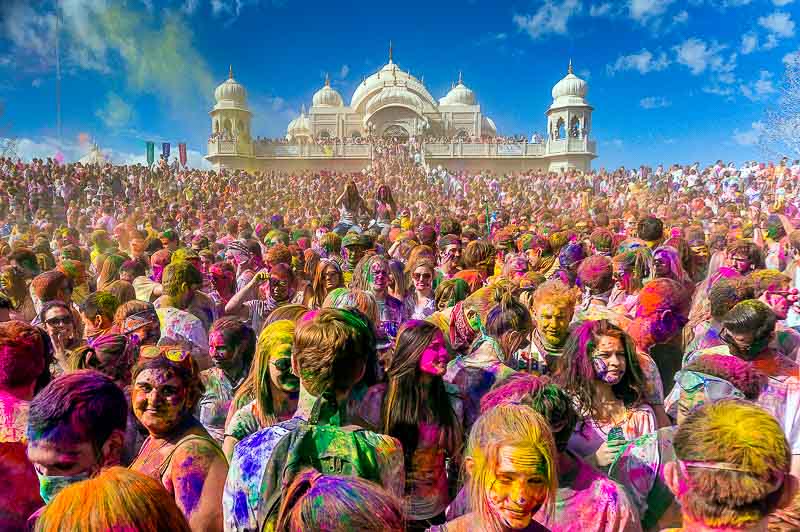 CC2.0 Steven Gerner
India's most colourful festival, quite literally, is Holi. This spring festival is a celebration of love and revellers welcome the coming of spring by flinging pigment at everything and everyone. It's chaotic, messy and great fun. Holi is celebrated in Singapore too, but of course it's always something special to experience a festival in its place of origin. A truly happy festival that covers everyone in colours of the rainbow.
To a lesser degree, Holi is also celebrated by the Indian communities in Singapore and Malaysia.
While you're there: Head to Jaipur for the exotic Elephant Festival, held a day before Holi. A parade of blinged-up elephants, horses, camels and dancers take to the streets.
Clear your mid year schedules – you've got some travelling (and partying!) to do.
Festivals in Asia in APRIL
Khmer New Year, Cultural Festival in Asia
Where: Cambodia
When: 14 – 16 April 2015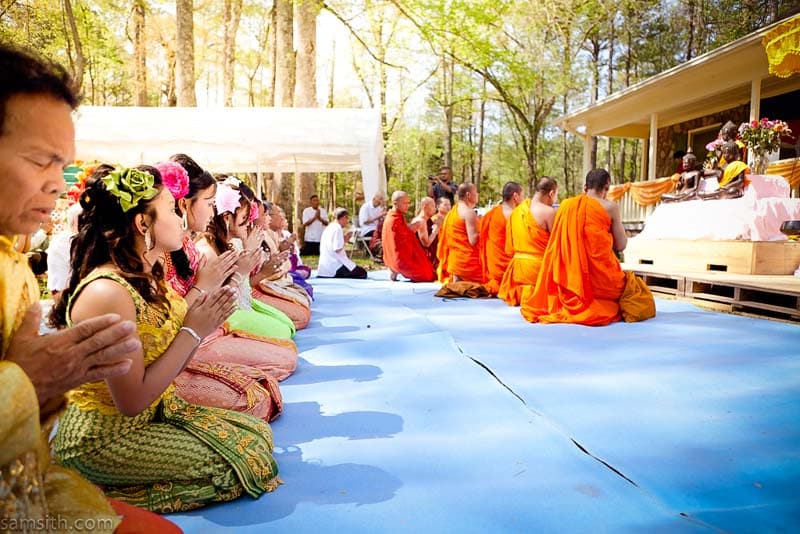 Sam Sith
Journey to Cambodia in April for the Khmer New Year celebrations, also known as Chol Chnam Thmay. Taking place from 14-16 April 2015, this is Cambodia's greatest traditional festival and national holiday, adhering to the ancient horoscope Maha Sangkran.
The Khmer New Year also marks the end of the harvest season, and is the perfect opportunity to relax before the rainy season sets in. To experience this event like a local, head to countryside villages. Take part in preparations, which include setting out food and drink for the whole festival, and get houses ready for the festivities.
On the eve of Chol Sangkran Chmay day, families prepare big meals and burn incense to welcome in a new god. The next day, take sacrifice gifts to the temple then chant to welcome in the new year. Other activities throughout the festival include prayer ceremonies, Buddha and monk bathing ceremonies, and other traditional practices.
Thrissur Pooram Elephant Festival in Kerala
Where: Thrissur, Kerala
When: 29 April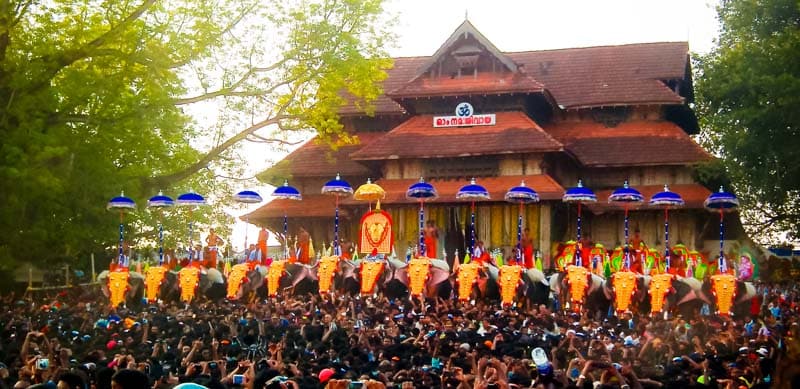 Ramesh NG
India's Thrissur Pooram Elephant Festival is simply magnificent. It's one of the country's most loved temple festivals and has been running for more than 200 years. Temples from the Kerala region through to Thrissur's main temples are invited to pay their respects to deity Shiva, with colour and religion embraced throughout the May 3-10 schedule.
It's not just about the 30 or more costumed elephants that parade down the streets on the way to the Vadakkunnathan temple – there's plenty more on offer here. Festivities start a week before the parade takes place, with a ceremonial hoisting of the flag, fireworks and activities running throughout this build-up week.
The festival culminates in a non-stop 36-hour party with plenty of noise and energy, so plan your sleep schedule accordingly!
Songkran, Cultural Festival in Thailand
When: Different dates annually. 2015: 13 to 15 April, 2015

Where: Thailand, especially Bangkok or Chiang Mai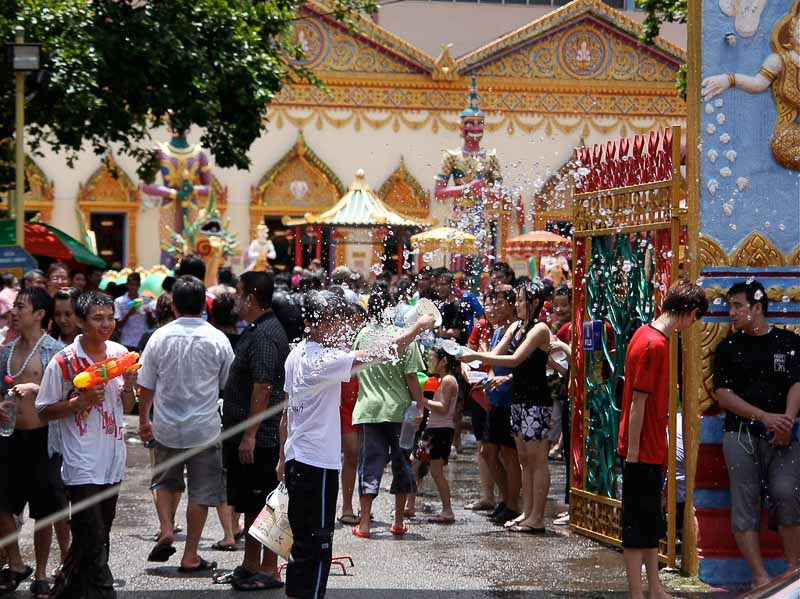 CC 2.0 by Yang Hai
Break out those water pistols! Thai's celebrate their new year at Songkran. The word comes from Sanskrit and means "astrological passing".
Today, the festival is known the world over for the crazy water-soaking activities the citizens engage in. The soaking you'll receive isn't just for fun and laughs though: it symbolises the washing away of the bad things in your life. Somehow the festival has evolved into the uber fun version today where you'll get to arm yourself with a Super Soaker and jet away at anyone in your path!
At Ayutthaya, even elephants get in on the Songkran festival action. The focus is a little more spiritual this side of Thailand as compared to Bangkok. Locals offer food to monks, release birds, bless their elders and enjoy a little splash of water off the trunks of elephants. Experience the traditions of the Mon people at Songkran.
While you're there: Thailand is famed for it's aromatic and spicy cuisine. Try modern Thai at Le Du or Bo Lan in Bangkok.
Festivals in Asia in JUNE
Sanno Matsuri, Shrine Festival

Where: Tokyo, Japan
When: 6 June – 17 June 2015
ZiJing
The Tokyo shrine festival of Sanno Matsuri features more than 300 people parading in costume throughout the city centre, complete with portable shrines, drums, horses and plenty more. This festival came to be after the Shogun permitted people to enter the grounds of Edo Castle during the Edo Period of 1603-1867.
Watch out for people dressed up as Tengu, a goblin, complete with a red face and long nose. It all kicks off from the Hie-jinja Shrine in the early morning, with the parade not returning to the shrine until the evening.
Celebrate this ancient tradition and get into the spirit of the event, which sees surrounding areas set up shrine gardens to celebrate Sanno Matsuri. Cleanse yourself of sins committed in the previous six months by walking through the large thatched ring on display during this time and receive happiness and peace for the rest of the year.
Asian Festivals in JULY
Hari Raya Puasa, Muslim Festival

Where: Malaysia, Indonesia, Singapore

When: Different dates every year.
2015: 20-21, 27-28 June and 4-5, 11-12 July, 2015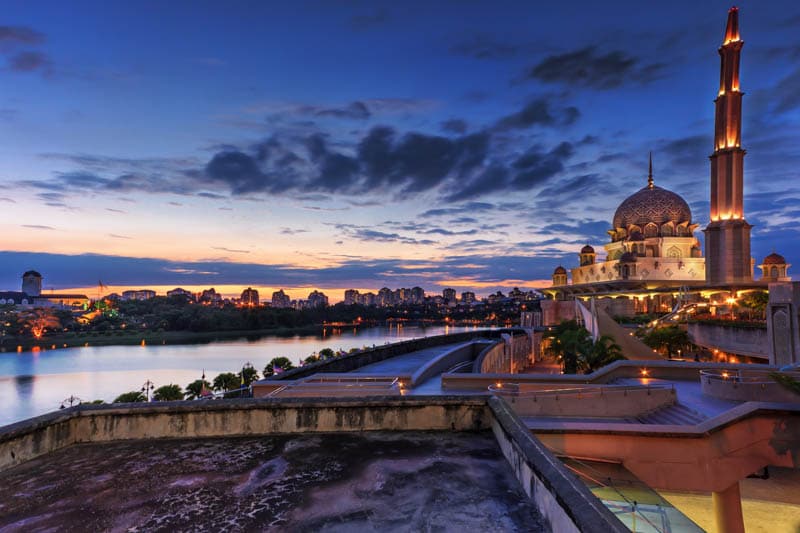 This very special festival is widely celebrated by Muslims throughout Asia, marking the close of the holy month of Ramadan. Festivities begin with early Hari Raya Puasa prayers, followed by visits to the graves of departed loved ones. Homes are then thrown open to family, friends and visitors, who gather together in gleaming new outfits.
In Malaysia, delicacies served include ketupat (rice dumplings) and favourites like beef rendang and satay. This event is usually a visual spectacle, too, with bright lights in shades of yellow, gold and green adorning buildings and oil-lamps are lit in many homes.
But there's lots to see and do even before the actual day (17 July, 2015). During Ramadan, Muslims refrain from eating and drinking from dawn to dusk and come together during the evening hours for meals and prayers.
2015: With 2015 being Malaysia's Year of Festivals, Kuala Lumpur's Merdeka Square is hosting a first-of-its kind event known as Iftar and Iftar (breaking of the fast) and the Ramadhan bazaar will both take place here. Join Malaysians of all races at Jalan Raja around 7.30pm, where the road will be closed to traffic and special mats rolled out for shared picnic-style meals. Catch a bubur lambuk (traditional porridge) demonstration or join in special talks scheduled from 5pm to 10pm.
Naadam, Mongolia's Largest Festival
Where: Mongolia, try Ulaanbaatar
When: 11 to 13 July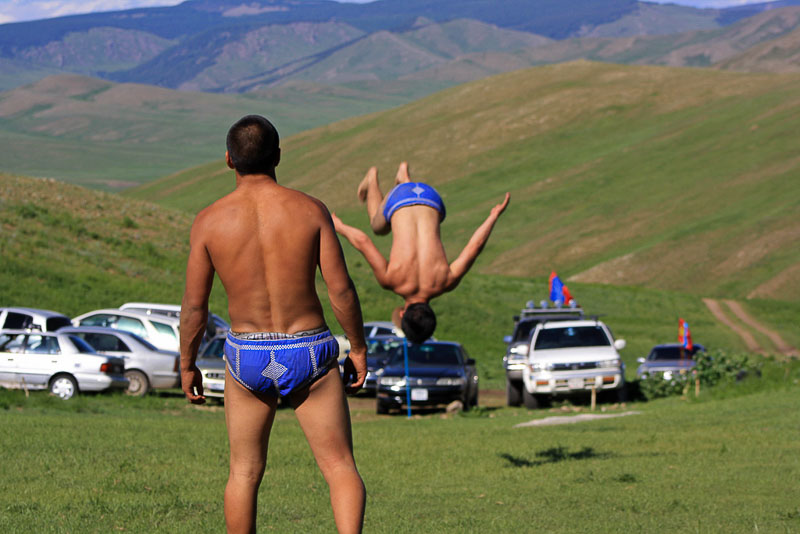 CC2.0 Paolo Fassina, istolethetv
Mongolia's largest festival, the Naadam, has been running for centuries. Naadam is a celebration of local sporting activities: wrestling, horse racing and archery. The nomadic Mongolians dress up in their finest and descend upon the stadium in the capital of Ulaanbaatar for a few days of testosterone-loaded competition.
The festival is also celebrated in provincial towns where you'll arguably find a more authentic experience in the grasslands.
While you're there: Experience a farm stay in a traditional Mongolian ger (yurt). Drink some salty milk tea for breakfast before trying your hand at archery or horse riding across the lush grasslands.
Boryeong Mud Festival in Korea
Where: Boryeong, South Korea
When: Mid July
CC 2.0  Jirka Matousek
The seaside town of Boryeong, famed for its mud flats, is the setting for 2 whole weeks of the messy bacchanalia that is the Mud Festival. Each year, more than 2 million people descend upon Boryeong for the beachside festival. Massive quantities of mineral-rich mud is brought to the festival and revellers splash, throw, and wade through the brown stuff.
If that's not enough, there are other activities such as zip-lines, slides, mud wrestling…so leave your Versace threads at home. You'll want to pack your swimsuits and dive right in for some mud-rolling fun.
While you're there: The Daecheon beach in Boryeong is lined with seafood restaurants. Korean BBQ! Pick your seafood and DIY grill at your table.
Asian Festivals in AUGUST
Rainforest World Music Festival
Where: Kuching, Sarawak
When: 7 August – 9 August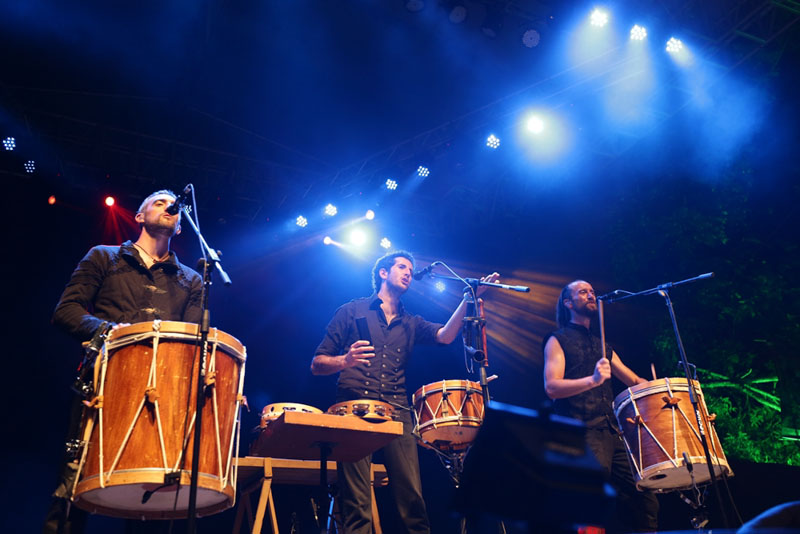 rwmf.net
Venture to the heart of the Borneo jungle to take in the sights and sounds of musicians from all over the world.
When you're not dancing away to the beat of the drums, you can take part in informative workshops, jam sessions and ethno-muscial lectures, ensuring you come away from this festival both entertained and enlightened.
Pick up Sarawak souvenirs and festival memorability to take home, and indulge in the decadent food and drink that can be found in stalls throughout the lush Sarawak jungle setting.
With the festival taking place from 7-9 August, you have plenty of time to book your flights and buy your tickets to this experience of a lifetime.
The Busan Sea Festival
Where: Busan, South Korea
When: 1-7 August, 2015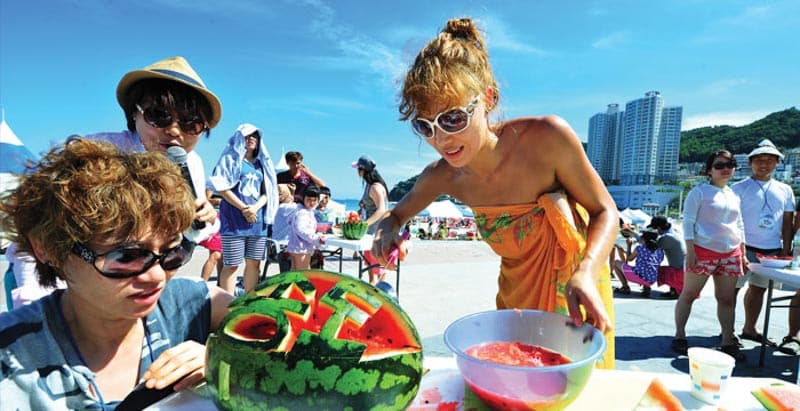 Busan, South Korea's second largest city, plays host to the country's biggest summer festival. The action takes place mainly on the beautiful Haeundae Beach, famed for its divine views, white sand and hot springs.
Festivities are also held at Gwangalli Beach, Songdo Beach, Dadaepo Beach and Songjeong Beach, with each location hosting its own unique programme of events. Celebrations were first held in 1996 and the event has now become a major festival, attracting locals and international visitors alike.
Combining several events, including rock music concerts, a beach dance festival, cultural performances and singing contests, you'll find plenty of activities on offer by the sea. Water sports enthusiasts can enjoy windsurfing and banana boat rides, while families can relax on the beach and try their hand at making a sandcastle or two in between volleyball and swimming. At night, take in the beautiful sight of fireworks filling the skies.
Summer Sonic Rock Festival

Where: Chiba and Osaka, Japan
When: 15-16 August, 2015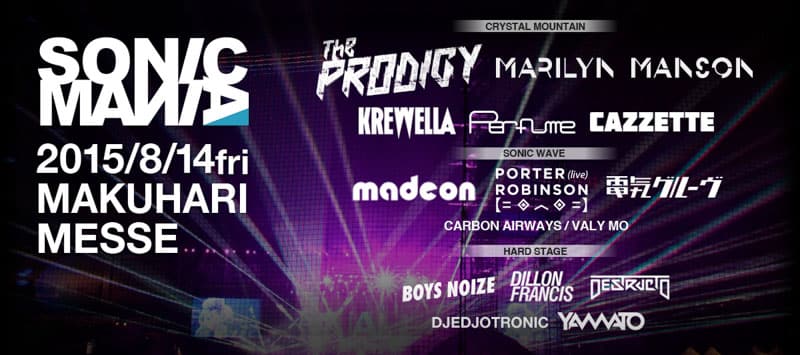 Japan's Summer Sonic rock festival is held annually in Chiba (near Tokyo) and Osaka over two days and typically features performing artists and bands moving between each venue (though not every act appears in both cities). Music lovers, this festival is for you.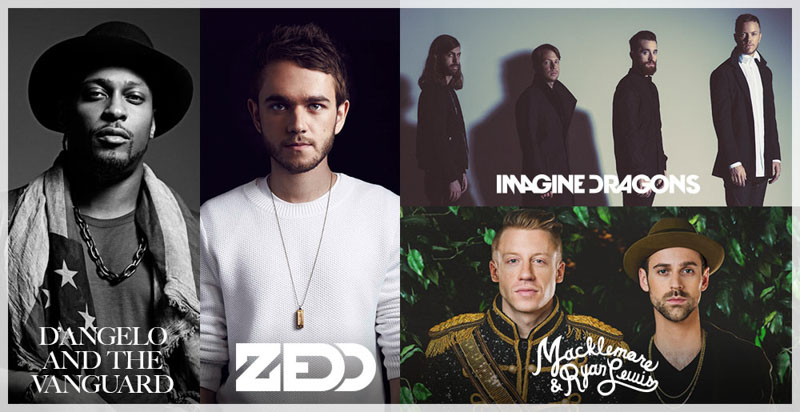 While performers comprise plenty of Japanese rock bands, both indie and mainstream, the event also attracts major international acts. This year's festival line-up is glittering, with Pharrell Williams, The Chemical Brothers, D'Angelo and the Vanguard, Macklemore and Ryan Lewis all set to perform. There will be a lot to see, do and hear at this festival, with around 120 acts performing across eight stages.
Festivals in Asia in SEPTEMBER
Ganesh Chaturthi, Hindu Festival

Where: Mumbai, India
When: 17 September, 2015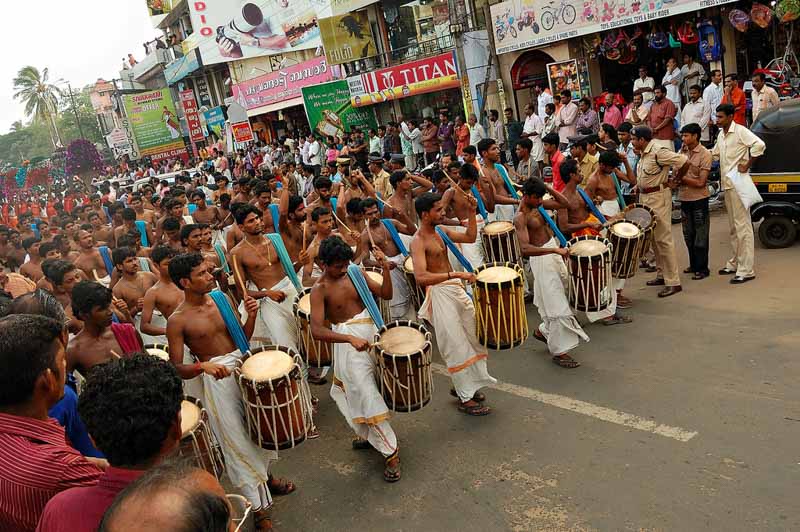 Ganesh Chaturthi is an Indian celebration honouring Ganesha, the popular Hindu elephant-headed god. To Hindus, Ganesha is known as the god of beginnings and wisdom.
This grand festival is celebrated over 11 days, with the biggest spectacle usually held on Anant Chaturdasi, which is the last day of the event. Festivities are held all over India, as well as in other countries where there's a significant Indian population. However, it's generally accepted that Mumbai is a great place to be for an authentic first-hand experience of the celebrations.
Artisans around the city prepare clay models of Lord Ganesha and houses are cleaned in readiness for the sacred occasion. There are prayers, chanting, singing and, of course, feasting on delicate Indian sweets such as gulab jamun.
To top it all off, traffic comes to a standstill as devotees carry Ganesha statues of various sizes in lively street processions before immersing them into the sea. Mumbai's Chowpatty beach is a popular and memorable spot to witness the spectacle.
It may be the end of the year, but the colourful festivals and the exuberant celebrations are still in full swing around Asia. Here are our picks of the best experiences to be had in Asia in the last quarter of the year. It's time to hop on a plane for a trip to round off the year!
Asian Festivals in OCTOBER
Jagalchi Festival, Seafood Festival

Where: Busan, South Korea
When: 8-11 October 2015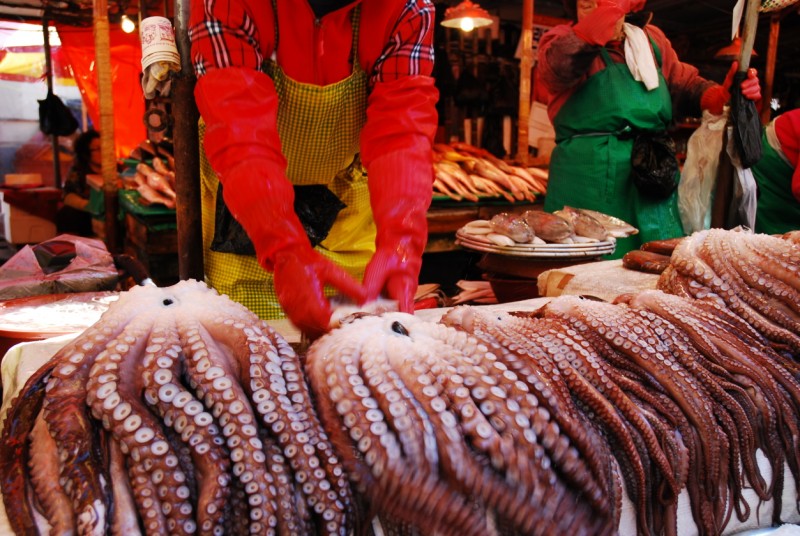 There's no better way to understand the culture of a country than through its cuisine, so get a taste of what makes South Korea unique at the Jagalchi Festival, which celebrates the country's love for seafood. Held at Jagalchi Market in Busan, the largest seafood market in the country, where much of the catch comes from the nearby waters, this is a fun-filled event for locals and tourists alike.
Besides being able to sample the freshest sea creatures that are prepped and cooked the Korean way at the various food stalls at the market, you can also take part in a variety of quirky activities such as a cooking contest, eel relay race and even watch a parade of market workers dressed like fish!
Asian Festivals in NOVEMBER
All Saints Day, Catholic Festival

Where: Philippines
When: 1 November 2015
While most of the world dresses up in costumes and goes trick or treating the night before on Halloween, it's All Saints Day on 1 November that is celebrated in the Philippines. In this predominantly Catholic country, this is the day to honour the saints and to visit and spruce up the graves of families.
While it may seem like a sombre occasion, the mood is actually quite lively, with many families packing large picnics and holding reunions at the cemeteries. There's even singing and merrymaking to be experienced at the cemetery grounds! It is worth staying until sundown as a significant number of people camp overnight, and you will get to see the entire graveyard set aglow in candlelight.
Diwali, Hindu Festival

When: 10 November 2015
Where: India, Malaysia, Singapore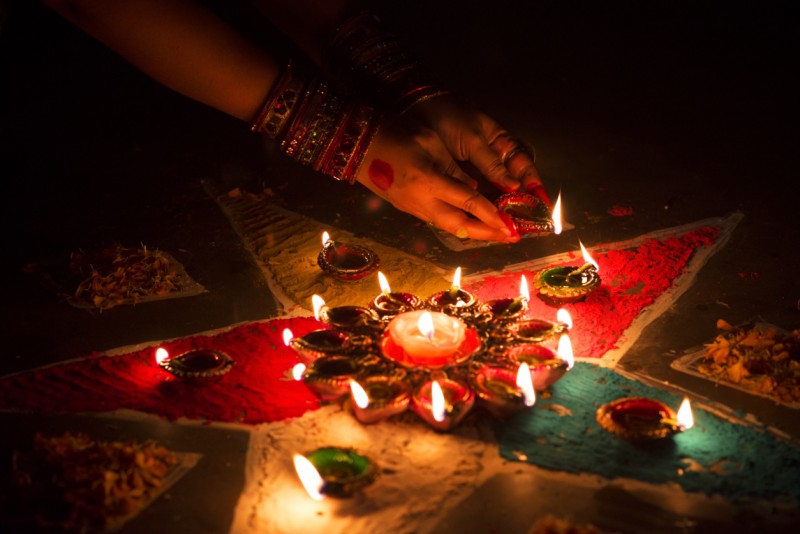 This festival of lights is celebrated by Hindus, Sikhs, Jains and Buddhists. It represents the triumph of good over evil and light over dark, with the different religions having different myths and beliefs to explain the origins of this festival. This is one of the most profound times to visit India, with devotees offering prayers at temples and places of worship, as well as vibrant celebrations happening throughout the country.
Be prepared for all your senses to go into overdrive (in a good way) with homes and buildings around country all lit up with oil lamps and fairy lights, as well as geometric floor patterns created with coloured sand, rice and flower petals. Be sure to sample some Diwali sweets and candy that are presented as gifts during this season. Head to the banks of the Ganges to see devotees offer prayers and light up thousands of lamps along the river, while beautiful fireworks displays brighten up the night sky.
Loy Krathong
Where: Chiang Mai, Thailand
When: 25 November 2015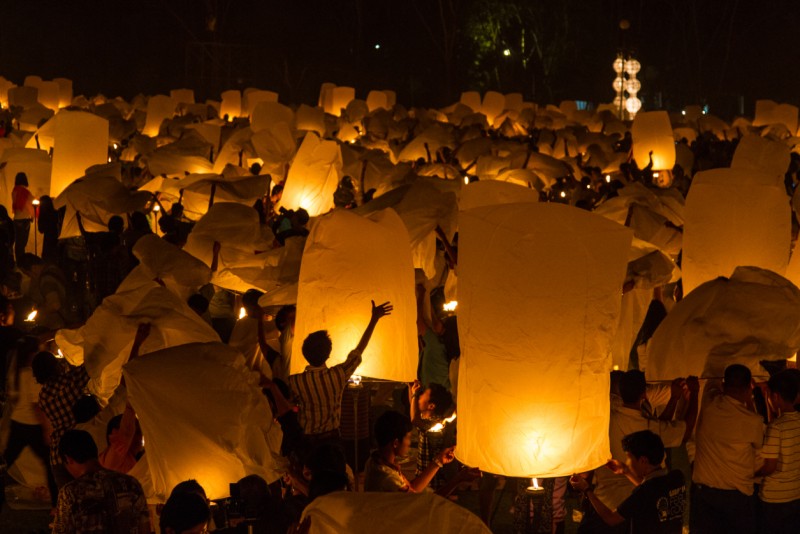 During the festival of Loy Krathong, Thai people release small floats bearing offerings such as flowers, incense, candles and sometimes a coin to pay respect to the water spirits, as well as to signify letting go of bad luck. There is also a practice of launching paper lanterns into the sky, with many scribbling their wishes on the lanterns in the hope that this will be carried up to the heavens.
This festival is most fervently celebrated in Chiang Mai, where the gently floating offerings on the river and the rising lanterns cast an ethereal glow at night. There are also plenty of festivities such as a beauty pageant, elaborate worship rituals at the temples and lots of Thai cultural dances and performances to enjoy.
Asian Festivals in DECEMBER
The Emperor's Birthday
Where: Tokyo, Japan
When: 23 December 2015
The Emperor's Birthday is one of two days in the year that the inner grounds of the Imperial Palace in Tokyo is open to the public, and as such it's celebrated with much fanfare. It is great fun to join in the high-spirited crowd as they wait within the Palace grounds for the much-loved Emperor Akihito, Empress Michiko and other members of the Japanese Imperial family to make appearances in the morning.
You can still tour the Palace grounds if you join a guided tour on other days, but the experience of being among an excited crowd and getting the chance to see true royalty in the flesh is, as they say, priceless.
Christmas
When: 24-25 December 2015
Where: Philippines, many cities in Asia including Singapore, Hong Kong, Tokyo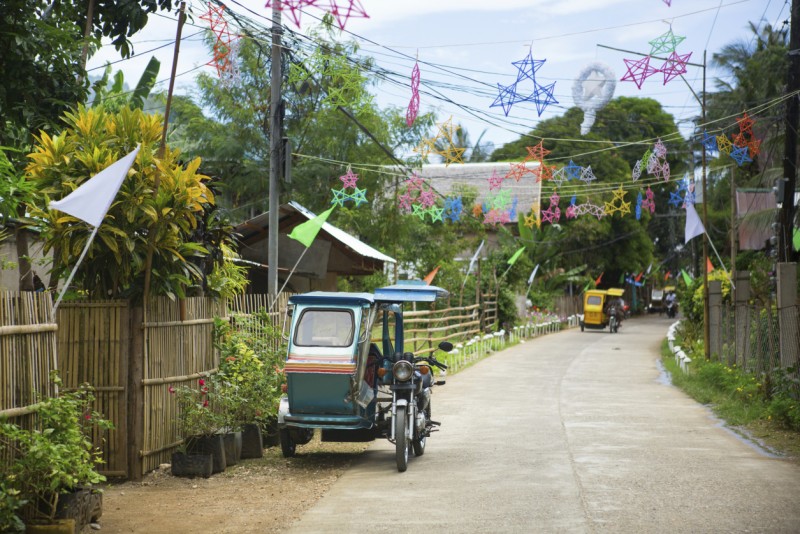 This year-end holiday is celebrated in one way or another in many countries around the world, but it takes on a special significance in the Philippines. With a predominantly Roman Catholic population, Christmas is celebrated with great fanfare in the country, with a few unique Filipino touches thrown in too.
Just like the rest of the world, there's plenty of festive Christmas trees, carols, Santa Claus and Christmas Eve mass at church. There's also a traditional Noche Buena feast at midnight on the Eve after mass at church, where friends and family feast on a spread of traditional Filipino delicacies.
As you stroll the streets, enjoy the beautiful "parols" or star-shaped lanterns on display and keep your eyes and ears open for festive displays of fireworks that merrymakers set off – but do maintain a safe distance! The fireworks usually culminate on New Year's Eve, so you'll have plenty of chances to enjoy the sights if you're planning on an extended holiday.
Image Credits: Shutterstock, Getty Images, Visit Korea, Thejas Panarkandy, Various photographers under the Creative Commons License