By Expedia Team, on August 26, 2021
Expedia Singapore Celebrates International Dog Day 2021 with Mobile App Offers 
Photos by Expedia (IG: @cocotheirishgroodle & @itsladylottie)
Happy International Dog Day!
Being able to share our lives with our furry companion is a beautiful experience, and to many, an experience that completes our lives and makes us whole. Admit it, many of us even treat our fur-babies far better than we give ourselves a much-deserved pampering session.
If you are in that group, you're not alone! Pets make great travel companions. Today, more and more locations around Singapore are welcoming pets, making it easy to bring your fur-baby along for that joyride – be it for a staycation, fitness fun or just a place for them to spend a day with other BFF's (best fur-friends), doing what dogs do best: living their best dog life!
To commemorate International Dog Day on August 26, Expedia has curated a list of pet-friendly things to do to treat your four-legged loyal best friend.
Staycation, Fur-cation!
These pet-friendly properties in Singapore are going the extra mile to extend a special discount so you could enjoy some much-deserved time-off and snuggle up with your furry bundle of joy. Enjoy additional hotel discounts when you book to stay at any of these pet-friendly properties in Singapore and top that up with Expedia's FURCATION10 discount for a further 10% off.
Here's how you can enjoy an additional 10% on top of the property discounts mentioned below!

1. Download the Expedia mobile app. (https://www.expedia.com.sg/app)

2. Search for any of the properties listed below.

3. Apply "FURCATION10" at check out to enjoy additional 10% off your hotel booking on top of the discounts offered by the hotels above. *

* Coupon valid for Singapore hotels only, for booking made between 23 August to 30 September 2021 and stay between 23 August 2021 – 30 June 2022. Terms and conditions apply: https://www.expedia.com.sg/lp/appcoupontnc?siteid=14
1. Thanksgiving Serviced Residence

Catering to the needs of both guests and their pets, the Thanksgiving Serviced Residence not only permit pets (dogs and cats) in their apartments but their friendly staff also offer top-quality services like those in luxury hotels in Singapore.

Photo by Expedia

Why pet owners love it: Housekeeping services, a rooftop garden so you and your dog get to explore the area with ease, and better accessibility to nearby pet cafes and vast parks.

Extra perks: Get an additional 55% off when you book on the Expedia mobile app*.

*Terms and conditions apply
2. Sofitel Singapore Sentosa Resort & Spa

The Sofitel Singapore Sentosa Resort & Spa offers an all-encompassing package with a night stay in tranquility complete with five-star treatment for your fur kids with their very own Pet Amenity Basket. Indulge in quality time with your fur kid amidst lush greenery with views of the South China Sea.

Photo by Expedia

Why pet owners love it: Breakfast and dinner for two adults, pet amenity basket and pet-friendly inflatable pool (upon request).

Extra perks: Get 10% off when you book on the Expedia mobile app*.

*Terms and conditions apply
3. Citadines Balestier

Nested in a convenient location, Citadines Balestier comes with top-notch amenities and personalized flexibility sets the stage for a blissful staycation without breaking the bank! At just an additional $150 per pet, you can spend quality time relaxing in the comfort of Citadine's amenities with your fur kid.

Photo by Expedia

Why pet owners love it: A residents' lounge, a spacious barbeque pavilion for a memorable dining experience and an inviting outdoor swimming pool so that you and your dog can have a splashing good time!

Extra perks: Get 10% off when you book on the Expedia mobile app*.

*Terms and conditions apply
Pet holiday all-day, everyday!
4. Book a paw-fect half-day, full-day or over-night boarding experience at Urban Paws:
Urban Paws is the daycare space to go to for an all rounded, enriching daycare curriculum! Not only do they bring your pupper on excursions to explore Singapaw, but they also hold puppy socialization classes and customized training courses for your dog. Emphasizing that dogs should "dog" from a young age, Urban Paws helps to nurture balanced, confident and happy doggos.

Photo by Urban Paws
Extra perks: They are currently offering all new customers a 10% discount off all spas and grooms at their 3 outlets if you sign up for their daycare packages!
Click here to learn more: http://urbanpaws.online/ and WhatsApp: +6588332378 to book.
Keep 'em fit!
5. Barker and Pooch
Want a great way to burn that pent-up energy? Enjoy a few minutes of personalized fitness and swim session at Barker & Pooch, a social enterprise founded to give dogs a longer active life. Pioneers in applying exercise science to create fitness programs specifically catered to your canine companions, we provide gym & swim sessions to a dog of all kinds!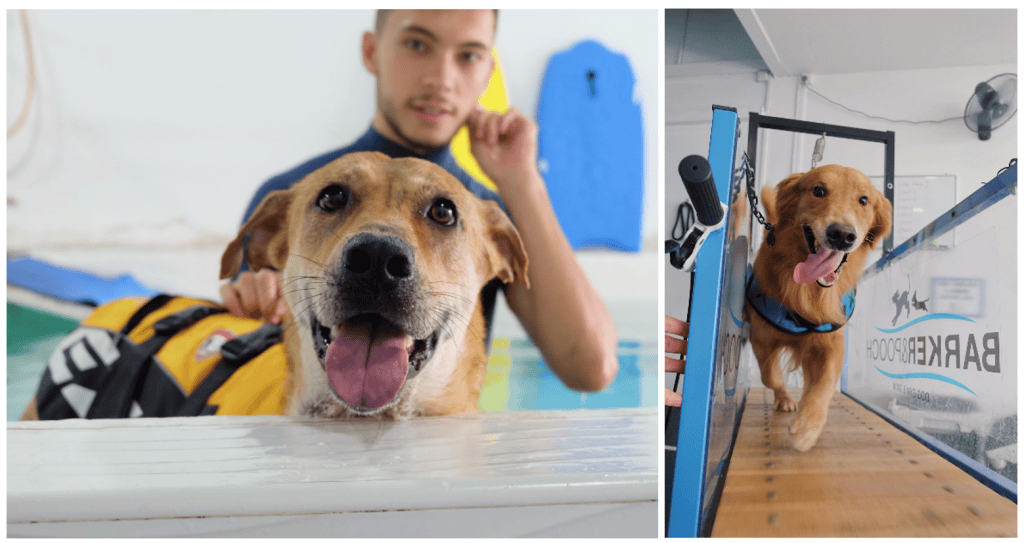 Photos by Barker & Pooch
Extra perks: Barker & Pooch is giving 10% off for the first fitness swim session for new customers from now till 30 September 2021.
Click here to learn more: https://app.acuityscheduling.com/schedule.php?owner=17908758 or enquire via WhatsApp at +65 9106 9168 or via Instagram @barkerpooch.fitness.
Have a splashing good time!
6. Wag & Wild
Wag & Wild is Singapore's largest dog water park! With over 19,000 square feet of space, your furry friends can now join you in an exciting outdoor experience while taking a much-needed plunge in our pools. A perfect solution to keep our dogs cool, while having a world of fun on those scorching hot days.
Photo by Expedia (IG: @cocotheirishgroodle)
Click here to learn more: https://www.wagnwild.com/faqs
---
As doting pawrents, we know you don't need a holiday to spoil your fur-baby but showing your pup some extra love can't hurt. Your dog is sure to appreciate whatever you do for them, even if it's just extra snuggles and pets.
For more staycation and activity ideas, visit Expedia Singapore.