By Guest Author, on October 29, 2015
Eat Your Way Around the Streets of Mumbai – with Boho Chica
Alive and buzzing with the energy of over a million residents, Mumbai, the Indian city that never sleeps draws in the first time visitor in more ways than one. You might have stood by the ocean admiring the glittering lights of 'The Queen's Necklace' and followed crowds of worshippers at the Siddhivinayak Temple but you ain't seen nothing until you've bit into a steaming hot vada pav or dunked a butter-soaked pav into a fiery bhaji.
The street food in Mumbai is prepared to please the taste buds without much care for presentation, much like the city itself, which doesn't impress at first sight but grows on you as you tuck in for a second spoonful. If you want to turn your fling with Mumbai into a long-drawn romance, embark on this street food journey in the city.
Samosa and Samosa Chhole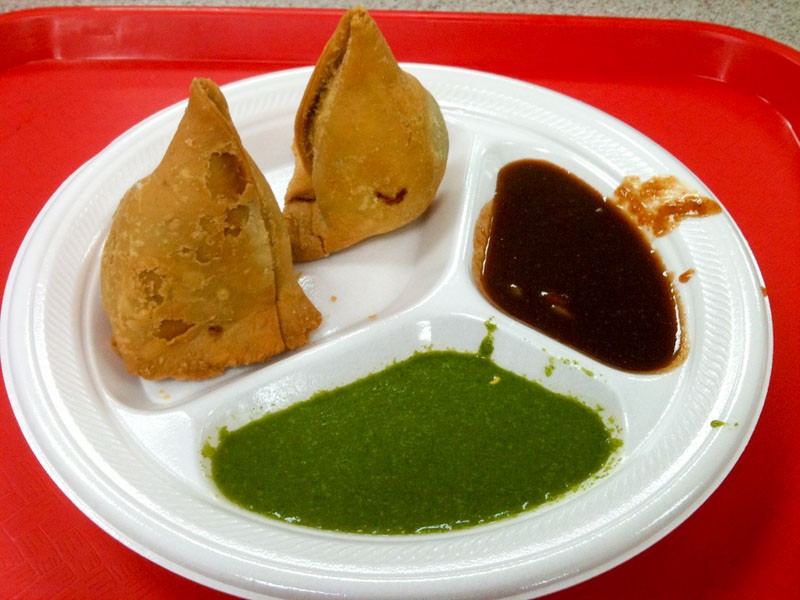 Jeff Gunn
Begin with a samosa, a thick, crunchy deep fried pastry stuffed with spiced mashed boiled potatoes and occasionally additional ingredients like onions, peas and cumin. In Mumbai, the potatoes-only version is served with a fiery green sauce or chutney made of green chili, mint and coriander. In my opinion, there's nothing like my favorite Mumbai snack- a hot crunchy samosa (or two) to lift up the spirits on a rainy evening, preferably accompanied by a steaming cup of masala chai.
Samosa Chhole takes the crunchy samosa to a whole new level combining it with spicy warm chhole (chickpeas in onion gravy) to create a hearty late evening meal topped with finely chopped onions and chutney.
Where to try:
Head to Gurukripa in Sion, a modest restaurant that's something of an institution, for an A-1 samosa or a great value-for-money samosa chhole.
Pani Puri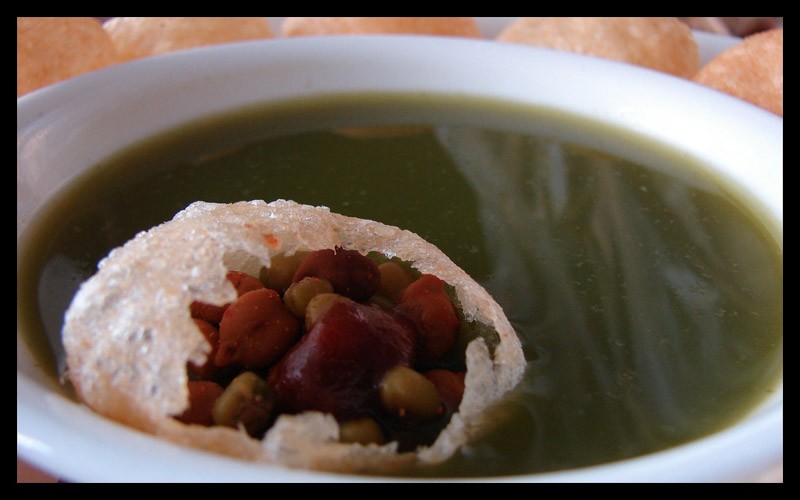 chiragndesai
You'll love it or you'll hate it, depending on how adventurous you are, but you definitely cannot miss  a pani puri when in Mumbai.
Best described as a surprising burst of extreme flavors, it's a crispy, deep fried hollow pastry (puri) stuffed with spicy mashed potato, onion, chickpeas, tamarind chutney and flavored water (pani) which could either be spicy (mint, coriander and green chili), sweet (tamarind) or a mix of both.
Queue up at a vendor for mouthfuls of spicy puris one after the other as the seller hands them to you in a small bowl. Pop the whole puri into your mouth at once for maximum effect!
Where to try:
The guys at Elco Market in Bandra (West), Hill Road use mineral water for the pani and see brisk business every evening in spite of higher prices because they're very good!
Dahi Batata Puri and Sev Puri
Arnold Gatilao, Satish Krishnamurthy
If pani puri sounds too extreme for your mild taste buds, try a dahi batata puri. The stuffed puris are dunked in spicy and creamy yogurt and garnished with coriander, sweet and spicy chutneys, and sev, a fried, short and thin noodle. It's the perfect combination of sweet and savory and makes for a delicious snack or an appetizer for a bigger meal.
Another member of the puri family of street foods is the Sev puri. Flat, thicker and crunchier, this version of the puri is also called papdi. Topped with diced potatoes, onions, tomatoes, tamarind and chili chutneys and garnished generously with sev and chaat masala, it's a popular evening snack enjoyed over the day's freshest gossip.
Where to try:
Elco Market (Bandra)
Shiv Sagar (Branches at Bandra West, Juhu, Churchgate and Vile Parle)
Sadguru (Chembur)
Pav bhaji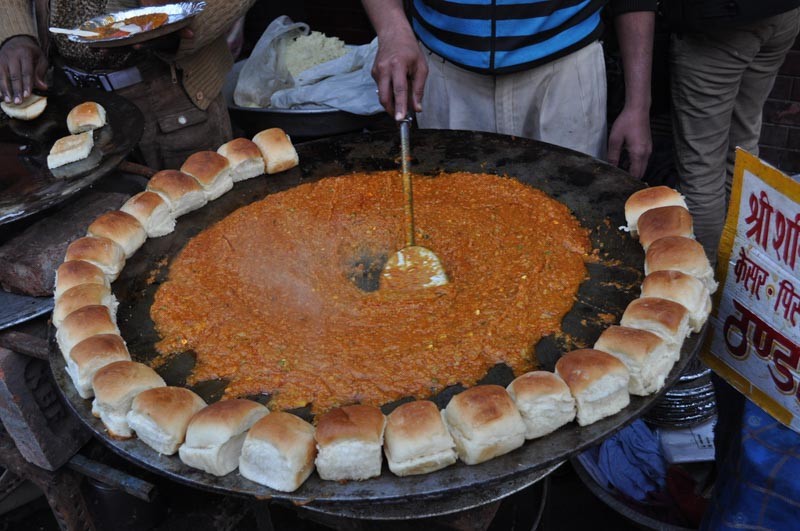 Harsh Agrawal
An orange-red mish mash of cooked vegetables like potatoes, beans, cauliflower, carrots, peas, onions and tomatoes topped with a thin layer of butter, grated cheese or both served with lightly toasted and generously buttered pav (bun), the hugely satisfying pav bhaji is native to Mumbai, enjoyed by the locals for lunch, dinner and in between meals.
I can say from experience that if you ever ask a hungry Mumbaikar what he or she wouldlike to order at an Indian restaurant or street stall, he will almost always impulsively think of pav bhaji because the winning combination of buttery pav and spicy bhaji is just too good to resist.
Where to try:
For a seriously butter laden version of Pav Bhaji, head to Sardar Pav Bhaji (Tardeo).
Other places to try are one of the Shiv Sagar branches, Sadguru (Chembur) and Achhija (Ghatkopar).
Vada Pav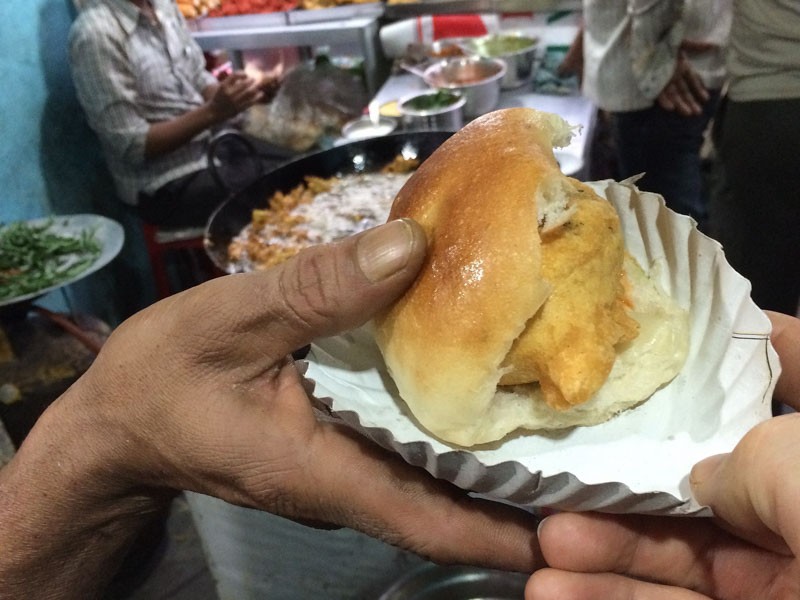 Martin Ehrensvärd
It's unlikely that in Mumbai you'll miss hearing about the famous vada pav, a deep fried gram flour coated patty of boiled crushed potatoes mixed with spices, chili, ginger and garlic sandwiched in pav smeared with chutney made of coconut, chilies, garlic and tamarind pulp.
Being the cheapest street snack in the city, it's no surprise that this is the go-to snack for a Mumbaikar who finds himself hungry on the streets of Mumbai or rushing to work.
For a modern variant, try the Jumbo King Vada Pav chain where the buns are bigger by 20% and Cheese, Schezwan and Brown bread versions are on the menu. Though they're not traditional, I do like these better for their sheer variety of tastes and flavors.
Where to try:
Jumbo King Vada Pav has branches in Chembur, Sion, Vashi, C.S.T, Andheri, Bandra and Dadar among many others. They are mostly located at railway stations.
Bombay Sandwich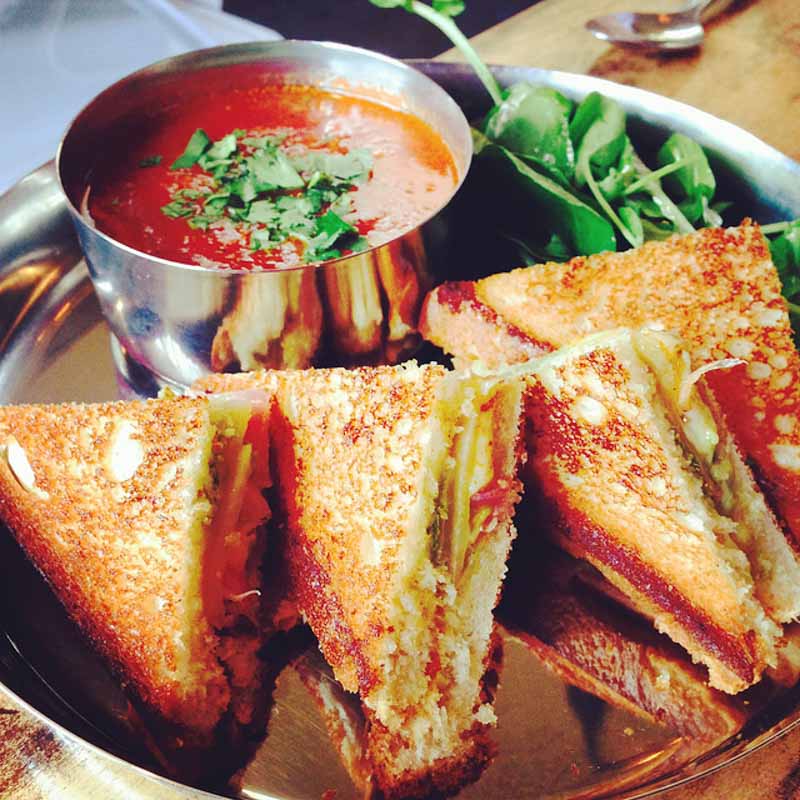 SharonaGott
A Cheese 'Bombay Sandwich' is a toasted white bread sandwich of sliced cucumbers, potatoes, onions, tomatoes, and grated cheese.
If you're not a fan of cheese, try the classic version but don't forget to add a dollop of green chutney on top. If you're a fellow cheese lover like me, you won't be disappointed by the layers of grated cheese both inside and on top of your toasted sandwich, melting in your mouth and making you lose count of the calories!
Where to try:
Snowman (Mumbai)
Image Credits: Alamy, images by CC 2.0 license
What's your favourite Indian street food?
---
About the Author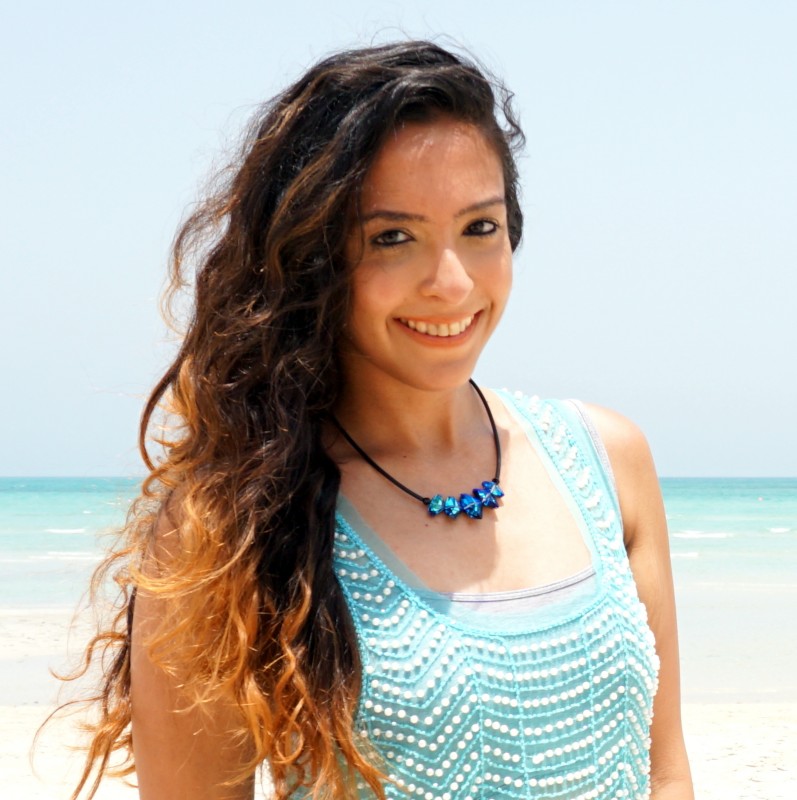 Natasha Amar is a Dubai based traveler, blogger and writer who likes to experience the world in cultures, cuisines and hiking trails. She quit her Finance career to follow her love of travel and storytelling to the far corners of the earth. Join her on her adventures on TheBohoChica.com and Facebook.