By Irene Arieputri, on April 12, 2019
Foodie's Guide to Bali
My friends and boyfriend call me foodie for a reason: I turn into an angsty monster whenever I have a horrible meal. C'mon, who wants to waste calories (and money!) for underwhelming food, especially when you're travelling? I like exploring new cities, stomach first. And the food in Bali is a favourite. But I don't really need to sell you on all the wonders of Bali, do I?
It's an exotic bucket list city for most of the world, but we're lucky to have Bali as an easy weekend getaway spot. For all the foodies out there, I'm happy to report I've scouted out the top spots for food in Bali and I'm prepared to share. Here's my guide to the best food places in Bali – tried and tested.
A Guide to Food in Bali:
What to Eat in Bali & The Best Places for It


For the ultimate Balinese delicacy: Babi Guling Pak Malen
The Balinese suckling pig was traditionally reserved for religious events, but today it has become the number one must-eat food in Bali. The pig is stuffed with seasoned cassava leaves and served with rice, lawar (chopped green beans, young jackfruit, grated coconut and spices) plus a bowl of pork soup.
My go-to place? Babi Guling Pak Malen in Kuta! It's crazy packed during lunch, but it was empty when I went there at 5 pm. I love the crispy skin and the spicy sambal matah!


For another round of suckling pig: Warung Babi Guling Ibu Oka
Another alternative is Warung Babi Bu Oka in Ubud. Yes, I know some people may disagree with me, but there was a time when Bu Oka was the king (or queen) of suckling pig in Bali. The price may be rather steep, but the suckling pig and pork blood sausage are pretty good.


For a sinful local treat: Sate Babi Bawah Pohon
There are more than 100 types of satays in Indonesia, using a different seasoning, satay sticks, types of meat and grilling methods. The most popular one in Bali is sate babi aka pork satay. It's slightly similar to the pork satay you can find in Chinese restaurants, but with more spices (and probably some sweat dripping from the abang's forehead).
The recommended place for pork satay in Bali is Sate Babi Bawah Pohon, which serves its pork satay with rice, salt, green chilli padi and spicy sambal. Ask for no rice to get extra skewers instead. With bold seasonings and tender meat, the pork satay here is one of the best I've tried so far!


For trustworthy Italian fare: Massimo Il Ristorante
Hearty Italian fare may not be what you expect from Bali holidays but I always make a point to try the best pizza in a city whenever I'm travelling. After all the artery-clogging pork dishes, I do miss some bread, cheese and pasta. A few local friends of mine swear by the food in Bali's Massimo Il Ristorante in Sanur, so there I went!
Wood-fire oven? Check. Irregular-shaped pizza? Check. Fresh ingredients? Check.
Bonus points: cheap gelato! A cup of triple scoops of gelato costs around USD2 — cheaper than any special edition McFlurry in Singapore. Some gelato under the sun to soak in that beautiful Bali weather = heaven.
Free deep-fried left-over pizza dough — so fluffy!


For halal + seafood spot: Warung Mak Beng
Although Bali's food scene seems to scream "PORK!" wherever you go, a fish dish has made to my list of go-to favourite food in Bali.
I always find myself returning to Warung Mak Beng for its fish rice set. It is a no-frills restaurant serving only 1 menu: steamed rice + fried fish + fish soup. Besides using the freshest catch from the beach next door, they also make one of the most addictive chillis. Trust me, it's worth all the toilet visits the next day.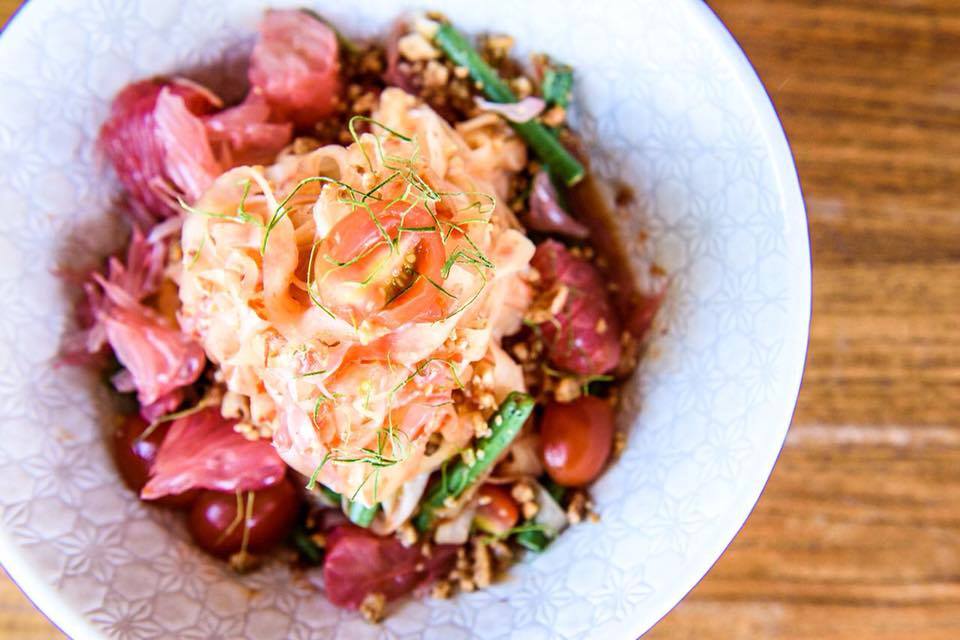 Thai papaya and pomelo salad | Photo Credit: IBU SUSU Bar & Kitchen
For Vegetarian option in Bali: IBU SUSU Bar & Kitchen
Literally meaning"Milk Mother", IBU SUSU introduces vegetarian dishes in a creative way.
My friends have been raving about their tempeh stir-fried with cashew nuts and the refreshing Thai papaya and pomelo salad. IBU SUSU is a one-size-fits-all restaurant with the Insta-worthy interior, potent cocktails, Melbourne café vibe and delicious food! Definitely my pick for food in Bali with Instaworthy points.

For International Buffet options in Bali 

The Café, The Mulia Nusa Dua
The Mulia Nusa Dua is no stranger for luxury travellers in Bali, but do you know that Mulia is also known for its international buffet restaurant, The Café?
There are so many types of cuisines that I am not even sure where to start. To avoid the crowd, I went straight to the dessert station for some chocolate fondues and mini tarts! Whether it's naan and butter chicken, or pasta or tom yum soup, The Café suits anyone's palate.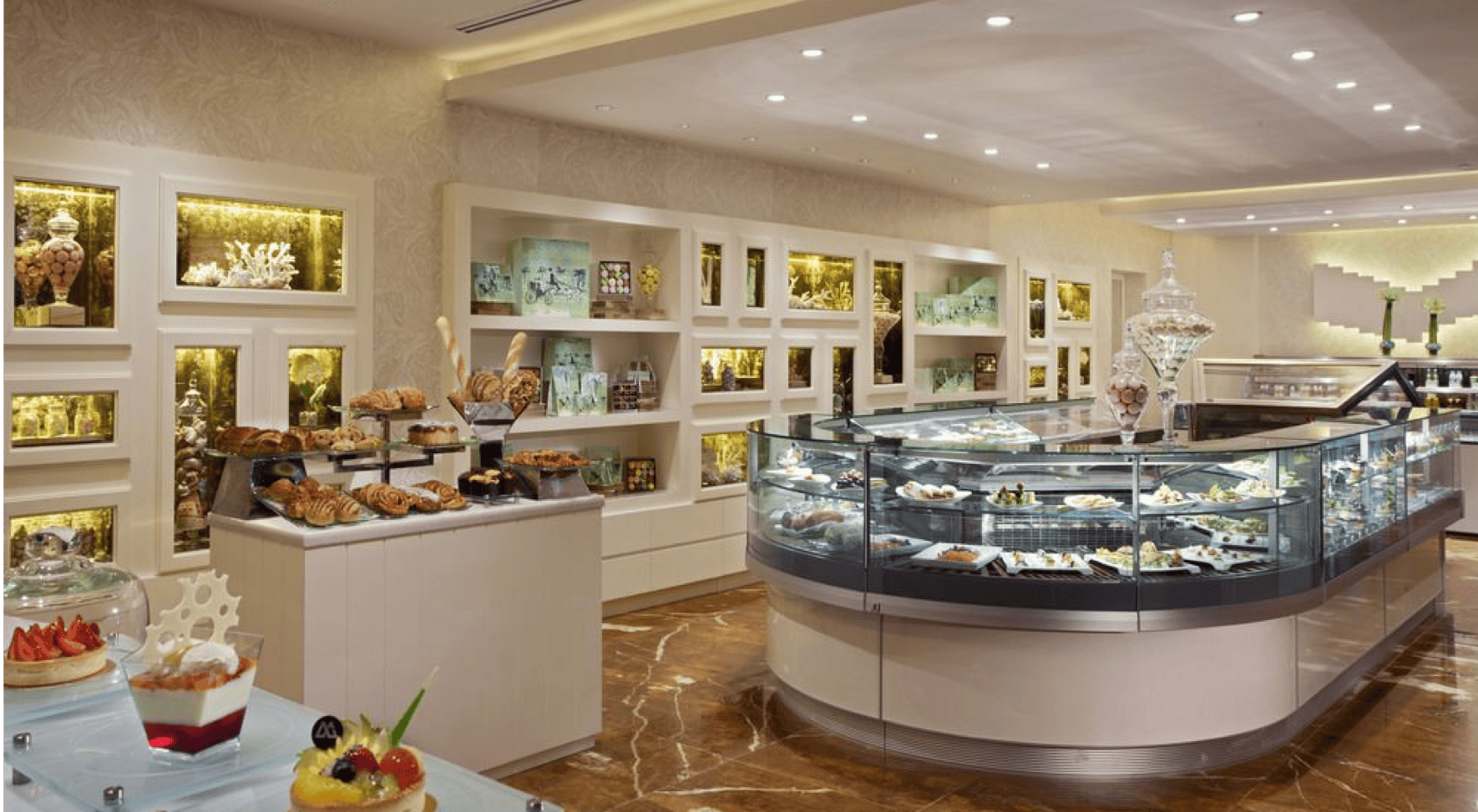 [button style='blue' icon="entypo-suitcase" url='https://www.expedia.com.sg/Bali-Hotels-The-Mulia-Bali.h5548283.Hotel-Information' fullwidth='true'] Discover The Mulia [/button]
Anarasa, Movenpick Resort & Spa Jimbaran Bali
Once in a while, I can't decide what I want to eat: my tongue screams for some linguine a la carbonara while my stomach begs for some oxtail soup. Then, my brain will step in to justify eating authentic local food. #firstworldproblems
I managed to resolve that first-world problem at Anarasa thanks to its wide selection of dishes: from burgers to Robata grill to bebek betutu. Tucked in one of the most beautiful Bali hotels, Movenpick Resort & Spa Jimbaran Bali, Anarasa made me feel at home as I can taste so many different cuisines within a place.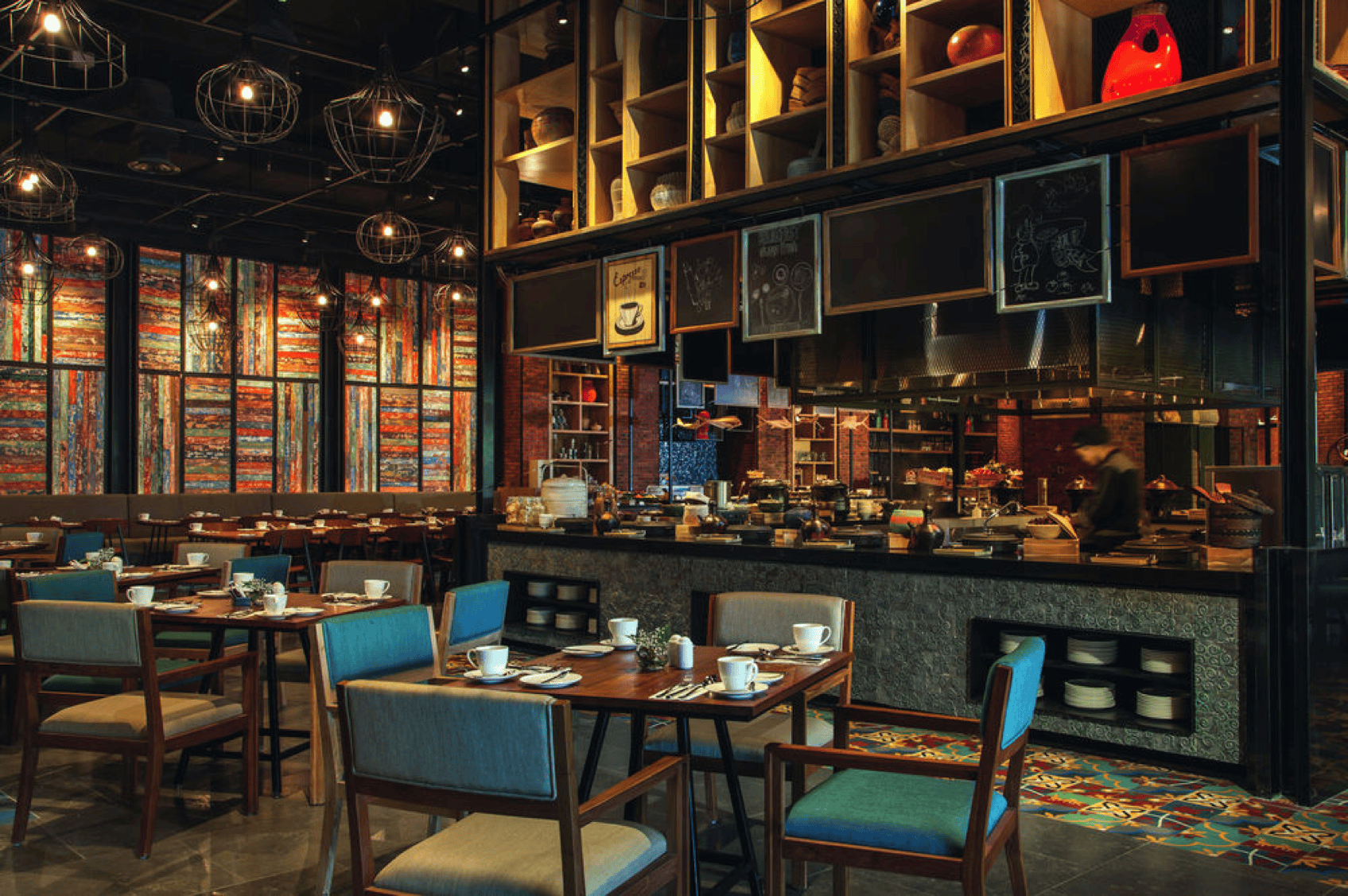 [button style='blue' icon="entypo-suitcase" url='https://www.expedia.com.sg/Jimbaran-Hotels-Movenpick-Resort-Spa-Jimbaran-Bali.h16417293.Hotel-Information' fullwidth='true'] Discover Movenpick Resort Spa Jimbaran Bali [/button]

Bookmark this foodie guide for your next trip to Bali. Hopefully, there'll be no fight over "Where should we eat?" when you're there. You're welcome!
[tabs]
[tab title="Where to Stay" icon="entypo-suitcase"]
Where to Stay during your Trip
[button style='blue' icon="entypo-suitcase" url='https://www.expedia.com.sg/Bali-Hotels.d602651.Travel-Guide-Hotels' fullwidth='true'] Find Hotels in Bali [/button]
[/tab]
[tab title="Let's Go!" icon="entypo-flight"]
[button icon="entypo-flight" url='https://www.expedia.com.sg/Cheap-Flights-To-Bali.d602651.Travel-Guide-Flights' fullwidth='true'] Flights to Bali [/button]
[/tab]