By April Chung, on March 15, 2019
Foodie's Guide to Bangkok
I have always been a foodie. My late nights are often spent secretly binging Chef's Table, and I am always on the hunt for the best lunch deals. Recently, I have taken it upon myself to take this food obsession overseas, and what better place to start than Bangkok? They say it's every shopaholic and foodie's paradise. Guess what? I'm both. Many think that they have to get away from the buzz and tourist hotspots to get authentic local cuisine. But I'm here to prove that wrong with my Bangkok food guide that shows you good places to eat right under your nose in popular shopping districts.
 The Best Bangkok Food to Eat Between Shopping Sprints

Terminal 21
It's one of the more expensive shopping districts in Sukhumvit. But don't let the bling of the shops in Terminal 21 fool you. This is home to some of the best restaurants in Bangkok and their food is much more affordable than you think.
Have a Zeed
Have a Zeed is a casual dining restaurant that serves high-quality Thai and Thai-fusion food at pretty affordable prices. There's also plenty of great vegetarian food in Bangkok and here is no exception. Nearly all their dishes have a vegetarian option, with meat swapped out for tofu.
Their chicken wings are charred under high heat to create a crunchy, caramelised exterior. It's a modern signature with authentic seasoning and flavours.
The pad thai rice noodles are delicately chewy, the bean sprouts cooked to a tender translucency, and the sauce is fragrant and hits all the right notes.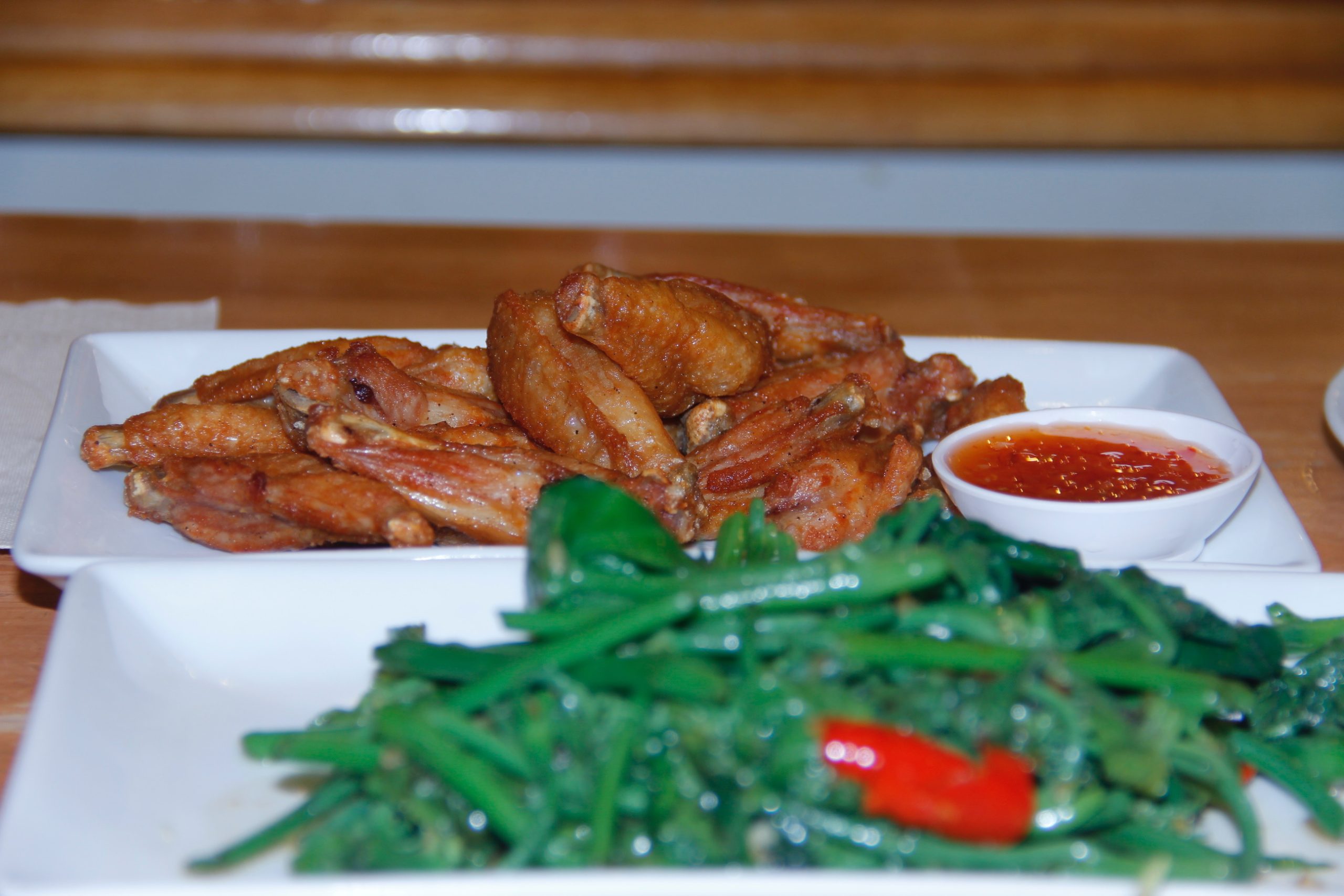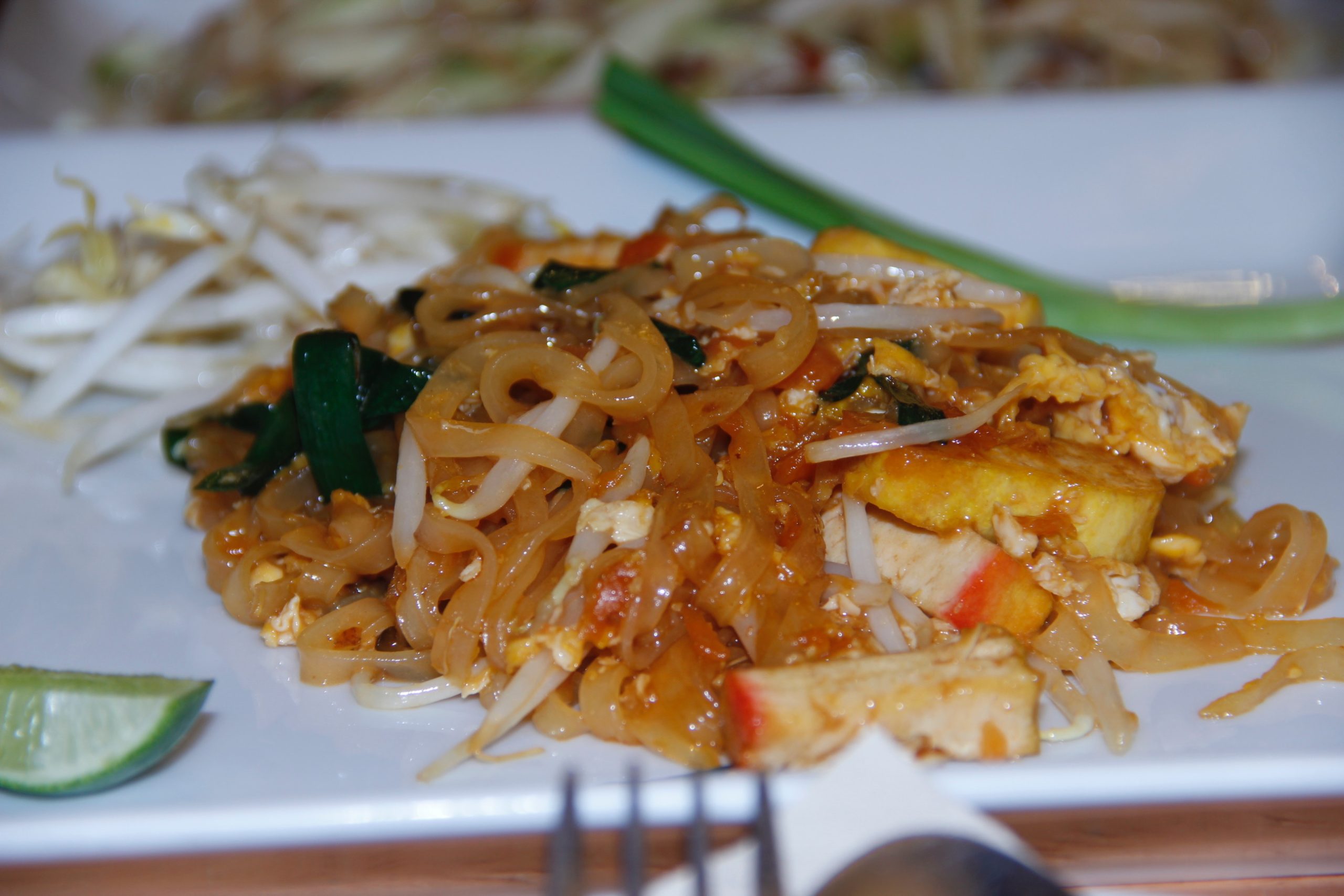 Pier 21
Pier 21 is the food court located on the top floor in the shopping mall. The food here is extremely affordable – much to a shopper's relief. They have a usual range of Bangkok dishes you might expect in the city: green curry, beef noodle soup, Hainan chicken rice.
I hadn't expected to find the best cheng tng I have ever tasted before! I wanted to see Thailand's rendition of our beloved dessert and I was pleasantly surprised!
Their lotus root was the surprise star of the show – it had a very dense bite to it – something only achievable from proper preparation. The care and attention to detail to each ingredient of the dessert was something I really didn't expect from a food court stall.



[button style='blue' icon="entypo-suitcase" url='https://www.expedia.com.sg/Terminal-21-Shopping-Mall-Hotels.0-l6160933-0.Travel-Guide-Filter-Hotels' fullwidth='true'] Find Hotels near Terminal 21 [/button]

Platinum Mall
Ah, it's everyone's favourite mall to visit and revisit. With 4 floors of single-unit stalls pressed back-to-back in rows, there really seems to be no end to the shopping paradise. After all that walking, you're bound to crave for something filling and carb-heavy to bring you through the rest of the day and thankfully, this also happens to be home to some of the best places to eat in Bangkok.
Platinum Food Center
Platinum Food Center provides pretty much all the flavours of Bangkok food you'll ever need, within the labyrinthine mall.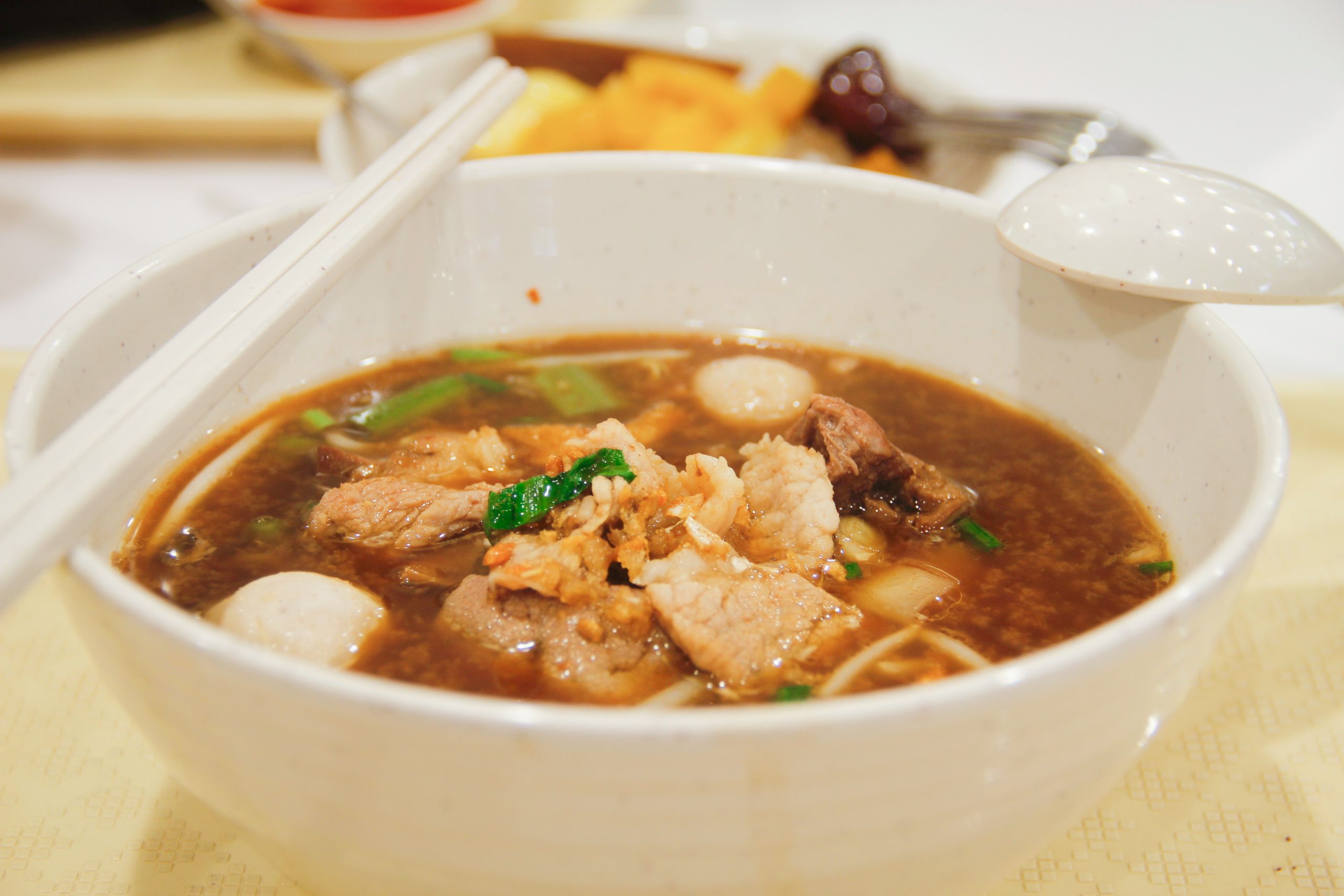 Hearty beef noodle broth – full of umami and savoury bites of meat. Noodles cooked into a delicate, slightly chewy texture.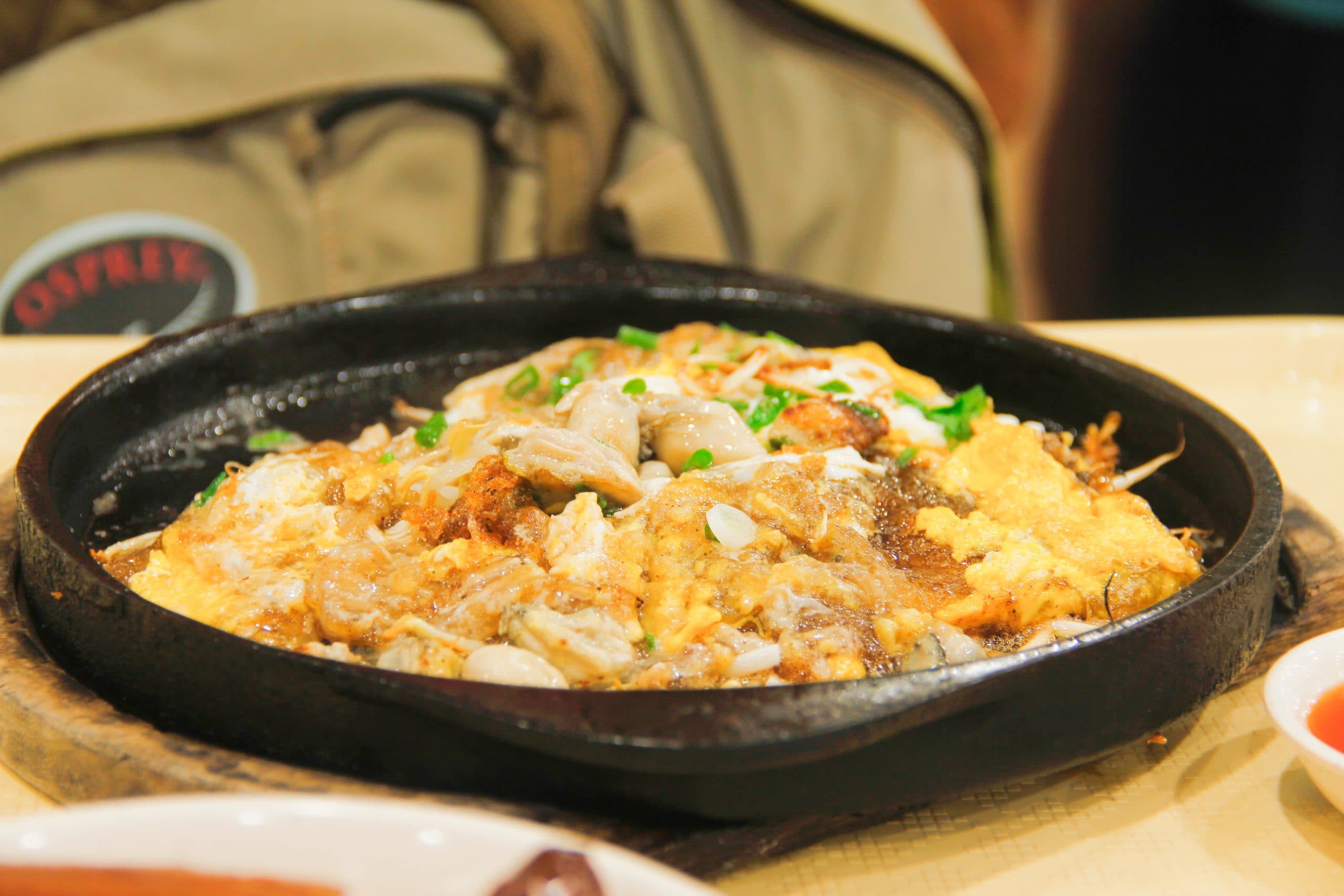 The oyster omelette was crispy and fluffy – all at once. Beansprouts sautéed has a tender translucency and oysters tasted of the ocean are salty and refreshing.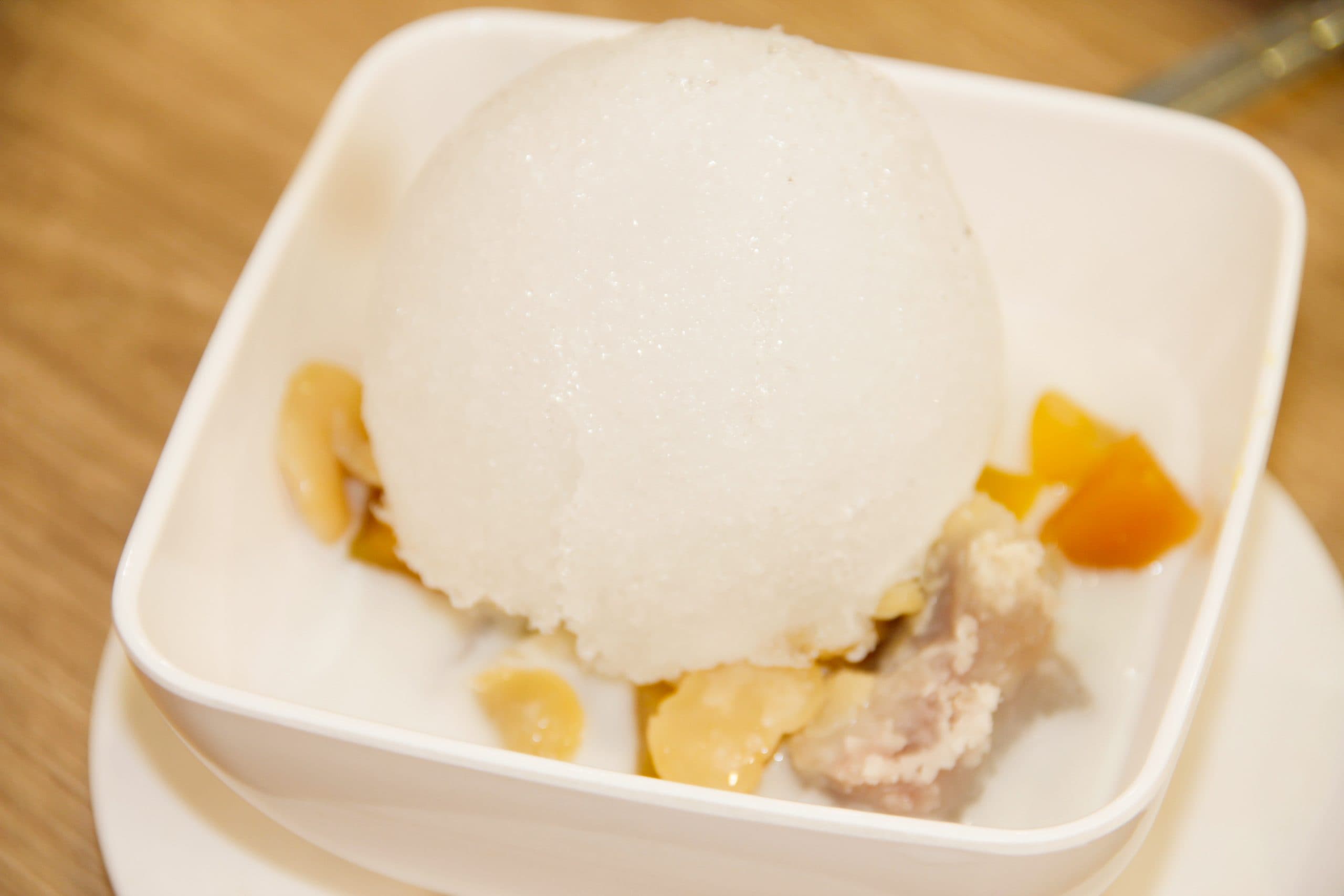 I love bubur cha cha! Their chewy tapioca cubes were of lovely texture, and the sweet potatoes were very waxy – perfect for bubur cha cha lovers.
[button style='blue' icon="entypo-suitcase" url='https://www.expedia.com.sg/Platinum-Fashion-Mall-Hotels.0-l6158065-0.Travel-Guide-Filter-Hotels' fullwidth='true'] Find Hotels near Platinum Mall [/button]

MBK
Located on the first floor of MBK Center, Big Food Court offers more homestyle, hawker-like Bangkok food compared to the food courts in other shopping malls. The look and feel of the place are somewhat akin to that of coffee shops back home. Although tourists tend to patronise the food court on the 6th floor, the staff here are very friendly, and their service tells you that they really care that you enjoy their food. And enjoy their food I did.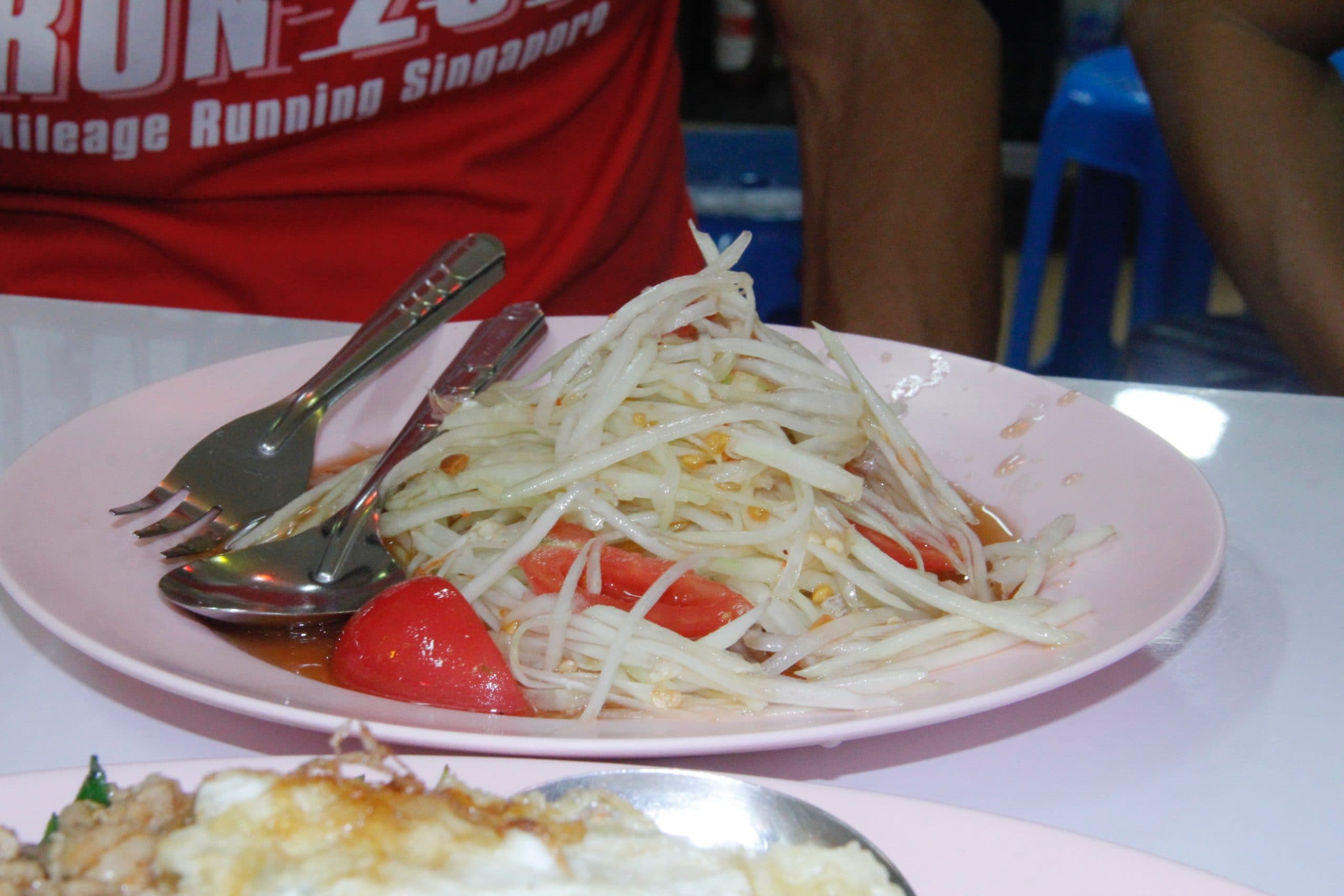 Their papaya salad was refreshingly sweet, savoury, and tangy. Biting into the crispy garlic bits was like finding M&Ms in a pack of tree nuts.
Their tom yum goong, rich in seafood aroma and coconut milk, didn't make me feel jelak at all.
There was a perfect amount of herbs in their basil chicken rice, and spicy enough to make me look forward to dessert. This was probably the best food centre experience I had in Thailand, serving up some of my favourite things to eat in Bangkok.
[button style='blue' icon="entypo-suitcase" url='https://www.expedia.com.sg/MBK-Center-Hotels.0-l6160169-0.Travel-Guide-Filter-Hotels' fullwidth='true'] Find Hotels near MBK [/button]

Big C Supercenter
I didn't actually intend on visiting Big C. But on my way back to the BTS Skytrain from Platinum Mall, we decided, "Ah, why not…" I was getting a little tired of traditional Bangkok food when I went to the Big C Food Court. But little did I know, I was in for a treat!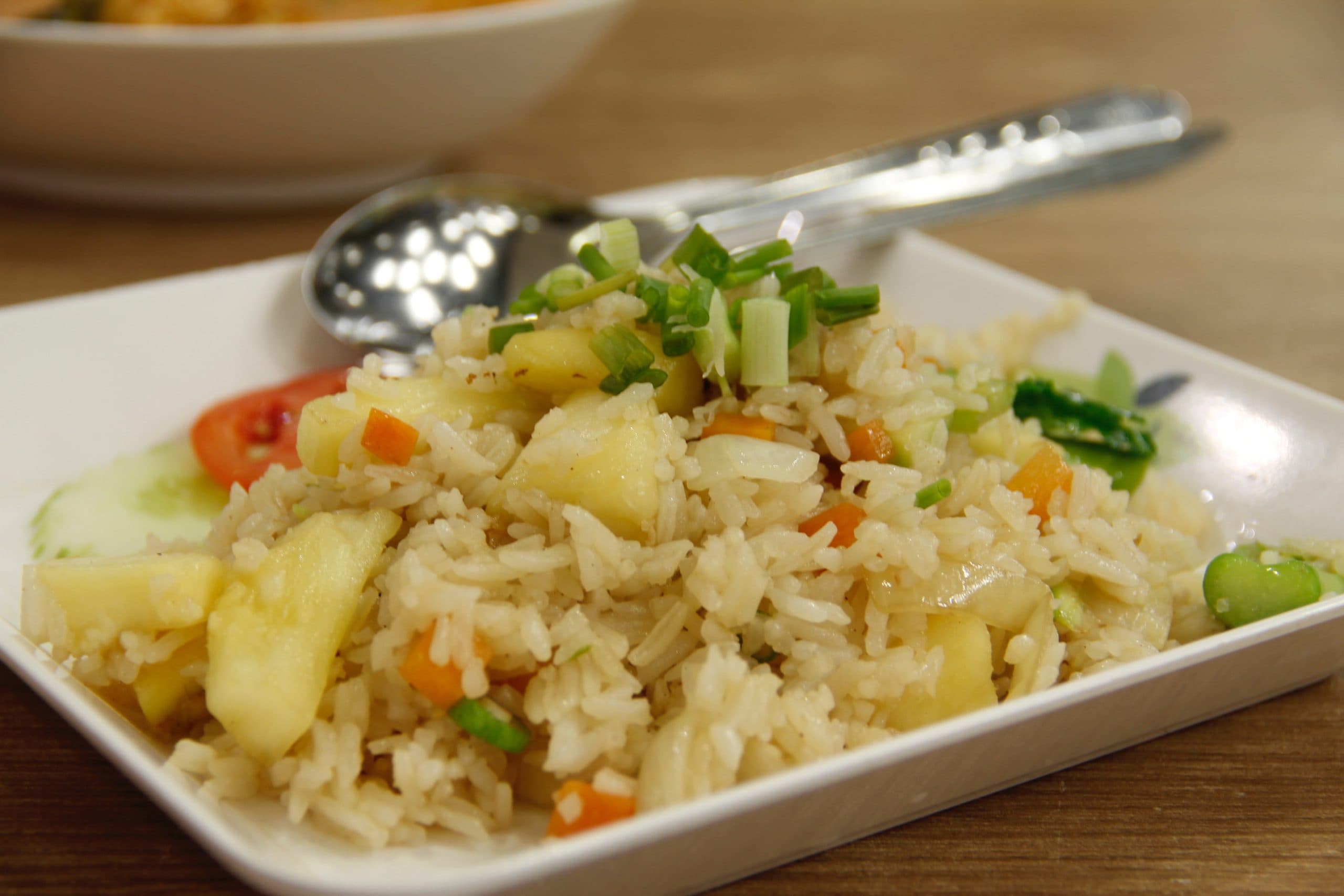 Loaded with ingredients, the pineapple rice had a generous helping of pineapples that have been softened to a tender texture which melds deliciously with the rest of the rice. The distinct wok hey of the whole dish is sure to make you eat your words about ever having too much Thai food.
Our first time trying red curry after a week of spamming our diets with green curry. A memorable introduction of the sour spiciness we have missed.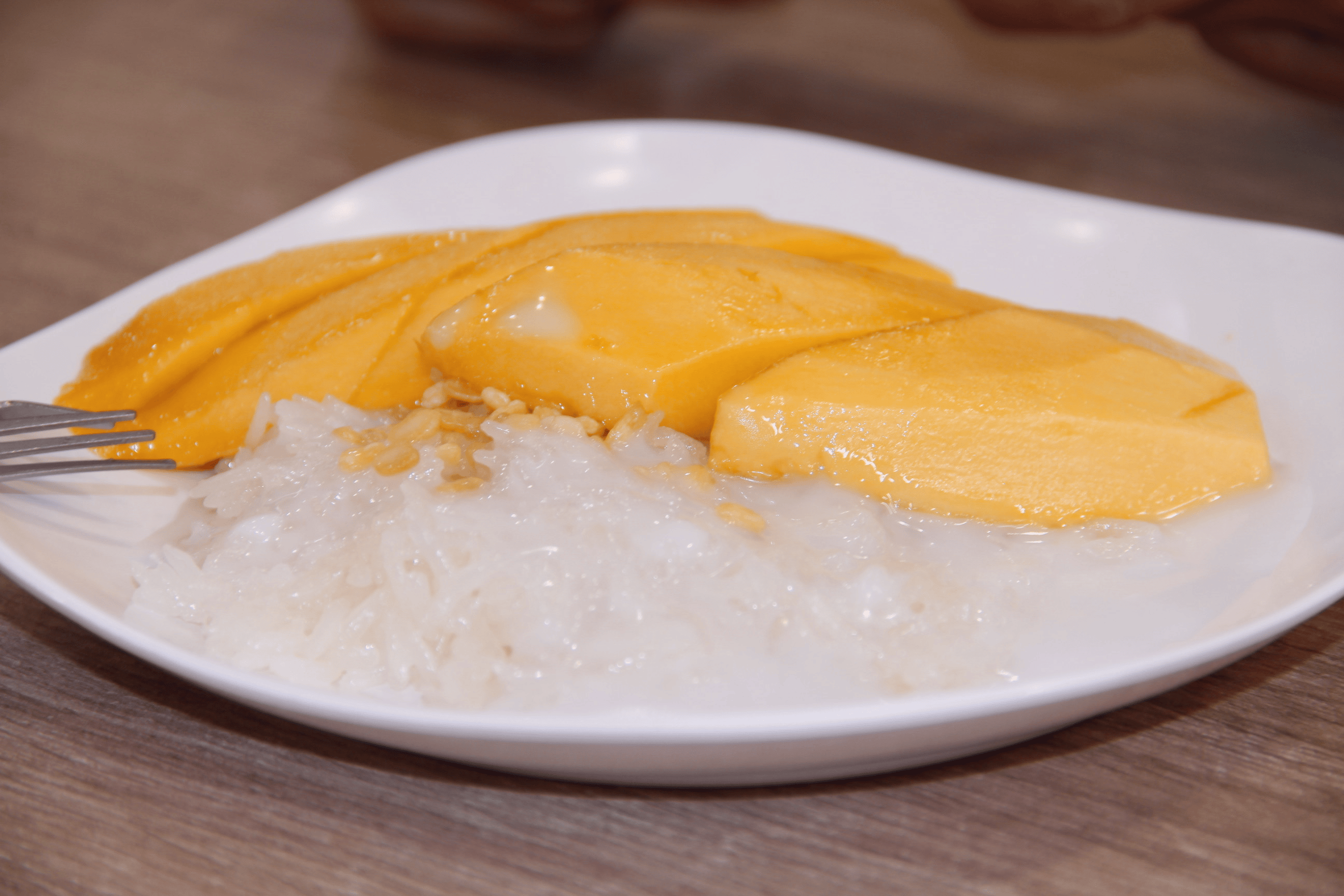 Thai mango sticky rice speaks for itself.
[button style='blue' icon="entypo-suitcase" url='https://www.expedia.com.sg/Big-C-Supercenter-Hotels.0-l6289426-0.Travel-Guide-Filter-Hotels' fullwidth='true'] Find Hotels near Big C Supercenter [/button]

Bangkok Street Food
Ah, the beacon of Thailand's food scene. Bangkok street stalls are a favourite amongst tourists and locals since. They're authentic Thai food, convenient and usually cheaper than most in-house hawkers. The variety and quality of street food are sure to give you the bang for your buck.
I won't attempt to crown any single stall as serving the best street food in Bangkok. Half the fun is for you to stumble upon your own favourite. Just try something whenever you come across some that look tempting.




Chinatown Bangkok
There's a lot to choose from when it comes to Chinatown Bangkok food, with aromatic dishes just waiting to satisfy your hunger.
Nai-Ek Kway Chup
Nai-Ek Kway Chup is the famed kway chup (rolled Thai rice noodles) in Chinatown. The queue is long but it moves relatively quickly. And the food, my goodness, the food.
Groups will often get rice and an assortment of their meat dishes, whilst those who eat in pairs get a bowl of Kway Chup each. The satisfaction you get when you get a seat and indulge in savoury, umami bites under the flashing lights of Chinatown is sure to make for a memorable experience.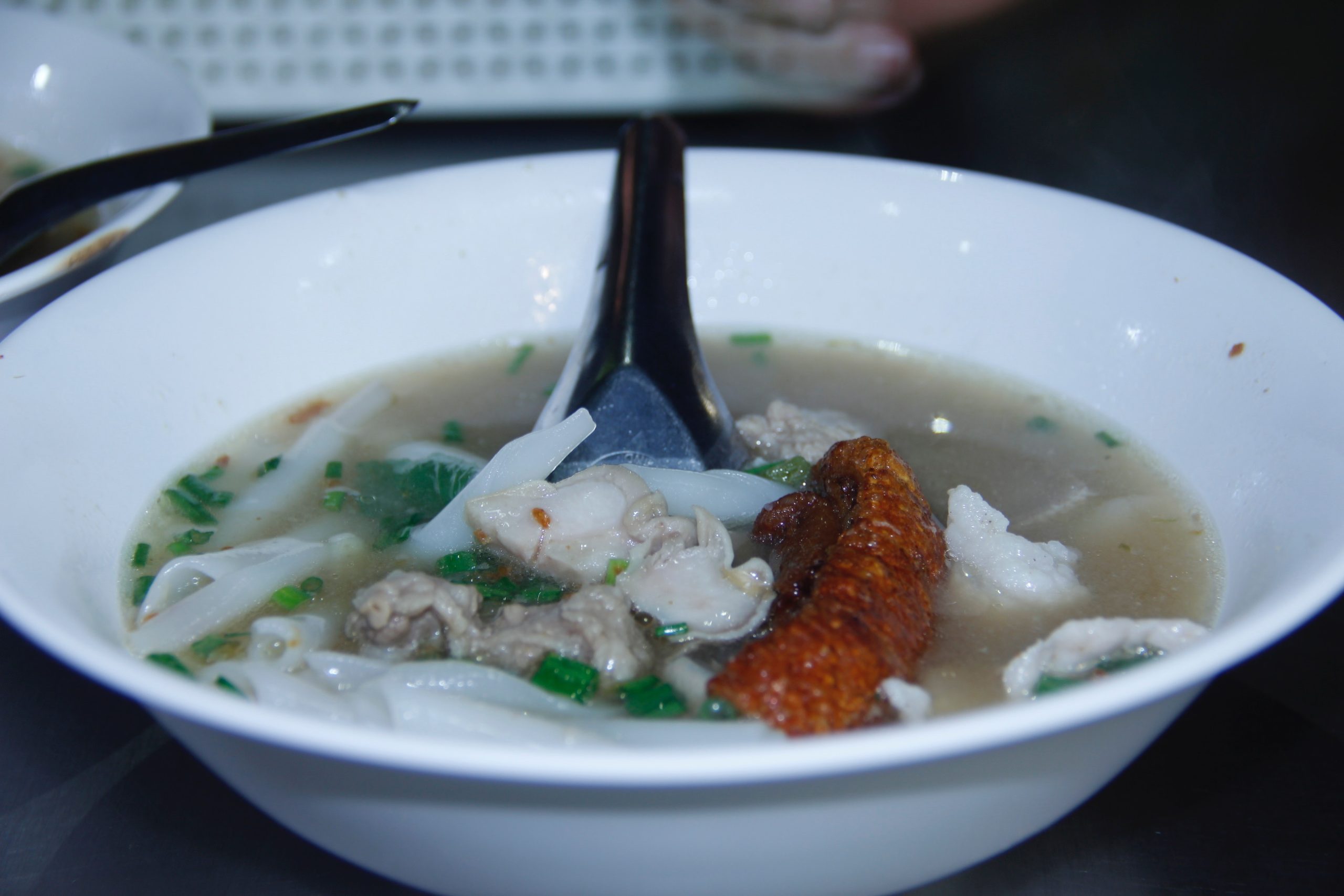 Their kway chup has an earthen soup which makes for great comfort food, yet the savoury crunch and varied textures of all its accessories make it the famed kway chup restaurant that it is. For those who get squeamish about ox tongue or stomach, I really recommend that it's time to get acquainted with them. You won't regret it!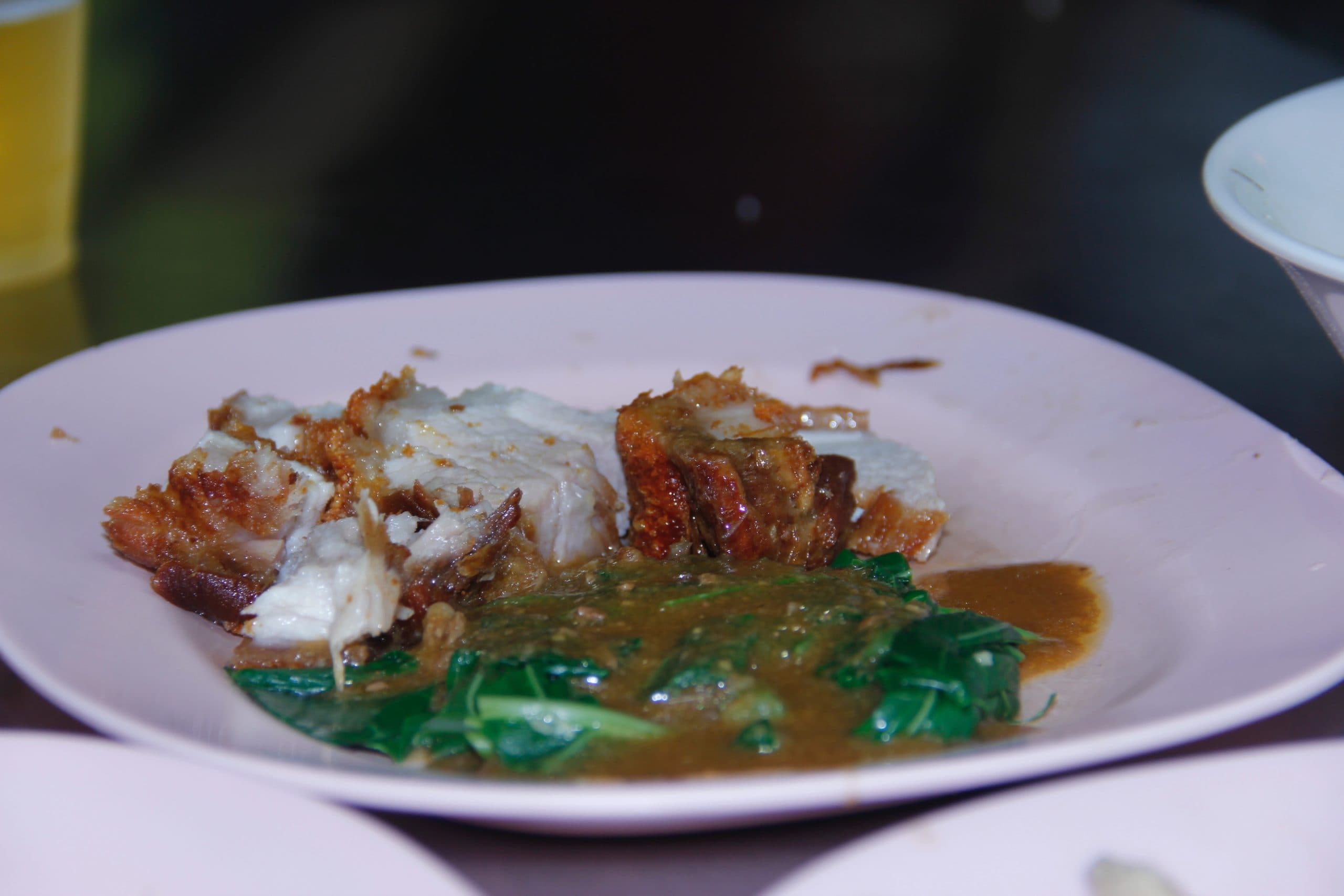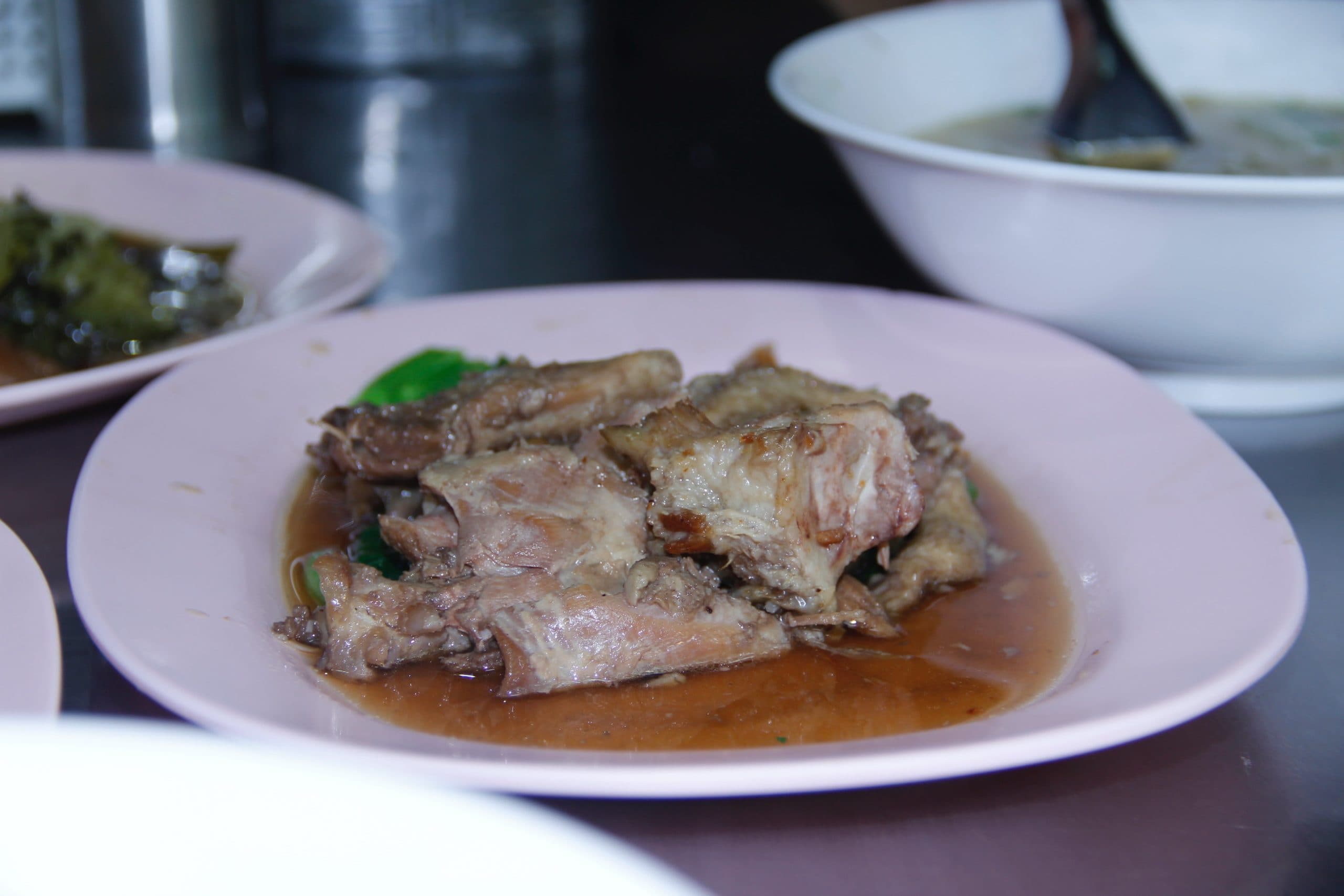 Each dish is catered to the kway chup protagonist in symphonic harmony.
Sweettime Dessert
Sweettime Dessert was a random treasure house I found in Chinatown. Below its bright pink sign boasts a wide selection of Chinese-style desserts, from sticky glutinous rice balls in the ginger soup to chunky tau suan. I swear the detail that goes into the preparation of each dessert is incredible. Different ingredients are packed separately so that when you do mix them in the comfort of your hotel room, they taste almost as they would had they been prepared fresh.

[button style='blue' icon="entypo-suitcase" url='https://www.expedia.com.sg/China-Town-Bangkok-Hotels.0-n6049556-0.Travel-Guide-Filter-Hotels' fullwidth='true'] Find Hotels in Chinatown [/button]

Special Mention: Halal Chicken Stop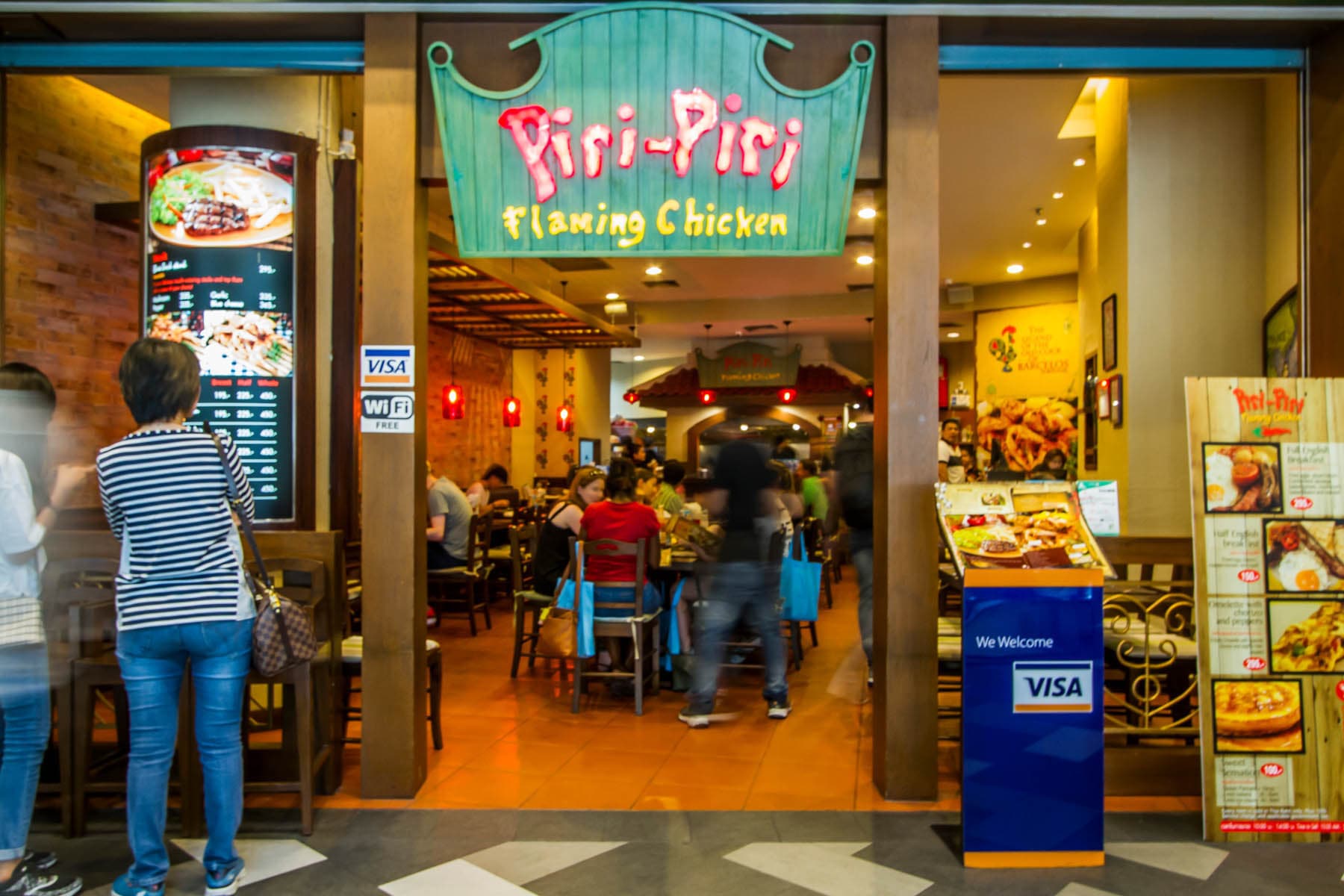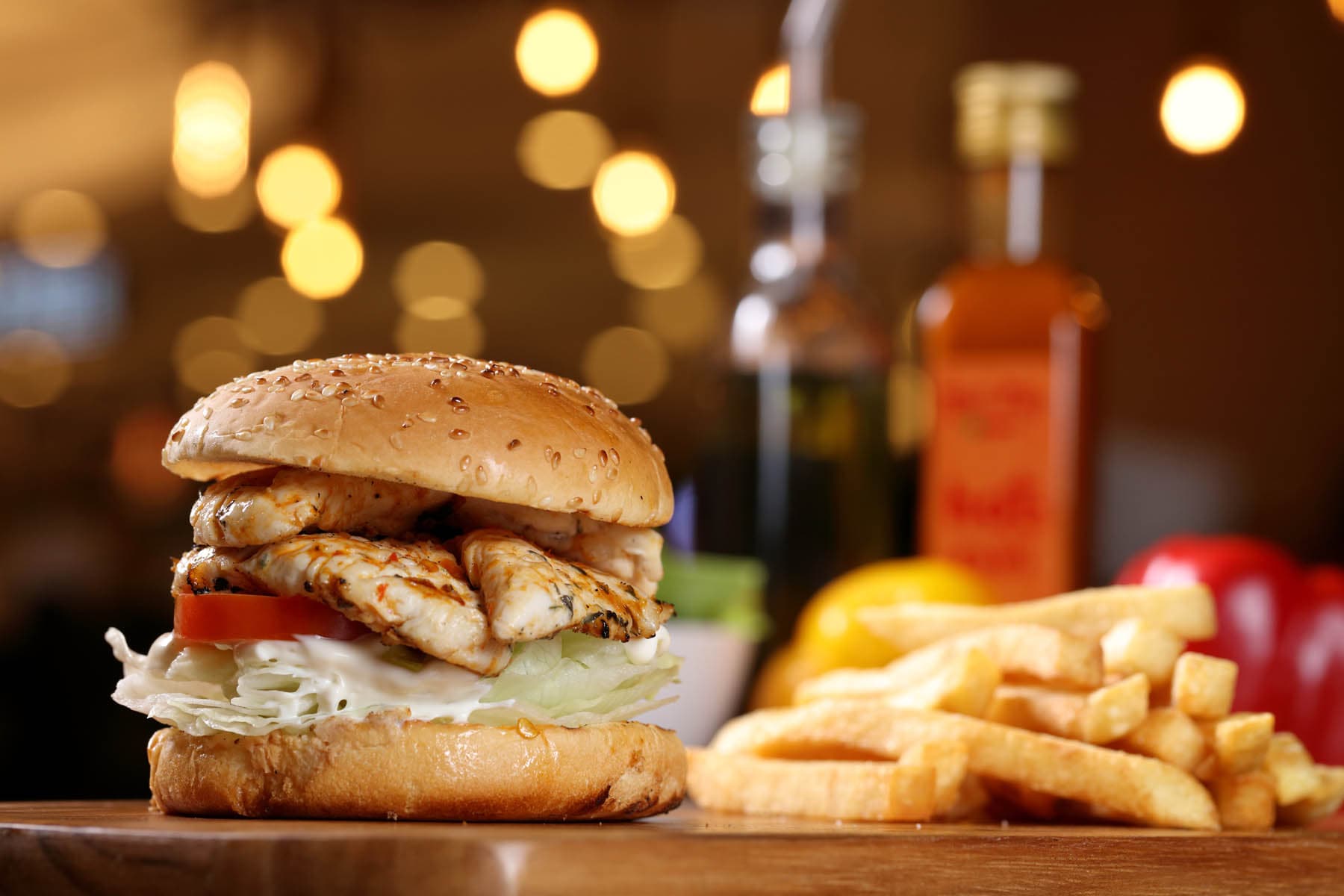 Photo credit / Piri Piri Asia
The authentic Thai food in Bangkok is wonderful but sometimes you just want something a little different. Piri Piri Flaming Chicken, which may ring a bell from the peri-peri sauce you'd find at Nando's, was the best departure from Thailand. Sure, it's actually a Portuguese chain, but Singapore doesn't have this deliciously juicy and sinful chicken stop. Their chicken burgers don't feature patties that vaguely resemble chicken breasts – but whole chicken breasts. The meat is well marinated and juicy, you'll have to constantly refrain from licking your fingers clean.

For Snacks: Taokaenoi LAND

Soy sauce, kimchi, and coconut-flavoured seaweed are amongst the curious selection of snacks you can find in this Thai-originated store.
We're no stranger to Taokaenoi – their crispy yet non-greasy seaweed snacks have wormed their way to our countertops and aren't leaving anytime soon. However, there are many products, including Taokaenoi Ramen, that have yet to show up at our supermarkets. They even sell packets of pre-prepared spices and ingredients to famous Thai dishes like massaman curry and pad thai.
Be prepared to sacrifice a good amount of luggage space before entering this shop. Once you have a look at their quirky and fun selection of seaweed, there's no turning back.

Bangkok Hotel Buffets
Who says the feasting has to end when you're back at your Bangkok hotel? There are plenty of hotels in BKK that offer top-notch buffets.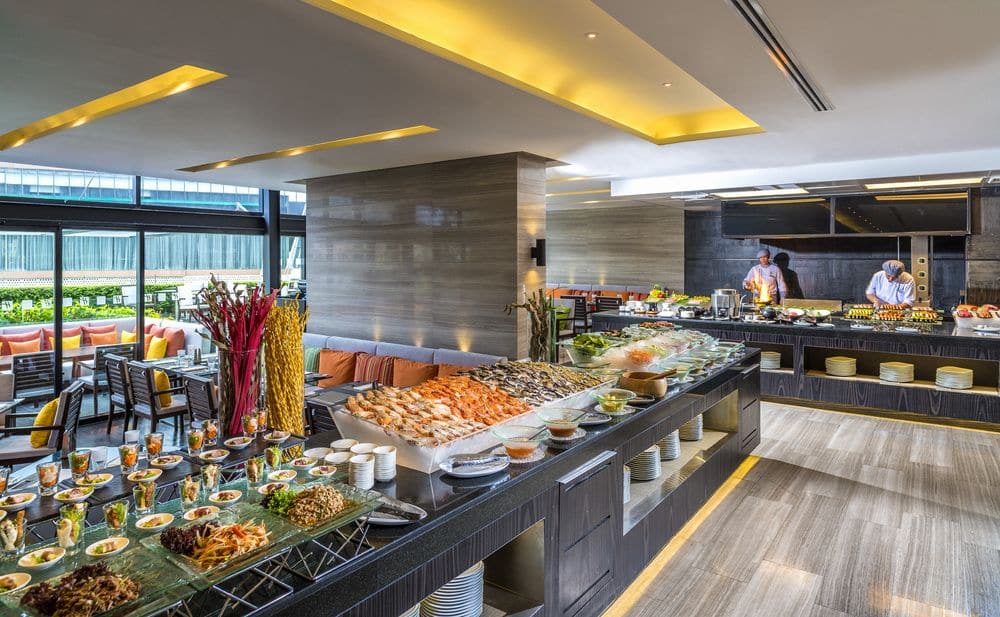 The Holiday Inn Bangkok Sukhumvit takes the daily morning breakfast buffets to the next level. You can find authentic Thai-style main courses and cuisines from all around the globe here. Chefs are on standby, making sure you receive food piping hot from the wok. If tangy pad thai and a generous serving of eggs and bread isn't the perfect way to start your morning, I don't know what is!
Anantara Riverside Resort is another alternative for those who love the buffet. This time, however, you're enjoying it by the riverside. Anantara makes a point to give its guests the ultimate VIP experience. Steaks grilled to perfection, handmade Italian pasta, and cocktails against the backdrop of a setting sun. Stunning settings with cuisine to match at Riverside Terrace with a Thai classical dancing performance every night.
Bangkok food = endless adventure. Go where your tastebuds lead and enjoy the gastronomic heaven.
[tabs]
[tab title="Where to Stay" icon="entypo-suitcase"]
Where to Stay during your Trip
[button style='blue' icon="entypo-suitcase" url='https://www.expedia.com.sg/Bangkok-Hotels.d178236.Travel-Guide-Hotels' fullwidth='true'] Find Hotels in Bangkok [/button]
[/tab]
[tab title="Let's Go!" icon="entypo-flight"]
[button icon="entypo-flight" url='https://www.expedia.com.sg/Cheap-Flights-To-Bangkok.d178236.Travel-Guide-Flights' fullwidth='true'] Flights to Bangkok [/button]
[/tab]
[/tabs]