By Aron Goh, on May 17, 2019
Foodie's Guide to New York City
If there's one thing that New York truly does better, it's food. The words "melting pot" is a cliché that I find highly applicable to food in New York, and not just for its culinary association. An innumerable number of cuisines are found in the city, and you won't have to go far to find try food from halfway around the world. It's also excellent. There's something about New York that simply inspires excellent food.
It's often said that tourists and locals have very different expectations of food, and nowhere is that more apparent than in New York City.

Best Places to Get Food in New York
New York Food Carts
Nothing is more eponymous to New York than a food cart. I often think of hot dogs as the iconic New York food cart staple. In reality, the #1 street cart food is not the frank: it's chicken rice.
And no, it's not Hainanese Chicken Rice. It's quite simply chicken over rice – a middle-eastern style Halal dish with chicken or gyro meat served on fluffy rice with a spicy sauce, a few pieces of pita, and the pièce de résistance, their white sauce. This white sauce, creamy and garlicky, mellows out the spiciness of the hot sauce, making for a hearty and filling dish that's also very affordable. It's a go-to-meal for hungry college students and busy white-collar workers.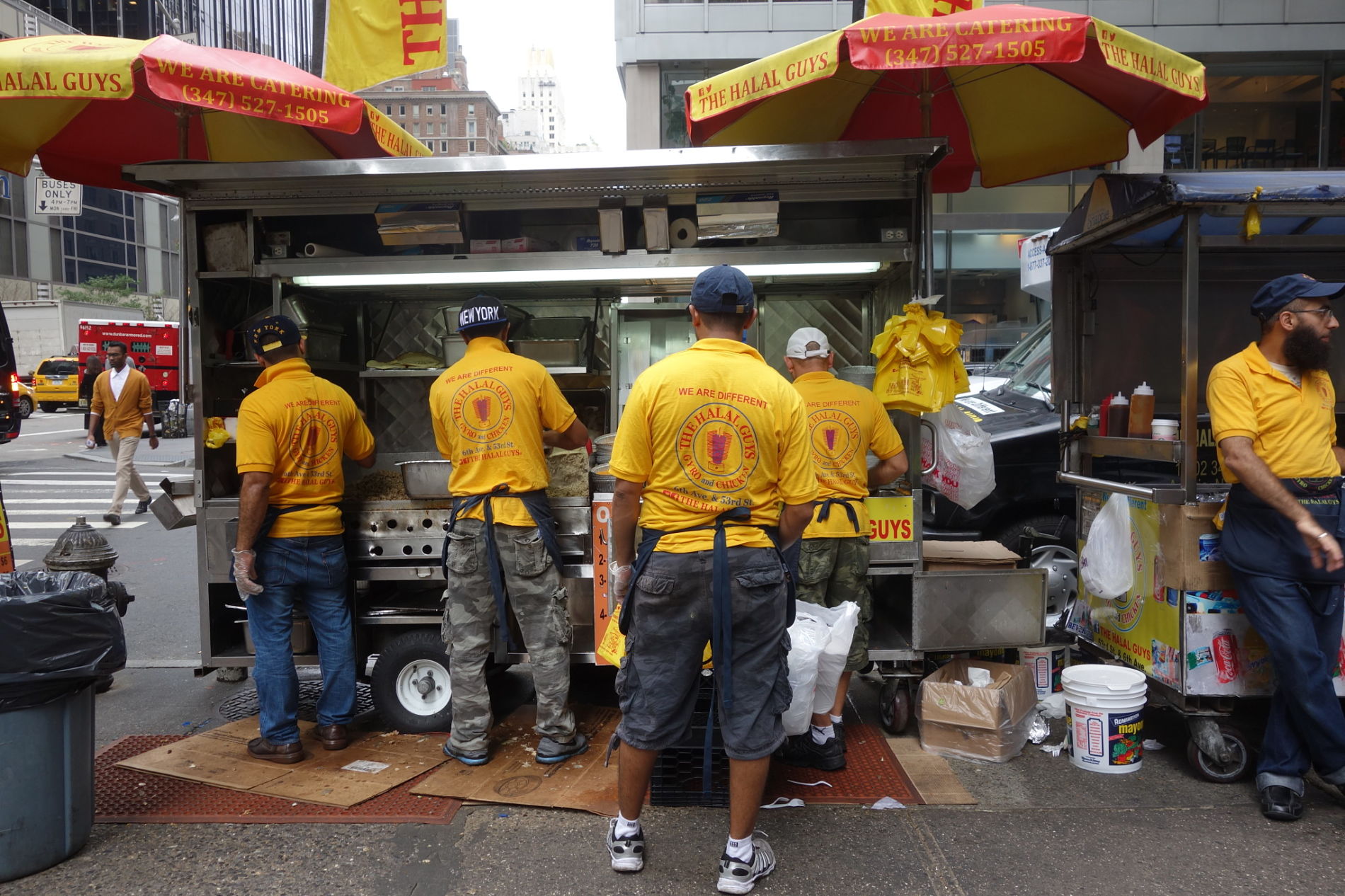 CC BY 2.0 /John Li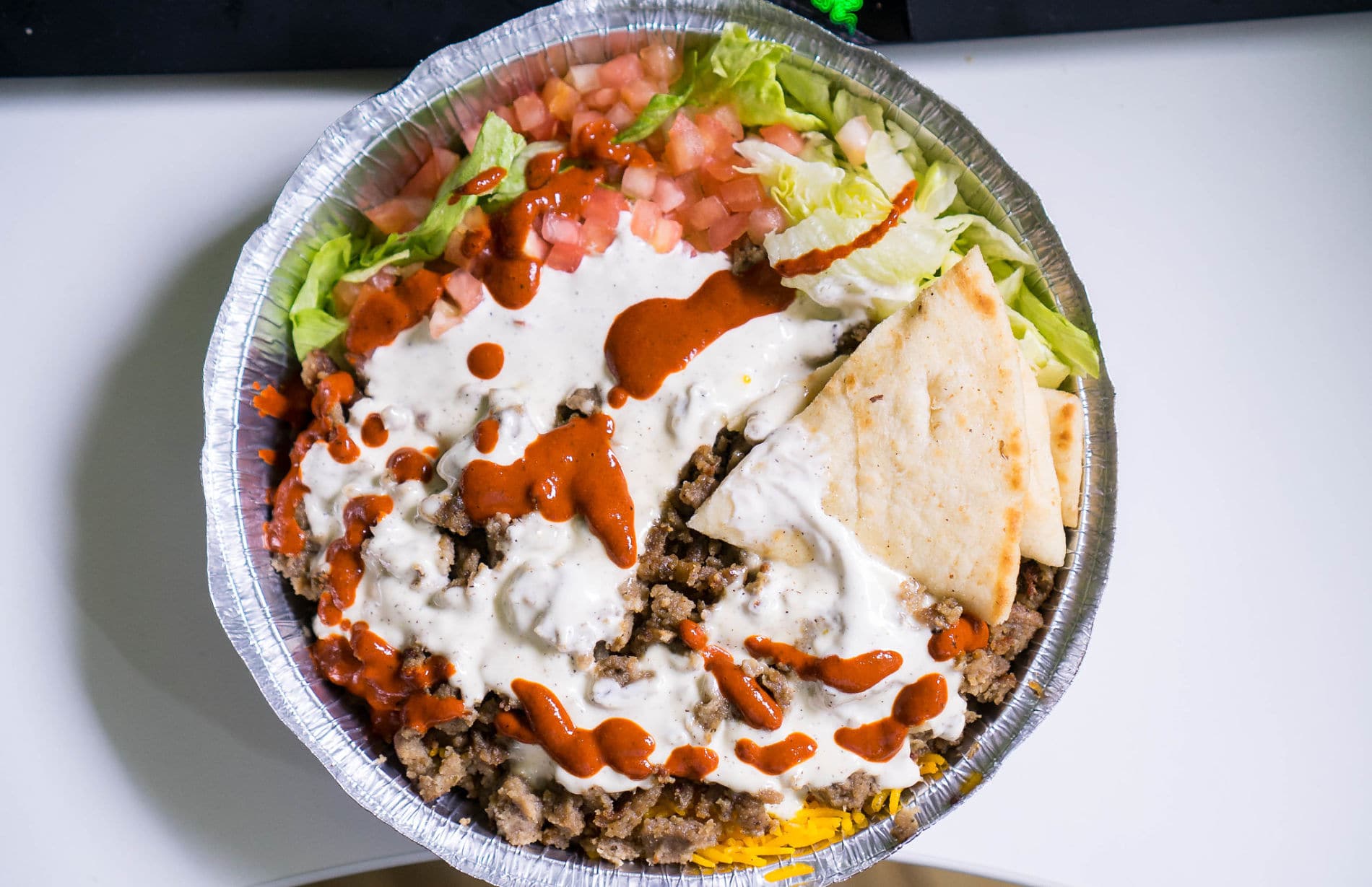 CC BY-ND 2.0 / Max Wei
[tabs][tab title="Location" icon="entypo-address"]
Location: Many! It's a food cart. Check 'The Halal Guys'.
[/tab][/tabs]
Ramen
You wouldn't think that New York City and ramen would be so intertwined, but after a few episodes of Chef's Table, I really consider myself an expert on the matter. Basically, a few restaurants like Momofuku and Ivan Ramen inspired a ramen Renaissance, if you will, in New York City. It became a craze that eventually turned into a mainstay of New York food culture.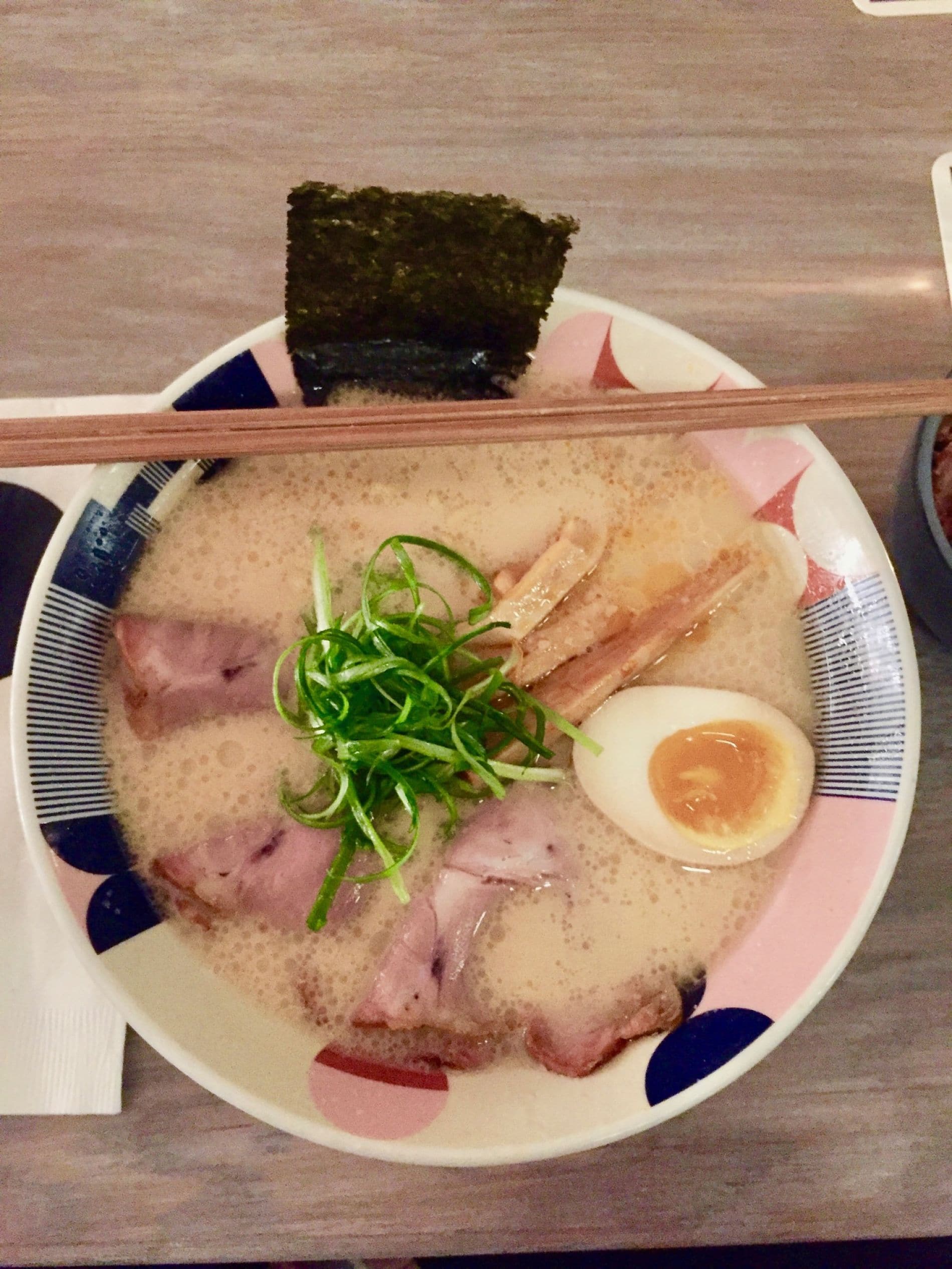 Some of the aforementioned places Momofuku and Ivan Ramen are interesting and delicious takes on the more traditional ramen. One of my favourites from the latter is their Triple Pork Triple Garlic ramen which tastes just as good as it sounds. Pork? Good. Garlic? Good.
Alternatively, another favourite of mine, if you're in Midtown (where they have also recently opened the Japanese ramen chain, Ichiran), is Tonchin Ramen. They do an incredible tonkotsu that's creamy and very flavorful without being (too) heavy. It's some of the best Japanese food in New York.
[tabs][tab title="Location" icon="entypo-address"]
Tonchin Ramen
13 W 36th St, New York, NY 10018, USA
646-692-9912
[/tab][/tabs]
Hot Pot Buffet
If you're ever visiting over the winter months, you'll know how bracingly cold the New York weather can be. Nothing warms you up more than hot pot. It's as big of a thing in New York as it is in Asia, and you don't have to look too far to find a good hot pot place.
My favourite chain is 99 Favour Taste (that's right, Favor not Flavor). It's your standard hot pot buffet. You order meat and vegetables to your table with a variety of soup bases you can choose (my personal favourites are mala and pork bone broth), and sauces are at a self-service counter. Drinks are not included. You also eat for free on your birthday, which makes this a very popular spot with Asian students who are looking for great food in New York.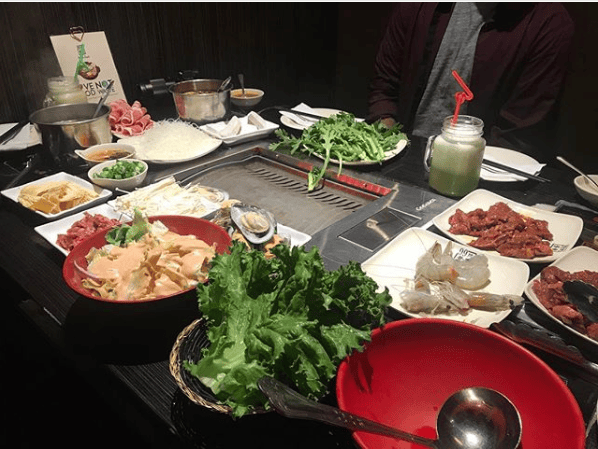 @99favortasteofficial / Instagram
[tabs][tab title="Location" icon="entypo-address"]
99 Favor Taste Hot Pot
37 St. Marks Place, NY 10003
212-256-0480
Multiple-locations. Check 99 Favor Taste for more.
[/tab][/tabs]
Vegetarian Food – Superiority Burger
It's tough being vegetarian (so I hear), but in New York, it's thankfully much easier thanks to Superiority Burger. I can't emphasize how much I'm in love with this burger. I've even bought their cookbook to attempt to recreate their signature Superiority Burger black-bean patty – it's a true labour of love. They also don't serve fries. So keep that in mind if you HAVE to have some with your burger. They do, however, serve excellent sides that change daily.
Everything in the store can also be made vegan. Their slogan is "Everything is vegetarian a lot is accidentally vegan just ask!" Everyone I know, even the most voracious meat-eaters, have been turned by this burger. We acknowledge its Superiority and you will too.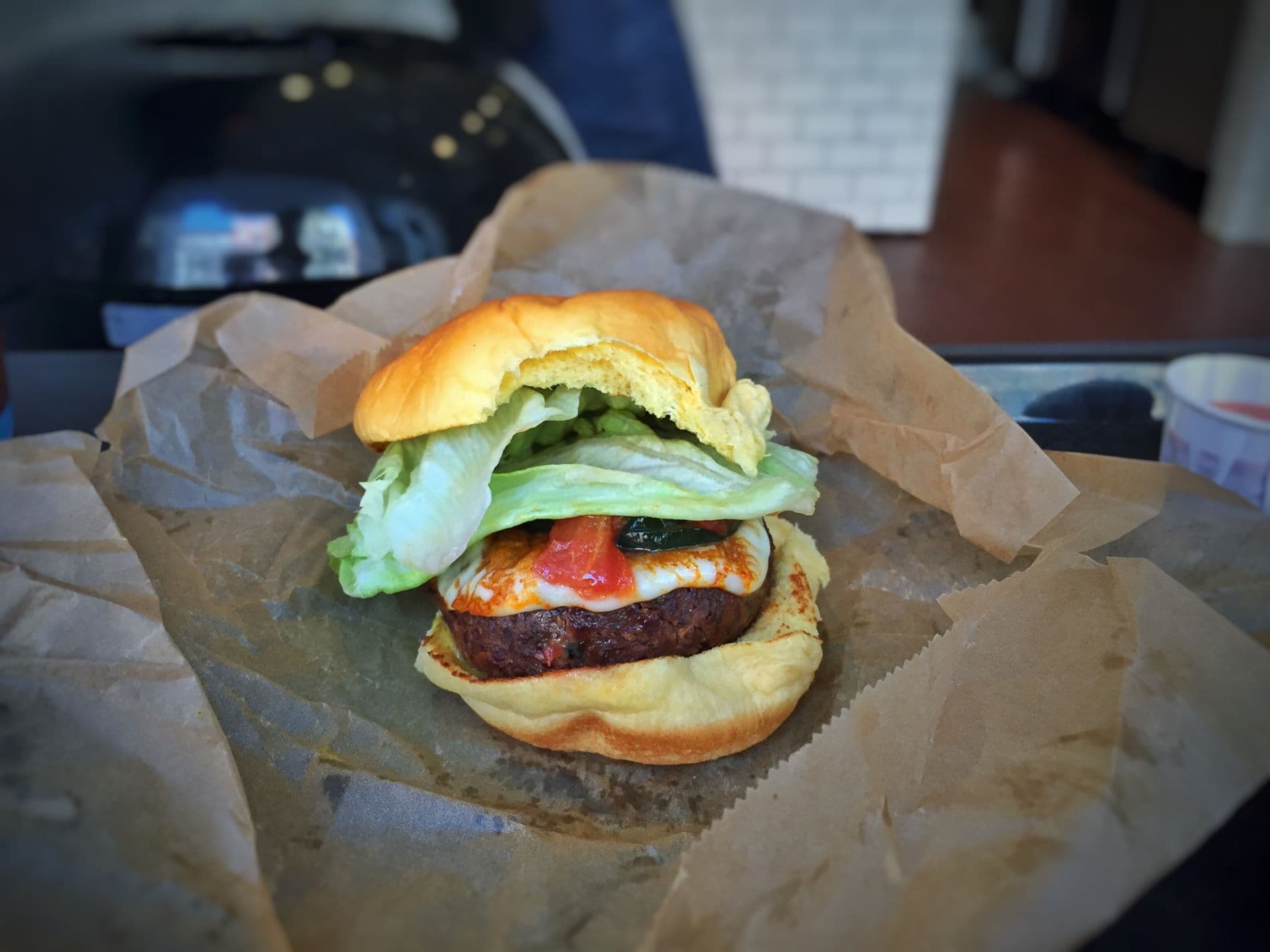 CC BY 2.0 / T.Tseng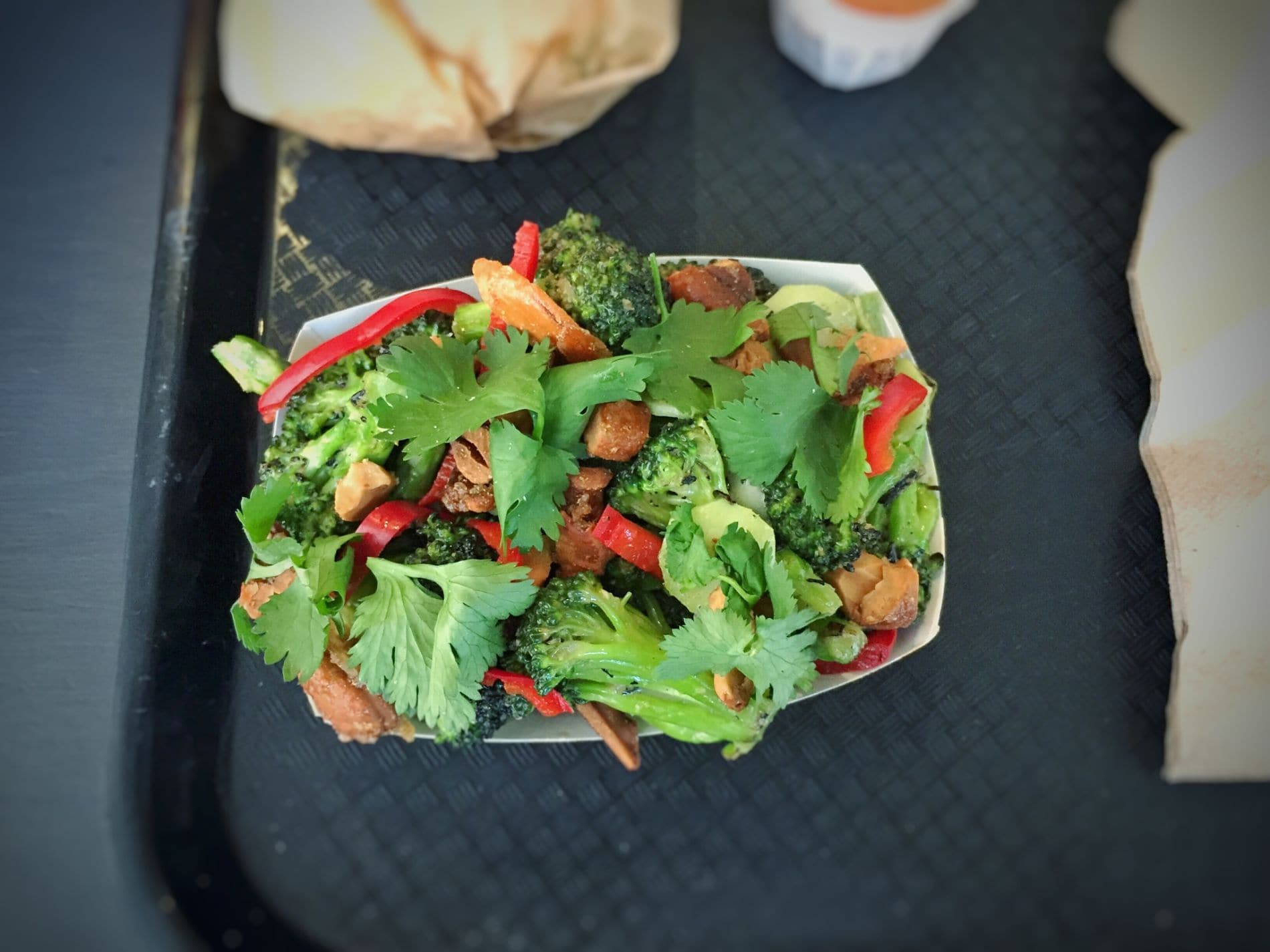 CC BY 2.0 / T.Tseng
[tabs][tab title="Location" icon="entypo-address"]
Superiority Burger
430 E 9th St, New York, NY 10009
212-256-1192
[/tab][/tabs]
Lunch Prix Fixe
This is a fancy way of saying set lunch with a fixed price, but I do as the Romans do and call it Lunch Prix Fixe. Many fancy restaurants in New York offer lunch prix fixe at incredible prices, so if you're looking to eat gourmet on a tighter budget, this is a great option.
My personal favourite is Nougatine by Jean Gorges. Their menu changes occasionally but it's all very good. I enjoyed their tuna tartare and prosciutto-wrapped pork chop very much.
Additionally, if you're lucky enough to be in New York during restaurant week, check 'New York Restaurant Week'. Many restaurants will do lunch AND dinner prix fixe at incredible prices!


[tabs][tab title="Location" icon="entypo-address"]
Nougatine by Jean Gorges
1 Central Park West, New York, NY 10023
212-299-3900
[/tab][/tabs]
Jewish Delis
Is there anything more quintessentially New York than a Jewish Deli? I know I christened food carts with this title earlier but I may have jumped the gun – Jewish Delis are the true staples of food in New York. They earn this from their bagels alone, but they also offer so much more.
I enjoy my bagels with Lox (smoked salmon) and cream cheese, and there are very few places that do it better than Russ & Daughters in the Lower East Side. They're a family-run Jewish deli with an incredible history. Bonus: they also sell incredible caviar. If you're noncommittal and just want a taste, they do a caviar cream cheese that you can smear in your bagel. It's my favourite.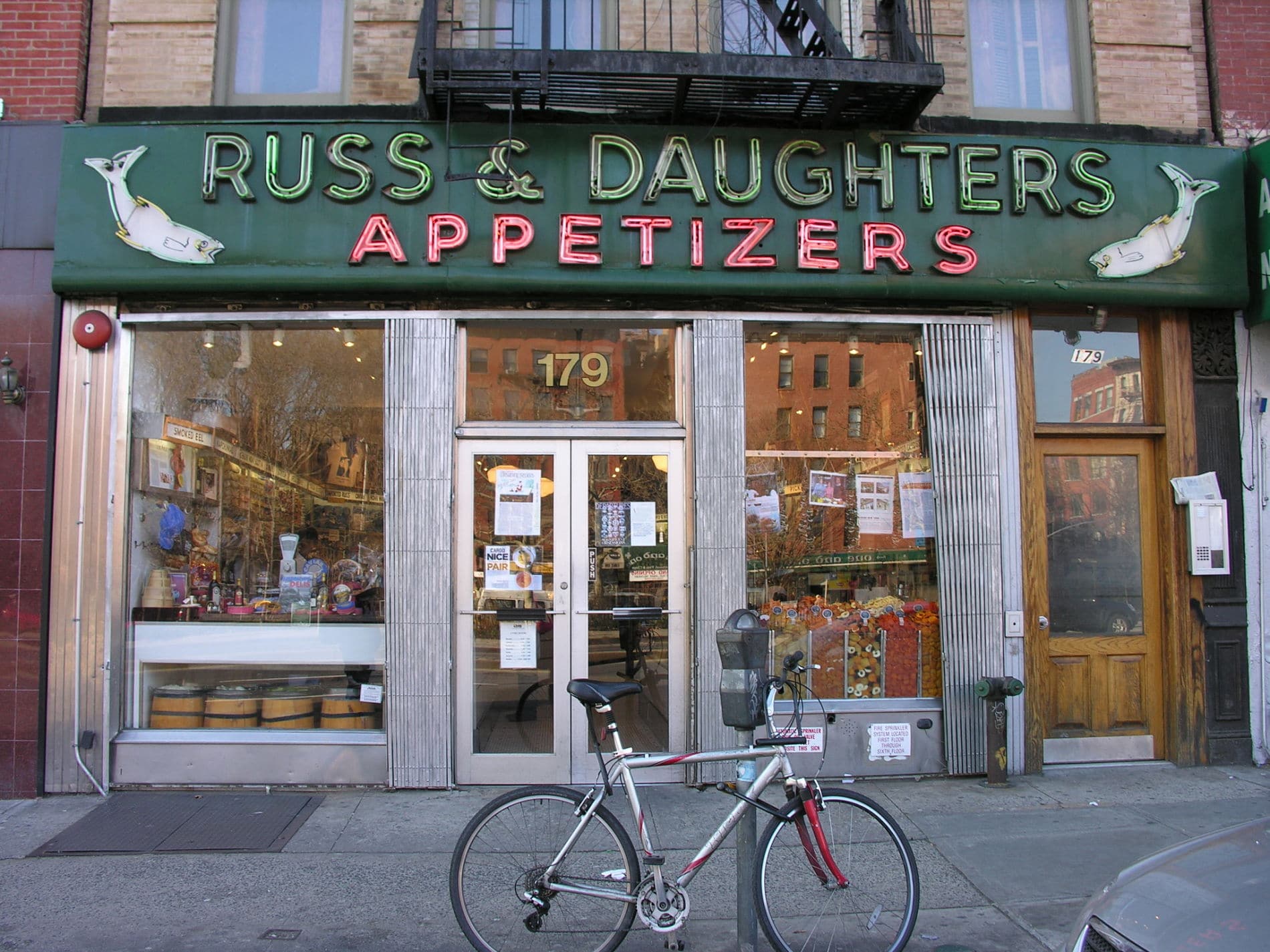 CC BY 2.0 / Jeffrey Bary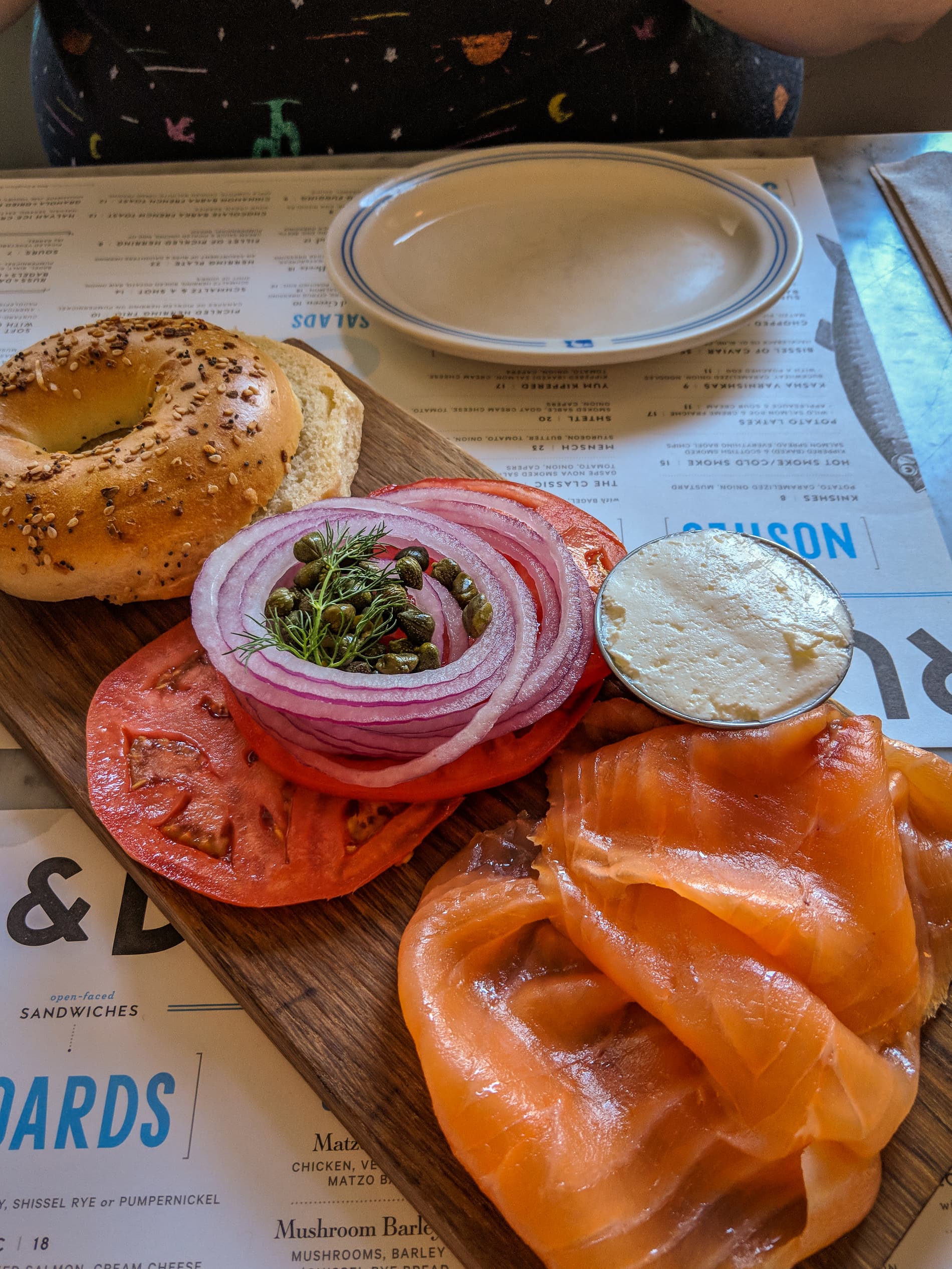 CC BY 2.0 / Dale Cruse
[tabs][tab title="Location" icon="entypo-address"]
Russ & Daughters
179 E Houston St, New York, NY 10002
212-475-4880
[/tab][/tabs]
Additionally, right around the corner is the famous Katz's Delicatessen. Their signature Pastrami and Rye is excellent, but I like something a little less traditional: their hot dog with chilli (the meat sauce).
CC BY-SA 2.0 / Tamsin Slater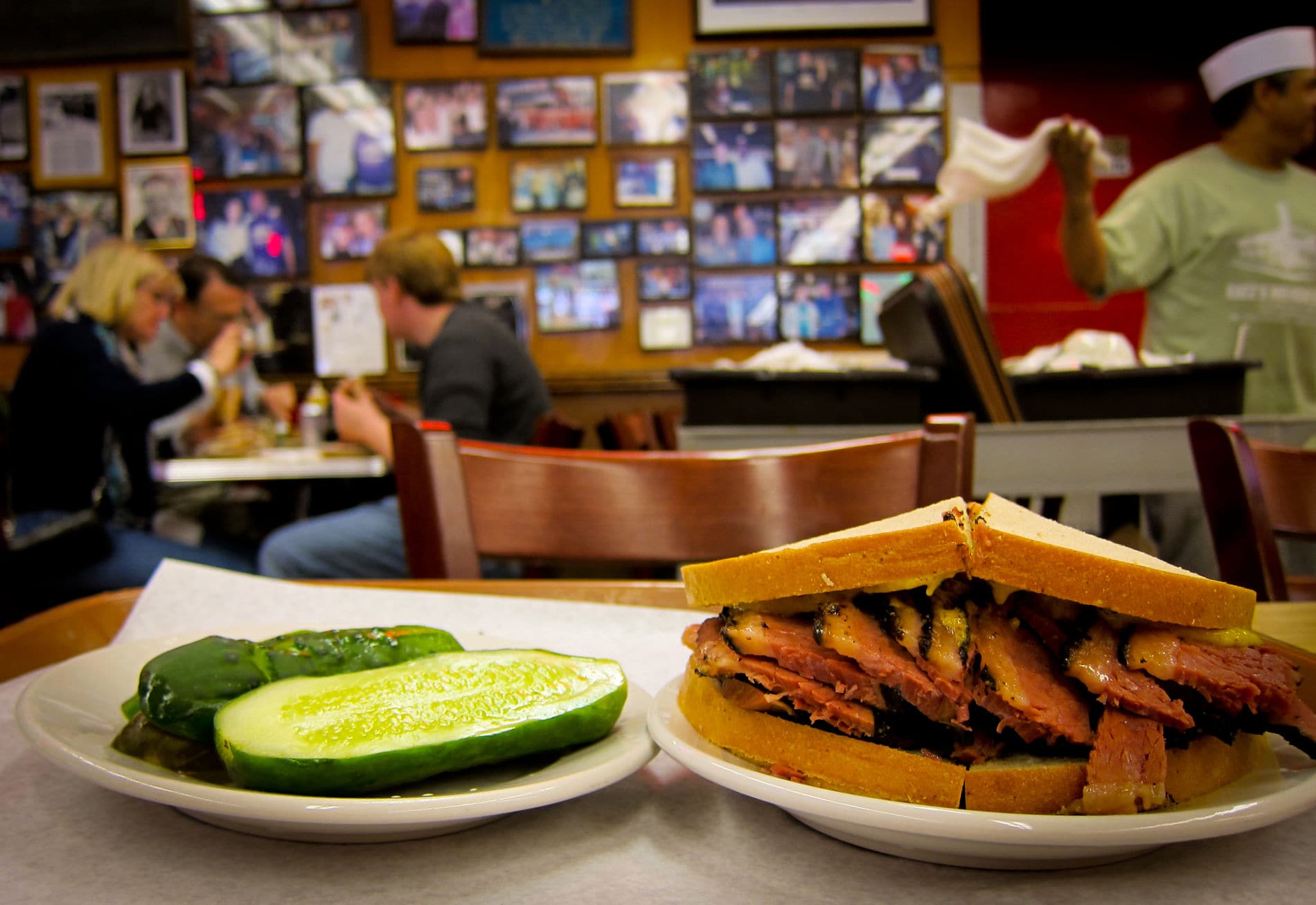 CC BY-ND 2.0 / ercwttmn
[tabs][tab title="Location" icon="entypo-address"]
Katz Delicatessen
205 East Houston Street, NY 10002
212-254-2246
[/tab][/tabs]
Sushi
Japanese food is soon becoming almost quintessentially New York. You'll find it everywhere, from excellent Omakase restaurants to decidedly less excellent sushi at your local Duane Reade.
For a true Omakase experience that will not threaten to bankrupt the rest of your trip, try Tanoshi Sushi NYC. It will still set you back about $100 plus tip and tax. Still, sushi enthusiasts will agree that it's an incredibly affordable price to pay.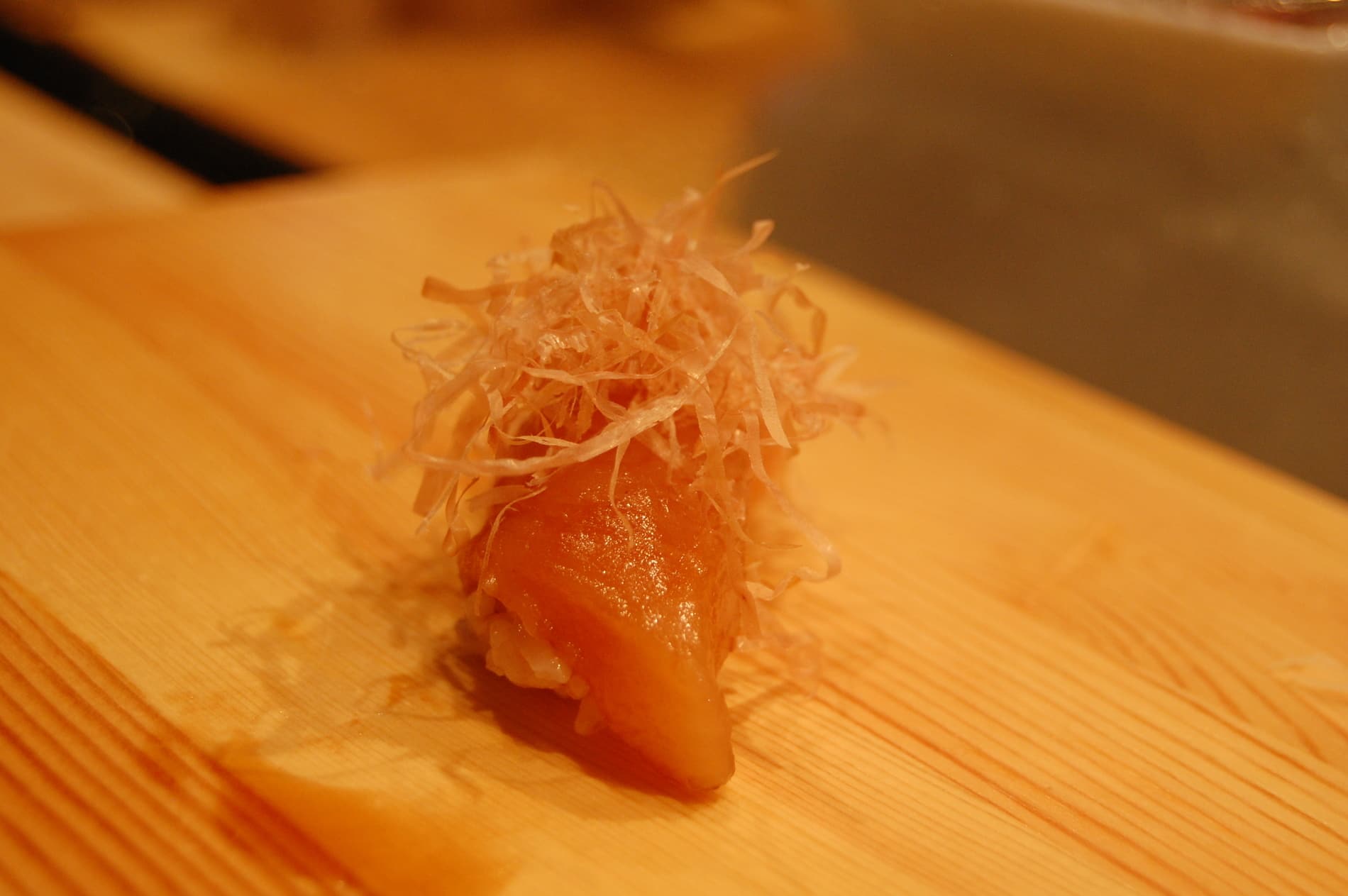 CC BY-SA 2.0 / stu_spivack
[tabs][tab title="Location" icon="entypo-address"]
Tanoshi Sushi Sake Bar
1372 York Ave, New York, NY 10021
917-265-8254
[/tab][/tabs]
Pasta
It's everyone's comfort food – I know it's mine. Little Italy is often a destination for many tourists during their New York holidays, but outside of the few blocks that comprise it, New York city does have incredible pasta that's better and more affordable.
San Marzano is one such place in the East Village that serves great pasta at great prices. And because of this, it's become everyone's favourite. I'd recommend heading there at opening because it's virtually impossible to get a table during the dinner rush.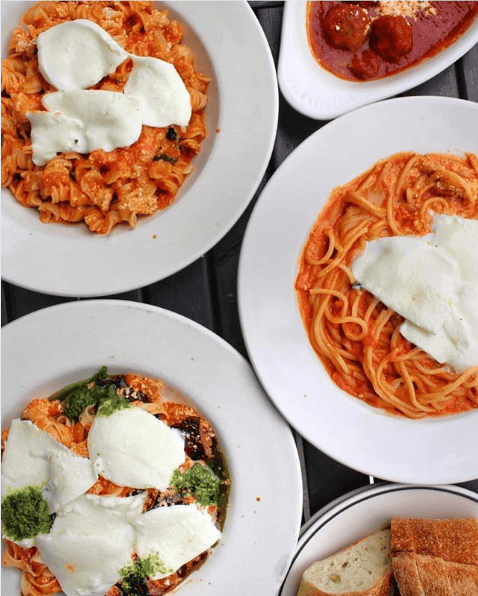 @sanmarzanopasta | Instagram
[tabs][tab title="Location" icon="entypo-address"]
San Marzano Pasta Fresca
117 2nd Ave, New York, NY 10003
212-777-3600
[/tab][/tabs]
Nearby, there's also Cacio E Pepe, eponymously named for the Roman speciality pasta they serve, literally translated to "cheese and pepper". They serve this pasta in a large wheel of pecorino romano cheese, where they dress the pasta right at your table for an incredible spectacle for the eyes and the palette.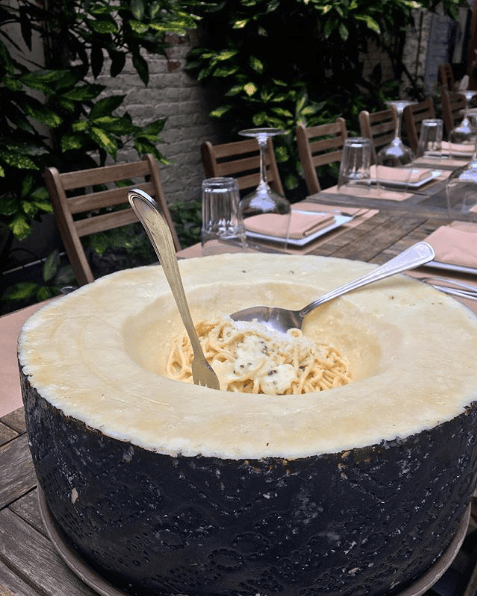 @cacioepepenyc | Instagram
[tabs][tab title="Location" icon="entypo-address"]
Cacio E Pepe
182 2nd Ave, New York, NY 10003
212-505-5931
[/tab][/tabs]
[tabs]
[tab title="Where to Stay" icon="entypo-suitcase"]
Where to Stay during your Trip
[button style='blue' icon="entypo-suitcase" url='https://www.expedia.com.sg/New-York-Hotels.d178293.Travel-Guide-Hotels' fullwidth='true'] Find Hotels in New York [/button]
[/tab]
[tab title="Let's Go!" icon="entypo-flight"]
[button icon="entypo-flight" url='https://www.expedia.com.sg/Cheap-Flights-To-New-York.d178293.Travel-Guide-Flights' fullwidth='true'] Flights to New York [/button]
[/tab]
[/tabs]