By Mikolai Napieralski, on March 6, 2015
Guide to Sepang F1 Malaysia Grand Prix 2015
The Malaysian Sepang Formula 1 weekend is a big deal, and not just for the drivers and race teams. Spectators have to navigate a complex labyrinth of drinks, parties, late nights and concerts. And that's before they get anywhere near the track and the high-pitched roar of the engines.
Read our handy guide to tackling the tracks at Sepang.
Life at 310kms an hour
Getting your money's worth and seeing all there is to see requires military-like precision and planning. You need a game plan and steely resolve, because contrary to popular belief, the actual race is mostly a footnote. The real action takes place in the grandstands, hotels and bars surrounding the circuit.
The Sepang International Circuit was opened in 1999 and has been home to the Malaysian F1 Grand Prix ever since. The race is renowned as one of the most unpredictable of the season: one reason is that its early position on the race calendar means drivers are still working out the nuances of their cars. While this makes for a spectacular crowd experience, spare a thought for the drivers hurtling down the main drag at 310km per hour in an unfamiliar car.
Stormy Race Days
These challenges are only reinforced by Malaysia's unpredictable weather. The country is prone to dramatic seasonal shifts, and days that begin with stifling heat can descend into tropical thunderstorms by afternoon. A sudden downpour during the infamous 2001 race saw two Ferraris (driven by Michael Schumacher and Rubens Barrichello), lose control almost simultaneously on the same corner. Remarkably, the pair recovered and went on to take first and second on the podium.
Getting to the F1 Circuit
The actual circuit is located approximately 50km from downtown Kuala Lumpur and can be reached via train, bus and car. That being said, if you want to avoid the traffic your best bet is to take the high-speed KLIA Transit (or KLIA Ekspres) to the nearby airport, and then take a shuttle service.
[button style='blue' url='https://www.expedia.com.sg/Sepang-International-Circuit-Hotels.0-l6077276-0.Travel-Guide-Filter-Hotels' target='_blank' fullwidth='true'] Hotels Near Sepang F1 Circuit[/button]
Five-star seats
However you choose to get around, and wherever you choose to stay, Malaysia is remarkably affordable by international standards. Five-star hotels in the centre of town start at $100 during race weekend. And if you have some money to blow (or a favourable exchange rate) you can live like a king.
That being said, not all F1 tickets are created equal, and choosing where you want to sit during the race comes down to personal preference. While the main grandstand provides a great view of the race getting underway, you're going to be watching cars roar past in a straight line for the next two hours.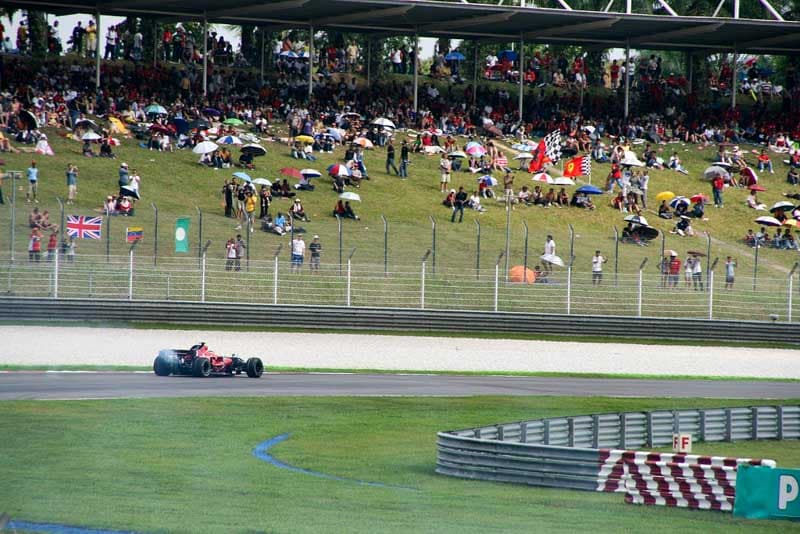 A popular alternative is the K1 grandstand. While it's some of the more expensive seating for the race, it offers spectators unrivalled views of the notorious double hairpin that starts the race – and often ends it for a couple of unlucky drivers.
Beautiful Roar of F1 Engines
Wherever you're seated, a decent set of earplugs is a necessity at the F1. Watching the race on television doesn't convey just how incredibly loud and high-pitched the scream of an F1 engine is. Luckily, there's no shortage of market stalls at the race selling anything and everything you could need, from official race merchandise through to earplugs, raincoats, hats, sunscreen and everything else.
F1 Village Mall
Speaking of onsite facilities, you'll probably spend the bulk of your non-race time in Sepang hanging around the F1 village mall. This is where you'll find the majority of your food and beverage options, get to meet and greet the drivers, and check out various merchandise stands.
And there's the irony of modern F1. What began in Turin, Italy in 1946 with a motley collection of European playboys and their custom cars has long eclipsed its racing origins to become a roaming international festival incorporating food, music and bleary-eyed hangovers.
Lenny Kravitz will rock you
On that note, this year's Malaysian F1 Grand Prix is being headlined by Lenny Kravitz. He's performing on the Sunday night to close the event, and admission is included in your race ticket.
Unfortunately, Lenny Kravitz cancelled. A new headline act is being sought to replace Kravitz and lead the line-up of local performers in the F1 Sepang post-race concert.
What's not to enjoy, now you know how to get the most out of it? It's worth getting ready to race over to Sepang soon.
[button style='blue' url='https://www.expedia.com.sg/vc/cheap-flights/singapore-to-kuala-lumpur-sin-to-kul/' icon='entypo-flight' fullwidth='true'] Find Flights from Singapore to KL for Sepang F1 2015[/button]
For More Information: Visit the F1 Website or Sepang Circuit Site
Feature Image: By Chi Hang Ong under Creative Commons 2.0 License