By Kathleen Poon, on April 11, 2019
What to Buy in Bangkok
Most travellers can testify that Bangkok is truly a shopping paradise. Bangkok offers limitless retail therapy from luxury boutiques and wholesale shopping malls to open-air markets and hole-in-the-wall stores. Not sure where to get started? Here's a rundown of what to buy in Bangkok.
What to Buy in Bangkok

Thai Silk
One of the most sought-after souvenirs in Thailand, Thai silk is entirely hand-loomed. Each comes with unique designs, colours and patterns. Besides yards of fabric, you can find Thai silk used in ready-made clothing as well as souvenirs such as ties, scarves, shawls, handbags and cushions.
Although Thai silk can be found anywhere in Bangkok, do not expect to get genuine high-quality Thai silk at stalls along Sukhumvit and Silom Roads. These street vendors use a lower quality blend of fabric to create the silk fabric, and thus, the cheaper price.
Image @@felipe_de_glasse 
For authentic Thai silk, head to well-established tailors instead. The famous one will be Pahurat Textile Market. Silk gift items can also be found at Chatuchak Weekend Market. Another place to buy high-end silk items is Jim Thompson's Thai Silk Shop in Silom.
If you're interested in learning more about Jim Thompson who revived the silk industry in Thailand and mysteriously disappeared into the Malaysian jungle, consider taking a tour of Jim Thompson's House, a 10-minute taxi ride away from the Silk Shop.
NaRaYa Bags
NaRaYa is one of the well-known bag manufacturers in Thailand, and the brand has enjoyed huge popularity, becoming a Bangkok fashion staple among women in Asia.
Their stores are located all over Bangkok with Siam Paragon being the largest. From pouches and purses to cosmetic bags and handbags, NaRaYa items are made from high-quality fabric such as cotton, canvas and satin. They have different patterns and textures for each item, giving you plenty of options to choose from.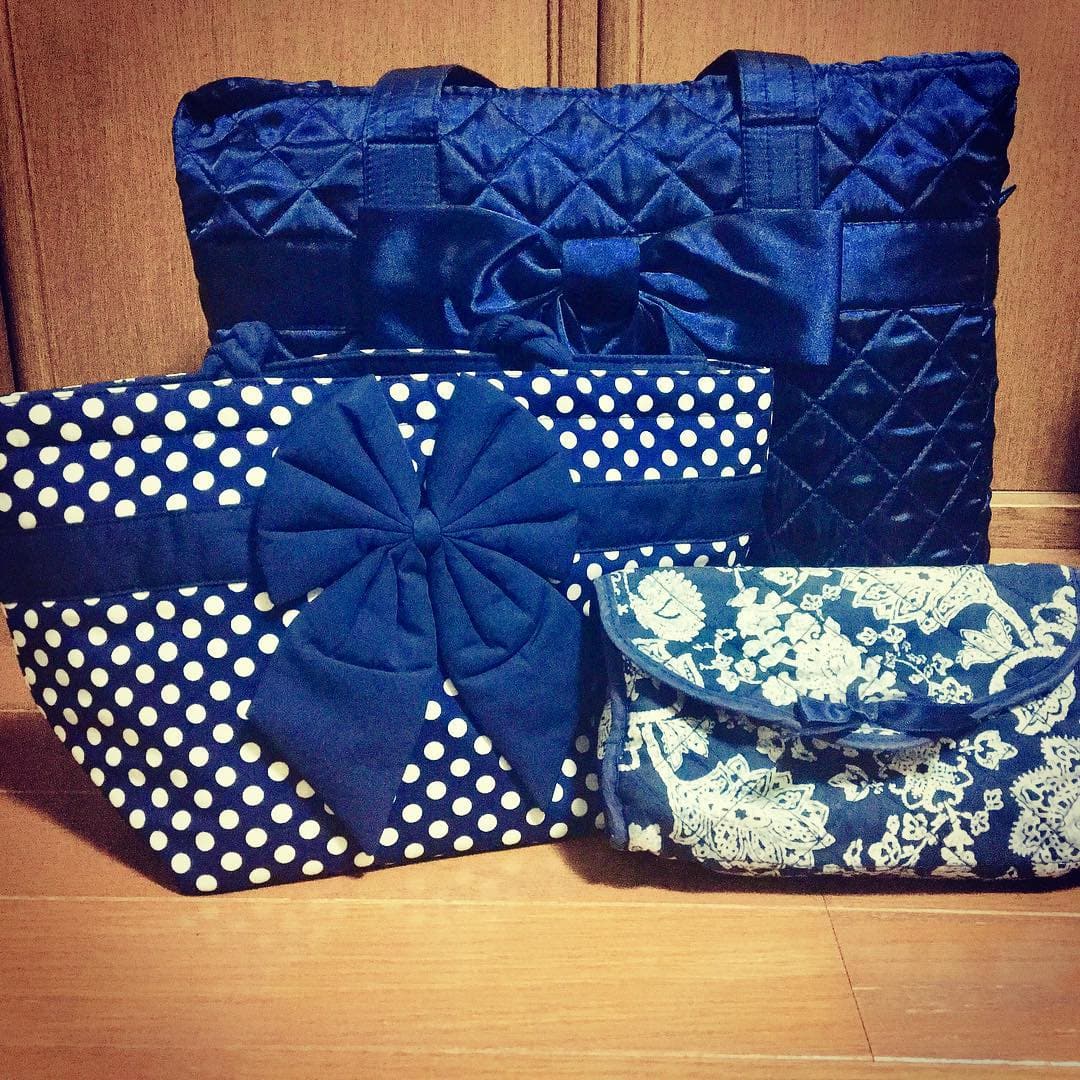 Image @@leo.x.rieko

Spa and Aromatic Products
Bangkok is a haven for spa treatments and aromatherapy massage, but how about bringing them back home? You can find oils of different fragrances as well as herbal massage packs and scented candles.
They may be slightly pricey at massage parlours, so if you are shopping in Bangkok and looking for a bargain, head to Chatuchak Weekend Market instead. For a more reliable source, you can check Bath & Bloom out — they have multiple outlets across Bangkok.
Coconut Oil Products
The benefits of coconut oil have been widely known — one of them is to replace your typical cosmetic products. Coconut oil helps to moisturise and protect your skin and hair, and it's also a great make-up remover. In Bangkok, you can get coconut oil products at a much lower price. Major supermarkets, health and beauty shops in Bangkok sell them. With these, you don't have to carry as many beauty products when travelling. Save your bag space for other more important things.

Image @@nuttarinbrand 

Thai Snacks
You learn a lot about a country from its food. Bring a piece of Thailand home with all the affordable Thai snacks. They are great for sharing among friends and colleagues and are light enough to fit in your suitcase or hand-carry bag.
Tourists' favourite Bangkok food includes durian chips and dried squid. You can also get exotic flavours of Lays chips and the famous Tao Kae Noi seaweed. You can head to Tao Kae Noi Land for some durian-flavoured Tao Kae Noi seaweed. Other popular Thai snacks are the chocolate-coated and matcha-coated sun-dried banana. They are available in most supermarkets, shopping centres and Bangkok International Airport.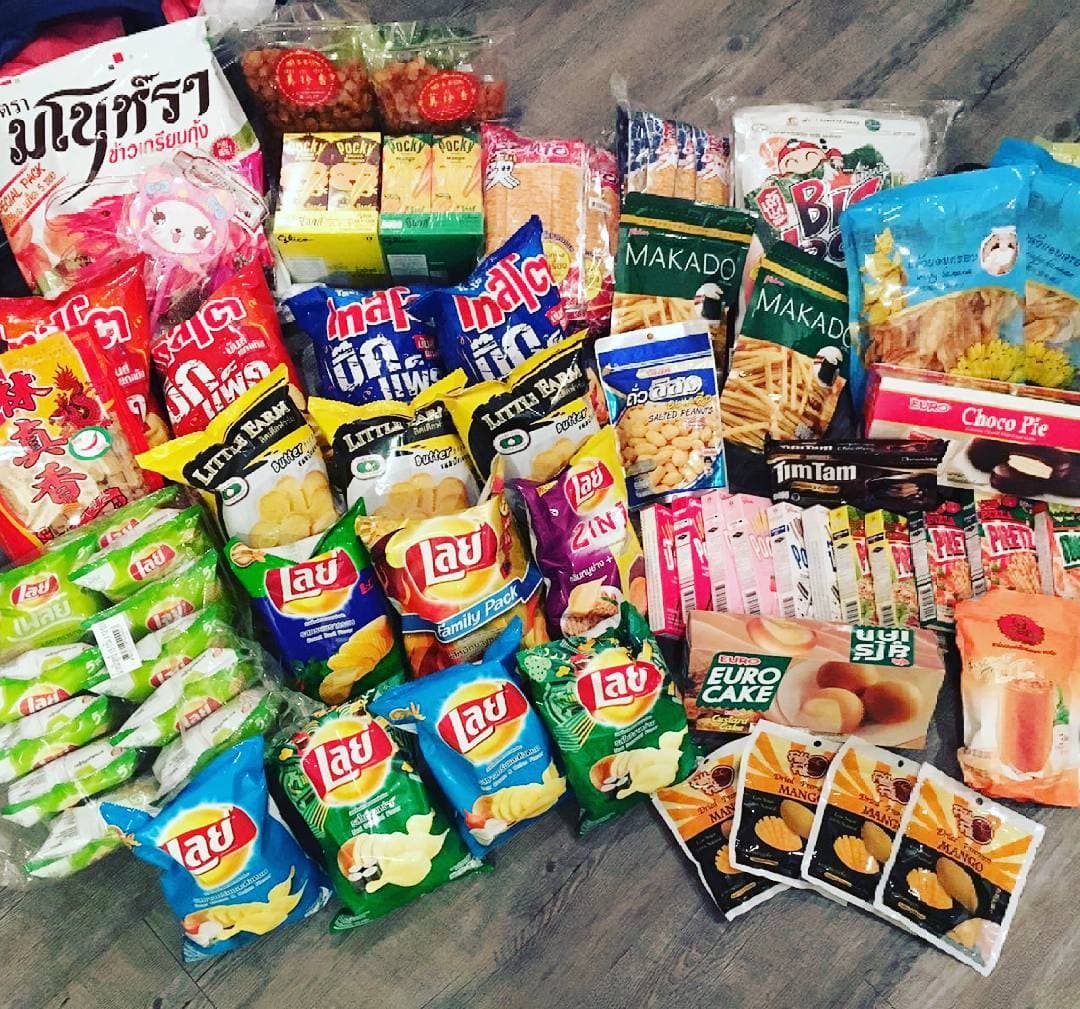 Image @@liping_97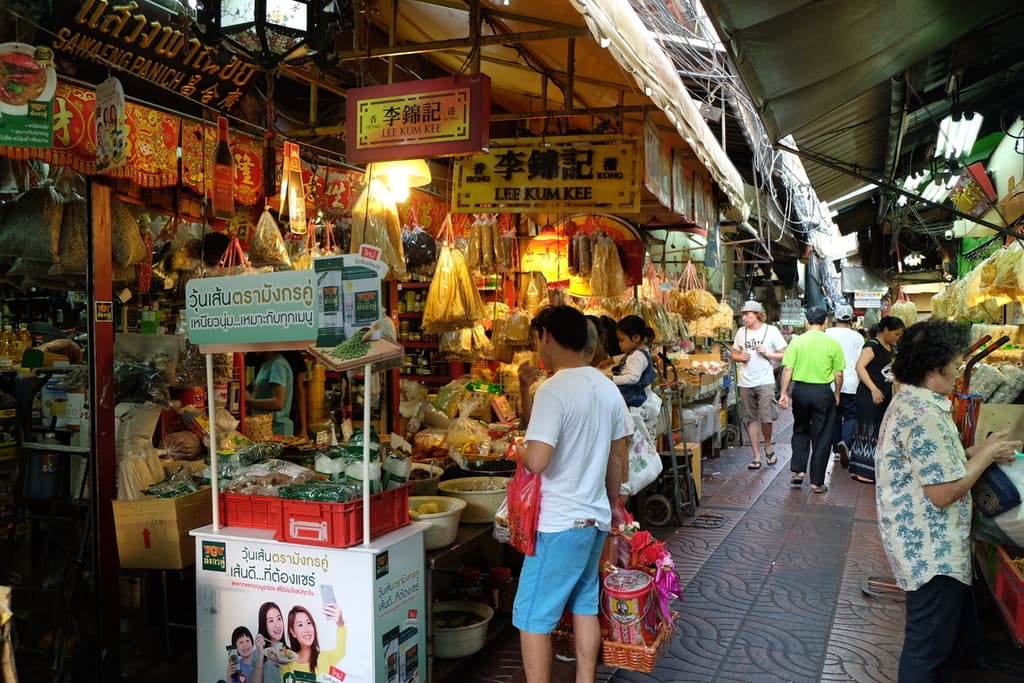 Chinatown

Muay Thai Shorts
You can't miss the colourful Muay Thai shorts sold along the streets of Bangkok. They have recently become a popular Bangkok souvenir as they are cheap and comfortable to wear. If you are wondering what to buy in Bangkok as a gift for your partner and loved ones, consider getting Muay Thai shorts. They also have several designs for ladies! Besides the street vendors, you can get a pair of Muay Thai shorts at any Muay Thai camps.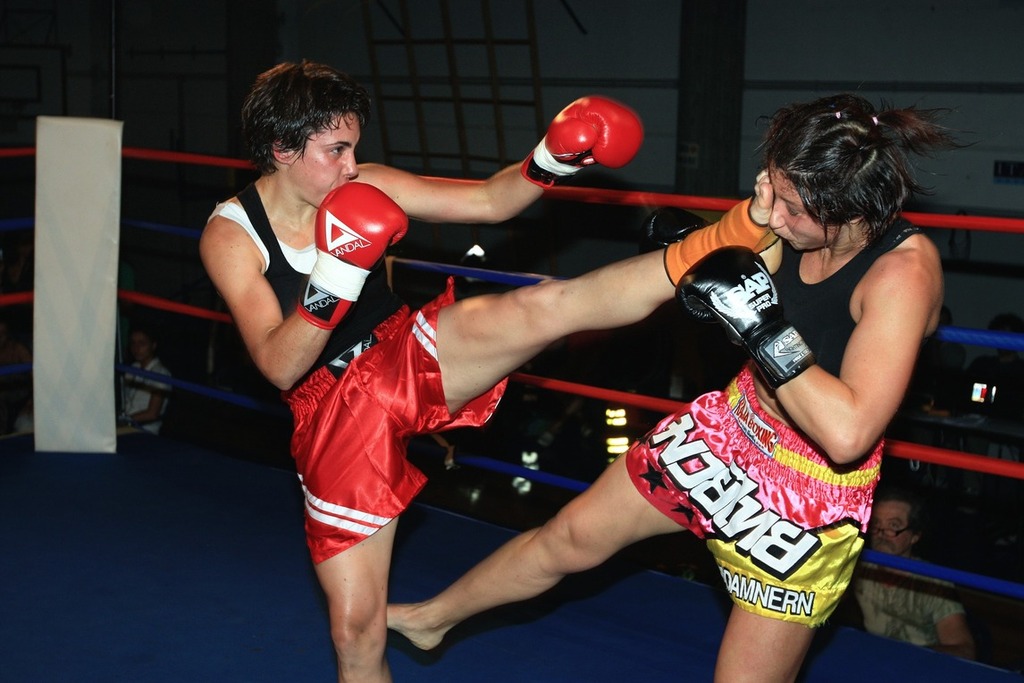 Thai Handicrafts
Thai handicrafts are so colourful and unique that you just want to bring all of them home. Triangle cushions, lacquerware, paper and wood lanterns, wooden carvings, pottery, hand-broidered linen or handcrafted cushion covers — they make good ornaments for your home. There are plenty of handicrafts shops in the Bangkok markets of Silom Village and Chatuchak Market. Take your time to compare the prices and always bargain!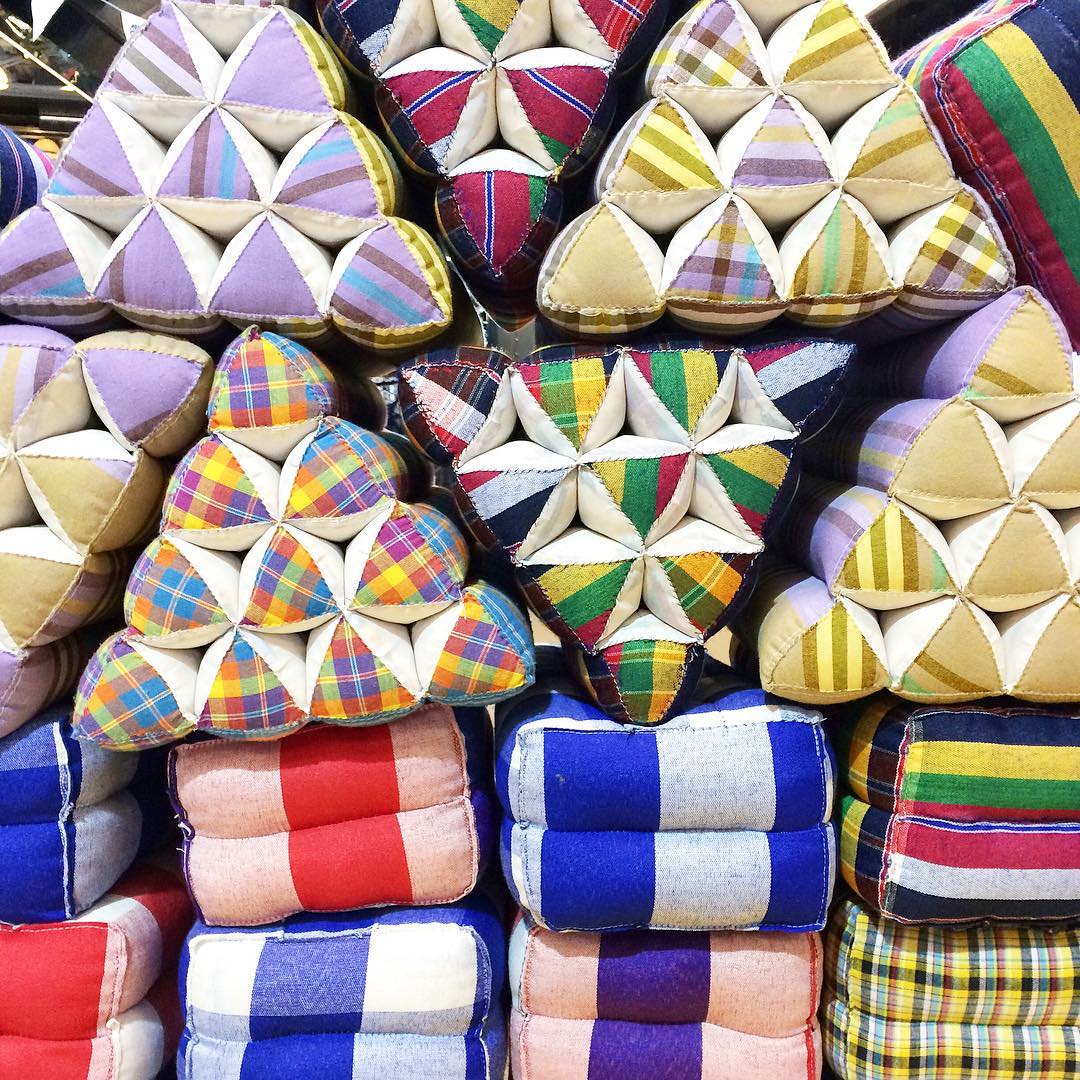 Image @@ashleahalpern 

Chatuchak Market

Cheap Clothes and Accessories
Cheap clothes and accessories are every girl's sweet dream. Bangkok is known to always have the latest model for fashion, be it the Korean wave or bohemian style. Another plus point is the countless variety and dirty cheap items. Apart from the famous Chatuchak Market and Pratunam Market, Pan Tip Plaza and Platinum Fashion Mall are also famous for fashion items with wholesale price tags. If you like vintage stuff, Talad Rot Fai Srinakarin Night Market should be your number one Bangkok shopping destination.
 @phuong.1501
 Image @@lefooding
The simple trick to your Bangkok shopping trip is to always bargain hard in order to get the best buys. However, this doesn't work in malls and department stores. Consider bringing an empty suitcase to bring back your loot. Bangkok souvenirs are just too hard to miss, but I hope this list of what to buy in Bangkok helped you!
[tabs]
[tab title="Where to Stay" icon="entypo-suitcase"]
Where to Stay for a Bangkok shopping trip
[button style='blue' icon="entypo-suitcase" url='https://www.expedia.com.sg/Bangkok-Hotels-Shopping-Hotels.0-0-d178236-tShoppingHotels.Travel-Guide-Filter-Hotels' fullwidth='true'] Hotels near Bangkok shopping hotspots [/button]
[/tab]
[tab title="Let's Go!" icon="entypo-flight"]
[button icon="entypo-flight" url='https://www.expedia.com.sg/Cheap-Flights-To-Bangkok.d178236.Travel-Guide-Flights' fullwidth='true'] Flights to Bangkok [/button]
[/tab]
[/tabs]