By Expedia Singapore, on January 7, 2020
Amsterdam's Top Activities: 15 Things You Should Do
The city of Amsterdam is filled with exciting nightlife, design and inspiring ideology. There is more for you to see in Amsterdam than what meets the eye. Explore the most exciting things to do in the Dutch capital with this Amsterdammer's list of unforgettable experiences.
Learn about Dutch art at Museumplein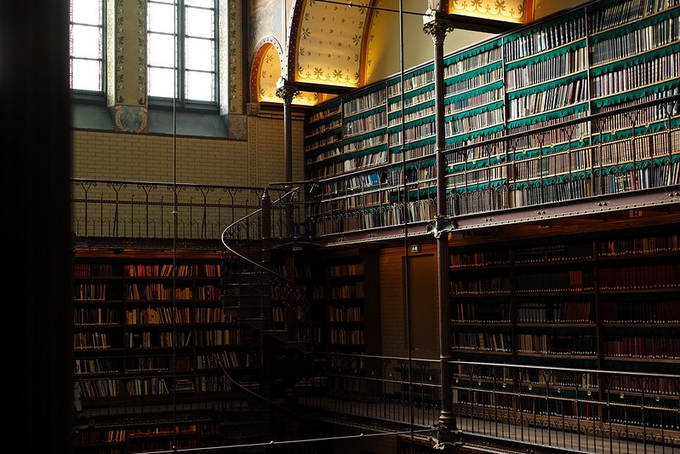 Photo: Roman Boed | CC BY 2.0
Amsterdam is known to be one artsy city. Amsterdam art museums are truly world-class and an essential visit for art lovers. Most of the museums are concentrated around Museumplein. Rijksmuseum is the Dutch answer to the Louvre. It's home to masterpieces from Dutch masters like Rembrandt and Vermeer. Stedelijk is home to modern art pieces not limited to paintings but also furniture and photography.
But, to dig deep into the life and works of a single artist – Vincent Van Gogh – the Van Gogh Museum is a wonderful place to explore. Tickets are €20 for adults at the Rijksmuseum; €18.50 for adults at the Stedelijk; €19 for adults at the Van Gogh Museum.
Take the driver's seat and take your own canal cruise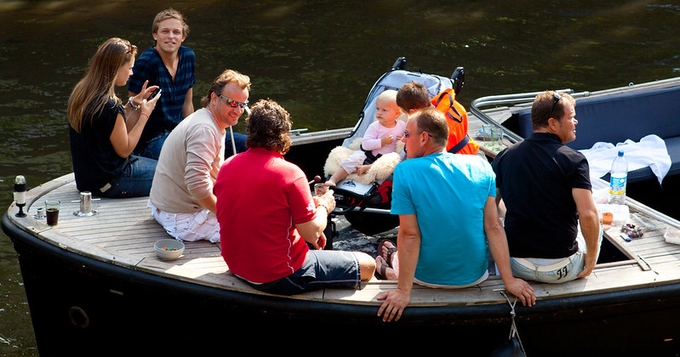 Photo: Daniel Persson | CC BY 2.0
While there's a variety of canal cruises to sign up for in Amsterdam, why not take the wheel yourself and have a go at what it feels like to be a true Amsterdammer? Rent your own canal boat through Mokumboot and go about sightseeing in an environmentally-friendly way. All their boats are fully electric, which keeps the waters cleaner and the city quieter. With a capacity of up to eight, the prices start from €95 for two hours of sailing.
Step into the unexpected world of microbes at Micropia
Photo: Yann Caradec | CC BY-SA 2.0
Head to the charming neighbourhood of Plantage to discover a one-of-a-kind museum at Micropia? This curious museum is dedicated to the world of microbes – the first of its kind in the world. Since its opening in 2014, the museum, which is dedicated to life on earth that we often can't see, has won several awards. Great for adults and children alike, admission is €16 for people aged 10 years and above.
Try the typical Dutch seafood snack of raw herring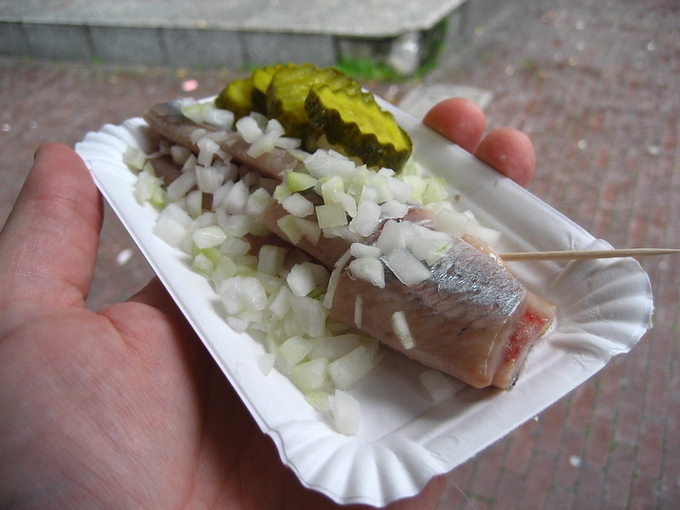 Photo: Jeremy Keith | CC BY 2.0
The city of Amsterdam has taken on different incarnations throughout the centuries. Currently, as a cultural and party hotspot, it's hard to imagine Amsterdam as a bustling seaside town full of hardworking merchants. But, its history lives on in its cuisine. One of the favourite eats in this city is herring – served cold and lightly preserved with salt with diced white onions and pickles. This snack is typically served in seafood shops around town and word on the street is that the best herring in town is found at Herring Stall Jonk in Spui.
Stroll down Albert Cuyp market to try local delicacies 
Photo: Taiwai Yun | CC BY 2.0
Mercantile culture has been alive in Amsterdam for decades. Get a taste of a traditional market at De Pijp's Albert Cuyp Market which is open on all days except Sunday from during usual work hours. Stroll down this famous street market and take in colourful fruit, vegetable and flower vendors. Try traditional Dutch sweet treats like stroopwafels and poffertjes.
Learn about how the city was built at the Het Grachtenhuis
The city of Amsterdam wasn't built overnight. It was a gradual process that proved to be fascinating from the perspective of city planning, engineering and human progress. Het Grachtenhuis is a museum that pays tribute to the engineering of the city. It includes intriguing displays such as interactive dollhouse-like exhibits. The museum is open every day except Monday during office hours and entry for adults runs at €13.
Go for a "head butt" in one of the oldest (and smallest) bars in Amsterdam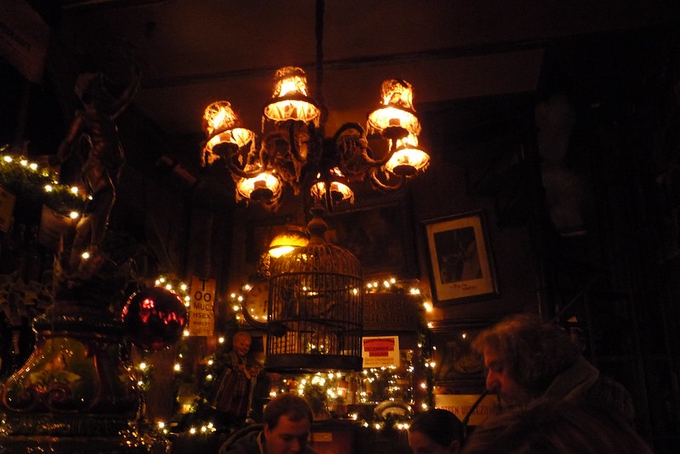 Photo: Rex Roofs | CC BY 2.0
For a memorable beer, head to Cafe De Dokter, a tiny 18m2 bar in the centre of the city. It's been open since 1798 and was founded by the Beems family as a hang-out spot for medical professionals. The interiors of this bar haven't changed since its opening, so you'll feel like you're stepping back in time when you walk through the doors of De Dokter. You'll find wooden panelled walls, old jenever bottles collecting dust, romantic candelabras and traditional drinks. If you're feeling peckish order up some Old Amsterdam cheese served with mustard or ox sausage.
Peek into ritzy florists in Amsterdam Zuid for flowers like you've never seen them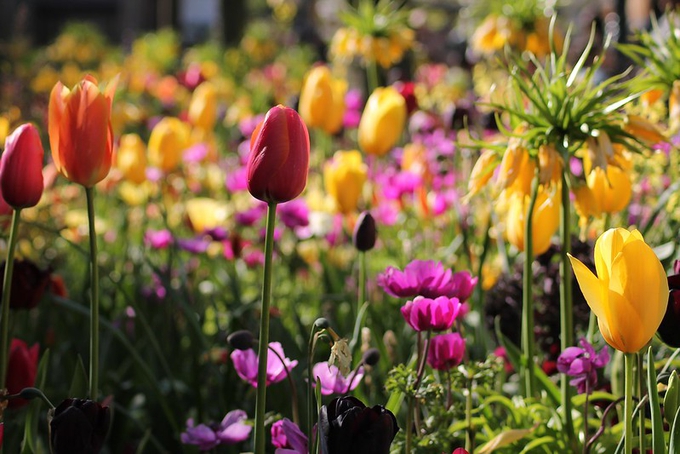 Photo: Erwin Tomassen | CC BY 2.0
The flower trade has been part of Amsterdam's DNA for centuries and the locals here enjoy their speciality flowers. The neighbourhood of South or Zuid is one of the most elegant and well-heeled parts of the city. It's here where you'll find some of the most luxurious and exotic florists. Peek into the floral ateliers of MC Bloom on Beethovenstraat or Menno Kroon on the ritzy Cornelis Schuystraat.
Take the free ferry to Amsterdam Noord to visit the gritty northside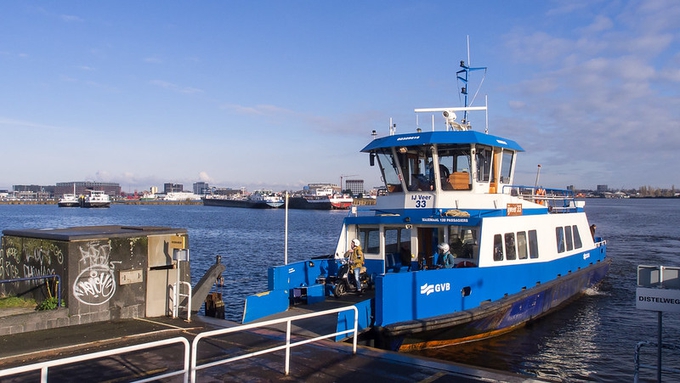 Photo: Ed Webster | CC BY 2.0
Amsterdam North is what Brooklyn is to Manhattan – it's a hipper, more spacious and laid-back sibling. What separates the two is the Ij River. Currently, there are only two ways to get across: through a tunnel or by ferry from Amsterdam Central Station. Ferries are free and take you to different parts of North but to explore the gritty and artistic parts, take the ferry to NDSM where you'll find great eateries and nightspots like Pllek. Head to Ijplein to try great restaurants like Coba for tacos or Restaurant Stork for seafood.
Go for a gig in the iconic Paradiso 
Photo: Rob D | CC BY-SA 2.0
A former church on Weteringschans, Paradiso is now a venue for arts and culture. Since 1968, it has hosted some of the best musical talents such as The Rolling Stones, Nirvana and Prince. There are several gigs every night that provide for intimate gigs in a memorable setting. Check the calendar for what's on as going for a concert here is one of the top cool things to do in Amsterdam.
Enjoy high tea by the Amstel River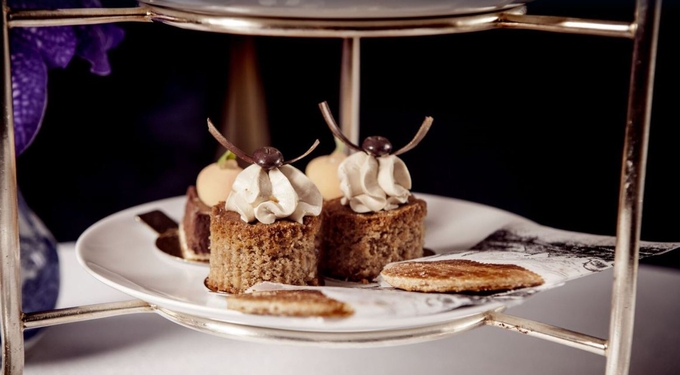 Photo: Expedia
The InterContinental Amstel Amsterdam is housed in one of the most resplendent buildings in the city. Perched pretty beside the Amstel River, this five-star luxury hotel offers a beautiful afternoon tea at the Amstel Lounge. Dubbed the Royal Afternoon Tea, the three-course tea has sumptuous pastries, delectable savoury bites and of course, the requisite scones and clotted cream. The price is €51 per person, €59 with a glass of prosecco or €67 with a glass of Champagne.
Dig into Dutch design at Droog 
Photo: Franklin Heijnen | CC BY-SA 2.0
Lovers of all things design will enjoy a trip to Droog, a Dutch design house that dabbles in a little bit of everything. Centrally located in a beautiful old canal house on Staalstraat, Droog offers a quirky cafe, tours of the house's iconic designs and even a single hotel room that you can book for a once-in-a-lifetime trendy experience. Make sure to check their calendar for the latest happenings – the pop-up dinners here should not be missed!
Shop quirky indie boutiques on Nine Streets
Photo: Jorge Franganillo | CC BY 2.0
The Nine Streets are literally nine streets in the centre of Amsterdam filled with interesting independent shops. Take come locally-designed fashions from the likes of Fabienne Chapot, take home old world gems from Amsterdam Vintage Watches as well a beautifully crafted bath and body products from MARIE-STELLA-MARIS.
Rent a bike and explore the centre on two wheels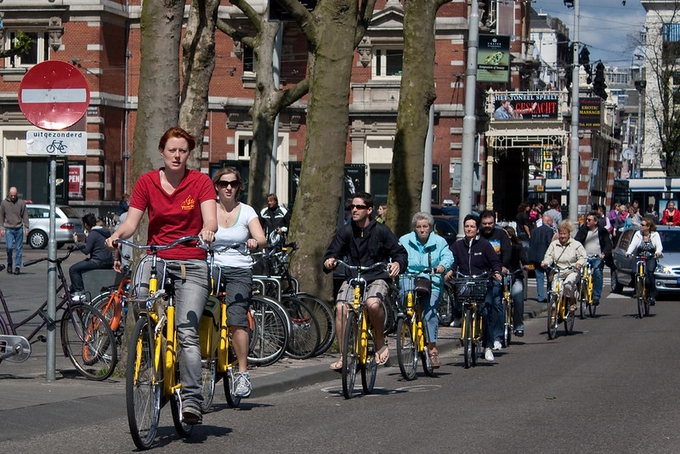 Photo: Hans Splinter | CC BY-ND 2.0
If you dare to hop on a bike and have it with the locals, then rent your own bicycle from A-Bike Vondelpark or MacBike to explore the city on two wheels. Although cycling with the pros can be slightly intimidating, make sure to learn the road rules before you saddle up. Cycling is the cheapest way to get around the city – you won't miss taking in all the sounds and scents of the city on this interactive mode of transport.
Volunteer your time fishing for plastic
The canals of Amsterdam don't stay picturesque on their own. Like many bodies of water around the world, the canals have their fair share of plastic pollution. If you'd like to contribute while you're on holiday, volunteer your time fishing for plastic with Plastic Whale. This environmental foundation that offers boat trips to those looking to make an impact. The plastic that's collected is recycled into boats and furniture – so nothing goes to waste.
Amsterdam is a great city to visit if you're looking to expand your mind. It has quirky experiences that make for memorable, fun, eye-opening and educational experiences. Beautiful throughout the year, make Amsterdam is truly a must-visit.