By Veera, on August 12, 2015
5 Cocktail Bars with the Finest Views of Hong Kong
There's really no skyline like the skyline of Hong Kong. Calling the city home a couple years back, I will never enjoy a morning run quite like I did along the Victoria Harbour. The 'fragrant harbour', as the Chinese call it, is a natural landform harbour dividing the city to Hong Kong Island and Kowloon side. And as the harbour is the most exciting scene of this high-spirited heart of Asia, Hong Kong has an outstanding selection of cocktail lounges with breathtaking views to choose from.
1. Ozone Bar
Ozone Bar is the highest bar in the whole world – situated on the 118th floor of the International Commerce Centre, in the upstairs of The Ritz Carlton Hotel. It's a unique experience to sip down a cocktail half a kilometre above solid ground. And talking about cocktails, make sure to try some of their divinely delicious signature drinks! You are sure in for an unforgettable evening above the clouds! The bar is open on most nights and the entrance is free unless there is a special event or a DJ performing.
The Ritz-Carlton, Hong Kong
Level 118, International Commerce Ctr.
1 Austin Road West
Kowloon, Hong Kong
Tel. + 852 2263 2270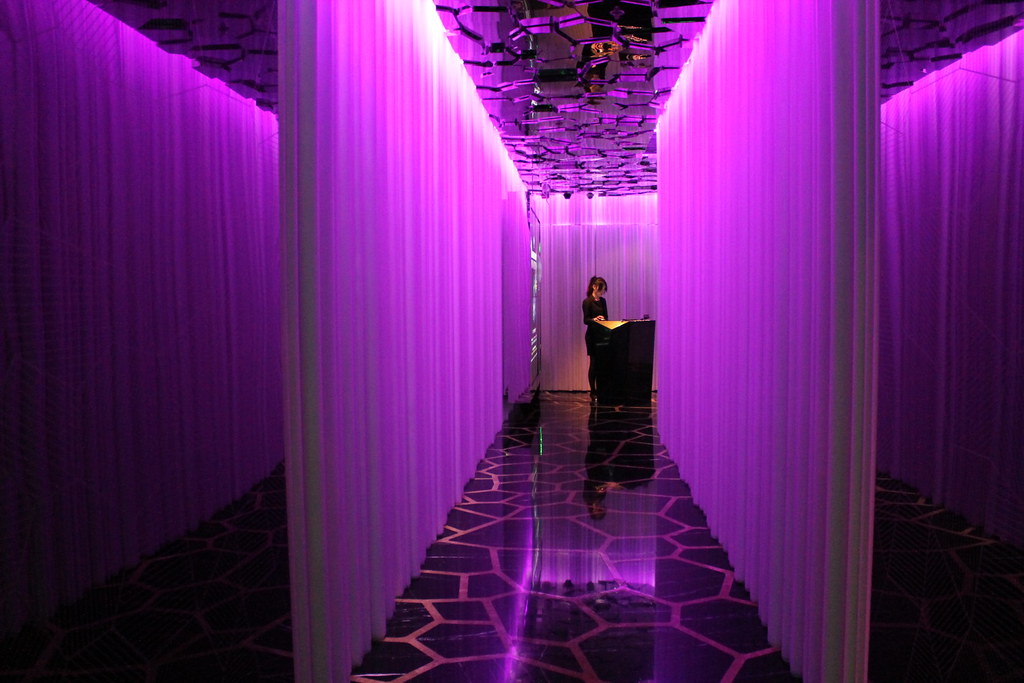 2. Sevva
Up for a fancy night out with fancy friends, meeting fancy people? Well, then Sevva Bar is your obvious choice. It's worth getting glamorous for, because the views are simply awe-inspiring. Sevva is the place for celebrities, fashionistas, bankers and other moneymakers – and well, for backpackers who are sneaky enough to travel with a pair of high heels and that one little black dress. Paying for one expensive cocktail is worth this experience.
An important note follows; this place has some of the city's tastiest desserts!
Prince's Building,
10 Chater Rd,
Hong Kong Island, Hong Kong
Tel. +852 2537 1388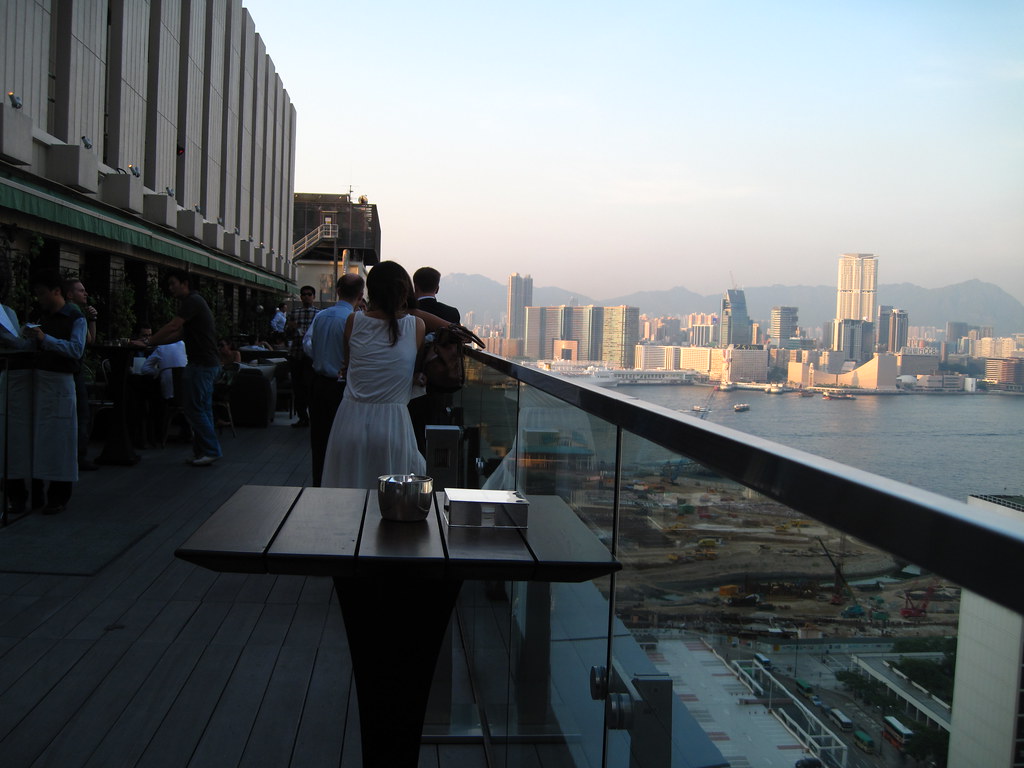 Image Credit: surtr
3. Sugar
Sugar is a stylish cocktail bar with delicious international tapas located right by the harbour on Hong Kong Island. SUGAR will offer a slightly different panoramic view over the hair-raising fabulous harbour as it's located a bit further from the central district. Sugar is anyhow totally worth spending 15 minutes in a cab for. The bar itself is located on the 32nd floor of hotel EAST.
32/f, EAST 29
Taikoo Shing Road
Taikoo Shing, Hong Kong
Tel. + 852 3968 3988
Image Credit: Sugar
4. Felix
Out of no surprise, Felix also hosts another breathtaking view over the Victoria Harbour. Felix though is the landmark of all cocktail sipping in this city. The bar is located in the upstairs of the historically important hotel, The Peninsula. Felix is also well known for its beyond-talented chef Yoshiharu Kaji. If you are anyway just up for a glass of wine, you will find a Wine Bar from Felix.
28/F
Salisbury Rd,
Tsim Sha Tsui,
Hong Kong, Kowloon
Tel. +852 2696 6778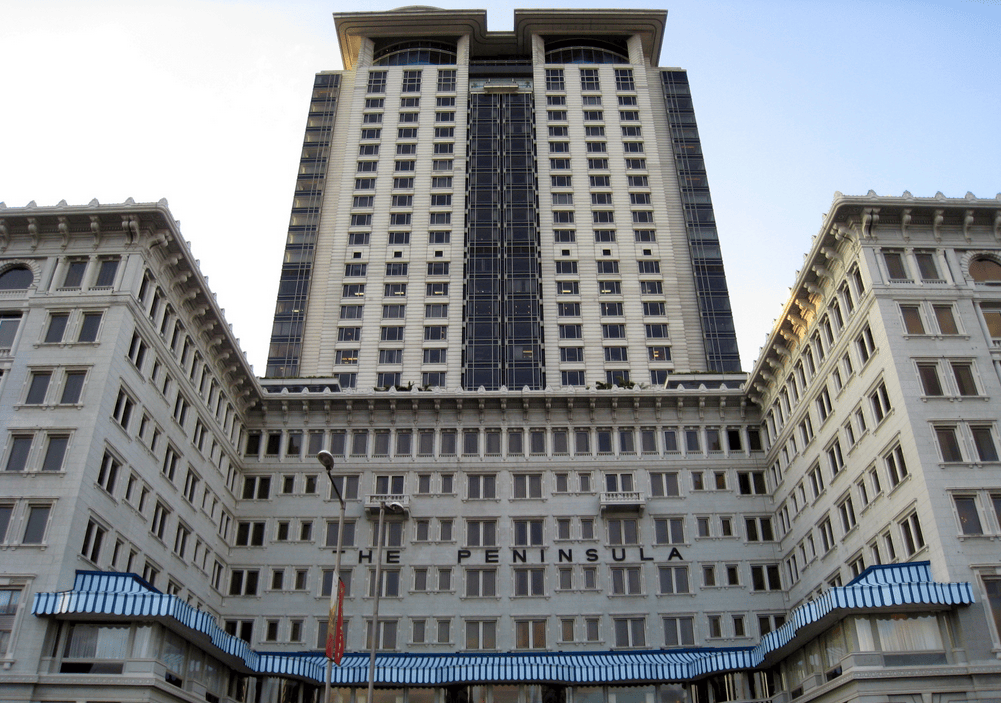 5. Aqua Luna
Not all bars with views are situated sky-high in Hong Kong – Aqua Luna gives you the option to sail along the harbour while sipping down your margarita. Aqua Luna is one of the last still remaining red-sail Chinese junk boats. You can take a 45-minute sail between Tsim Sha Tsui and Central, while enjoying a complimentary cocktail on your own lounge bed. Winding down doesn't get much better than this. This experience should be on your bucket list for sure.
1 Peking Road Shopping Arcade,
Tsim Sha Tsui, Hong Kong
Tel. +852 2116 8821
---
Want to know more about Hong Kong? Download our Hong Kong guide to take with you & get more out of your next trip!