By Expedia Globetrotters, on March 30, 2015
Best places to Party for Songkran in Thailand
By Monruedee Jansuttipan  –
Songkran, or Thai New Year, is just around the corner. If you're planning to join the Thai people and beat the heat in this fun-filled water-splashing celebration, here are some of the best places to party in Thailand for Songkran. 
Thailand's most important holiday is a Sanskrit word for 'astrological passage' and marks the end of the dry season and the beginning to the wet one. This is also a time when Thais visit local temples to pray and cleanse Buddha icons to usher in prosperity for the year ahead.
Khao San Road, Bangkok
13-15 April
During Songkran, people from around the world swarm to this famous backpacker street to splash and be splashed at. It's a great place to get messy at the outdoor foam celebration and dance to the beat at the funky DJ party. The fun continues late into the night with live uptempo pop music at Brick Bar on Khao San Road, or opt for contemporary pop music at Molly 31st on Soi Rumbuttri.
For those wishing to stay in the heart of the water battleground, try the Buddy Boutique Inn's casual loft-style rooms or Baan Chart, which is an Indochina-inspired urban residence.
RCA, Bangkok
13-15 April 
Bangkok's popular clubbing street will be closed to traffic from 6pm to 2am to make way for the Songkran concert. Dance to upbeat music from Thailand's leading DJs while getting soaked by water at the same time. For those who wish to rub shoulders with Bangkok's partygoers, head to Slim and Route66, which are two of Royal City Avenues's top clubs (both venues have entry fees that can be redeemed for drinks once inside).
Recommended accommodation nearby includes the Grand Mercure Fortune Bangkok, which is an internationally-managed hotel, and the A-One Boutique Hotel, which is in a good location.
Silom Road, Bangkok
13-15 April
On Silom Road, the fun starts in the late morning. Water warriors head here not only for the splashing but to show off their dance moves, especially in front of Silom Soi 2, which is a popular gay hangout. Don't forget to head to DJ Station, too – it is a gay club, but everyone is welcome to enjoy the good music in here.
There is food aplenty in the area, from street stalls to nice cafes and restaurants and fast-food chains such as Burger King.
For overnight stays, try the luxurious Sofitel So on the corner of Sathorn Road, which is in walking distance of Silom, or choose the centrally-located D Varee Diva Bally Silom on Silom Soi 2 so you won't miss out on any of the fun.
Thapae Gate, Chiang Mai
13-15 April
While Chiang Mai's Prapeni Pi Mai Mueang (what Songkran is known as in the North) is known for being rich in religious and traditional ceremonies, the city itself is considered one of Thailand's top destinations to celebrate Songkran. Roads along all four sides of the city's moat become packed with revellers from all over the world, ready to enjoy a splashing good time.
For late night partying, head to the Warm Up Cafe, which is Chiang Mai's leading pub offering fun until 2am. For overnighting, choose from Thapae Loft, which is near the Thapae Gate, or Eastin Tan on Nimmanhemin Road.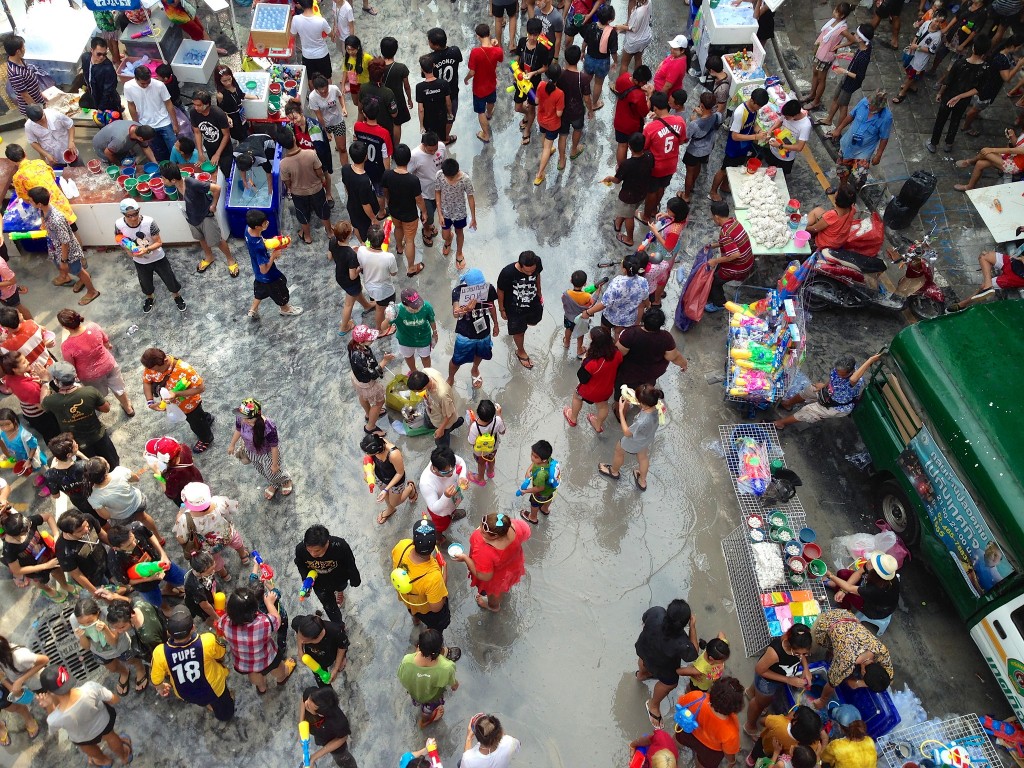 Khao Niao Road, Khon Kaen
13-15 April
Known as the place to experience the longest human wave in the world, this 'sticky rice' street attracts revellers from around the world, all wanting to join the human wave and take part in the water splashing. Each year, it's filled with fun to the max, including concerts by leading Thai artists and DJs. Pub-goers should try Khon Kaen's U-Bar and Snop.
For accommodation, you can choose to stay in the city's Centara Hotel and Convention Centre, which features contemporary Thai-style rooms, or spend a night or two closer to nature at the riverside Wishing Tree Resort.
Pattaya and Bang Saen, Chonburi
18-19 April
Pattaya celebrates the Thai New Year about a week later than the rest of the country with an event called 'Wan Lai' Songkran festival. Traditionally, it features the bringing of sand into temples and building sand pagodas, as well as water-throwing sessions.
For a higher degree of fun, get down to Pattaya's most popular pub, Differ, or head to the funky foam party at Hard Rock Hotel Pattaya. You can also choose to stay here overnight and it's in a good location.
For a more traditional Songkran celebration, head to Bang Saen, which also features a sand pagoda contest.
Bangla Road, Patong Beach, Phuket
13-14 April
Bangla Road is the water battle epicentre, where splashing takes place from dawn till dusk and everyone has a good time getting soaked. Continue the fun at Seduction Beach Club and Disco, which is a paradise of dancing queens and upbeat music from local and international DJs.
Recommended accommodation includes the La Flora Resort Patong, which is just a few steps from Bangla Road, or if you prefer a bit of privacy, The Nap Patong is one block away.
[button style='pink' url='https://www.expedia.com.sg/Songkran?mcicid=331568947′ icon='entypo-flight' fullwidth='true'] Songkran Sale[/button]
This article first appeared on Expedia Thailand travel blog. Translation by Sirima Eamtako.