By Anusha K, on December 5, 2014
First Light at ZoukOut 2014
By Anusha K and Rebecca Wurd –
Take no chances! This might be the last chance to ZoukOut – here's everything you need to know before heading over to the all-night dance music party at Sentosa's Siloso Beach happening on the 12th and 13th of December.
Partying is better on the beach
After all, ain't no party like an S-Club party! S = Sentosa. Club = Zouk… What? No? Bad reference? OK fine let's reset. What I meant to say is…Who can argue with partying all night on the beach with beautiful people from all over the world, to a backdrop of live DJ sets, before catching the sunrise? ZoukOut is a dance music extravaganza in Singapore that does just that.
Started in 2000 by Singapore night club Zouk, this is a must-go 2-day dance music festival that happens annually. Zouk Out is famed for its stellar line-up of DJs, beach backdrop and fun party people. It's also been dubbed the "Best Leisure Event Experience" twice by the Singapore Tourism Board.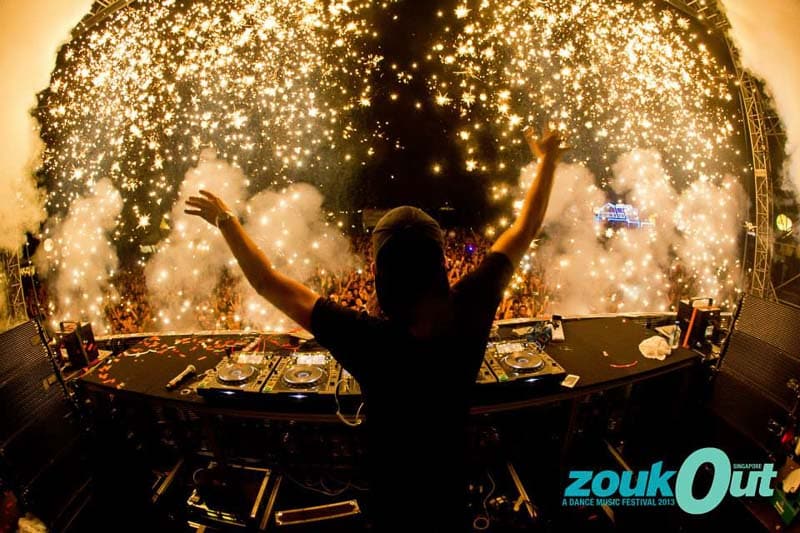 The party has been going strong, from dusk till dawn, for 14 years. Last year, ZoukOut saw its largest turnout of 41,000.
This year though, things are a little different. After 23 years of thrilling local crowds and making its mark on the international club circuit, Zouk may be shutting down for good. The future of the iconic club is uncertain as they sort out issues surrounding their lease on Jiak Kim Street, which officially expires at year end.
Will this be the last ZoukOut?
No one knows. Trust that partygoers are going to bring their A-game and light up Sentosa in full support at this year's ZoukOut.
Zoukout 2014: "First Light"
This year's theme is "First Light". You can expect a journey to the first light of dawn through big name DJs who play across vast genres. House, Techno, Trance, Electro, Alternative/Indie-Electronic, Hip-Hop and Mambo.
DJs who have graced the ZoukOut turntables in previous years include absolute legends in the dance music scene —  David Guetta, Armin van Buuren, Paul van Dyk, Tiësto, Carl Cox and more. Of course, talented local DJs also take on the decks and spin some epic beats.
When & Where
Fri 12 Dec, 8PM – 5AM
Sat 13 Dec, 8PM – 8AM
Siloso Beach, Sentosa
ZoukOut 2014 Line-Up
Big names playing on Day 1 include Above and Beyond, Steve Aoki, Nicky Romero and Dannic.
On Day 2: Skrillex, Showtek, Nina Kraviz and Steve Angello.
The music goes strong throughout the night with many other DJs stepping up to the decks, including local DJs Adrian Wee, Andrew Tang, Jeremy Boon and Aldrin.
Get a two-day festival pass, or pick one day to max out with your preferred line-up.
Two day festival passes: $208–388, one day festival passes: $128–158
For more ticketing information and to book, visit: www.zoukout.com/ticketing-info
Zoukout Survival Tips
Now that you've gotten your tickets, what's next?
It takes some basic preparation (and a strong will to party) to survive an all-night beach rave:
Must Bring     Photo ID (required for entry), tickets if you're buying them ahead of the event, cash (keep the credit cards at home, less chances of losing them) and consider a stylish poncho (December is a rainy month in these parts). It's probably more fun to just dance in the rain though!
What to Wear     Beach-appropriate. Tank tops, bikini tops, flip flops and shorts are standard attire. If you've got some flashy bikinis or designer board shorts, now is definitely the time to wear it. You can come as casual as you want, but there are going to be some good-looking people looking fine out there, so pick your best skimpy! You don't want to be caught in your ah pek swimming trunks.
Swimming is not allowed – bikinis are strictly for partying in.
Leave at Home     Food and Drinks (you can't bring them in anyway – you can buy alcohol on the beach), laser pointers, bulky bags, beach towels (you're there to party, not to get a tan), video cameras (videography is prohibited) – and strictly no pets!
Recommended     A small sling bag that will keep water and sand out. It's hard to go without a smartphone these days, so a little bag that doesn't leave your side is the best way to avoid losing your phone. A portable charger and paper fan would also come in handy.
I wouldn't wear my favourite flip flops. Footwear tends to disappear when you're lost in the music dancing barefoot in the sand. (Mostly due to drunken memory loss
Plan your Night
Eat up     Have a substantial dinner, so you don't give out halfway from hunger pangs.
Pack light     Bring only the essentials.
Pace yourself     The DJ sets are spread over the night, so you can plan your alcohol intake and save some energy for the big acts that come on later in the night.
Stay the Night    The best way to enjoy Zoukout is to book a stay at a hotel on Sentosa with your party crew. Why? The biggest hassle of Zoukout is getting a cab out of Sentosa when you're done partying, whether you leave at 2 am or 8am. Having a hotel room will seriously bump up the convenience factor so you can party harder! You can party till late, re-fuel with a hotel breakfast buffet, snooze to recharge (squeeze in a massage if you feel like it), and get yourself pumped up for another night of revelry on the beach.
But mostly I'd highly recommend a room to avoid the taxi headache. It's not very fun when you're exhausted, sticky and waiting among a thousand people.
Book a room well ahead of time, as these dates tend to get snapped up quickly by other partygoers. Siloso Beach Resort Sentosa is a great option.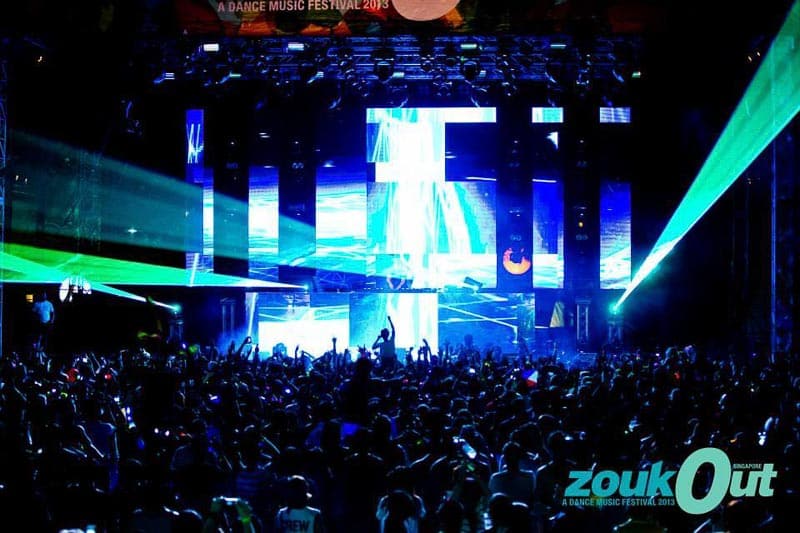 Other 'Happening' Festivals in December
If ZoukOut gets you all pumped up, don't cry in a corner when it ends. Pack a backpack and chase the music to these festivals to carry on the good vibes:
Where & When: Australian tour, 29 Nov – 7 Dec
What: EDM fans, you cannot miss this. An amazing line-up of DJs from all over the world tour Australia, with shows featuring the likes of Skrillex, Diplo, Ferry Corsten, Simon Patterson, Cosmic Gate, Orjan Nilsen, Tigerlily, Tiesto, Steve Aoki, Carl Cox, Calvin Harris, Alesso, Laidback Luke, Alison Wonderland…o m g!
Where & When: Vagator Goa, India, 27 – 29 December
What: Goa trance is a genre unto its own – set in the mystically beautiful Goa in India, this is a three-day beach rave with a distinctive flavour. A teaser of the line-up: Krewella, Sasha, Knife Party, Matthew Koma, Paul Oakenfold, Bauuer.
Where & When: Resorts World Genting, Malaysia, 6 December
What: The Genting Highlands provides a cool, comfortable setting to showcase the local and international music, art, design and photography scene in an all-day creative arts festival. Expect a hip, younger crowd, judging from the line-up: Kimbra, Tenacious D, Chvrches, Mogwai and more.
Read a little more about the exciting Urbanscapes festival in Malaysia here.
 Images Courtesy of Zouk Singapore