By Rebecca Wurd, on March 17, 2016
Hong Kong Disneyland 2016 Review + Fast Pass Guide
Happy Birthday! Hong Kong Disneyland celebrates its 10th Anniversary this year. And that means epic new entertainment for a magical time, even if you've been there before. I myself have been once before, yet really enjoyed this second visit as the new rides and attractions are pretty awesome. I particularly loved the Fairy Tale Forest presented by PANDORA (Yes, that PANDORA. And there's going to be an exclusive collection of Hong Kong Disneyland charms collection available!)
Hong Kong Disneyland Blog Review
Magical Come Rain or Shine
I broke up my visit in two — in the evening when it rained, and another day in the morning sun. It turned out pretty cool to have a slightly different experience, the rain was not much of a dampener – pardon the pun ;p  In fact, less people in the themepark and the bright glow of lights through raindrops was fresh and enjoyable. So in the end I enjoyed this second visit more than my first in 2012 (when it was super hot).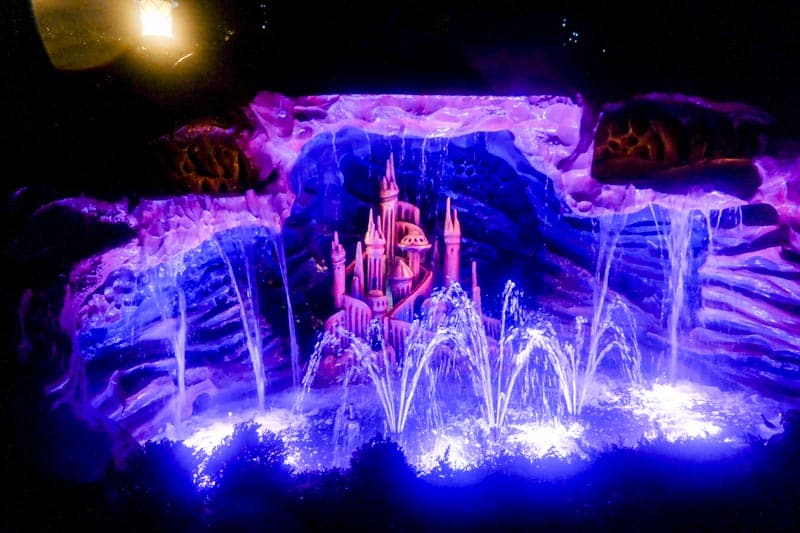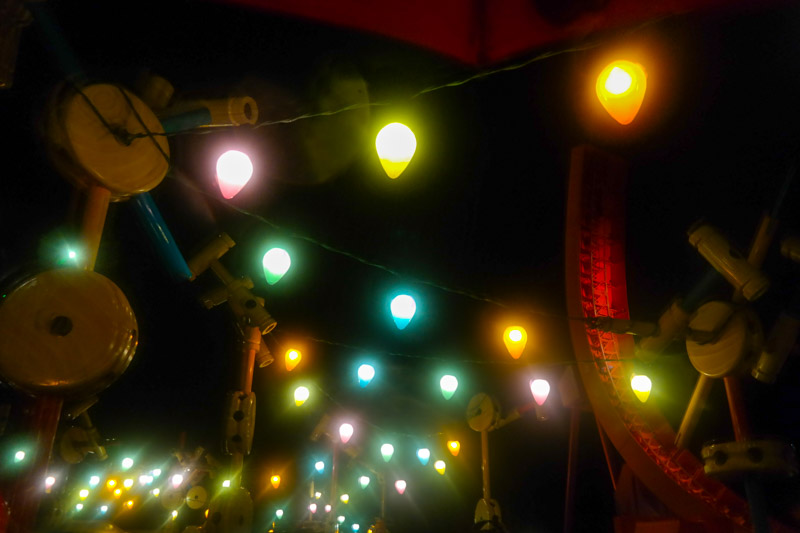 Tip #1  
First tip, it's always a good idea to make a rough plan of your route before you go. Are you taking a 1 day or 2 day pass? You can see lots in 1 day but that level of excitement can tire you out, particularly if you have kids and queue for lots of rides, so 2 days makes it easier to experience all the HK Disneyland rides. There are 7 themed islands in the park and more than 100 attractions and entertainment! So either way, get there early! The Park opens at 9:30am.
Then figure out what's your must-see attractions, which Character Meet & Greets you want to be around for, and do all the popular rides first. There are restaurants in every area and the food is good in all of them so you don't have to worry too much about that. I highly recommend the Hong Kong Disneyland Fast Pass. See more details at the end when you're done being inspired by my awesome words 🙂  #justkidding
Tip #2
Wear comfortable shoes. Bring an umbrella.
Tip #3
Take the Hong Kong Disneyland Railroad from Fantasyland on your way out
[button style='green' url='https://www.expedia.com.sg/things-to-do/hong-kong-disneyland-park-admission.a190117.activity-details?srp=true&location=Hong%20Kong%20(all),%20Hong%20Kong' icon='entypo-lifebuoy' fullwidth='true']Hong Kong Disneyland Park Tickets[/button]
What's New at HK Disneyland

My first stop – Mickey and the Wondrous Book. The live musical show takes you through a magical book where the characters come to life.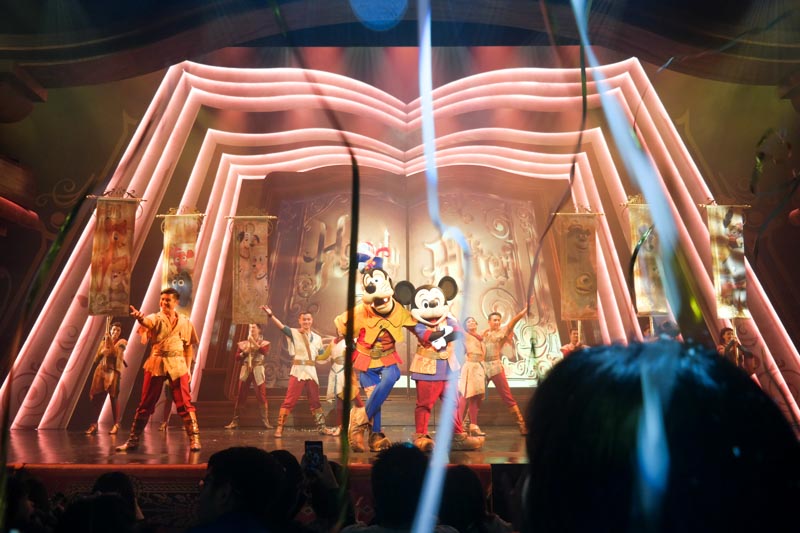 1) "Mickey and the Wondrous Book" Musical
This musical has the largest-ever production celebrating 7 beloved Disney stories. The characters that lead guests through the journey are Mickey, Goofy and… Olaf! Adorable as ever! I'm totally impressed how they had Olaf moving about on stage without legs. Still haven't figured out how! There's even a scene where a character jumps from onstage INTO the magical book seamlessly. Pretty mind-boggling how that worked.
The show is great.
My favourite part — along with every little girl in the audience — is when Elsa appears and sings the Frozen theme song, Let it Go. Beautiful! The coolest thing is that it then snows in the theatre! OMG. I'm in my 20s and I was totally giddy with excitement, can you imagine how epic it's going to be for your kids?!  It was really cute when the kids started singing along.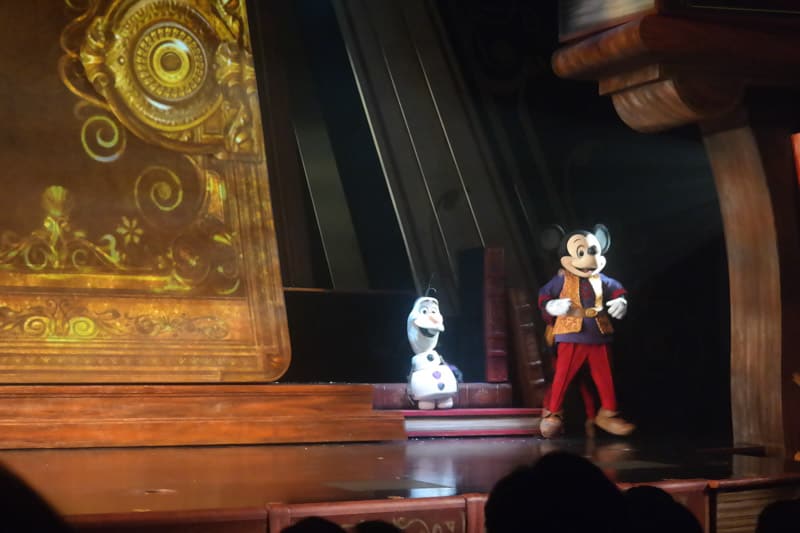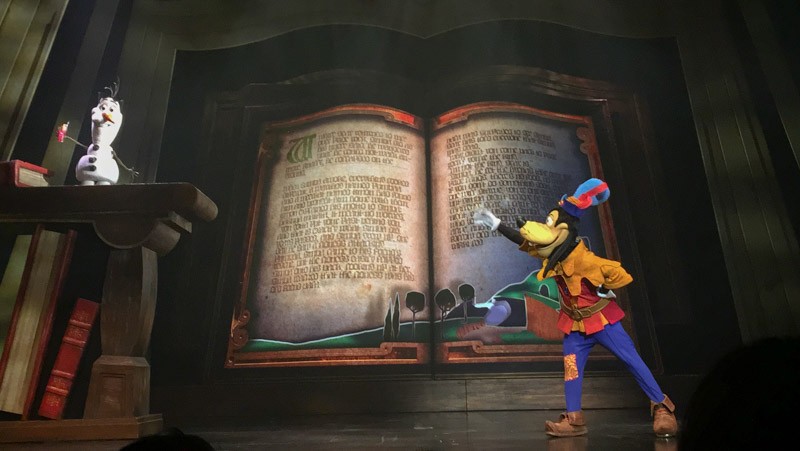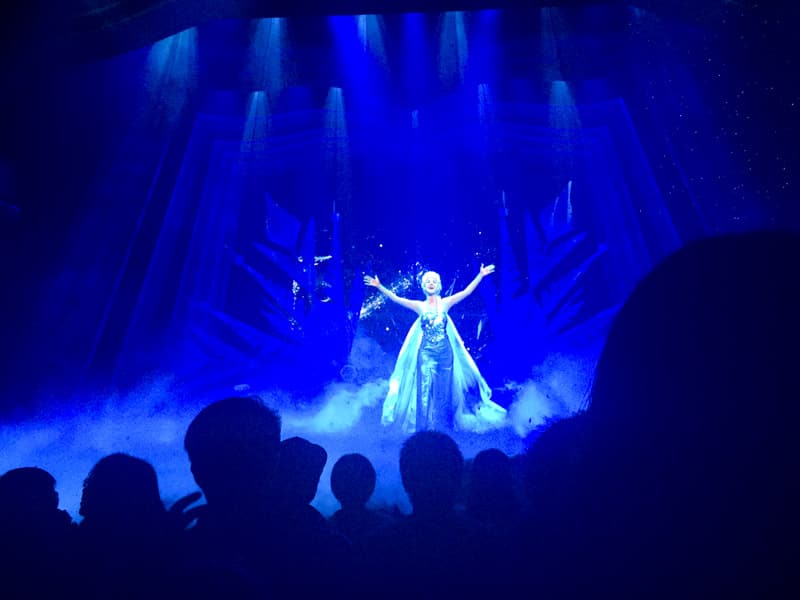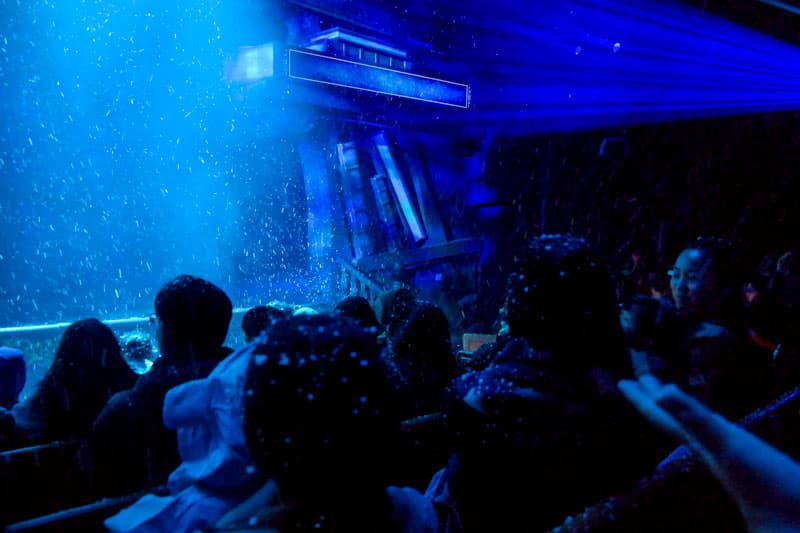 I love Merida from Brave, on account of having the same curly big hair, so it was cool when she appeared with the other Disney princesses in 'Mickey and the Wondrous Book'. Other outstanding performances were King Louie from the Jungle Book and Tiana's melodic solo from The Princess and the Frog.
What's also impressive is the new costume technology that enables Mickey and Goofy to have moving mouths as they speak . If you think about it, that's not how it usually is. So this takes the show to a different level.
Together with the stunning voices of all the cast members and impressive special effects throughout the show, the whole theatrical production is very enjoyable and uplifting. Magical indeed!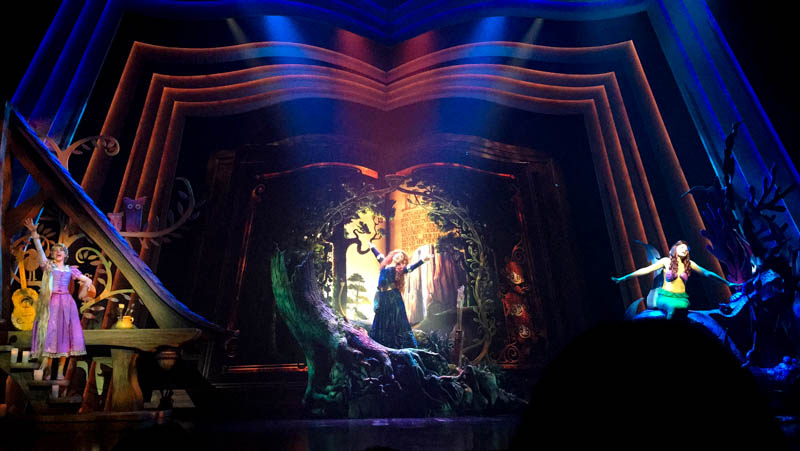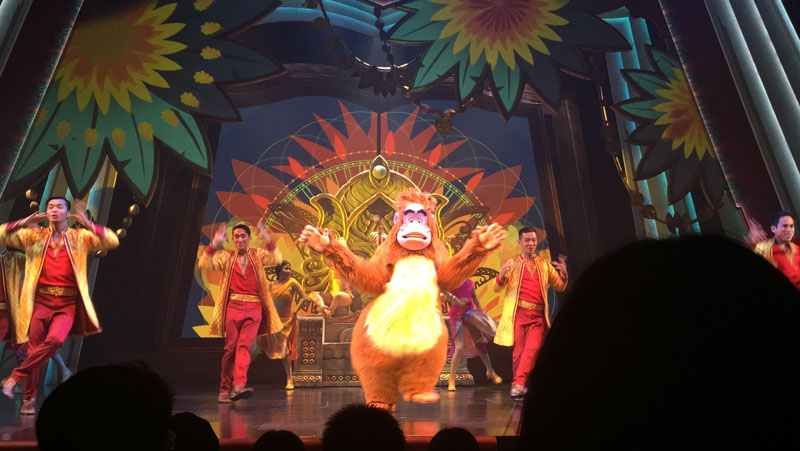 2) Fairy Tale Forest, Presented by PANDORA
This new exhibit is set in a walk-through garden. Here you will find music-boxes that recreate iconic scenes from some of the best Disney movies in miniature size. It's very well done, particularly because kids have to interact with the music-boxes to unveil the scenes. They have to wind the lever and then fairytale scenes are revealed.
Disney melodies play in the background as the miniatures of Disney princesses come to life for a spin. Simple technology, but artistically created with intricate details for a very cute enchanting effect.
It sure brought a smile to my face! I have to admit I watched most of the scenes at least twice haha. And I even squeezed in a quick visit to see them again in the daylight on the second day.
[Spoiler Alert: The pictures/videos give away a lot]
My favourite was Ariel and Eric from The Little Mermaid. Watch 🙂

Aside from the castles and music-boxes, there are frames set up in the garden so you can position yourself for a tidy photo when the miniatures come to life.
Take note the fairy tale forest is where Tinkerbell lives so if you're lucky, you'll get a chance to take a picture with her as you pass the Pixie Hollow.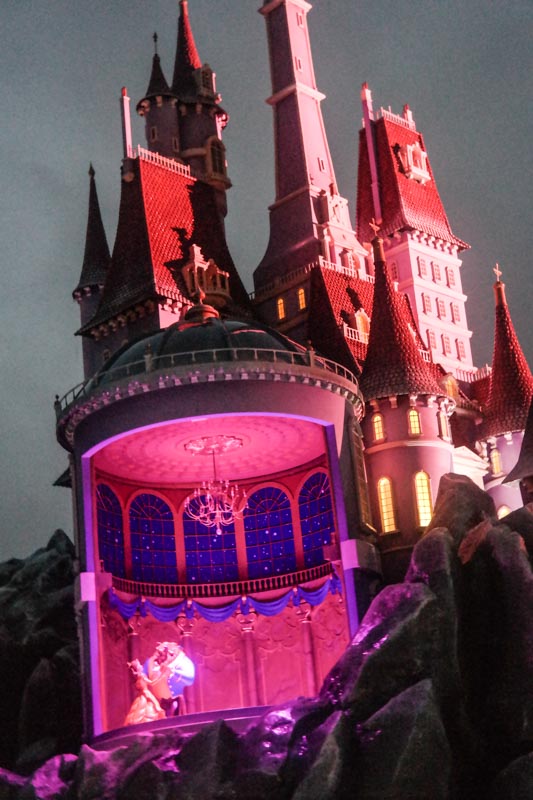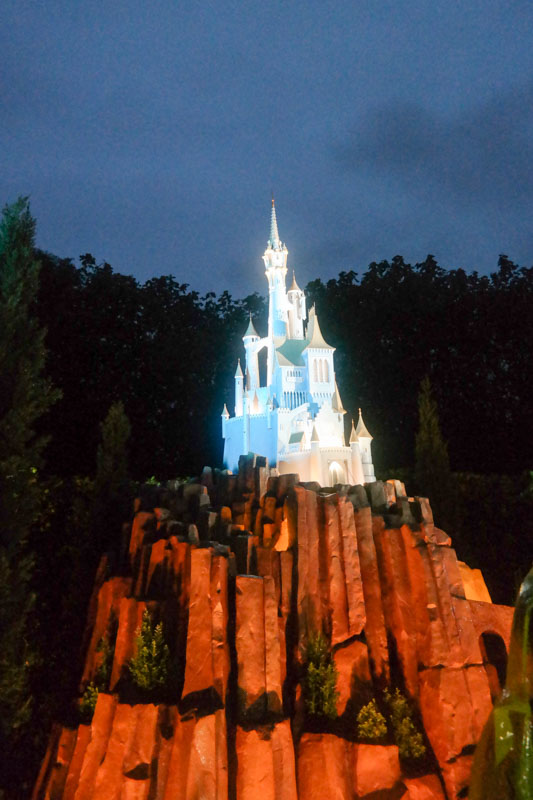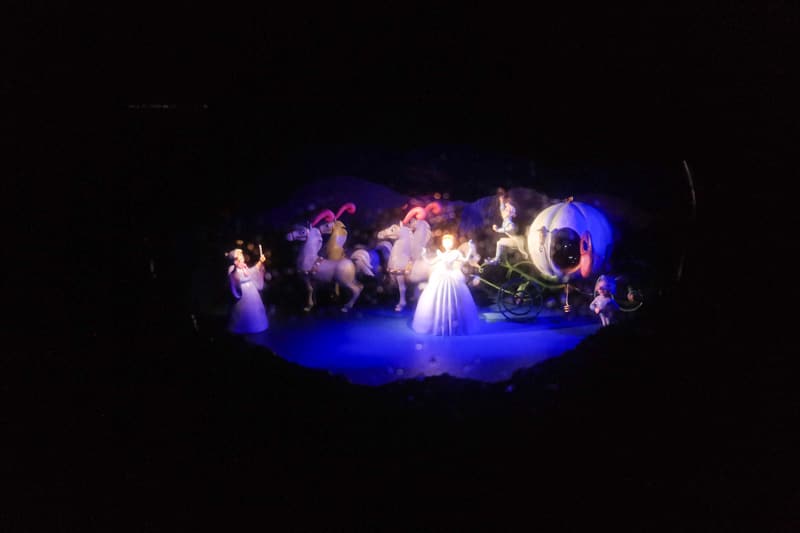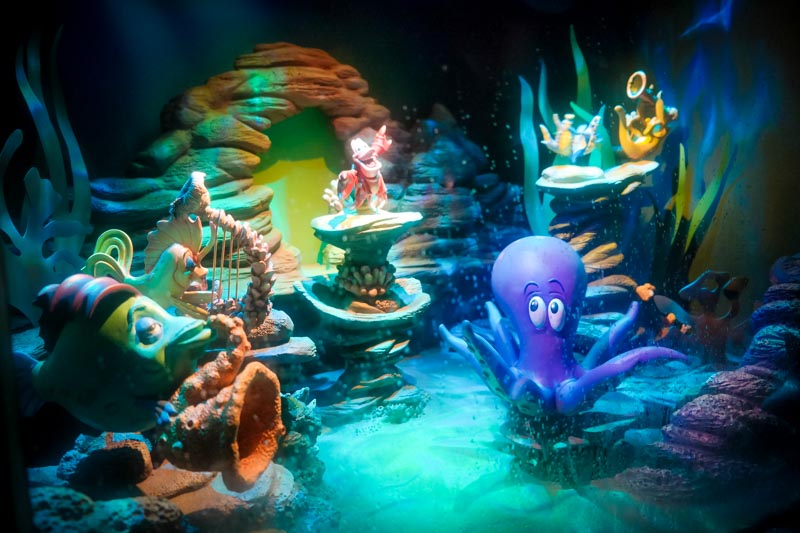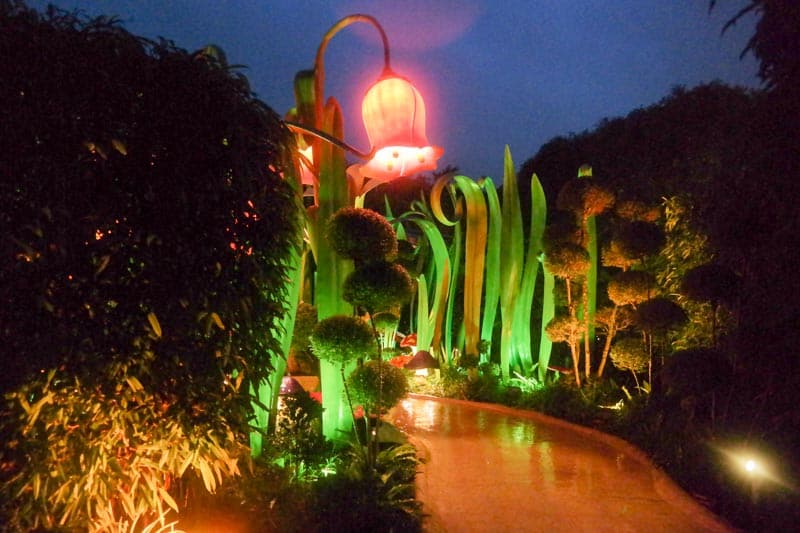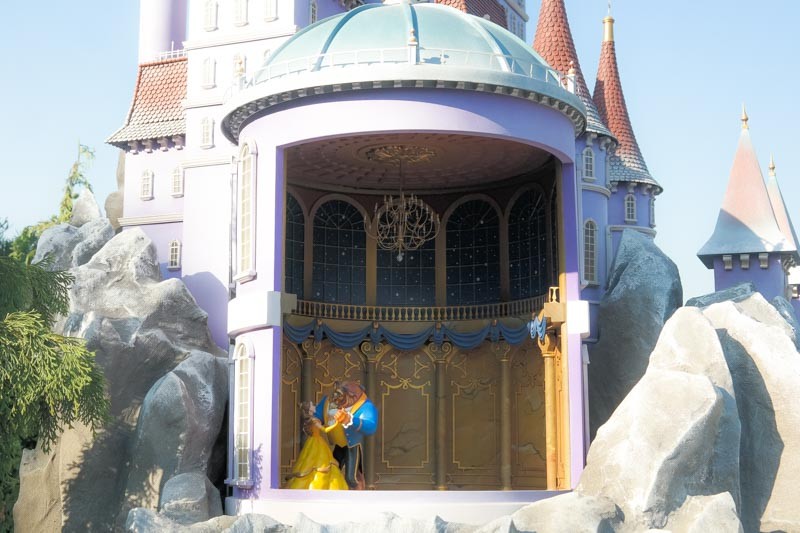 3) New Hong Kong Disneyland Rides in 2016
The newly opened Grizzly Gulch and Mystic Point have new rides to check out.
Big Grizzly Mountain Runaway Mine Cars @ Grizzly Gulch
Legend has it that the mountain is home to not only a gold mine, but also to the 3 bears. You hop in a car and go for a calm ride, until the bears awake from hibernation and cause a little chaos!
This is a small roller coaster that weaves indoors and out, forwards and backwards in this gold-mining town. Good fun! Look out for the cheeky bears switching your railroads and such while you're screaming. After the ride, take the kids to the geyser water sprout or water cannons for a bit of fun.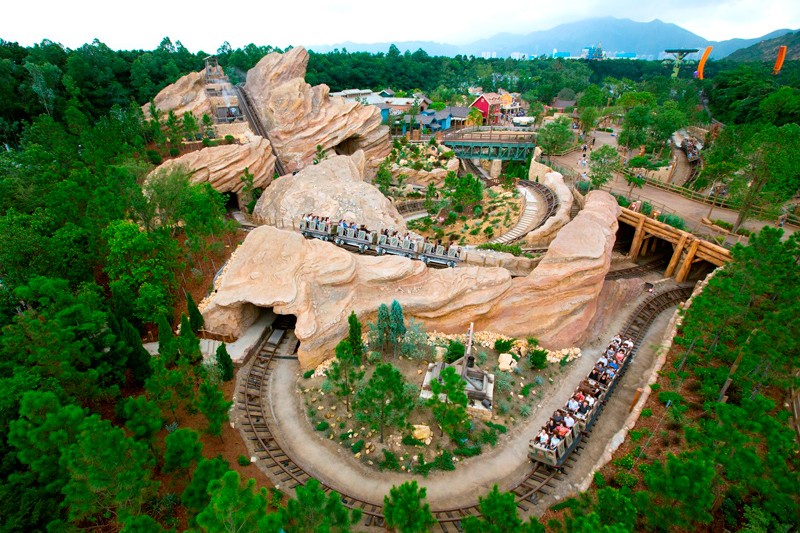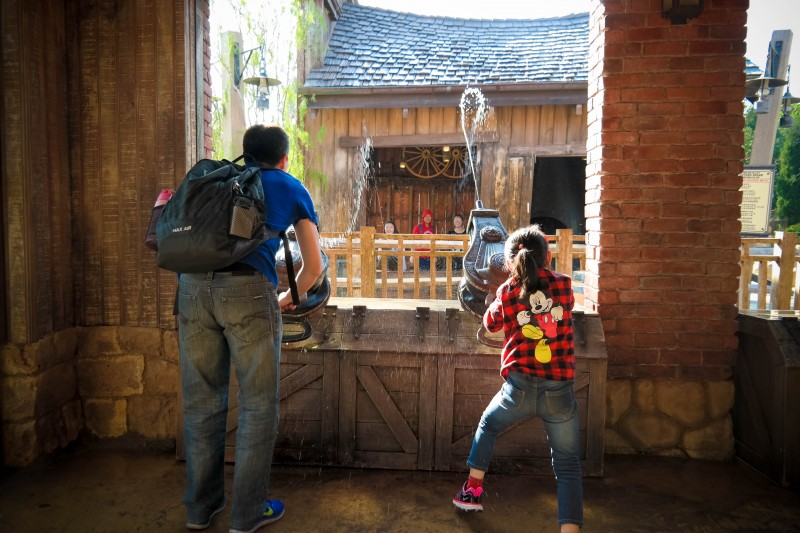 Mystic Manor @ Mystic Point
First you meet Lord Henry Mystic who introduces you to his pet monkey. He tells you a little about his expeditions around the world collecting artifacts. Then you hop into the cars for a ride to see his artifacts. I quite liked the steampunk design of the room/cars even before the ride began.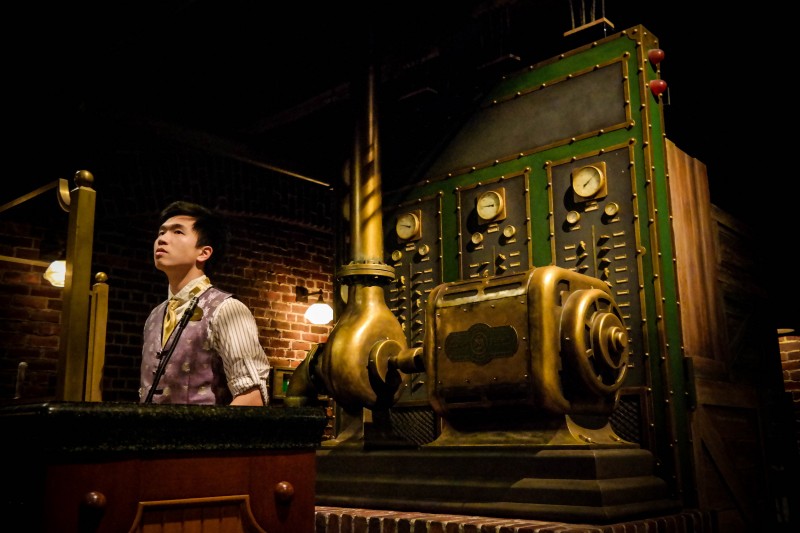 The doors open, and you see his collection of statues and paintings etc. But then the monkey has meddled with this box that, legend has it, brings things to life. So now you've got cannons going off and medusa hissing at you and some kind of angry kung fu monkey causing a ruckus!
It's a gentle ride but very entertaining! Sit in Cars 2 or 4 if you can, they have the best views.
I was intrigued by the monkey. He's cute and slightly creepy at the same time because of how realistic he looks haha. I had a hard time figuring out if it was actually there or just an animated projection.
It's obvious this ride is new because the technology in this attraction is way better than the older ones. So, yes, well worth checking out Mystic Manor on your next visit to Hong Kong Disneyland.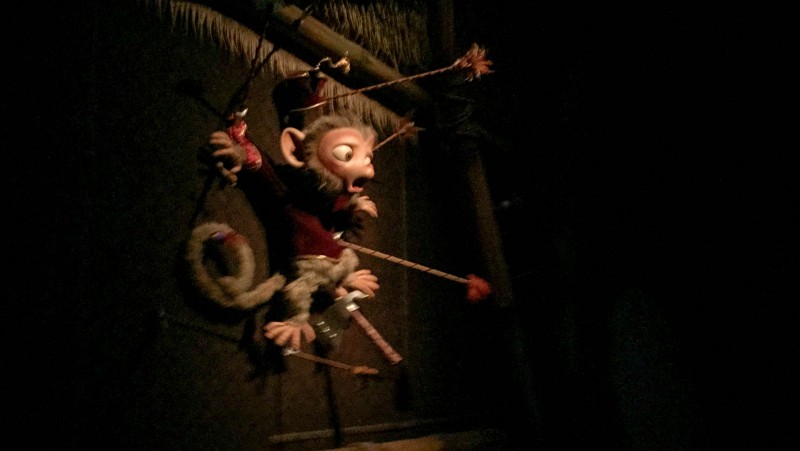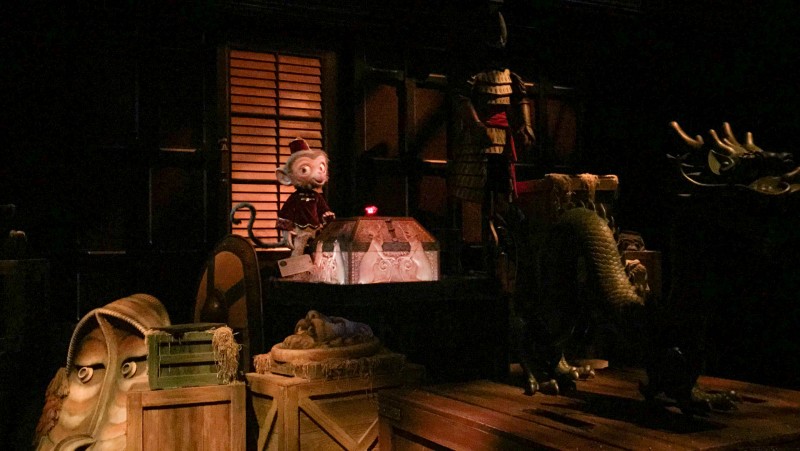 4) New Night Parade: Disney Paint the Night
This one is as fun as the day parade where you see all the characters come together. Except for the first time, with the night parade you can see them lit-up and glowing. Look out for Tinkerbell and Sorcerer Mickey with his magic paintbrush!
I didn't get to witness this one unfortunately because of the rain, but I hear it's great.

Most Popular Rides at Hong Kong Disneyland 


Aim to do the popular rides that you're interested in first because queues form quickly. If you target them first, you know you've at least done the best ones before moving on to the other rides in HK Disneyland. Get the Fast Pass for rides that have one available. When you purchase a fast pass, you are allocated a time. Return to the ride at that time and you will have a short queue or no queue.
Popular / Expect to Queue
Toy Story Land – Slinky Dog Spin
Fantasyland – The Many Adventures of Winnie the Pooh, Mickey and the Wondrous Book
Adventureland – Jungle River Cruise, Festival of the Lion King
Tomorrowland – Space Mountain
Grizzly Gulch – The Grizzly Mountain Runaway Mine Cars
Fast Pass Recommended
The Many Adventures of Winnie the Pooh
Space Mountain
My Favourites
Festival of the Lion King (musical, 30mins) @Adventureland
Fairy Tale Forest @ Fantasyland
"Disney in the Stars" Fireworks show
The Grizzly Mountain Runaway Mine Cars (rollercoaster) @ Grizzly Gulch
Mystic Manor @ Mystic Point
Mickey and the Wondrous Book (musical, 30mins) @ Fantasyland
RC Racer @ Toy Story Land
Buzz Lightyear Astro Blasters @ Tomorrowland

Free WiFi Coverage
There's nothing like a live instagram selfie right? Especially when you're in the middle of a fairytale. Look for "Guest-Free-Wifi" in the park and look for hotspots in shops and restaurants.
10th Anniversary Special Edition Collectibles
Unique collectibles include Mickey and friends in festive 'Grand Celebration' outfits, limited edition Duffy & ShellieMay pins. You can also buy Star Wars merchandise at Hong Kong Disneyland now.
And of course the PANDORA charms mentioned at the start. Behold!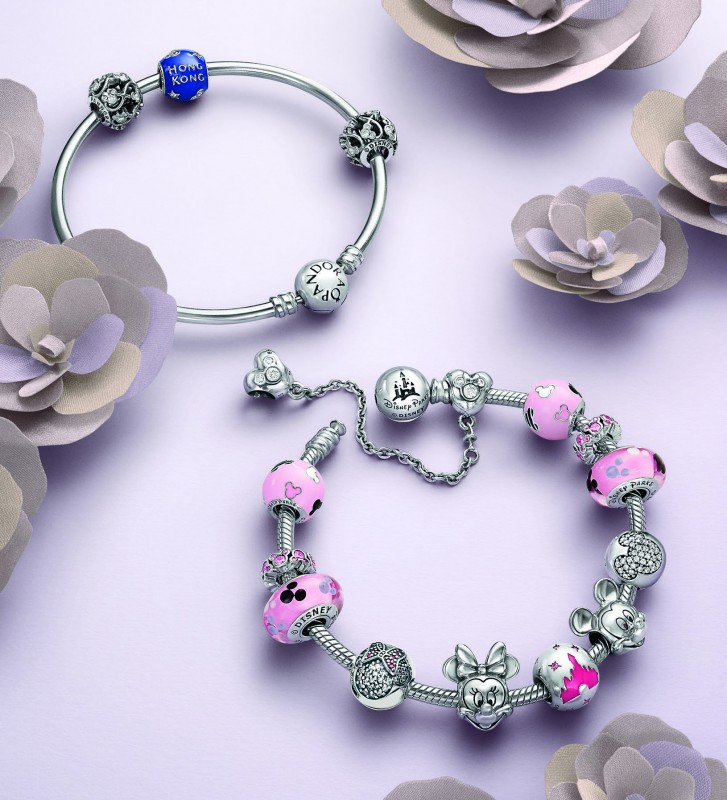 Some of the new dishes available at the Hong Kong Disneyland hotels include super cute Disney character dim sum.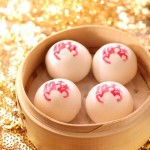 Enhancements to Closing "Disney in the Stars" Fireworks Show
Just before the park closes, the Fireworks show is definitely a big highlight. I remember being in awe like a little girl the first time I saw it. You know how every awesome Disney cartoon has this little intro of a castle with fireworks? This is like watching it come to life before your eyes!
Anyway, the new enhancements to the show are the moving light projection show that displays newer Disney characters onto the Sleeping Beauty Castle. Includes characters from Finding Nemo, Inside Out and Cars.
Conclusion: Magical Come Rain or Shine
I had a great time. It was a bit tricky managing an umbrella and a camera in the rain, but I'm glad I experienced Disneyland in a twilight setting where the lights seem even more enchanting. Hong Kong Disneyland is situated on Lantau Island so you can only expect even more fun expansions in future as they have plenty of room.
I quite enjoyed the new additions and the stories behind them. I'd missed the Tarzan attraction the past visits so I squeezed that in on the final day. But I didn't find it all that great, the new attractions were more fun. The Jungle River Cruise would be fun for kids but I'd skip the treehouse if you're short on time.
Worth the visit? Yes! Still lots of fun. Especially for a family trip with kids, but also fun for young adults to visit in a group. It is after all the closest Disneyland to Singapore and has fun new rides to check out if you have been in the past.
And of course way more fun if you spread it out over 2 days combined with a stay at the Hong Kong Disneyland resort hotels. I'll share my experience at the  colonial-style Hong Kong Disneyland Hotel next time.
---
Ready for a Magical Time in Hong Kong?
If you're planning a visit, you can book your flights from Singapore to Hong Kong + Hong Kong Disneyland Hotel stay + Hong Kong Disneyland Theme Park admission tickets all together online at Expedia.com.sg.
Check out the latest Hong Kong Disneyland packages here.
[button style='blue' url='https://www.expedia.com.sg/lp/flights/sin/hkg/singapore-to-hong-kong' icon='entypo-flight' fullwidth='true']Flights from SIN to HKG[/button]
[button style='blue' url='https://www.expedia.com.sg/Hong-Kong-Hotels-Hong-Kong-Disneyland-Hotel.h1926667.Hotel-Information' icon='entypo-suitcase' fullwidth='true'] Latest Rates Hong Kong Disneyland Hotel[/button]
[button style='blue' url='https://www.expedia.com.sg/Hong-Kong-Hotels-Disneys-Hollywood-Hotel.h1471344.Hotel-Information' icon='entypo-suitcase' fullwidth='true'] Latest Rates Hong Kong Disneyland Hollywood Hotels[/button]
[button style='green' url='https://www.expedia.com.sg/things-to-do/hong-kong-disneyland-park-admission-with-transfer.a251132.activity-details?srp=true&location=Hong%20Kong%20(all),%20Hong%20Kong' icon='entypo-lifebuoy' fullwidth='true'] Buy Tickets to Hong Kong Disneyland Themepark[/button]
[button style='pink' url='https://www.expedia.com.sg/Hong-Kong-Disneyland-Hong-Kong.d6073738.Place-To-Visit' fullwidth='true'] Hong Kong Disneyland Packages[/button]