By Expedia Singapore, on December 27, 2014
Where to Celebrate a World-class New Year's Eve in Singapore
The end of the year, the start of the new, and probably the most universally celebrated event everywhere around the world. Look, we're big fans of heading out for a nice long holiday in December, spilling over from Christmas to New Year's, completely e-mail free. At the New Year countdown, we're happy to be dancing in Phuket, kissing a stranger on Time's Square or sharing a warm hug in London for survival in the winter. But that's us. And even then, we don't spend every year abroad – lest we invite the wrath of Aunty Mei and Uncle Muthu who will hit us will a rolling pin for being absent from all the family events.
So, we too enjoy jumping into the exciting activities happening right here at home to welcome the new year in Singapore. You don't need to travel far to experience a world-class countdown. Here are a few fun places to join in the New Year's Eve celebrations in Singapore.
New Year's Eve Celebration in Singapore

Singapore Countdown at Marina Bay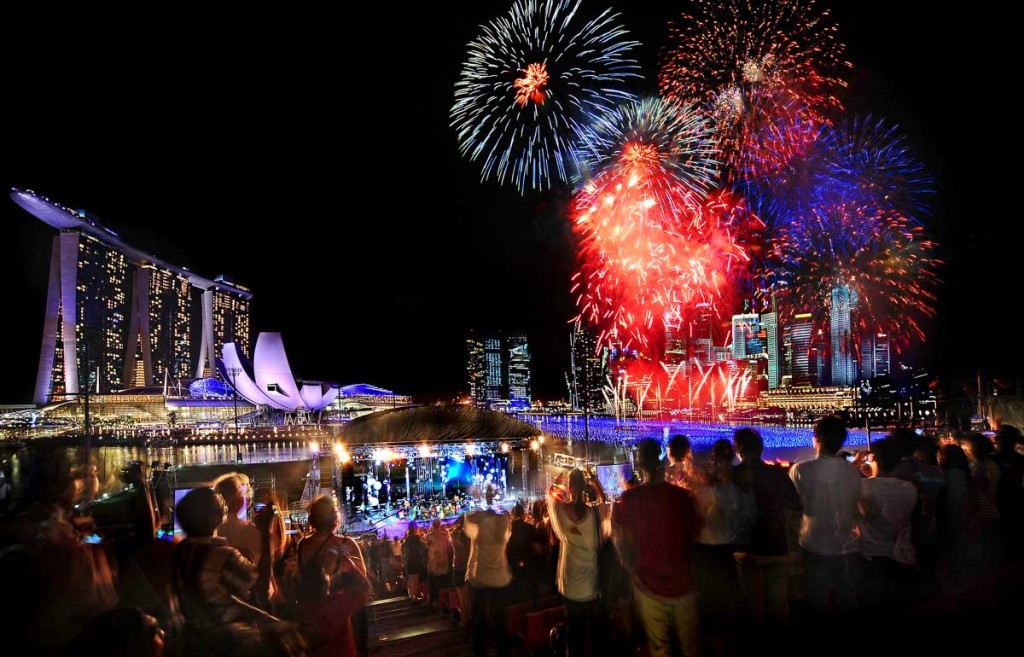 The Marina Bay Singapore Countdown has been running since 2005, bringing people together from all over the region and beyond to celebrate and reflect at the end of the year. This year's countdown is especially important for Singapore. We'll be celebrating not only the start of a new year, but also our 50th year as a nation.
Join family and friends to gather at Marina Bay and enjoy a spectacular display of fireworks set against a backdrop of drums and celebratory music. There will also be 25,000 wishing spheres, each of which represents a hope and belief of someone in Singapore. The red and white spheres will be penned with wishes from the community and will float atop Marina Bay.
Singapore Flyer
The Singapore Flyer will have perhaps the best view of Singapore's fireworks and festivities, thanks to its vantage point of 165m about ground. It's the world's largest observation wheel and offers world-class views across Marina Bay and beyond – plus, there are plenty of restaurants, shops and activities contained within the flyer, making your New Year's Eve experience better than ever.
Raffles New Year's Eve Gala Ball
Watch thousands of balloons fall from the roof of Raffles' lobby as the clock strikes midnight. The Raffles New Year's Eve Gala Ball features canapes, champagne and a six-course dinner in the Grand Hotel Lobby, indicative of the luxurious atmosphere this event has. Dine on caviar and lobster while you listen to a DJ and Raffles' own band – all while dressed in your finery, of course.
Universal Studios Neon Countdown
Universal Studios Singapore is hosting Dance in the Park, complete with a neon countdown and tribute band performing the Black Eyed Peas' biggest hits. Take the kids to see LED shows and pyrotechnics, and make th​e most of the park's famous rides all night long.
Siloso Beach Party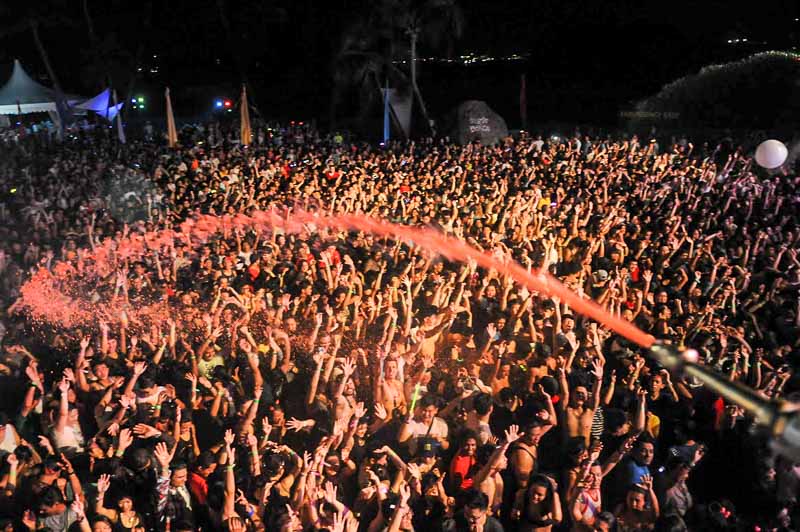 No mention of Singapore New Year's Eve is complete without the Siloso Beach Party, which features a beachfront party atmosphere with pulsating dance music from dusk till dawn. This adults-only event is perfect for revellers who want to let their hair down and dance the night away.