By Karen Tee, on December 9, 2015
Zoukout 2015: How to ZoukOut Like a Pro
The good news is in. Yes, ZoukOut is returning in 2015! The legendary dance festival hits our sands again this party season along with several other cool festivals happening in Asia. Here's some tips to make the most of the festival fun.
It's that time of the year again to let your hair down and dance to your heart's content at Singapore's premier dance festival. ZoukOut returns for its 15th year on 11-12 December at Siloso Beach, Sentosa. After all the rumours about the end of ZoukOut, we sure are glad this epic party is back.
With a jaw-dropping line-up of the world's top DJs, including Paul Oakenfold, Tiesto and Armin van Buuren, this is the party to celebrate the year-end with a bang. 
ZOUKOUT 2015 FULL LINE-UP
From techno to trance, deep house to hip-hop and rap, there's bound to be hot beats to get you moving at ZoukOut this year. This massive two-night outdoor beach party will see international headliners such as producer-DJ Kaskade, dance music duo Deep Dish, and Axwell and Ingrosso formerly of Swedish House Mafia take the stage alongside the best homegrown acts such as Darren Dubwise, DJ KoFlow and electronica act Vandetta.
We bet this line-up will make your heart skip a beat – or two!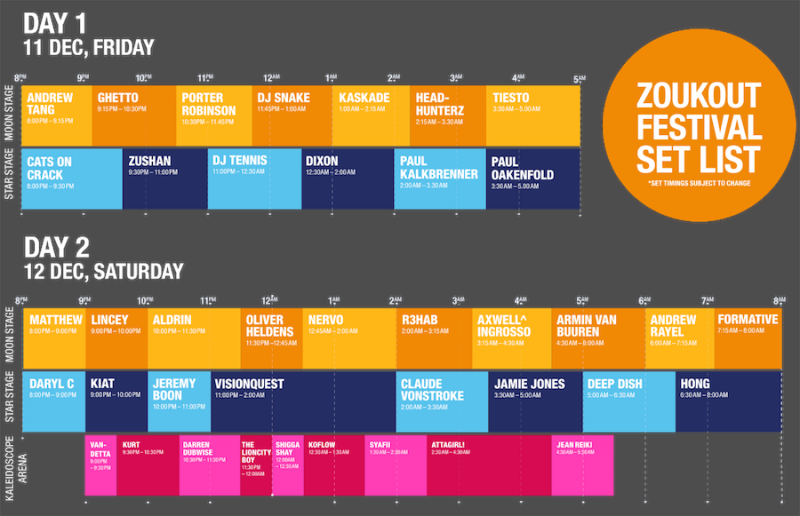 EMERGING ACTS AND LOCAL TALENTS TO CHECK OUT
ZoukOut Day 1 
French DJ and rapper DJ Snake, a pioneer in the trap music movement, is a new act to groove to while homeboy Andrew Tang is sure to get the crowd moving with his unique elemental beats.
ZoukOut Day 2
Singapore rapper Shigga Shay takes the stage and Zouk's resident DJs Formative, Hong and Lincey will bring the house magic of Singapore's favourite club to the beach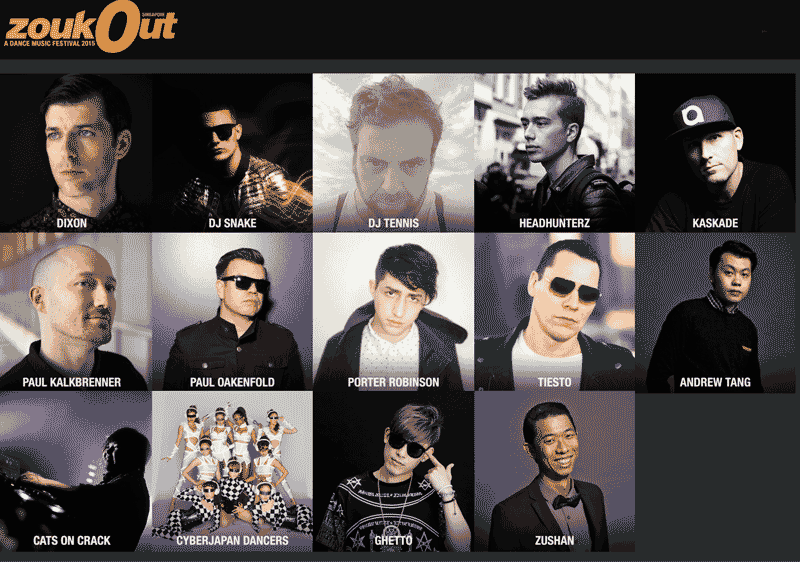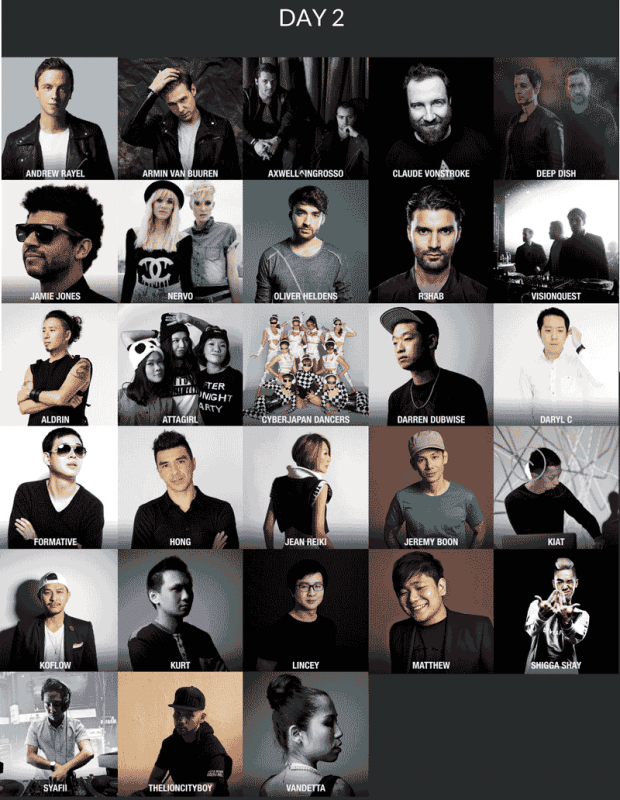 SURVIVAL TIPS
Like most festivals, it can get pretty intense at ZoukOut. It stretches out over two days at a pretty high tempo throughout, which tends to be pretty intense on your body – and liver.
Assemble Your Squad
Your party crew can make or break the fun factor. Gather good friends who genuinely enjoy the same music, take turns to do the beer runs and 'chope' your spot in front of the stages, be good wingmen/wingwomen for each other, go nuts and have each other's backs.
Keep an Open Mind
Instead of merely sticking to the artists you are already interested in, take some time to wander to random tents and stages to listen to artists you don't know. The love of music after all is about keeping it fresh and open to new sounds.
Pace Yourself
With events spread out over multiple days, burnout is a real possibility. Take breaks on the beach between the must-see acts. Lepak with your friends and have a cool-down chat. Hand fans and water spritzers can also come in handy.
Stay Hydrated
Have water between boozey drinks (it's the best way to stay upbeat yet avoid hangovers and doing a merlion). You don't want to be that person being stretchered out.
Handle Your Own Drinks
With all that liquid courage, you'll make plenty of festival friends. But don't accept drinks from strangers unless you get it straight from the bartender. Seriously. You don't want to drink anything that has left your sight
Prep the Essentials
If you're bringing your phones, carry it in a waterproof pouch (sometimes Zouk gives these out), and start a group chat on WhatsApp. Instead of endless threads of 'Where are you?' exchanges, simply type in a location (preferably a pre-agreed landmark) and a time to meet. Bring a portable charger in the likely case your phone runs out of juice.
EZ Peasy
ZoukOut is also going cashless this year, so have your EZ-Link and credit/debit cards at the ready. More details can be found here.
You're welcome! Now go forth and sing and dance your heart out!
[tabs]
Ticketing Info = [tab title="Ticketing Info"]
Get a two-day festival pass for S$258 or a one-day pass at prices ranging from S$168-S$198. Ticketing info available here.
[/tab]
Getting to Sentosa = [tab title="Getting To Sentosa"]
There will be ZoukOut bus shuttles available at the Harbourfront Bus Interchange, with detailed schedules available closer to the event. You can also take the Sentosa Express from Vivocity Lobby L, Level 3 to Beach Station or cab to various drop-off points on Sentosa, including Beach Station, Underwater World Bus Stop or Coach Carpark. More information available here.
[/tab]
Staying on Sentosa = [tab title="Staying on Sentosa" icon="entypo-suitcase"]
For those who prefer to stay close to the action on Sentosa, you can live it up like a rock star at the stylish W Singapore. Or book yourself into the Amara Sanctuary Resort Sentosa to wake up in a soothing garden resort – the perfect balm for ZoukedOut partygoers.
[button style='blue' url='https://www.expedia.com.sg/Sentosa-Island-Singapore-Hotels.0-n6047875-0.Travel-Guide-Filter-Hotels' icon='entypo-suitcase' fullwidth='true'] More Hotels in Sentosa[/button]
[/tab]
[/tabs]
Chase the Festivals
What's even better is that ZoukOut isn't the only music festival happening in the region during this season. Chase them!
Where and when: Singapore, 28-29 November
What: Also offering indie and alternative music, interestingly, this event boasts a similar line-up to Hong Kong's Clockenflap (we imagine the acts are hitting up two festivals at once).
Where and when: Hong Kong, 27-29 November
What: Fans of indie and alternative music will be flocking to this music and arts festival in the West Kowloon Cultural District. The line-up of acts includes Damien Rice, Blackalicious and Rachael Yamagata.
Where and when: Pattaya, Thailand, 17-20 December
What: This quirky, eclectic mish-mash of indie bands and techno/electronic music combines with interesting art installations, circus acts and even yoga and meditation workshops.
Credit: Zouk Singapore, Getty Images