By Samantha Tan, on March 22, 2022
4 in 5 Singapore Working Adults Felt Burnt Out in 2021, Found it Difficult to Unplug from Work – Expedia Study
Expedia's 2021 Vacation Deprivation Study unveils flexible work and work-from-home arrangements have made it more difficult for Singaporeans to take a complete break from work when on leave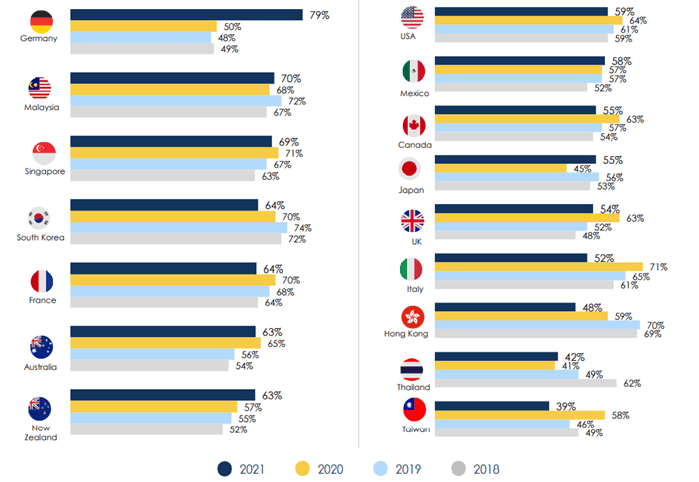 Figure 1. Vacation deprivation sentiments around the globe: percentage of respondents who expressed feelings of vacation deprivation from 2018 to 2021
Following close to two years of border closures, travel sentiments among Singapore's workforce have improved since the introduction of travel lanes in the second half of 2021. According to Expedia's 2021 Vacation Deprivation® Study, vacation deprivation sentiments in Singapore have almost returned to pre-COVID levels, with 69% of Singaporeans surveyed feeling vacation-deprived, down from 71% in 2020, dropping Singapore from being the most vacation-deprived country in the world in 2020 to third place in 2021. Apart from listing among the top 10 most vacation-deprived markets in the world, the study uncovered that Singaporeans continue to find it hard to unplug from work when on leave, highlighting a need to set clear boundaries for them to enjoy a real vacation without having to think about work.
The 2021 edition of Expedia's Vacation Deprivation® Study polled 14,500 adults aged 18 and above across 16 countries, including 500 from Singapore, in December 2021, to understand the vacation deprivation and travel-related sentiments of consumers around the globe.
FEELING BURNT OUT, SINGAPOREANS STRUGGLE TO UNPLUG FROM WORK
When asked about the impact of the COVID-19 pandemic stress on their lives, more than four in five (82%) of working adults said that they felt burnt out in 2021. The pandemic stress situation was even more severe among respondents holding first responder roles, with nine in 10 (90%) identifying with feelings of burnt out in the past year.
These sentiments could have been compounded by the following factors:
Singaporeans generally took fewer vacation days in 2021 – only 12 days compared to 15 days the year before.
Majority did not make use of vacation days to rest – 66% spent their vacation time on their side hustles, 57% brought their work laptops during their vacation and 51% joined video conference calls frequently while on vacation.
Flexible work and work-from-home arrangements made unplugging from work more challenging than before – close to four in five working adults (78%) felt that such work arrangements have made it more difficult for them to disconnect from work when on vacation.
 VACATIONS MORE VALUED VERSUS PRE-PANDEMIC TIMES; MAJORITY FEEL AS RESTED WITHOUT TRAVELLING
Despite majority expressing challenges in unplugging from work while on paid time off, 94% said that they value vacation time more than ever before. Most respondents also concurred that taking regular vacations is important for general health and well-being (97%), helps them to have a more positive attitude (92%) and causes them to feel more motivated at work (90%).
Additionally, the majority (84%) also felt just as rested and recharged when they spend their vacation time within the city state without travelling. This reveals that the concept of taking a vacation could be evolving across the board, with staycations, local experiences or simply staying at home with their loved ones being a viable alternative to international travel during paid time off.
NEED FOR CLEAR BOUNDARIES TO HELP SINGAPOREANS TAKE MEANINGFUL BREAKS FROM WORK
With the importance of vacations to help Singaporeans overcome feeling burnt-out while improving their overall well-being, there is a need for working adults to set clear boundaries to take meaningful breaks away from work. While 73% of Singaporeans shared that their employers were supportive of them taking vacation time, eight in 10 (80%) currently leave their mobile numbers in their out-of-office emails or give them to their co-workers or clients when they go on vacation. Additionally, 54% felt guilty about having their co-workers cover their work while on vacation, and 48% felt the need to apologise for taking time out for planned vacations.
This points to the development of a potentially unhealthy "vacation culture" where Singaporeans don't get the complete time-off that they deserve to refresh and recharge themselves during a holiday.
THOROUGH PLANNING KEY TO SUCCESSFUL AND STRESS-FREE HOLIDAYS
When asked about their vacation and travel plans for 2022, only one in four (24%) Singaporeans said that they have booked their vacation days, while over half (51%) said they plan to make their travel plans in the later part of the year. Now that Singapore has established more than 30 Vaccinated Travel Lanes (VTLs) to international destinations, Expedia recommends travellers in Singapore take time in their travel planning to make the most of their days off.
"The insights from our 2021 study unveiled some critical pain-points, that our workforce is at a brink of experiencing a burnout, with more working adults struggling to unplug from work despite taking regular vacations. Holidays, long or short, is a great time to rest, recharge and rejuvenate. While the pandemic has taken its toll on many of us mentally, emotionally, and physically, Expedia hopes 2022 will be the year that travellers take that big leap to detach from work and prioritise the things that really matters to each of us – our family and well-being," said Lavinia Rajaram, Asia Head of Public Relations, Expedia Group.
More insights available here: Expedia 2021 Vacation Deprivation Report_- Singapore
###
Notes to Editor:
Traveller wellbeing is our priority. Expedia understands how the global impact of the coronavirus pandemic continues to affect travelers everywhere, as well as the importance of abiding by government restrictions and practicing social distancing. Travellers can visit the Expedia COVID-19 travel resource page for information to make informed travel decisions.
 About the Vacation Deprivation Study
Expedia first commissioned the Vacation Deprivation Study in 2000 to examine the work-life balance of Americans. The annual study is currently in its 22nd year and was conducted online among 14,500 respondents across North and South America, Europe and Asia Pacific. Conducted from 14 to 30 December 2021 on behalf of Expedia by Northstar Research Partners, a global strategic research firm, responses were gathered using an amalgamated group of best-in-class panels. Looking at the margin of error for the global average, a 1% difference is statistically significant at 90% confidence.