By Reebonz Style Gurus, on July 26, 2016
Celebrity Airport Style: There's an Actual Award for it! See Who Won
Flipping through the smorgasbord of fashion blogs and online sartorial editorials, there's scarcely a shortage of images of celebrities all dolled up at the airport. Snaps of the jet=lagged  jet-fresh singers and models make their rounds on the internet and spring wealths of fashion conversation, feeding our abyssal thirst for the newest and the latest.
And we are ever so enamoured, eagerly monitoring celebrity airport styles, over and over. Why is that we care what they wear??
Why So Kaypoh
Because what draws us to the manufactured glamour of celebrity airport styles, lies in the very fact that celebrities have pulled these outfits together themselves with their bare hands. Imagine that! Without the professional assistance of stylists and makeup artists grooming them to perfection.
This reflects fashion choices that are more personal, telling us a little more about our favourite celebrities. And more importantly, these airport looks are not out of our league, thus luring us with the branding message we like to believe: celebrities are just like us.
In other words, I oso can. Or at least that's how it makes us feel.
When Did 'Airport Styles' Become a Thing?
But every fever-pitched phenomenon has a beginning, right? A little digging on Racked.com told us that the turning point was when TMZ became far more aggressive in sniffing out opportune moments to capture celebrities. Celebrity coverage was all the rage. 
In 2008, the Los Angeles Times published an article that described how celebrities are dealing with veritable excess baggage at LAX airport —  a clever reference to the passels of paparazzi in airport terminals. These cameramen don't hold back in their hunt for celebrity snapshots, a hunger spurred by the world's growing appetite for visual content, especially on famous folk we love to scrutinize.
Who What Wear went on to become the first fashion website that banked on this opportunity, with the first post on celebrity airport style dating back to 2006. Today, a simple search on the Who What Wear site returns over 200 articles on the fashion choices of celebrities at airports.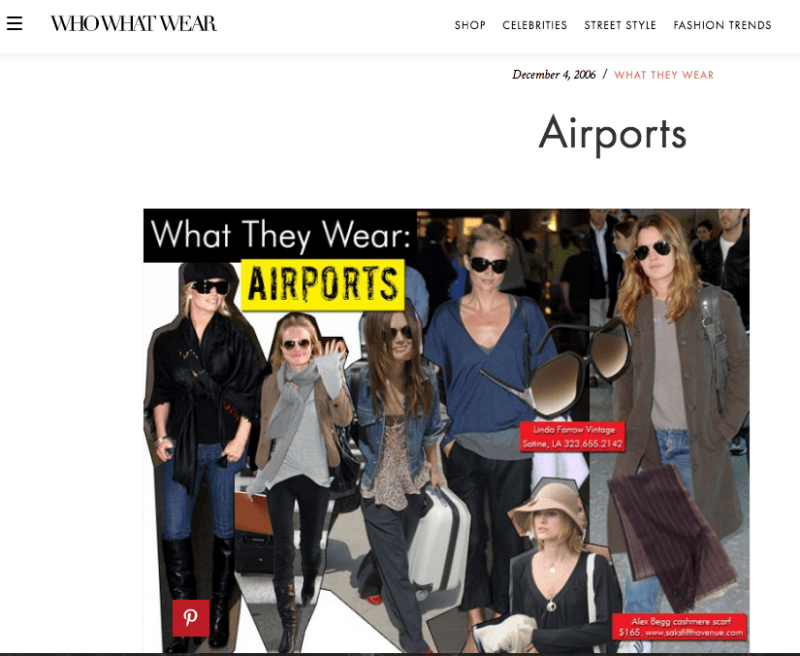 The World's Best Dressed Travellers Award
British Airways—with the expertise of Hollywood stylist Elizabeth Saltzman—released an unprecedented list. The World's Best Dressed Travellers. An accolade that not only extols female celebrities who have made the effort to doll up for something as mundane and tiresome as travelling, but also reflects the shift in how we celebrate fashion and consume news.
We can't deny that the endless stream of celebrity travel styles jumping out of magazine racks, and TV screens, and addictive websites, has transformed the way we dress for the airport ourselves. I know I wouldn't be caught dead in flip flops at the airport anymore — it's another opportune moment for make a style statement, even if its a quiet one.
Somewhere in the fashion universe, the analysts have looked at celebrities through their monocles and decided who the winners are. Here is a round up of celebrities who have made the list of the official World's Best Dressed Travellers award.
Celebrity Airport Style: The Best-Dressed Travellers

5) Taylor Swift
Taylor Swift is one of the few celebrities who favour frocks over skinny jeans at the airport, rendering her a distinct saccharine style to stand tall at the arrival halls.
Get her look by packing your luggage with an array of skater skirt dresses, which have the right amount of flair for a cosy yet stylish flight. But reach for a pair of ballet flats instead of heels, for uncompromising comfort!
Key Pieces:
 Skater Dress
 Ballet Flats
 Longline Necklace
4) Angelina Jolie
Understated elegance is the accurate lexicon to describe how Angelina Jolie departs in style, unperturbed by the six children that follows in her wake.
To attain the quintessential Angelina Jolie travel style, never leave your coats at home! Not only will it keep you toasty in high altitudes, they are a chic number to shrug on while you strut across the endless stretch of terminal belts.
Key Pieces:
Belted Midi Coat
Little Black Dress
Flat Pumps
Kendall Jenner
Perennially on fashion's radar, the top model walks a different runway at the airport with her own definition of high-flying style.
Kendall Jenner's ensembles are versatile and it's hard to pinpoint a certain zeitgeist to her looks. However, it's unmistakable that she has a predilection for anything inbetween skinny jeans and flare trousers. So emulate her gamine charm when you have your pick at a pair of trusty pants!
Key Pieces:
Skinny Jeans
Cool Kicks
Duster Vest
Amal Clooney
Amal Clooney floats around in jet-setting outfits with a charm that speaks well of a woman of her calibre, leaving us in awe of her chutzpah. This power lady may have shot to fame as Clooney's missus, but she really holds her own in every way.
You can Achieve Amal's look even when you pack light, with diaphanous dresses or palazzo pants, which will have you floating halfway across the globe.
Key Pieces:
Wrap Dress
Wedged Sandals
Oversized Hat
Victoria Beckham
Are we even surprised? Victoria Beckham never looks far from polished as she saunters about the airport, earning her top spot with the well-deserved accolade.
To dress like Victoria Beckham, think smart. A blazer is an instant polish to any look, and a handy designer bag that will look as good in the boardroom as it does at the airport will do the trick too.
Key Pieces:
Tapered Trousers
Structured, Oversized Outerwear
Designer Arm Candy