By Karen Tee, on April 2, 2016
Have a Purr-fect time at these Animal Cafes
In recent years, pet cafes have transformed from novelty hang-outs to a global phenomenon, with cat cafes popping up all over the world, including Singapore, Taiwan and London.
Here, customers pay to spend time de-stressing and cuddling up to a roomful of purring felines – a boon for city-dwelling animal lovers who either work long hours and can't take care of a cat full-time or live in unsuitable, cramped quarters that aren't exactly pet-friendly.
This concept first took off in Japan, where there are now an estimated 40 cat cafes in Tokyo alone. Ever the trendsetter, the Land of the Rising Sun also boasts pet cafes featuring rabbits, goats and even owls.
As the proud owner of one shiba inu pup and two tabbies, I often miss my fur babies dearly on overseas trips. So, on my most recent sojourn to Tokyo, I decided I would schedule pit stops at some of these pet cafes.
Hello, Kitty!
I made a beeline for the Calico Cat Cafe in Tokyo's vibrant Shinjuku district, reputed to be one of the best cat cafes in the city.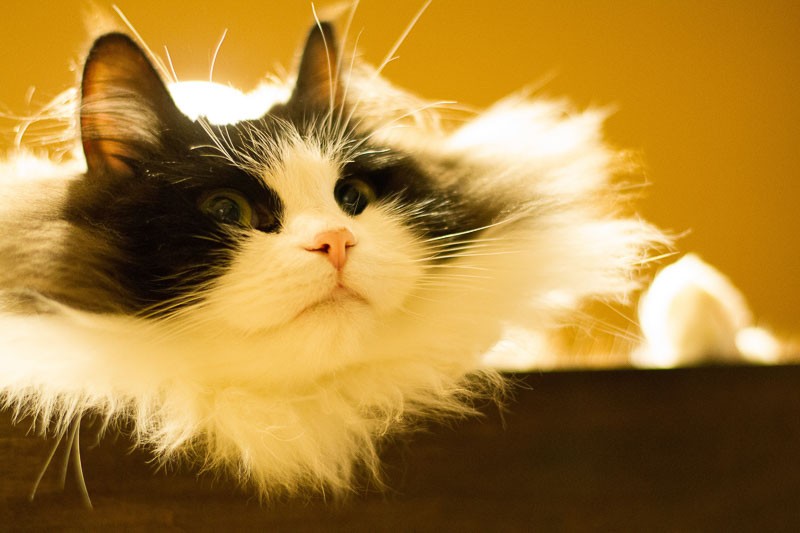 Calico Cat Cafe / CC by 3.0 / Takashi Hososhima
Inside there are about 20 cats roaming the two-storey cafe at any given time. Indeed, with plenty of scratching posts, perch ledges and climbing towers, not to mention all the toys a cat could dream of, stepping into the Calico Cat Cafe is like seeing an anime show about felines come to life.
I immediately jumped into the thick of things, picking out a few lounging moggies to pester by waving a feathered toy in their face.
However, it was only when I shelled out another 300 yen to buy some cat food ­– shredded chicken in this case – that the lazy kitties came to life as they purred and jumped on my lap in an attempt to charm their way to some nosh. This sure feels like home, I thought happily.
What a Hoot : Owl Cafe 
Emboldened by my successful cat encounter, I decided to check out something a little more exotic: an owl cafe.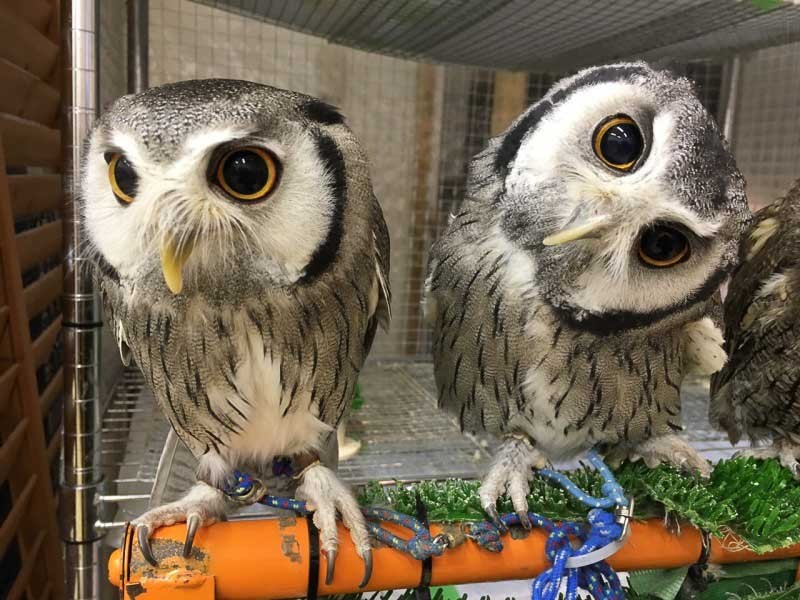 Fukuro no Mise
Now, despite their rather bookish, adorable appearance, owls are predatory birds, so I was a little apprehensive about touching them. I chose the popular Fukuro no Mise in Tsukishima, which is on the outskirts of the city.
(Insider tip: This is just a few train stops away from Tokyo's famed Tsukiji fish market, so drop by afterwards for some fresh sashimi.)
As I stepped into the cafe, I was greeted by about 20 owls calmly perched on ledges. After a short briefing about house rules, which included instructions to touch them only on their heads and backs, to my surprise we were allowed to place the birds on our arms, shoulders or head with the assistance of the staff.
What struck me most about the owls were how unperturbed they were with the constant human attention. Some owls would stare unflinchingly at humans, while others would nod in response to head rubs. Besides the occasional gasp of surprise and delight, all the visitors, slack-jawed and wide-eyed with wonder, were on such good behaviour, I wasn't sure if the owls or the humans were the tamer species.
Hop to It
Next, I made a stopover at rabbit cafe Ra.a.g.f, which has a branch in trendy Harajuku. Unlike most cat cafes, where the felines roam at will, the bunnies are kept in separate enclosures. However, while they're only allowed in the 'play area' one at a time, guests are welcome to freely interact with the rabbits in their cages.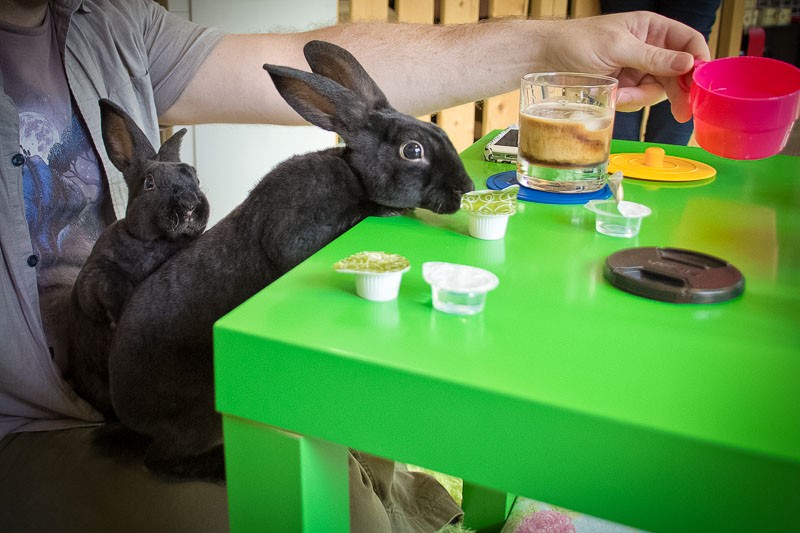 R.a.a.g.f. rabbit cafe / CC by 3.0 / John Gillespie
To my amusement, I later found out that bunnies are prone to going at it like, well, rabbits, hence the strict rules on keeping them separate.
Still, having just one hopping bunny in the cafe at any time was no hindrance to having a rollicking good time. Lured by the promise of fresh carrots and vegetables, the rabbits are quite content to leap around the play space, often settling down on someone's lap as they snack on a leaf or two.
In fact, I found the rabbits to be more affectionate than the cats, as they frequently had no qualms in approaching humans for a cuddle or head rub.
By the time my one hour was up, I was lulled into a deep state of calmness, with my travel-frayed nerves soothed by the rhythmic hopping and gentle mannerisms of these adorable, fluffy animals.
If you're keen to get some animal lovin' but are not heading to Japan just yet, here are some other cafes in Asia where you can have a similar experience.
Singapore
With multiple breeds roaming about, including popular Scottish fold and munchkin cats, this small but cosy cafe is popular among Instagram-crazed kitty lovers.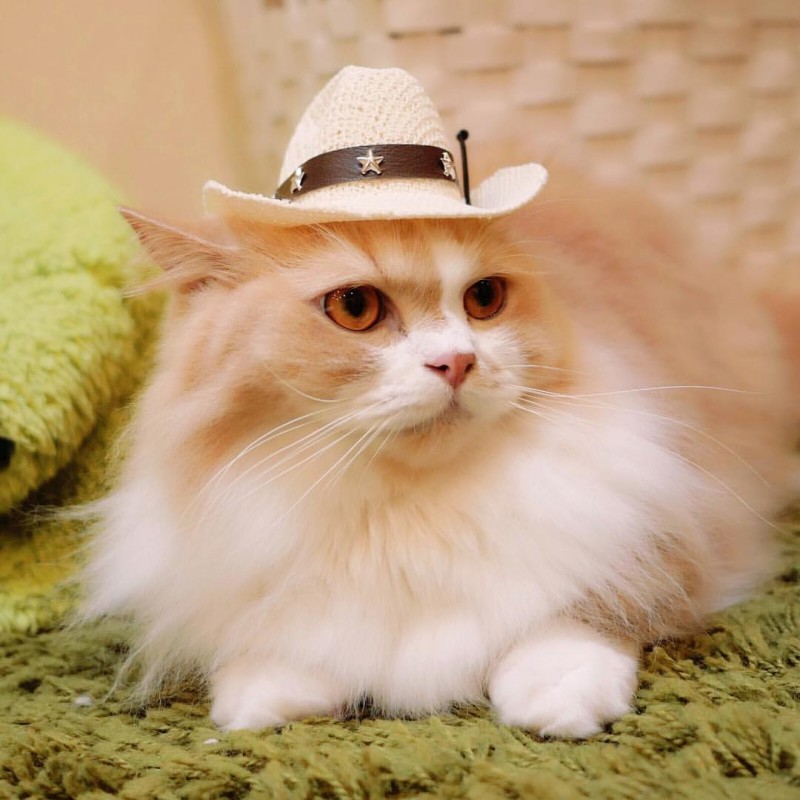 Meomi Cat Cafe Facebook
Seoul, South Korea
Dog cafes are rare, but this is one is well run and a great place to visit. With two play areas for larger and smaller breeds, Bau Haus is a must-visit for lonely travellers who miss their canine companions.
Heart KPop
Chiang Mai, Thailand
The owner of the Lucky Bunny first started this cafe so visitors could come over to play with her rabbits. Now, not only is this homely cafe filled with bouncing bunnies, it's a popular hang-out for animal lovers and doubles as a rabbit boarding house, too.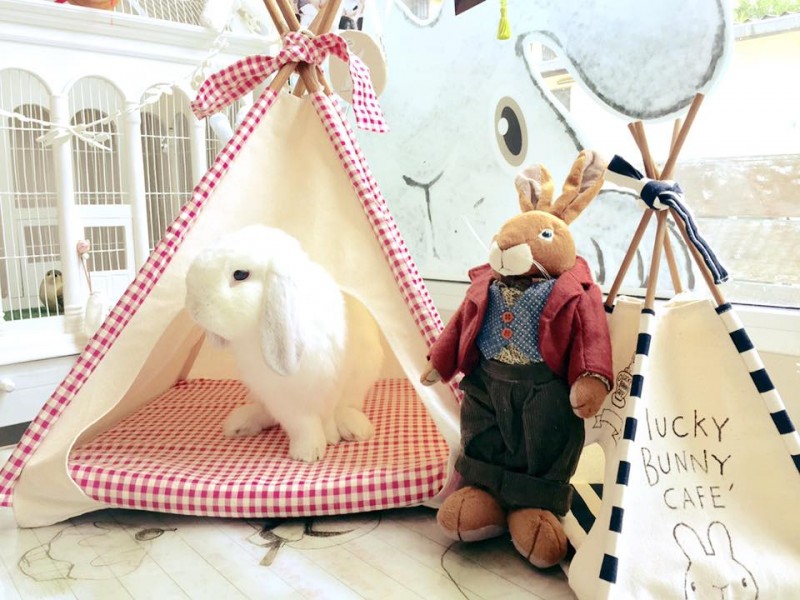 Lucky Bunny Cafe
Hanoi, Vietnam
Not for the faint hearted, Pet Cafe in Hanoi houses a wide array of exotic animals, including snakes, lizards, hedgehogs and spiders. But fear not, the owner spends months training the creatures before visitors are allowed to hold them.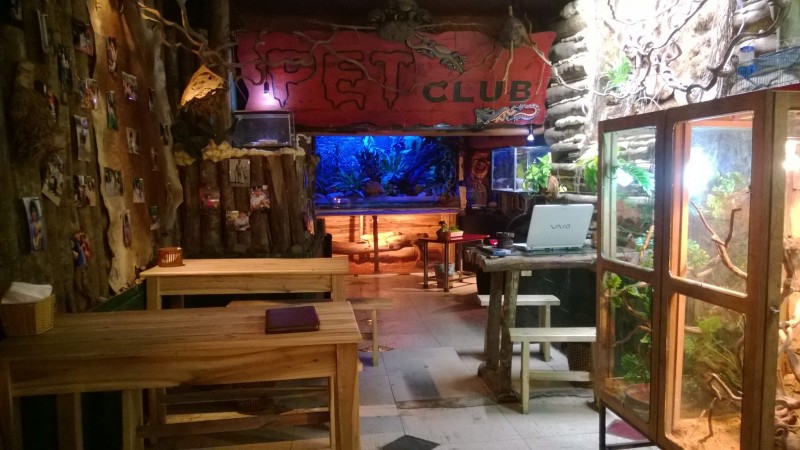 Pet Cafe Hanoi