By Veera, on November 3, 2015
Visiting the World's Biggest Fish Market – Tsukiji, Tokyo
It's not every morning that I get up at 3am to head out to a tuna auction. But in Tokyo, it's well worth it.
Tsukiji Fish Market in Tokyo is the world's largest wholesale fish market. The market handles over 2,000 tons of marine products per day. These days the market is crawling with tourists so much that it has become somewhat a problem for everyday business. When visiting Tsukiji Fish Market, please follow the given guidelines in order to not interfere with the daily procedures.
The fish market is easy to find. Get on a metro to Tsukiji Station and from there on, simply follow the smell. A rumor has it that Tsukiji's fish is so fresh that it doesn't even have a fishy smell – but trust me on this one, it does smell. And it smells horrifying. But you get used to it as you approach the market.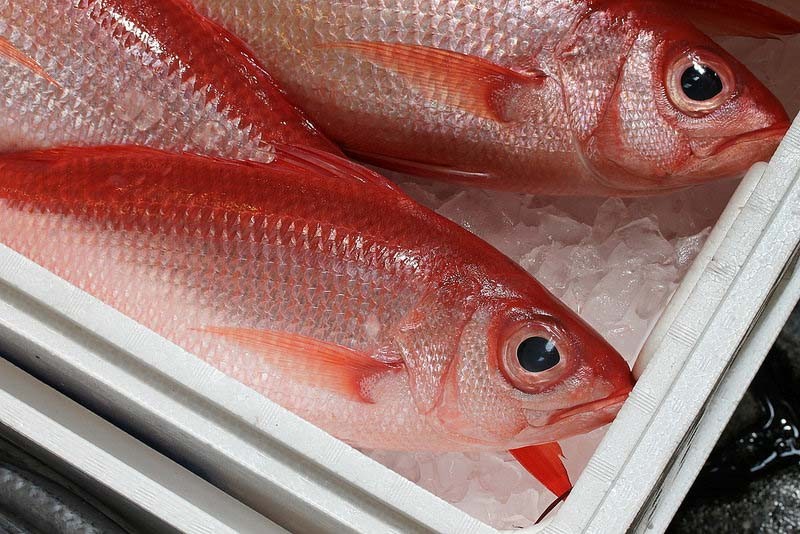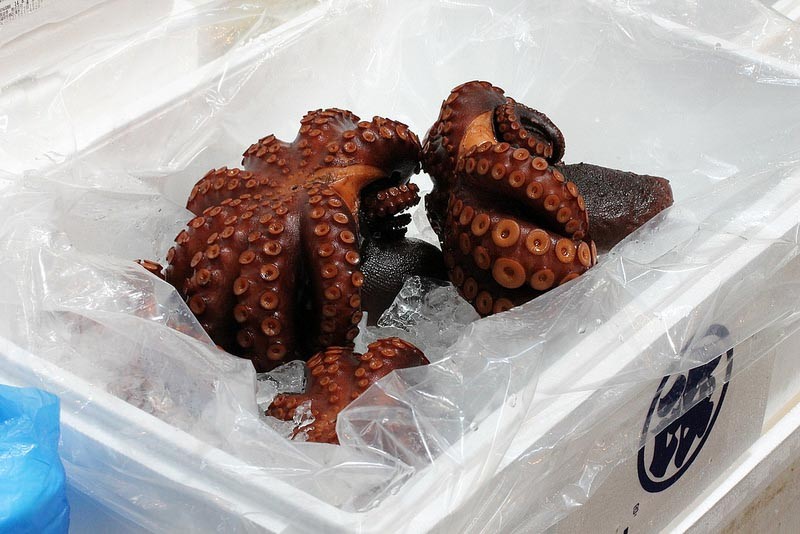 Tuna auction at dawn
Tokyo as a city may be a dynamic one, but the fish market takes the meaning of that to a whole new level. It gets noisy when the tuna auction begins. And before I take a breath, the thousands of kilos of tuna are gone. Bought. Over. Out. Sushi.
The tuna auction at dawn has become exceptionally popular among visitors and not all fit in each day. So to ensure your experience, you do want to get there by 3:30am already. If not, the fish market itself is still enough of an experience.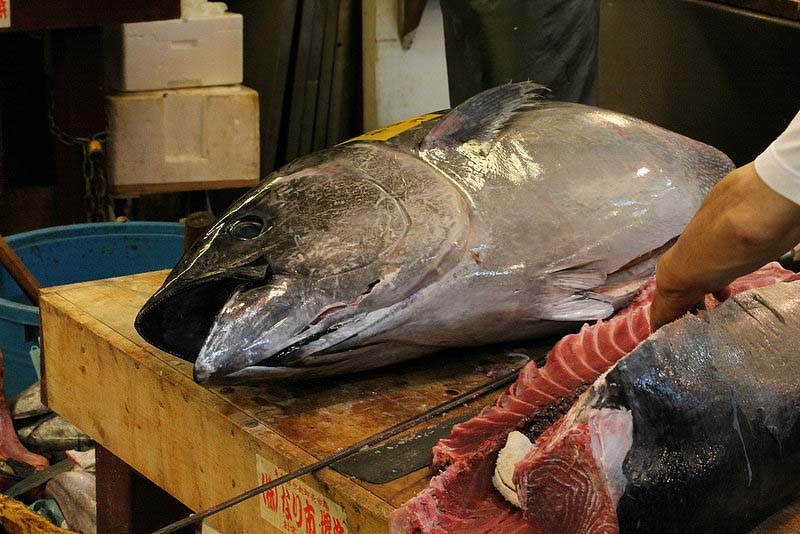 Eel blood & other marine creatures
After all the tuna is gone, it's time to wander the stalls o f the market. I try not to get hit by the tuk trucks while admiring (with a hint of disgustion) all the weird and wonderful sea creatures around me.
One of the buckets looks like it has snakes. Yuck. While I lean in to snap a photo, a young Japanese guy grabs one of the snake-looking-creatures and cuts it in half. I step back and discover that my legs are now covered in eel blood.
Not a typical Monday morning.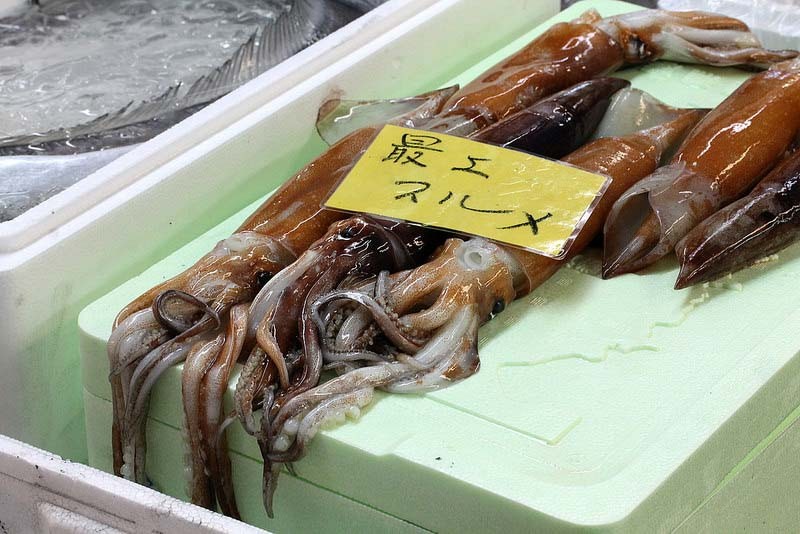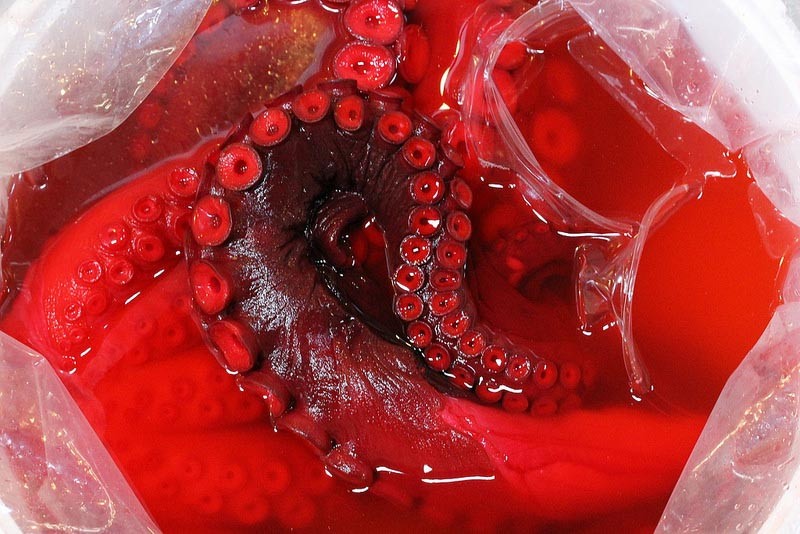 The sushi on my plate is still moving
Before leaving the fish market, one has to indulge in the world's freshest sushi. I can't say I was craving for raw fish after watching them getting heads cut off all around me. But I guess it's just part of the experience. As you make your way out of Tsukiji, you will see tons of sushi restaurants right next to one another. Just pick one and get ready to have your love of nigiri changed forever. You may need to queue, but it's well worth it.
I sat down at a tiny TripAdvisor recommended restaurant and ordered a set of nigiri from the list. Soon I take a look at the tourist group dining next to me – the fish gills on their rice balls are literally still moving. By now I am freaked out. I take a few deep breaths and work my chopsticks around the greatest meal I've yet had.
Sushi will never be the same.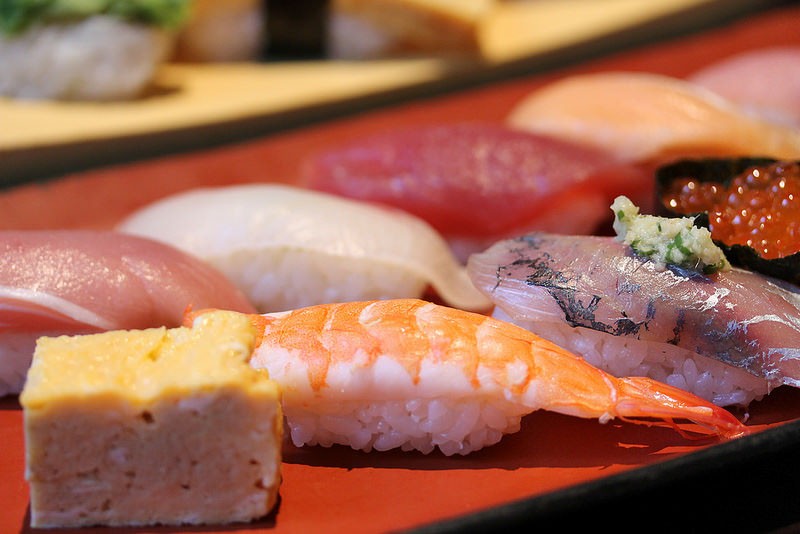 Visiting the Tsukiji Fish Market is free and open on most days, except Sundays and some Wednesdays. To see the tuna auction, you have to try to fit in to either of the two groups of 60 people that are let in each day. The opening hours are 3:30am-6am.
Also make sure to dress accordingly, it will be wet and you will smell like fish. As you enter the market, you will receive a map on how to get around – make sure to follow it!
---
Want to know more about Tokyo? Download the PDF guide to Tokyo for your trip.
[button style='green' url='http://api.arrivalguides.com/en/Dynamic/Download?dest=TOKYO&partner=expedia&lang=en&age=999&email=api@fastcheck.se' icon='entypo-flight' fullwidth='true'] Download a PDF guide to Tokyo[/button]