By Kathleen Poon, on February 7, 2019
What to Buy in London – Shopping List
London is the second-most visited city in the world, so it is not surprising to see numerous shops and street markets sell London souvenirs to tourists. But the question is, what to buy in London that's unique and actually useful? Many of us snap up the usual souvenir trinkets like keychains and fridge magnets. Here are some other authentic items that really represent this unique and vibrant city, and a good addition to your home that Marie Kondo won't scold you for. We've put together 8 things to buy in London that are worth adding to your holiday shopping list.
What to Buy in London

Tea and Biscuits
Tea is a national drink in Britain, and the British have turned tea into an art form. You can buy a selection of quality tea in London, some of the popular brands are Whittard, Fortnum & Mason and Twinings. Apart from tea bags, you can also consider tea strainers, teapots, and tea towels as well to suit your cuppa.
The British always drink tea with biscuits, and the typical biscuits are custard creams, Digestives, and Jaffa cakes. Those biscuits are very cheap, and you can easily find them at London shops such as Marks & Spencer or John Lewis stores.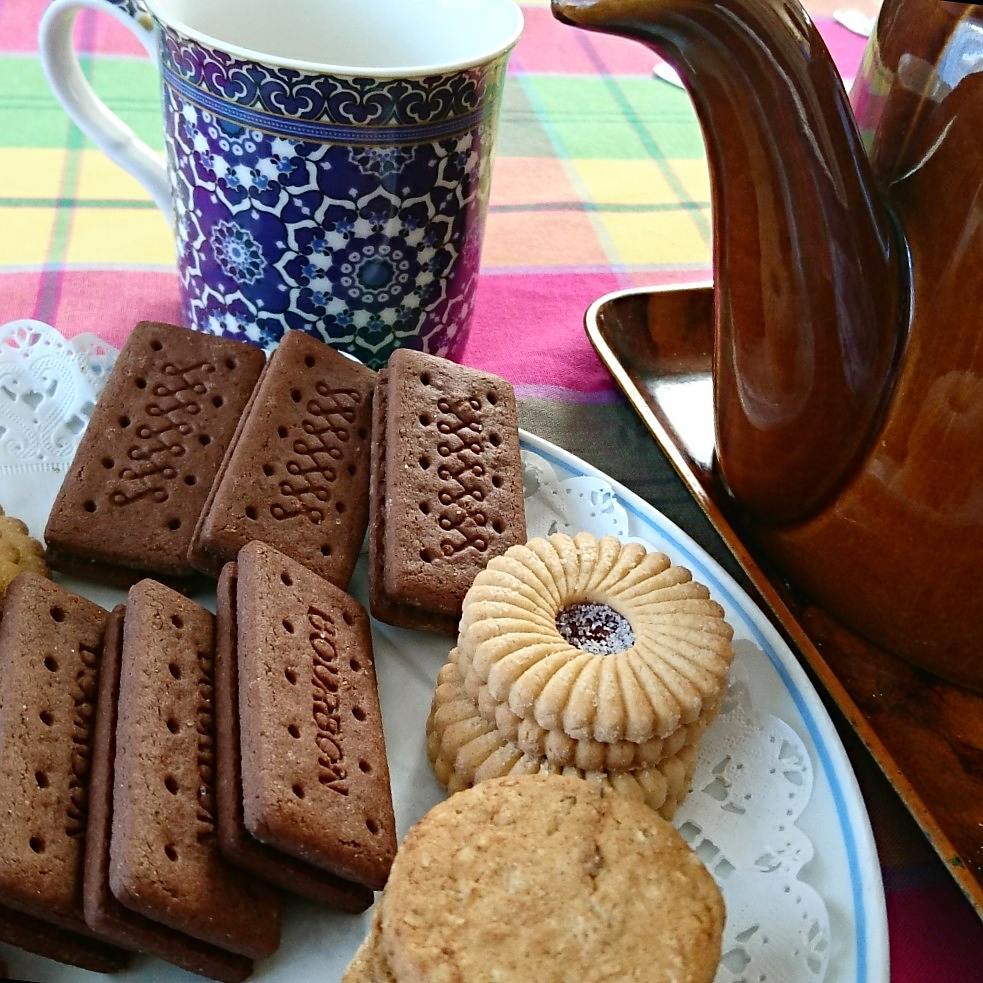 Tea and biscuits / Image source: @artdunoir
Royal Gifts
Buckingham Palace is a must-visit on for anyone planning London holidays. Besides discovering the palace, you can browse for royal-inspired gifts and souvenirs in the Royal Collection Shop – the palace gift shop. You can get fluffy hand-towels embroidered with the royal emblem, crown pencils and gold key chains that have a classy and elegant feel to it.
 Buckingham Palace Shop / CC by 3.0/Linda Peall
Harry Potter Merchandise
If you love all things wizard related and are wondering what to buy in London to remind you of your trip, then this is just the ticket. A visit to Warner Bros. Studio Tour in Leavesden outside London is an absolute must for Potter fans! The Studio Tour is a permanent exhibit showing the making of Harry Potter films, giving you a glimpse into the Wizarding World.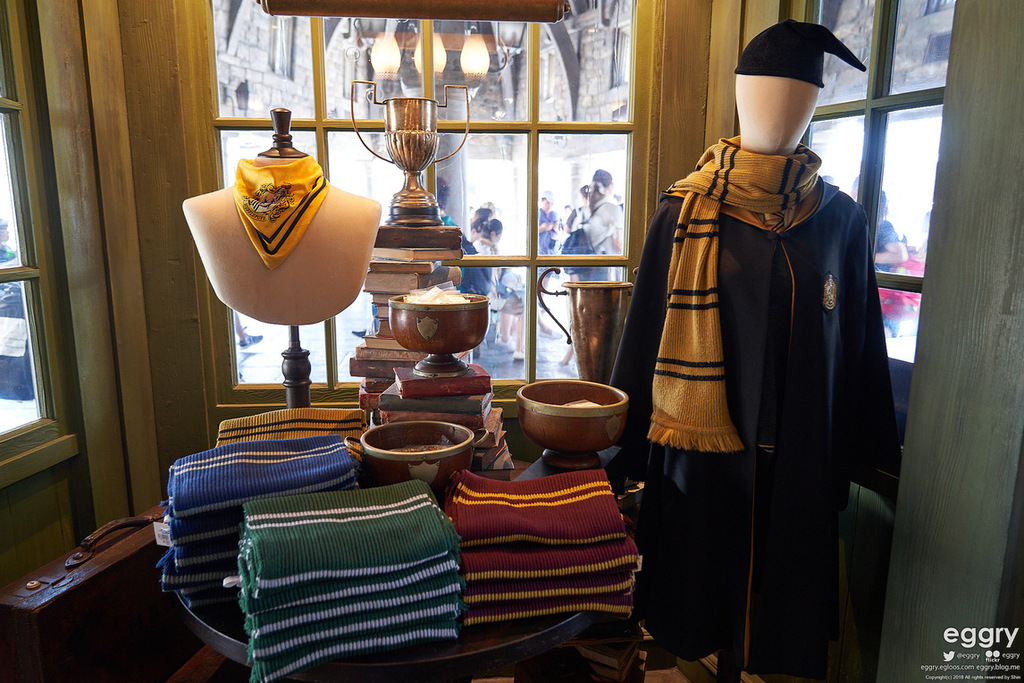 Harry Potter merchandise /CC by 3.0 / eggry
There is so much Potter merchandise that you can get your hands on here. A personalized Hogwarts acceptance letter, wands, Quidditch jerseys, house scarves just to name a few.
The Studio Tour's nearest railway station is Watford Junction, a twenty-minute train ride from London's Euston. Regular shuttle buses run from Watford Junction to the Studio Tour. However, if you have limited time to travel outside London, just get a printed picture of yourself at Platform 9 ¾!
If you're looking for London souvenirs to bring home, Primark has some Harry Potter goodies like socks, notebooks, scarves… In fact, Primark is a great place to shop in general! Trust us, you'll end up buying lots of things you don't need because of the wallet-friendly prices. Bonus tip: If you are running out of space in your bag, there are cheap luggage and trolley bags at Primark.
Alternative and Funky Items
If you're into alternative, retro and funky items, go to Camden Market. It is a haven for original and unusual London merchandise. Camden Town is lined with cobbler shops, leatherwork, vinyl, and designer-makers.
 CC by 3.0/Adele Claire
Camden, in general, is an edgy area with an alternative scene and its market is quite a favourite on weekends, even for Londoners. It's got lots of cool stuff so take your time to explore. There are even photo studios where you can pose for old-timey photos in a Western tavern or other cool studio settings.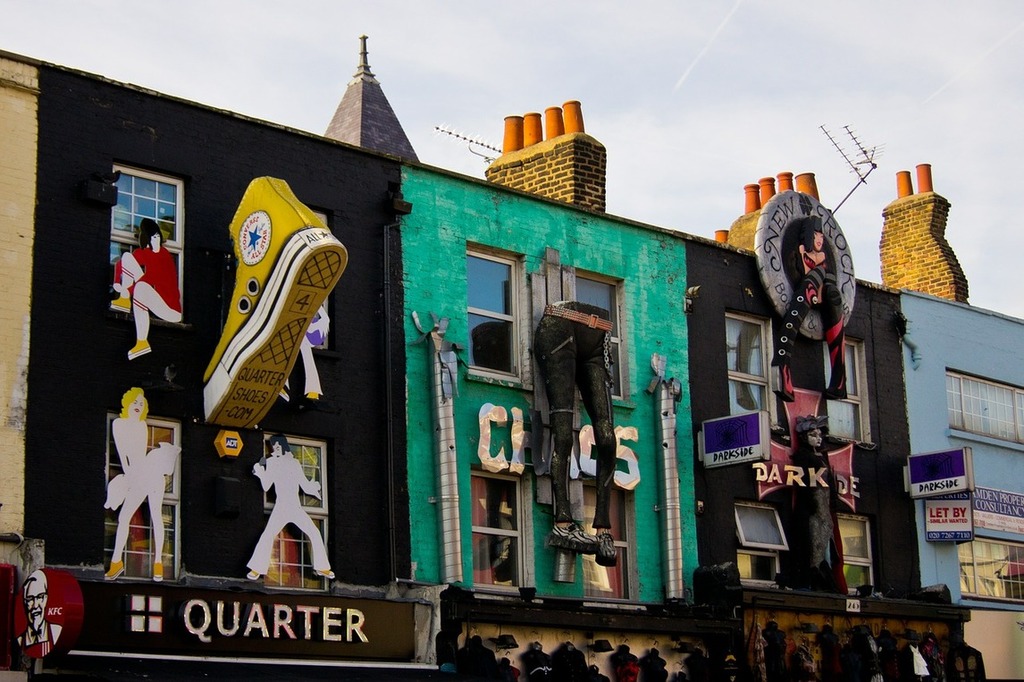 Camden Town / Image source: Pixabay
As one of the most iconic destinations for London shopping, the area is heaving with crowds during the weekends, with Sunday being the busiest. By night, Camden Town has a vibrant nightlife scene as well with pubs, clubs, and bars all over the area.
While out here, you can get more Harry Potter merchandise, along with Games of Thrones and Doctor Who.
I liked the small-batch screenprinted t-shirts by London-based artists. If you're into hippie-style clothes, unique graphic print tees or even glow-in-the-dark clothes for your nights out, you can find it all in Camden. If you're into raves, check out Cyber Dog which has lots of glow-in-the-dark clothes and manga-style outlandish clothes.
Don't forget to stop for delicious food too! The market has some really tasty stuff, like pulled pork sandwiches and Chinese food.
Vintage Treasures
England is a treasure trove for unique vintage and antique gifts ranging from trinkets to historic artefacts. Old Spitalfields Market has a wide selection of these vintage goods for you to choose from.
 Old Spitalfields Market / CC by 3.0/Kotomi_
The market stalls range from vintage fashion and bespoke children's toys to home interiors. If you spend enough time in the market, you are bound to discover something that will catch your eye.
The market is also surrounded by eateries offering deli-style dishes, artisan loaves of bread, organic and fair-trade products. Even if you're not into vintage items, you can still come to Old Spitalfields Market for a gastronomic experience.
Portobello Market is another good one. If you're into vintage stuff, the markets are great for finding classic hardcover books too. In London, bookstores are a sensory experience.
Lush Products
For those who love the natural products of Lush, their store on Oxford Street is the largest Lush store in the world.
The Oxford Street store consists of three floors where you can indulge and immerse in the colours and smells of their products, and try out new samples. Although you can find Lush stores in your own city, the products are more affordable in London.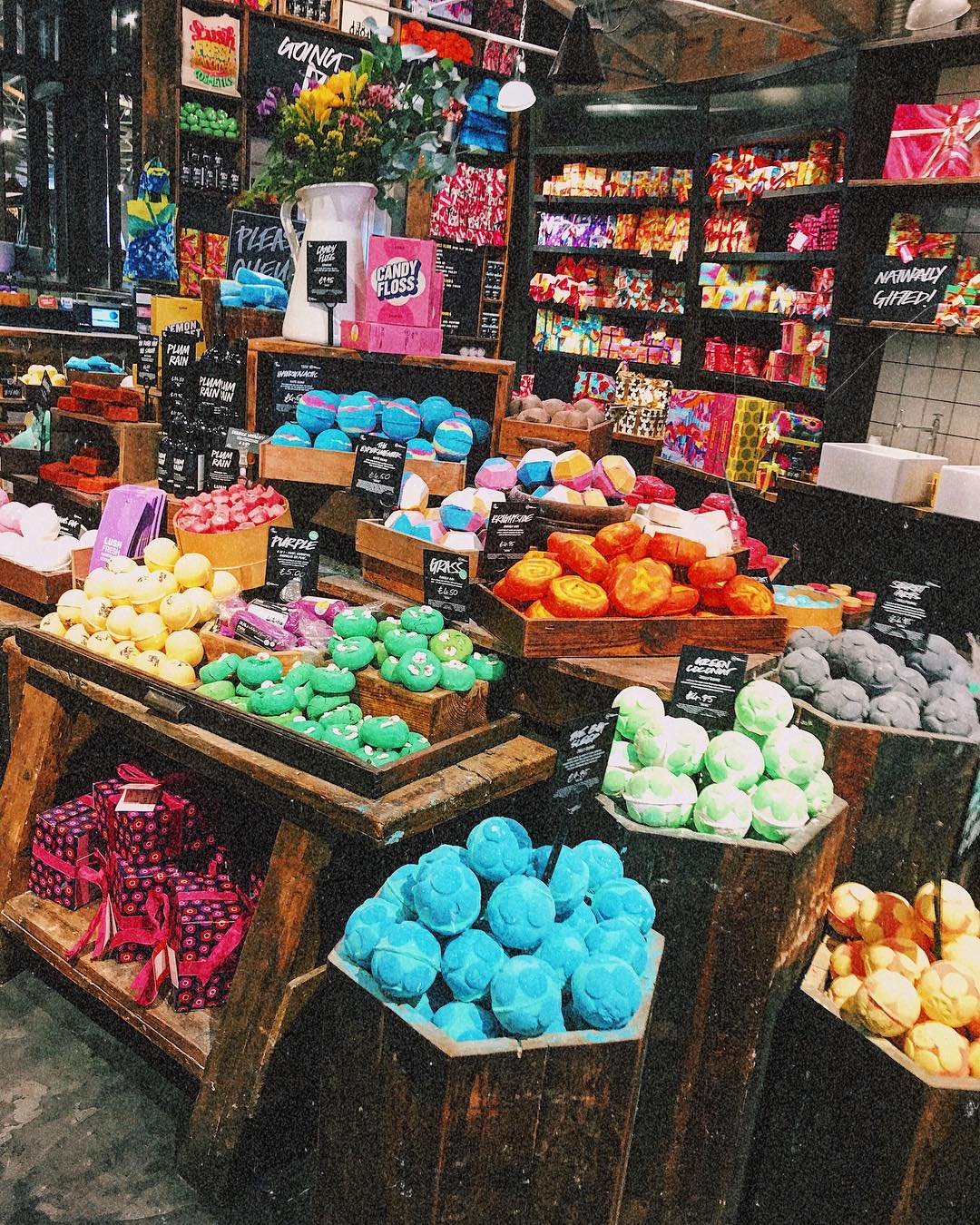 Lush products / Image source: @j_dianka
Fashion and Furniture
Other places that are good for shopping in London are Harrods, Primark, John Lewis and Debenhams. Those are some big stores with lots of good stuff, from fashion to furniture and accessories. Harrods is, of course, an icon, so just shopping there is an experience in itself. Book yourself a spot for high tea to complete the experience. Harrods has small branches in airports and trains, so if you miss your chance to visit the glitzy store, you can still grab a handbag or two.
Supermarkets Sainsbury's and Waitrose also have some good household stuff in the bigger stores.
Oxford Street is shopping central if you just want to wander and browse. Just keep in mind it's a very busy touristy area. If you're looking for more unique finds, check what weekend markets are open and head there.
Oliver Bonas, One New Change, London/ Image source: @EG Focus
There are lots of boutique local brands as well. Peek your head into little London stores that catch your eye.
Editor's Note: I personally love Oliver Bonas for their little jewellery trays, though they also have jewellery, clothes, cushions and very on-trend Insta-worthy furniture.
Museum Gifts
Your trip to London won't be complete without a visit to the museum. The great thing about London museums is that they have unique souvenirs. For instance, the British Museum and the Victoria & Albert Museum are known for commissioning pieces of accessories and homeware that are based on their exhibits. So, how about buying these items as unique souvenirs for your history-buff friends?
 British Museum / Image source: Pixabay
British Keepsakes
Of course, we can't get enough of the usual British keepsakes –  Union Jack items, Big Ben, and fridge magnets. They are easy to buy and not too expensive. Even if you already have some of those items at home, it's almost addictive to get more of them. After all, they are so quintessentially British!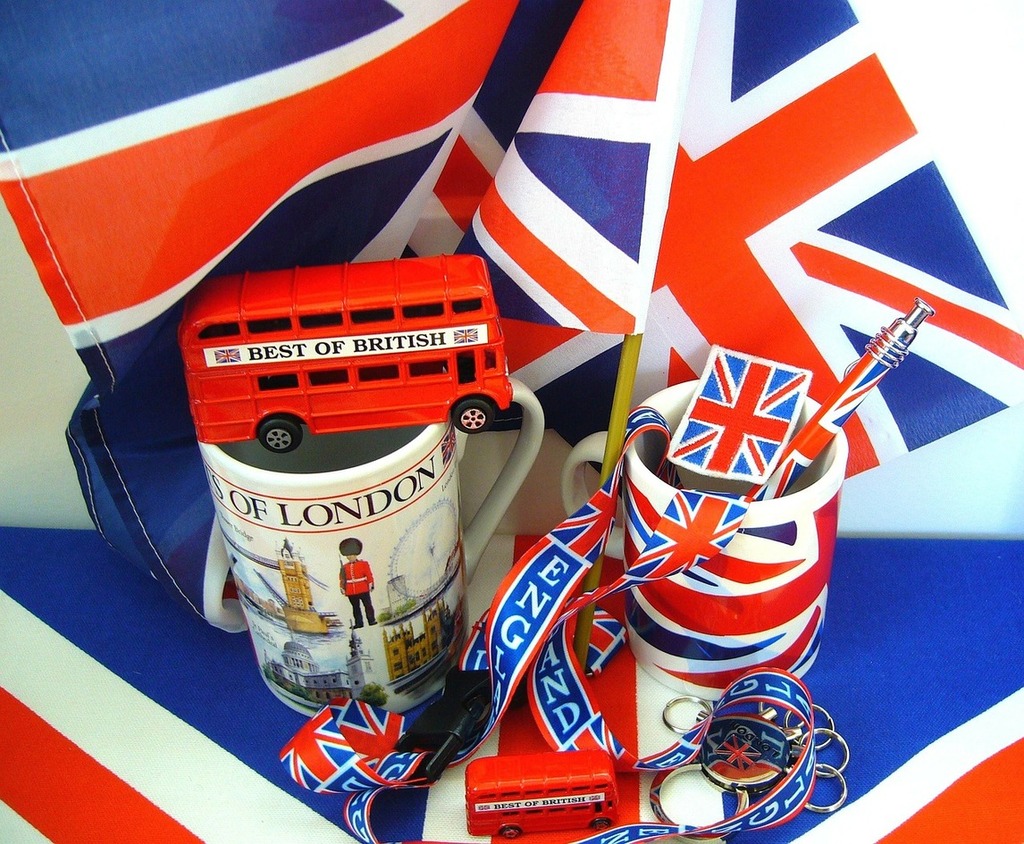 British Souvenirs/ Image source: Pixabay
[tabs]
[tab title="Where to Stay" icon="entypo-suitcase"]
[button style='blue' icon="entypo-suitcase" url='https://www.expedia.com.sg/London-Hotels.d178279.Travel-Guide-Hotels' fullwidth='true'] Find Hotels in London [/button]
[/tab]
[tab title="Let's Go!" icon="entypo-flight"]
[button icon="entypo-flight" url='https://www.expedia.com.sg/Cheap-Flights-To-London.d178279.Travel-Guide-Flights' fullwidth='true'] Flights to London [/button]
[/tab]
[/tabs]