By Cindy Tan, on April 26, 2019
Foodie's Guide to London
London is the first city I fell deeply in love with. My passionate love affair with the city opened my eyes to what a true melting pot is. Immigrants from all over the world have made the English capital their home. This has influenced the vibrant, ever-evolving scene surrounding food in London, with new F&B; establishments popping up every other week.
My personal approach to travelling is to eat local as much as possible and try to avoid food I can easily get back home unless the same dishes are more affordable in whichever city I'm in. So here's my quintessential Foodie's Guide to London where I join the city dwellers chowing down on classic London eats, English street food, and scrummy restaurant-quality meals that don't break the bank.
The Best Food in London
Borough Market
Popular with tourists and Londoners alike, Borough Market is a must for foodies looking for variety. There are sections for fresh produce, cooked food, baked goods, juices, and coffee. I was spoilt for choice.
Address: 8 Southwark St, London SE1 1TL, UK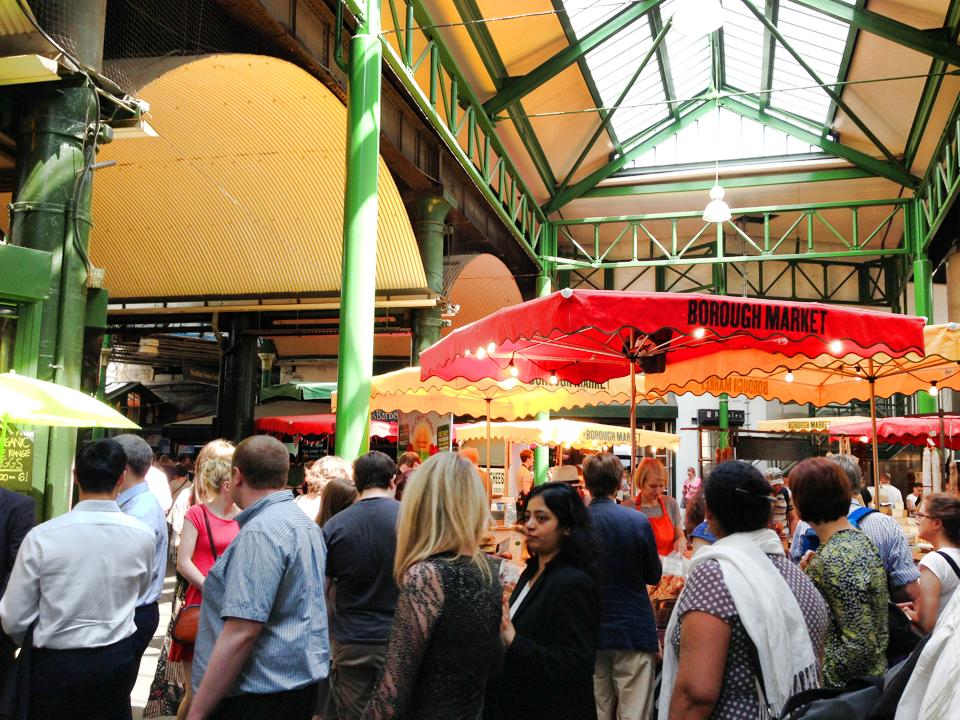 Wanting to try some food in London that I can't get back home, I ordered a filling Ethiopian Injera with spicy stewed veggies and meat for less than £6. It was a foreign dish, yet the flavours were all too familiar. The spices used in the stews tasted like curry, and the Injera – a type of sour flat pancake – reminded me of Indian dosai.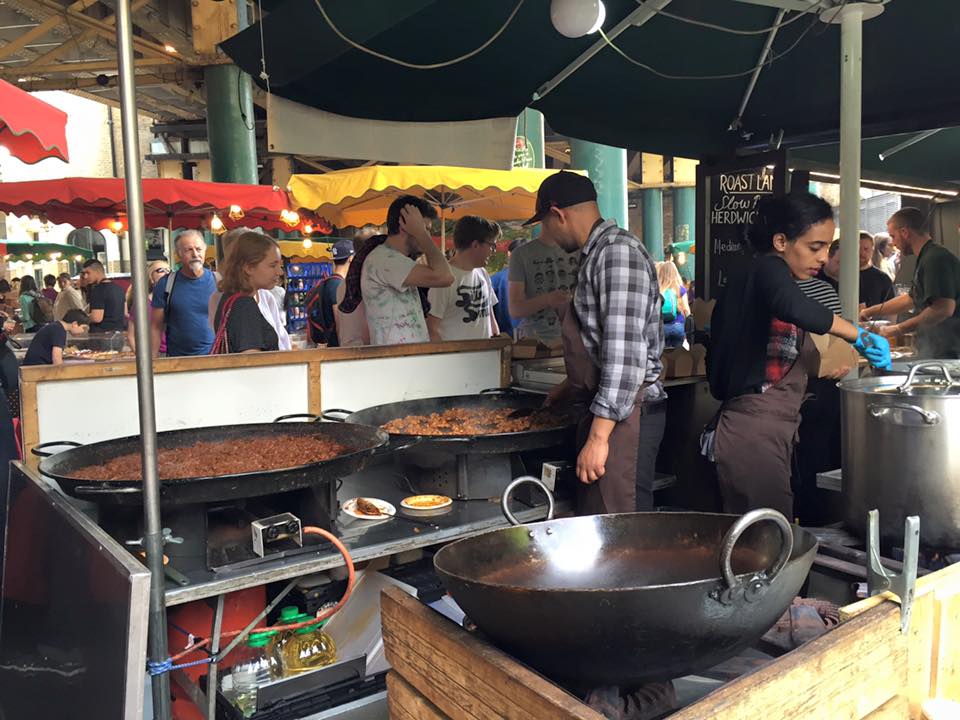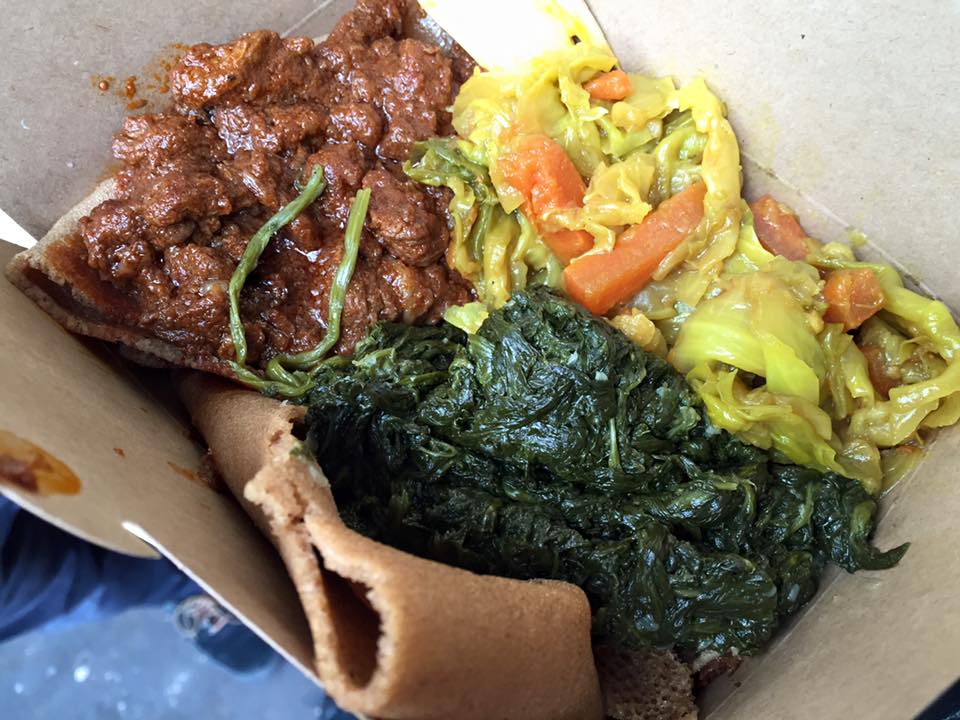 On another occasion, I had a raclette, which I'd always wanted to try. The heap of cheesy roasted potatoes and pickles were delicious but I could barely finish half of it. That's the one pain of travelling solo – not having someone to share the wonderful food in London with.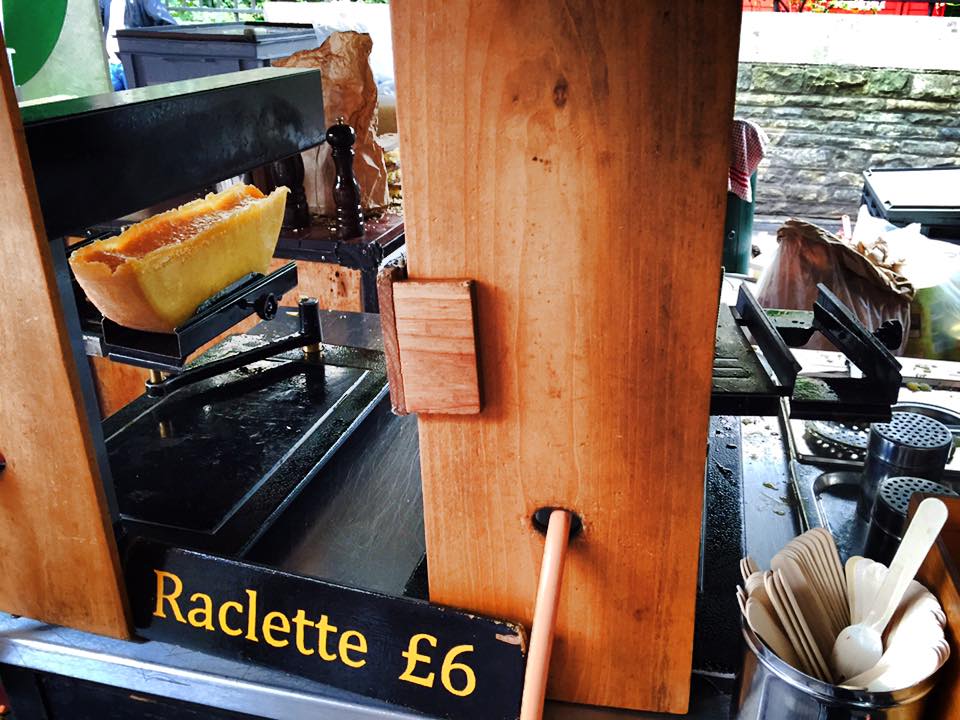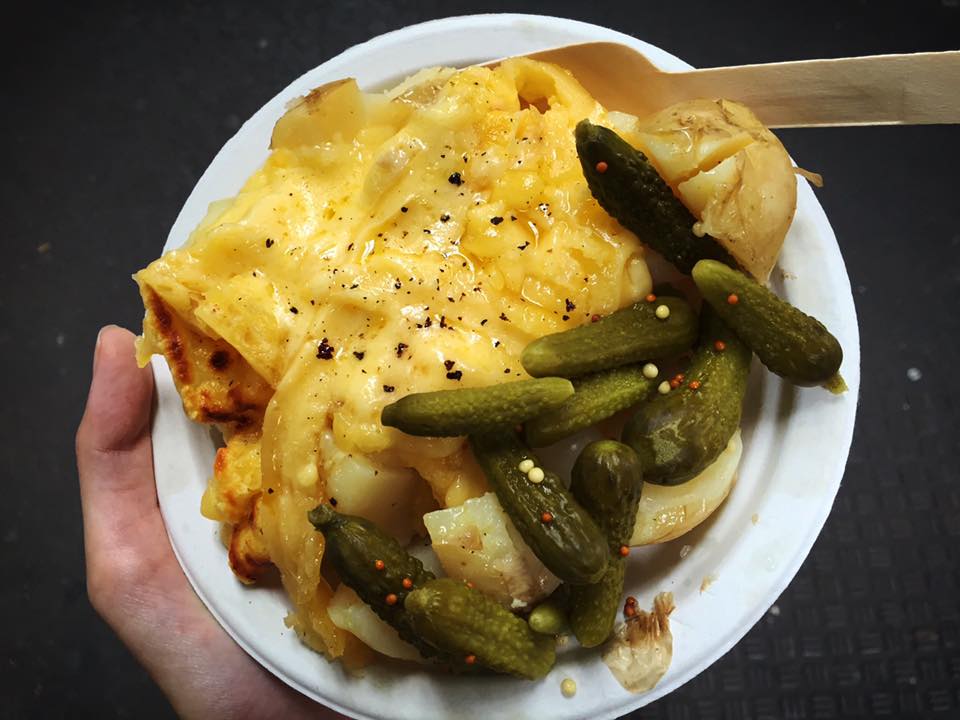 [button style='blue' icon="entypo-suitcase" url='https://www.expedia.com.sg/Borough-Market-Hotels.0-l6047472-0.Travel-Guide-Filter-Hotels' fullwidth='true'] Find Hotels near Borough Market [/button]
Camden Market
Eating out in London can cost a pretty penny so markets were my best bet. I headed down to Camden Market, one of the most iconic foodie London attractions, for more street food.
There were dozens of international street food stalls. I shared this big box of Peruvian spicy stir-fried noodles and veggies with my companion and it filled us up nicely. I can't vouch for the authenticity of the flavours as it was my very first Peruvian dish, but it seemed more like an Asian fusion dish with the use of noodles.
Address: Camden Lock Pl, Camden Town, London NW1 8AF, UK
[button style='blue' icon="entypo-suitcase" url='https://www.expedia.com.sg/Camden-Town-London-Hotels.0-n179518-0.Travel-Guide-Filter-Hotels' fullwidth='true'] Find Hotels in Camden Town [/button]
Old Spitalfields Market
Located in hip Shoreditch in East London, Old Spitalfields Market opens only on Sundays. There, you'll find South American, Indian, Tibetan, and Jamaican food amongst clothing and record stalls, making it ideal for a spot of London shopping. Jamaicans make up a huge majority of London's immigrant population, and their jerk chicken rubbed with a unique blend of spices, goat curry and rice are a must-try. For an Asian like me who can't live without spicy food yet want to try something new, Jamaican food hits all the right spots.
Address: 16 Horner Square, London E1 6EW, UK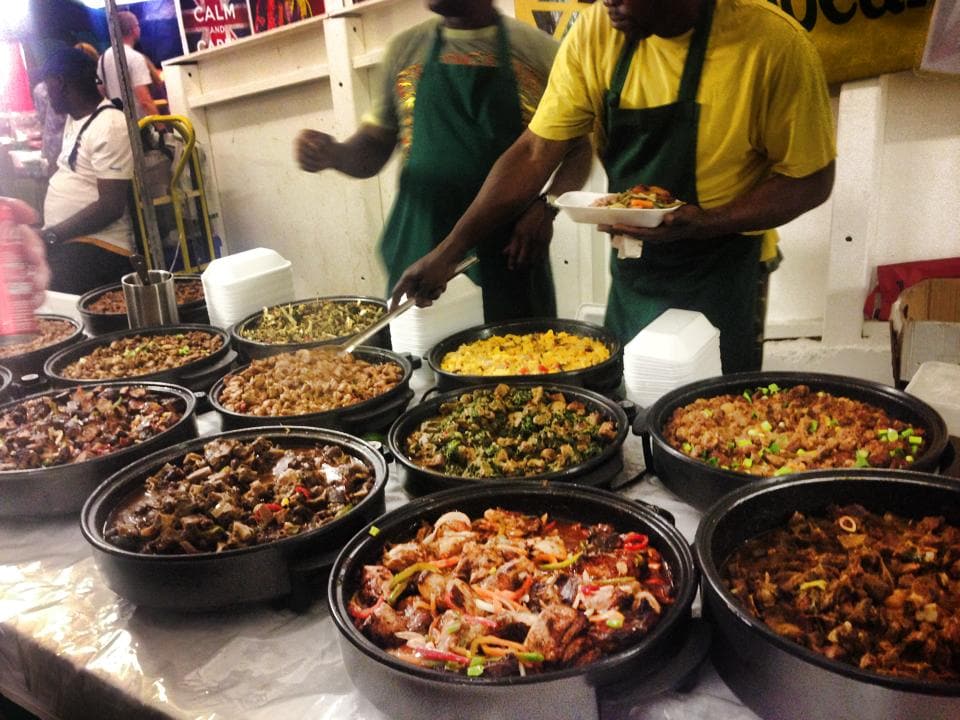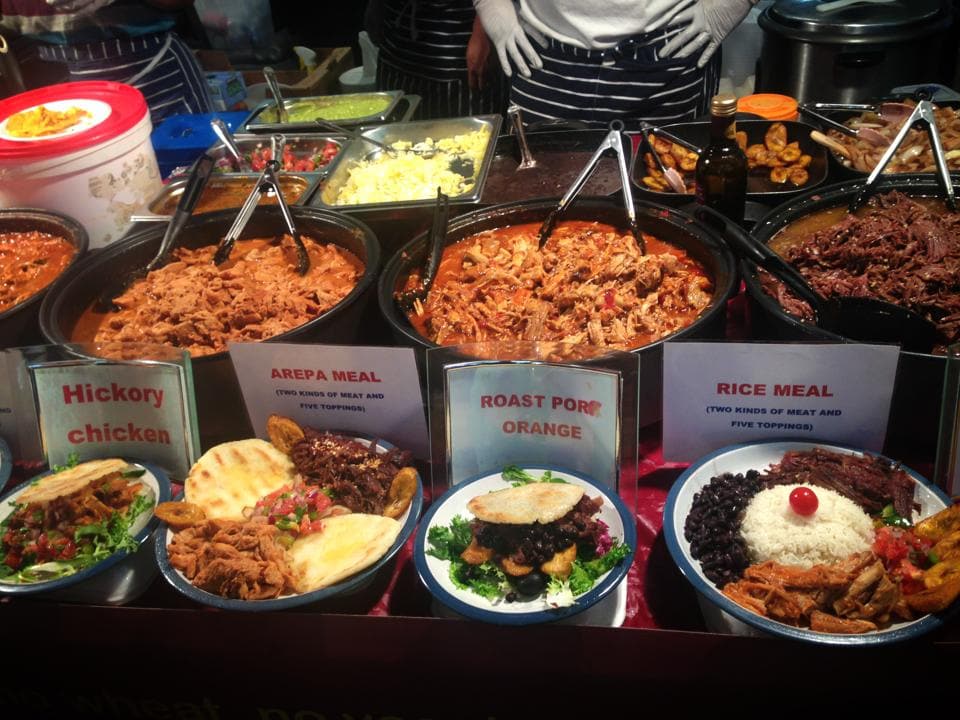 [button style='blue' icon="entypo-suitcase" url='https://www.expedia.com.sg/Old-Spitalfields-Market-Hotels.0-l6159619-0.Travel-Guide-Filter-Hotels' fullwidth='true'] Find Hotels near Old Spitalfields Market [/button]

Duck & Waffle
I'd heard so much about this 24-hour restaurant on the 40th floor of Heron Tower that I simply had to dine there at least once. After one failed walk-in dinner attempt, I returned with a few friends for supper. To our dismay, the hot kitchen wasn't in operation that night, so we had to settle for desserts. We had a decadent foie gras crème brulee that was equal parts sweet and savoury, as well as a caramelized banana waffle served with homemade hazelnut chocolate spread and vanilla ice cream.
Even though we didn't get what we came for, the panoramic view of the city while we savoured our late-night sweet treats was a consolation. My advice: make a reservation to try the restaurant's signature Duck and Waffle.
Address: 110 Bishopsgate, London EC2N 4AY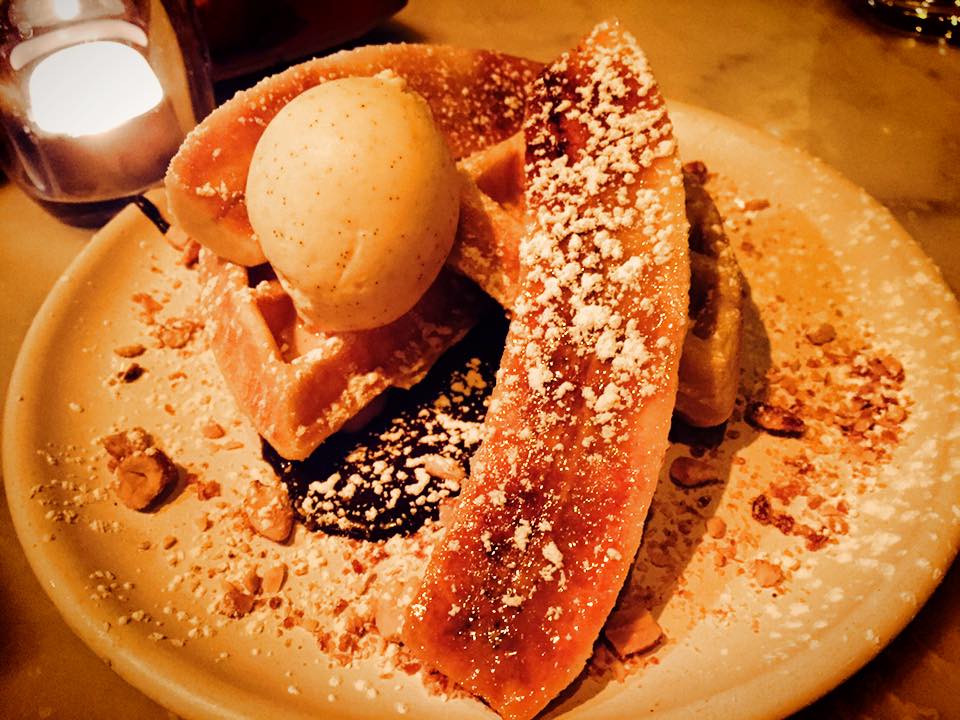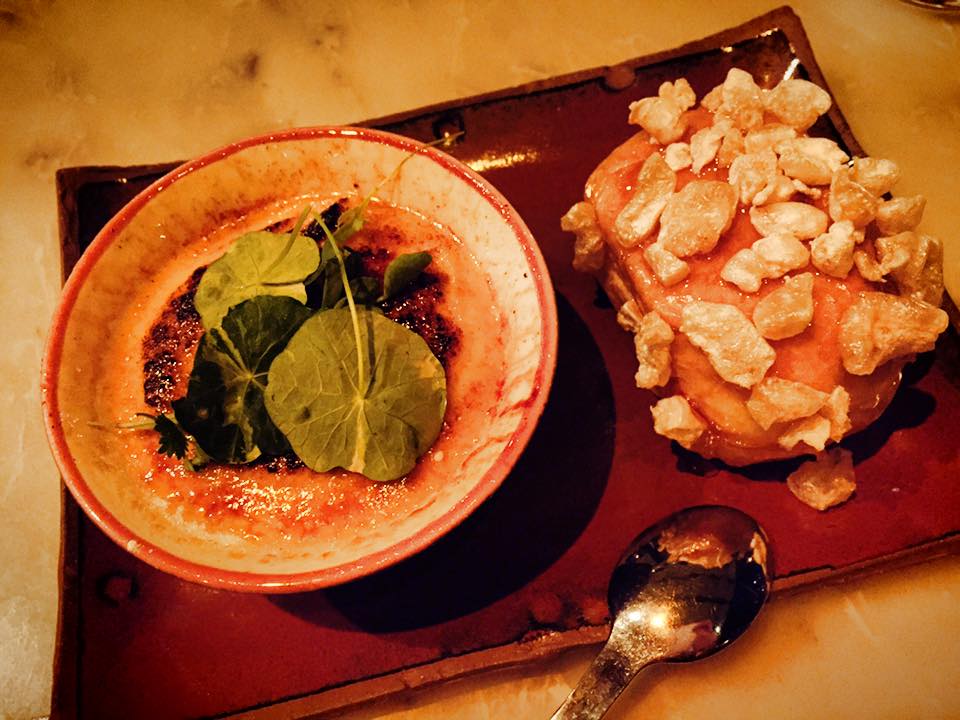 Four Seasons Chinese Restaurant
Even though I said I wouldn't eat anything I can get back home, I couldn't say no to a taste of what the Financial Times lauded as 'the best duck in the world'!
A whole duck, eggplant dish, and rice for two cost only £40 and there were still enough leftovers to take home for the next meal. The glistening, well-marinated, juicy duck bathed in a soy sauce is simply irresistible. Is it the best duck I've ever tasted? Yes, it is!
Address: 12 Gerrard Street, China Town, London W1D 5PR
Poppie's Fish & Chips (Halal)
Eating Fish & Chips in the UK may seem like a cliché, but whether you're a seasoned traveller or a first-time tourist, you have to try a local fish & chips at least once. Poppie's is a cute halal Fish & Chips restaurant with a 50's inspired interior. The waitresses even don sailor-inspired uniforms.
I ordered the smallest plate of fish & chips but there are a few types of fish, pies, and even chicken on the menu, as well as some sides, to pick from. The fish & chips were crispy on the outside and soft on the inside. With a squeeze of lemon and an accompaniment of tartar sauce, that plate was perfect for my palate.
Address: 6-8 Hanbury St, London E1 6QR, UK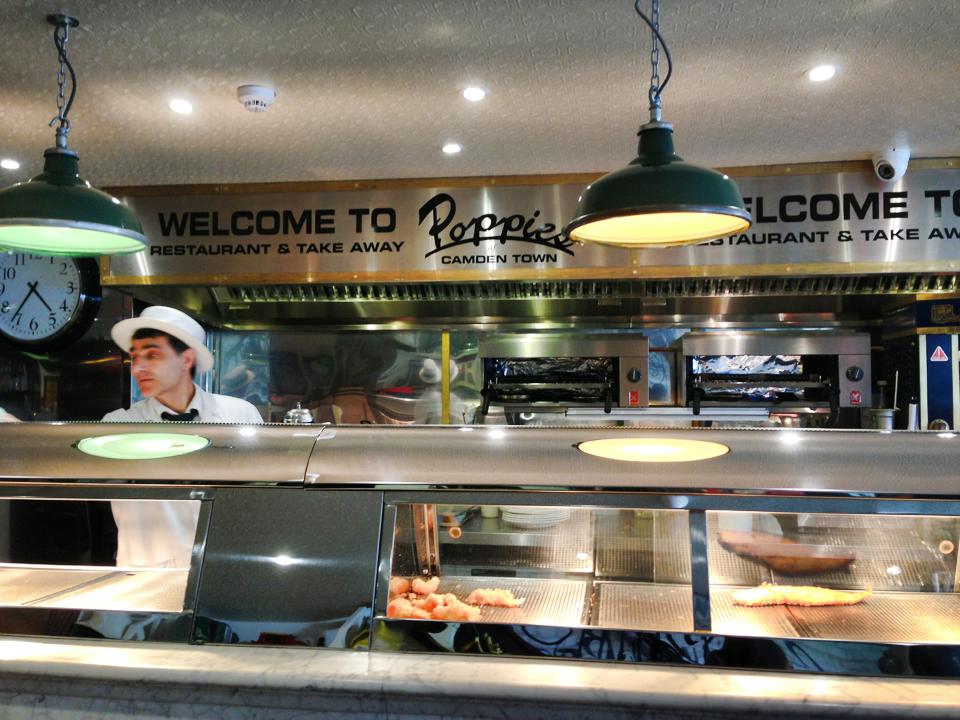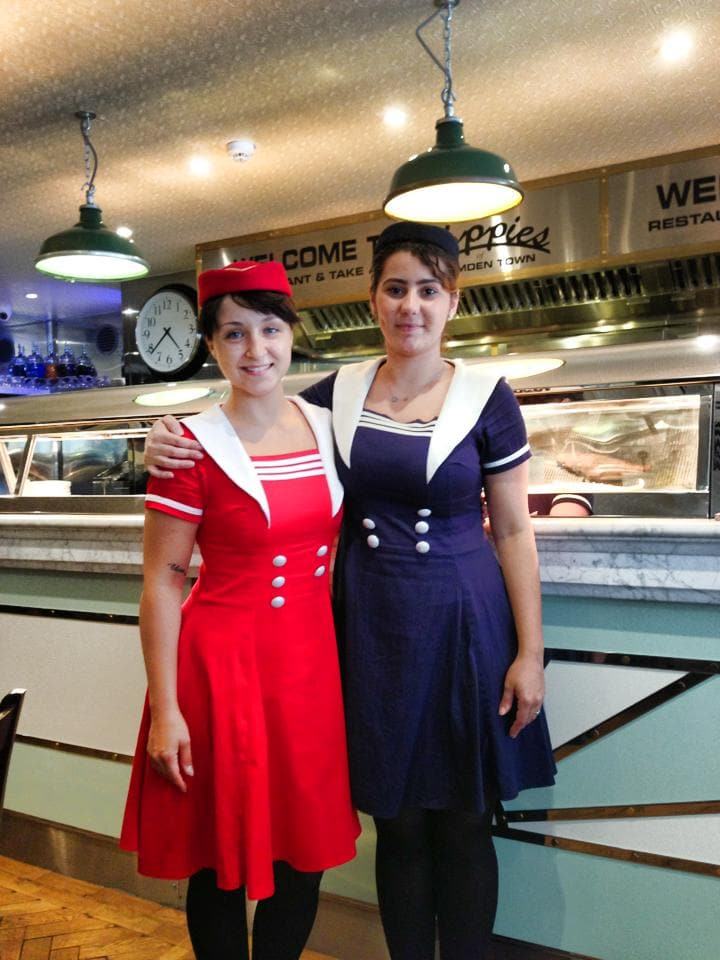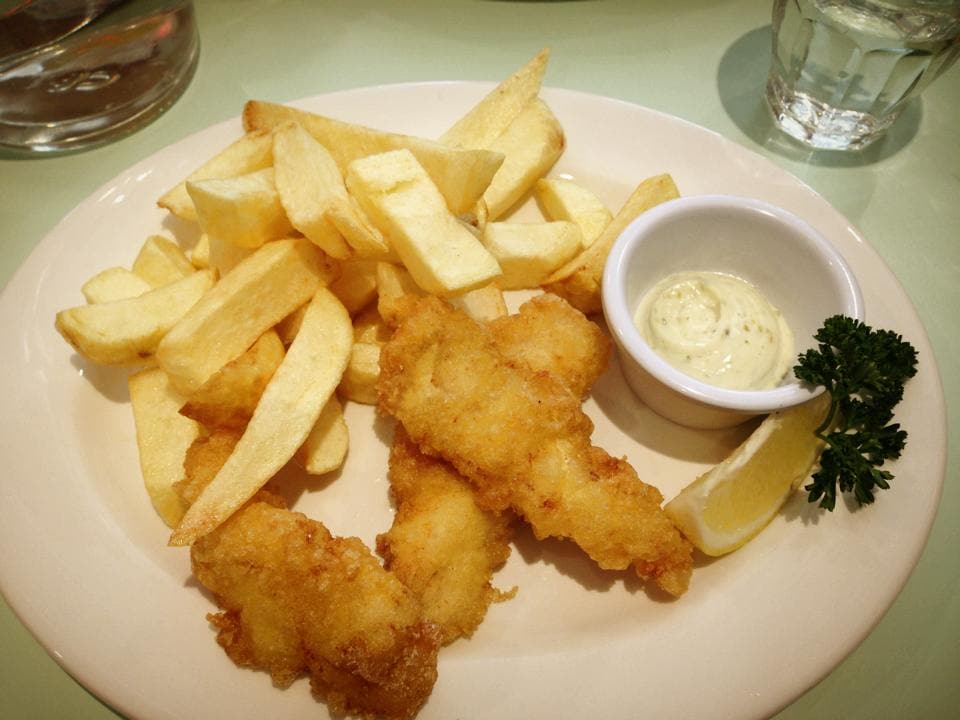 Flat Iron
This is the best value food in London when it comes to a good quality steak. I've dined here twice in the two times I have been to London. For £10, I had the signature flat iron, which is a shoulder-cut steak with decent marbling. I was served a snack of popcorn to munch on while I waited for my steak, which came with a side of house salad. The steak, which I sliced with a mini cleaver, was well seasoned and cooked to medium rare perfection.
Address: 17-18 Henrietta St, Covent Garden, London WC2E 8QH, UK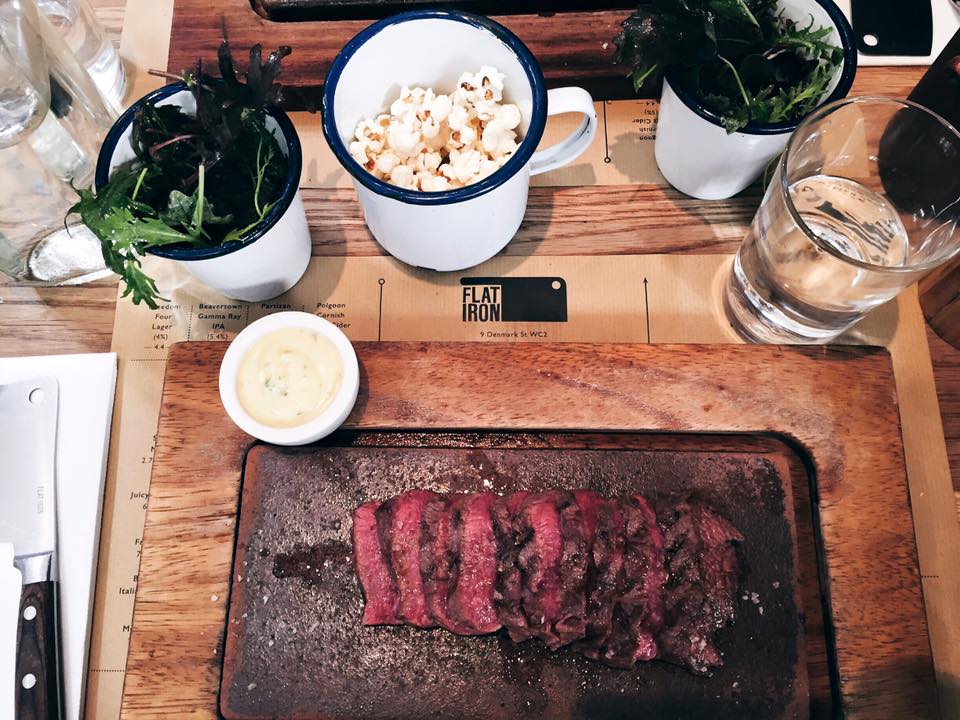 Burger & Lobster
This is yet another restaurant that received a lot of hype a few years ago. It's not often I get to have lobster, let alone a 1lb lobster for only about £20.
I ordered a grilled lobster, which came with a side of fries and salad. The grilled lobster had a nice smoky aroma and went very well with the tangy lemon & garlic butter sauce for dipping! Don't be fooled by what is seemingly a small portion of food, it is very filling.
Address: 26 Binney Street, Mayfair London W1K 5BL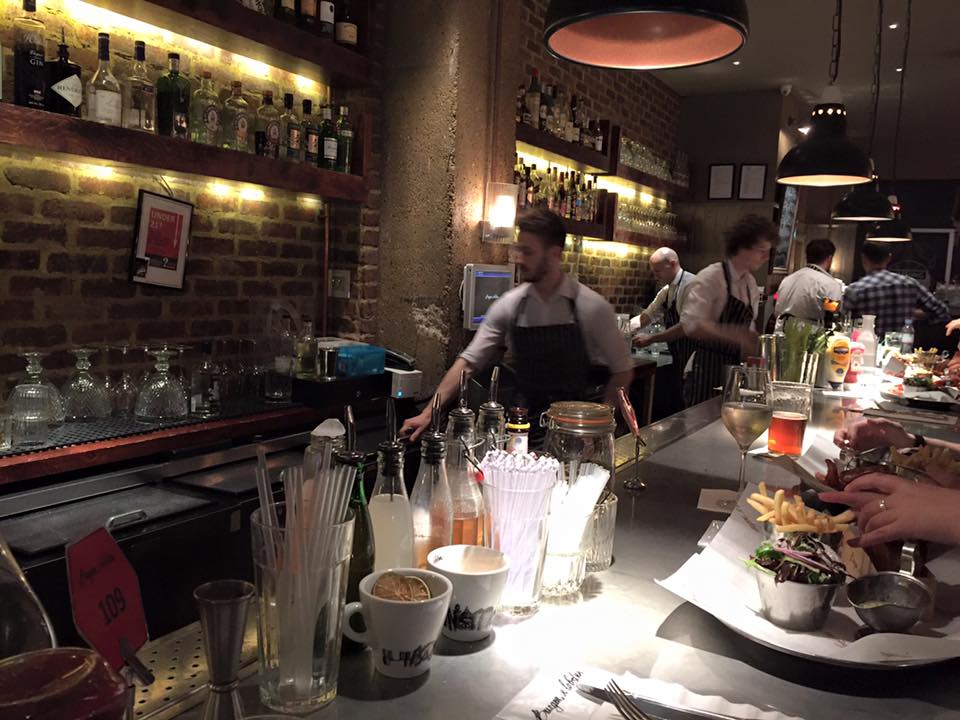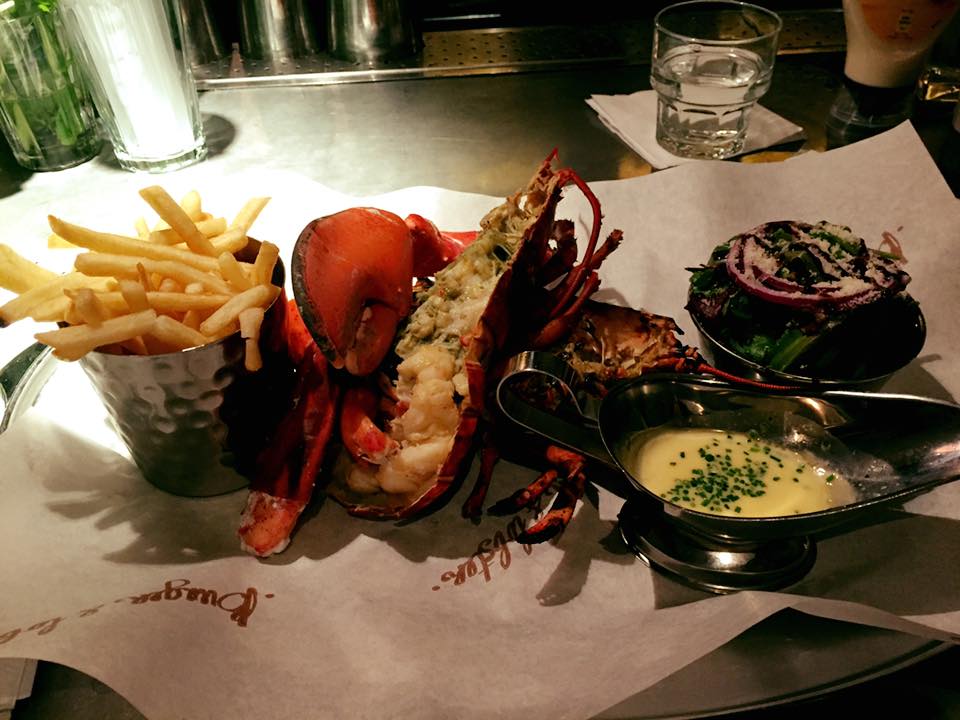 Beigel Bake
Beigel Bake is an institution! Located in the hip Shoreditch area in East London. This Jewish bakery is best known for its salt beef bagel. Sandwiched between a sliced bagel is a generous amount of mouthwatering salt beef drizzled with mustard. I also had their smoked salmon bagel, which was unsurprisingly perfect as well.
Address: 26 Binney Street, Mayfair London W1K 5BL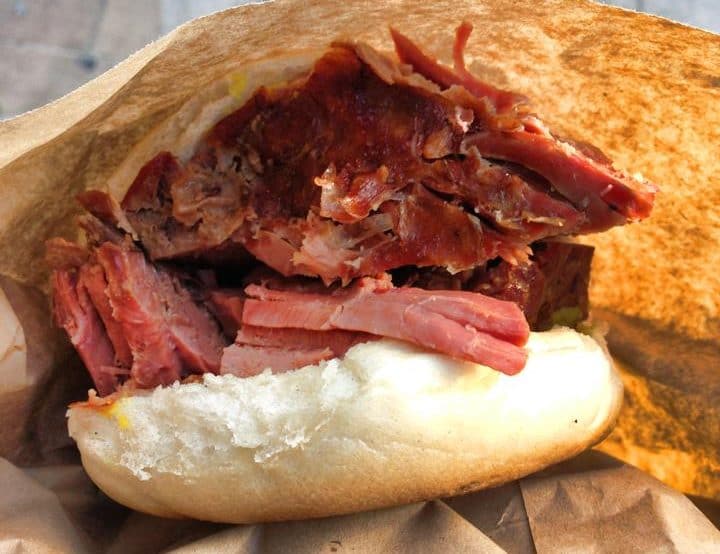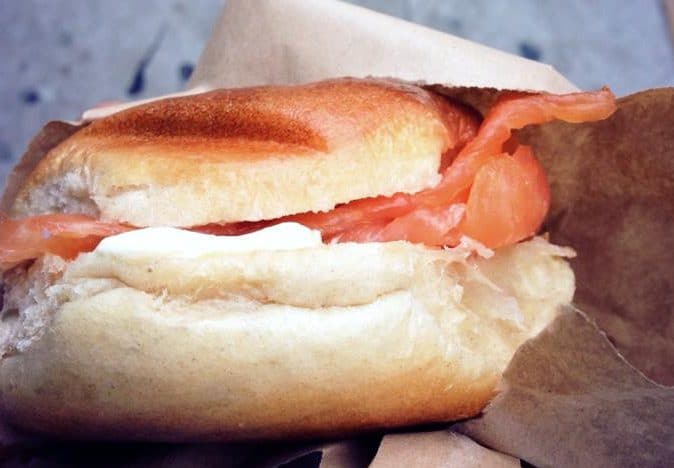 Mildreds (Vegetarian)
This is a vegetarian and vegan restaurant that serves internationally inspired cuisine that reflects the food cultures of immigrant populations in London. The food they serve is vibrant, fresh, and colourful, which are the main factors for a meat-eater like me to pick a plant-based meal over a meat-based one. The Soul bowl with beetroots, radish, avocado and mixed greens is a healthy change from the street food and indulgent meals I had been having.
Address: 1 Dalston Square, London, E8 3GU
Hotel Buffets in London

Ting at Shangri-La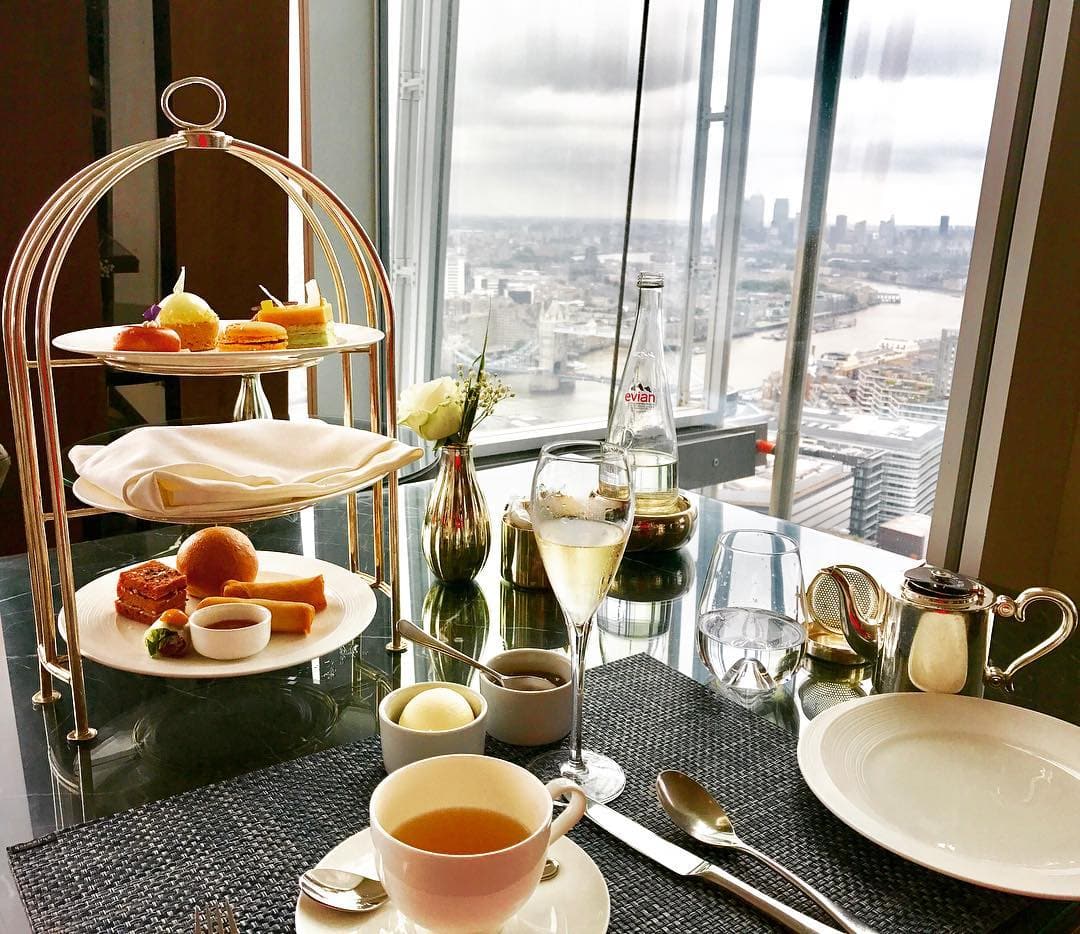 Photo credit: @alo_marz | Instagram
For a sky-high breakfast with a view, head to the elegant Ting at Shangri-La London hotel, located on Level 35 of The Shard. You can enjoy a continental buffet breakfast at £27 or a hot buffet at £34, along with a view of the city. Ting serves local fare with an Asian twist, as all Shangri-La hotels do. Besides British favourites, you can also enjoy authentic dim sum from the Asian buffet station.
Address: 31 St Thomas St, London SE1 9QU, UK
[button style='blue' icon="entypo-suitcase" url='https://www.expedia.com.sg/London-Hotels-Shangri-La-Hotel-At-The-Shard-London.h8035714.Hotel-Information' fullwidth='true'] Discover Shangri-La [/button]
Ned's Feast at The Ned
Photo credit: @thecornerplot | Instagram
When in the UK, a Sunday roast is a must-have, and where else than to indulge in Ned's Feast and The Ned? For £45, you can help yourself to roasts with all the trimmings, sausages, bacon, lobsters, oysters and more. Wrap up your meal with pastries, puddings and cheeses. This is a meal fit for royalty, enough to fill you up for the entire day!
Address: 27 Poultry, London EC2R 8AJ, UK
[button style='blue' icon="entypo-suitcase" url='https://www.expedia.com.sg/London-Hotels-The-Ned.h24991201.Hotel-Information' fullwidth='true'] Discover The Ned [/button]
[tabs] [tab title="Where to Stay" icon="entypo-suitcase"]
Where to Stay during your Trip
[button style='blue' icon="entypo-suitcase" url='https://www.expedia.com.sg/London-Hotels.d178279.Travel-Guide-Hotels' fullwidth='true'] Find Hotels in London [/button] [/tab]   [tab title="Let's Go!" icon="entypo-flight"] [button icon="entypo-flight" url='https://www.expedia.com.sg/Cheap-Flights-To-London.d178279.Travel-Guide-Flights' fullwidth='true'] Flights to London [/button] [/tab]   [/tabs]