By David Bowden, on December 20, 2019
My Wine Tour Experience in Tuscany
Tuscany has one of Italy's most flawless landscapes. Its rolling hills are dotted with olive groves, orchards, and vineyards, making it ideal for those who enjoy travel to discover new wines. Over the centuries, painters immortalised Tuscany on canvas and now tourists have Tuscany on their travel bucket list.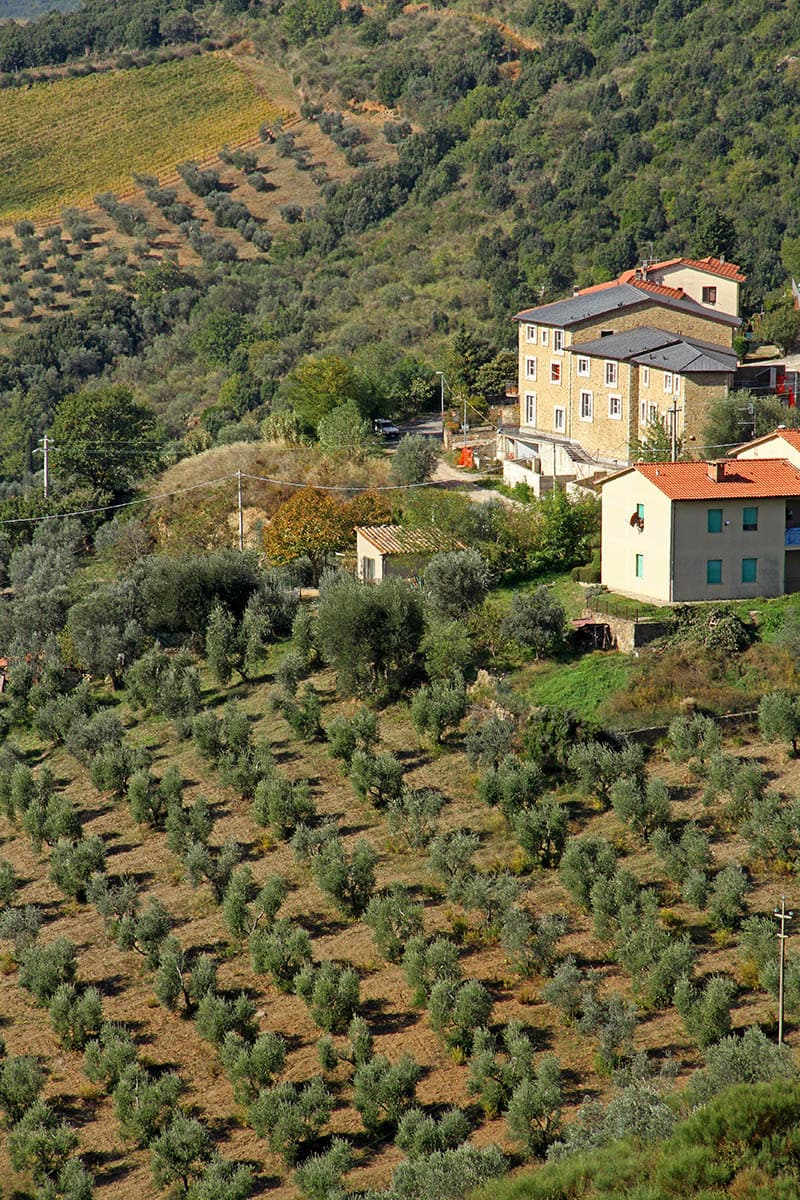 Olive trees and vineyards in Tuscany
Fortresses on top of these hills are another feature of the Tuscan countryside. They are a reminder of the struggles for power that occurred throughout history and the importance these city-states once exerted in the region.
Lifestyle choices focused on wine and food were reason enough for me to travel here. Chianti (including the iconic Chianti Classico) is the best-known wine from the region while the three wine communities of Montepulciano, San Gimignano, and Montalcino are just as famous for their own iconic wine styles.
I travelled to Tuscany to sample these famous wines as well as enjoy the rural countryside and the tempting regional foods and dishes on a self-drive holiday. The historic parts of Pienza, Siena, San Gimignano, and the Val d'Orcia are recognised as UNESCO World Heritage Sites for the entire world to celebrate and enjoy.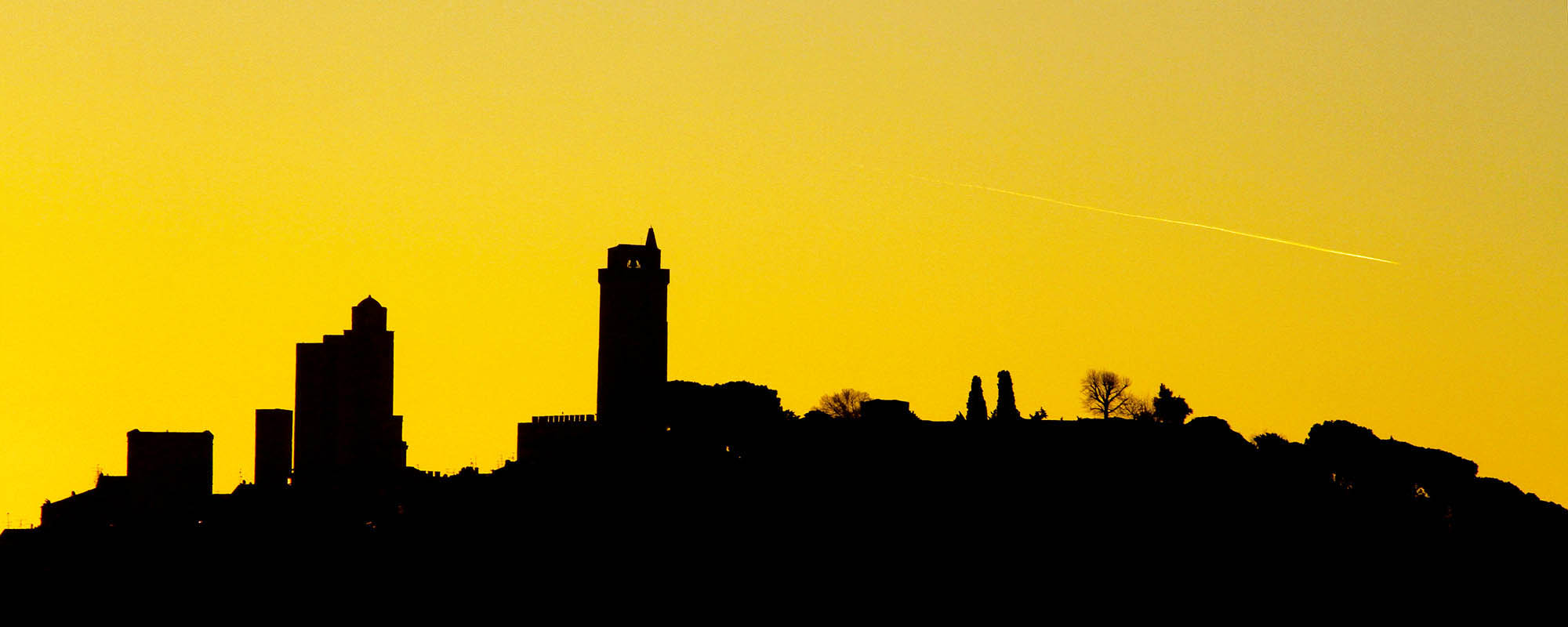 San Gimignano and its famous towers are a UNESCO World Heritage Site
I discovered that the Etruscans started cultivating grapes in southern Tuscany for many centuries. Today's winemakers refine age-old traditions by incorporating modern technology to produce some of the world's most prized wines.
My wine journey started in Florence (known as Firenze in Italy) and took in the three fortress towns of Montalcino, Montepulciano, and San Gimignano. Florence is an essential stop for Renaissance inspiration, art appreciation, and culture connection. Since I was on a wine tasting mission so I only stopped in Florence briefly. There aren't many direct flights from Asia to Italy. However, Florence is accessible on KLM Royal Dutch via Amsterdam's Schiphol Airport.
Grapevines at sunset near Montalcino
Medieval Montalcino

After picking up my rental car in Florence, I headed to Montalcino. It was the southernmost point of my planned trip in Tuscany. I then slowly made my way back to Florence stopping in the other two towns.
Montalcino is a medieval hill town located in southern Tuscany. It came under the influence of Florence in the mid-16th century after repeated tussles for power between Siena and Florence.
The town is a comfortable walking destination. Its cobblestone lanes are not too undulating and with steps in the steeper sections. While I had a good map, I didn't need it. You don't get lost here that easily.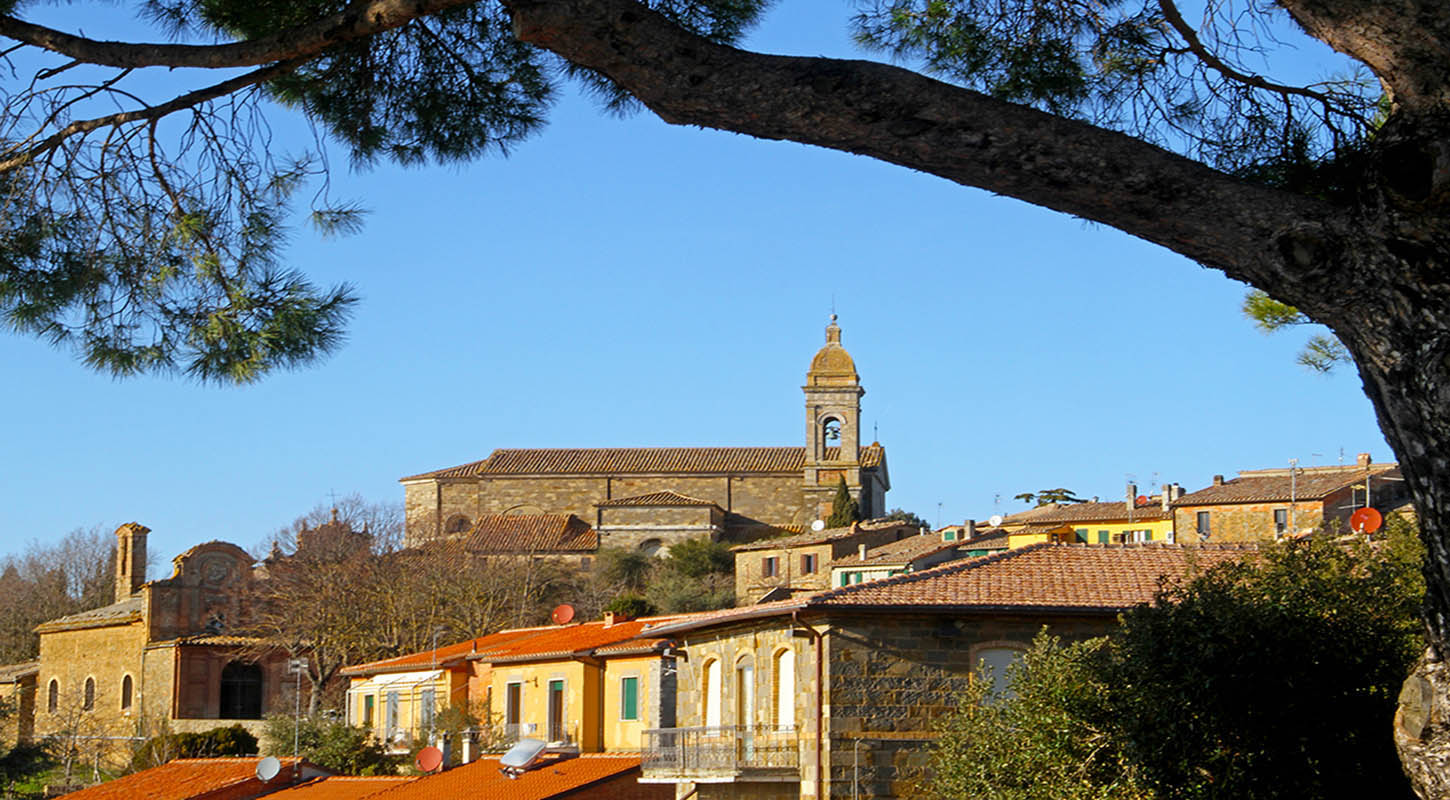 The ancient hilltop town of Montalcino
From the 14th century fortress, I started my walk of discovery. The protective fortress is located on the highest land. From here, it is possible to view the surrounding countryside and appreciate how strategic the high land must have been for protecting the town and its people. There are several old churches within the walled town including the Duomo near the main plaza. My visit coincided with a Friday market on the plaza where I bought local honey and salami.
Montalcino is famous for its Brunello di Montalcino and Rosso di Montalcino red wines. They are produced from a special clone of Sangiovese grapes similar to the one used to make Chianti wine. Brunello di Montalcino is arguably one of the world's finest red wines. It's one that has led to the global success of Tuscan wines. Roughly translated as "dark skin", Brunello is the local term for the grape variety Sangiovese Grosso that gives the wine its characteristic deep dark colour.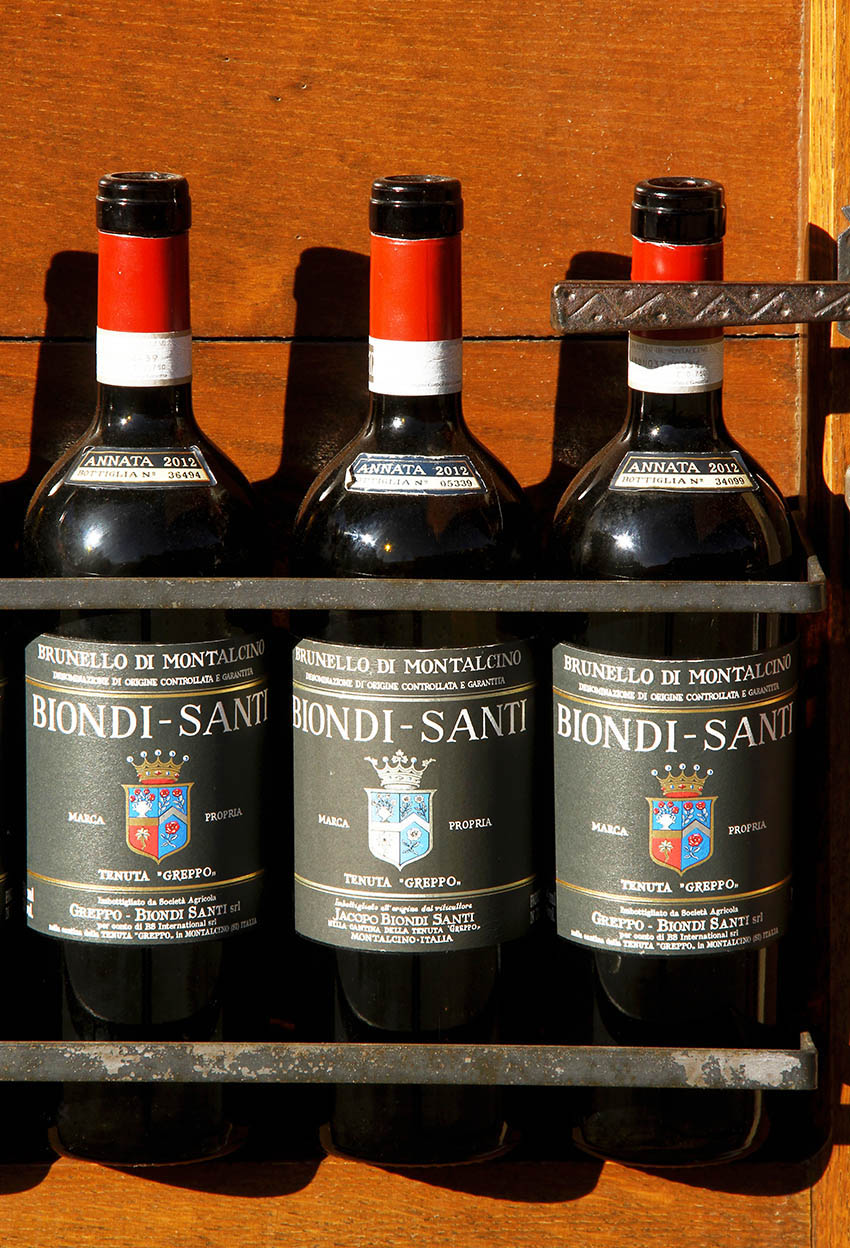 One of the world's most celebrated wines is Biondo-Santi's Brunello di Montalcino
Some of the wine producers have outlets in the town while there are several shops for buying wines from across the region. Brunello can only be released five years after the harvest. However, Rosso di Montalcino comes onto the market earlier making it cheaper than Brunello. With Brunello, it's best not to rush yourself. Most experts suggest consuming it after ten years.
To learn more, I headed to Consorzio del Vino Brunello di Montalcino in the centre of town. Here I learned that some famous Brunello producers to seek out included Banfi,
Fattoria dei Barbi, Tenuta Caparzo, Col d'Orcia, Tenute Silvio Nardi, Campogiovani, Poggio di Sotto, La Gerla and San Polo. There are just over 50 wineries and they are all good.
Small restaurants, wine bars, cake and bread shops, and delicatessens line the narrow lanes and alleyways and no one goes hungry here. I enjoyed dining in Grotto del Brunello, Trattoria l'Angolo, Caffé la Fortressa, and Caffé Il Leccio.
Ristorante Re di Macchia, in the centre of Montalcino serves dishes like salad with roast rabbit, ravioli with spinach and wild boar ragu plus juicy steaks. Osteria di Porta al Cassero is an intimate and casual restaurant in the town where risotto accompanied by porcini and tripe stew, are two signature dishes.
A fine dining experience not to miss just out of Montalcino is in the wine estate of Castello Banfi where cured meats, cheeses, olive oil, honey, artisanal pasta and biscotti feature. For lunch, dine in La Taverna and, more formally in the evening, at Sala dei Grappoli. Castello Banfi is one of the region's most acclaimed winemakers as well as producing other agricultural products including its own balsamic vinegar.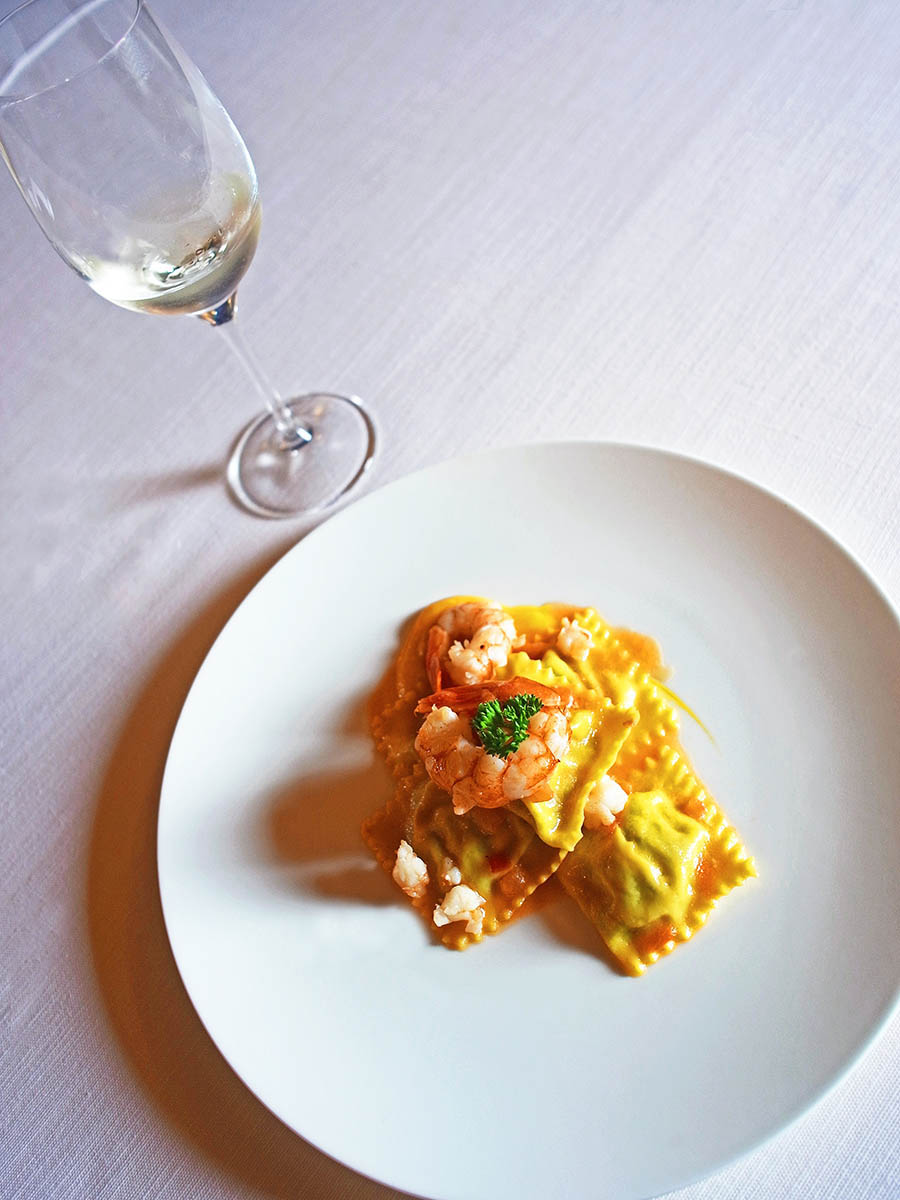 Ravioli and white wine served at Banfi Estate
Mesmerising Montepulciano

Montepulciano is just a 20-kilometre drive away and while I could have visited this wine region as a day trip from Montalcino, I decided to stay overnight. While the wines here, known officially as Vino Nobile di Montepulciano, are made from Sangiovese grapes, they have distinct characteristics.

Vineyards surrounding the ancient town of Montepulciano
I especially enjoyed visiting two wineries here – Cantine Dei and Poderi Boscarelli. Here the Rosso wines are almost as good as the premium Vino Nobile di Montepulciano.
Boscarelli Rosso di Montepulciano
Scenic San Gimignano

The journey to my third destination was a very scenic and leisurely 110-kilometre drive using the backroads and not the freeway.
Like the other two towns, the larger and more modern accommodation in San Gimignano is outside the protective walls. I check into the Hotel Relais La Cappuccina and take a dip in its pool for a relaxing swim after sightseeing.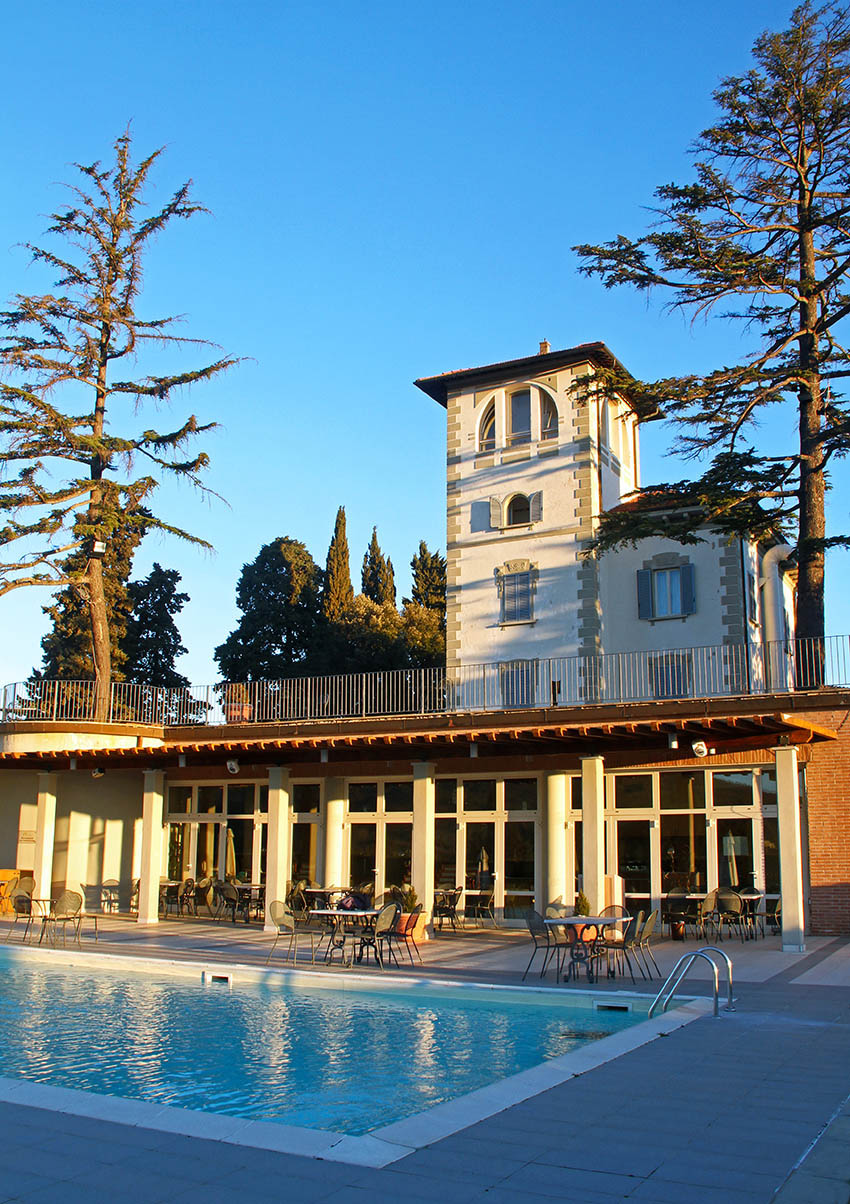 Swimming pool at Hotel Relais La Cappuccina San Gimignano
The 13 remaining towers of the original 72 lure tourists here and it can get extremely crowded in summer. These towers were a symbol of the town's wealth in the past. Today though, apart from their height, they are devoid of architectural brilliance.
Narrow cobblestone streets snake through the town and simply wandering here makes perfect sense. After parking my car outside the wall, I did just that after entering the main gate of Porta San Giovanni. The main street heads up the hill to Piazza del Duomo and the cathedral called La Cappuccina.
I was on a mission to sample two famous products in the old town. My first was the famous gelato served at Gelateria Dondoli on the main plaza. The outlet has won numerous global awards and was not hard to find. I was very impressed with the strawberry cheesecake gelato I tried.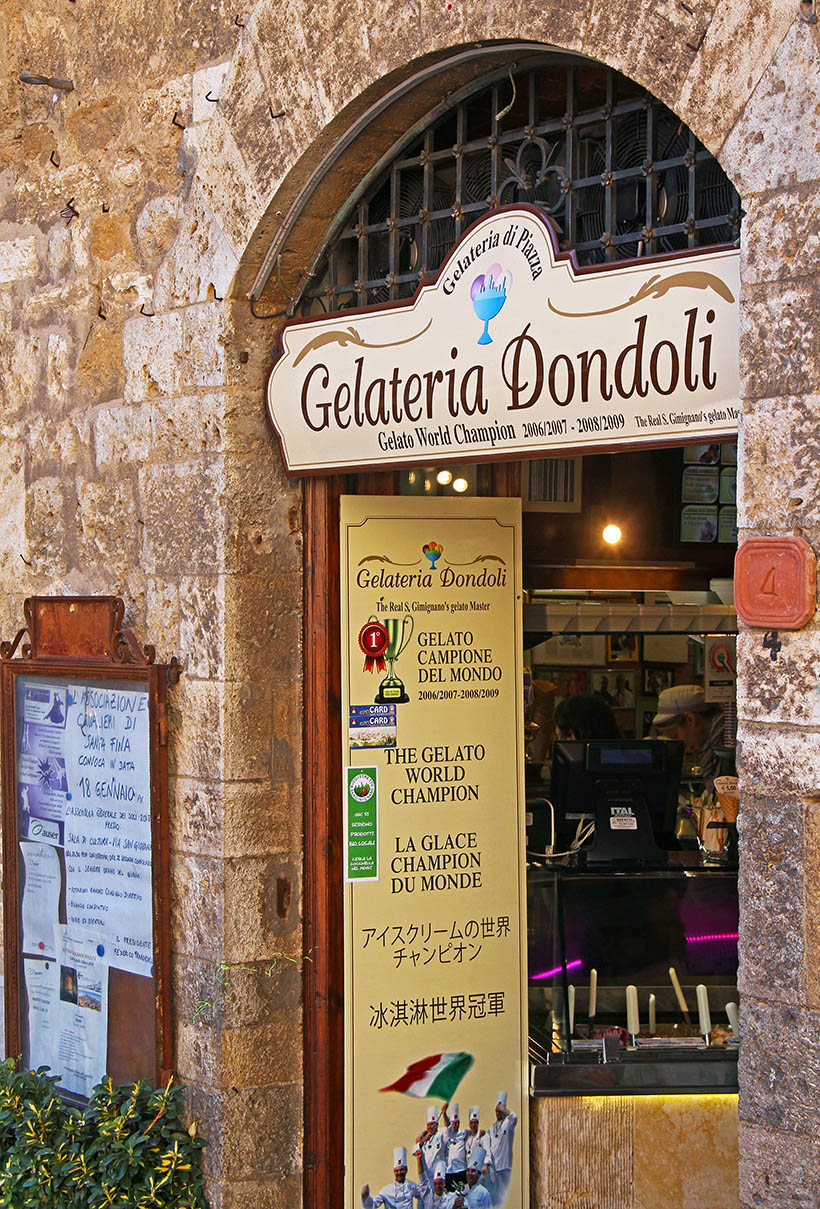 Award-winning Gelateria Dondoli in San Gimignano.
The other was to sample the famous wine of the town called Vernaccia di San Gimignano. This was a wine I knew very little about. I was intrigued as to how this white could shine, especially in a part of the world where red grape varieties dominate. I was very pleasantly surprised to discover that the wine is very flavoursome wine with crisp acidity, golden colour, and a floral bouquet. Now, I had a regional white wine to pair with some of the local dishes.
In my Tuscan journey of discovery, I also appreciated local ingredients such as pasta, olive oil, saffron, and pecorino cheese.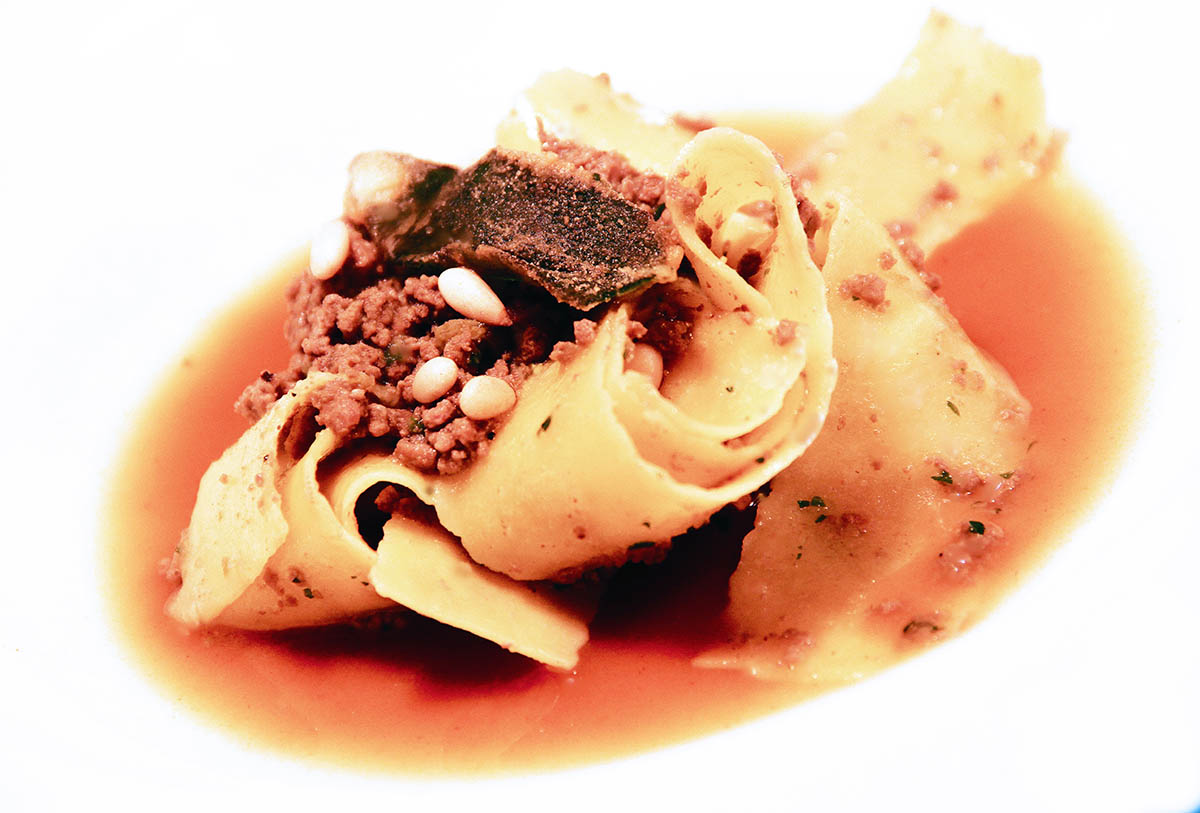 Pappardelle with duck ragout and truffle
Tuscany is a kaleidoscope of shapes and colour that varies markedly with the season. Add to this the interplay of light across the landscape and visitors soon discover that this Italian region mesmerises visitors with its bountiful beauty. Then, of course, there are its wondrous wines.
[tabs]
[tab title="Where to Stay" icon="entypo-suitcase"]
Where to Stay during your Trip
[button style='blue' icon="entypo-suitcase" url='https://www.expedia.com/Destinations-In-Tuscany.d601686.Hotel-Destinations' fullwidth='true'] Find Hotels in Tuscany [/button]
[/tab]
[tab title="Let's Go!" icon="entypo-flight"]
[button icon="entypo-flight" url='https://www.expedia.com/Destinations-In-Tuscany.d601686.Flight-Destinations' fullwidth='true'] Flights to Tuscany [/button]
[/tab]
[/tabs]