By Expedia Singapore, on August 2, 2018
Armenian Cultural Attractions
Few Singaporeans know the impact that the small Armenian community in Singapore had on the development of the city-state. In fact, they make up of Singapore's smallest minority, with less than 700 Armenians over the span of 200 years. Yet, we all know the fruits of their labour, namely the Raffles Hotel, the Straits Times broadsheet and even Vanda Miss Joaquim – Singapore's national flower.
A trip to Armenia will shed light on the Armenian Singaporeans' culture, history and struggles while they built a small community away from home. The Armenian's way of life revolves around churches. More than just a place of worship, these monuments also serve as schools and colleges. Much of their heritage is captured in the hauntingly beautiful Armenian cathedrals.
[tabs]
[tab title="Best time to visit" icon="entypo-light-up"]
The months of September to October is the best time to visit Armenia as the weather is cool and dry.
[/tab]
[tab title="Getting there" icon="entypo-flight"]
Take a flight out to Zvartnots International Airport in Yerevan, Armenia. Most flights from Singapore will stop in Turkey or in the middle east before heading to Yerevan.
[/tab]
[tab title="Where to stay" icon="entypo-suitcase"]
Tufenkian Historic Yerevan Hotel, Yerevan
While it's not set in a historic building, the Tufenkian was designed to reflect the architectural styles of 20th-century Armenian design and classic European architecture. Tufenkian Historic Yerevan Hotel also happens to be in the heart of the downtown area, making it easy for travellers to get around the city.
[/tab]
[/tabs]
Cultural Treasures to Look Out For

Armenian Architecture
When visiting medieval churches in Armenia, look out for the similarities in Armenian architecture. One distinctive trait is the pointed dome.
Carpets and Textiles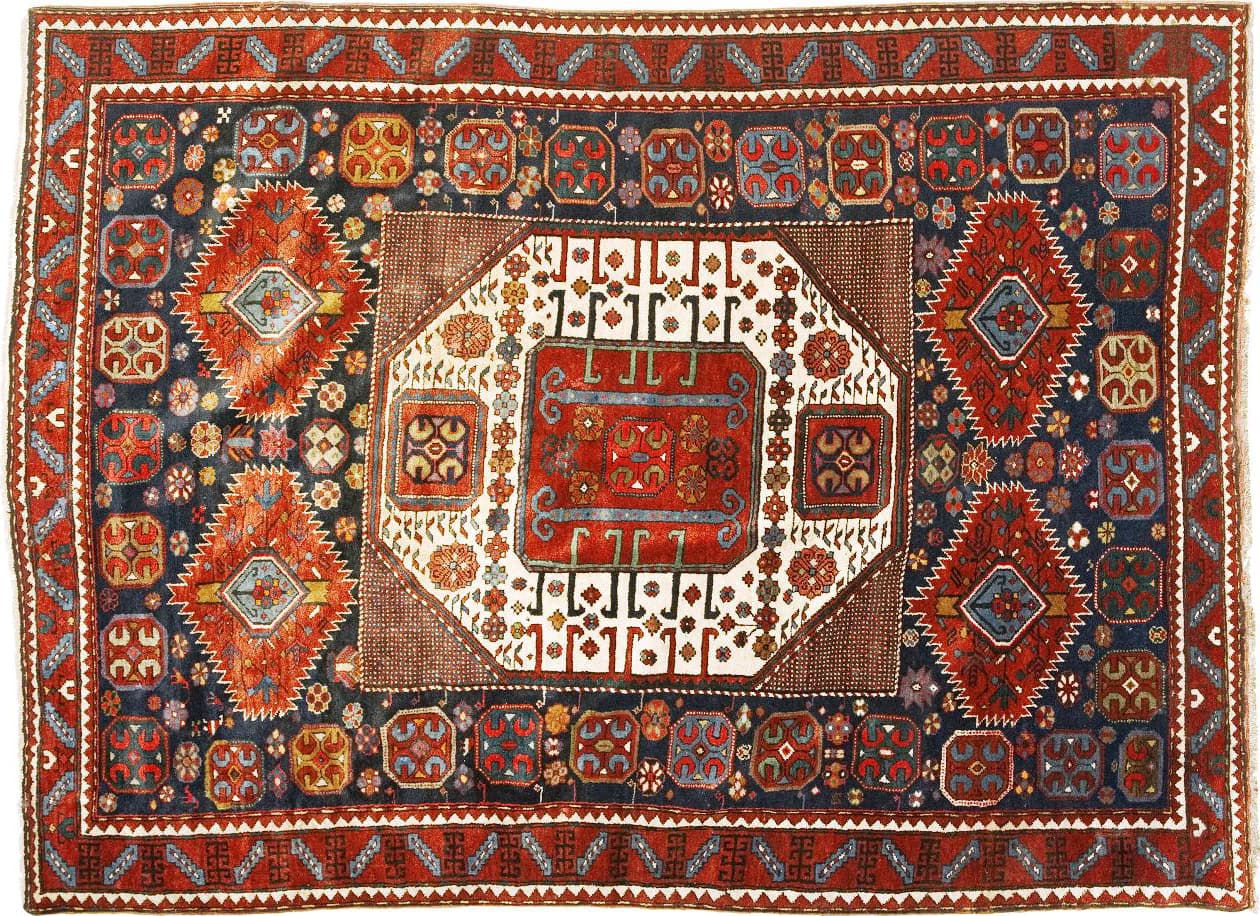 Armenian carpet weaving is an ancient art form and tradition that involves intricate needlework and hand-weaving that the Armenians have proudly kept alive for centuries.
Needlelace
Another textile heritage passed down through the generations is needlelace making, made by tying knots and forming patterns from loops.
Interesting Places to Visit

Turkey may sound a tad exotic – let alone Armenia – but it shouldn't be a turn-off if you know what to do. Here are 10 attractions for you to soak in all the quirky yet historical vibes of the countries.
1. Blue Mosque, Yerevan, Armenia
Two Worlds Apart: Seeing Yerevan will shatter all your ideal perception of a kampung. You will find historical buildings scattered around the town, amidst gardens and parks. On the jam-packed road, you will find the latest sports car next to an old-school 'relic' car.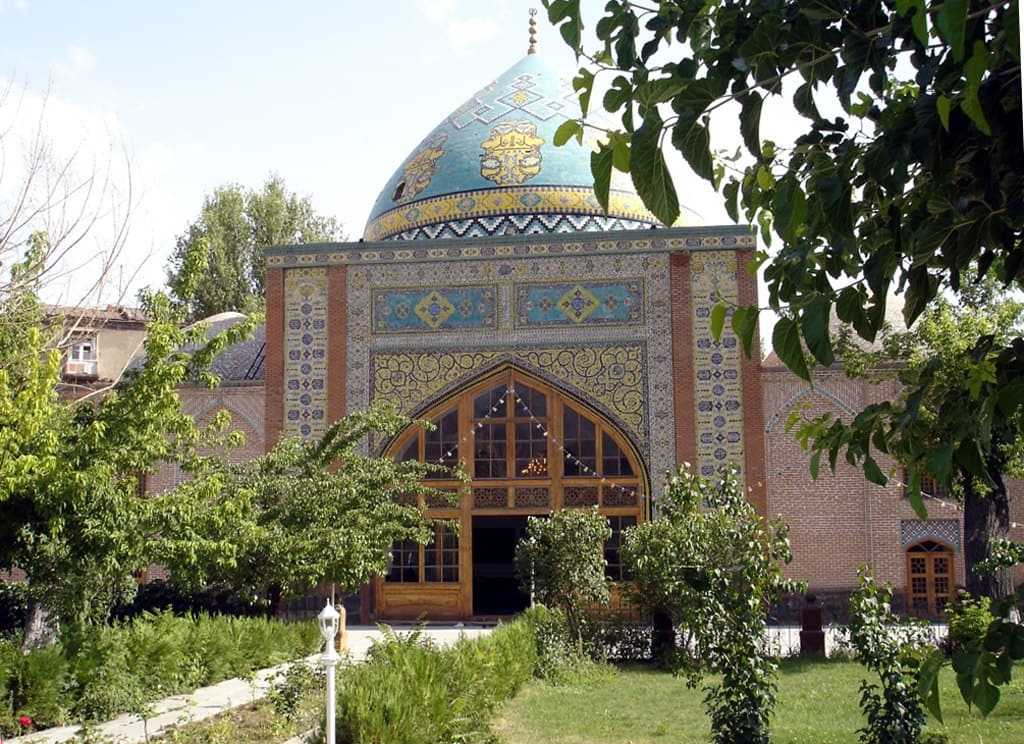 CC3.0 by Antonov14
Not to be mistaken with the Blue Mosque in Turkey, the one found in Yerevan, Armenia features mosaic tiles all over the exterior building. The mosque was built by Muslim rulers for the Iranian King in the 18th century. In the 1990s the mosque went through full restoration works, funded by the Iranian government. This is also the only operating Islamic mosque in Armenia.
Address: 12 Mesrop Mashtots Ave, Yerevan 0015
Operating hours: Daily, 10 am – 1 pm and 3 pm – 6 pm
Getting there: Alight Pak Shuka bus stop.
2. Saint Sargis Church, Yerevan, Armenia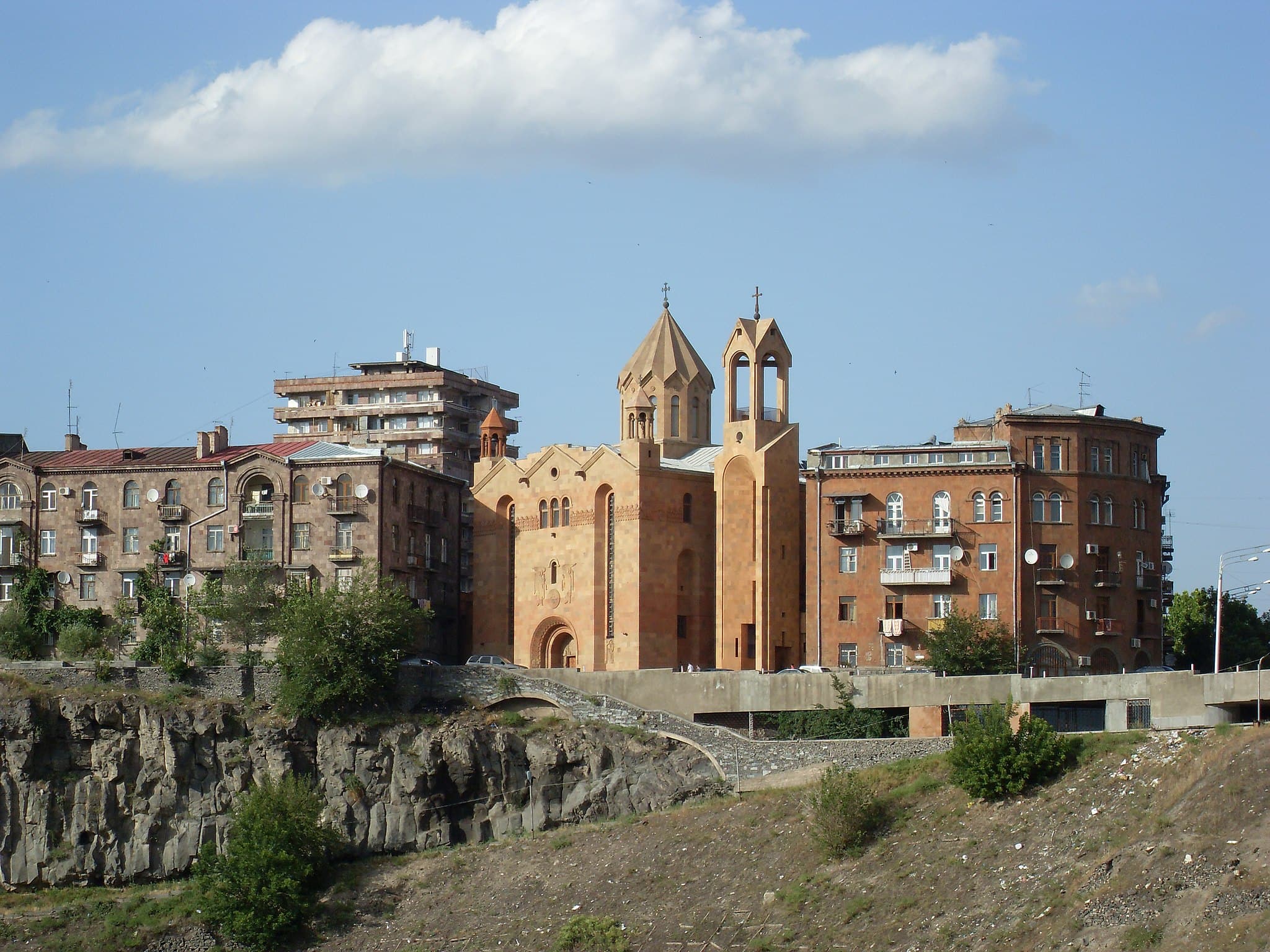 CC BY-SA 3.0 by 23artashes
Bearing a striking resemblance to the Saint Sarkis Cathedral in Tehran, Iran, the Armenian Apostolic church built in Yerevan has a brown-brick exterior and is housed within a monastery complex. The churches and buildings in the complex were destroyed in an earthquake in the 17th century and went through many rebuilding phases up till 1976.
Address: 46 Galshoyan St, Yerevan, Armenia
Getting there: The church is a short 20-minute drive from the city centre in Yerevan.
3. Armenian Genocide Museum, Yerevan, Armenia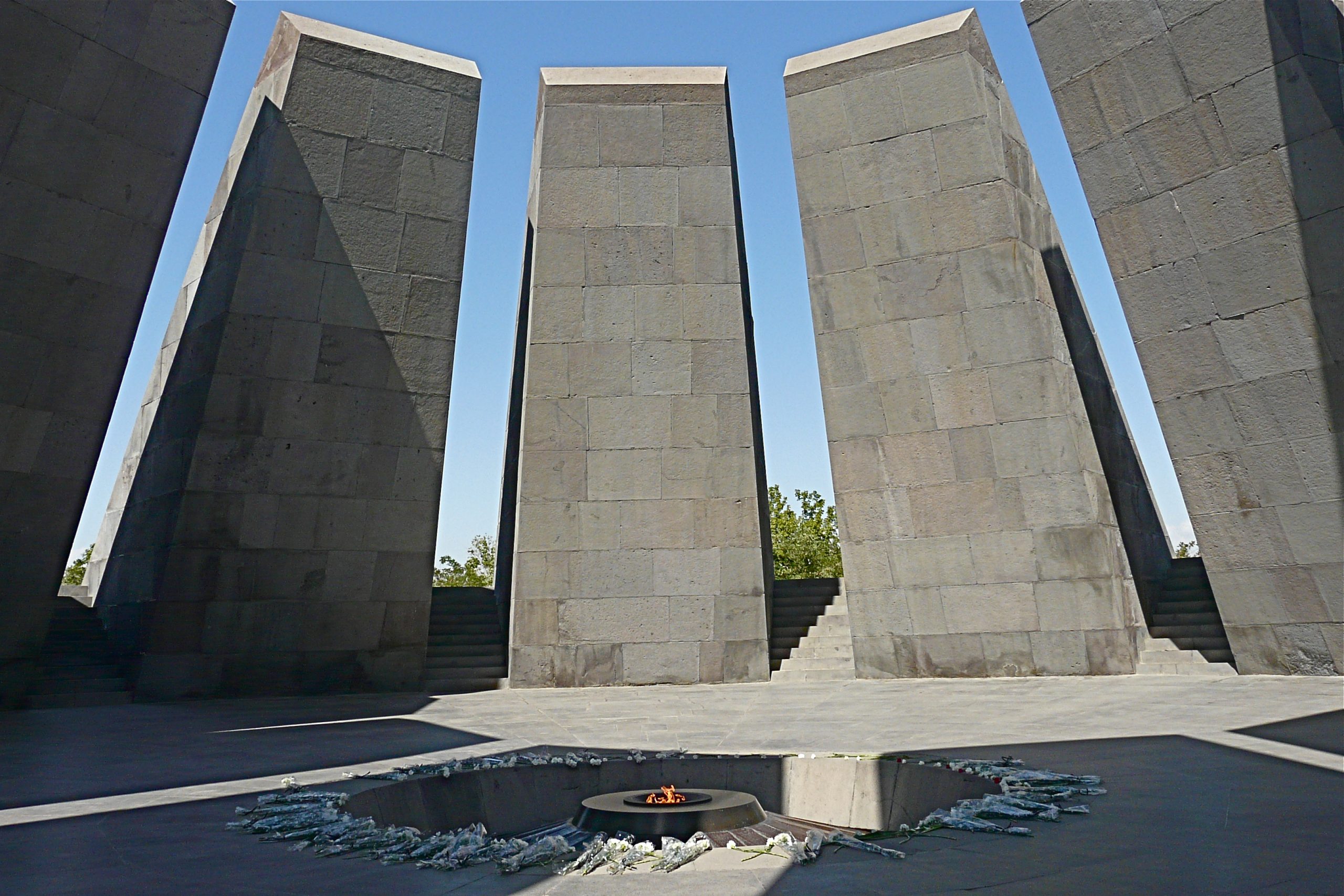 CC2.0 by Rita Willaert
The Armenian Genocide is a lesser-known tragedy as compared to the Jewish Holocaust, but an estimated 1.5 million Armenians were killed between 1915 to 1917. The Ottomans (modern day Turkey) were responsible for the systematic slaughter of Armenians within their empire. The museum aims to raise awareness about the genocide and to honour the lives that were taken.
Admission fee: Free
Address: Tsitsernakaberd Hwy, Yerevan, Armenia
Operating Hours: Tuesday – Sunday, 11 am – 4 pm | Closed on Monday
Getting there: Heading towards the Hrazdan soccer stadium turn right onto Athena Street. On the right, you will see a blue sign with white lettering guiding your route.
4. Temple of Garni, Garni, Armenia
No frills kampung: Garni makes a good quick stop-over for those who are uncomfortable with the quiet atmosphere. If you prefer tracing your roots in solitude, travelling to Garni makes perfect sense.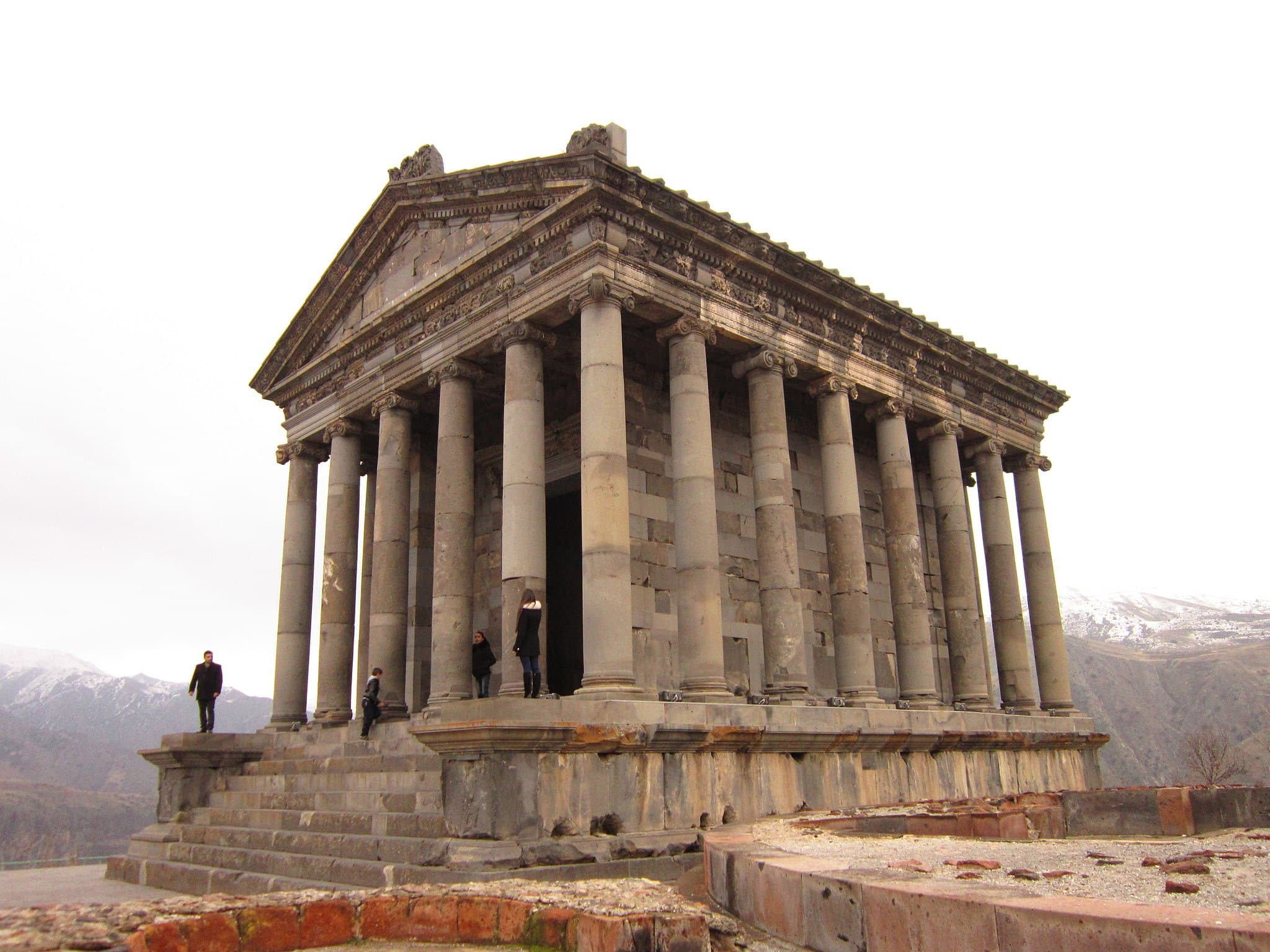 CC4.0 by Armguapa
The Temple of Garni is the only standing Greco-Roman monument remaining in Armenia and is a symbol of its pre-Christian era. The temple is built on the edge of a cliff that overlooks the Azat River and Gegham mountains. While you're in the village of Garni, you'll be able to find a traditional Roman bath, and a preserved mosaic floor with Greek inscriptions, and even a royal summer palace.
Admission fee: 1000 AMD
Address: Garni 2215, Armenia
Operating Hours: Daily, 9 am – 5 pm
Getting there: From Yerevan, take buses 22, 26 or 36 to the Gai Bus Station. From Gai, take the local minibus to Garni.
5. Khor Virap Monastery complex, Lusarat, Armenia
Alone: A similar mellow ambience like Garni, Lusarat offers a breathtaking view for you to rejuvenate while soaking in the nostalgic moments.
CC4.0 by Diego Delso
Khor Virap monastery is deeply important to the Christian heritage of Armenia. The famed Gregory the Illuminator was once held in the cell at the bottom of a pit here in the Armenia hills. The site where he spent 13 years being locked up is now a monastery. You can visit the pit where he was incarcerated through a hole in the St. Grevorg Chapel.
Address: H11, 0612, Armenia
Operating Hours: Daily, 8 am – 8 pm
Getting there: Take a local minibus to the Khor Virap monastery. The ride should take less than an hour.
6. Noravank, Areni, Armenia
Be Merry: Balik kampung shouldn't be all solemn and sombre. Raise your glass of wine high for a toast while in Areni.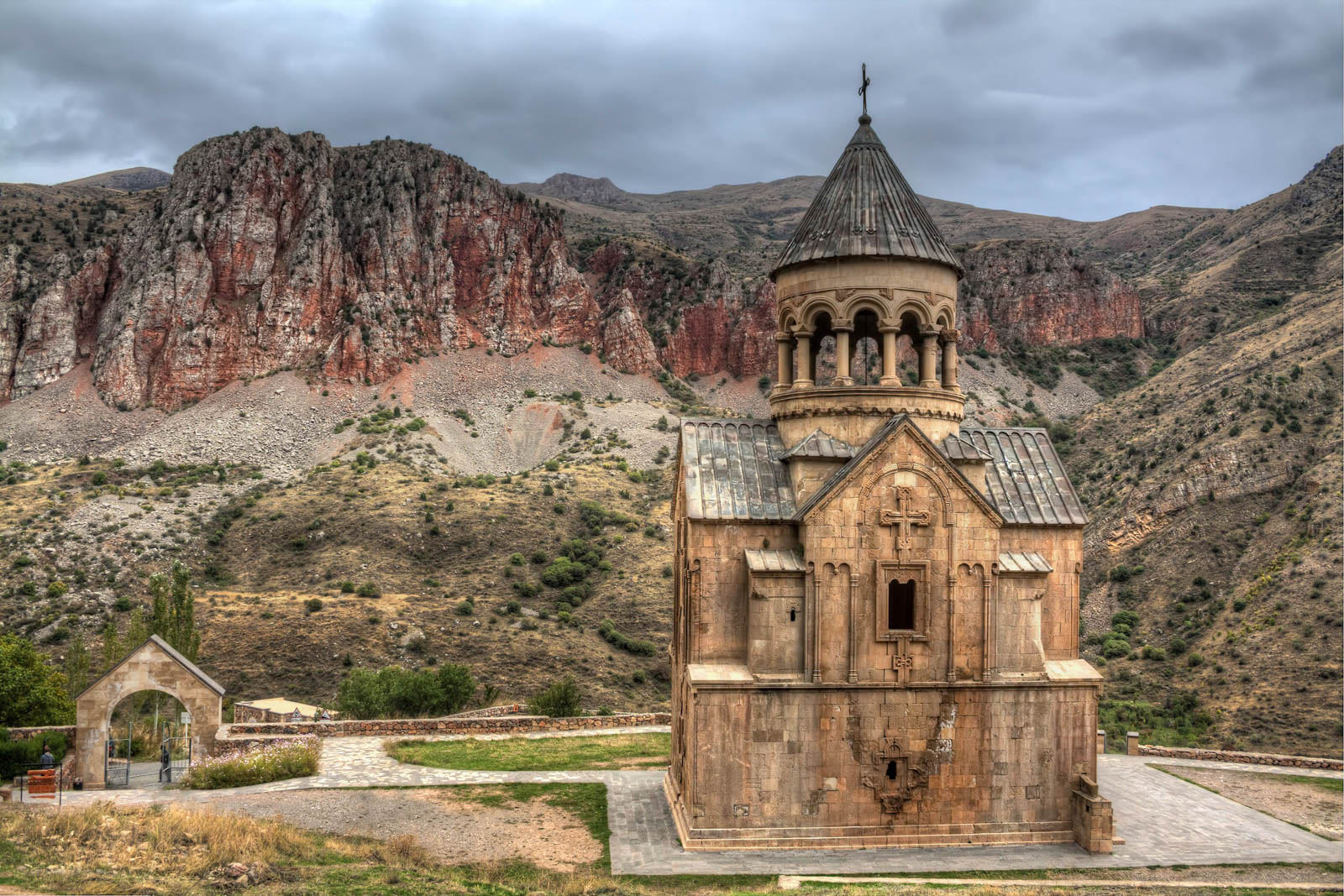 CC BY-NC 2.0 by Jacob Surland
The Noravank is a stark reminder that so few of these ornate and intricately sculpted churches have survived. Most of the monument have been reconstructed, but the stonework and sculptures were spared. According to local myths, when the Mongols conquered Armenia in the 13th century, the almond-shaped eyes of God carved into stone calmed the horde of Mongols as they were about to destroy Noravank.
Address: Noravank Monastery, 3604, Armenia
Getting there: It's a two-hour drive from Yerevan. Take the E117 highway towards the monastery.
7. Lori Province, Armenia
Idyllic Kampung: As far as your eyes can see, there is only green with a sprinkle of rooftops and stone architecture. After all, you may need some solitude when balik kampung.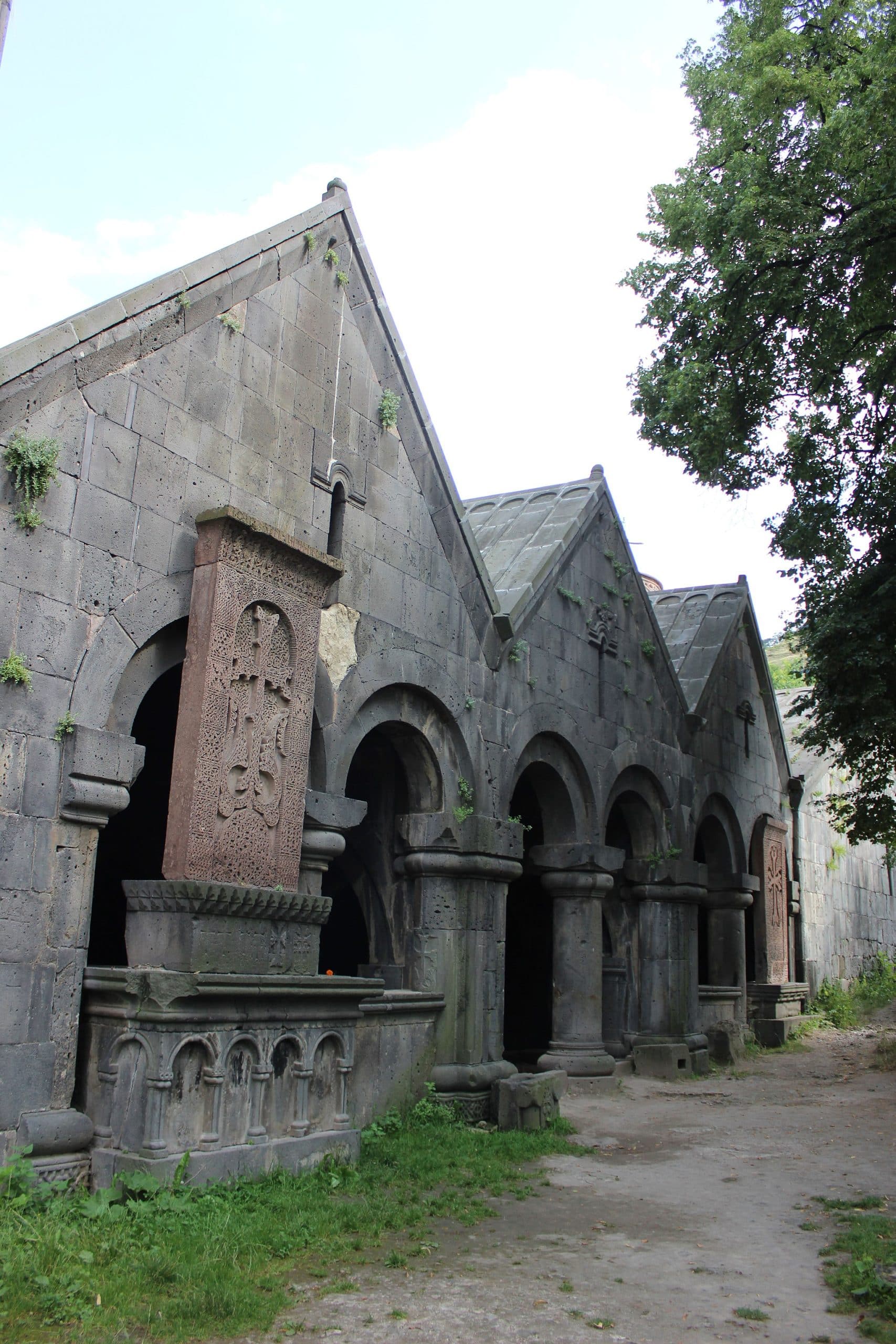 CC BY-SA 4.0 by Beko
In Northern Armenia, the Lori Province is home to tall mountains, lush green forests and some famous monasteries. Lori borders Georgia in the north and is largely covered in forestry. Hire a private guide to bring you around the Debbed Canyon, Alaverdi, Sanahin Monastery, Church of the Forty Martyrs and the Akhtala Fortress.
Getting there: Either by car rental or hire a private guide.
8. Holy Cross of Aghtamar, Lake Van, Eastern Turkey
Free-spirited: Back to the carefree days when all you do is exploring historic sites and listening to live bands in pubs — feeling young and free!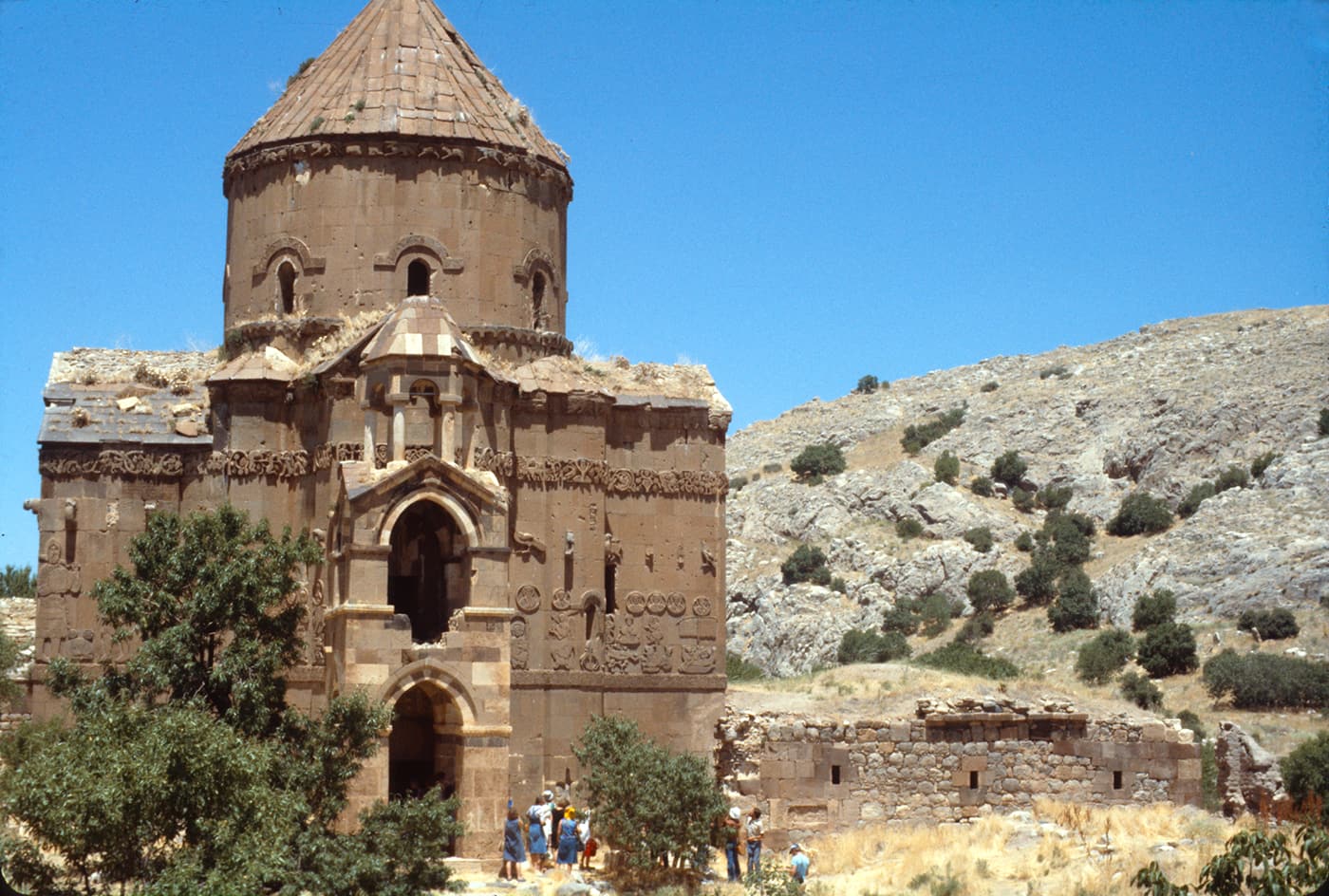 CC BY-NC 2.0 by University of Hawaii Museum
The Cathedral of the Holy Cross Akdamar sits on an island in Turkey's Lake Van. It is one of the few surviving medieval Armenian Apostolic cathedrals in Turkey. The church is now a museum rather than a place of worship, much to the dismay of Armenian bishops. Beyond the church, Lake Van is also the largest lake in Turkey and was once considered to be one of the great lakes of the Armenia Kingdom.
Address: 65700 Gevaş, Lake Van, Turkey
Getting there: The fastest way to get to Van would be by plane from Istanbul. From there, take the ferry ride to the Akdamar Island.
9. Ruins of Aghperig Monastery, Bitlis Province, Turkey
Overwhelmingly nostalgic: Ruins, ruins and ruins everywhere you go! The city has so much to tell about its glorious past through its ruins. Balik kampung to the fullest!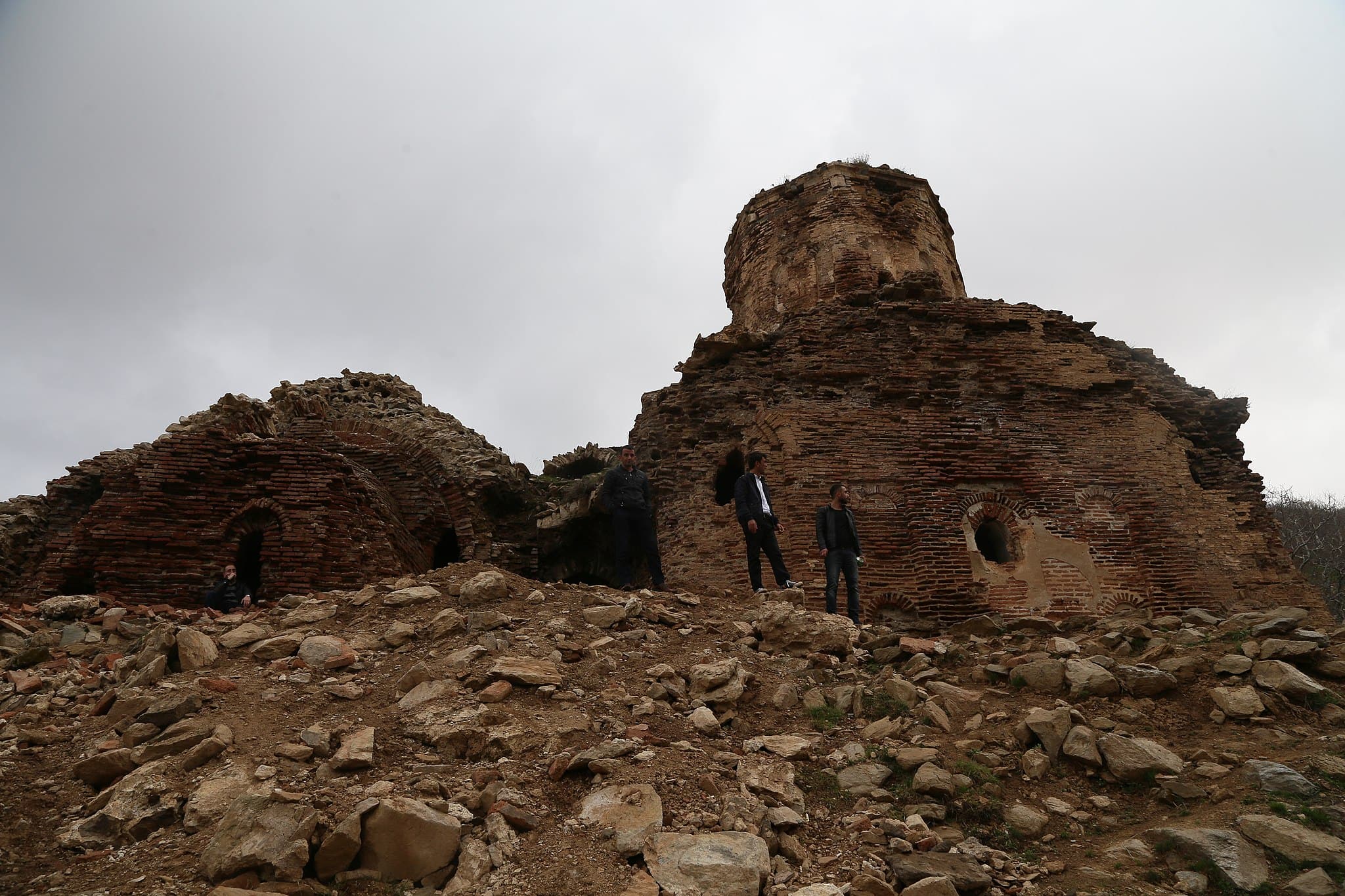 CC4.0 by Jwslubbock
In the Sasun Mountains of East Turkey lies the Aghperig Monastery. Built above a natural spring, the monastery dates back to 4th century CE. During the 1915 Genocide, the monastic community fled the church and it was left unoccupied ever since.
Address: 13700 İkizler Köyü/Mutki/Bitlis, Turkey
Getting there: Either by car rental or hire a private guide.
10. Ruins of Ani, Turkey
Eerie and unforgettable: Ani will leave you speechless and retrospective for the rest of you balik kampung journey. The least touristy spot in this list.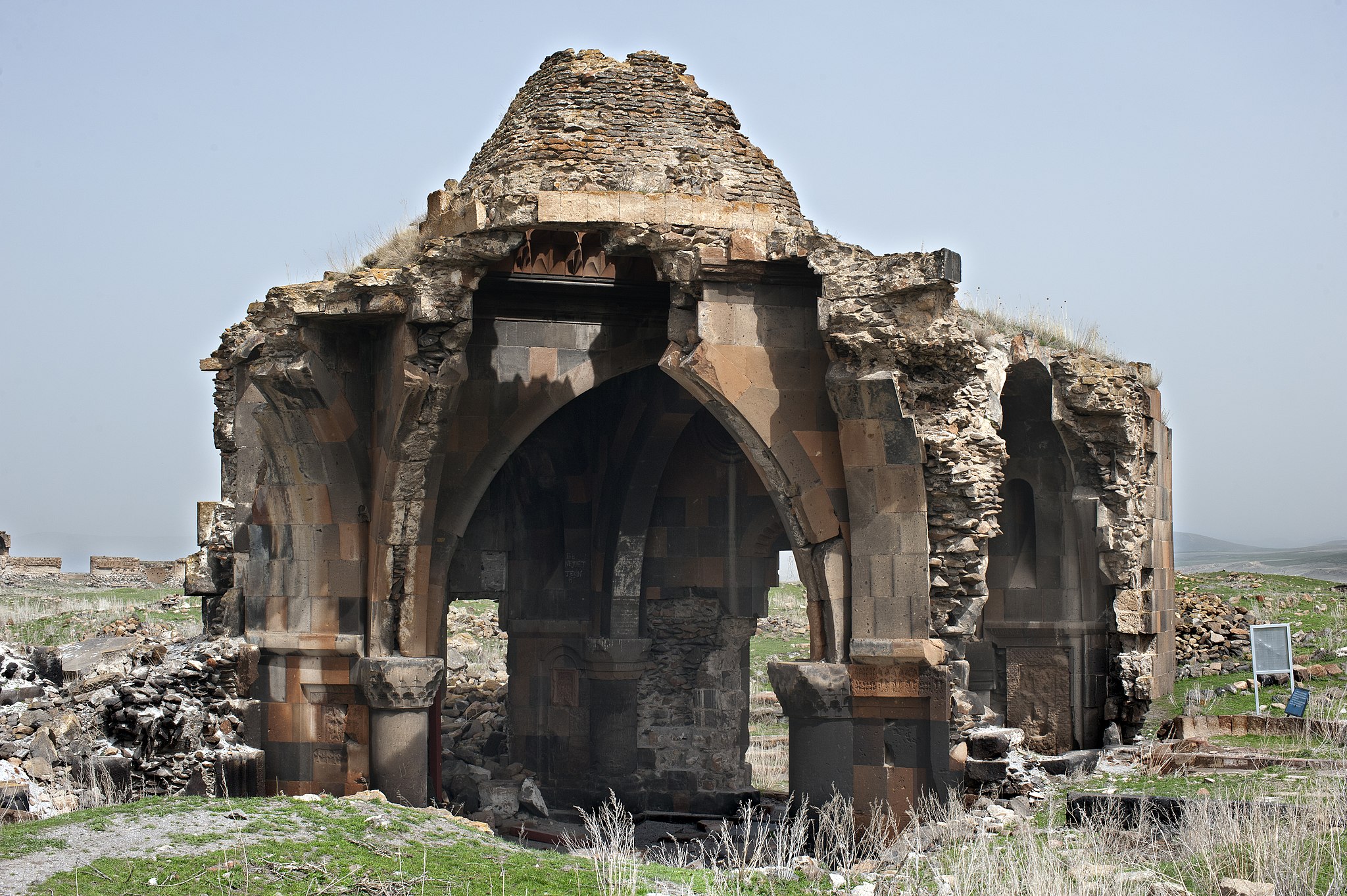 CC BY-SA 3.0 by Ggia
The ancient city of Ani was once the regional centre of power. Today, visitors to Ani are greeted with a panoramic view of ruins and untamed landscape. The ruins span three centuries and five empires including the Georgians and Ottomans. The ghost city is also known as the 'City of 1,001 Churches' as many churches, chapels and mausoleums have been uncovered from the site.
Getting there: You can get to the ruins of Ani by car from the city of Kars. The journey will take about 50-minutes each way.
Armenian Cuisine: Must-Try Dishes 

Armenian cuisine often uses lamb, eggplant and bread as their ingredients. Similar to its neighbour in Turkey, Armenians use plenty of fresh herbs in their dishes.
Adana Kebab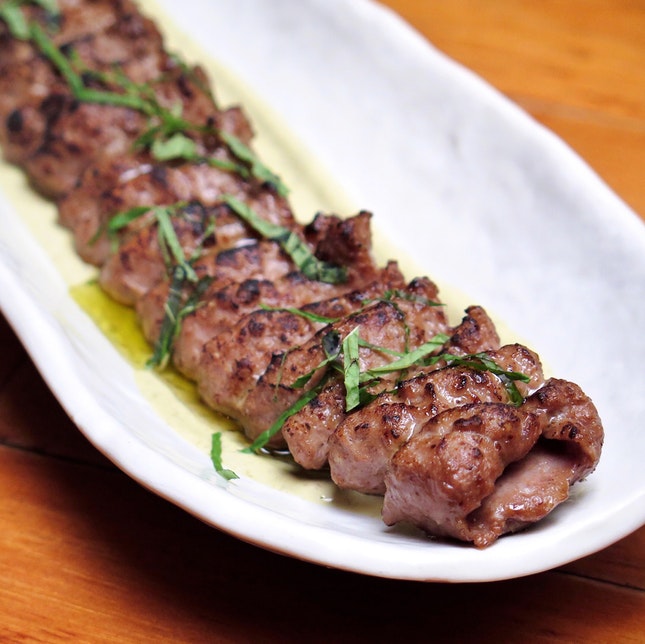 Credit: Wei Zhi Chiang
Turkish Bread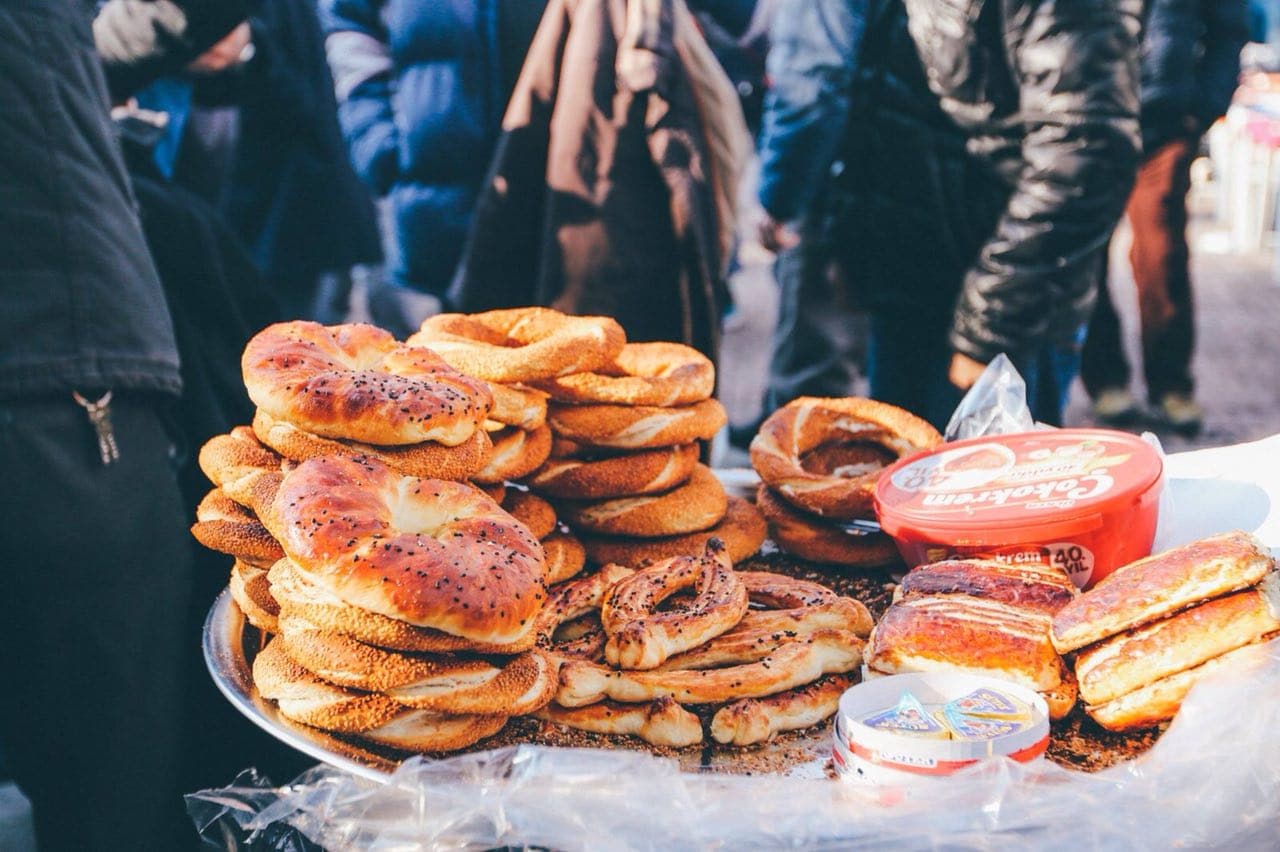 Credit: Esna Ong
Kibbeh
Bulgur, minced onions, and finely ground lean beef, lamb, goat, or camel meat with Middle Eastern spices made into a ball or patty before getting deep-fried.
Best in Sabır taşı, Istanbul.
Tolma
Stuffed leaves (normally cabbage) – fillings can include meat and vegetables.
Best in Pasazade Restaurant Ottoman Cuisine, Istanbul, Turkey
Khash
Soup with boiled cow or sheep parts (sometimes intestines as well).
Best in Tavern Yerevan, Yerevan, Armenia