By David Bowden, on October 26, 2019
Zambia's Parks, Rivers and Falls
After visiting Zimbabwe and enjoying its spectacular national parks and Victoria Falls, it made good sense to pop into neighbouring Zambia to tick off the only other country starting with the letter 'z'. Visiting both Zambia and Zimbabwe at the same time is a good idea as they border each other and share the famous Victoria Falls that cascades down the Zambezi River. Visiting this incredible site is just one of the many great things to do in Zambia though.
There are several large national parks in Zambia, including Kafue, Lusaka, Liuwa Plain, Mosi-oa-Tunya, North Luangwa and South Luangwa. Like many parks in Africa, some are isolated, so by a process of elimination, my list of things to do in Zambia was narrowed down to Mosi-oa-Tunya because it adjoins Victoria Falls and South Luangwa due to its range of wildlife offered.
A plan was hatched to fly into Lusaka the capital, then onto South Luangwa before concluding my tour in Livingstone and Victoria Falls.
Top Things to do in Zambia: Wildlife Lodge in South Luangwa

After an enjoyable night in the deluxe Southern Sun Ridgeway Hotel in Lusaka, I headed back to the brand new Lusaka Airport for my domestic flight to Mfuwe International Airport, an hour away.
Mfuwe must be the smallest international airport in the world and I was assured there were occasional international flights to and from neighbouring Malawi but the only action I saw at the airport was the safari vehicle there to collect me and the Barclays Bank ATM at the small airport.
My choice was Track and Trail River Camp that offers just limited deluxe safari chalets located along a ridge just above the Luangwa River. Outside of the rainy season, the lodge operates a pontoon with immediate access into South Luangwa National Park. Meals in the lodge are served in the open air and an inviting bar adds to the enjoyment of sundowners in this remote part of Zambia.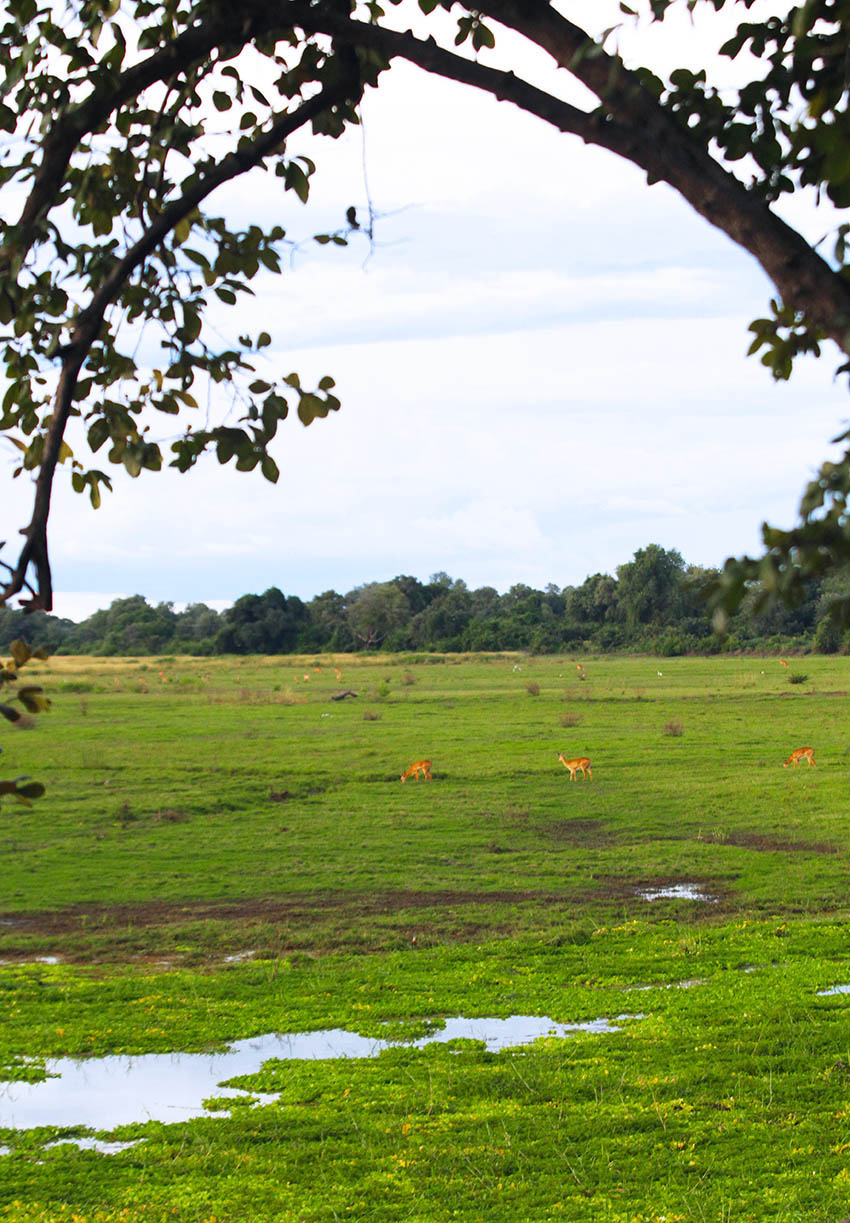 Animals like the Impala graze on the floodplain of the Luangwa River in front of lodges
Our open-air dining area overlooked the floodplain and it was like watching the Discovery Channel in the evening with all sorts of Zambia animals grazing there.
The chalets are very well appointed with flyscreen windows, mosquito net over the bed, ceiling fan, tea, and coffee-making facilities, hot showers, fridge, and a spacious semi-open verandah for watching the wildlife grazing on the floodplain below.
Shooting Wildlife

In the past, Africa's big five animals (lion, elephant, water buffalo, rhinoceros, and leopard) were so known as they were the animals big game hunters wanted to shoot. Now, the only 'shooting' allowed in Zambia's parks are with a camera and I am glad that I brought with me a long lens (200mm) as it really brings you a lot closer to the animals than with a standard camera (50mm).
Visitors travel to national parks to join in wildlife spotting safaris, one of the most popular Zambia activities. It wasn't long before I joined four other adventurers as we headed off in one of the lodge's open-sided safari vehicles.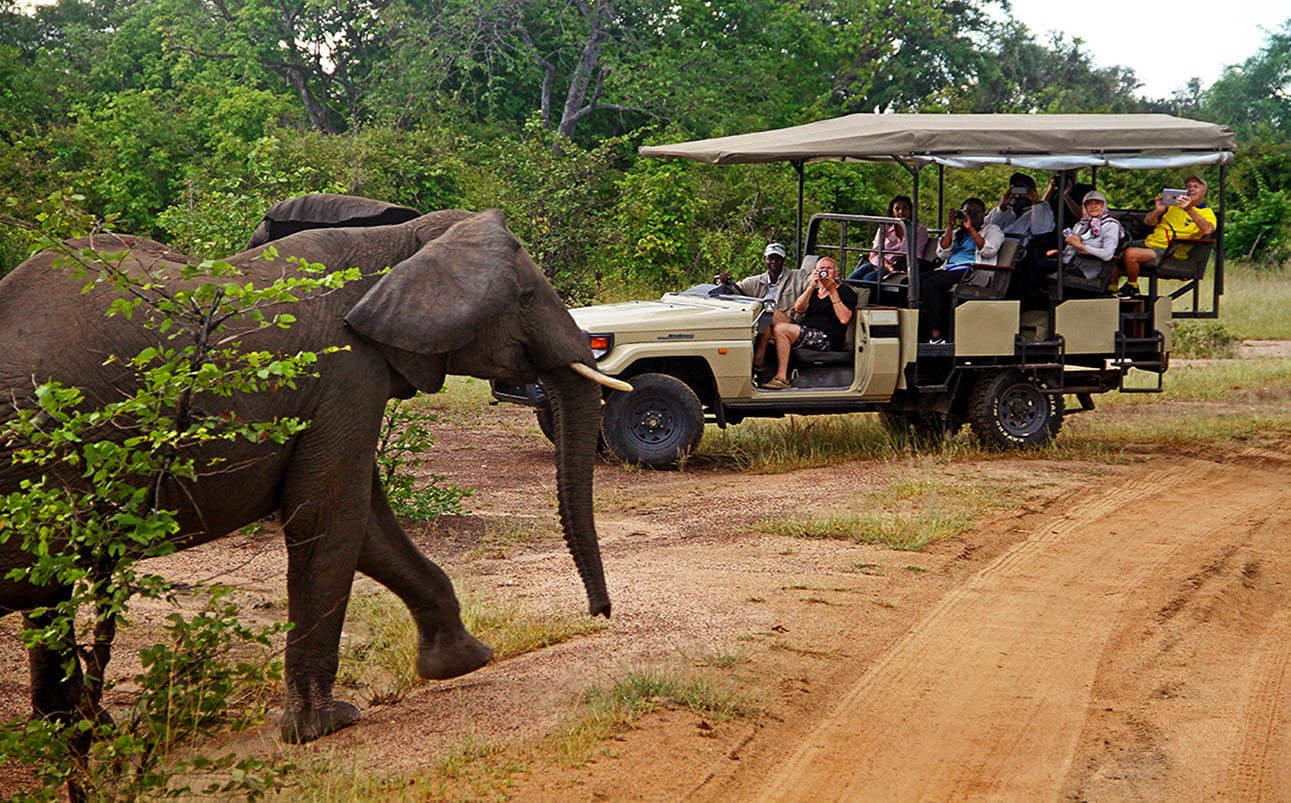 Get close to wild elephants on a game safari in South Luangwa National Park
Our driver/guide had a keen eye and located animals before any of us did. Being open-sided, these vehicles are ideal for wildlife photography as there is enough room to enable everyone to take the best photos.
Literally, minutes after departing the lodge, we spotted a herd of elephants grazing on the abundant vegetation that thrives here in the west season. What amazed me was how nonchalant the elephants and other wildlife were with our intrusion. They simply go about their routine seemingly without any interest in us at all.
Next, it was spotting a tower of Thornicroft's (Rhodesian) Giraffes, which are endemic to South Luangwa. It was an amazing experience, especially when informed by the guide that only about 500 of this sub-species live on the planet and only in this park.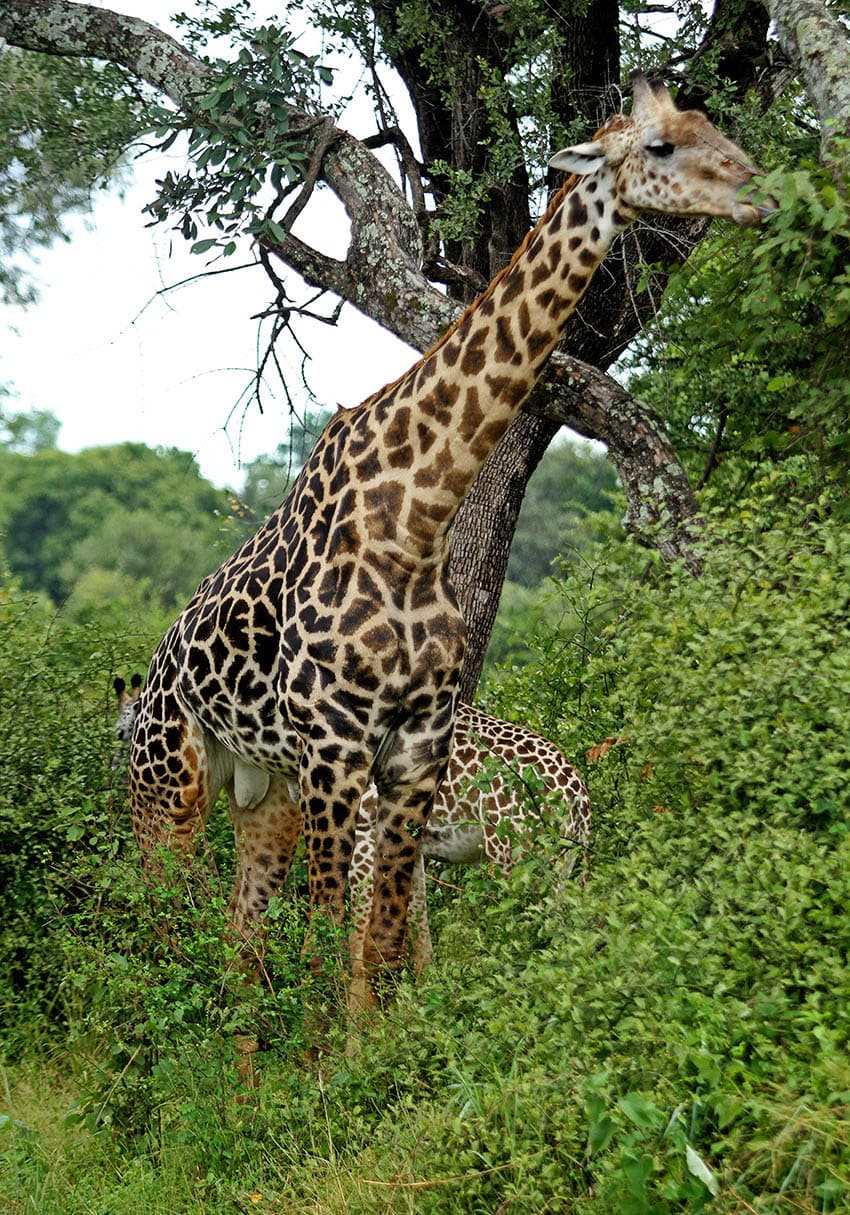 Thornicroft's Giraffe is only found in South Luangwa Valley.
As the safari continued, we started ticking off animals like Common Waterbuck, Puku, Crawshay's Zebra, Common Warthog, Velvet Monkey, and Spotted Hyena.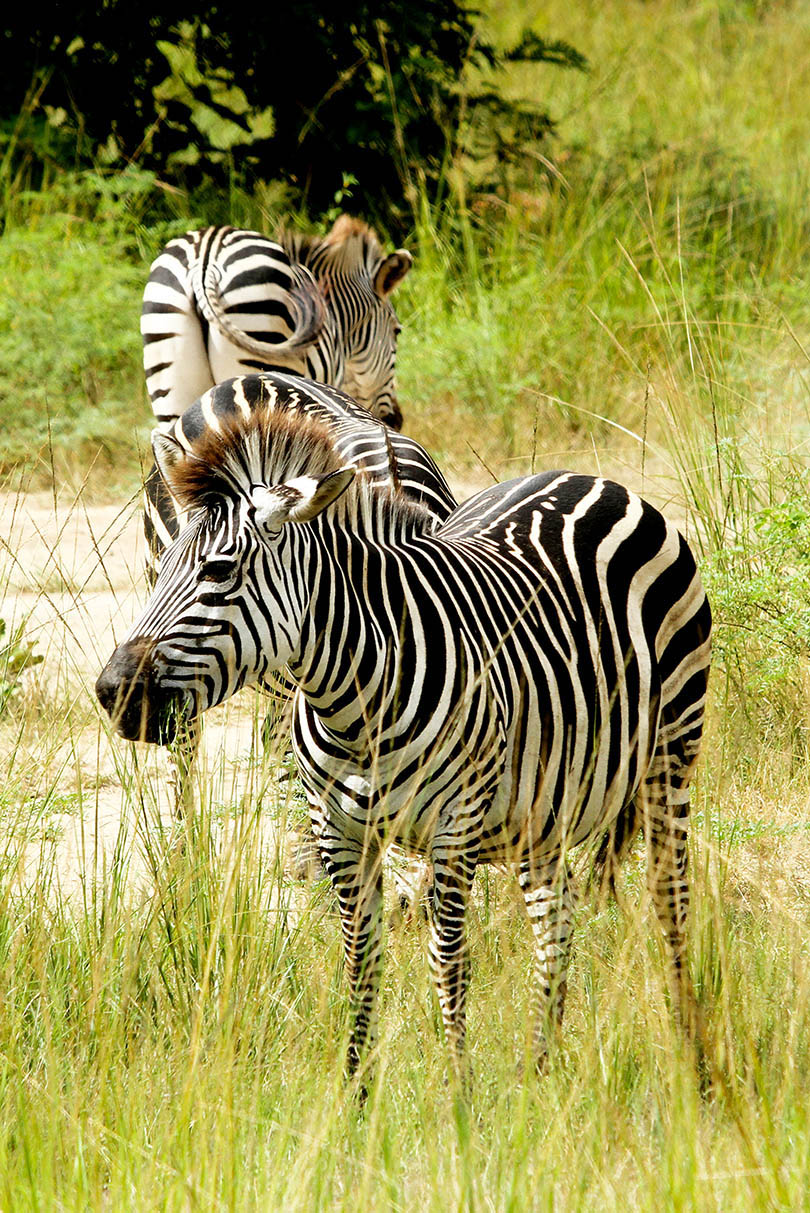 Observe Crawshay's Zebra in South Luangwa National Park.
There is an impressive list of birds to sight too and if I was to offer advice to those contemplating a Zambian safari, it would be to bring a pair of binoculars to observe animals.
Of course, everyone wants to see lions and up until the last day, our only sighting was a solitary female and her cub hunting in the dim light around the lodge. While difficult to see; it was thrilling to at least get a glimpse of them preying on a herd of grazing Puku.
It is not necessarily the big animals that capture the attention, but what amazed me was just how close we could get to the animals and yet they were all wild. Impalas, for example, are all over the place but when you get within metres of these flighty animals, you realise just how lucky you are to be able to be amongst them, like another animal grazing.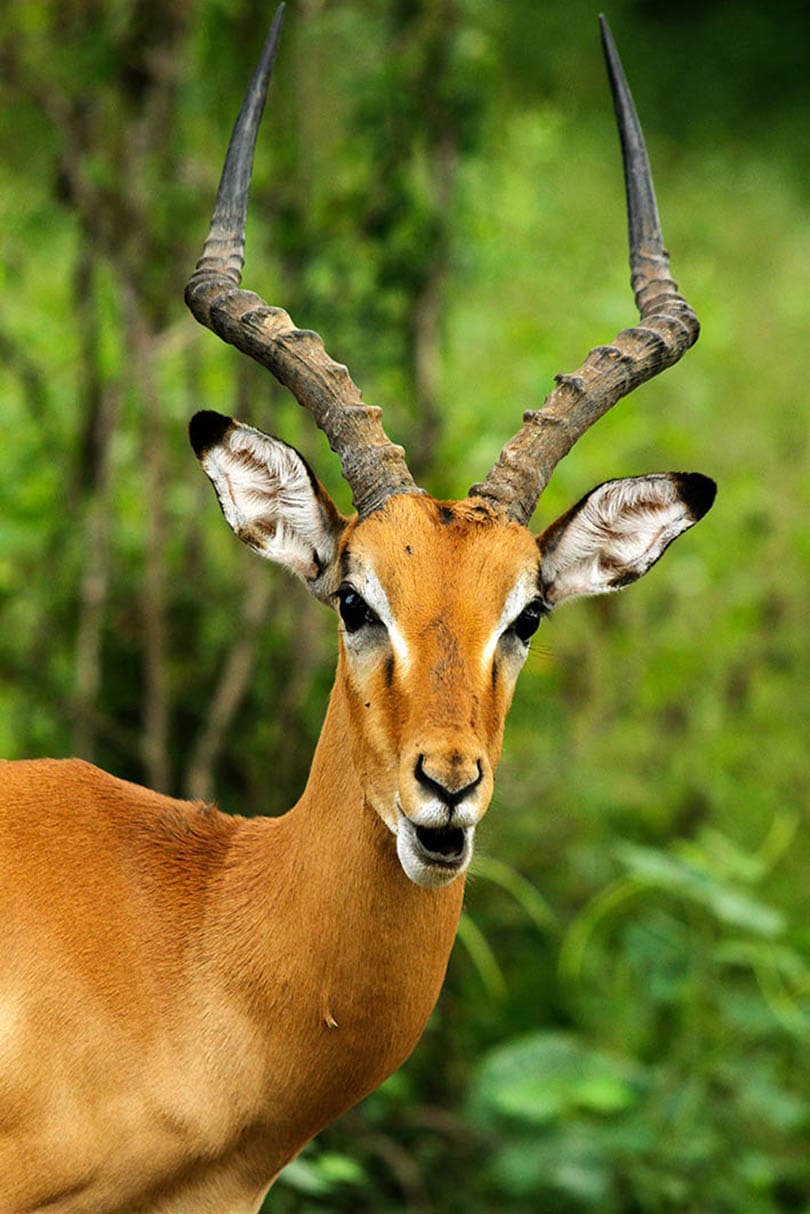 Get within metres of wild animals like this male Impala in South Luangwa National Park.
Wildlife safaris are on the programme each morning and afternoon and while times vary from summer to winter, it means waking at 5:30am for a light breakfast and then being in the park by 6:30am as the sun rises. Most safaris return at 11:00am for an 11:30am brunch and then rest before an afternoon safari at 3:30pm. Sundowners (sunset drinks) are poured in the park and then dinner is served at 7:30pm. This seems to be a Zambian game lodge standard and in many other parts of southern Africa.
Livingstone and Victoria Falls

Leaving the park was tough but with Victoria Falls awaiting, the decision was made easier. Seeing one of the best Zambia attractions meant a drive back to Mfuwe, flight back to Lusaka, and then another flight to Livingstone near the falls.
Every mode of admiring and experiencing Victoria Falls and the mighty Zambezi River is available. Operators in both Zambia and neighbouring Zimbabwe offer rafting, bungee jumping, flights, river cruises, and kayaking.
The best views of the falls from the ground from the Zambian side are within Mosi oa-Tunya National Park where stands of rainforest thrive in the moist humid conditions. It was peak flow for the Zambezi but I was still amazed at the raw energy of the water cascading down the falls.
The sound, movement, and volume were intoxicating. With the river in flood, the water crashing over the edge creates rain and visitors have to wear a raincoat or get drenched. Enterprising locals make a thriving trade selling disposable ponchos.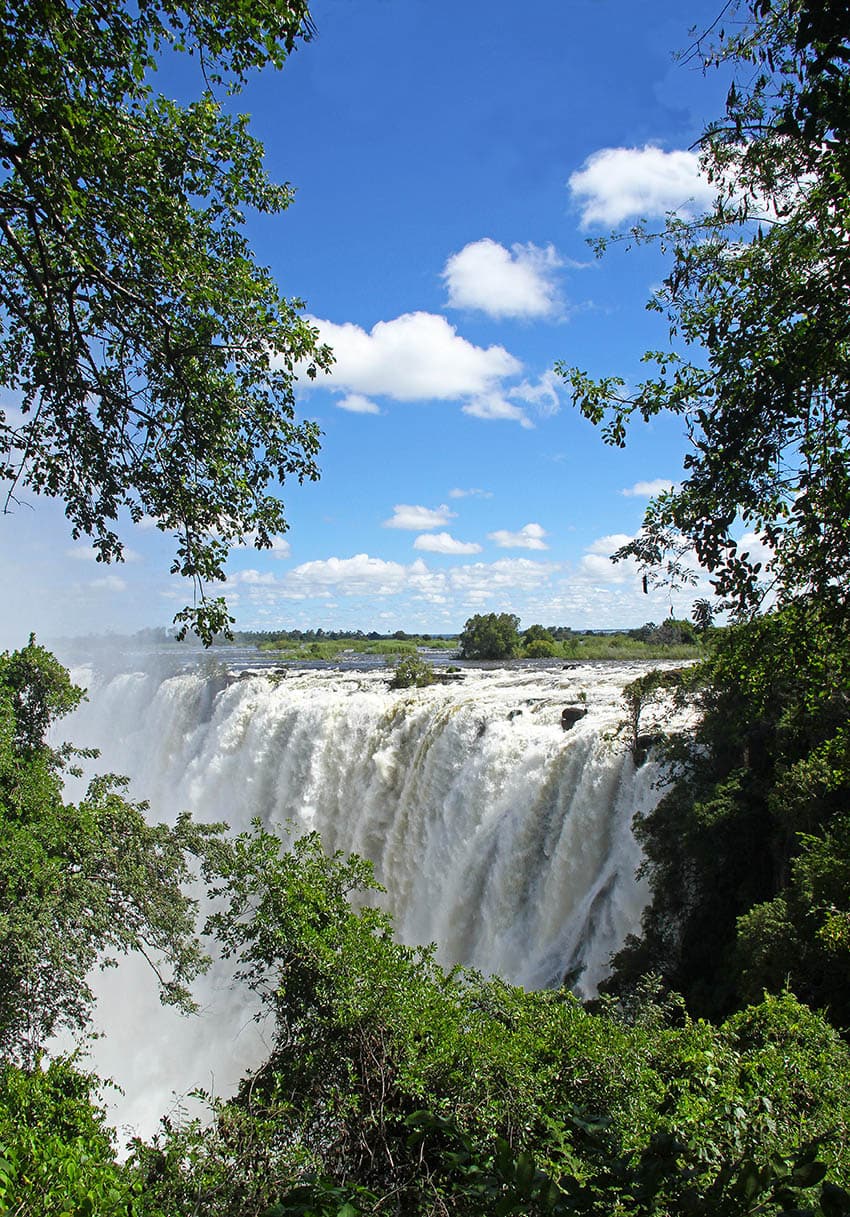 The Zambezi River in flood crashing over Victoria Falls.
While views from within the reserve are impressive, the best way to appreciate their totality is from the air; hang the expense, just do it! A 'Flight of the Angels' operated by Zambezi Helicopters was a dream come true. They promise and deliver a 13-minute flight in a figure of eight so that everyone experiences the view. While it sounds short; nobody leaves disappointed, so I am told.
The cost of the 13-minute flight is US$165. The alternative, which I chose, was a 15-minute ultralight flight at US$180. Perhaps the only disappointment with the flight is that photography of any description is not allowed as passengers have to empty their pockets so that nothing falls from the ultralight.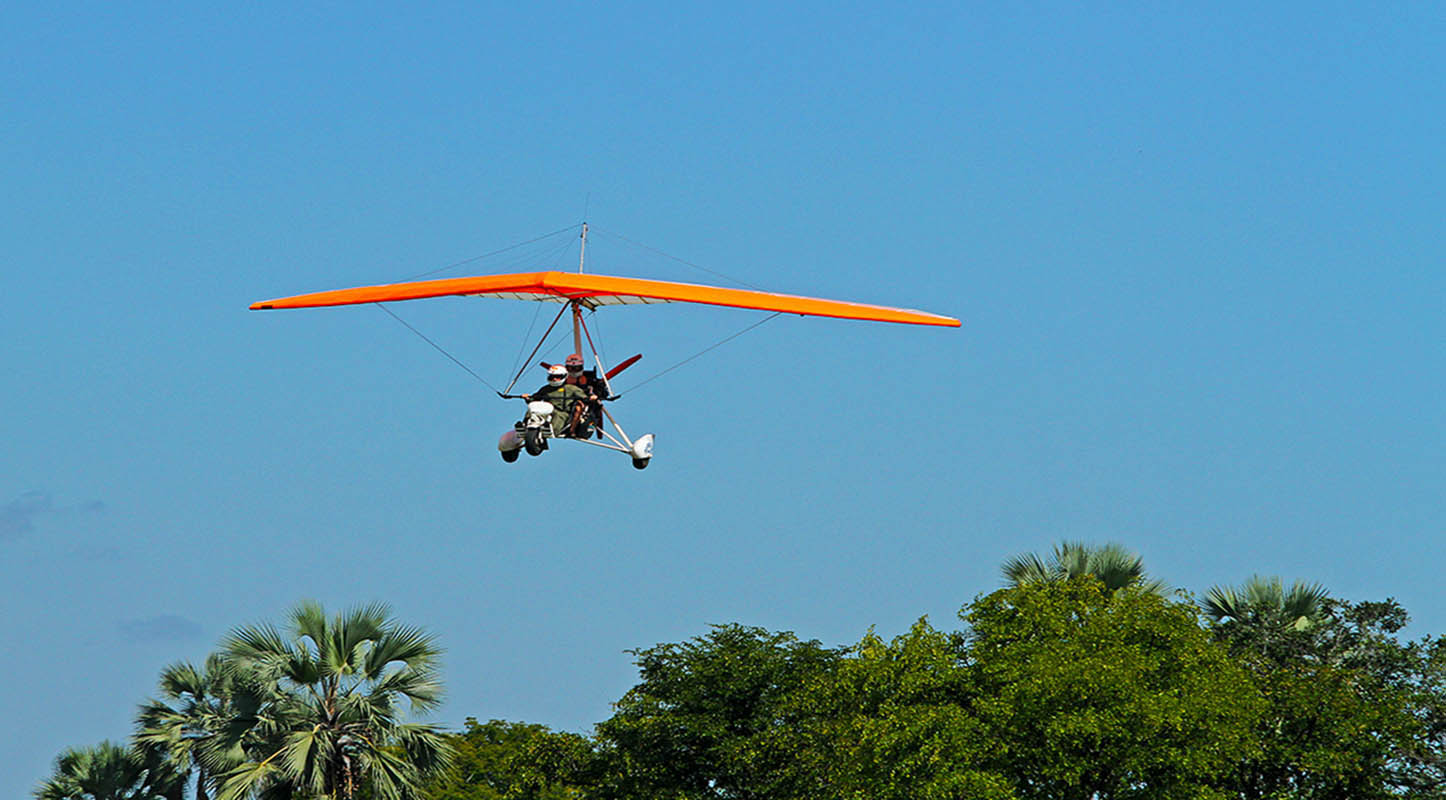 Take an ultralight flight near Livingstone over Victoria Falls.
I heard that when the falls are not in flood, it was possible to swim in Devil's Pool right on the edge of the precipice.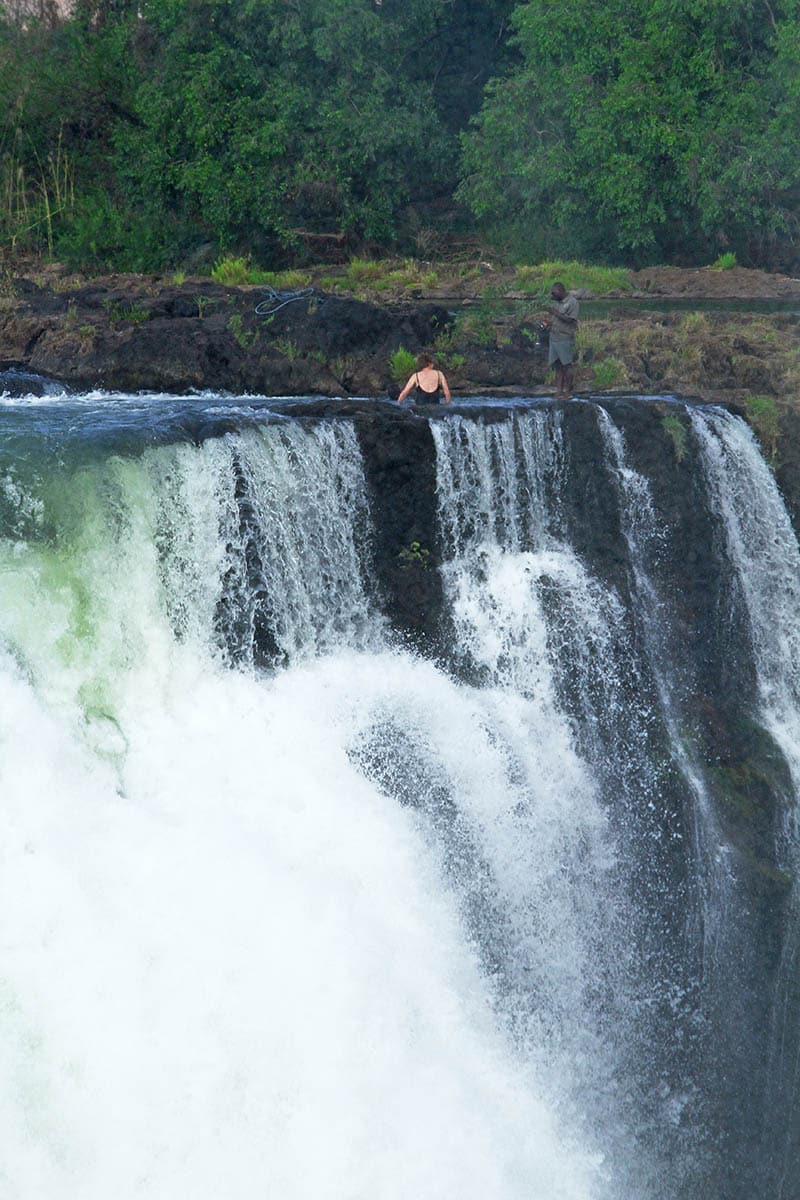 Thrill-seekers can swim in Devil's Pool at the edge of Victoria Falls.
River Cruise

The most relaxed way to appreciate the Zambezi River is on a sunset cruise in a small boat.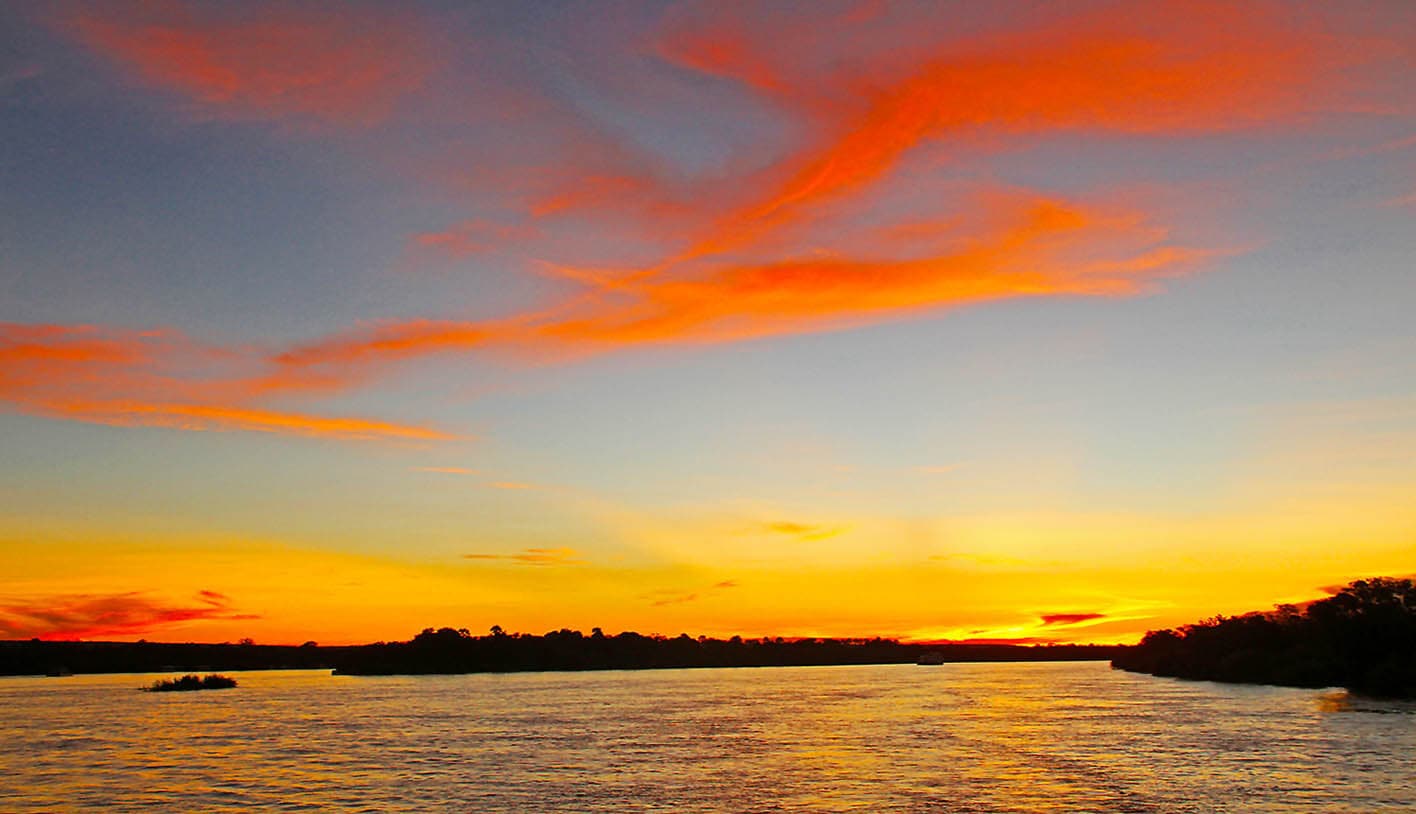 Admire the sunset over the Zambezi River near Livingstone.
Various sized crafts depart just before sunset from small crafts to big ones like the one I was on that had a band playing local favourites and a bar serving ice-cold beer.
Enjoy a relaxing sunset cruise on the Zambezi River near Livingstone.
Railway Rendezvous

Zimbabwe and Zambia are linked by a rail and pedestrian bridge and it's possible to walk the 2km between both. However, one of the most exciting ways to venture to the border is on the nostalgic Royal Livingstone Express, which uses historic carriages.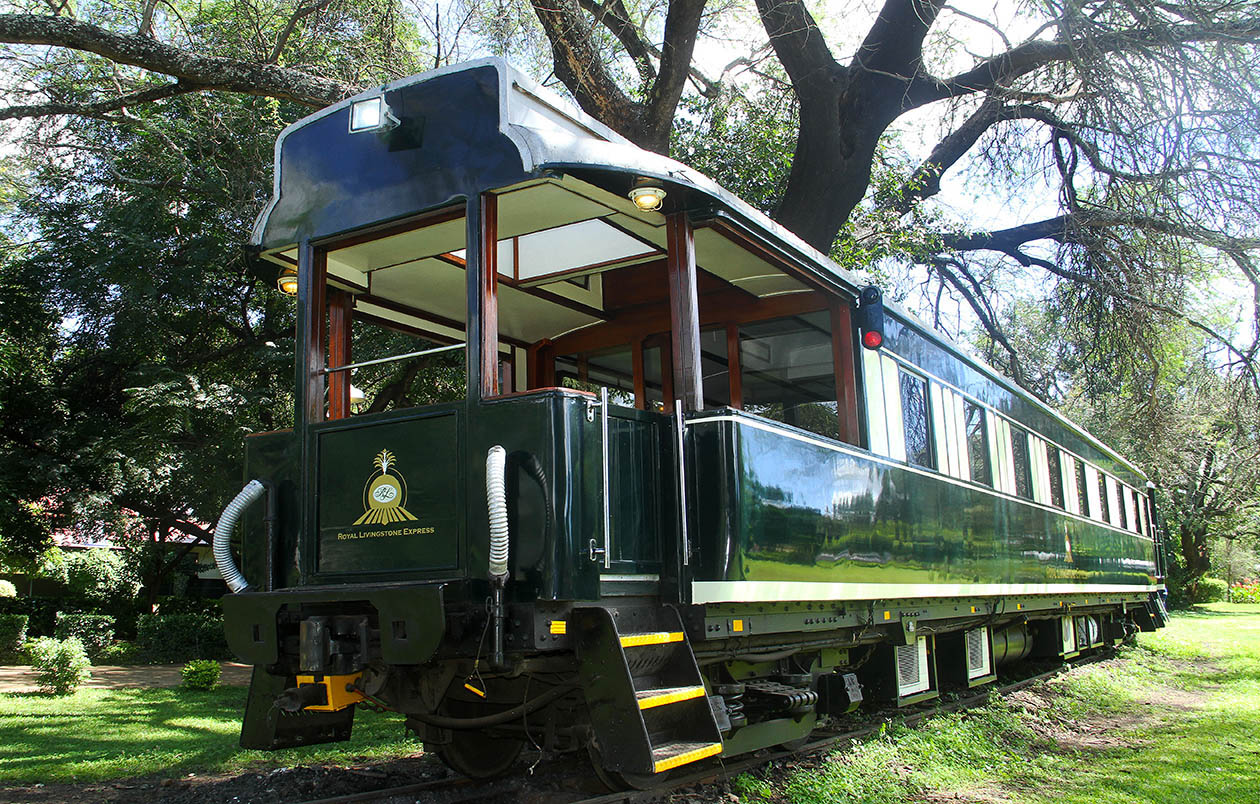 See the countryside from the observation car of the Royal Livingstone Express.
The company operates a variety of tourist trains using steam trains and restored heritage carriages. Bookings can be made at AVANI Victoria Falls Resort.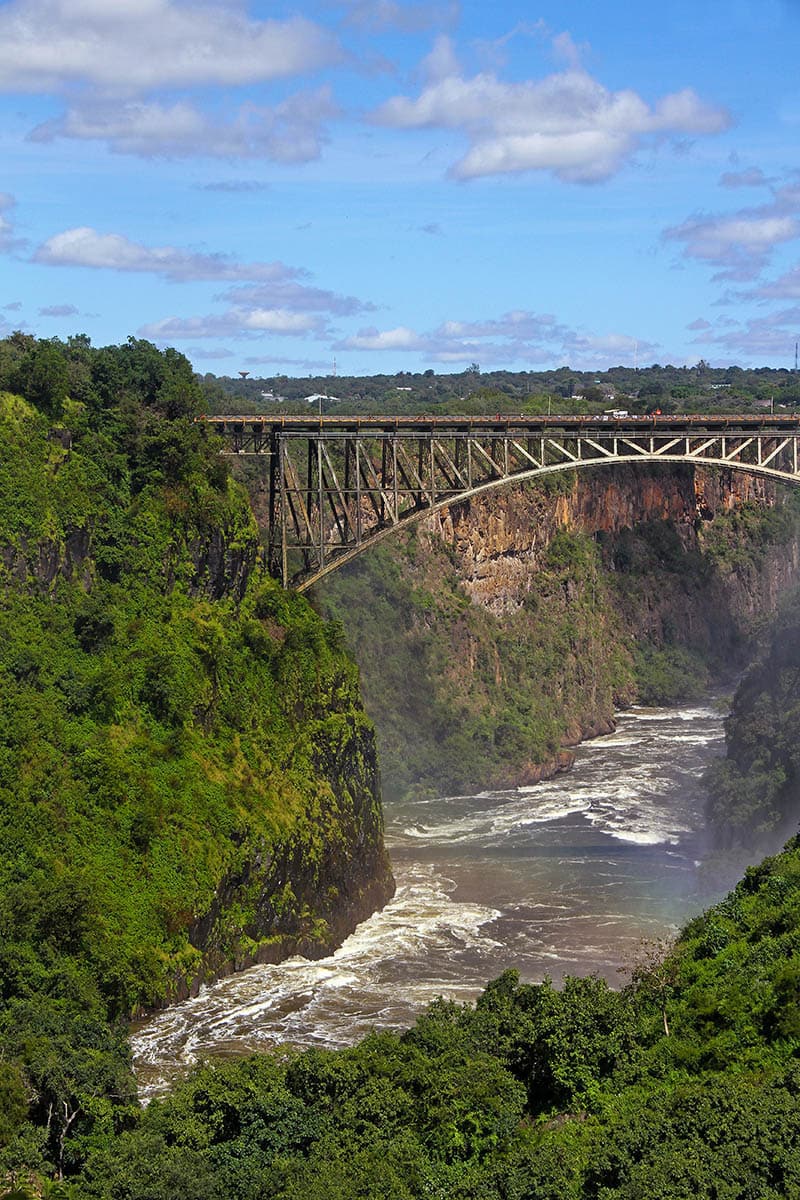 Livingstone Bridge over the Zambezi River.
Train buffs can also consider the 'The Pride of Africa' train, which remains one of the world's great rail odysseys with Victoria Falls being an essential stop on the route that was planned, but never achieved, to connect Cape Town with Cairo. This train is still operated by Rovos Railway which has services to Victoria Falls on a four-day, three-night journey that originates in Pretoria, South Africa and travels through Botswana and Hwange National Park before reaching the falls on day four.
Handicraft Heaven

Livingstone is a bustling service town with several international hotels and a few interesting handicraft markets where carved wooden masks and wooden bowls were at the top of my shopping list.
Shop for tribal masks in the markets.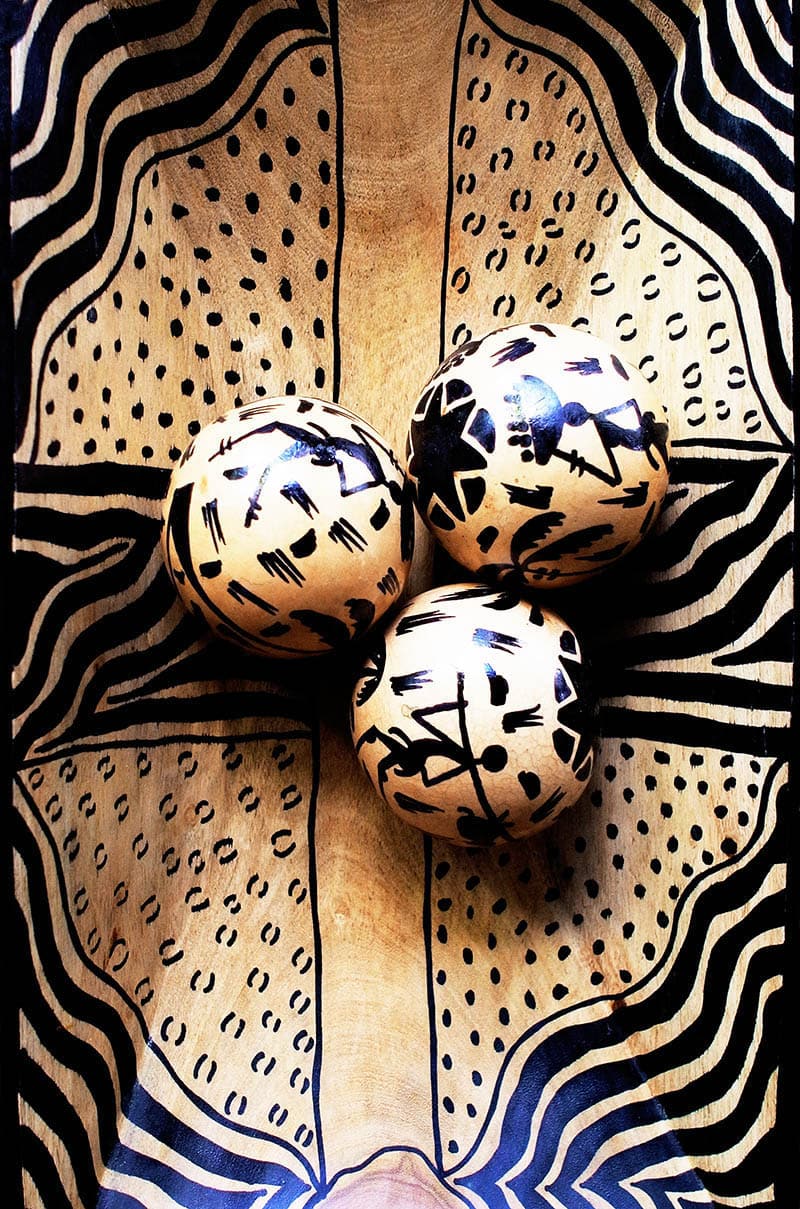 Buy Zambian carved wooden bowls in local markets.
Zambia is an exciting country to visit that is accessible via a long but exciting and comfortable flight on Ethiopian Airlines that passes through five capital cities in 24 hours. While Victoria Falls, which it shares with neighbouring Zimbabwe, is the jewel in the country's tourism crown, national parks and wildlife safaris also offer great things to do in Zambia.
[tabs]
[tab title="Where to Stay" icon="entypo-suitcase"]
[button style='blue' icon="entypo-suitcase" url='https://www.expedia.com.sg/Destinations-In-Zambia.d199.Hotel-Destinations' fullwidth='true'] Top Hotels in Zambia [/button]
[/tab]
[tab title="Let's Go!" icon="entypo-flight"]
[button icon="entypo-flight" url='https://www.expedia.com.sg/Destinations-In-Zambia.d199.Flight-Destinations' fullwidth='true'] Flights to Zambia [/button]
[/tab]
[/tabs]
Travel Tips
Check with the Zambia Embassy before flying off but most travellers will need to obtain a visa upon arrival in either Lusaka or Livingstone.
It is best to consult a doctor before travelling to countries like Africa. Carrying a small first aid kit with basic medicine also makes good sense.
Large Zambia hotels and travel serve to accept credit card and there are money-changers at Lusaka Airport for changing money into the local kwacha.