By Expedia Singapore, on November 27, 2019
Gold Coast: Fun Things to Do with the Kids!
Queensland's beautiful Gold Coast makes a perfect family holiday destination. This sunny Australian destination is full of theme parks the kids will love, more thrilling activities for the teens, outdoor attractions, family-friendly beaches and lots of great food. Here are some great places to visit and things to do on a Gold Coast holiday with kids. Enjoy!

Putt Putt Mermaid Beach
Kick off the good times at Putt Putt Mermaid Beach where you get to choose between three differently themed courses; their flexible multi-day passes mean you can experience the Jungle Trail, Fun Run and Waterways over the duration of your holiday. Every family member young and old will enjoy the 18-hole courses.
In between rounds make use of the complimentary barbecue facilities and picnic area at Putt Putt's Jungle Hideaway. A hot spot during the Australian school holidays, it's best to book in advance.
Tamborine Rainforest Skywalk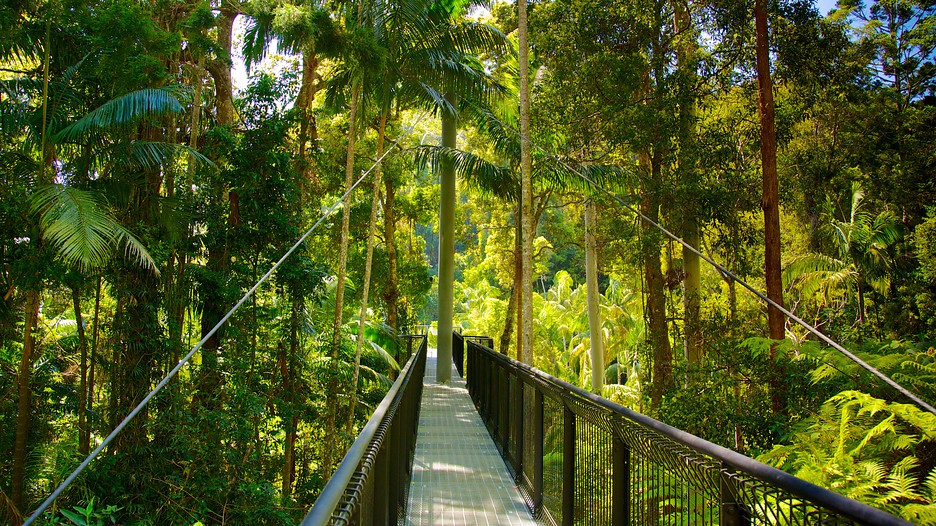 Not everything on the Gold Coast is about glitz and glamour by the sea. Get back to nature on the Tamborine Skywalk, a series of boardwalks that rise up through the treeline of Mt Tamborine's rainforest. Technically to the north east of the Gold Coast's main drag of beaches, the Skywalk is a 50 minute drive away.
The easy 1.5km walk is a chance to get some fresh air and see a largely untouched piece of Australian rainforest. You'll walk along the forest floor before crossing 300 metres of bridges that climb up to the canopy. The 40 metre cantilever bridge is a great spot for a birds eye view.
Mind-Warping Infinity
If you're more comfortable with both feet firmly planted on the ground and your kids are a bit younger, the futuristic worlds at INFINITY might suit you better. No less thrilling, the 20 different sensory environments provoke different emotions through special effects, both visual and aural.
Enter INFINITY's Time Tunnel and experience first-hand what others are calling a 'mind-warping' experience. Kids will love having the freedom to run wild through the different interactive zones – you might even find yourself letting your inner child go wild. INFINITY is indoors so it's a perfect wet-weather activity, or a pleasant escape from the Summer heat!
Whale Watching Cruise
Grab your camera and head to the Sea World Cruise Terminal to board the Spirit of Migloo, a catamaran cruiser with 4 decks, an onboard theatre, a bar, and plenty of indoor and outdoor seating. Grab a drink to enjoy in the air-conditioned cabin or head outside and watch skyline drift away as you head out to sea. It's a great experience for Singaporean kids to see these large animals at sea.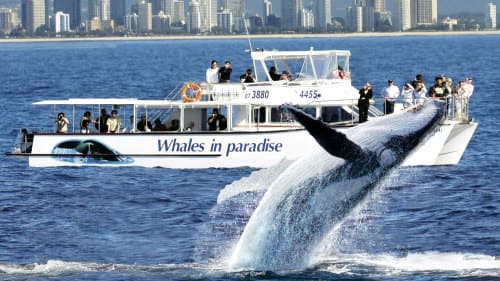 Jet Ski Safari for Teens
What better way is there to see the Coast than by skimming across the waterways at speeds of up to 60km/h? A Jet Ski Safari guarantees you a taste of all the city has to offer. You'll see the magical skyline on the horizon, its hinterland as your backdrop, and beautiful waters right under your seat.
With a tour guide on hand, you'll be able to carve snaking contours through the Broadwater, mangrove everglades and island shores all at your own tapered or zippy pace. Adventure, local knowledge and a lot of fun, just with the start of the engine.
Air Factory Trampoline
If they're on a sugar rush after too much ice cream in Gold Coast, chuck the kids on some trampolines! Air Factory is the largest indoor entertainment park in Queensland featuring 9 amazing trampoline arenas.

Themeparks in Gold Coast
Gold Coast is one of the best destinations in the world for theme parks. There are so many!
Dreamworld
It's like Australia's own Disneyland. Australia's biggest amusement park features exciting themed areas with everything from tigers and thrilling rides to vintage V8 super-cars and TV characters.
Dreamworld has been busy and will hit peak September and Summer school holidays with new and improved attractions. Tail Spin launches riders 72 feet skywards in mini aeroplanes which can be spun around to your heart's content.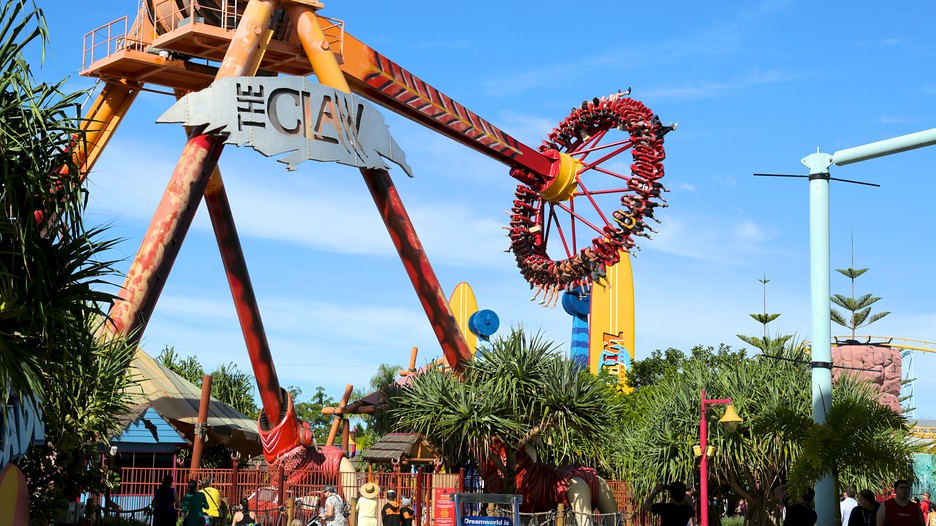 For young children there are some tamer, movie-themed rides. Take a breather in the Dreamworld cinema, or hop into a vintage car. Spend an hour with native Australian animals and endangered Bengal tigers. For an extra fee, go behind the scenes at Tiger Island and join the handlers feeding the tigers and crocodiles from a safe-but-intimate distance.
Watch a sheep-shearing show, and visit the koalas, wombats, kangaroos, bilbies, and hundreds of other Australian species that live at Dreamworld. The Sunset Safari is a great time to see nocturnal animals just as they are beginning to become active.
Gold Coast Watersports
If you want to amp the adrenaline up an extra notch be sure to add Gold Coast Watersports to your must-do list. Located right next to Sea World, this is your base from which to discover a different perspective of the Gold Coast from a seaplane, flyboard, parasail or Jet Ski. Your teenagers will love their Jet Ski Buggy Safari that takes you through the pristine waterways of the gold coast to a secret island destination, any child over the age of eight can double with a parent. Make the switch to a two-seater ATV buggy and continue the adventure, four-wheel driving your way through sand dunes and rainforest – look out for wallabies and sugar gliders darting through the trees.
Movie World
With a mix of fantastic rides and action packed shows, your kids will love meeting their favourite movie characters at Movie World.
Take the kids down to Junior Driving School, where they can take the driving seat and zoom through the kid-sized version of Warner Bros. Movie World. Here, you can also enjoy one of the many shows including the Hollywood Stunt Driver, which offers hilarious family entertainment. Don't forget to stroll down High Street and meet one of your favourite Looney Tunes characters at the Kids' Warner Bros. Fun Zone.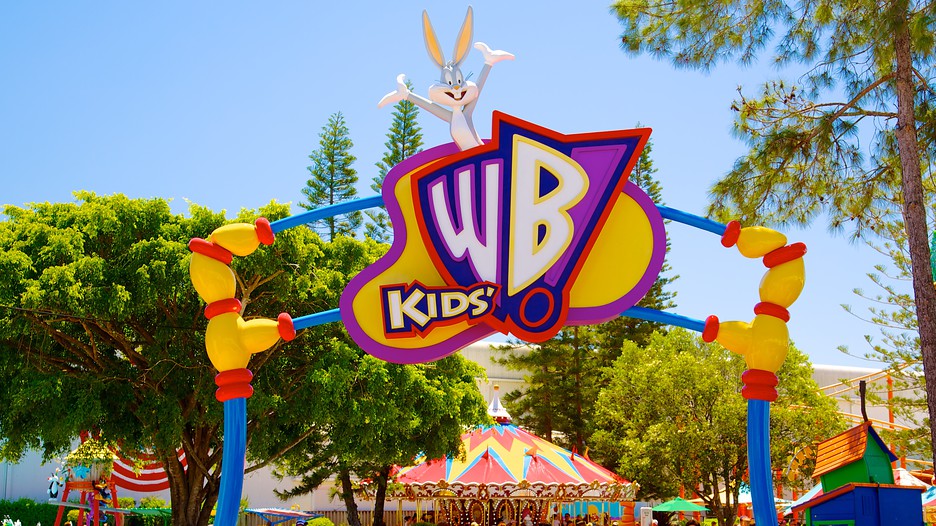 Wet n Wild
If your kids enjoy a bit of a splash, the Gold Coast Wet n Wild is a very popular water park you should check out. It's a large water park with some pretty massive slides, including half pipes, enclosed twisting tubes, water rafts, whirlpool hot springs and more.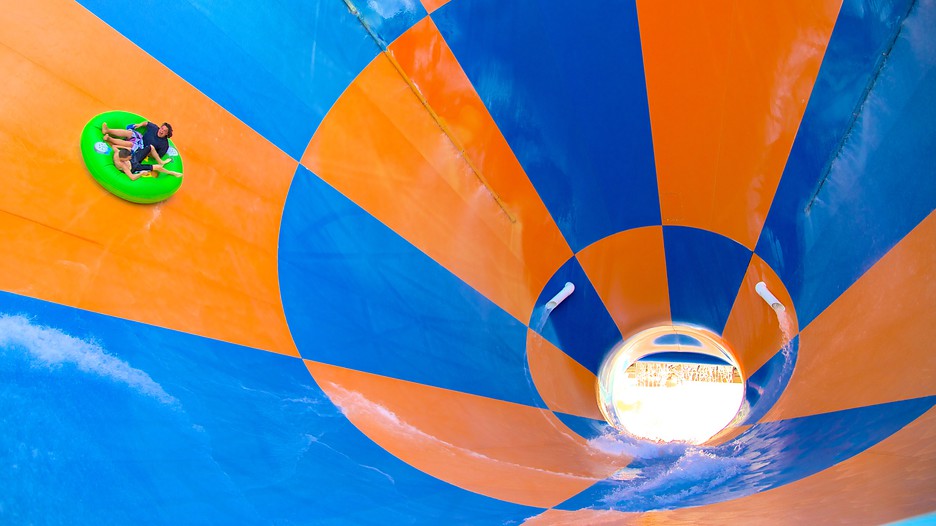 Sea World
If your children love animals then they won't be disappointed with a trip to Sea World. It's a great mixture of rides and live animals shows and is great for kids of all ages.
Sea World Resort & Water Park is a hotel and water park with a theme park right next door. Enjoy a room with a harbour or ocean views, a SpongeBob-themed water playground, boat and Jet Ski rides, children's activities and animal encounters. Dolphins and polar bears in the theme park delight mass audiences, but you can also interact individually with the sea animals. The park has a rescue program for injured and orphaned coastal creatures.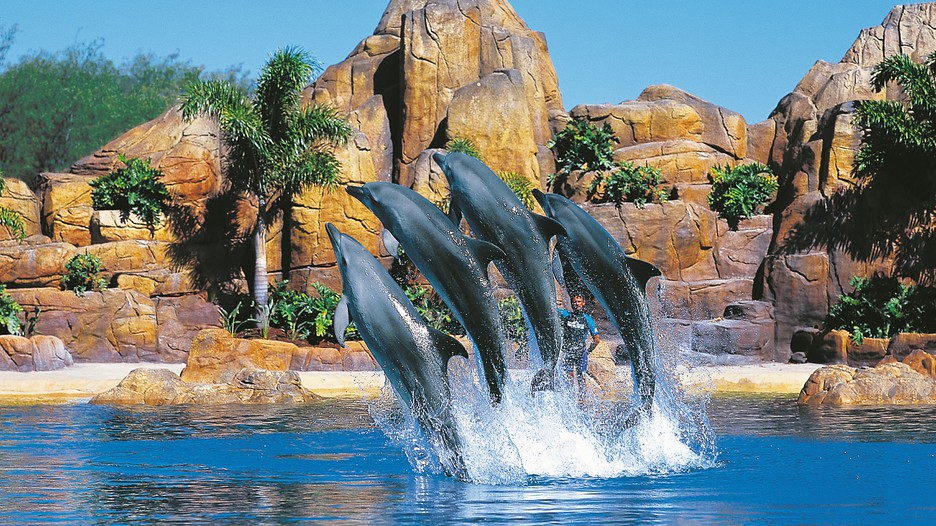 Test your agility at Aqua Splash
New to the Gold Coast's Broadwater and an instant hit with keen water warriors of all ages, this floating obstacle course really has made a splash. What was a vast open swimming plane has been transformed into a slippery labyrinth featuring water trampolines, floating rock walls and super slides, establishing itself as an inflatable icon for this summer on the Coast. Located in one of the city's many gems, you'll have no trouble filling in the day either, with opportunities for a picnic on the parklands, a walk along the pier and a bike ride along the smooth paths. So, are you game enough to put your strength, endurance, agility and ability to laugh at yourself to the test on the Aqua Splash?
Take a Jet ski Safari.
Learn to Surf
How often has someone told you "I wish I could surf"? With my own experience behind me, I'd say it's undoubtedly one of the most-said phrases by us all. There's no better place to turn "I wish" into "I can!" The Gold Coast Surf Academy is located at Broadbeach and Surfers Paradise. Under the eye of expert instructors you'll learn to take your moves from the sand to the sea as part of the academy's skills development. But whether you ride the whitewash on your belly, knees or two feet, thrills aren't few and far between in one of these hour and a half lessons.
Adventure Parc at Currumbin Wildlife Sanctuary
This high ropes course crosses through the tree canopy on ladders, nets, flying fox and even a Tarzan swing. Obstacles and challenges are inspired by SAS commando training – with a lot more fun involved. Courses range in difficulty from beginner to out right jungle-monkey–advanced. Little ones will need to be over the age of six – and 1.6m tall for some of the more difficult courses. In the end your kids will probably be scrambling through the difficult sections but that's ok, take a slower pace and keep an eye out for birdlife.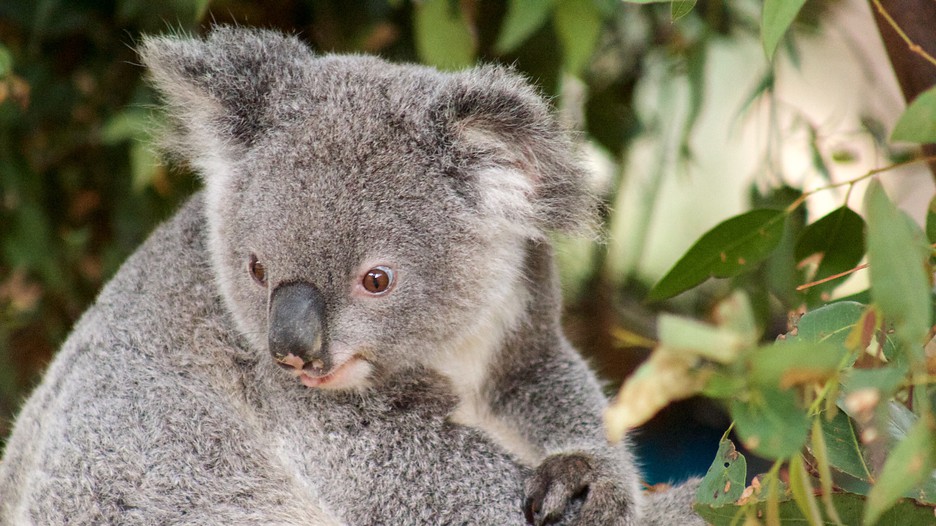 There are also multi-park passes available for Gold Coast themeparks. See what passes you can pre-book with Expedia here.
 
Amazing Playgrounds in Gold Coast
There are some pretty amazing outdoor playgrounds on the Gold Coast and we've found our kids love going to them as much as other attractions with a higher price tag.
A few of the best places to play include:
This parkland is just a short 5 kilometre drive north of Surfers Paradise and goes on for a three kilometres stretch along the foreshore of Southport. This playground has heaps of different play equipment options for the kids – bike tracks, a jumping pillow, flying fox, seesaw, scooter track and lots of general play equipment. There's sure to be something for every little one! There's also a patrolled section of Broadwater beach in high season where the kids can safely swim.
This is another fantastic playground for kids. Plenty of grass for kicking a ball plus two main playground areas makes it a popular choice. It also has great slides, swings, climbing equipment, a flying fox and lots of fun. The park is also right on the beach and has fantastic BBQs and picnic areas.
This park is one of the most amazing parks on the Gold Coast. It's themed around a pirate ship and is a pretty sweet setup if I say so myself. There are tunnels, slides and climbing equipment, all right near Currumbin Cove.It also has BBQ and grass areas if you're keen to stay for lunch.
 
Family Beaches in Gold Coast
Burleigh Heads
This beach is said to be the best on the Coast. It is great for swimming, surfing and boarding.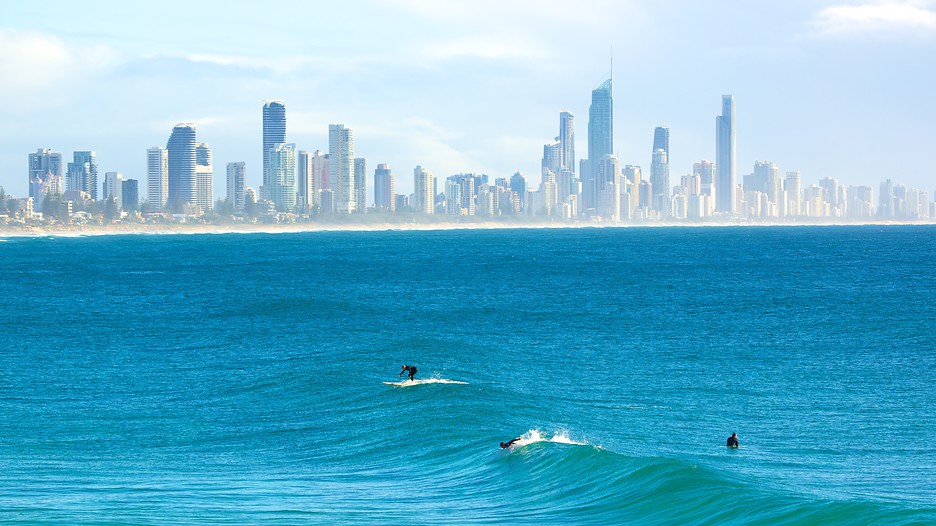 Rainbow Bay
This beach has great waves for kids, they are gentle but fun and there are life savers at this beach all year round.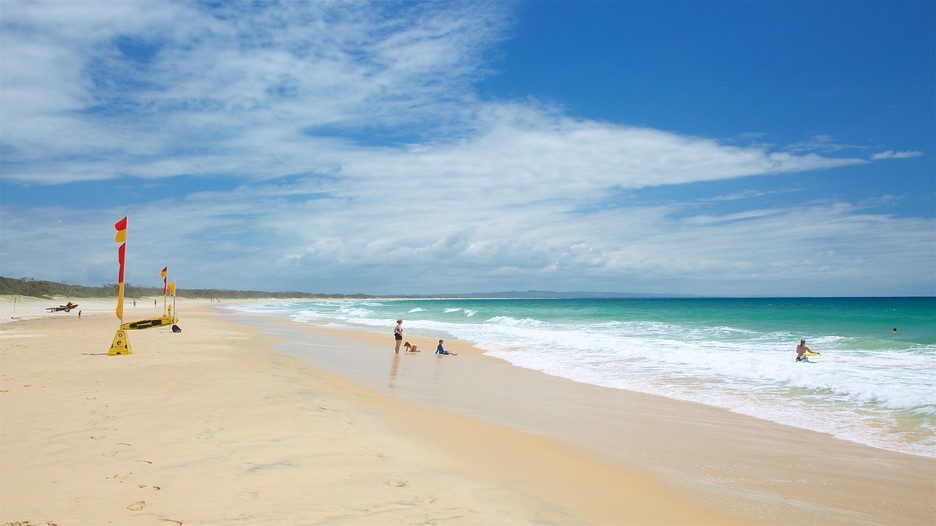 Greenmount Beach
This beach stretches 800m and is north facing. It is protected by the headland which makes is mostly safe for kids. There are also 2 lifeguard towers along this beach.
Currumbin
This place is great for families as there are a number of watersport activities you can participate in including surfing, kayaking and stand-up paddle boarding.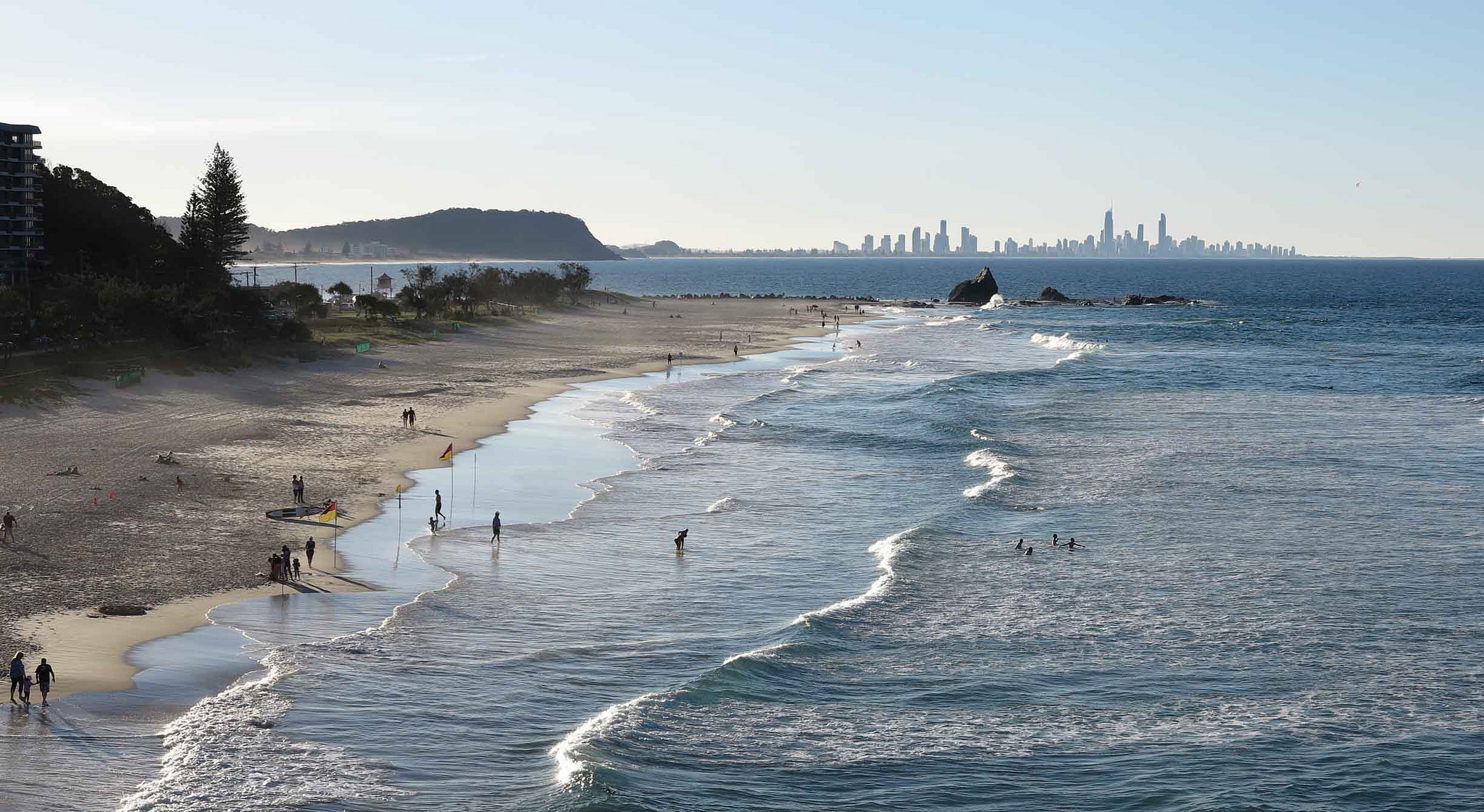 CC 2.0 / yaruman5
Tallebudgera Creek
This place is great for kids who don't like waves. You can swim and kayak and have a great relaxing family day at Tallebudgera Creek
Broadbeach
There are long stretches of beautiful beach and lots of grass areas for kids to play in and families to picnic. There are lifeguard towers all along this beach.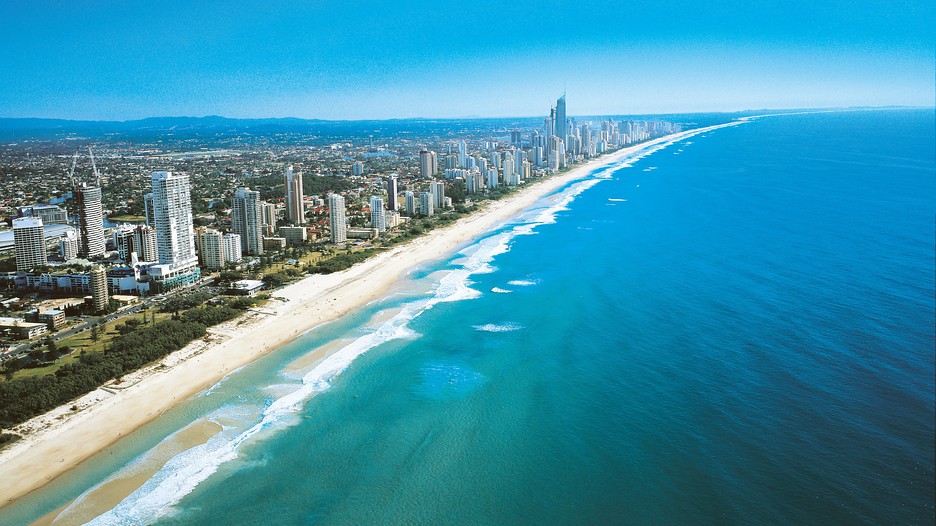 Where to Eat in Gold Coast
Outdoor adventures can work up an appetite! End your day of fun in the sun with some fine gastronomy at Oskars on Burleigh. With pristine beach views over white linens, you can relax with your cocktails and fresh seafood mains. Choose from the likes of fresh oysters, ocean trout with clams, seared scallops. Your kids will even get to choose from a specially tailored children's menu!
If the weather is fine, sit out on the deck and enjoy the soundtrack of rolling waves to your dinner.
Mandala Organic Arts Café is just one block back from Mermaid Beach on the south end of Surfer's Paradise proper. It's a cafe that prides itself on doing things a little differently. The vegan menu has everything from homemade waffles and rice paper rolls to an extensive pizza menu. The good vibes extend beyond the food, however. Mandala adopts a philosophy that's all about inclusion.
They encourage you to think of their venue as a home away from home. The restaurant and gardens welcome everyone in.
Tip: Before your visit, be sure to check out their agenda. Here you'll find fun activities like kids festivals, cooking classes and theatre acts.
Just one kilometre further north lies the Cardamom Pod café. After a morning hitting the waves in front of the Kurrawa Surf Club, dive into this light and airy oasis for soul-satiating dishes. The fully vegetarian menu includes hearty lasagne, moussaka and kofta balls. Other than that, there's also a rainbow of salads and mouth-watering snacks, perfect for fuelling your beach holiday. The Pod, as it's affectionately known by locals, lies just across from some of the Gold Coast's popular spots. Even if you're not a die-hard vegetarian, their range of mocktails and cupcakes are sure to impress the fussiest of eaters.