By Yafieda Jamil, on March 16, 2019
Travel Diaries: Iceland, the Land of Ice and Fire
My family made our way to Iceland from different cities for an extraordinary family trip. Planning an Iceland itinerary for nine people proved to be a challenge, as we had to make sure transportation, accommodation and Iceland attractions were booked in advance.
We chose Iceland because of its beautiful landscape and the number of family-friendly attractions. Since all of us have different interests, we pooled together activities which we could enjoy as a family. We also made sure that we had plenty of free time to explore the city of Reykjavik separately. In this Iceland travel blog, I'll be sharing the highlights of our trip to Iceland where we spent nine days in rolling hills, lagoons and beaches.
9 Day Family Trip to Iceland Itinerary

1. Exploring Laugavegur Street in Reykjavik
The main city of Reykjavik is the country's capital and largest city. We stayed here for two days before starting our road trip to the south of Iceland. We had our rental car but parked it most of the time at the apartment which is located right in the middle of town. This allowed us to explore central Reykjavik by foot and save money on petrol. There's also a guided walking tour that's available for visitors who wish to understand more on the history of the landmarks in Reykjavik.
Laugavegur Street is the longest shopping street in Reykjavik with shops, cafes and colourful murals. We walked on this street, popping into cute Icelandic souvenir shops selling puffin soft toys, t-shirts, magnets and scarves bearing the Icelandic flag.

2. Visiting Hallgrimskirkja Church
Skólavörðustígur Street is another popular shopping street in Reykjavik which leads to Hallgrimskirkja Church. The church is a popular landmark is the tallest building in Iceland and can be seen from anywhere in the city. Visitors can go up the 73-metre tall church for a view of surrounding mountains, volcanoes and the coastline.
The entry fee to the towers is RM35 for adults and RM4 for children 7-16 years old. It's best to check the timing before visiting the Hallgrimskirkja Church. Unfortunately, we did not manage to go up the towers as it was closed for lunch.

[button style='blue' icon="entypo-suitcase" url='https://www.expedia.com.sg/Hallgrimskirkja-Hotels.0-l6062455-0.Travel-Guide-Filter-Hotels' fullwidth='true'] Find Hotels near Hallgrimskirkja [/button]
3. Getting local snacks at Kolaportið Large Indoor Flea Market
We try to visit any local markets whenever we travel and we loved the Kolaportio indoor flea market which faces the harbour front. The large market is split into two areas; the food section and the clothes section. We bought most of our Iceland sea salt chocolates here since it was cheaper than the shops on Laugavegur Street.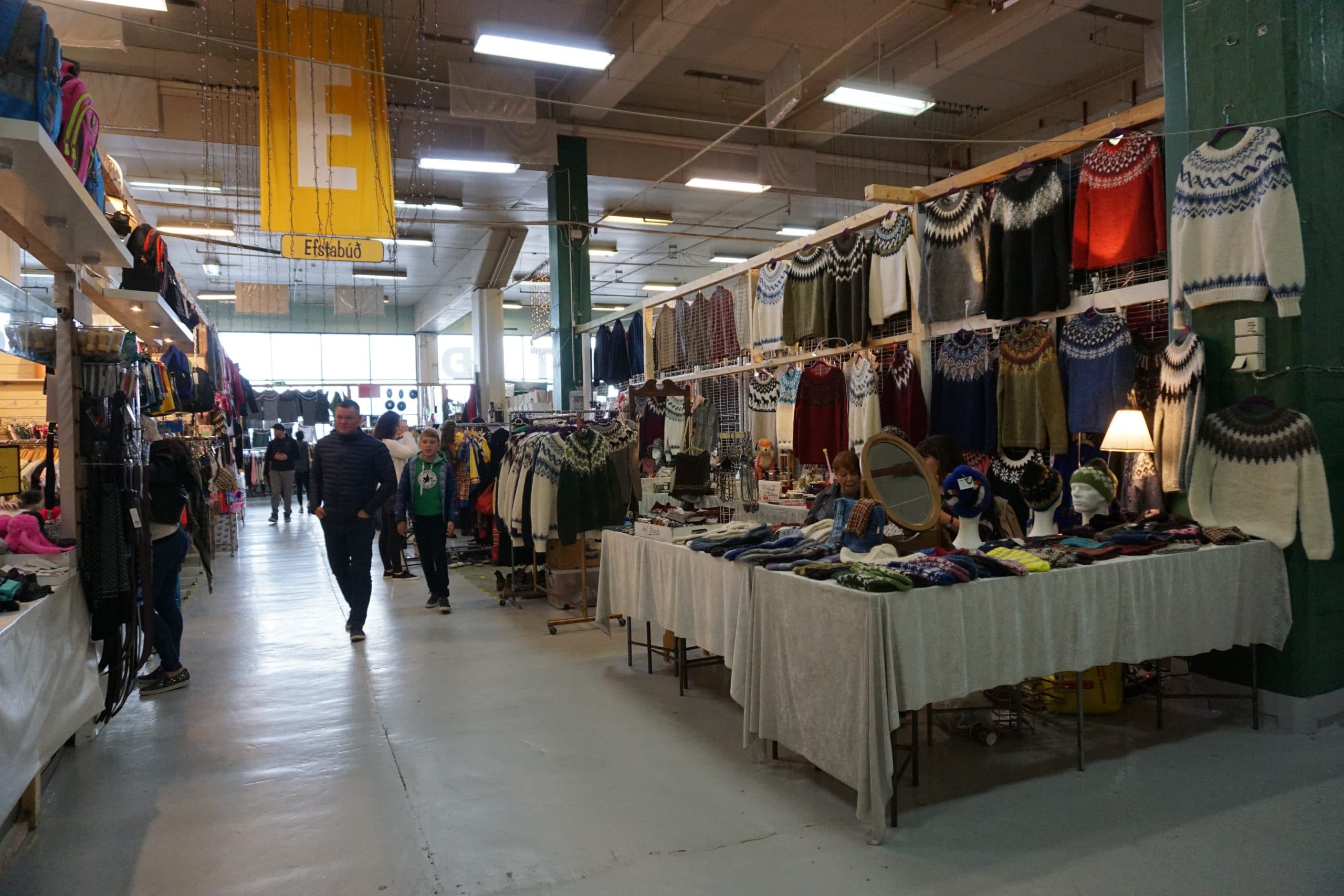 The indoor flea market in Rejkyayvik town.
4. Taking a drive around the Golden Circle Route
Our first road trip for the week in Iceland started with the popular Golden Circle Road that span 237 kilometres and a 3-hours journey from Reykjavik. It can take from 1-3 days to cover all the places on this route. We decided to enjoy the scenery and choose attractions for our Iceland itinerary that we wanted to see the most together. When you have a big family like mine, there are bound to be random stops for epic sceneries, toilet breaks and snack time.
Our first stop was the Þingvellir, or Thingvellir National Park which is a site of geological wonder and listed as one of the UNESCO World Heritage Sites for its cultural values. We continued our drive to visit three more places which include the Gullfoss Waterfall, Haukadalur Geyser and the Kerio Volcanic Crater. The views were amazing and even though the weather fluctuated greatly, we still thoroughly enjoy this road trip around the route of the Golden Circle in Iceland.
[button style='blue' icon="entypo-suitcase" url='https://www.expedia.com.sg/Thingvellir-National-Park-Hotels.0-l6062477-0.Travel-Guide-Filter-Hotels' fullwidth='true'] Find Hotels near Thingvellir National Park [/button]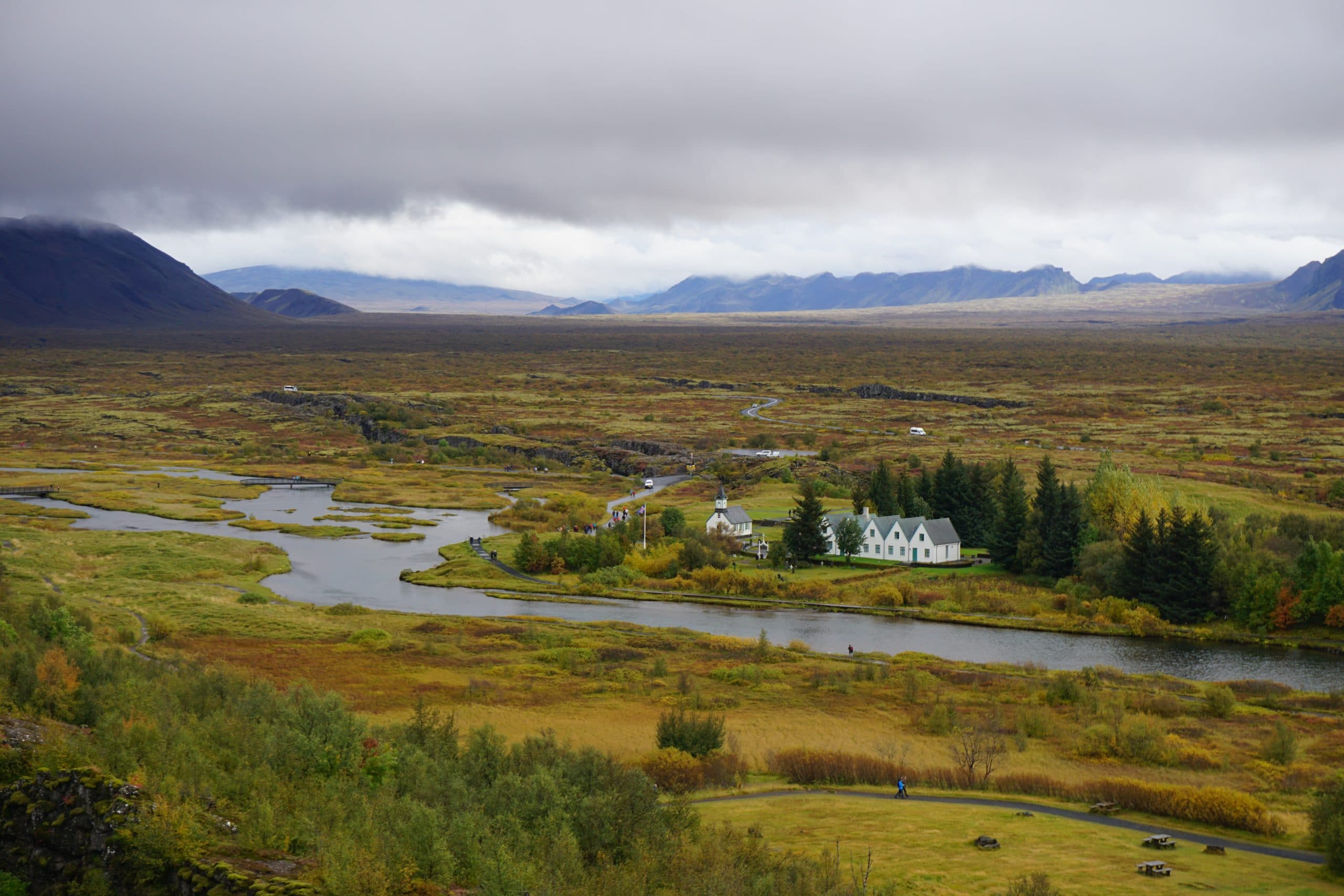 The view from Pingvellir National Park.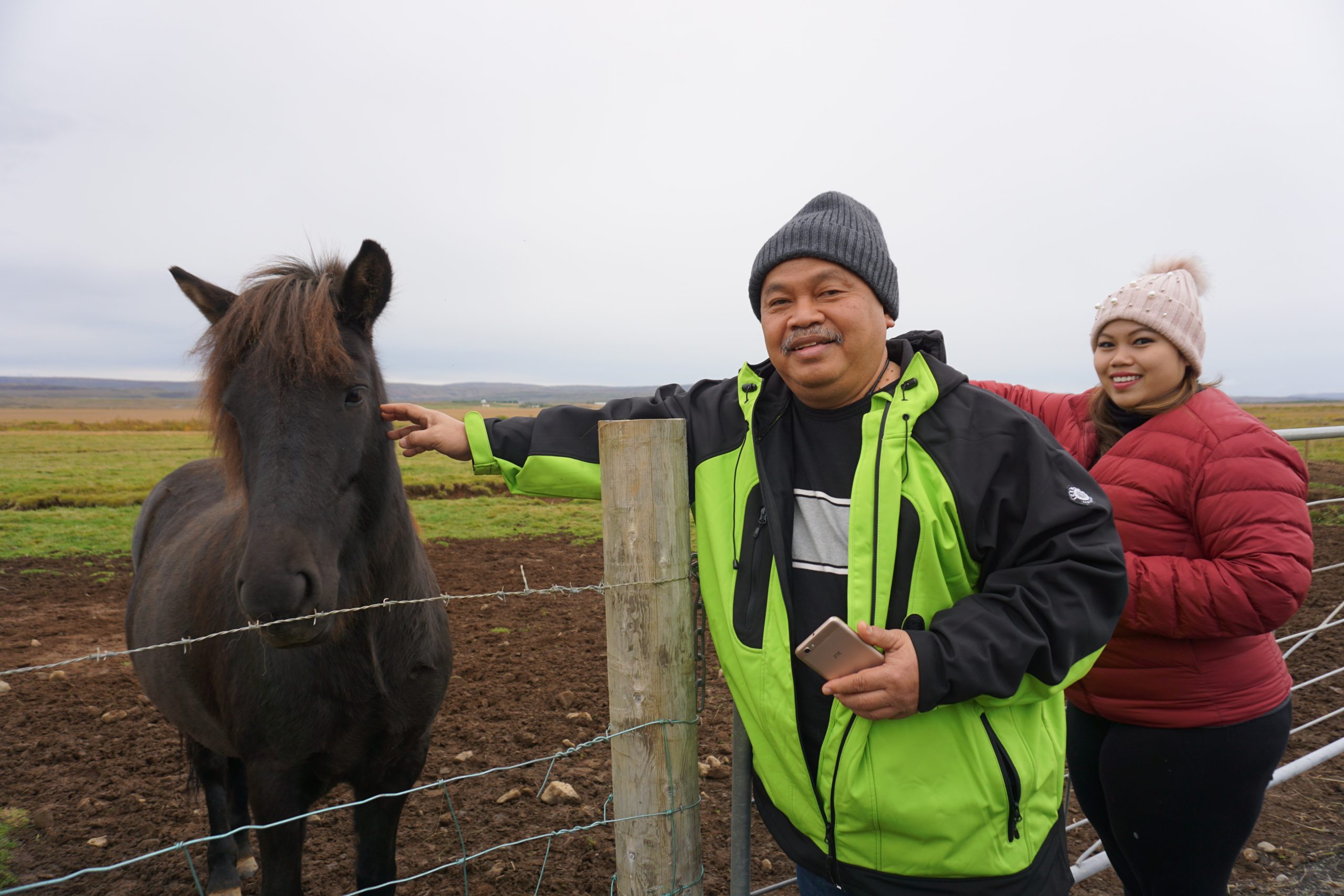 Meeting Icelandic horses along the Golden Circle Route.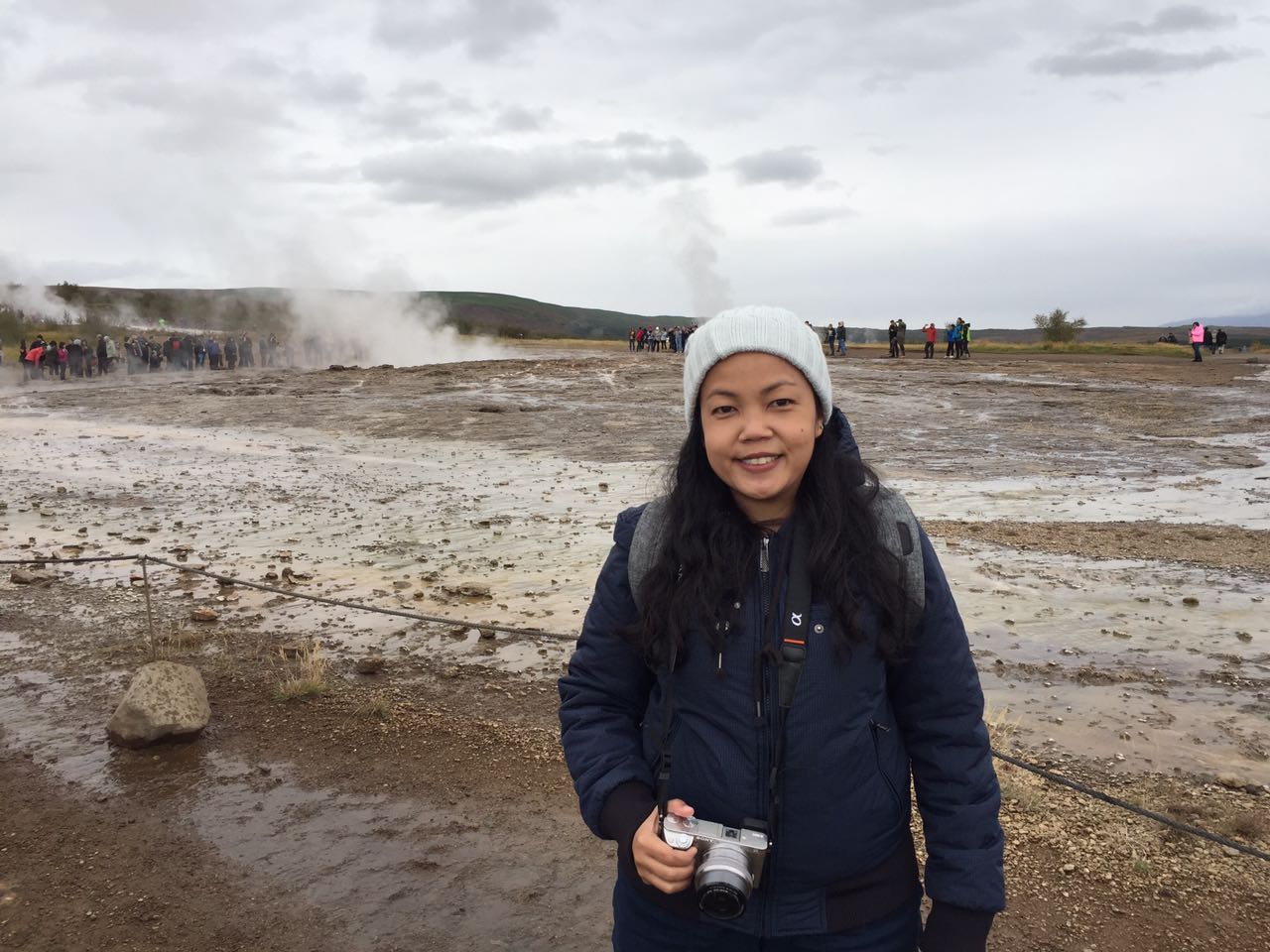 Waiting for the hot steam to sprout out from the Haukadalur Geyser.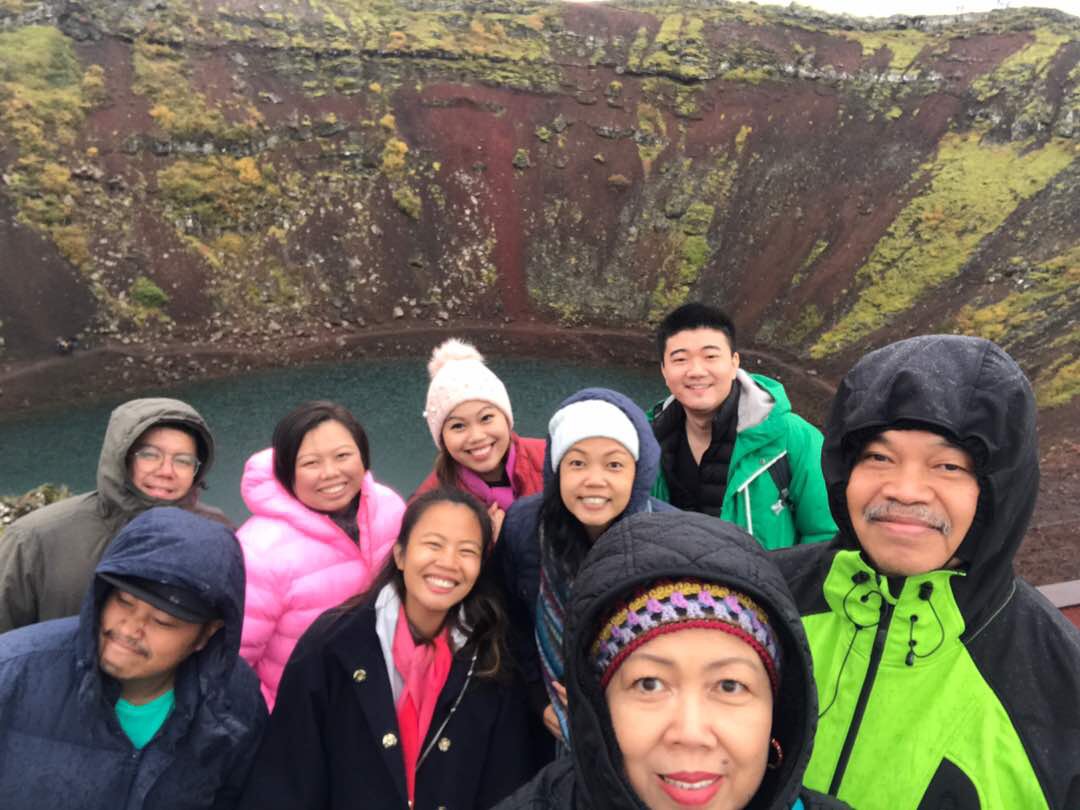 Huddling together for a group selfie at Kerio Volcanic Crater.
5. Watching the sunset at Reynisfjara Beach.
The famous Black Sand Beach is located in a town called Vik, which is a 2.5-hour drive from Reykjavik. The sand on this shore is black because it was formed from heavily eroded volcanic rock.
We walked on the soft sand and continued to the Instagrammable basalt columned wall. Make sure you add this location to your Iceland itinerary if you want some incredible photos. The dimensional nature of the columns makes for a perfect backdrop for a family photo. If it starts raining or the weather gets too cold, there is a cave along the wall which provides ample shelter while waiting for the sky to clear and the winds to stop. We stayed until the sun disappeared past the horizon before continuing our journey.
[button style='blue' icon="entypo-suitcase" url='https://www.expedia.com.sg/Vik-I-Myrdal-Hotels.d6130429.Travel-Guide-Hotels' fullwidth='true'] Find Hotels in Vik [/button]
Sunset at Black Sand Beach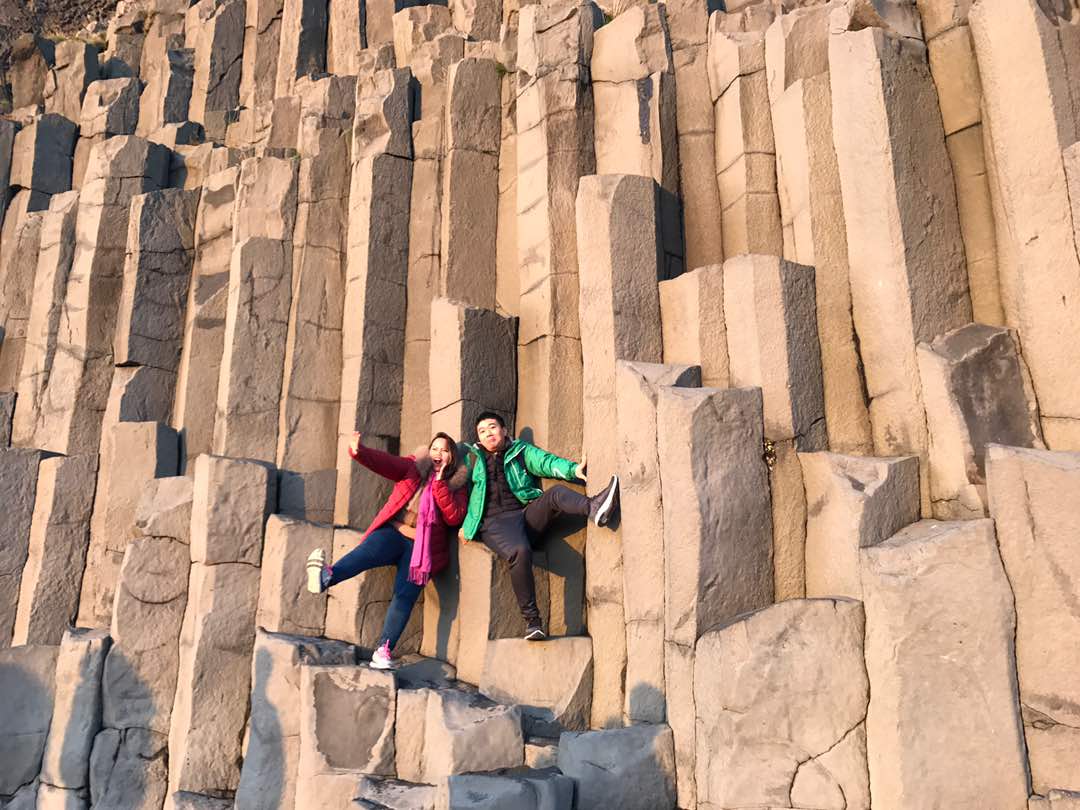 The basalt columns at Black Sand Beach
6. Up close with Jökulsárlón glacier in Hofn.
We took the Jokulsarlon Glacier Lagoon boat tour to see the large icebergs up close. While waiting for our boat, we took shelter at the tourist shop selling souvenirs, tickets and warm food. When it arrived, we got onto the boat with life jackets, chose our seats, and our guide explained the origin of the icebergs and how they are melting quicker as the years go by. They would drift on the waters before floating back to the black sand of the Diamond Beach.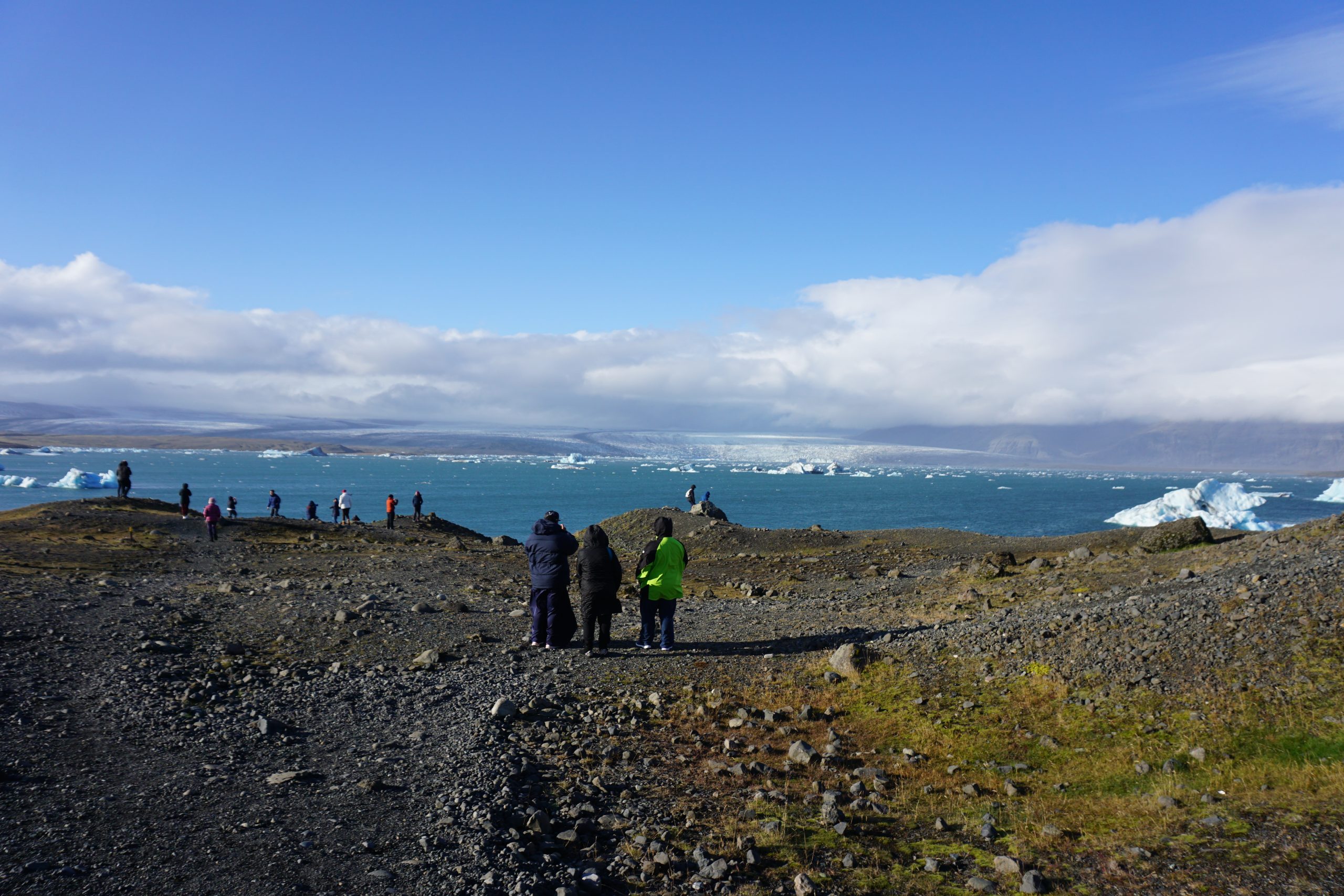 Viewing glaciers from a hill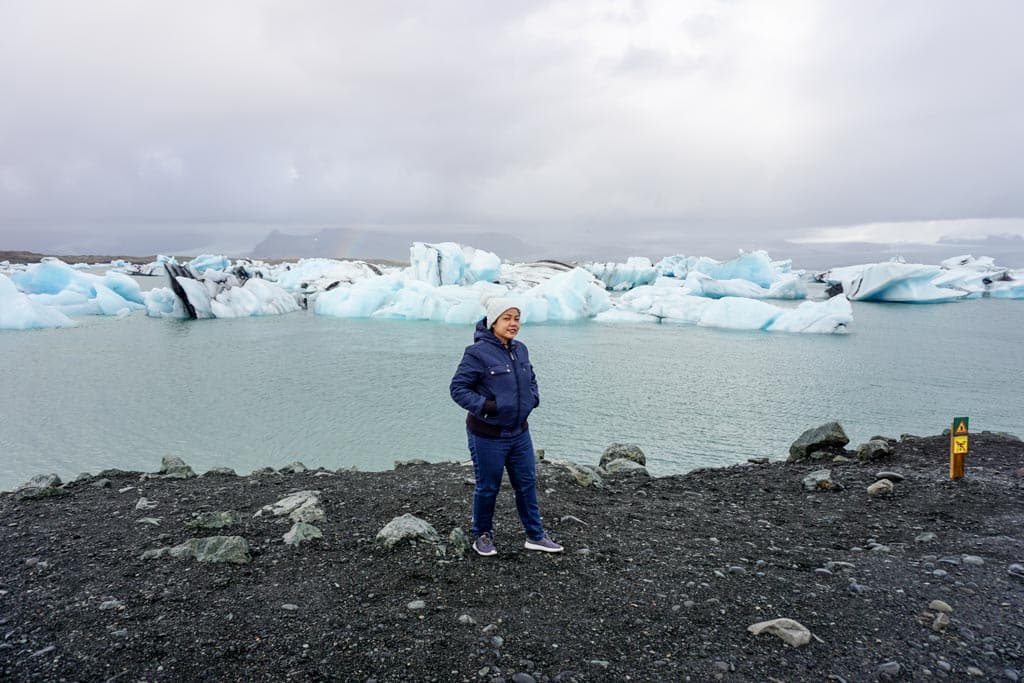 Icy blue glaciers at Jokulsarlon
 View of the glaciers from the boat tour
7. Counting sparks at Diamond Beach.
Another beach that we could never forget was the Diamond Beach in Hofn. The sparkling ice chunks on the sand beach is washed up on shore from the Jökulsárlón glacier lagoon. Some are transparent or hard white in colour. It looks stunning as it sits on the soft black sand of the beach. The waves don't tend to sneak up the beach as they do in Reynisfjara, but it's still important to stay alert.
[button style='blue' icon="entypo-suitcase" url='https://www.expedia.com.sg/Hofn-Hotels.d7236.Travel-Guide-Hotels' fullwidth='true'] Find Hotels in Hofn [/button]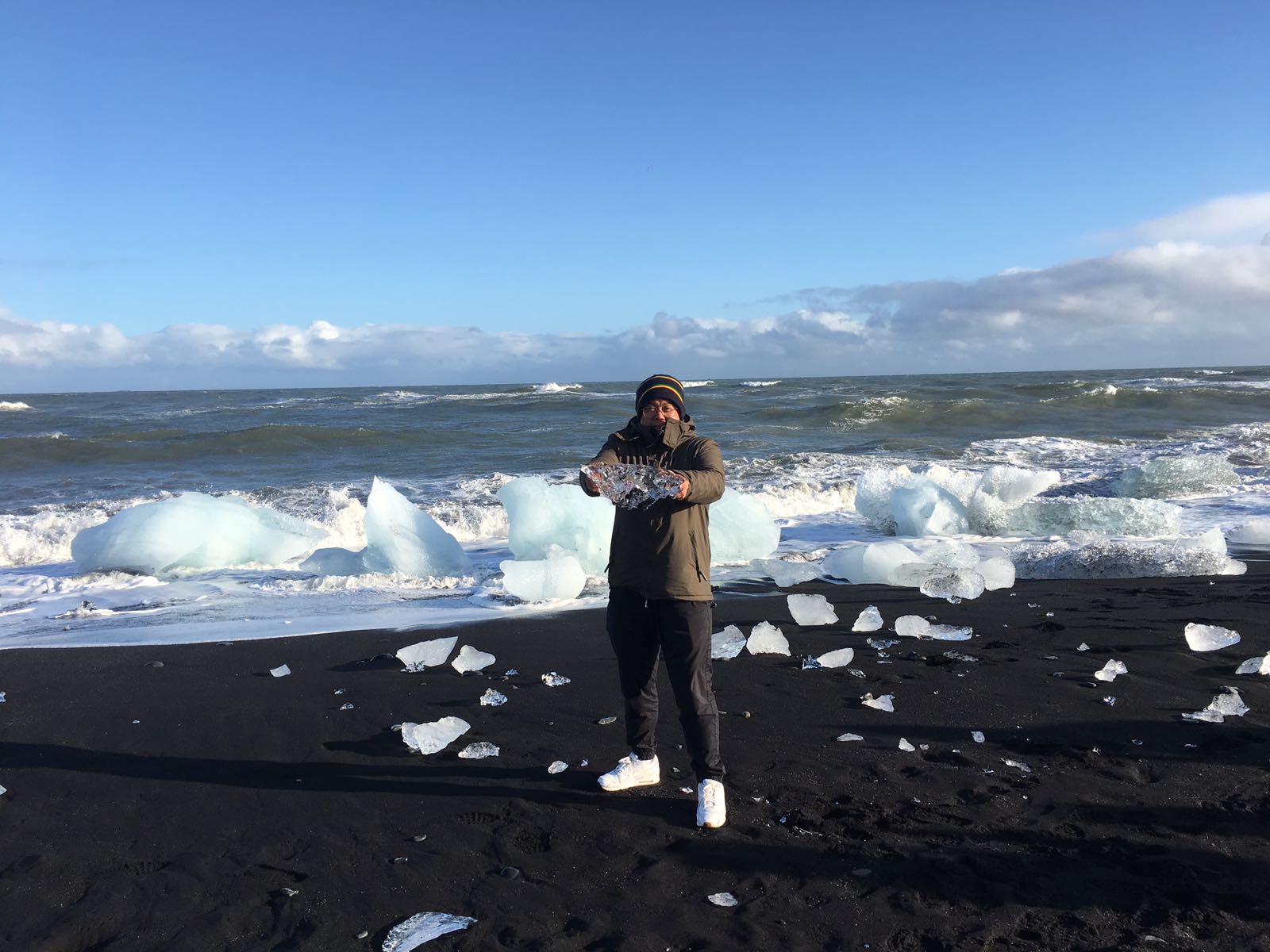 Ice anyone?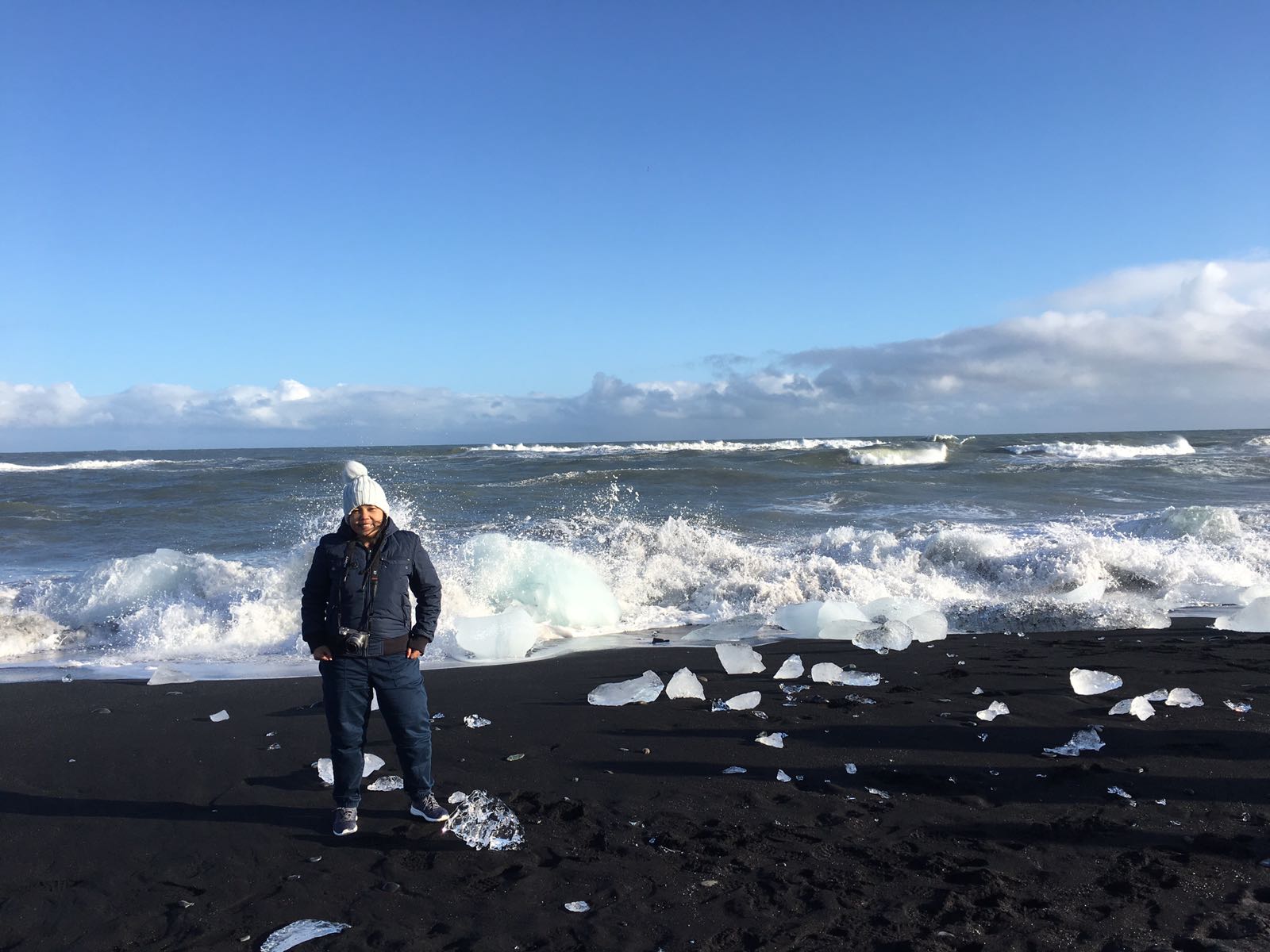 Splashed at Diamond Beach
8. Crossing the sea to Westman Islands
The Vestmannaeyjar archipelago or the Westman Islands is one of Iceland's finest natural wonders. We drove our cars onto the evening ferry and disembarked at the Westman Islands pier. There are quite a few hotels near the Vestmannaeyjar pier and we chose to stay in this area for the night as it's walking distance to local shops. Staying in an apartment meant having breakfast at home and packing some for lunch since we couldn't locate any halal restaurants within the area.
[button style='blue' icon="entypo-suitcase" url='https://www.expedia.com.my/Vestmannaeyjar-Hotels.d3698.Travel-Guide-Hotels' fullwidth='true'] Find Hotels near Vestmannaeyjar pier [/button]
Visiting Westman Islands meant driving up rolling hills, taking a quick walk up the Eldfell Hike to see the volcanic crater. We also had a chance to admire the view of the coastline from one of the highest peaks of a hill.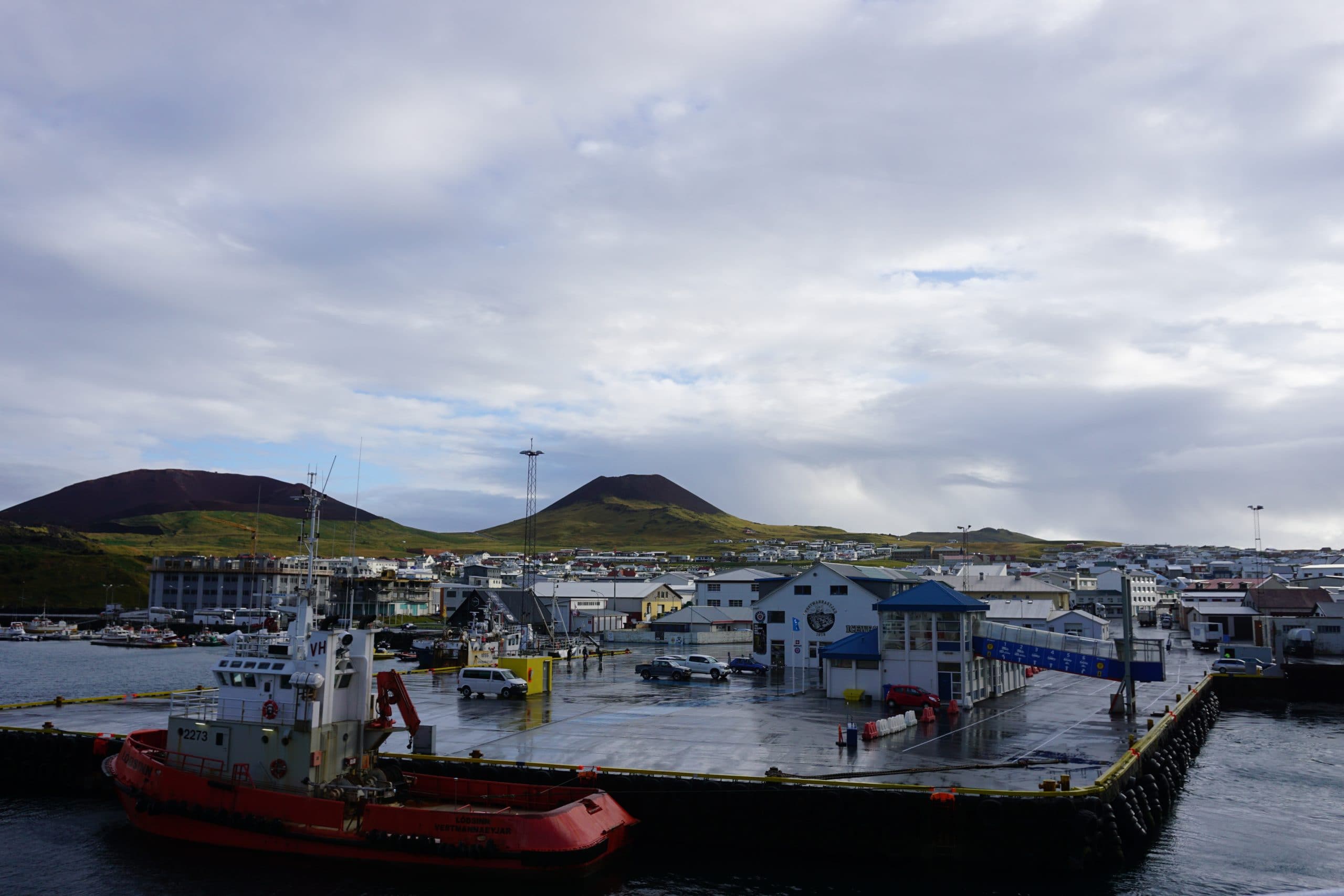 View of the Westman Pier from the ferry ride.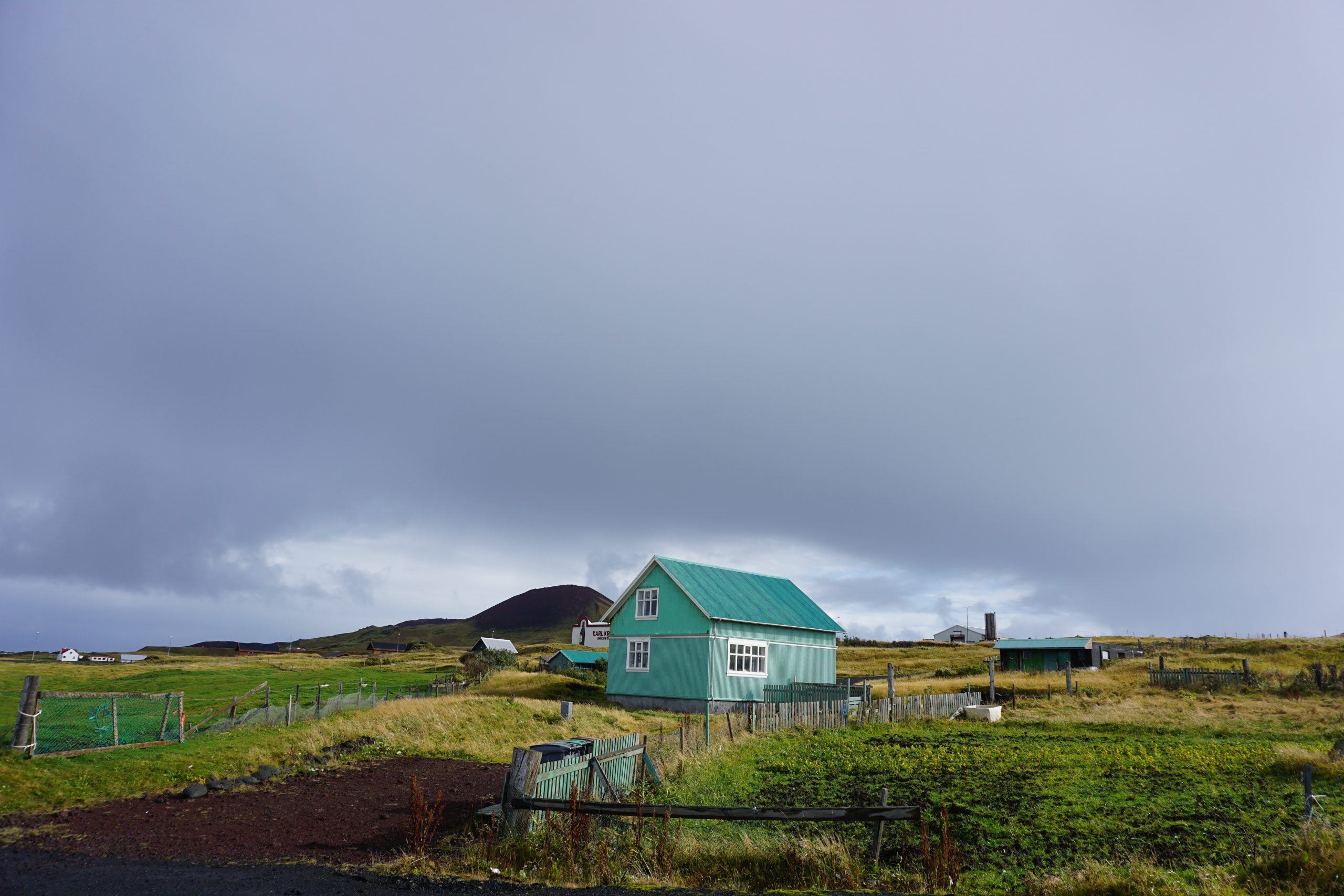 Bright coloured sheds can be seen around the Westman Islands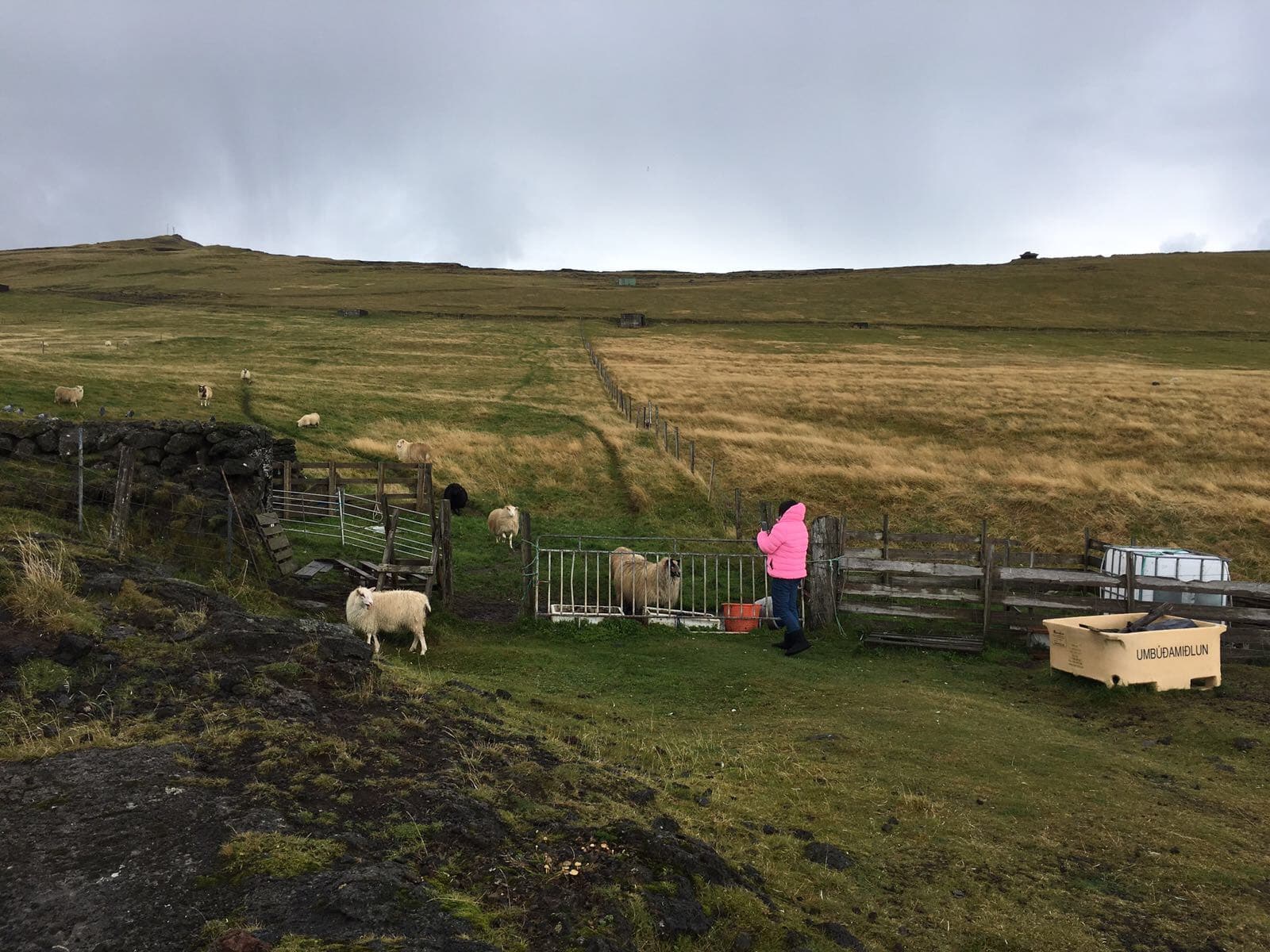 Sheep roam freely on Westman Islands
9. Taking a peek behind Seljalandsfoss Waterfall
After Westman Islands, we took the ferry back to Hofn and made a quick stop at Seljalandsfoss waterfall.
This graceful waterfall drops about 60 meters into the icy pool below. What's unique about the Seljalandsfoss waterfall is that we could walk on a hidden path behind it, so that we could see this natural wonder from a complete 360 degrees angle. We wore raincoats that helped us stay dry from the splashing waters.
[button style='blue' icon="entypo-suitcase" url='https://www.expedia.com.sg/Seljalandsfoss-Hotels.0-l6102092-0.Travel-Guide-Filter-Hotels' fullwidth='true'] Find Hotels near Seljalandsfoss [/button]
 The stunning Seljalandsfoss waterfall.
10. Taking a dip in the Blue Lagoon
Before returning to Reykjavik, we made time on our Iceland itinerary to visit the Blue Lagoon in Grindavik, a geothermal seawater pool complex and outdoor spa.
It was just after sunset when we drove out of Reykjavik but we could still catch a glimpse of rugged lava rocks in the area. While my sister and her husband experienced the warm lagoon, we walked around the area where could see and the blue thermal pool. We took photos instead as visitors are only allowed to swim inside the pool area.
[button style='blue' icon="entypo-suitcase" url='https://www.expedia.com.sg/Blue-Lagoon-Hotels.0-l6062457-0.Travel-Guide-Filter-Hotels' fullwidth='true'] Find Hotels near Blue Lagoon [/button]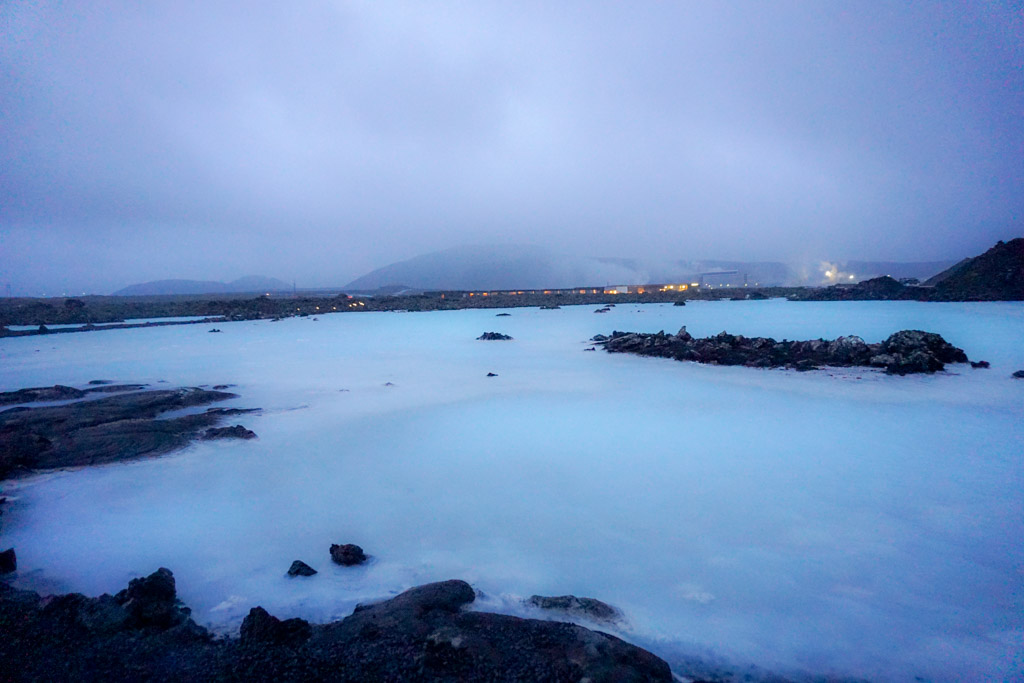 The warm geothermal waters of the Blue Lagoon.
Halal Food in Iceland for Muslim travellers

During our stay, we chose to stay in apartments to fit our large group. We made sure that it comes with a kitchen so that we can prepare the food and eat indoors before going out for the day. There were not many halal restaurants except the few below in Reykjavik:
Mandi Reykjavik
Shalimar Pakistani Cuisine
Ali Baba Restaurant
We bought groceries (mostly seafood and vegetables) from Bonus hypermarket, which can be found in the cities, and cooked dinner at home often. It saved us a lot of money since dining in Iceland is quite expensive.
Iceland has so many stunning landscapes, it made me wish we had planned an even longer trip. The best time to visit this country would be during spring and autumn when the weather isn't too cold or hot. Don't forget to plan the road trip ahead of time so that you'll be able to maximize your visit to this amazing Land of Fire and Ice.
[tabs]
[tab title="Where to Stay" icon="entypo-suitcase"]
Where to Stay during your Trip
[button style='blue' icon="entypo-suitcase" url='https://www.expedia.com.sg/Destinations-In-Iceland.d79.Hotel-Destinations' fullwidth='true'] Find Hotels in Iceland [/button]
[/tab]
[tab title="Let's Go!" icon="entypo-flight"]
[button icon="entypo-flight" url='https://www.expedia.com.sg/Destinations-In-Iceland.d79.Flight-Destinations' fullwidth='true'] Flights to Iceland [/button]
[/tab]
[/tabs]