By April Chung, on April 9, 2019
Snapshots of My Trip to Khao Sok, Thailand
In January of 2019, I self-invited myself to my parent's bi-annual hiking trip to Thailand. I managed to sneak past their surveillances undetected by labelling myself a "personal photographer" in my father's Google Sheets and a week later, he'd booked tickets for three. Success!
Khao Sok National Park is the most visited national park in Southern Thailand for a reason – there are things you can do that you wouldn't be able to in other parts of the world. Though the hiking trails are much more rugged, with fewer safety measures in place, anyone who maintains their fitness is more than capable of doing it. However, that's not to say that it's not a challenge. It is the challenge, after all, that makes it so fun.

Day 1: Arrival at Khao Sok National Park
Khao Sok National Park is bigger than the whole of Singapore and comprises a lake, rainforests and villages. We took a 4-hour bus ride from Phuket to Khao Sok.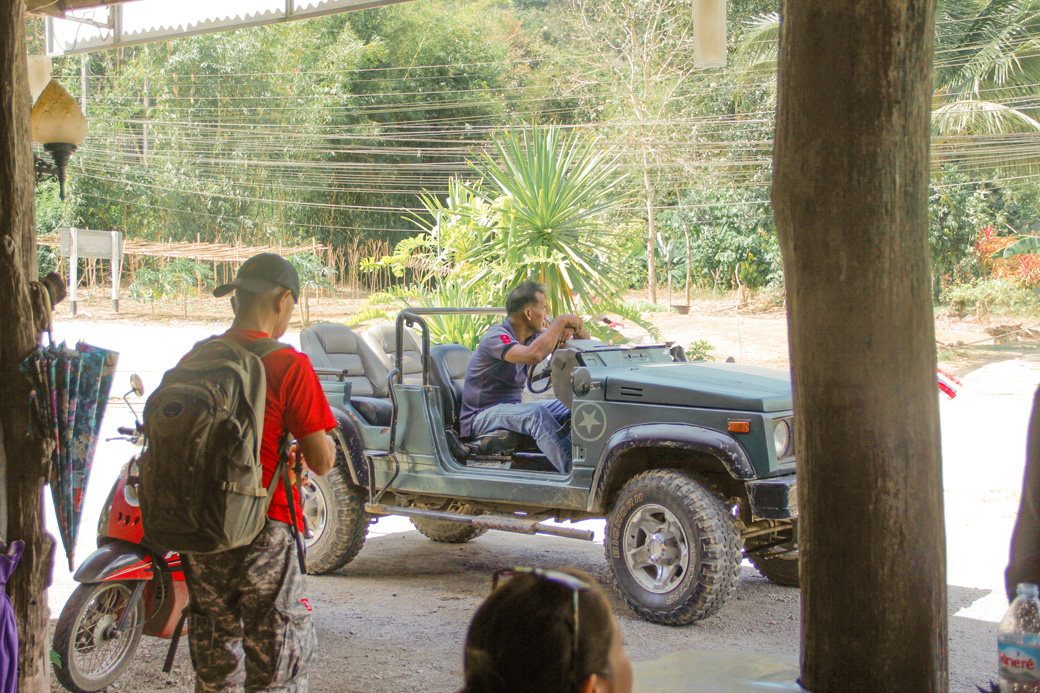 Dad (in red) approaching a buggy purposefully.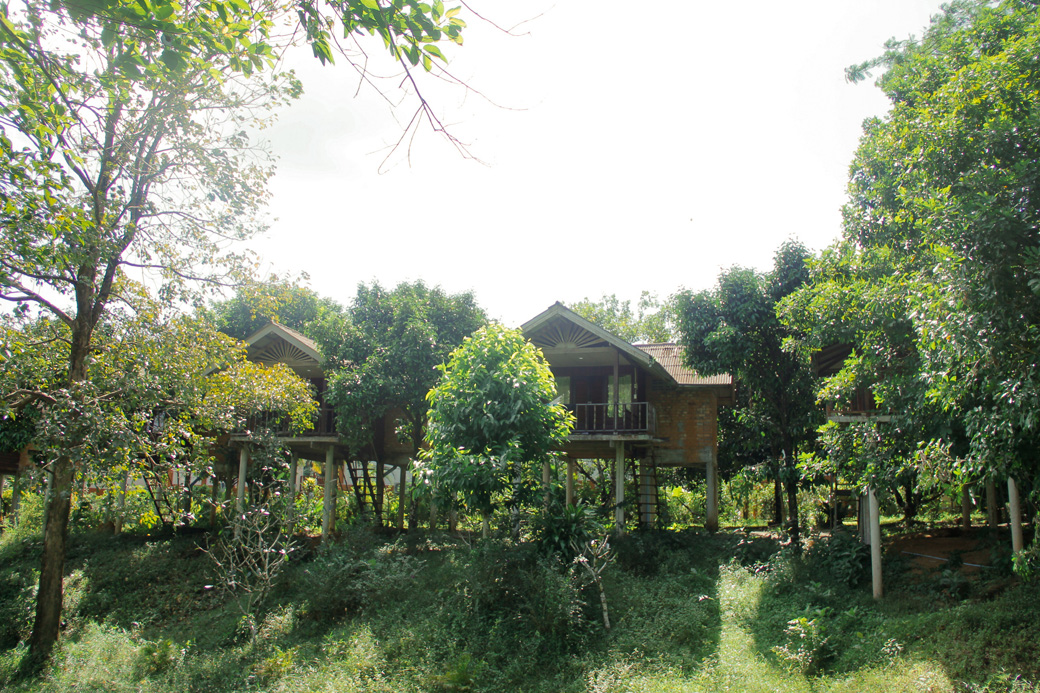 Our stay for the night. There was allegedly no WiFi, but our hut was nearest to the reception, so we got some signal anyway.
We settled in for lunch at Rafflesia Cafe. Coconut juice served in a flowery coconut husk, garlic pork with rice, and pineapple fried rice. Portions are just right and the service provided by the staff was impeccable.



A Midday Trek Through Khao Sok National Park
Fulfilling my promise of being my parents' personal photographer. Rule #1: Maintain a good 10m behind them and snap away. Also, keep complaints to a minimum.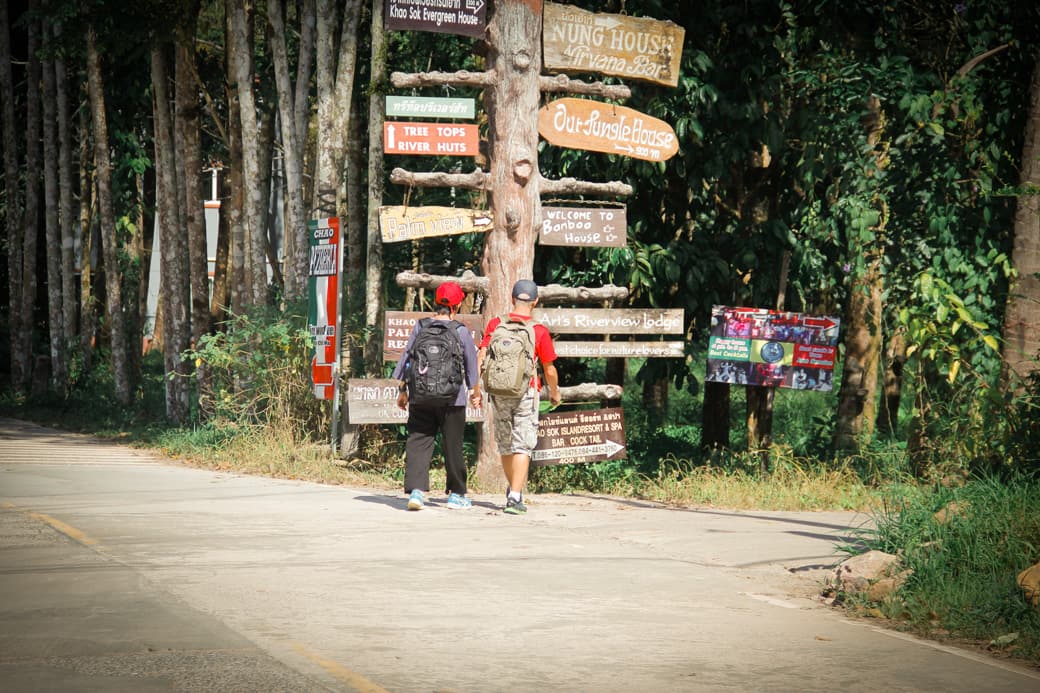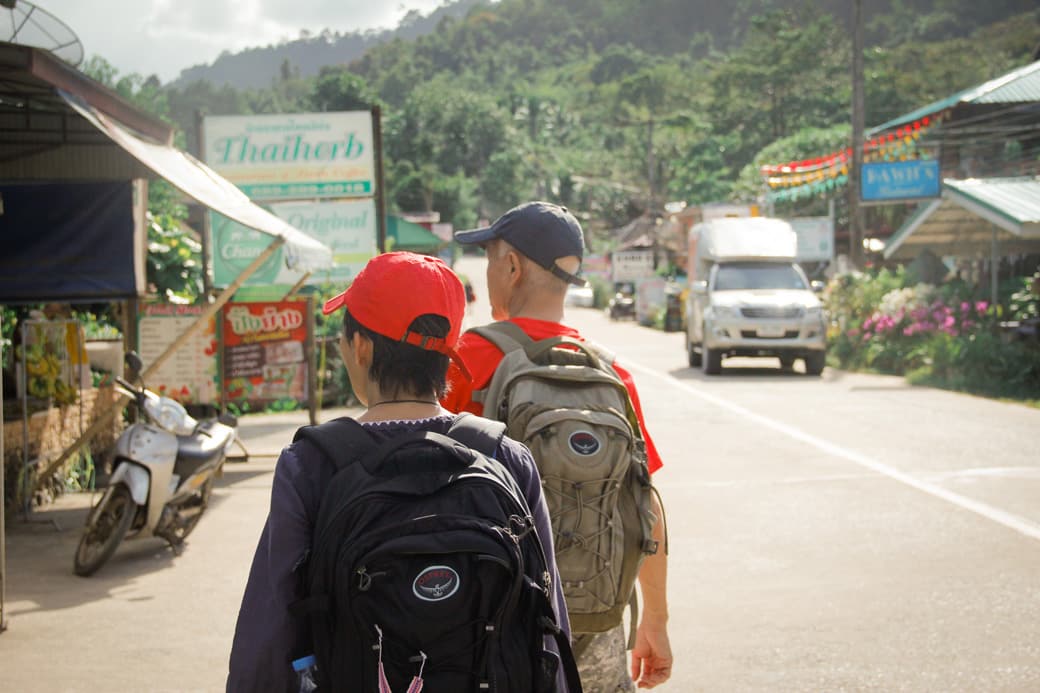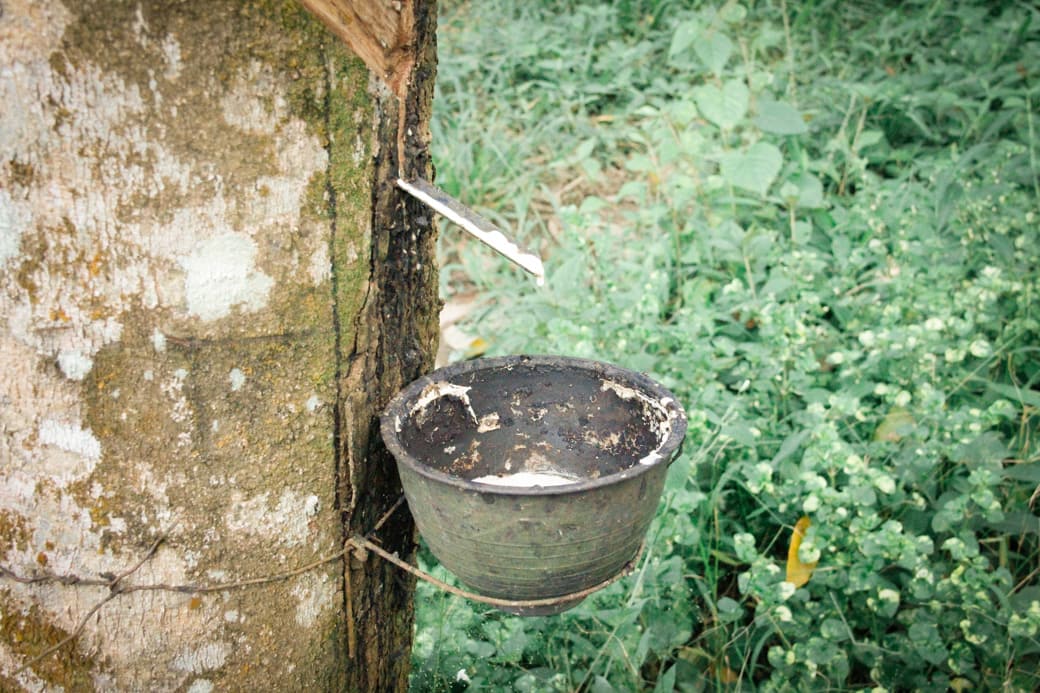 Rubber tapping by the roadside.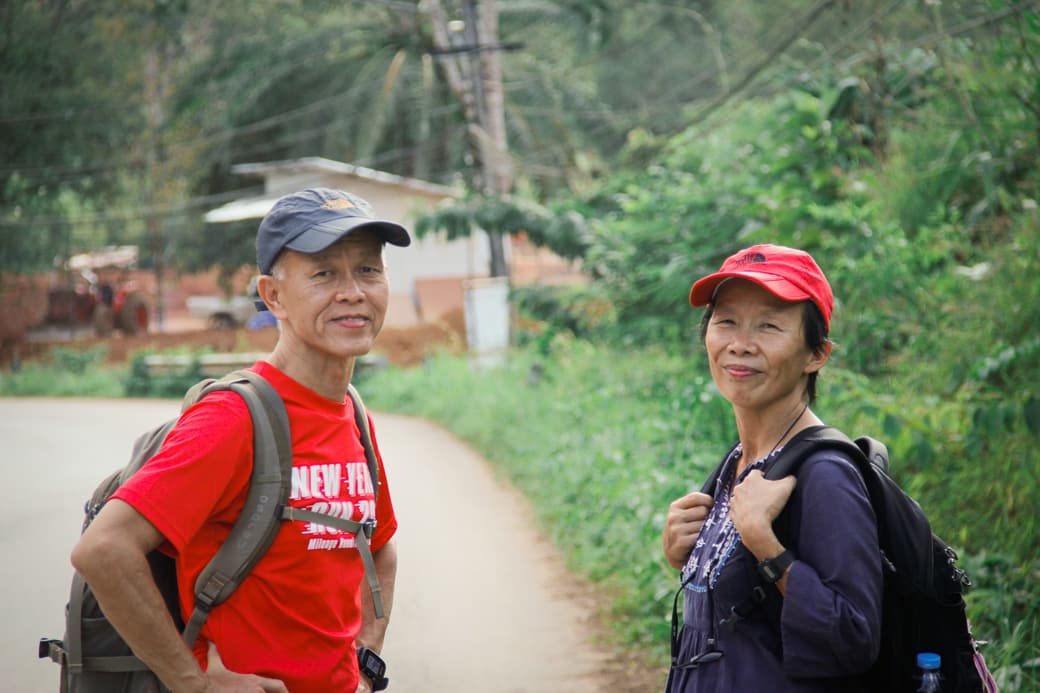 We're on our way to a viewpoint – at this point, Dad has insisted that it's "not far" for the past 30 minutes.
We've finally reached the viewpoint!


Dinner along Khao Sok National Park, Phanom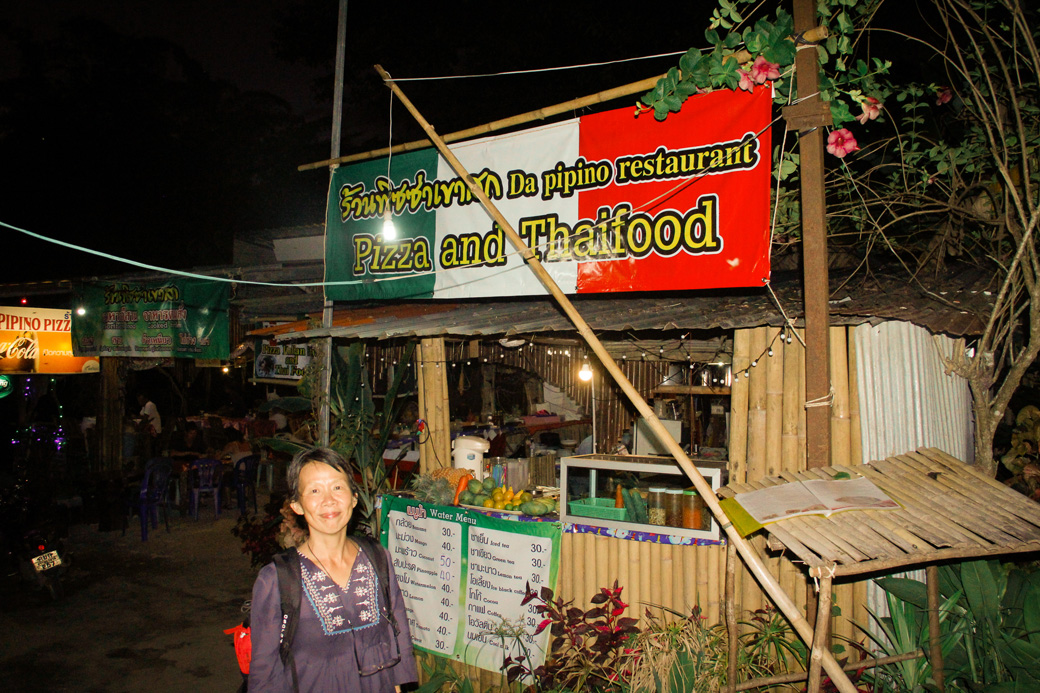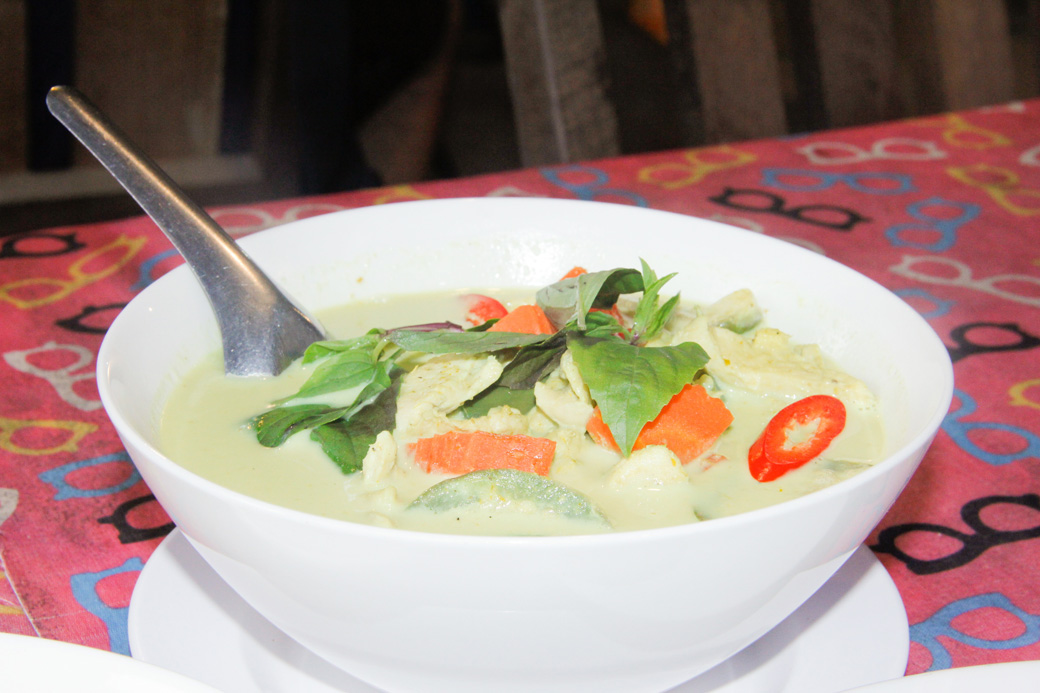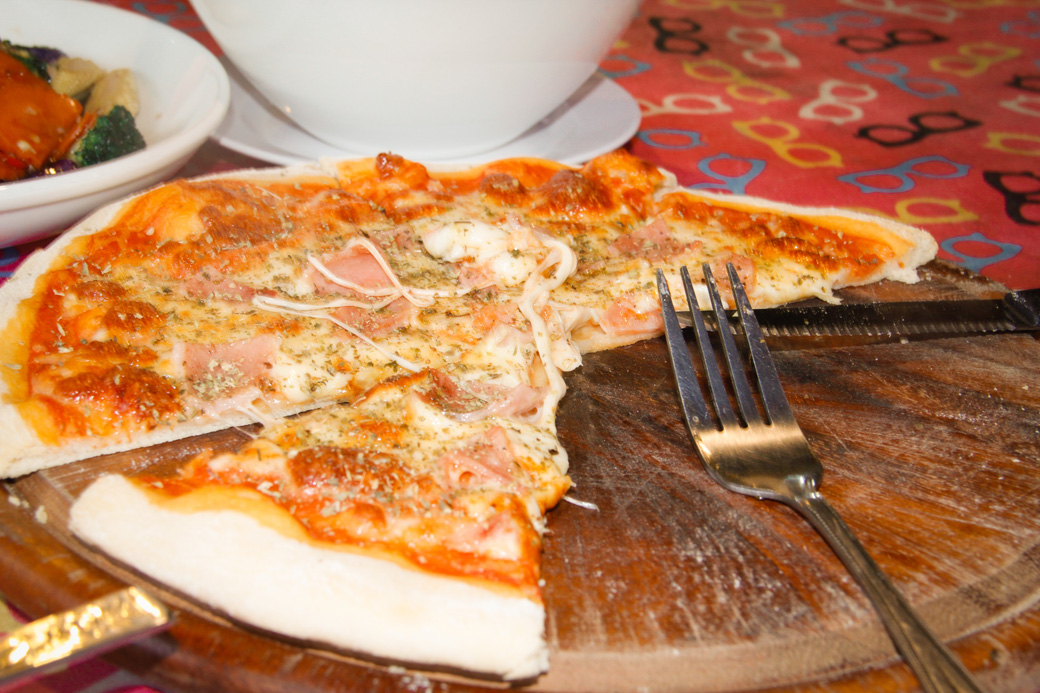 Thai green curry and Italian pizza for dinner – yum.

Day 2: The Hike Up to Ton Kloi Waterfall
Preparing for the day ahead
The next morning, Rafflesia Cafe shows us the pupa of a cicada. I'd thought it was fake at first, but who knew that mother nature had her own supply of vanity mirrors?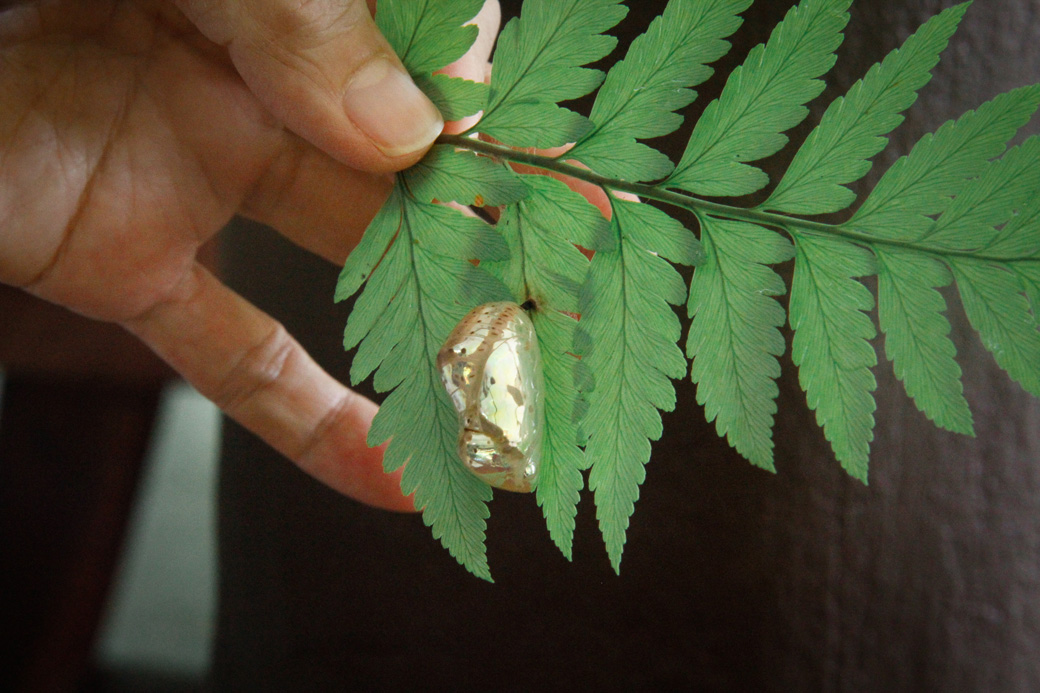 Viewer discretion advised: Two frogs mating in a pot-pond outside the cafe.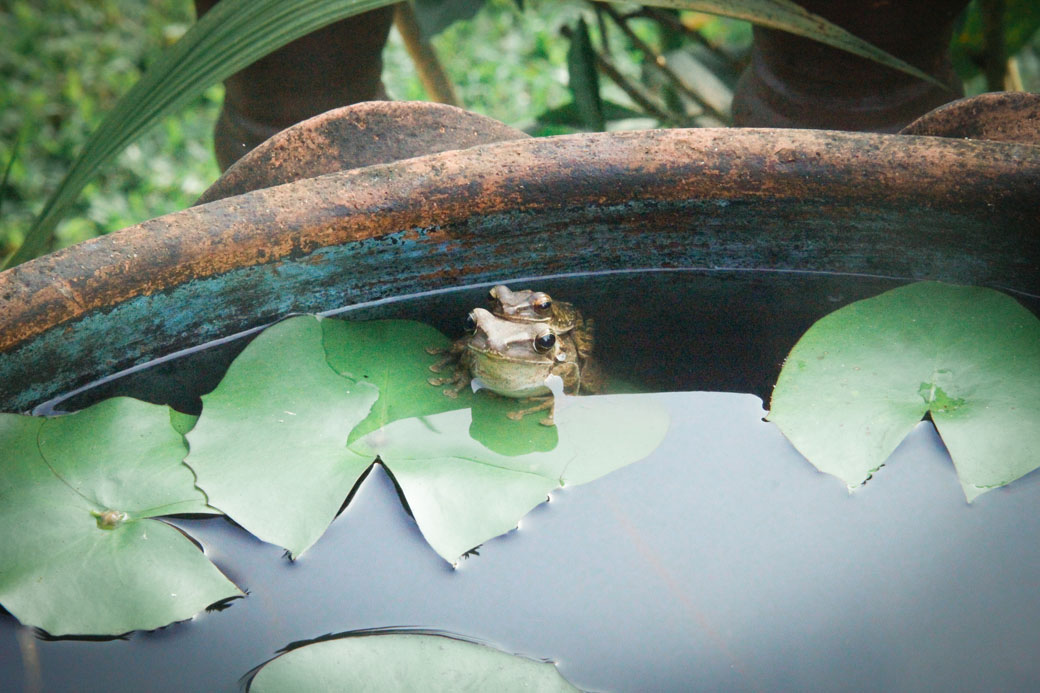 Carb-heavy meals for the hike ahead.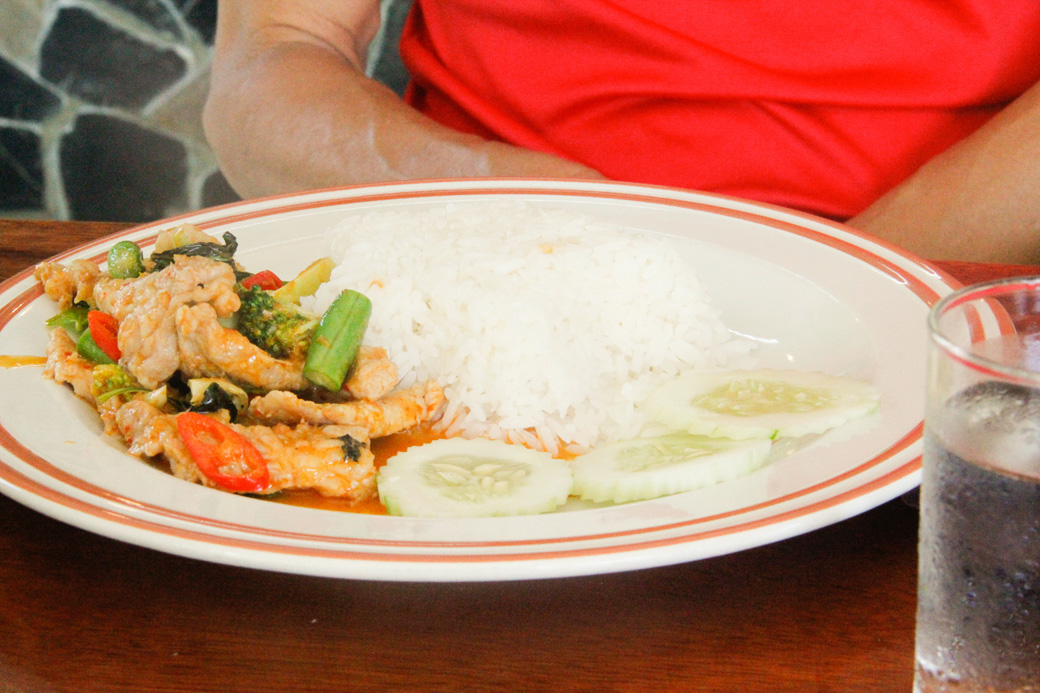 Basil pork with rice – done better than any Thai restaurant in Singapore at just 90baht.
Fried pepper rice – the wok hey fragrance was almost addictive.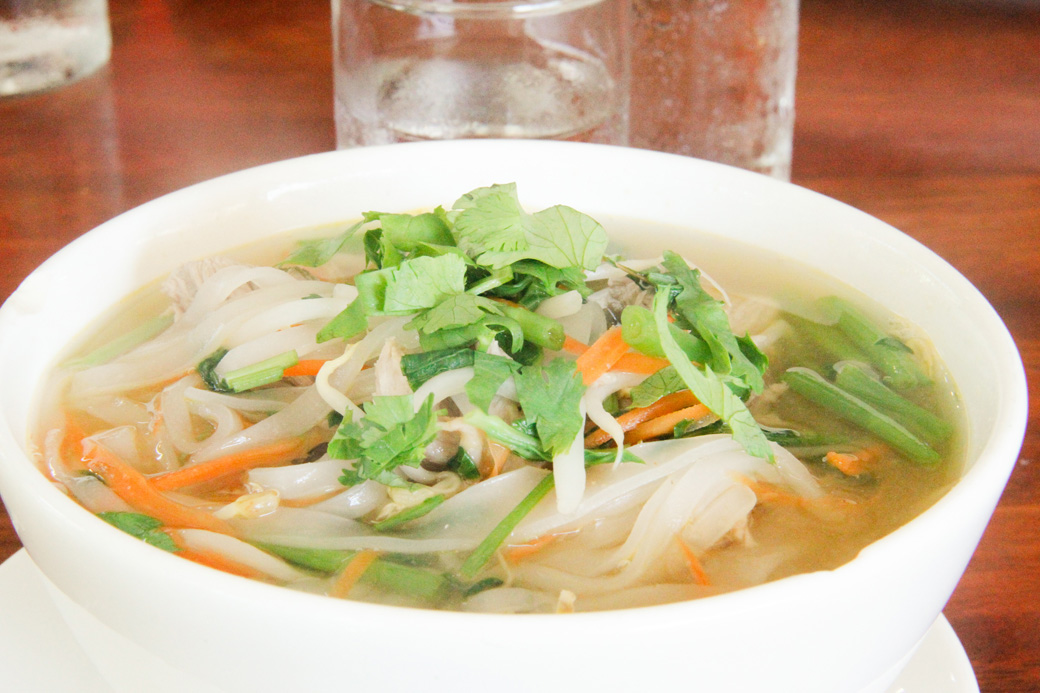 Noodle Soup
The hiking trails in Khao Sok National Park:
There are a few trails around Khao Sok National Park:
We took the main hiking route (14km roundtrip) to Ton Kloi Waterfall on the second day and the Sip Et Chan Waterfall route (8km roundtrip) on the third. The main hiking route has an easy, paved pathway for the first 3km or so, then the rest gets arduous. If you don't have hiking experience, the rangers advise that you hire a guide for the Khao Sok National Park tours.
For the Sip Et Chan Waterfall route, they recommend a guide for the entire route. There are also a lot of leeches on this route (especially during the rainy season), so please purchase leech socks. Personally, those aren't optional but a must. Even then, you'll probably still be harrowed by the leeches crawling up your pants and squeezing their way into your shoes.
Our Hike
And we're in the jungle! Lots of bamboo trees here.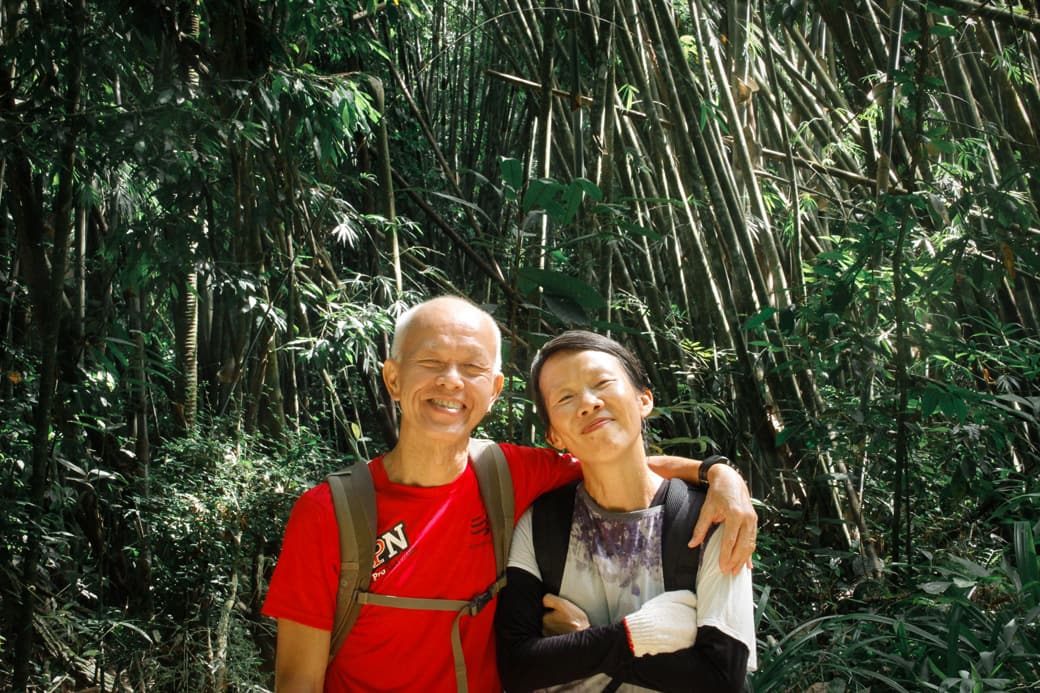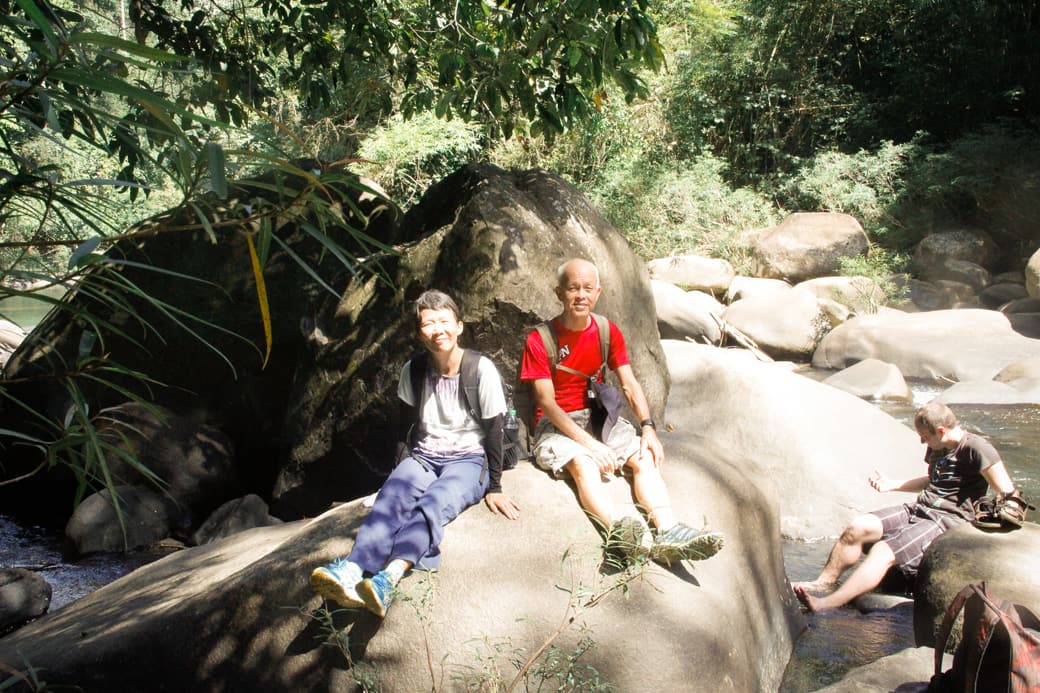 We sat on the rocks by the river to have our lunch – packed fried rice from our breakfast place.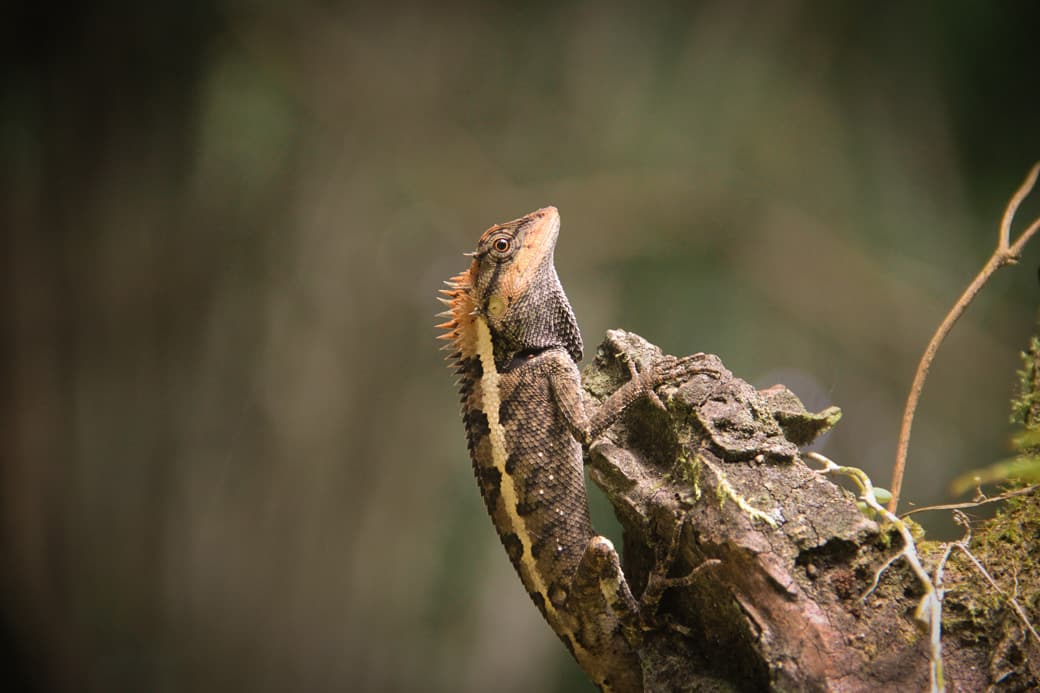 The Khao Sok animals came out to say hello. A lizard who was kind enough to pose for me.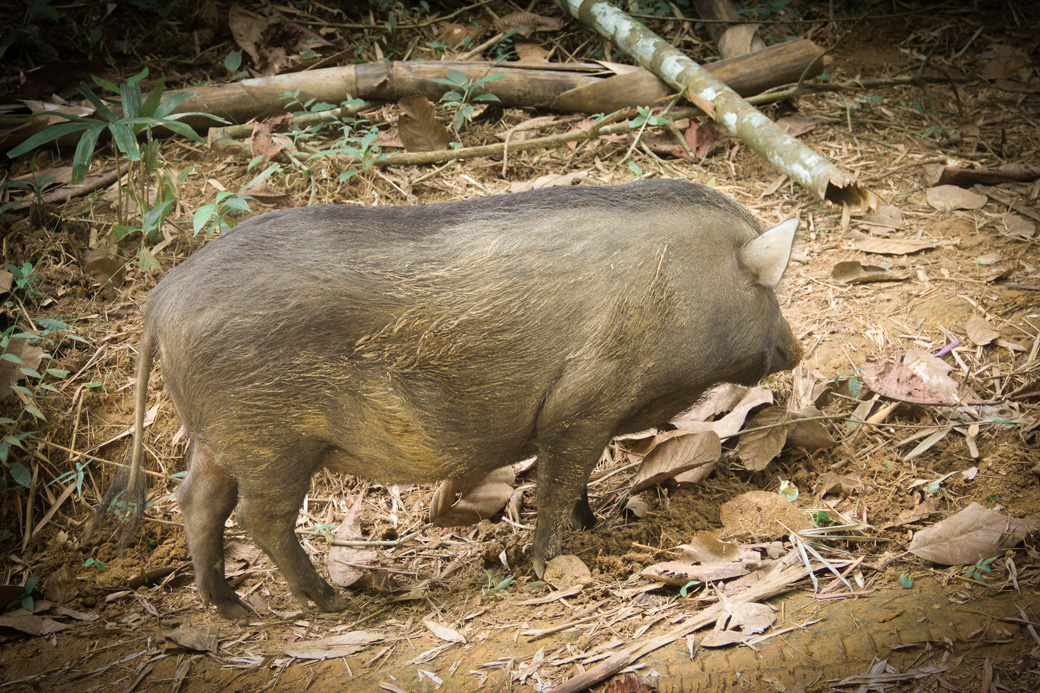 A bashful wild pig who slowly picked up its pace when I approached.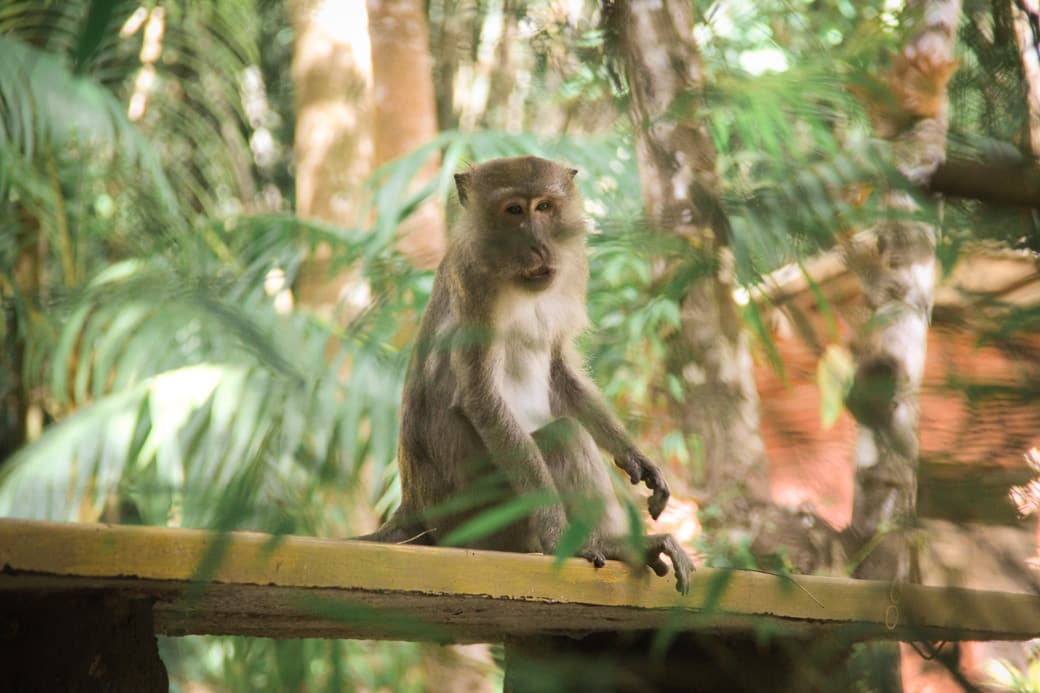 A monkey who peered over curiously when he heard the shutter sounds.
The hike past the zone where a guide was recommended was slightly more challenging – you had to watch out where you stepped because you could seriously twist your ankle or slip and fall off the edge.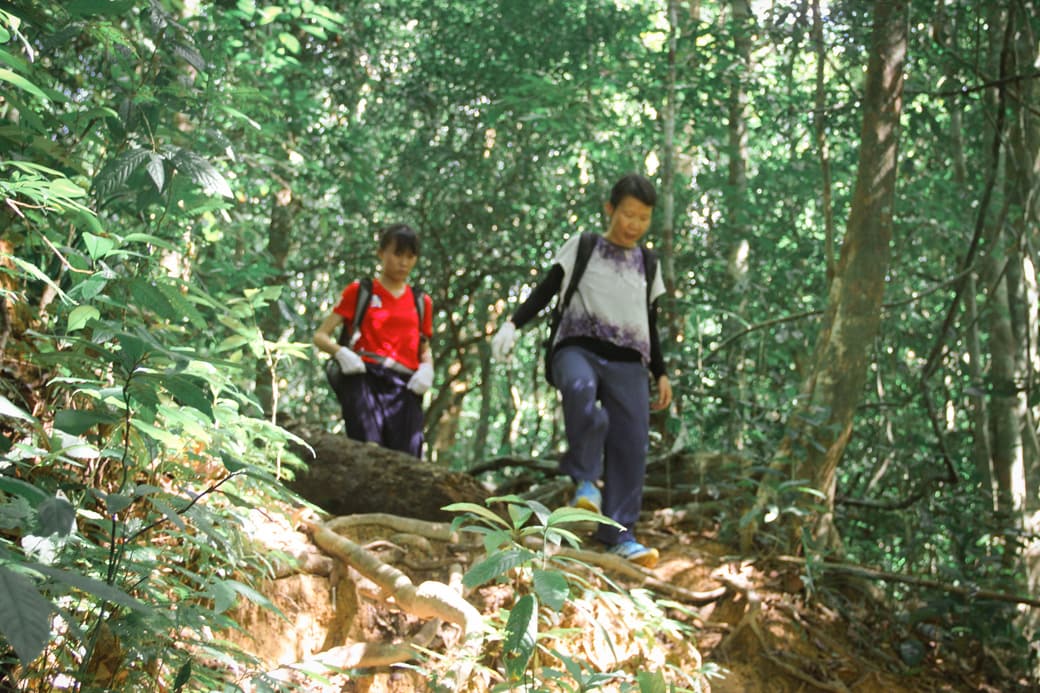 Rope-like roots served as support as we ambled down the messy path.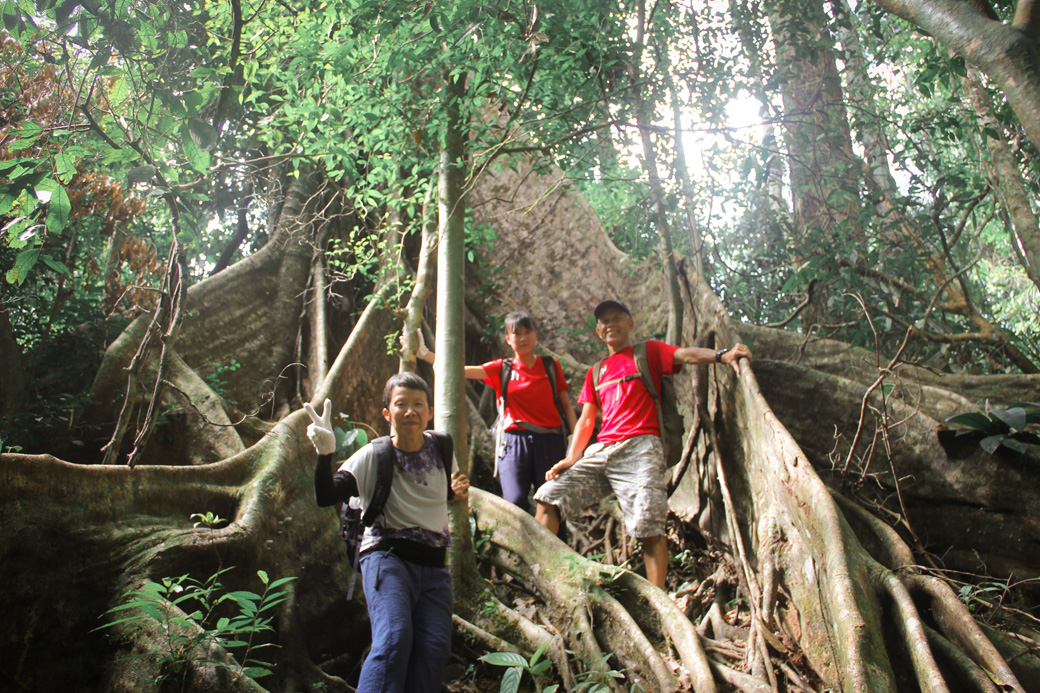 This tree is over 900 years old; it's massive and serves as a great landmark of your hiking trail.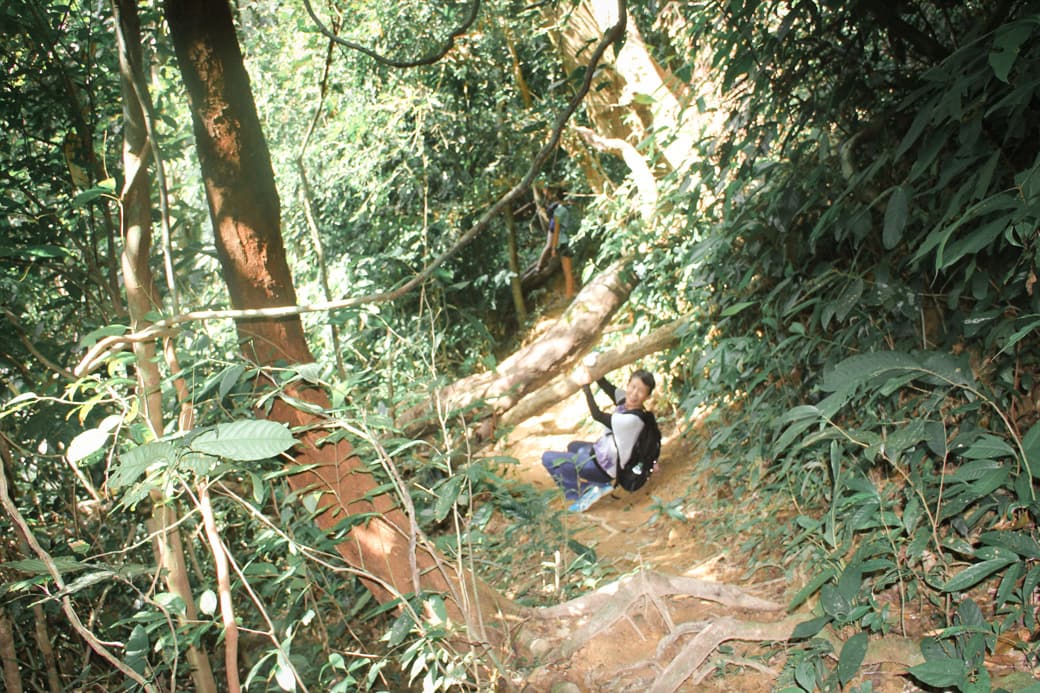 Massive trunks block the pathway, so you have to squeeze under them, or hug them as tight as you can while you flail your feet to the other side. Mum, get away from there for goodness' sake!
Please enter the forest as early as possible, because it takes quite a while to get to the big waterfall. We didn't make it to the end since the sun was setting, but the viewpoints scattered along the route did not disappoint.
Dinner Treat at Rafflesia Cafe – now our regular food stop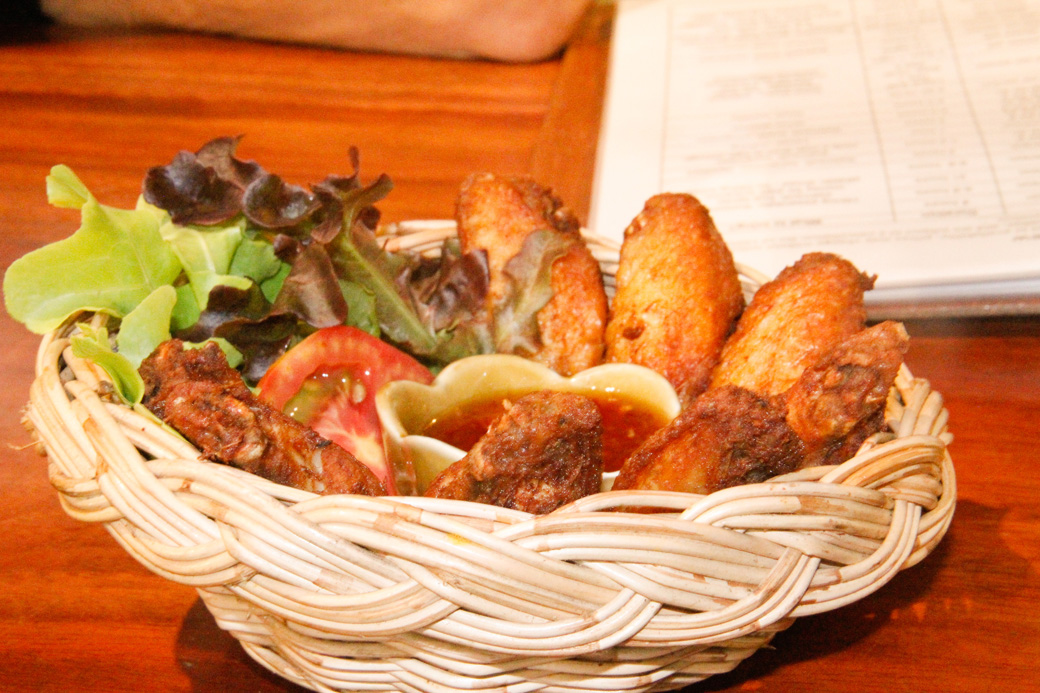 It's been a long day, I reckon this basket of chicken wings was well deserved.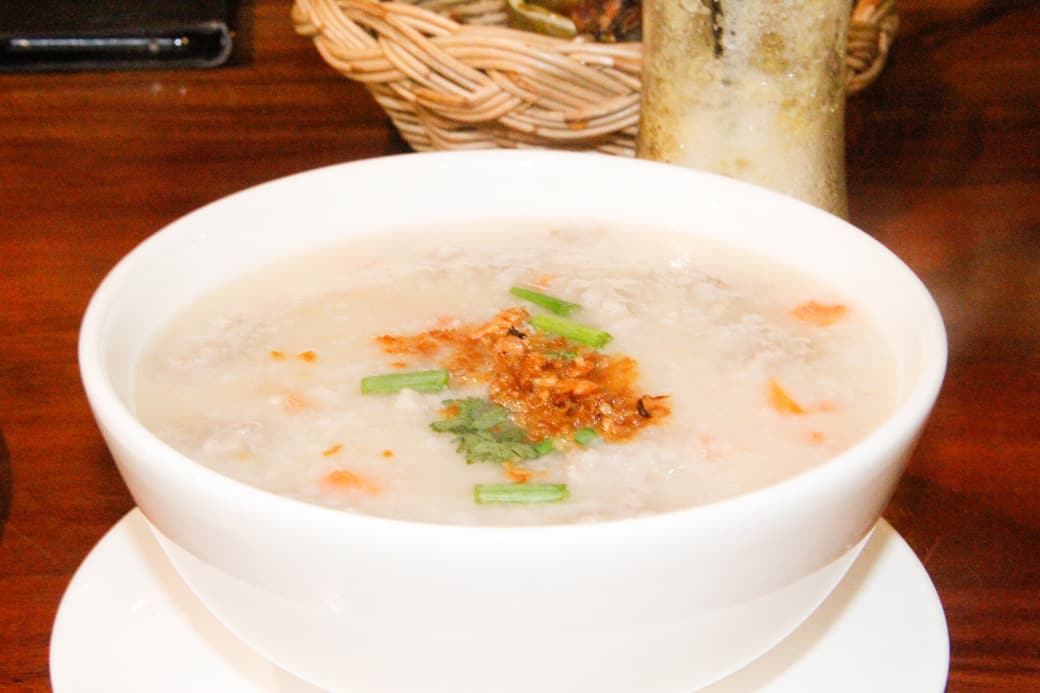 A warm bowl of rice porridge with pork balls.
Beef Pad Siew, made from rice noodles that are so soft they have the bite of mochi.
Remember those horny toads? Looks like they successfully laid a fresh batch of eggs today.

Day 3: The Hike to Sip Et Chan Waterfall
Tip/Spoiler Alert: Do NOT attempt without a guide!
Breakfast. Blissfully enjoyed while we still had no idea what's to come.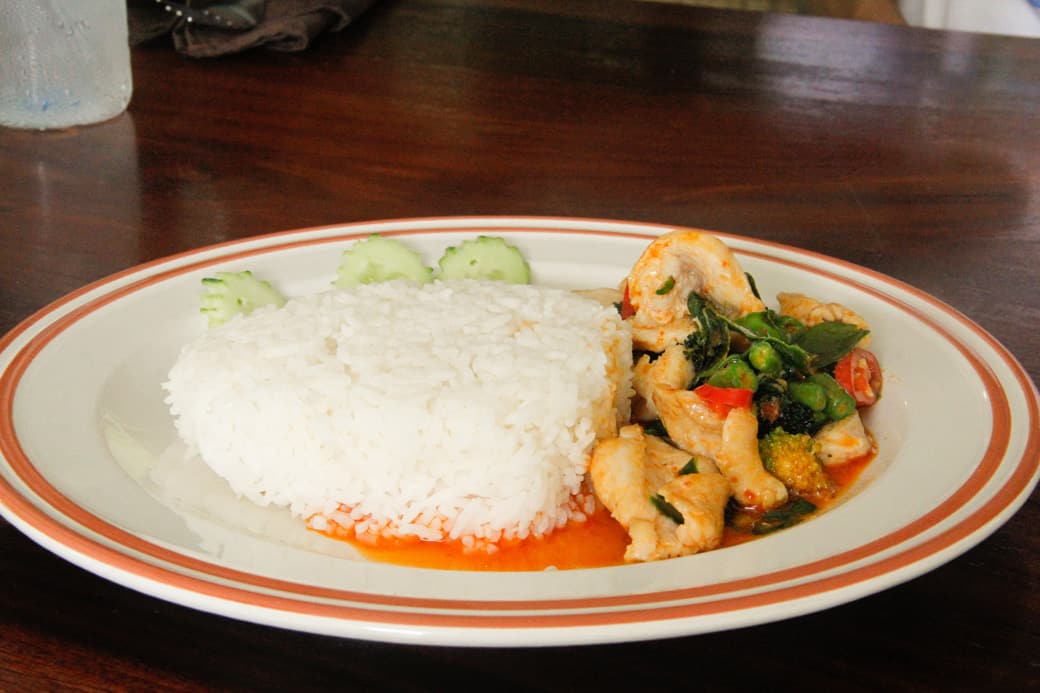 Ah – so this is how the Thai do their chicken rice.
This dish of mixed vegetables and chicken with rice reminded me dearly of home.
The Expedition Begins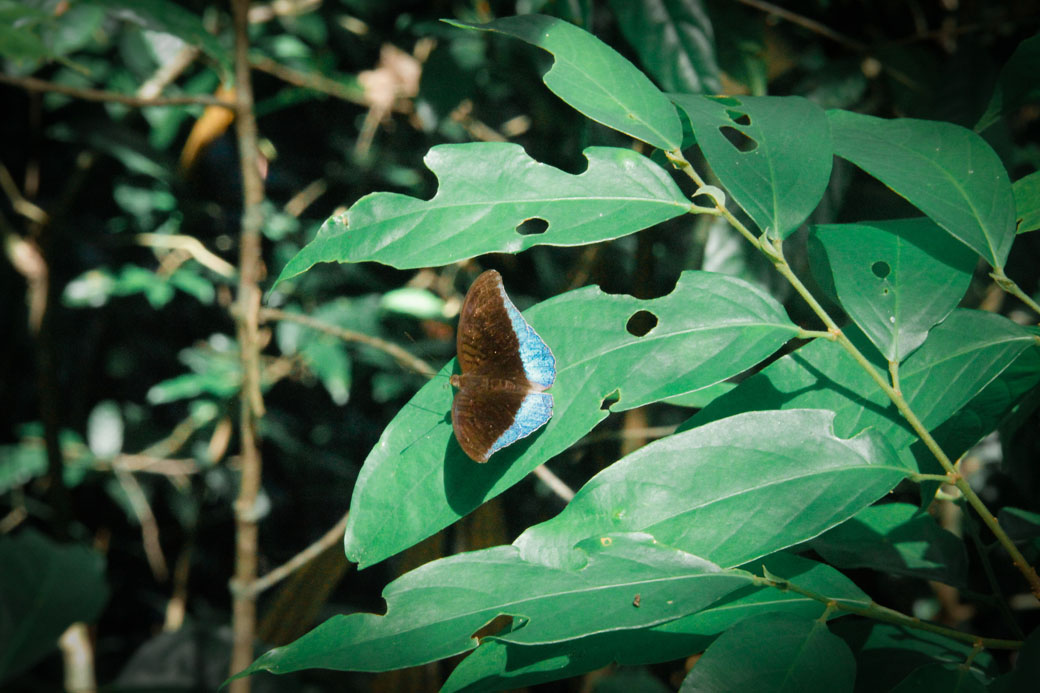 Finally, a butterfly that would sit still for more than half a second. (We still have no idea what's to come.)
Arriving at Sip Et Chan Waterfall
There aren't any photos of our journey there because there simply was no way to capture them. The route was steep and really rugged. I kept my camera in my bag the whole time in fear that I would drop it down the edge.
There were parts of the journey where you would have to hold a very unstable tree root and just hope that it wouldn't come loose while you made your way up. We got lost in the forest many times – especially when we crossed the river – even with a GPS.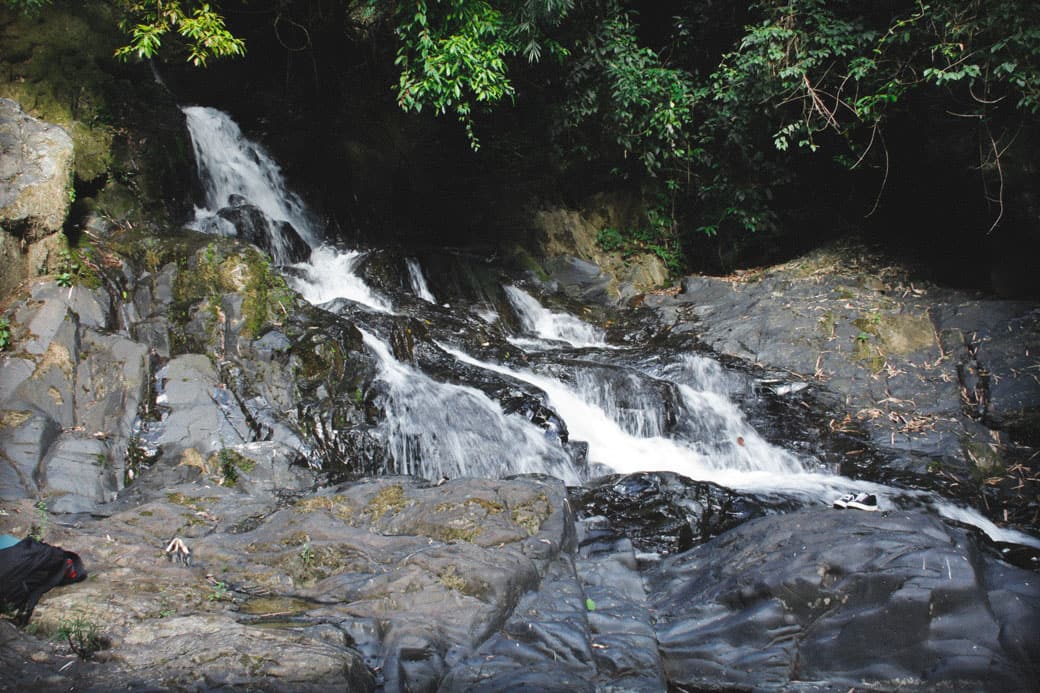 Honestly, I'm surprised we made it out before sunset! If you are the sort of traveller looking for the road less travelled and more challenging Khao Sok activities, this is perfect for you.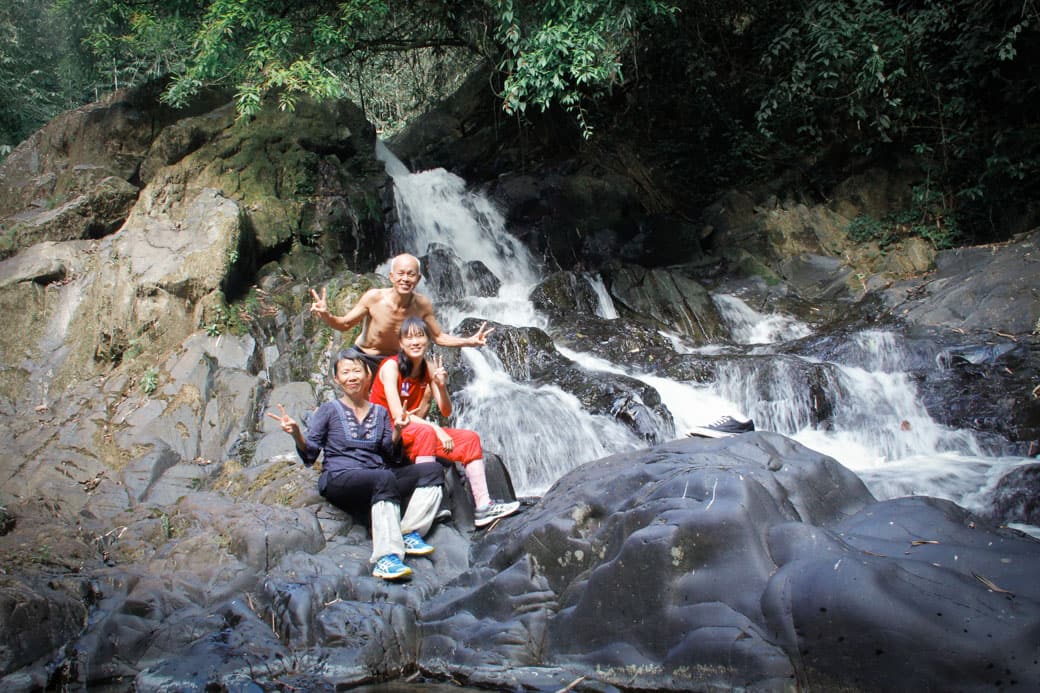 Beware: The route isn't dubbed "the leech route" for no reason.
About half a kilometre in and leeches are everywhere – you can not avoid them. They wave sticky heads up in the air and latch onto you immediately. But leeches aren't known to pass diseases. They just look very evil, and if you're alright with that, there's really nothing to be afraid of.
Remember to wear long pants and covered shoes, and do your best to minimise skin exposure.
Dinner for the brave
After that arduous journey, we ordered mango smoothie, green curry, tom yum goong, and everything else we ordered.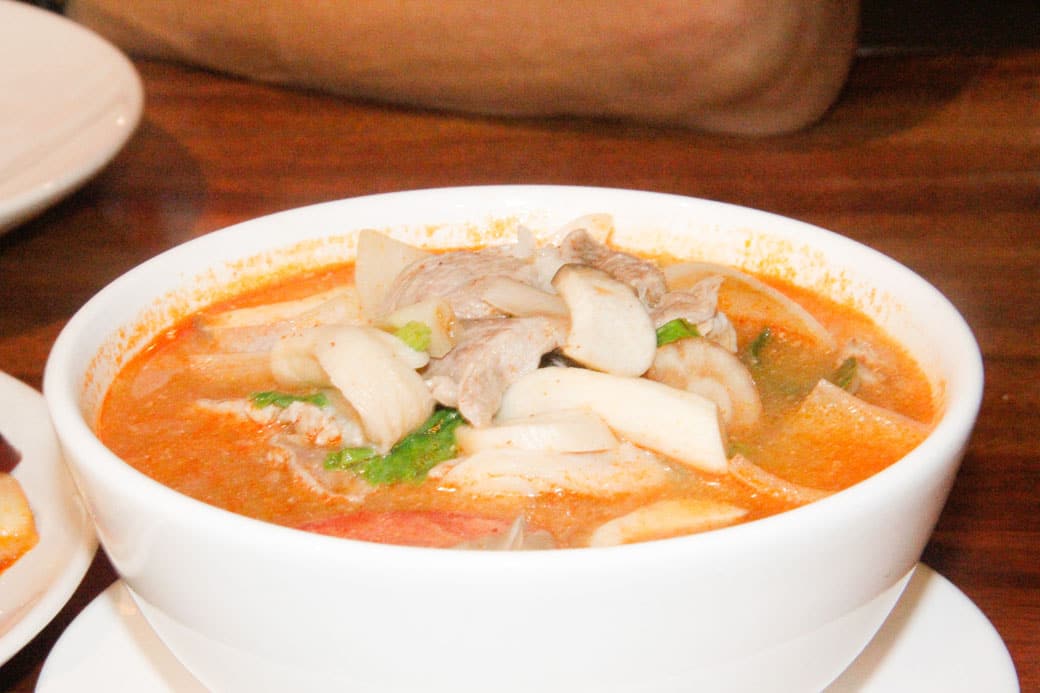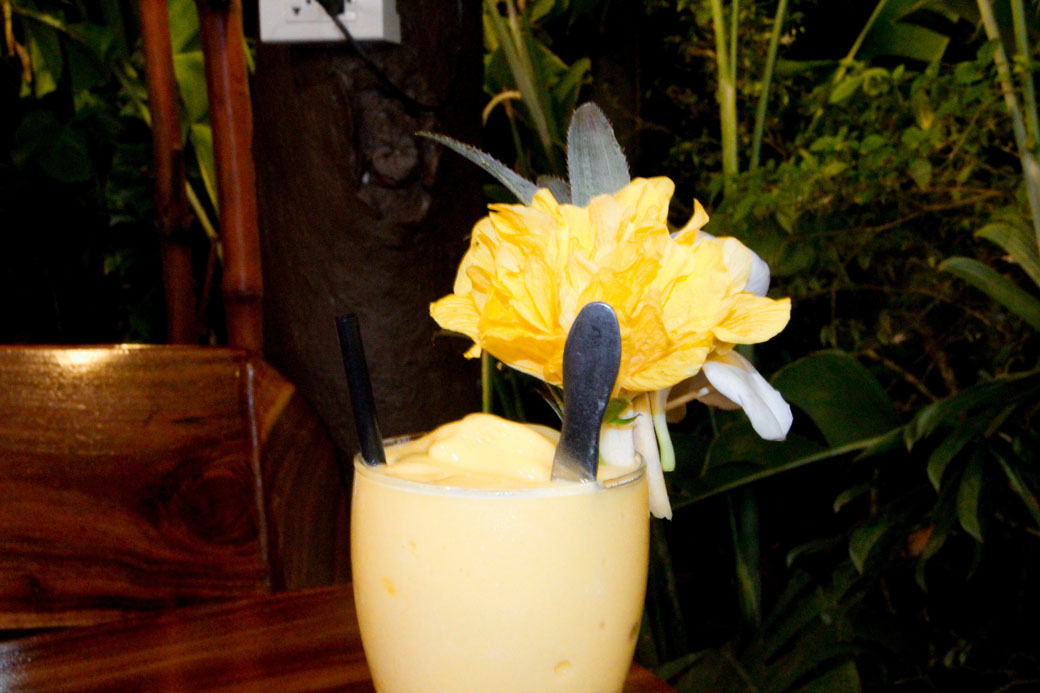 One activity I really recommend you hire a guide for is the night safari. The guides are experts at spotting even the smallest of lizards on the treetops – we even witnessed a guide climb up a tree to catch a frilled-neck lizard! Trust me, they really make the experience so much more interesting.

Day 4: Cheow Lan Lake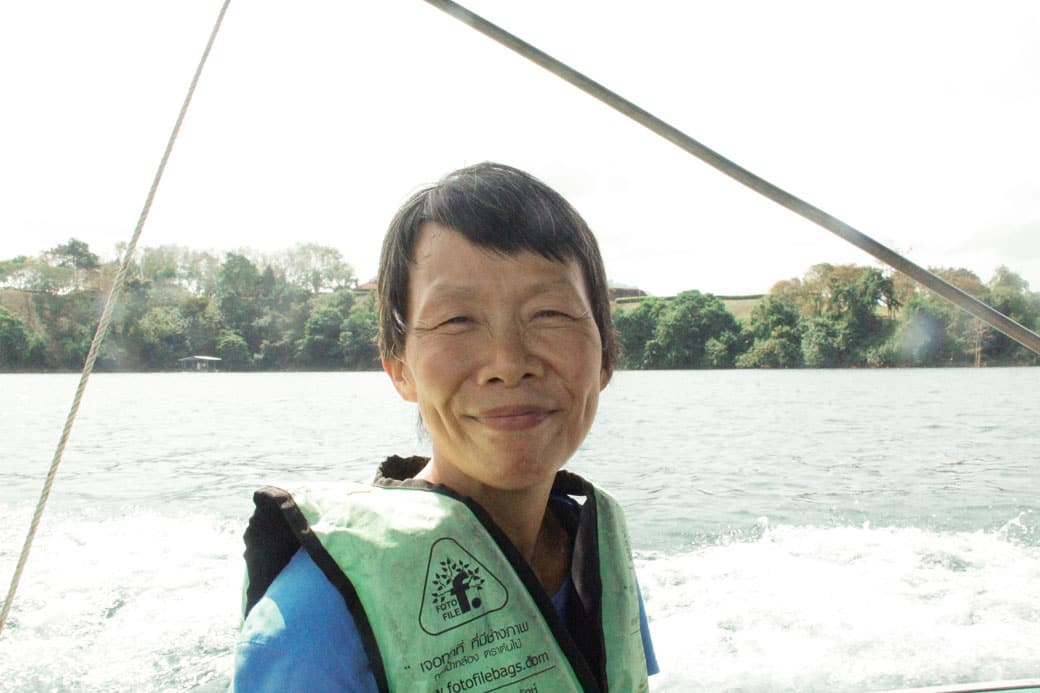 After a couple of hours on a minibus, we took an hour's ferry ride to Smiley Lakehouse resort. The ferry ride was so nice – after all that hiking, soaking in the sunny Khao Sok weather while lake water sprayed from the sides of the boat was bliss.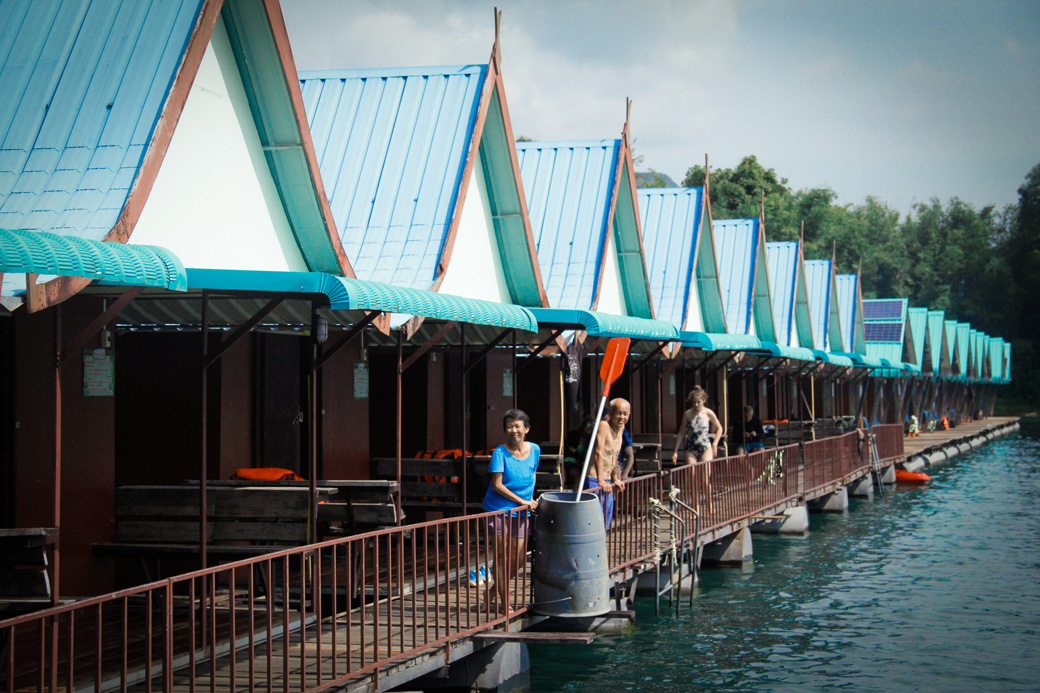 Smiley Lakehouse Resort. Here, you're allowed to take a dip in the water – if you're a newbie at swimming, I suggest you wear a life jacket because the water is very, very deep. 15-metres kind of deep. You're also allowed to kayak around the entire lake with no restrictions, but this time, wearing your life jacket is a must. The 3 meals of the day are served buffet-style, featuring simple Thai comfort food. Feel free to make the best of your trip at night – the hosts are more than excited to play drinking games with you and your company – just be prepared to do some extremely embarrassing forfeits!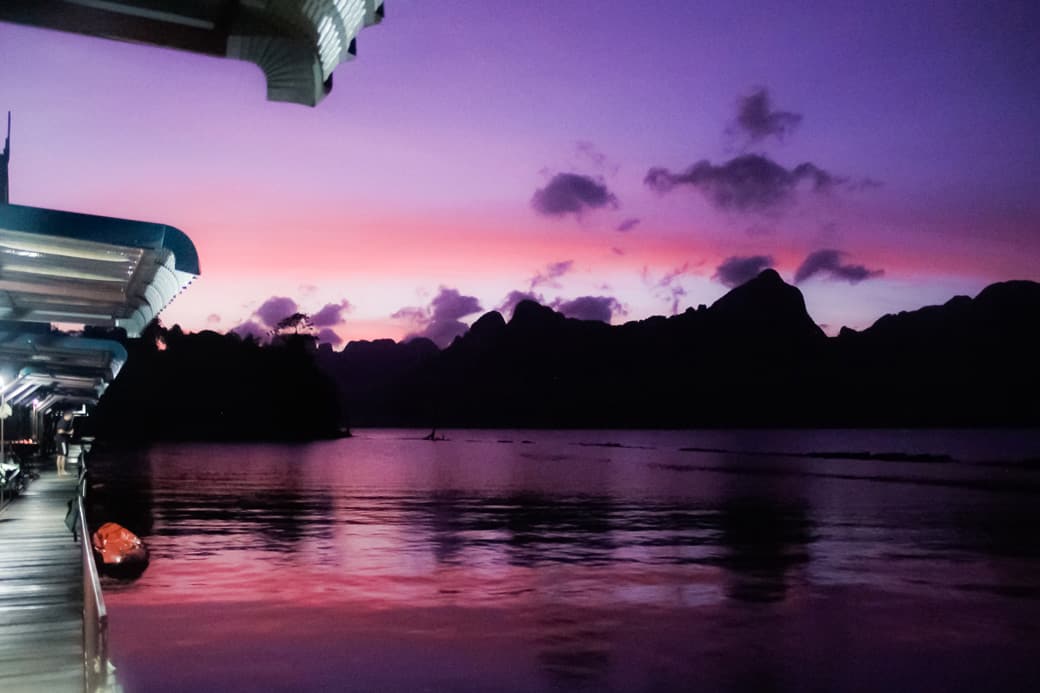 Sunset and sunrise at Cheow Lan Lake.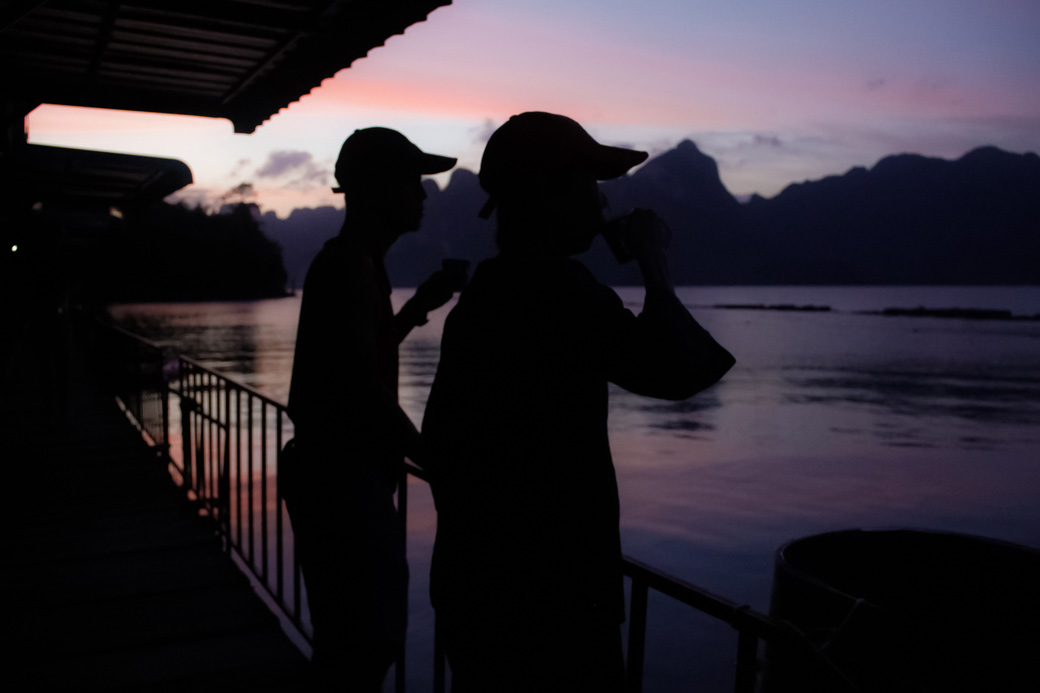 A cup of coffee during the sunrise.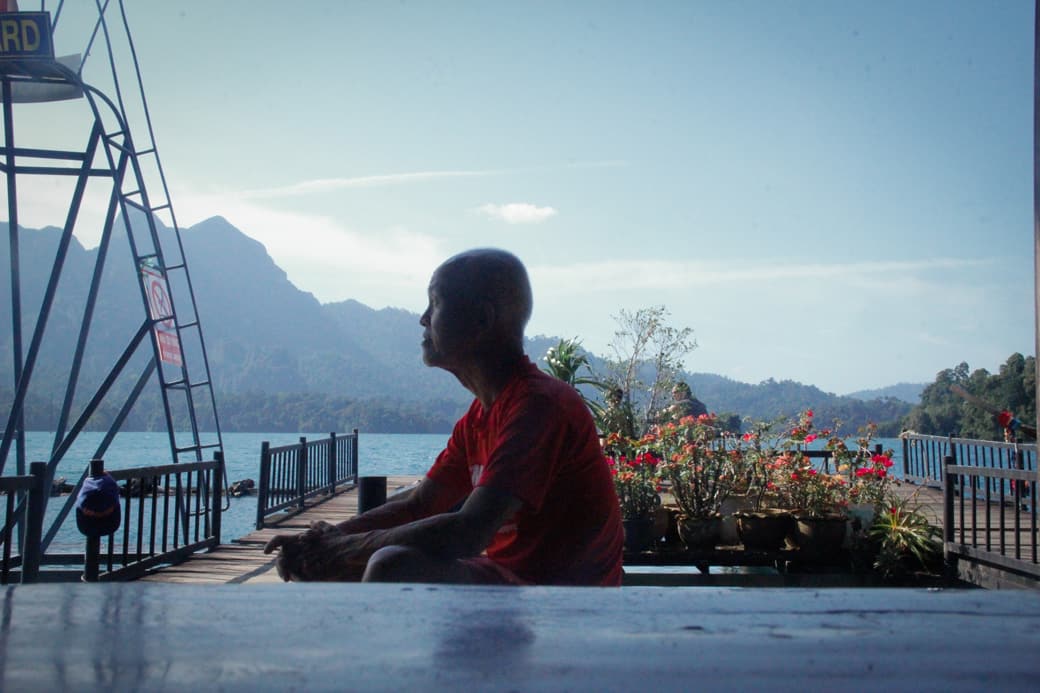 A ferry ride to see animals in the early morning. The monkeys, who promptly left after noticing us staring at them unabashedly, and hornbills – beautiful and magnificent – flying against the rising sun.
Tips to get the safest, fuss-free experience in Khao Sok National Park
Buy leech socks if you're planning to hike.
Bring a waterproof bag to store your cameras, phones, etc. if you're planning on visiting the cave. If you're only bringing your phone, your tour guide may offer to put it in their own waterproof bag.
Bring headlamps on your hikes and visit to the cave – just in case you can't get out by sundown. You'll be provided with them if you hire a guide.
The lakehouse will offer to rent out water shoes – non-slip rubber sandals which are great for hiking in slippery and sophisticated walkways. Do wear long, thick socks, as these tend to nag at your ankles.
Sunscreen, caps and arm sleeves. Try to bring at least one of these if you're visiting Cheow Lan Lake and have pale skin – or you'll be boiled into a red lobster under the afternoon sun.
Gloves – if you're hiking without a guide, please wear a pair of these. They make meandering and clinging onto tree branches so much easier.
Swimwear – these are a must for your hikes and lake visits.
Snacks – please bring food to eat during your day-long hike without a guide. Do make sure you keep your blood sugar levels healthy – there's nothing more dangerous in the middle of a forest than getting dizzy and weak.
Most important of all: Don't be afraid of trying new things. Khao Sok is a place of adventure and self-discovery, so let loose!
[tabs]
[tab title="Where to Stay" icon="entypo-suitcase"]
[button style='blue' icon="entypo-suitcase" url='https://www.expedia.com.sg/Khao-Sok-National-Park-Hotels.0-l6347512-0.Travel-Guide-Filter-Hotels' fullwidth='true'] Find Hotels near Khao Sok National Park [/button]
[/tab]
[tab title="Let's Go!" icon="entypo-flight"]
[button icon="entypo-flight" url='https://www.expedia.com.sg/Destinations-In-Thailand.d178.Flight-Destinations' fullwidth='true'] Flights to Thailand [/button]
[/tab]
[/tabs]
Book a trip to Khao Sok, visit a cave, go kayaking around the lake, hike to see a waterfall! You're bound to have a blast – I sure did.