By Jacques Liao, on August 30, 2019
My Mount Everest Base Camp Experience
I had been studying for finals when my sister casually asked me if I wanted to climb Mount Everest with her friends after my exams were over. Back then, I had a lot on my mind and agreed without giving the decision much thought.
I had climbed some mountains before, but this time I was going for the tallest in the world. At 5,380 metres above sea level, it sure wasn't going to be an easy challenge. Most people train for months on end specifically for this climb. Until now, I had no idea about how completely and utterly unprepared I was. I hadn't exercised in the last 6 months as I was preparing for my exams and I was left with just a little over two weeks to prepare for the climb.
Our Arrival at Nepal

On December 15, we arrived in the capital of Nepal, Kathmandu. The cold air hit me in the face the moment I got off the plane, the temperatures exactly half of that of Singapore's. We stayed there for one more day, discussing with our guide the route we would be taking and other preparations like that. Some last-minute errands had to be run as well – shopping for crampons (an elastic cramp-on device to fit onto one's shoes to walk better on ice and snow) and other hiking gear. It was finally feeling real, and we were starting to get exponentially anxious and excited at the same time.
Day 1: The Beginning of Our Journey

We departed for Lukla on the morning of December 17. Lukla is a small town in the mountains, and it was where our journey would start. There, we met our porters who were surprisingly young, most of whom were just over 20 years old.
The plan was this: The first part of our journey would be downhill to the town, Phakdu. We would stay a night before going uphill from there. After the first hour, my shoulders started aching, and they got progressively worse as the hours went by. I wasn't particularly tired after our 5-hour hike but my shoulders were sore beyond relief.
We had dinner in Phakdu, talking and drinking in the evening before heading off to retire for the night. This was when I made a terrible mistake. It hadn't even been that cold yet – just 10 degrees – and I thought I could get through the night without taking out my sleeping bag. I was too lazy to unpack my sleeping bag just to pack it again in the morning. One hour later, my eyes started watering and my nose was so runny and stuffy that I could only breathe through my mouth. Needless to say, I finally took out my sleeping bag.
Day 2-3: Travelling to Namche Bazaar

I knew that I had definitely messed up when I woke up with a sore throat and runny nose. I tried to ignore it and continued the hike. Day 2 took about 5 hours and it went by quickly as my flu symptoms were still under control. The road was tough, sure, but I wasn't in great discomfort.
At the start of Day 3 however, my flu had gotten much worse and the freezing temperatures and lack of rest were taking their toll. We finally arrived at the Namche Bazaar, the last pitstop until we reached the top.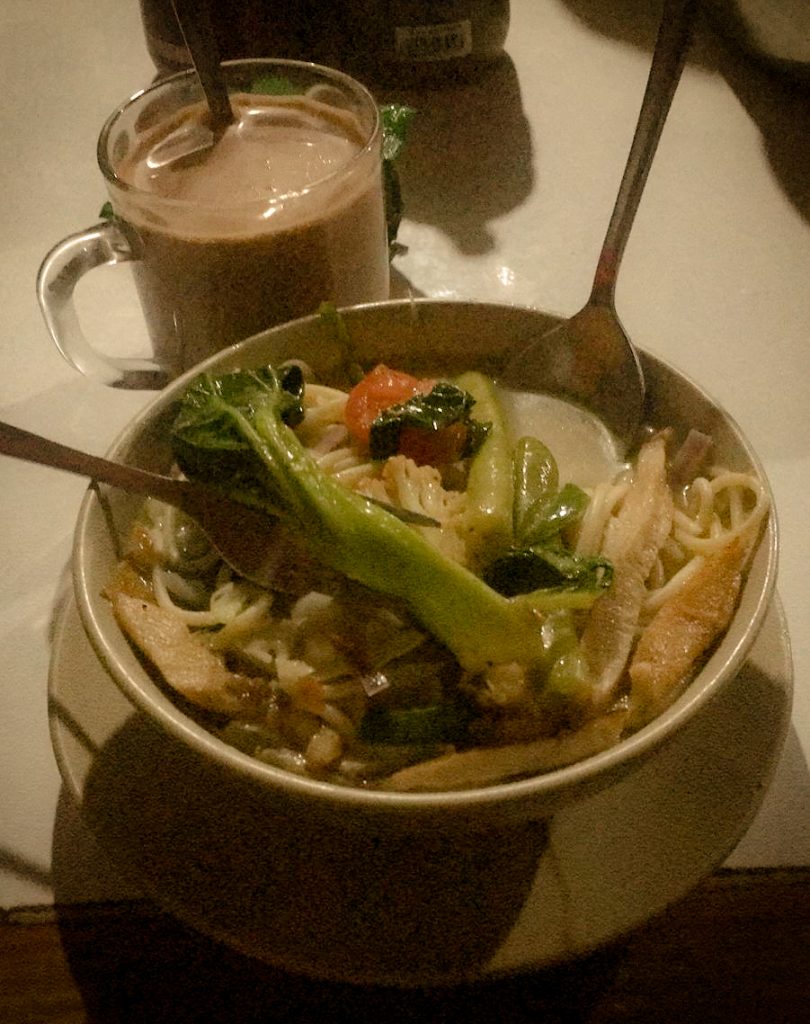 We ate the locals' version of chicken soup. 
Day 4: The Worst of the Flu

The longest part of the trip was on Day 4 and it could not have come at a worse time. My flu was at its worst and I was constantly coughing, which disrupted my breathing significantly. My throat was extremely painful and my nose was still persistently runny.
To make matters worse, I had even spread the flu to my sister and two of her friends. The eight-hour hike that day pure suffering. We could not slow down as it meant not being able to arrive at our destination on time.
By the last hour, the guide was practically carrying my sister while I barely managed to drag myself behind them. By then, we were all completely exhausted. The trip was hard enough as it was and our flu had only amplified our suffering. Dinner and rest had never felt this sweet.
Day 5-9: The Constant Uphill

The hike, for the most part, was a constant uphill with a few stretches of even ground. As we went higher, we start seeing many yaks, one of the few animals that could survive in colder temperatures.
Fortunately, there was a day of acclimatisation which meant staying in our lodging without much hiking. We made use of that time to recuperate and rest. By Day 8, the temperature had dropped below freezing temperatures, up to -30 degrees. We were also told that we could only eat "rara noodles soup" – essentially instant noodles – as our stomach could not digest normal food properly anymore.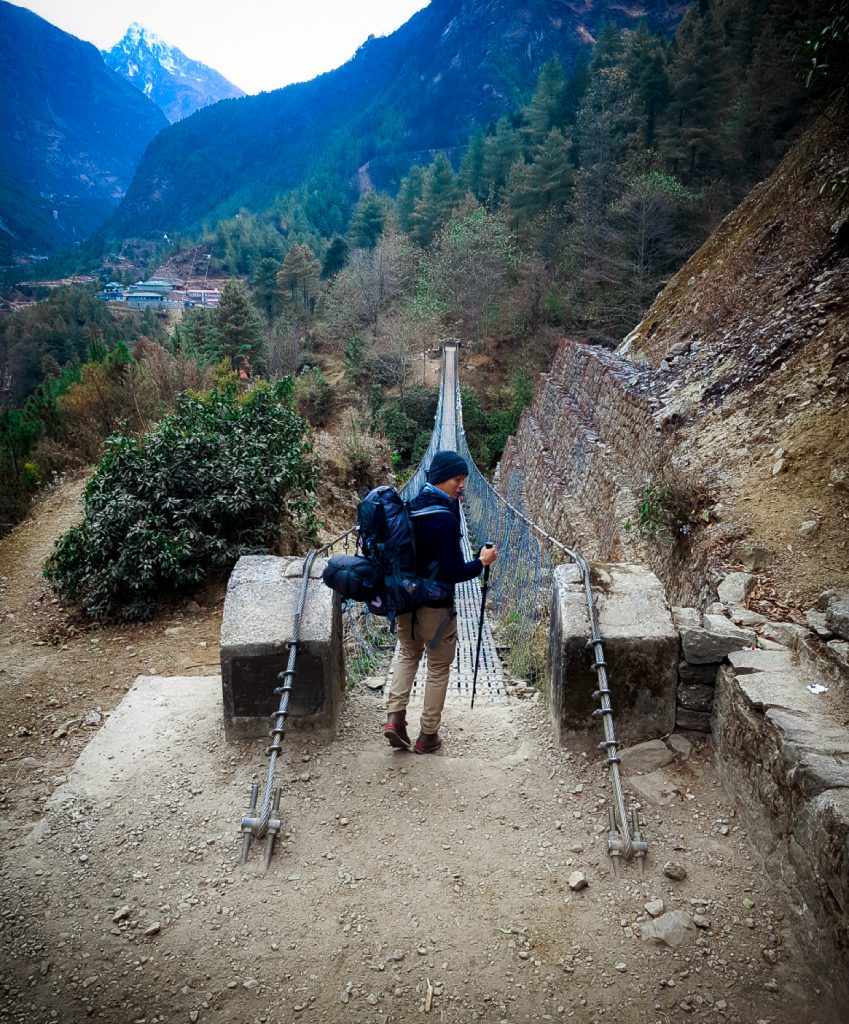 A steep bridge – very scary for those afraid of heights.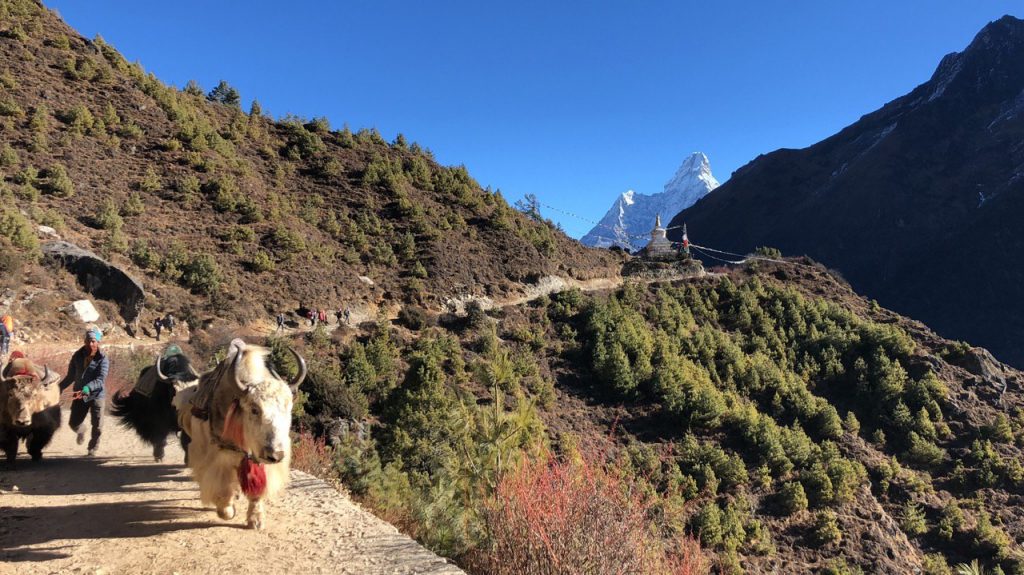 Yaks on the move.
Day 9: Our arrival at the Base Camp

This was the day we finally reached the base camp. The view was surreal.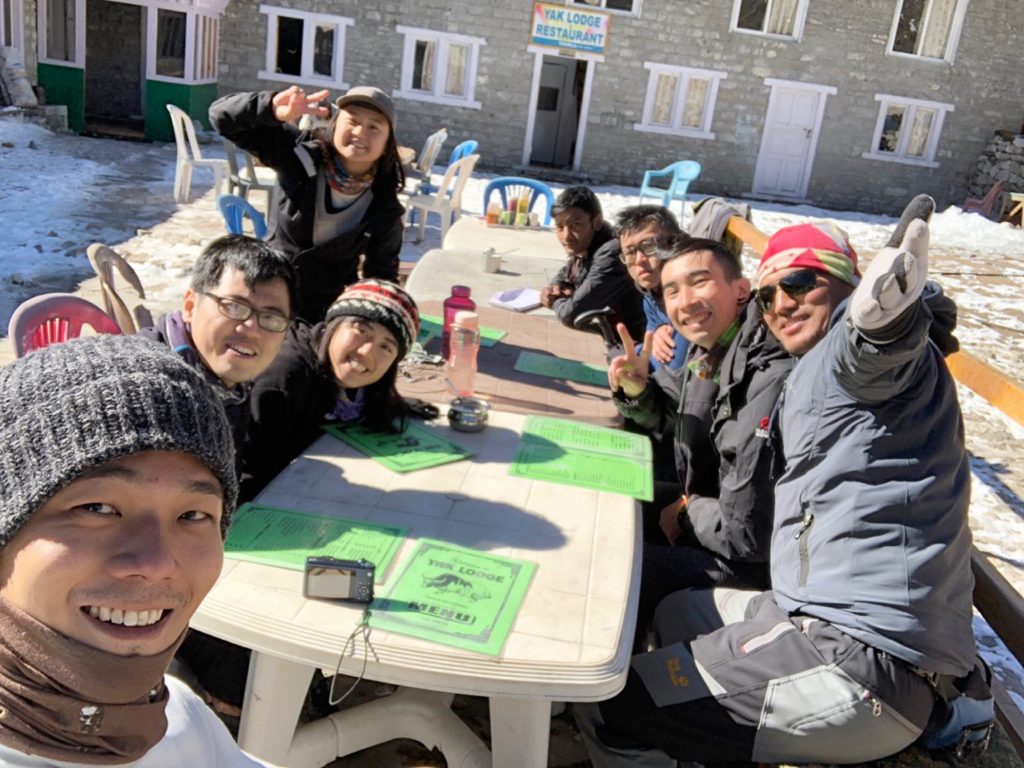 I had been expecting more tents there, but apparently very few try to reach the peak towards the end of the year. We took many photos and stared at all the ground that we had covered over the last 9 days. Being able to reach Mount Everest Base Camp on our first hiking trip was definitely an achievement to be proud of, and even more so when we were ill. In fact, at this point, we were all sick – including our guide.
As soon as we reached our lodging, our guide had decided that we should take a helicopter evacuation down as my cough has gotten extremely severe and he thought it could be pneumonia.
Day 10: The Last of Our Trip

My sister, her two friends, and I took the helicopter back to Kathmandu. It was a whole new experience taking the helicopter down, and the views were beautiful. We reached the hospital in the evening.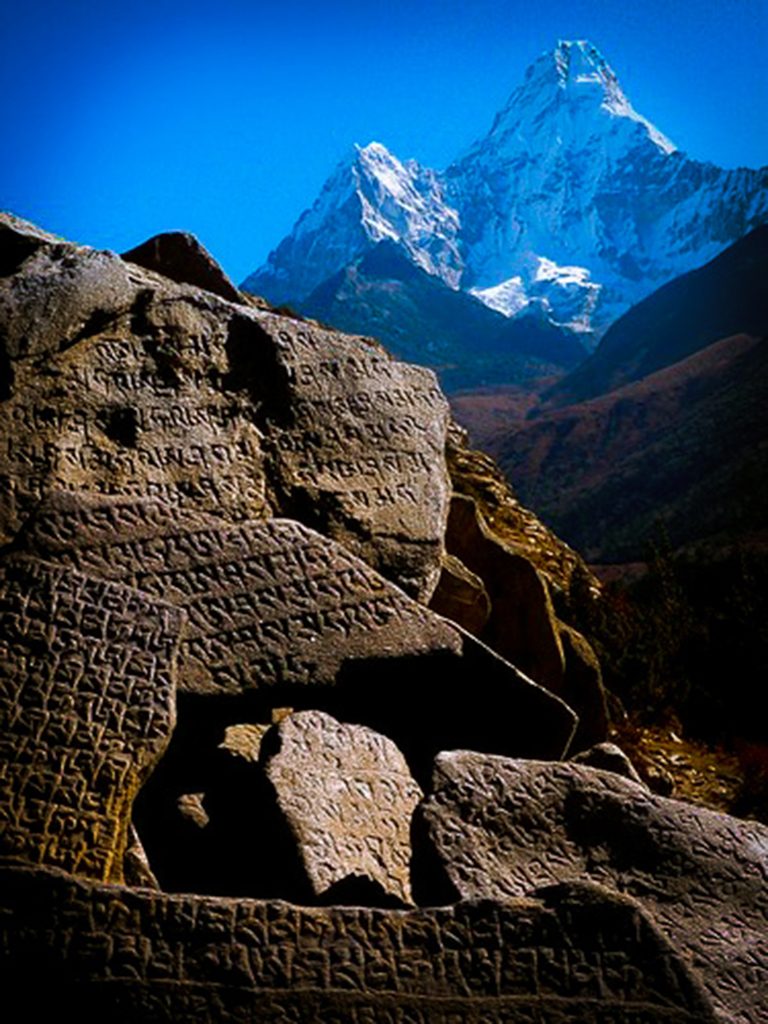 Stone relics in the mountains.
Meanwhile, my sister's two friends went ahead with our guide to trek the Cho La pass. They started trekking early in the morning before the sun was even out and only reached their destination after the sun went down. It was over 10 hours of pure ice and snow. Our guide even had to carry a pickaxe to hack his way through the ice. It was supposedly the highlight and toughest part of the trip, and I deeply regret missing it.
A local Tibetan child.
All in all, I'm glad I had this experience. While the journey was tough, it was a really eye-opening experience for me. I experienced temperatures way below freezing point (which made me greatly appreciate Singapore's warmth), physically climbed to a point thousands of meters above sea level, and tried to reach a goal despite the hardships that came my way. I was humbled by Mother Nature, by her harshness on us yet remaining this mysterious, beautiful thing.
My 10 Tips for Trekking to Mount Everest Base Camp
Don't overestimate yourself and underestimate the temperatures. Sleep in your sleeping bag diligently, rest as much as possible at night, and keep hydrated.
Reminder to invest in a sturdy, supportive backpack when trekking for long periods of time.
Bring lots of wet wipes to wipe your mucus (you will develop a lot even if you are not sick)
Bring a thermal water bottle that can store warm water.
Wear a normal long sleeve shirt when trekking as your body will develop a lot of heat and it is usually warmer during the day. However, keep a jacket ready anytime as you will immediately become cold once you stop trekking.
Bring a solar charger to charge your devices as there are usually no free wall plugs to use in the lodgings.
A cap is useful as it can get very sunny and bright on some days.
Take Diamox pills to avoid acute mountain sickness (AMS).
Bring medication in case you fall sick. I highly recommend Panadol.
Bring your own toilet paper as it is not cheap up in the mountains.
Book a nice hotel in Kathmandu to enjoy and celebrate after your climb. I recommend the Dwarikas Hotel and Hotel Shanker!