By David Bowden, on January 28, 2020
Road and Air Eco-Journey North of Perth
Make no mistake about it, Australia is a big country and its biggest state, Western Australia, is three and half times bigger than Texas but only 20% the size of Europe. However, we are talking about just one state and not the 44 countries in Europe. Seven Malaysia's fit into Western Australia!
So, with this in mind, planning for my trip to Western Australia needed to be realistic and I had to accept that I was going to merely scrape the surface of the tourism opportunities in this vast state covering 2.65 million km2.
It was not my first visit to its capital Perth but it was some attractions north of the city that had captured my imagination. Aerial photographs of Pink Lake and Kalbarri National Park had been locked away in my memory bank for some years and as soon as I could interest a small group of adventurous travellers, a plan was hatched for an eco-adventure north of Perth.
We developed an itinerary that took in these two attractions and the towns of Kalbarri and Geraldton, swimming with sea lions, visiting the 'moonscape' called the Pinnacles and sandboarding down the Lancelin sand dunes. ADAMS Pinnacle Tours was enlisted as our travel partner and they provided a vehicle and driver/guide.
Air Miles

Our group of six had much ground to cover and this was best done by flying certain sectors. Our driver collected us early in the morning and transferred us to Perth Airport for a flight to Geraldton on Virgin Australia. To save time, the plan was for our luggage to be driven all the way to Kalbarri (600 km north of Perth) while we flew to Geraldton and then on a charter flight to Kalbarri. While an expensive indulgence (AU$199 per person), the scenic flight was to ensure we had the best view of the Pink Lake, a highlight of our eco-tour.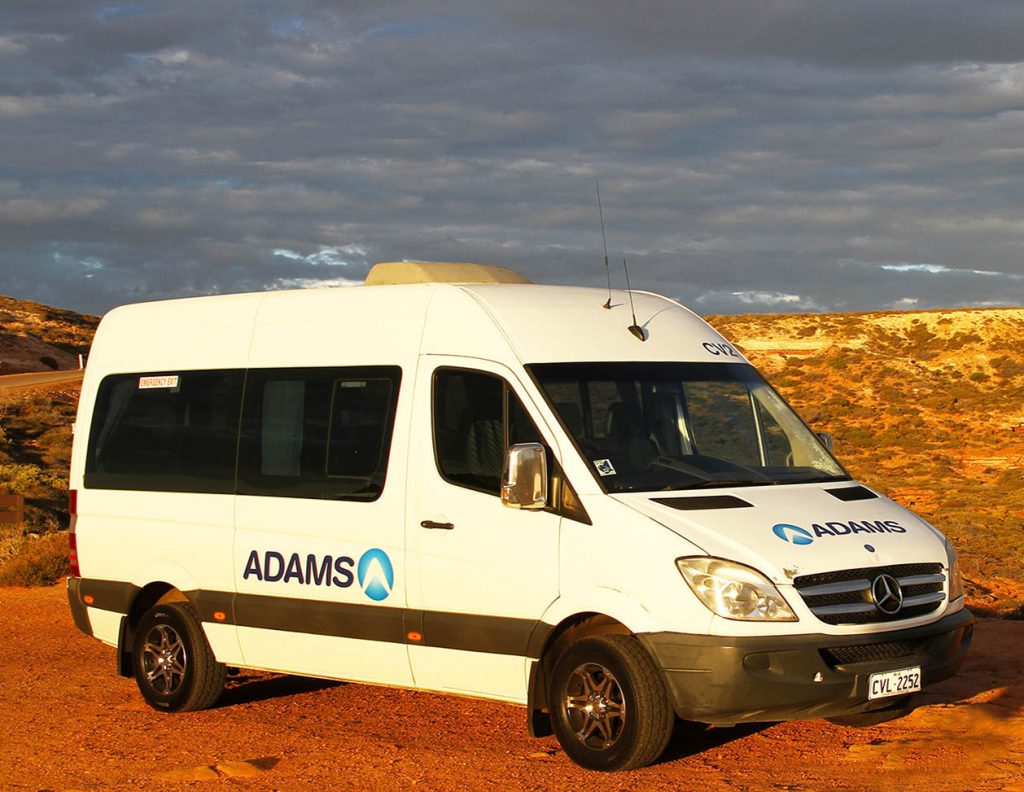 Minibus provided by ADAMS Pinnacle Tours
Flight to Kalbarri

As we were staying overnight in Geraldton on our return journey from Kalbarri, the decision had been made to fly after lunch to Kalbarri on Kalbarri Scenic Flights. Small planes are not for everyone as they are snug but have the advantage that everyone has a window seat to take in the dramatic coastline we passed over for the 160km flight.
Not long after being in the air on a wonderfully clear day, we passed Port Gregory and were over Pink Lake (officially Hutt Lagoon) but so named because of its shimmering pink colour. Passing over at just a few hundred metres, our pilot relayed to us via headsets that the saltwater lake supports carotenoid-producing algae that are pink in colour. We could see sections dammed off where the algae are farmed as a valuable source of beta-carotene and used as food colouring plus as a source of Vitamin A in cosmetics and supplements.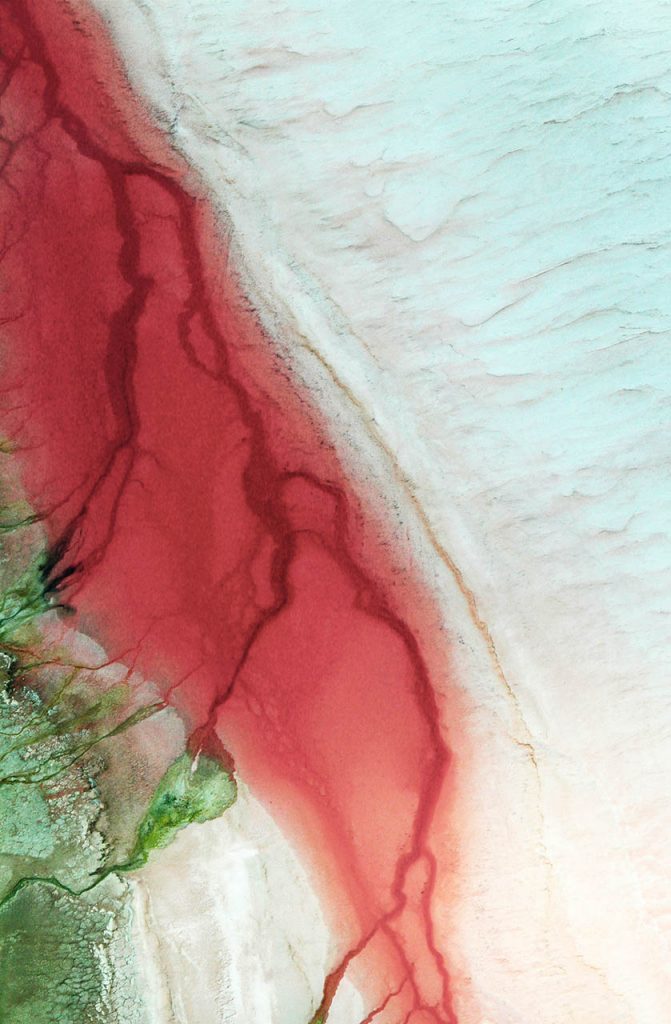 Algae in the waters of Hutt Lagoon give it its alternate name of Pink Lake
The sight was amazing and lived up to all the photos I had admired on social media. It was like a piece of abstract art with sinuous lines of reds and greens across a stunning white canvas of sand. With cameras blazing, we did a circuit so everyone on board had a clear view for photographs.
Continuing north, we traversed a long-deserted coastline punctuated by occasional cliffs before reaching the small coastal town of Kalbarri where I assumed we were to land. However, our pilot treated us to a flight over the snaking Murchison River and its orangey-red sandstone cliffs.
Stunning Sunsets and Gorgeous Gorges

Soon afterwards, we landed at the small and remote airstrip that is Kalbarri Airport. Our bus driver, who had driven the 600 km from Perth, was there to meet us. I was astonished that he looked so fresh but he said it was an easy drive with very little traffic once he left suburban Perth. However, I was glad it was him and not me.
With the sun about to set, the driver was keen for us to witness the sun setting over the Indian Ocean from the coastal parts of Kalbarri National Park.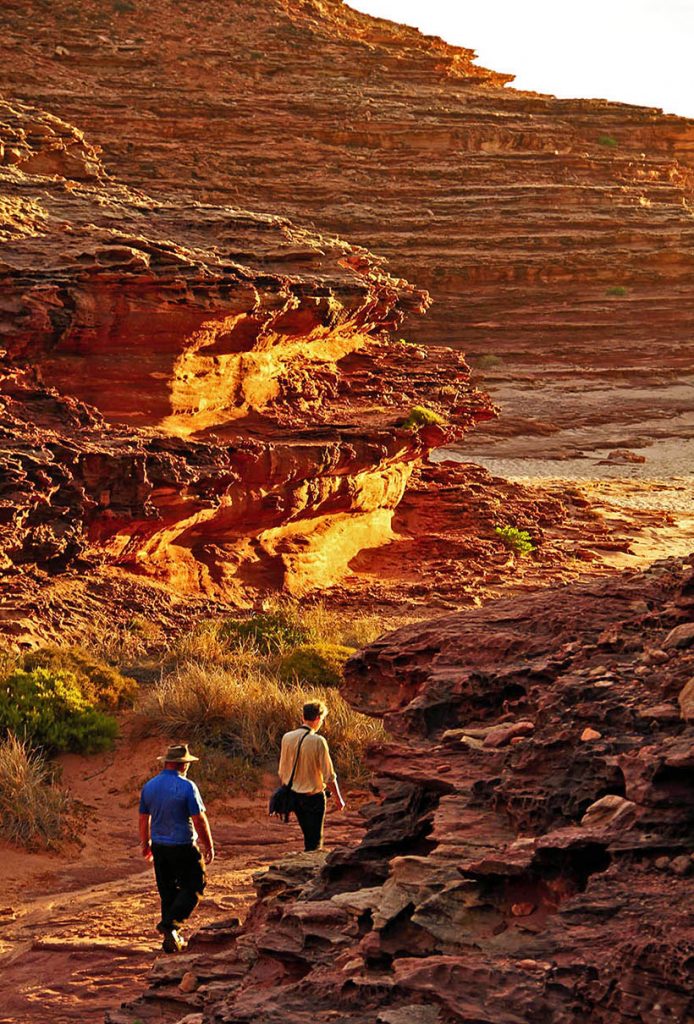 Kalbarri National Park features ancient and colourful sandstone rocks
We visited one section, but our driver was not satisfied and took us to a small inlet where we had the crashing surf, deeply eroded sandstone cliffs, and an amazing technicolour sunset all to ourselves. This was the first example of many where our guide's local knowledge enabled us to make the most of our holiday and see things that we would have probably missed had we travelled by ourselves.
Here, we rested and took it all in. It was an amazing thought that here we were, a small band of travellers with nothing but the Indian Ocean between us and South Africa. While the sun was setting on day one of our eco-adventure, we recalled the amazing things we had witnessed in just a few hours we had been travelling.
Sunset over the Indian Ocean from the coastal parts of Kalbarri National Park
After a restful night at Kalbarri Edge Resort and a huge seafood dinner at Gilgai Lodge, it was time to discover Kalbarri National Park from within the park itself.
As we drove the 30 minutes inland to the main part of Kalbarri National Park (186,000 ha), I appreciated just how remote we were and the Australian expression, 'the back of beyond'. It was if we were the first to visit but when we arrived at the park's main entrance at 9 am, there were already some 100 visitors there and most were Asian travellers; the power of social media was working and even adventurous Asian travellers know of the staggering beauty of such remote places in Australia.
Like us, they were there to admire the rugged landscaped crafted by the slow-moving Murchison River as it etched its way through the sandstone rock of red, yellow, and brown hues.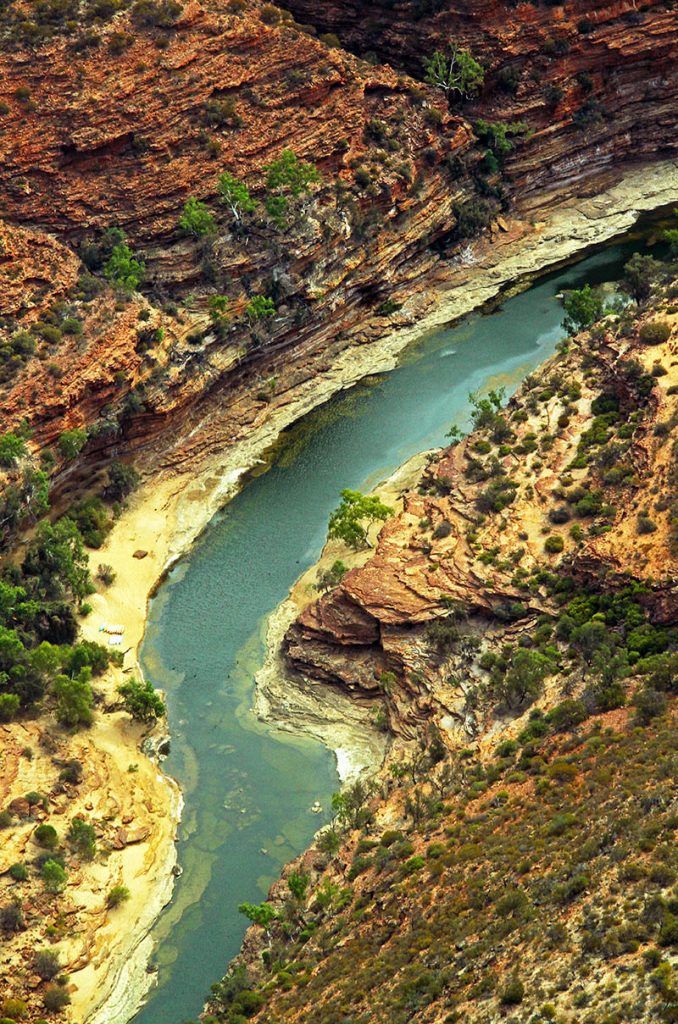 The Murchison River passing through the steep gorges of Kalbarri National Park
Nature's Window is the photo most were there to capture but, for others, it was the sheer scale of the park, the ancient rocks, trails through remote countryside that few have traversed, and the arid conditions that provide the diversity to ensure the park appeals to those with a sense of adventure. After a few short walks to view sections of the river such as Z Bend, it was time to start the long but fascinating journey back to Perth via Geraldton.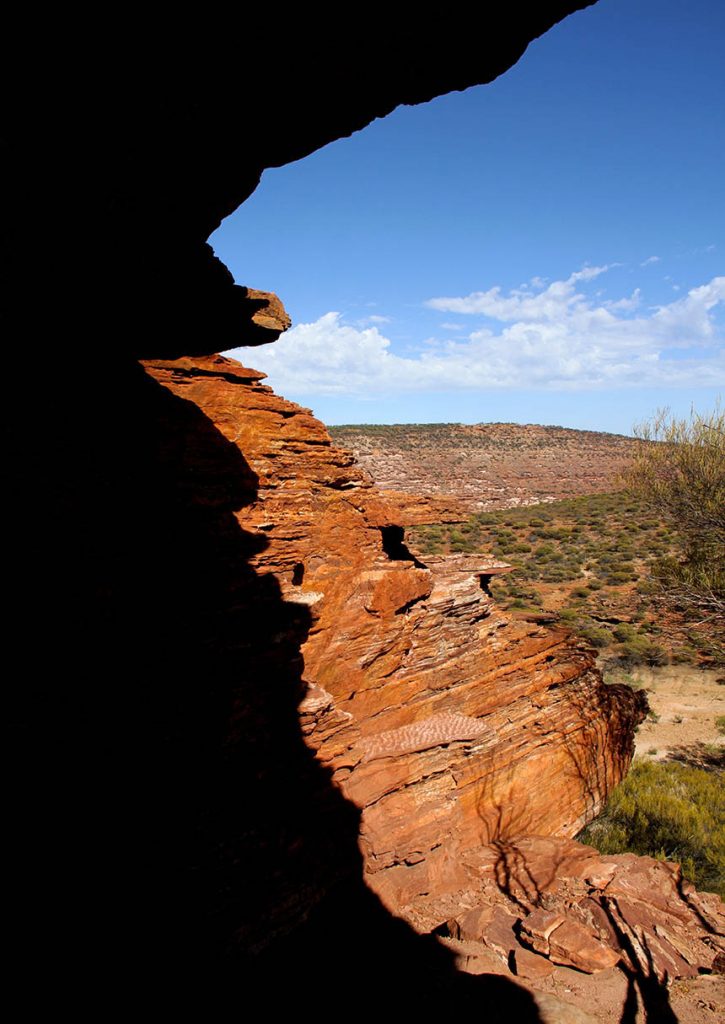 The colours of Western Australia never fail to impress travellers
Geraldton – Back to Civilisation

Coincidently, we were back again in Geraldton for lunch and impressed at what we had achieved over the past 24 hours. I liked Geraldton for its coastal location, quality of food (especially Skeetas on the Boardwalk where we had breakfast on our way out of Geraldton on day three) and the impressive hotel in which we stayed.
Our driver suggested Pier Lane Café along Marine Terrace for lunch. I chose well and enjoyed a risotto dish with rocket and prosciutto that was reasonably priced at AU$28.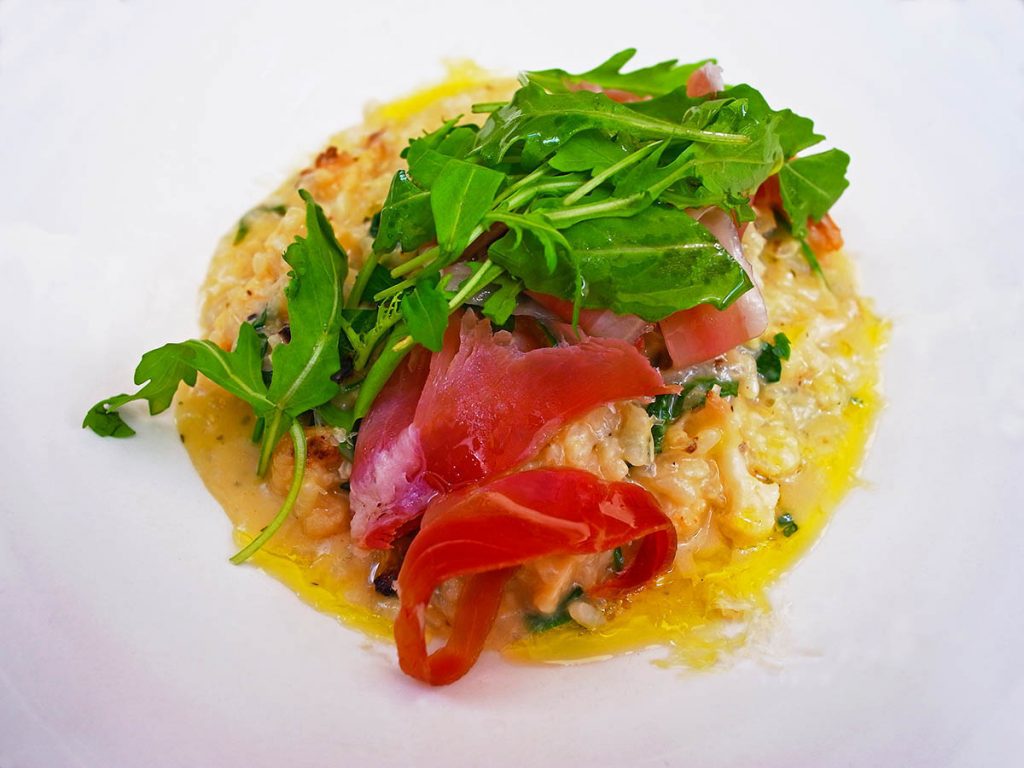 Lunch of risotto, rocket, and prosciutto
Our accommodation was in the very smart, The Gerald Apartment Hotel located just down the road from the cathedral which was brightly illuminated in the evening. Before the sunset, we set off to explore the compact town centre and discovered that pearls are produced in the district. We dropped into Latitude Gallery Jewellers where black pearls from the Abrolhos Islands (70 km off the Western Australian coast) are sold.
At sunset, we enjoyed pre-dinner drinks and snacks back at The Gerald where The Old Man and the Sea rooftop bar is the place to dine and drink in Geraldton.
Sea Lions, Cervantes, and The Pinnacles

Day three was a long day from Geraldton to Cervantes and a swim with sea lions, a tasty lobster lunch and then a sunset visit to the legendary Pinnacles in Nambung National Park.
Turquoise Safaris operate from Jurien Bay, located between Geraldton and Cervantes, 275 km north of Perth. They provide a tour to see a community of Australian Sea Lions that inhabit an island just off the coast.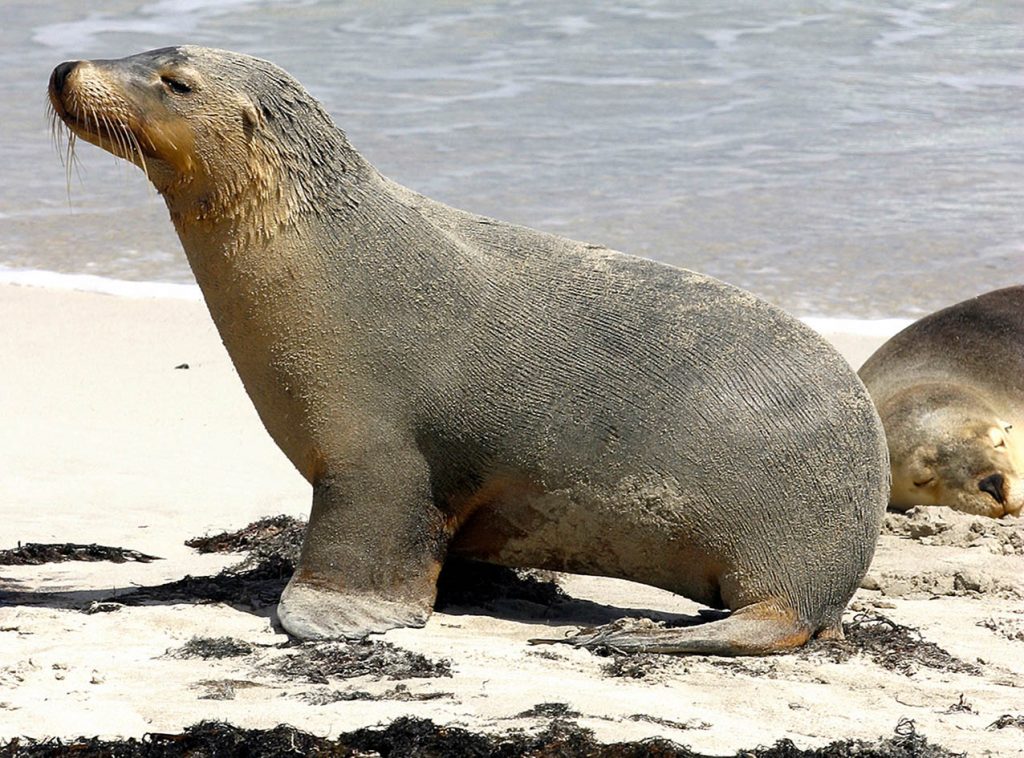 Australian Sea Lions bask in the sun on a small island off Jurien Bay
Turquoise Safaris provide snorkelling equipment for adventurous travellers to swim in the shallows of an island with the playful marine creatures. While only a few sea lions entered the water, it was an exhilarating experience to have them swim so close and surface close to where we were swimming.
Patient snorkellers only have to wait for the sea lions to approach
Back on land, we drove onto Cervantes for a much-appreciated lunch at the famous Lobster Shack to have a look at this important lobster processing outfit and, of course, to enjoy lunch of freshly caught grilled lobster.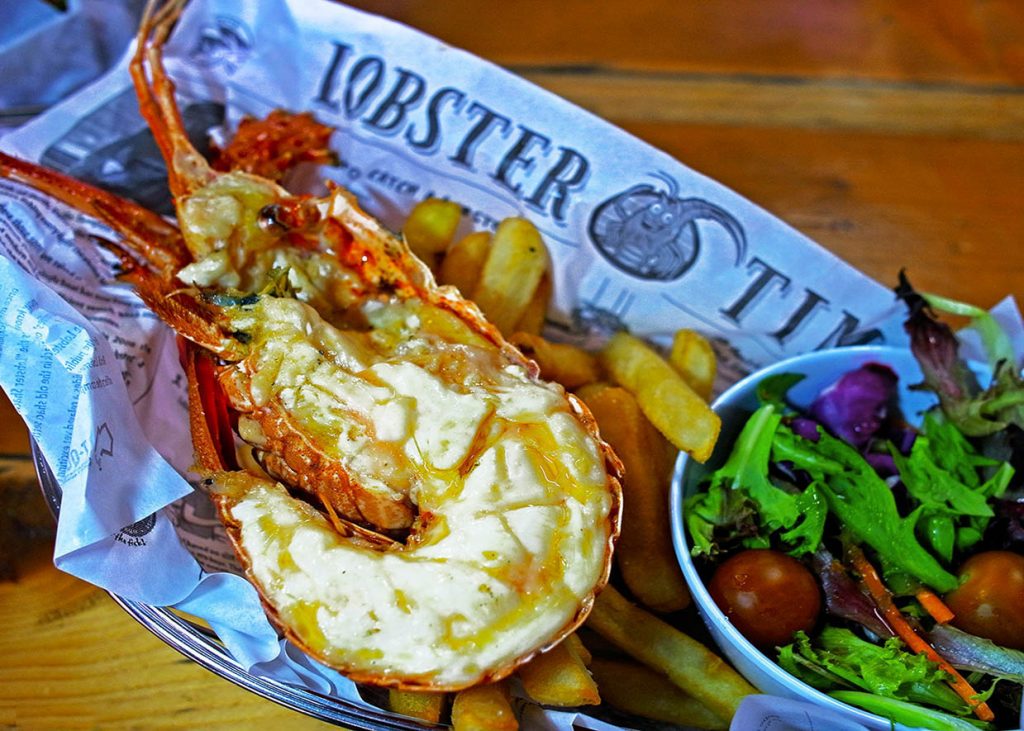 Cervantes is famous for rock lobster served in restaurants such as the Lobster Shack
Cervantes is the gateway for Nambung National Park that we explored just before sunset. The amazing geological formation comprises called the Pinnacles which comprise thousands of limestone pillars standing erect in a sandy desert. Sunrise or sunset is the best time for photography and I was delighted to be able to spend a few hours doing exactly that with my friends.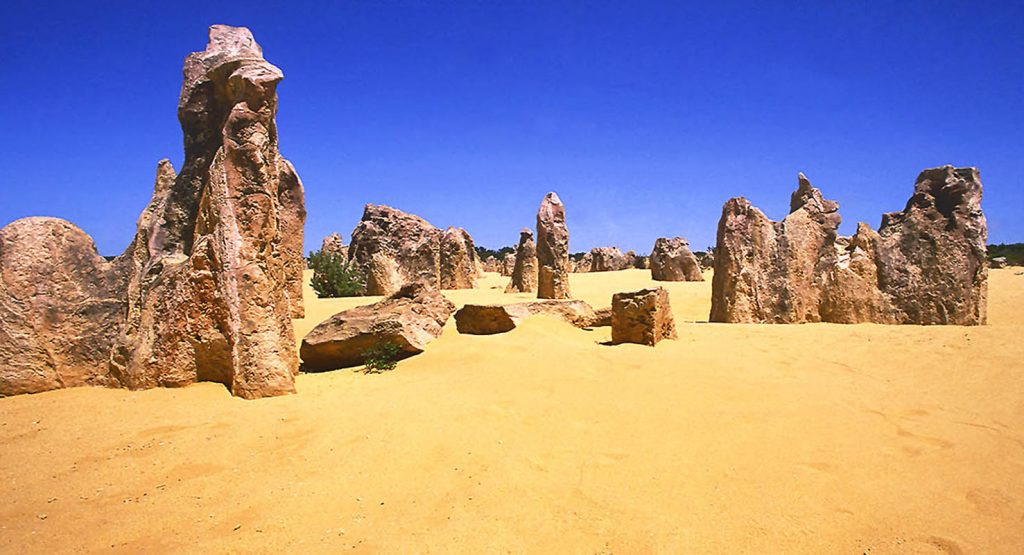 From a distance, the Pinnacles look like tombstones
Perth Bound Via Lancelin Dunes

After a great late dinner and then sleep in the Pinnacles Edge Resort in Cervantes, it was time to head off on our fourth and last day of our eco-adventure.
A forest of grass trees along the highway to Lancelin
The highlight of the day was the opportunity to sandboard down the sand dunes at Lancelin just 90 minutes north of Perth. Located on the coast, these dunes are dazzling white and are accessible via specialised four-wheel drive buses that can negotiate the steep slopes. Once there, we all took a board and gliding down the slopes. While the sand ended up throughout our clothes, our last eco-adventure was as rewarding as all the others we participated in over our four-day road journey.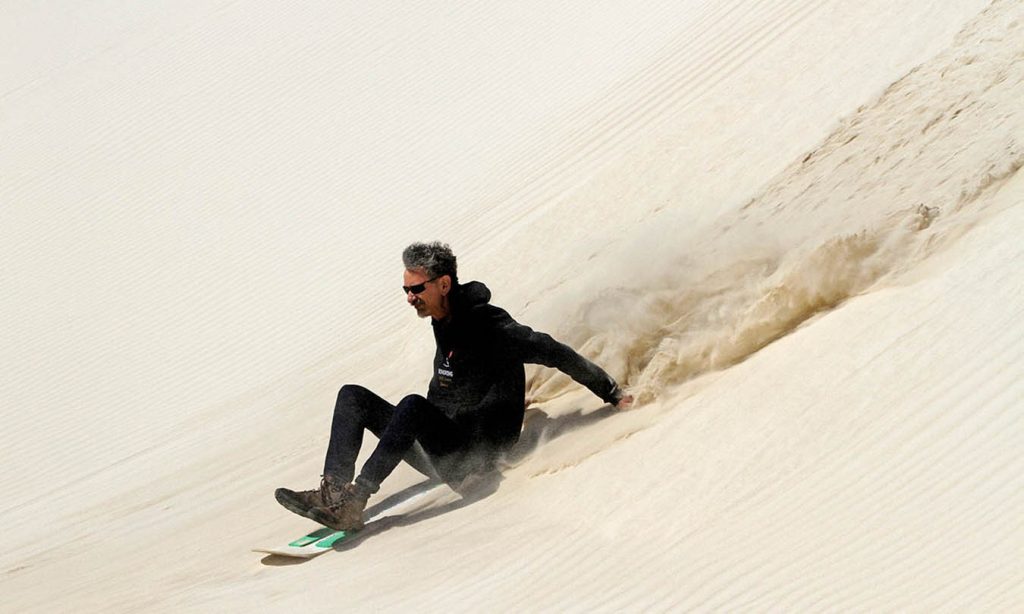 Sandboarding down the dunes at Lancelin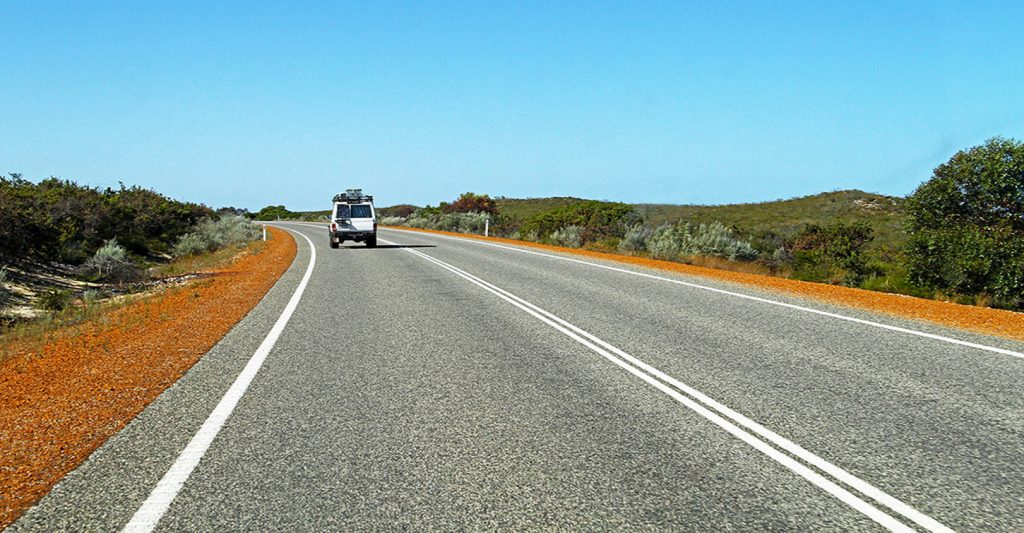 Western Australia offers many road trips on wide-open roads
We arrived back into Perth mid-afternoon pleased with our achievements; the sense of adventure and our itinerary that enabled us to experience several vastly different environments.