By Expedia Team, on July 20, 2022
Switch to flight mode in Malaysia's rustic retreats, Recommended by Expedia
When Malaysia comes to mind, many would think of the famous Petronas Towers in Kuala Lumpur, street food indulgence in Penang or Malacca, or perhaps off-city places such as Tioman or Redang islands. But the beauty of this Southeast Asian peninsular is far more than its sights and tastes, it also offers the perfect getaway for a lepak (relaxed) experience that isn't too far away from home.
With four in five Singaporeans working adults feeling burntout, the need to take a break from work has become important for a recharge. As travellers look for a way to unplug from their hectic schedules, choosing the right time to fly is also an important factor. Expedia data in May has shown that travellers are already booking trips in the second half of the year. To avoid the crowd, consider travelling to places such as Penang and Langkawi in July and September this year when you can find more affordable flight options to stretch your dollar.
For the ultimate lepak experience, here are four rustic retreats for you go on flight mode to connect with yourself and loved ones.
1. Bon Ton Resort Langkawi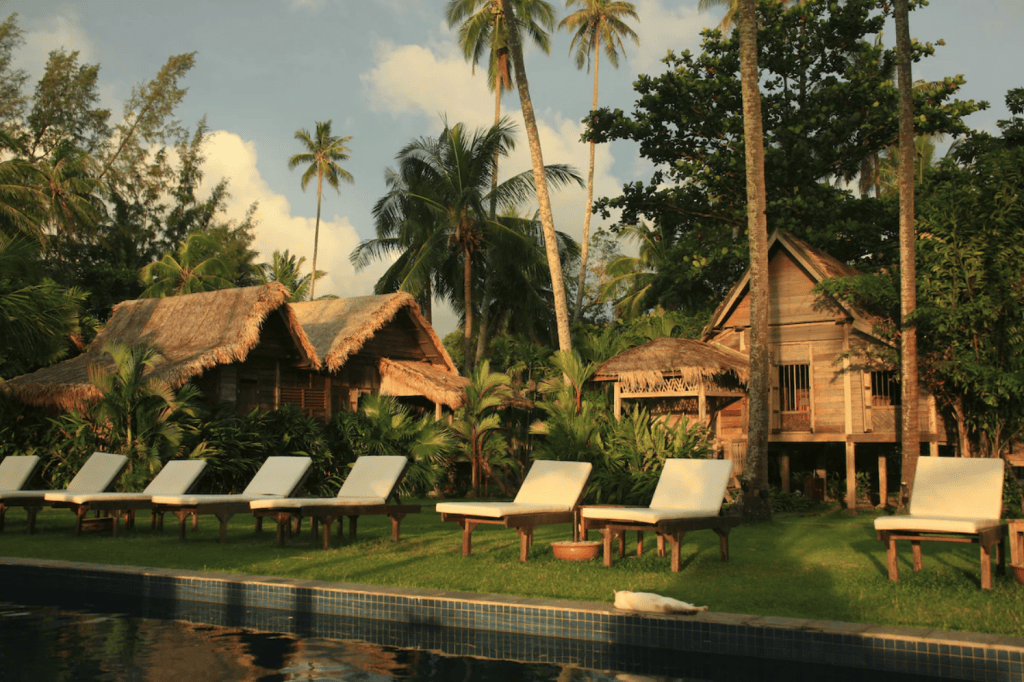 Located just 10 minutes from Langkawi Airport, the idyllic resort has only eight villas in a quiet setting with a 20-minute walk from the beach. Each villa stands at about 100 years old and is uniquely designed with history and modern architecture. You can also experience modern luxury while being in touch with nature by stargazing in a bathtub or experiencing a rain shower under the trees. There is also Nam restaurant that serves fusion gourmet cuisine, with Asian spices, of course. If you are an Expedia Rewards member, you can enjoy VIP perks like welcome beverages, late-checkout or even a free upgrade[1] to make your experience even more rewarding.
Where to book: Bon Ton Resort Langkawi
Address: Jalan Pantai Cenang, Langkawi, Kedah, 07000
[1] Late checkout and free upgrade at VIP Access properties are subject to availability.
2. Kunang Kunang Heritage Villas Langkawi
Kunang Kunang Heritage Villas boasts about 20 different villas that welcome you with a homely atmosphere, as well as an exceptional view of the Lagoonarium. These antique facades feature modern room amenities such as a bathtub, a private bathroom, as well as a good balcony view. Don't forget to pamper yourself at the day spa, where you can indulge in features like saunas, steam rooms and whirlpools. Kunang Kunang is also located less than 10 minutes from Langkawi Airport, wasting no time for you to dive right into your luxury escape.
Where to book: Kunang Kunang Heritage Villas
Address: Jalan Pantai Cenang, Langkawi, Kedah, 07000
3. PARKROYAL Penang Resort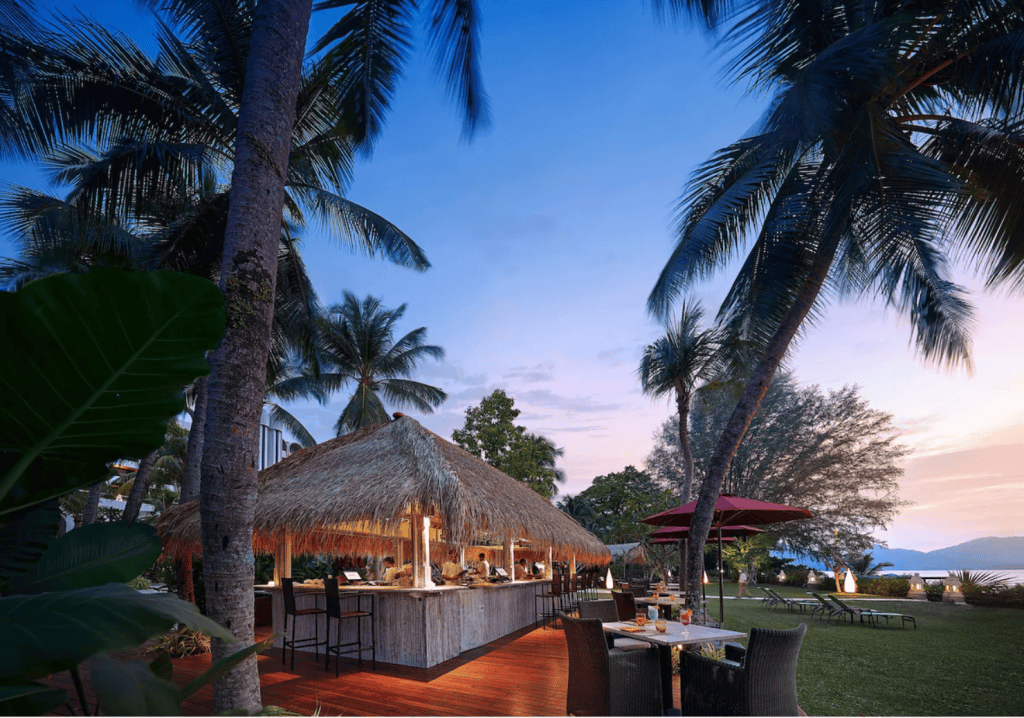 PARKROYAL is perfectly parked in front of the vast blue horizon. The unblocked view of the Straits of Malacca sets a tranquil scene for you to take everything off your mind. Every room comes with a view, so you'll never miss out scenic sunsets. There is also a spa and other wellness treatments such as facials and body therapies for you to rejuvenate. Another way to lepak would be to chill at Javana Lounge indoor, with live entertainment, or enjoy al fresco dining and have a drink while watching the sun set at Gustoso By The Beach.
Where to book: PARKROYAL Penang Resort
Address: Batu Ferringhi Beach, Batu Ferringhi, George Town, Penang, 11100
4. The Banjaran Hotsprings Retreat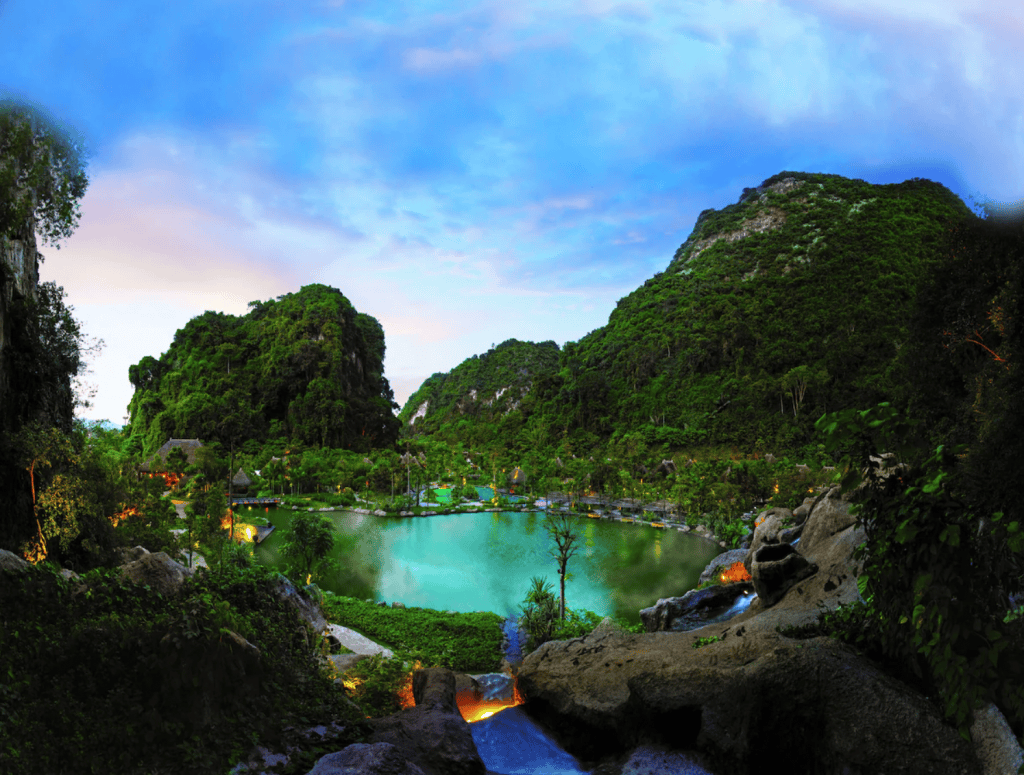 This retreat is tucked away near the forest, where you can be in touch with nature while enjoying a spa treatment. Your wellness is the central focus here in this rustic getaway, where you can select a range of treatments from detoxification, facial, hand and feet care, to a hair cream bath. But the real treat lies in the day pass which includes the Geothermal Hot Springs Dipping Pools, Ice Bath, Crystal Cave, and many others. If you're looking to recoup and recover from fatigue, the Banjaran Hotsprings Retreat is perfect for your great escape.
Where to book: The Banjaran Hotsprings Rereat
Address: 1 Persiaran Lagun Sunway 3, Ipoh, Perak, 31150
Don't forget to make the best of your enjoyment when you book with Expedia. Sign up as an Expedia Rewards member to instantly unlock Member Prices of 10% off or more and many extra perks. Earn points for every eligible booking which can then be used to redeem for future trips.