By Expedia Singapore, on April 9, 2020
Sakura Season in Japan 2020: When & Where to See Cherry Blossoms
Japan has always been a tourist hotspot, regardless of the season. However, when springtime comes around, the tourists flock to the country for one reason only: cherry blossoms. Due to its immense popularity, many people consider the cherry blossom to be Japan's national flower.
The cherry blossoms' blooming period will last only about 14 days before they wither away. Because of its fleeting nature, the cherry blossom has become a symbol of renewal and new beginnings. During sakura season, locals and tourists alike take part in hanami (cherry blossom viewing) and have parties in areas where there are cherry blossoms. If you're interested in finding out the best places to go cherry blossom viewing in Japan this year, read on below!
A Brief History of Cherry Blossoms

Cherry blossoms, or sakura, have a special significance in Japanese culture and the celebrations that mark their arrival have been going on for more than 1000 years. The first recorded history of hanami – picnicking under the cherry blossoms – can be traced back to the 8th century. Originally practised by the royal court as a way of marking the spring harvest, the custom gradually spread to the wider population and took on more spiritual undertones.
Symbol of Life & Death
18th-century Japanese scholar, Motoori Norinaga, saw the cherry blossoms' brief period of flowering as a metaphor for life and death. He wrote about this extensively and incorporated cherry blossoms into his philosophy of mono no aware, which roughly translates to a moment of sadness about the transience of life.
Centuries later, cherry blossoms remain a permanent fixture in Japanese art, literature, and philosophical outlook. These trees are deeply symbolic and have often been given as gifts to other countries.
The blossoms are also used in a number of local Japanese dishes. Pickled blossoms are added to hot water to produce a ceremonial drink known as sakurayu, while the leaves that follow are often used to wrap up children's sweets and candy.
Japan Cherry Blossom Forecast by Region

Credit: Agathe Marty / Unsplash
Cherry blossom blooming dates vary slightly among regions in Japan. Regions to the south of the country tend to see earlier blooming dates compared to regions up north. Tokyo has one of the earliest blooming dates in the country, while in Aomori, you'd still be able to see cherry blossoms well into April.
Best Places to View Cherry Blossoms in Japan

Himeji Castle
When to go: Early April
How to get there: Take the direct access Hikari train from Shin-Osaka Station. This trip takes between 30 to 45 minutes. Upon arriving at Himeji Station, exit via the Central Ticket Gate and take the North Exit. The castle is a 20-minute walk along Otemaedori Street.
Credit: Expedia
Himeji Castle is also known as White Heron Castle due to its elegant and pristine white appearance. Even when it isn't sakura season, the castle looks utterly awe-inspiring. Unlike other Japanese castles, Himeji Castle was never destroyed by war or natural calamities which is why it has preserved its beauty throughout the centuries. Come springtime, the castle grounds are made even more magical with its cherry blossoms in full bloom. Do note that entry to the castle grounds is not free. Ticket prices range from 240 JPY (S$3) to 1000 JPY (S$13).
Where to stay: Hotel Nikko Himeji

Ueno Park
When to go: Late March to Early April
How to get there: Head to the JR Ueno Park Ticket Gate. After arriving at the JR Ueno Station platform, take the escalator up or the stairs and walk towards the Ueno Park ticket gate.
Credit: Trevor Paxton / Unsplash
Located in central Tokyo, Ueno Park is a large public park right next to Ueno Station. It's famous for the many museums that can be found there, including the Tokyo National Museum, Tokyo Metropolitan Art Museum, and more. More importantly, the park is home to over 1000 cherry blossom trees which come into full bloom late in March and last until early April. If you want to enjoy a hanami somewhere free and conveniently-located, then Ueno Park is a good choice.
Where to stay: Hotel Graphy Nezu

Maruyama Park
When to go: End of March to Mid-April
How to get there: Take Routes 100 on the city bus from the Kyoto Ekimae bus stop for 20 minutes, exit at Gion, and then walk for 1 minute until you reach the park.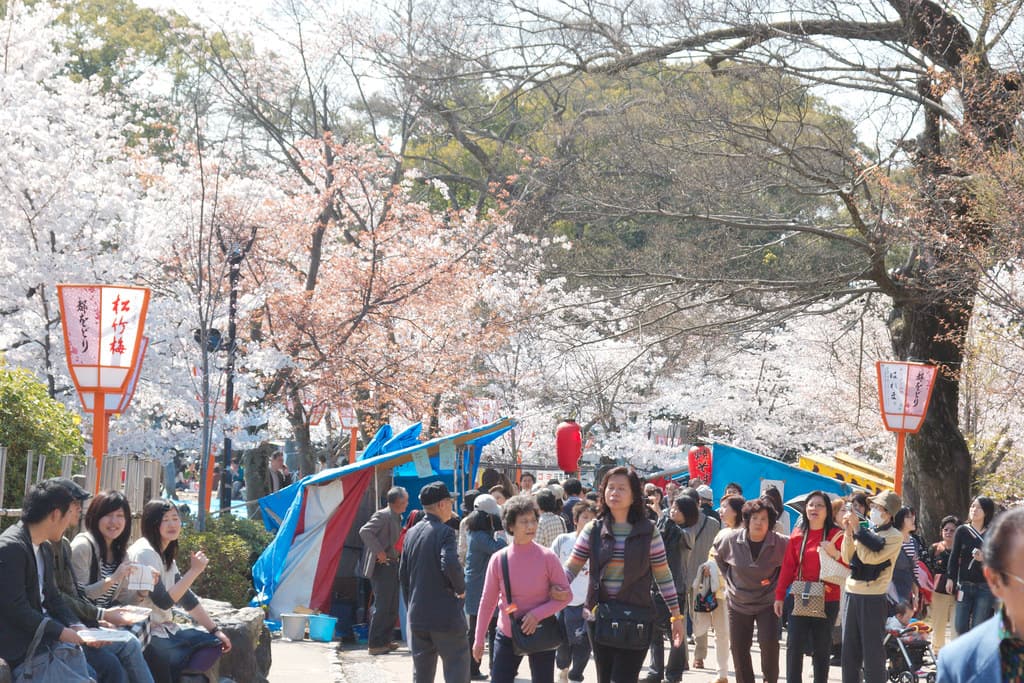 Credit: Kimon Berlin / CC BY-SA 2.0
Maruyama Park is one of Kyoto's most popular attractions. The park's main centrepiece is an enormous weeping cherry blossom tree which gets lit up at night during sakura season. There are other smaller cherry blossom trees scattered around the park as well. These trees come into full bloom towards the end of the March and typically last until mid-April.
Where to stay: Kyoto Ryokan Sakanoue

Shinjuku Gyoen
When to go: Late March to Early April
How to get there: The park is just a 10-minute walk from JR Shinjuku Station when you exit at the New South Exit.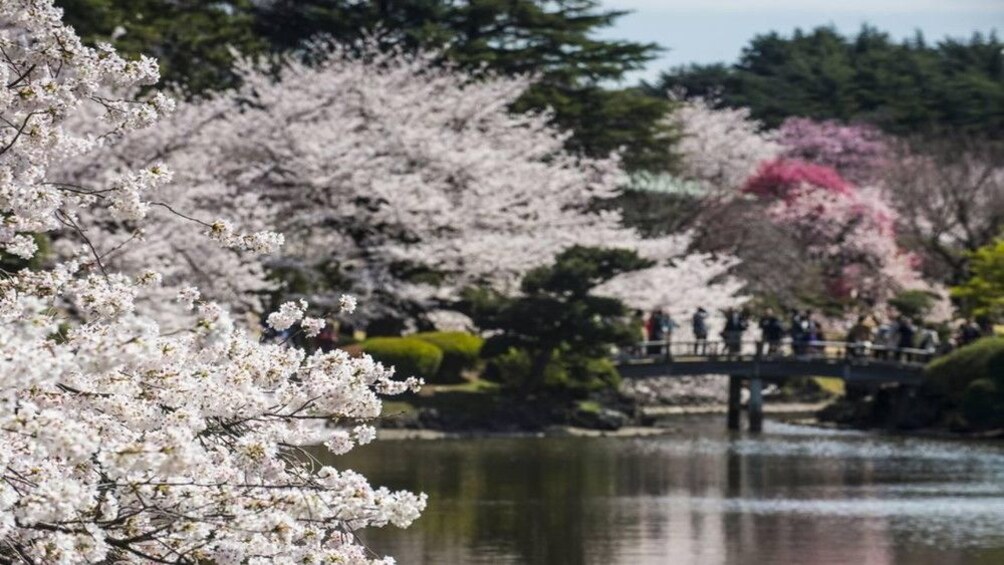 Credit: Expedia
If there's one place you can't miss out during sakura season, it's Shinjuku Gyoen. It's one of Tokyo's largest and most popular parks. It's also conveniently located near Shinjuku Station, this paid park offers visitors spacious lawns, walking paths, and ponds. The park is also home to over 400 Yoshino cherry blossom trees that come into full bloom from late March to early April. However, some trees in the park are early bloomers and others are late bloomers so it's a good place to go if you feel like you're either too late or too early for sakura season.
Where to stay: Hundred Stay Tokyo Shinjuku

Meguro River
When to go: Late March to Early April
How to get there: You can reach Meguro River from either Meguro Station or Nakameguro Station which are both a 5-minute trip from Shibuya Station.
Credit: Expedia
Meguro River spans 4 kilometres and flows through several of the city's most chic neighbourhoods before emptying out into Tokyo Bay. The river is flanked on both sides by beautifully landscaped walking paths and offers a relaxing, mellow atmosphere. When cherry blossom season comes around, Meguro River becomes one of Tokyo's busiest hanami spots as it is lined with over 800 cherry blossom trees. When you're done viewing cherry blossoms, you can head to one of the cafes and restaurants along the river.
Where to stay: ACT HOTEL ROPPONGI

Fukuoka Castle (Maizuru Park)
When to go: Late March to early April
How to get there: Take the train to Tenjin Station. From Tenjin Station, the castle is just a 20-minute walk away.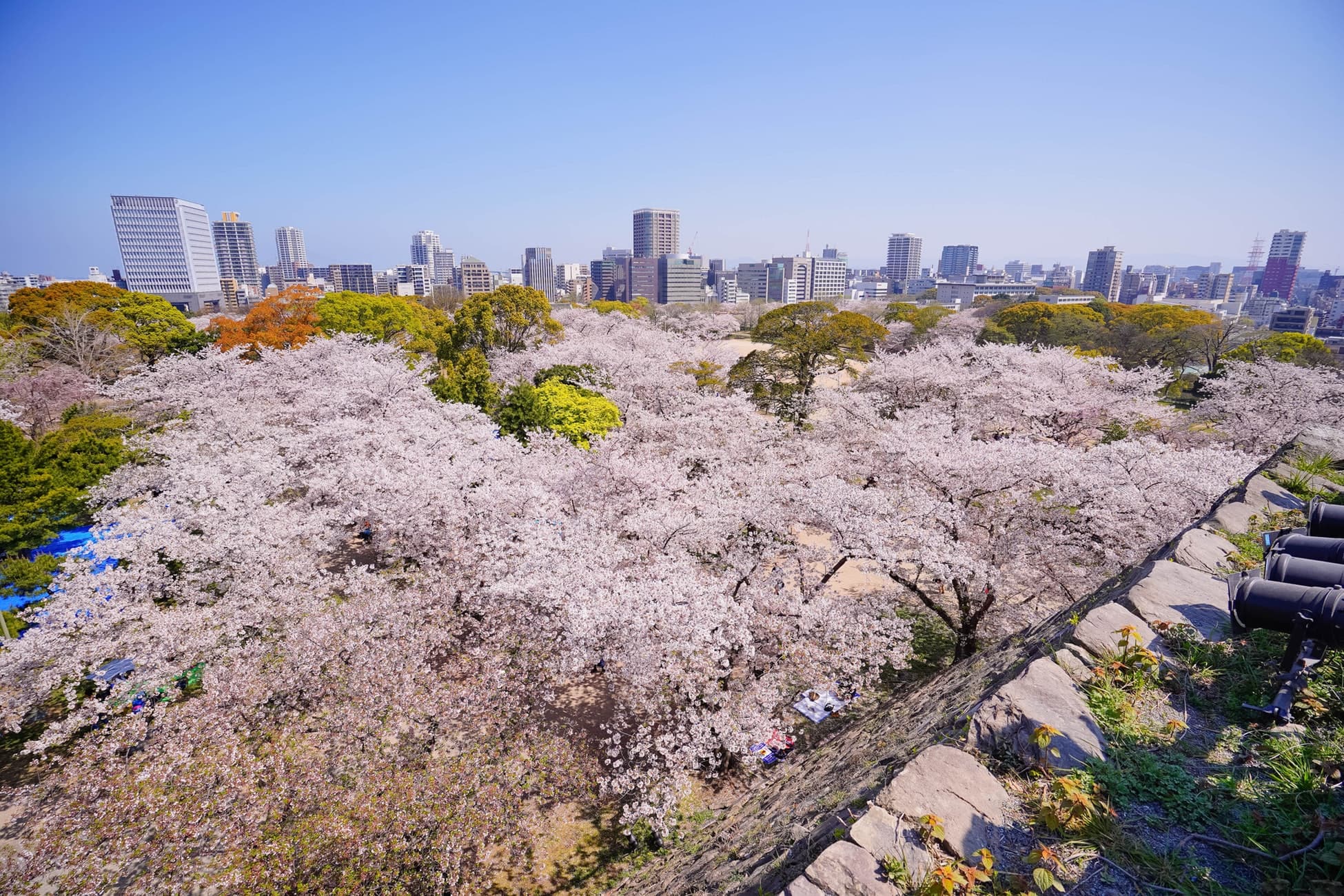 Credit: Jason CS Chen / Unsplash
The ruins of Fukuoka Castle (sometimes referred to Maizuru Castle) are located at Maizuru Park in Fukuoka City. The best time to visit the castle ruins is from late March to early April when the park's cherry blossom come into full bloom. The park's walking paths are lined with cherry blossom trees, allowing visitors to walk through tunnels of cherry blossoms. Set against the backdrop of castle ruins, the hanami experience here is nothing short of magical!
Where to stay: Oriental Hotel Fukuoka Hakata Station

Philosopher's Path
When to go: Early April
How to get there: The Philosopher's Path runs between Ginkakuji and the neighbourhood of Nanzenji, a 5-10 minute walk north of Nanzenji's main temple buildings.
Credit: KimonBerlin / CC BY-SA 2.0
The Philosopher's Path in Kyoto was named after a university philosophy professor, Nishida Kitaro, who liked to walk the path as he meditated. This peaceful path goes through a rural neighbourhood that overlooks a narrow canal, perfect for a relaxing stroll. When April comes, however, the path is buzzing with people who want to see its cherry blossoms in full bloom. Come during sunset to enjoy the trees with fewer crowds.
Where to stay: ORIENTAL HOTEL KYOTO ROKUJO

Miyajima
When to go: Early April
How to get there: From Hiroshima Station, take the JR Sanyo Line to Miyajimaguchi Station (27 minutes). Then, take the ferry from Miyajimaguchi to Miyajima Pier (10 minutes).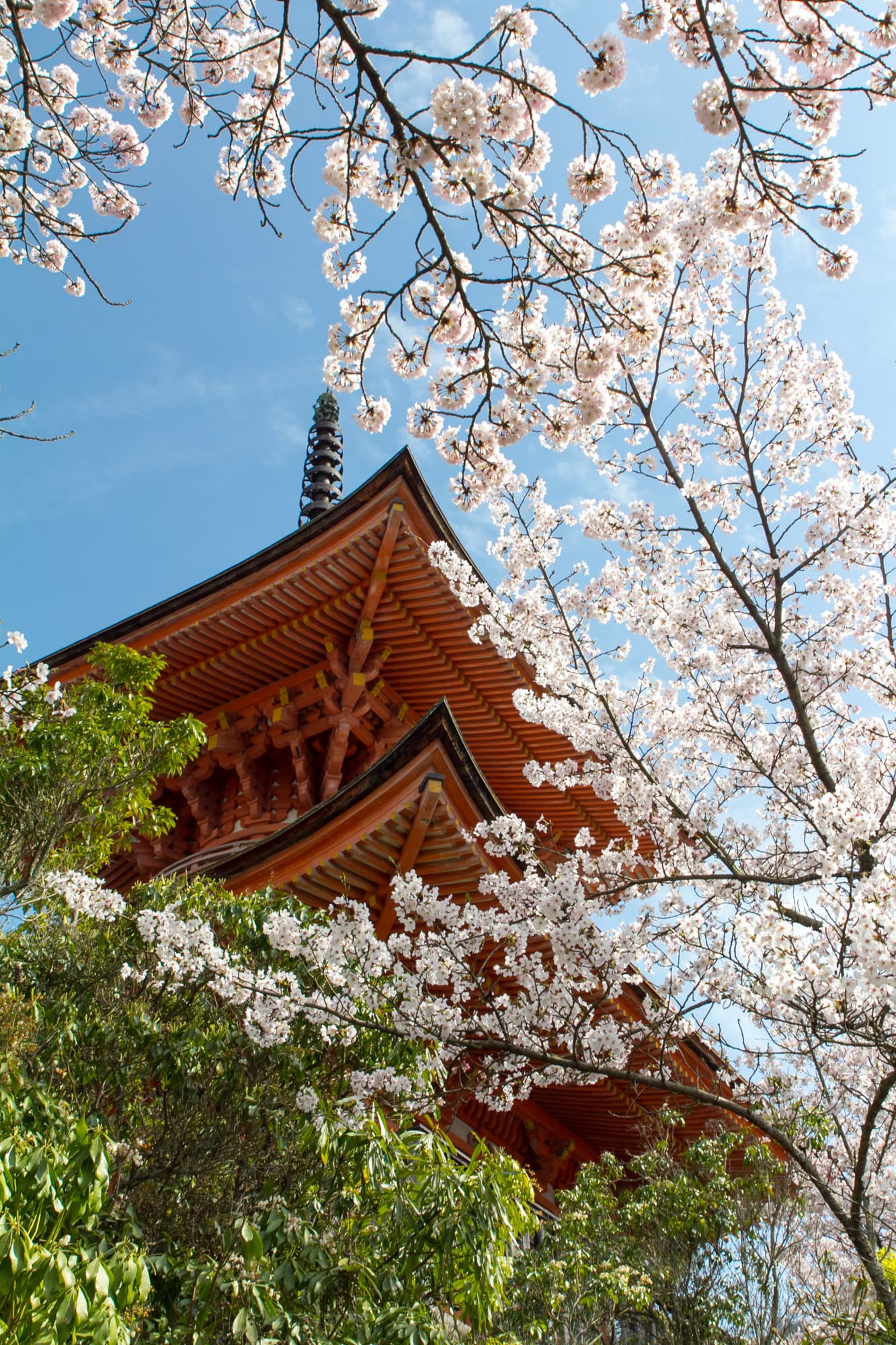 Credit: Oren Rozen / CC BY-SA 4.0
Miyajima is a small island located about an hour away from Hiroshima. It is best known for its giant Torii gate which seems to float above water during high tide and is considered one of Japan's best views. Miyajima offers visitors a romantic atmosphere which is made even more romantic when sakura season arrives. Sakura season starts in the first few days of April and one of the best Miyajima hanami spots is Momiji-dani-koen Park.
Where to stay: Grand Prince Hotel Hiroshima

It comes as no surprise that the cherry blossom season is one of the busiest times in Japan. Seeing cherry blossoms in full bloom is an experience you can't put a price on!
[tabs]
[tab title="Where to Stay" icon="entypo-suitcase"]
[button style='blue' icon="entypo-suitcase" url='https://www.expedia.com.sg/Destinations-In-Japan.d89.Hotel-Destinations' fullwidth='true'] Find Hotels in Japan [/button]
[/tab]
[tab title="Let's Go!" icon="entypo-flight"]
[button icon="entypo-flight" url='https://www.expedia.com.sg/Destinations-In-Japan.d89.Flight-Destinations' fullwidth='true'] Flights to Japan [/button]
[/tab]
[/tabs]