By Aditi Shukla, on June 16, 2017
Travel Diaries: 7 Interesting Places in Penang I Loved (And You Should Visit!)
If I were to pick a city in Malaysia, I would choose Penang, any day. It's so diverse. There is a lot to do, beyond just museums and food. This melting pot of cultures incorporates a unified blend of Chinese, Indian and Malaysian culture. The influence of these three ethnicities is seen in the food, along the streets and in the art forms that represent communal harmony. If you are looking at chilling by the beach, going on a food tour or gazing at the murals of the old town, this is the place to be. While the list goes on and on, here are my top six things to do in Penang.
Let the journey begin… *follow me*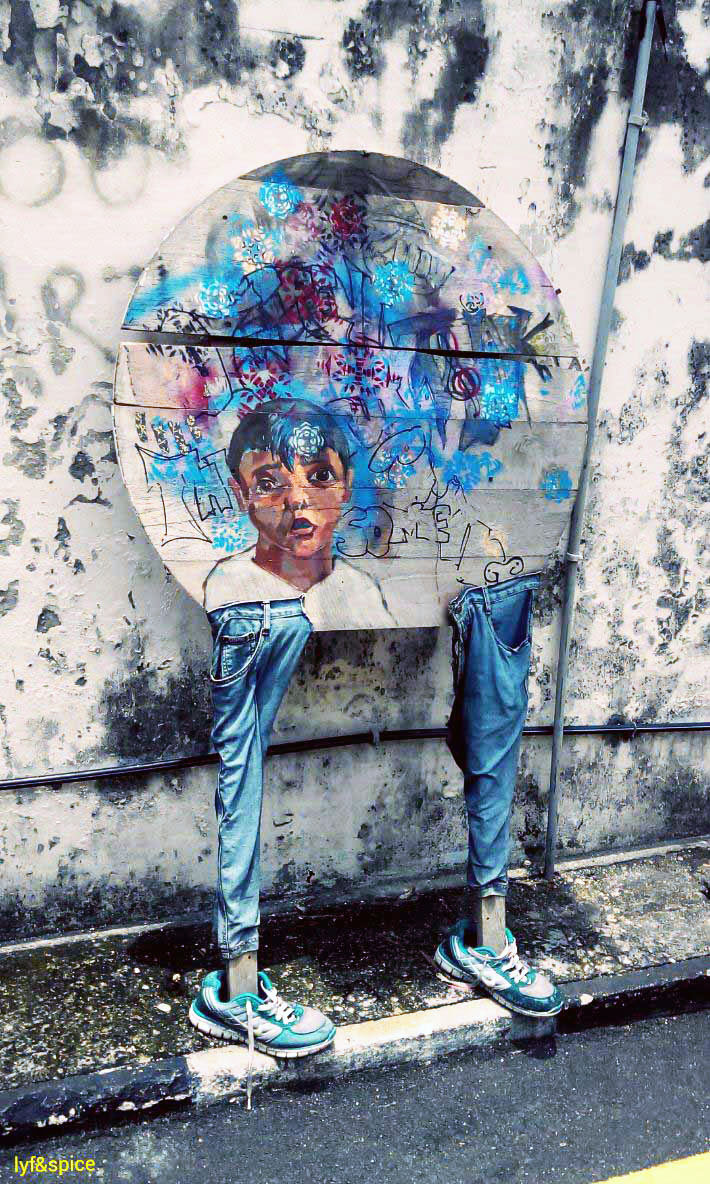 Interesting Places in Penang #1
Bukit Bendera: Breath-taking views uphill
Bukit Bendera or Penang Hill is an amazing attraction offering lots of activities. There's just so much to do that you lose track of time. I headed uphill twice, to get the best of both views – to watch the hustle of the mainland and island separated by the bridge and admire the flora all around by day, and to gaze at the glimmering lights as the sun set later in the evening.
There are two ways of reaching the hilltop – via the funicular train or hike your way to the top.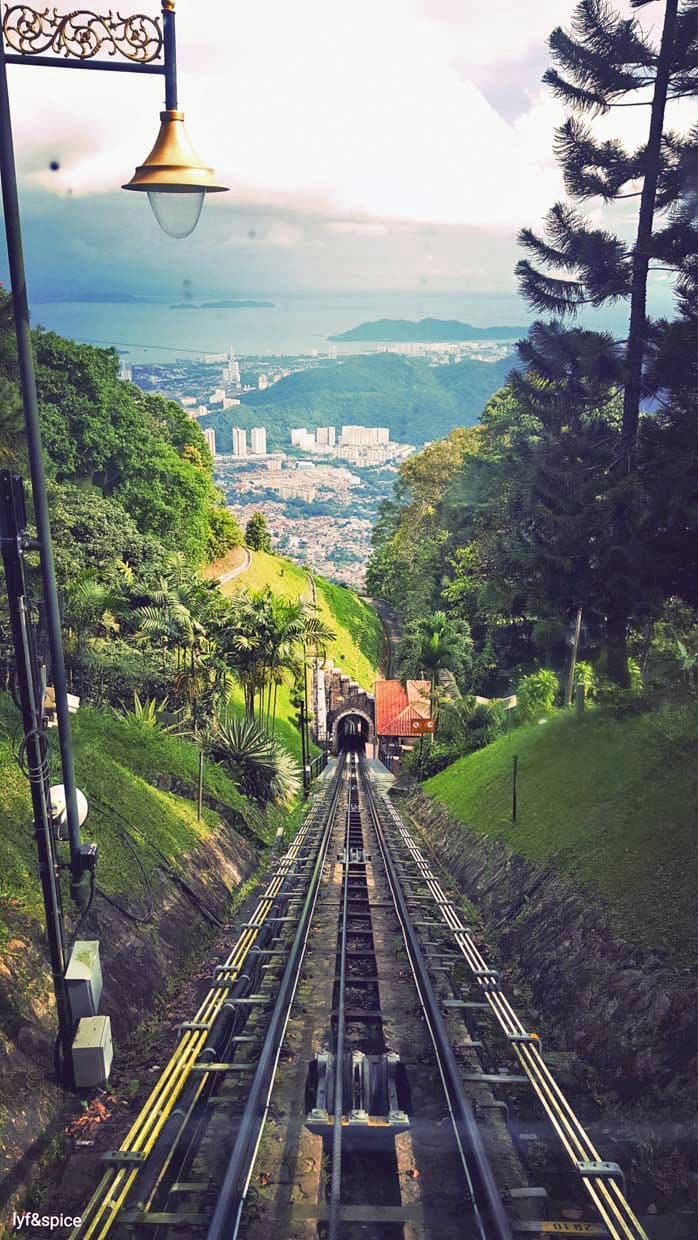 Down the funicular train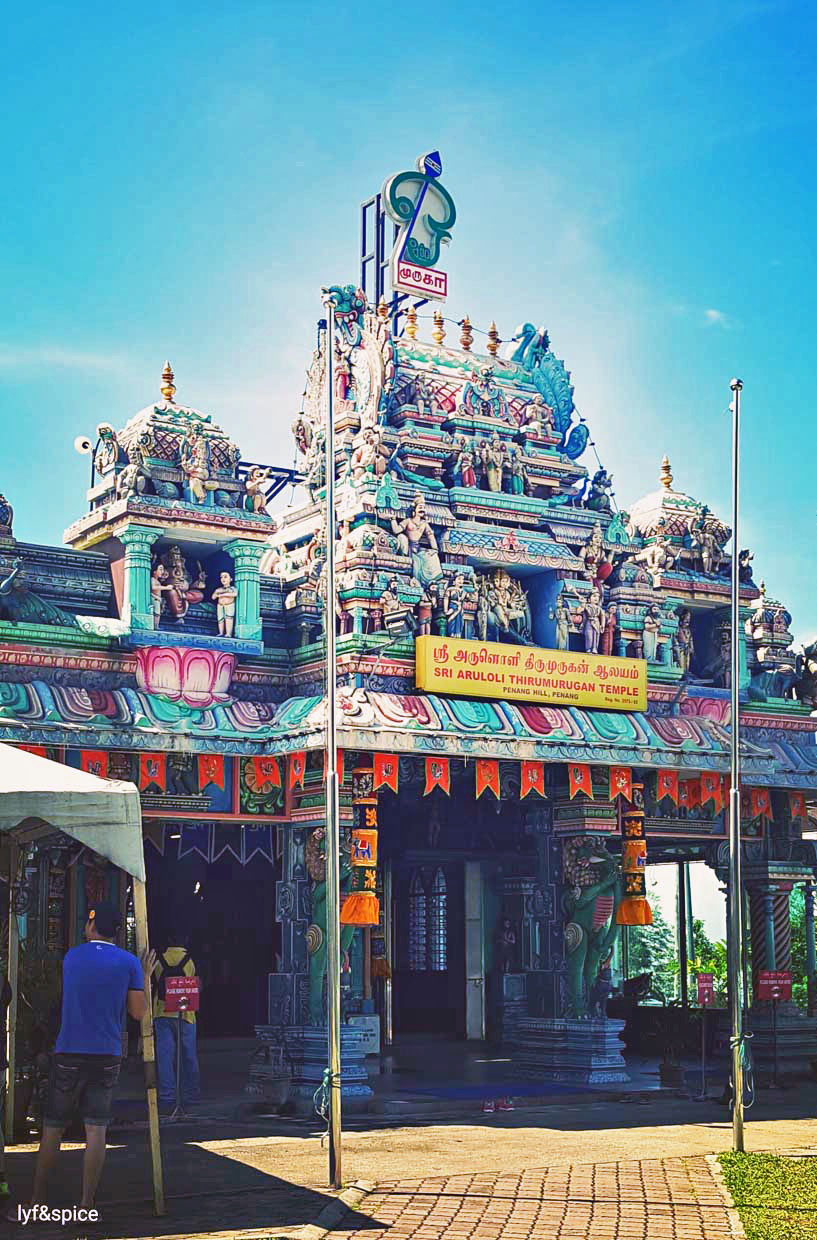 The famous temple at Bukit Bendera
At Penang Hill itself, you can take a buggy ride, spend time at the Owl Museum, chill by the café surrounded by street art and monkey cups, leave a token of love at the Love Lock enclosure, try your hands at henna art and visit the temple or mosque, besides many other activities in store for you.
Do stop by the food court for some local delicacies and iced desserts. What's a day in Penang without some delicious food right? I especially loved the mango ais kacang.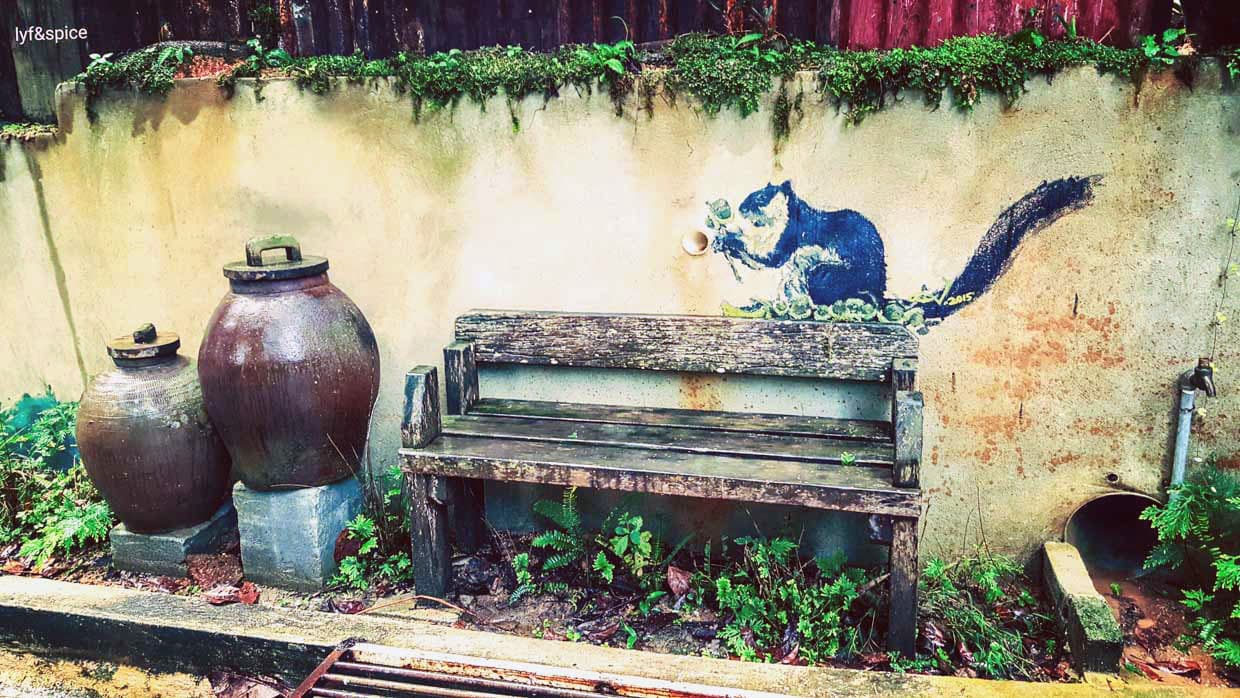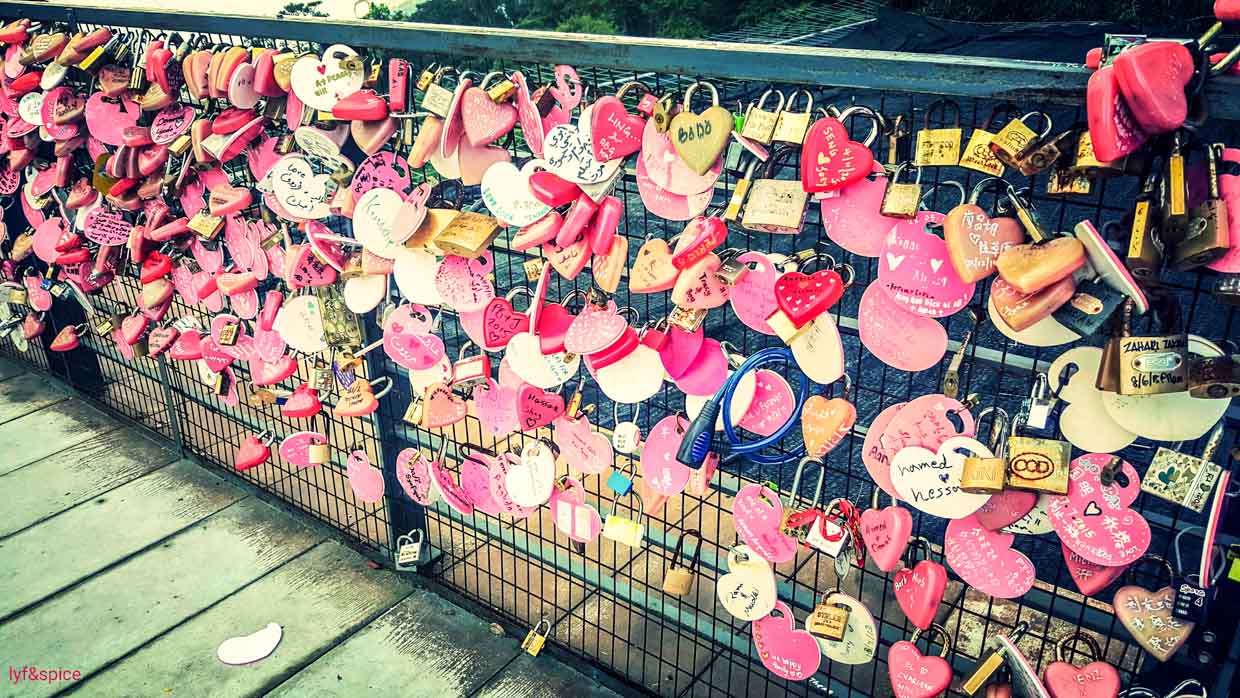 Interesting Places in Penang #2
George Town: Interact with street art
The murals at George Town are so engaging that you'll want to explore every lane to check them all out. The street art which is a part of the UNESCO World Heritage Site, is a tad different than usual, as it is quite interactive and comprises of a combination of wall paintings, art installations, 3D interactions, glass art and road inscriptions.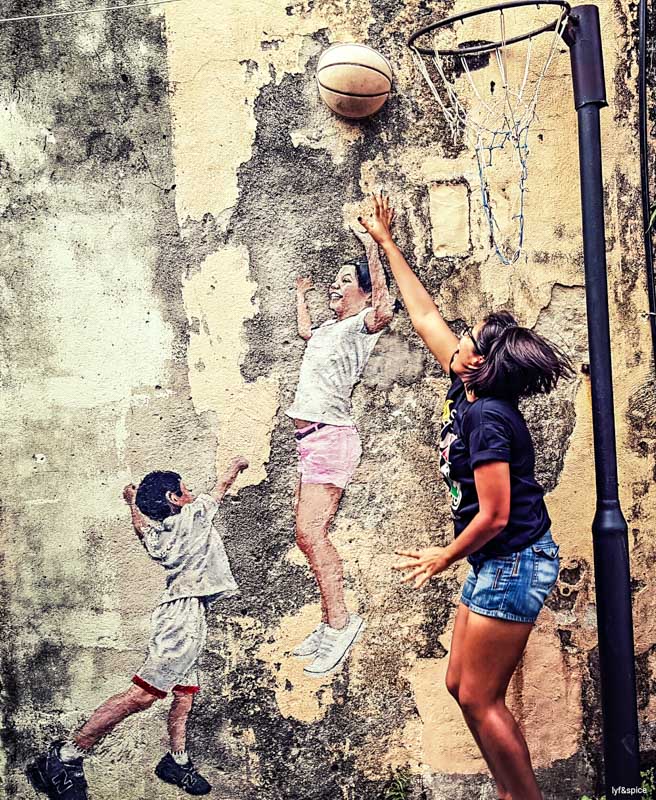 Children playing basketball – let's join the game
Haiyya!
I noticed a rather obvious pattern of cats painted all along the mini town. I realized that it was the work of the ASA or American Society for Stray Animals under the project name '101 Lost Kittens'. If you look closely, you will notice huge cats and some kittens painted all along with claw-prints carved on the road at certain lanes.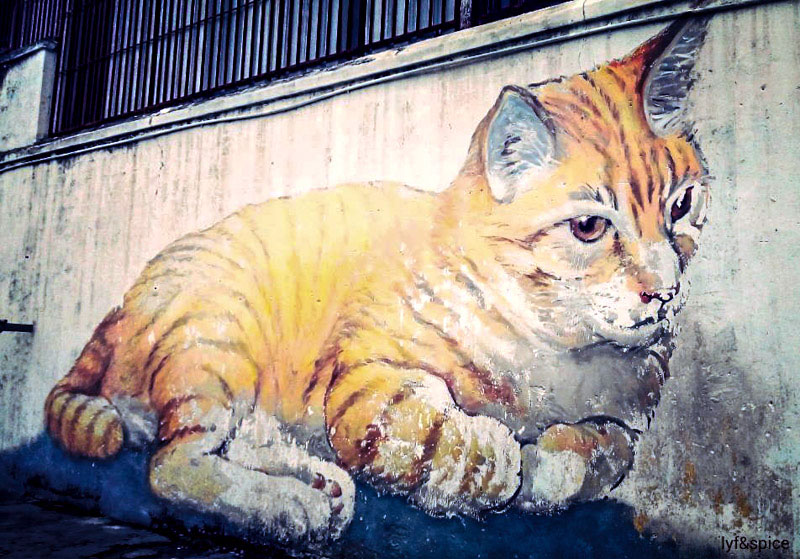 Skippy the cat – the most famous giant cat mural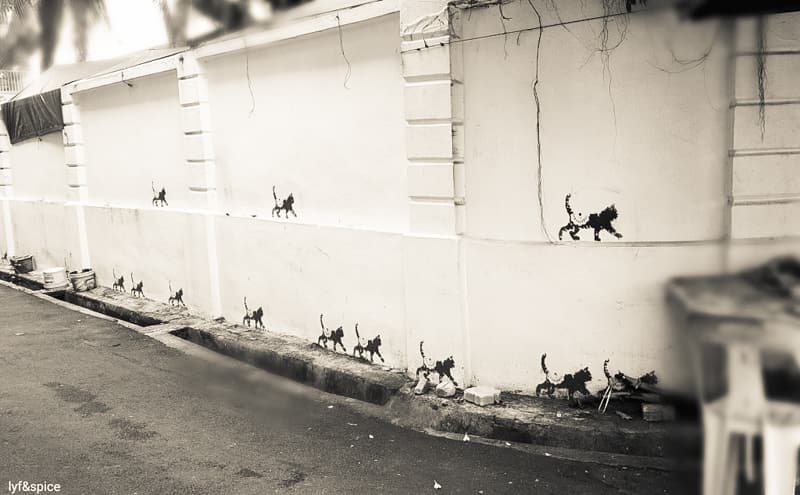 > Read More: Taking Instagrammable Shots with Penang Street Art
Interesting Places in Penang #3
Ernest Zacharevic Gallery
While various artists have displayed their skills and art across the town, I love the work of Ernest Zacharevic so much that I visited his gallery in the main city.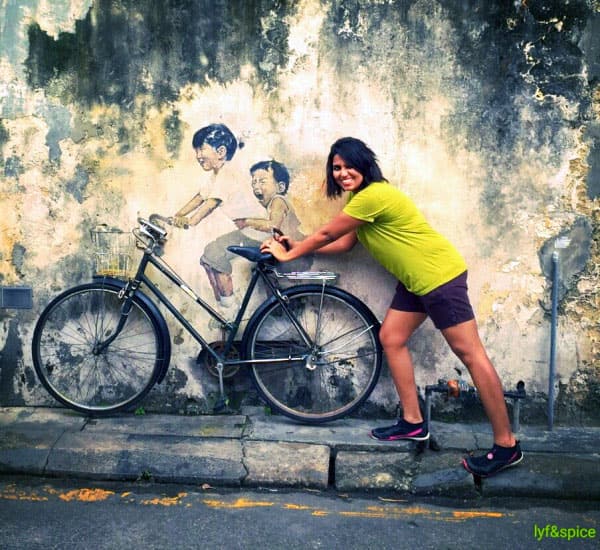 Kids on a bicycle – one of the most ones by Ernest Zacharevic
At Ernest's gallery – this one was a part of the ongoing series called chicken talk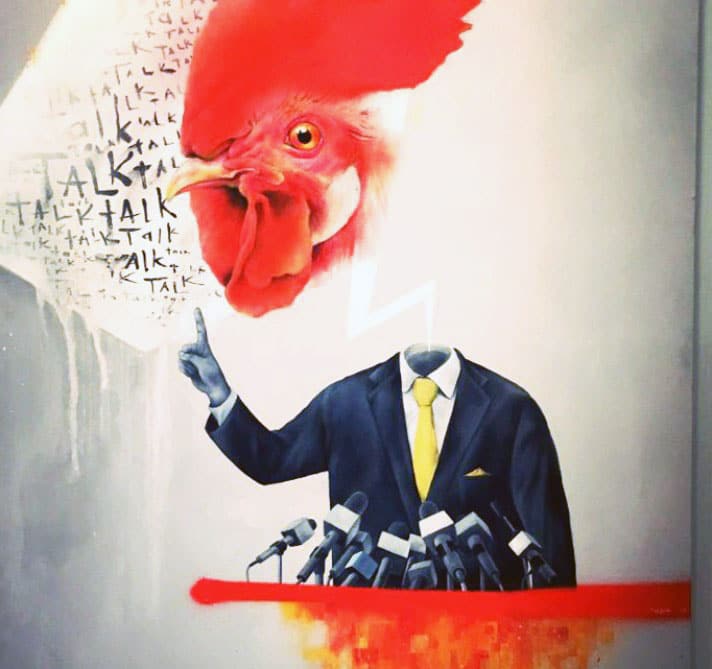 Georgetown on Foot
The best way to explore George Town is on foot. I had to walk around a lot, which is why I chose a hotel with a very close proximity to the old town. Hotel Jen Penang by Shangri-La.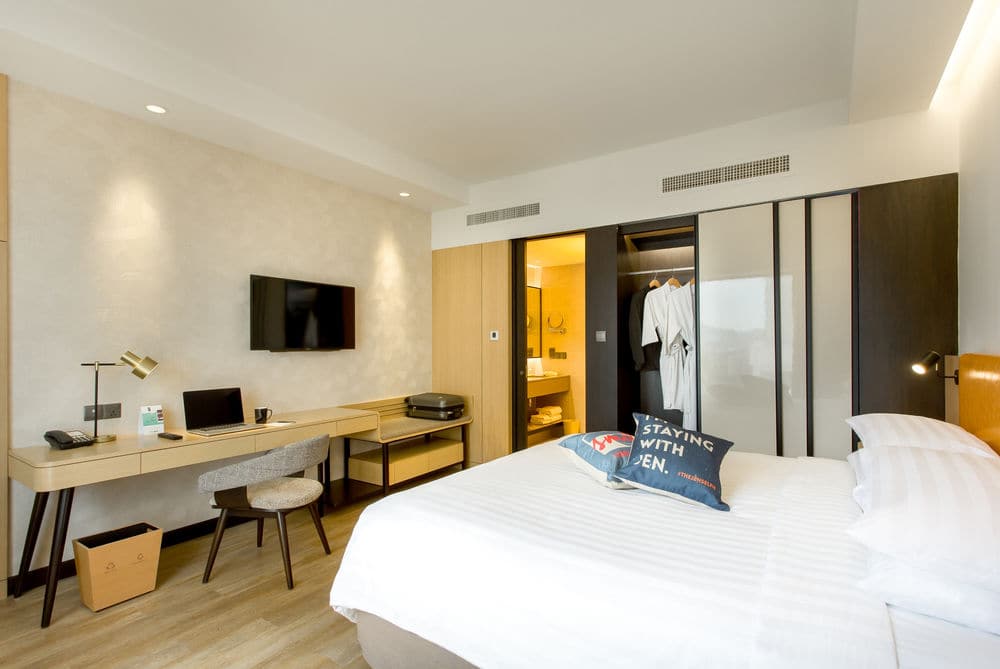 Not only was it walking distance from the malls, but it was also a quick trishaw ride away to the main hub of George Town and very close to the main bus station. I had breakfast at the hotel, head to the nearby Komtar Walk area for packing a quick lunch and then walk the remaining distance to check out the street art. It was the most convenient and comfortable spot to be at. Getting back to the hotel and making a beeline to the hotel spa was very relaxing after a long day.
> See More: Top 10 Hotels in Georgetown, Penang
Interesting Places in Penang #4
Leith Street: Paint the town blue
Basking in a striking indigo hue is the famous Blue Mansion of the powerful politician and businessman, Cheong Fatt Tze at Leith Street, Geroge Town. This legendary mansion that doubles up as a museum and bed and breakfast has been awarded for its preservation and services several times. It forms a part of the UNESCO World Heritage site and what makes it so different besides its catchy colour is the fact that the pieces displayed in the preserved house exhibit Gothic and Chinese influences, a western zing with a classic twist. The architecture is worth a note, as is the history surrounding it. A subtle tint of indigo dye was used to paint the mansion while it was built during the 19 century. I reached around 10.30 A.M. and signed up for the guided tour.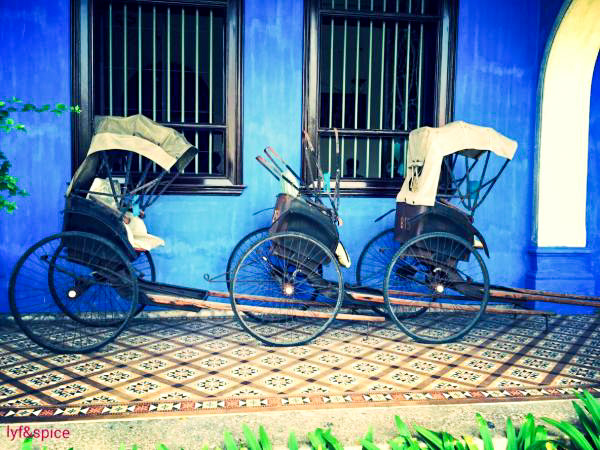 Interesting Places in Penang #5
Gurney Drive: Laksa, Rojak and eat all you can
Attend to your tingling buds with the delectable street food scene in Penang. The city is a food haven, and the options of great eats do not stop with Gurney Drive or Assam Laksa, Rojak and Cendol. It goes beyond that to mamak stalls, curry mee, pasembor and more. There are a number of hawker stalls and lanes where you get the best street food, Penang style.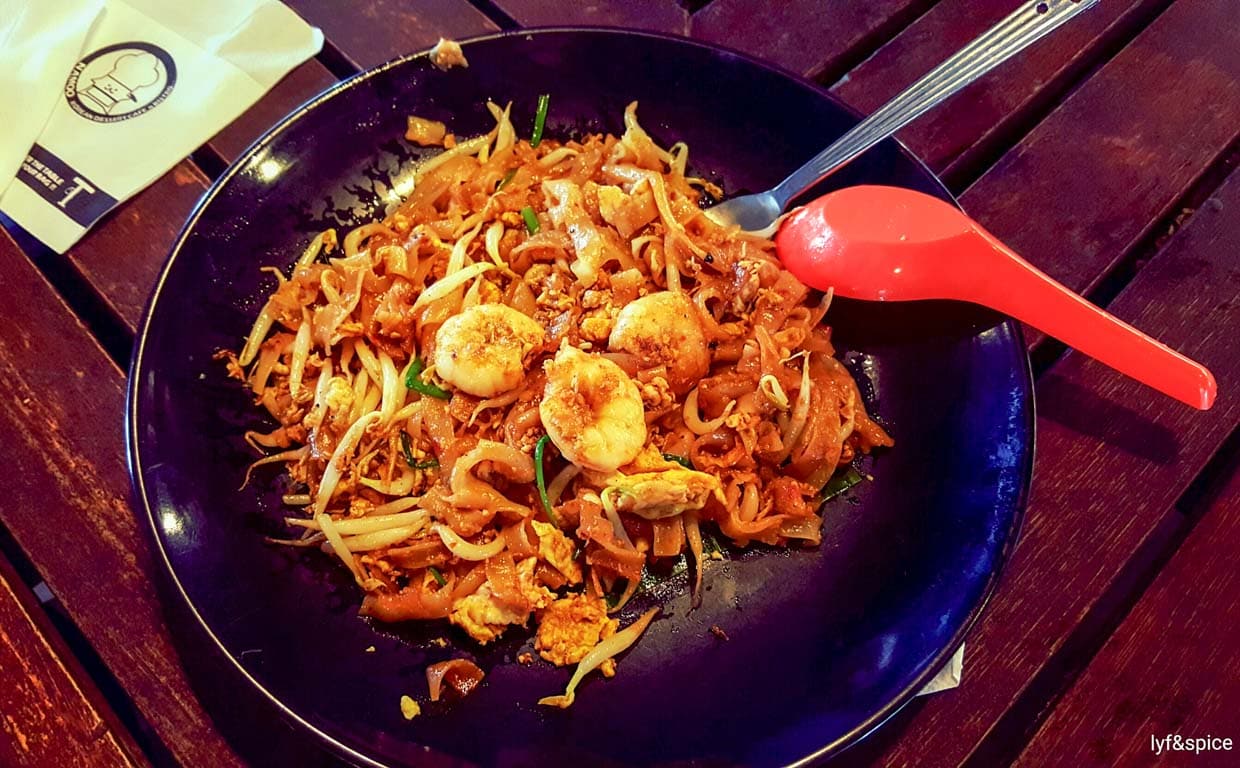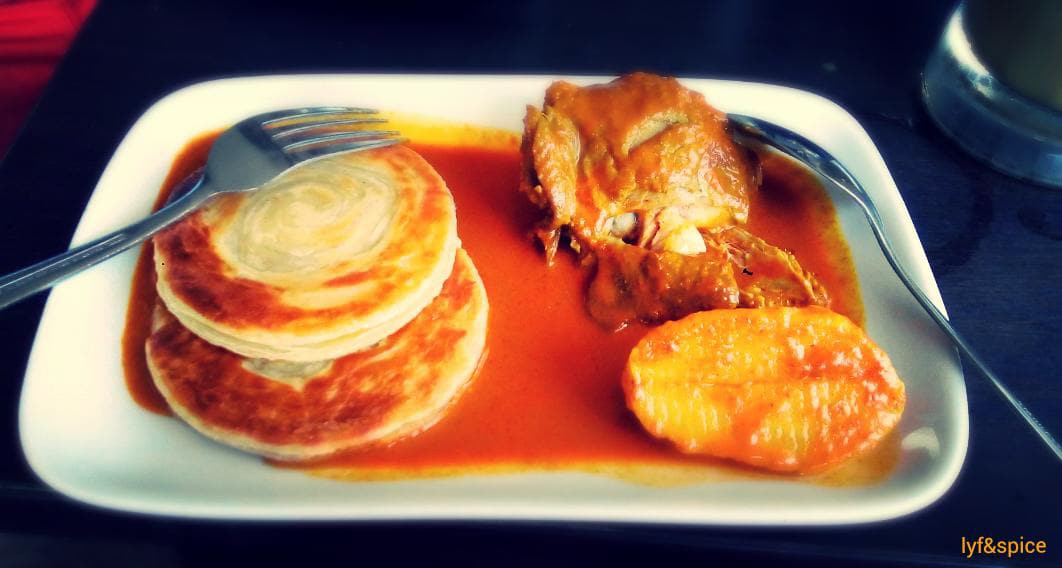 Roti Canai (prata) and its endless
variations
Do try the ones scattered along Little India, Chinatown and the by-lanes of George Town, check out the hawker centre of Gurney Drive along the northern stretch and authentic Penang delicacies at Chulia Street. There are options for halal and non-halal food. These streets take you into a food coma right away. The taste and variety are so mesmerizing that Penang is one city that lures you to fulfill your food lust. My visit to Penang is incomplete without having a plate of my comfort food, char kway teow.
> Read More: Beginner's Guide to the Best Food in Penang
Interesting Places in Penang #6
Ghost Museum: Dine with an eerie family
Museum hopping was never so much fun! Breaking the norms of conventional, history-laden museums, Penang's museums have some of the most interactive and light-hearted exhibits. I loved them! Found them very engaging.
You can choose if you want a dash of history or simply have fun at various museums across the city. For something serious, head to the Camera Museum, understand cocoa and bean processing at the Chocolate and Coffee Museum or try your hands at panning gold at PG Gold Museum.
For some crazy and wacky dose of fun, go topsy-turvy in the Upside Down Museum, dine with the eerie family at the Ghost Museum or check out owls sculpted in various materials at the Owl Museum. The list doesn't end here – so I decided to explore, explore, explore till I hunted down every museum (almost) in the city.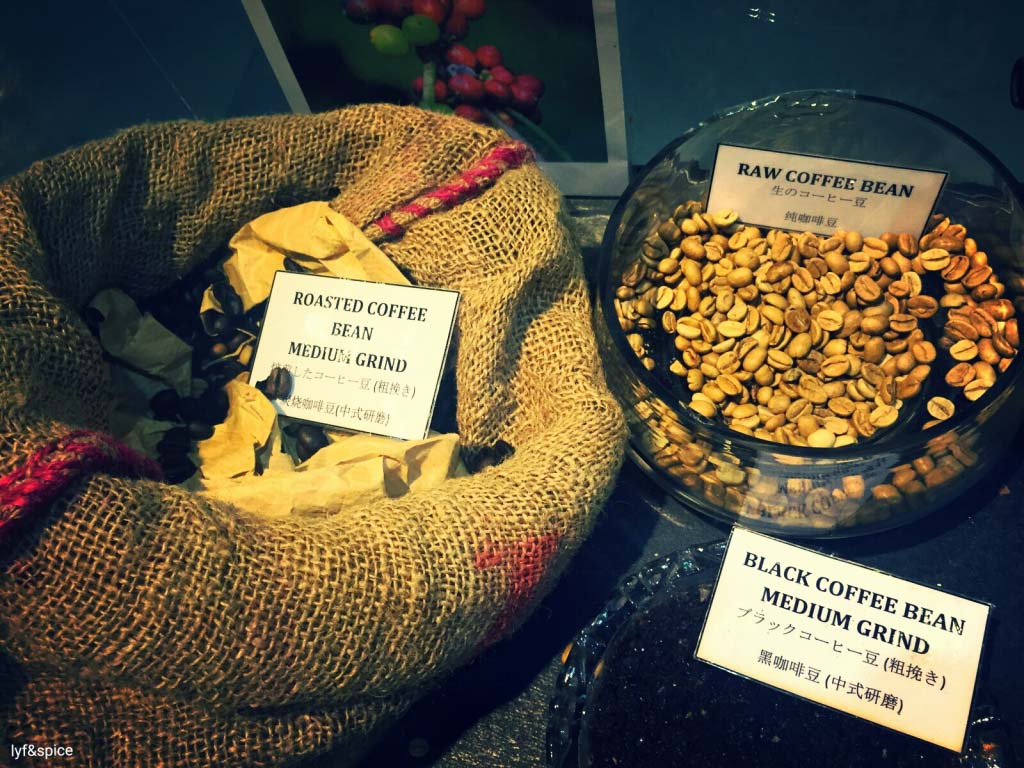 Coffee beans at Chocolate and Coffee Museum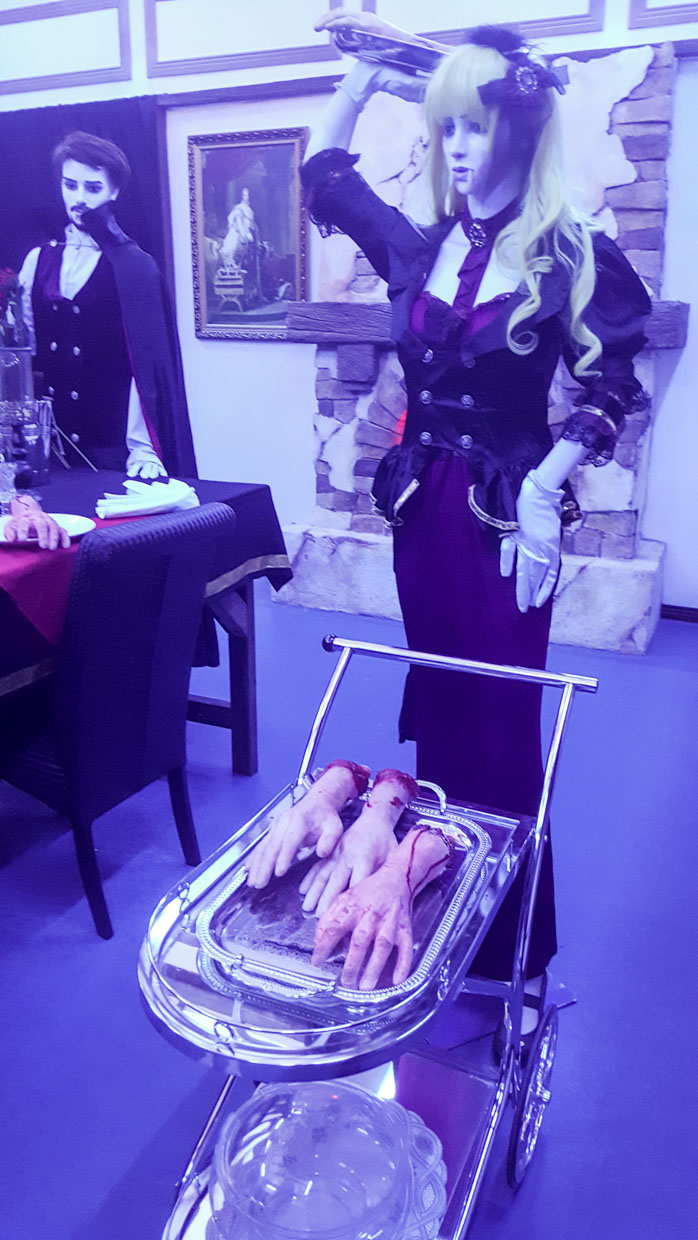 Wine and dine at the Ghost Museum 😉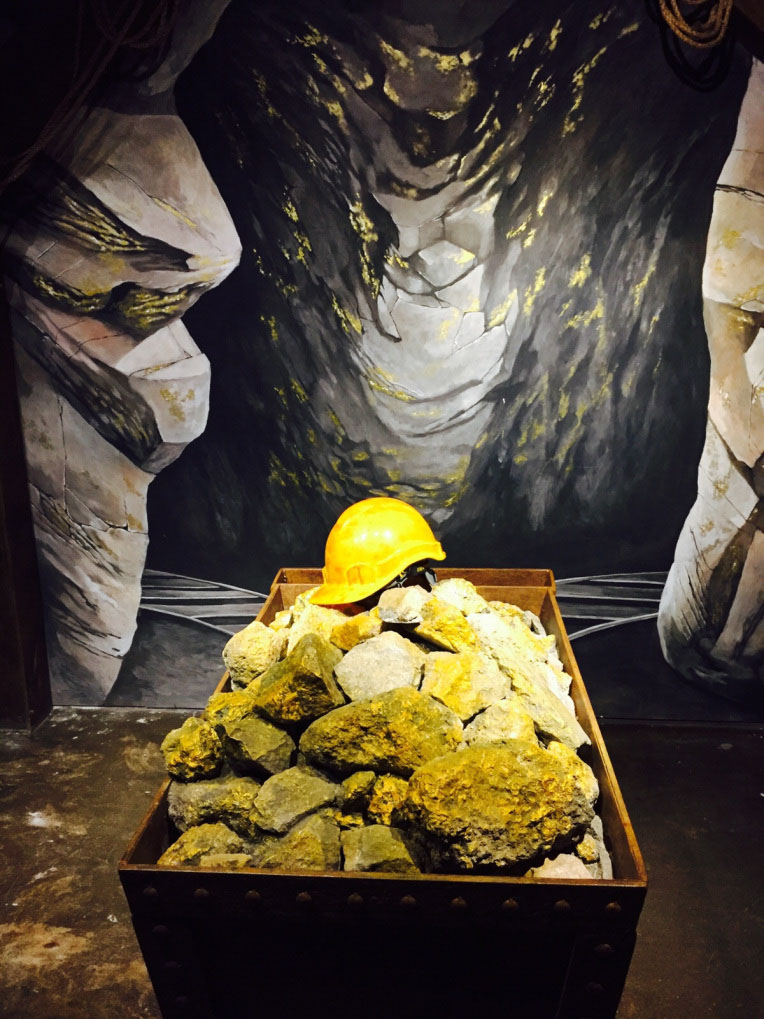 Gold mining at PG Gold Museum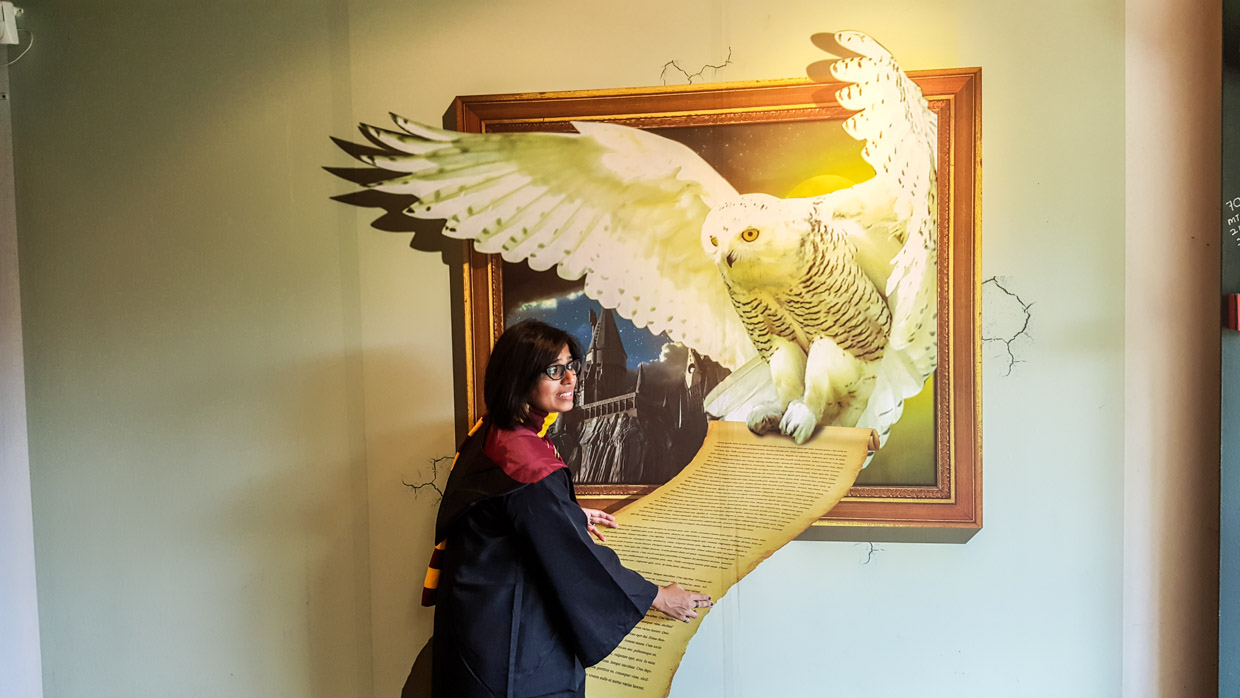 Owl Museum for Harry Potter fans
Interesting Places in Penang #7
Batu Ferringhi: Eat, drink, party by the beach
Calling all beach bums! Batu Ferringhi sees a huge chunk of tourists every year beckoning them to chill by the cold waves and enjoy the drinks and food by the shore. Watch out for parties and great music that picks up by the peak hours of the night.
My plan of visiting Batu Ferringhi was to enjoy a couple of good meals at Penang's fine dining restaurants, before hitting the beach in the day, followed by shopping at the night market. A little treat to get my feet beach-ready? Soothing foot spa and fish spa. You'll need a day or two in Batu Ferringhi for a fair chance at trying out the variety of Penang food and experience the stretch in detail.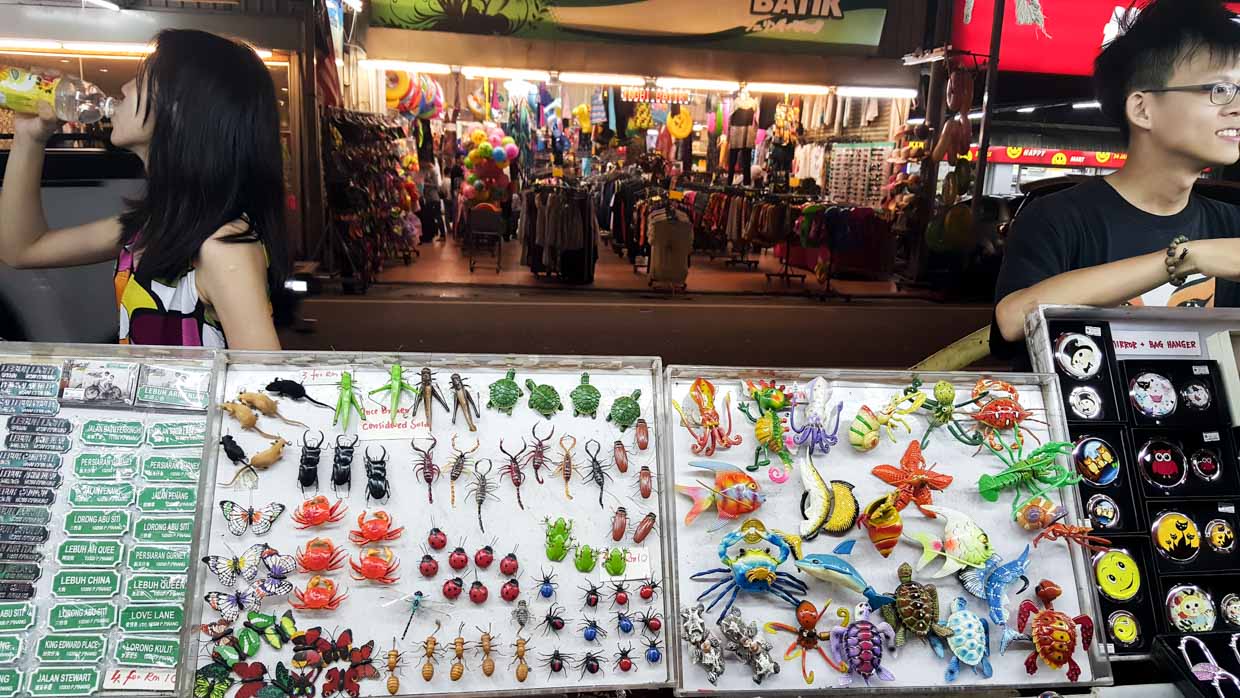 I suggest booking a hotel closer to Batu Ferringhi beach. Everyone's favourite? Hard Rock Hotel. This hotel not only houses the famous Hard Rock Cafe, but is also themed around hard rock and is famed for its foam parties. I love its location and needless to say, the service is fabulous.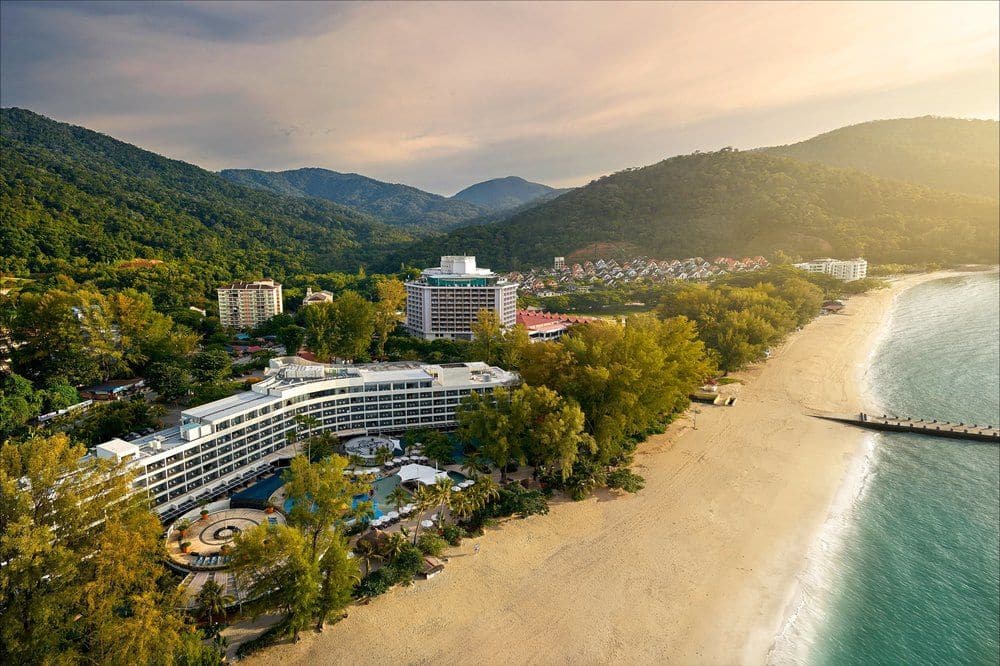 Till my next visit…
City mapping a new place on foot is my favourite thing to do. It all started in Penang when I lost my way; so I decided to ditch the tuk-tuk and explore the city on foot. I started interacting with people on the way and walking endlessly to understand the city better. Over two trips later, here I am suffering from withdrawal symptoms of Penang. Looking forward to my next adventure without any itinerary, without any agenda, but for pure fun and the joy of exploring the city on foot.
If you are comfortable 'winging it' like me, try the Expedia app to book your hotels on the fly. Remember to look closely at the check-in dates. If you're booking for the same night, be sure you're looking at the right dates and not tomorrow's date.
That's it. Have a great time 😀
[tabs]
[tab title="Best Time to Visit" icon="entypo-sun"]
Best Time to Visit Penang
Penang can be visited all year round. However, the best time to visit Penang would be from mid-October to January-end if you want to enjoy a little uplift in pleasant weather.
From February to the beginning of May, the streets are a little less crowded and the tourist rush fades away. If this is what you're looking at, you can book during this span.
The rainy season that can impact many people falls around the start of May till mid or end of October. This can be tackled easily if you carry an umbrella or raincoat.
[/tab]
[tab title="Penang Tips" icon="entypo-book"]
Bonus tips for Penang Trip
Book a hotel closest to the area you plan to visit. Check-in and out from one hotel to another if your stay exceeds two days, depending on your itinerary.
Check the weather forecast in advance and try to book a flight + hotel package at one shot. If you book them together you can score good discounts. Search with your travel dates for Penang deals here.
Carry a bottle of water at all times. The hot weather could drain you out
Sunglasses, caps, scarves are must-haves
Check out deals online for discounts on entry fees
Hail a tuk-tuk rather than a cab, especially while exploring George Town
Attractions like Penang Hill have an express lane. Spend a little extra to beat the queue and gain an advantage to grab the seat at the extreme end for an unobstructed view
Download an offline map like Waze for navigation
[/tab]
[/tabs]