By Expedia Singapore, on February 27, 2020
10 Top Things to Do in Batam Your Friends Would Envy You For
Singapore's neighbouring island of Batam has always been an easy escape for us city-dwellers. In the past, it used to be all about street food, beaches and massage. In recent years, however, this Indonesian island has been offering up with some photogenic surprises and things to do.
With an attractive currency exchange rate with the Indonesian Rupiah and just a quick 40-minute boat ride, Batam continues to be a destination where Singaporeans can enjoy a weekend getaway within a reasonable budget and a short timeline.
The good news is, if you're planning your Batam getaway soon, I've prepared a list of the most awesome things to do that will surely make your friends really envious. Let's get started planning your next Batam getaway, shall we?

Indulge in an ultimate pampering session at Xoleil Spa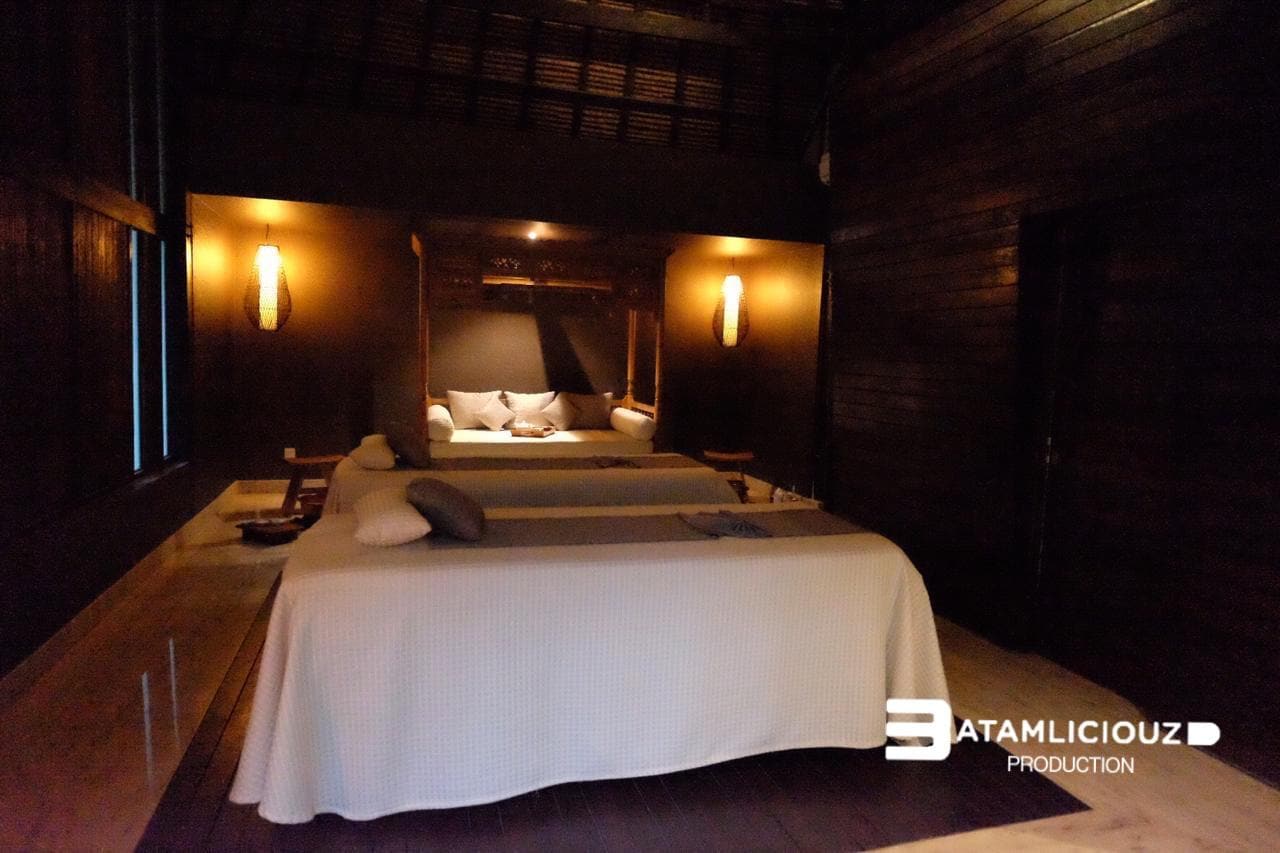 Credit: Batamliciouz
If you're looking to unwind and bliss out, Xoleil Spa is the way to go. Though not the cheapest on the island (it's around $100-$120 per ritual), this Bali-themed spa gives extremely good value – it will easily cost you four times more for the same thing in Singapore.
Bringing you etno-wellness philosophies from the Indonesian traditions, each session focuses on a restorative treatment that works by balancing your "chi". For even better results, do this with the Sasak Lombok ritual, or try the Kerokan Jahe Java for some ginger coining therapy for a deep detox.
Once you are visibly glowing from the serene effects of the spa, it's the perfect time to stroll around the compound to capture some idyllic poses against the beautiful background. So, plan for about 3 hours when you make this appointment. I personally recommend checking out the Glass Xanctuary – it's particularly Insta-worthy and not to be missed!

Escape from the crowds to Ranoh Island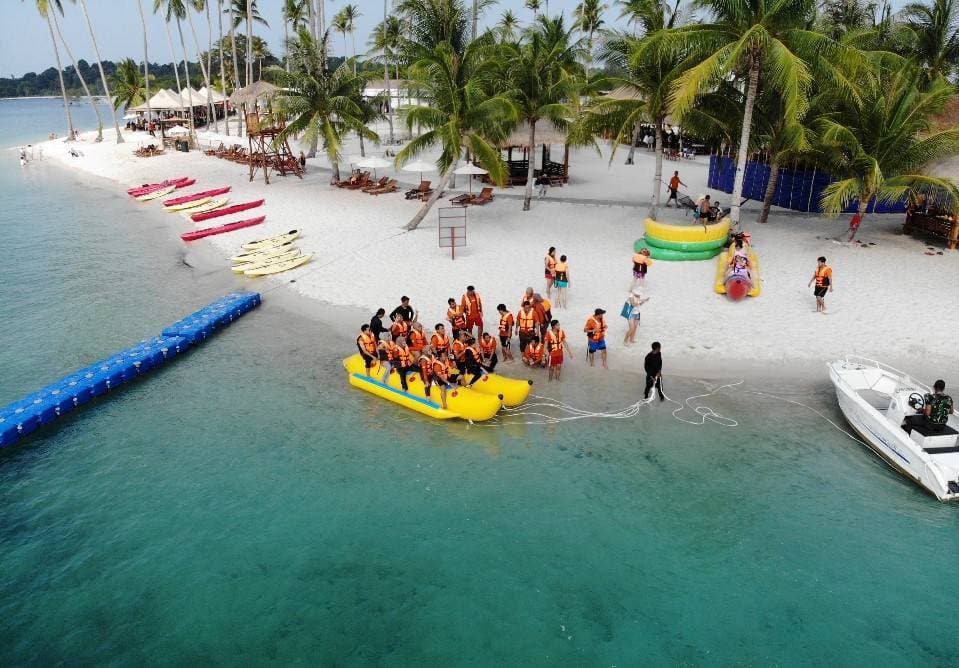 Credit: Batamliciouz
20 mins away from Batam by boat is Ranoh Island. Here you'll find pristine beaches and turquoise waters – a step up from the ones you will find on the main island itself because it is less frequented. Compared to Batam, the facilities here are still relatively new too. The island had just reopened in 2018.
Besides water sports like canoeing, banana boating and snorkelling, you can also pick up beach activities such as archery, darts, beach volleyball and more. Designed with the social media crowd in mind, you can easily find colourful bean bags under Balinese umbrellas, sea-facing swings and even an inflatable island on Ranoh. So, be prepared for that quirky shot for your IG feed!
Of course, nothing beats retreating to your glamping tent for the night, where if you bring your own fairy lights, can become the perfect spot for some whimsical moments. All these can be enjoyed at approximately $100 a night, with most activities included.
To get to Ranoh Island, simply head to Labun Island Jetty after the 6th Barelang Bridge and your tour operator will do the rest and have you back the next day. You won't regret it!

Shop at their newest mall: Grand Batam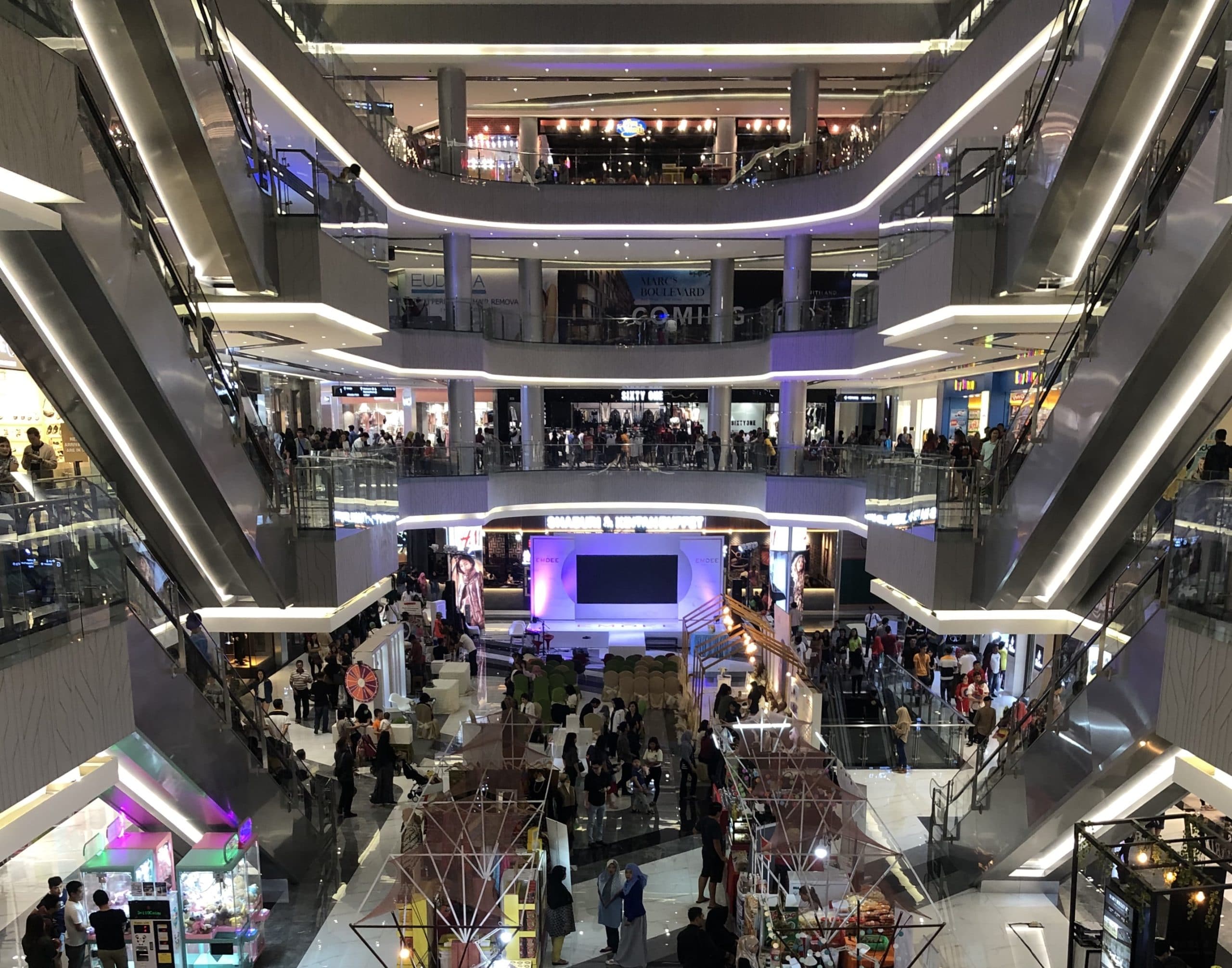 Credit: Batamliciouz
Although Singapore has plenty of shopping options, it's always interesting to look at what malls are like in other countries. Opened in April 2019, Grand Batam Mall is the newest kid on the block here. It has the clout to draw in the first Uniqlo and H&M island-wide, moving the tone a little bit more upscale in terms of shopping. This is why you'll likely see this new mall being quickly elevated to becoming one of the must-dos in Batam among locals and visitors alike.
The mall itself is right opposite I Hotel Baloi. With international brands and local chains setting up shop here, you'll easily be occupied for a good two to three hours, or more if you choose to do a movie at the top floor cinema! If you're a fan of Japanese food, there's also tons of those restaurants here, and bubble tea shops are aplenty. For something more local, we heard pretty interesting reviews about the red velvet coffee at Simetri Coffee Batam. If you love shopping, Grand Batam Mall is one not to be missed!

Uncover a secret wreck at Pulau Tunjuk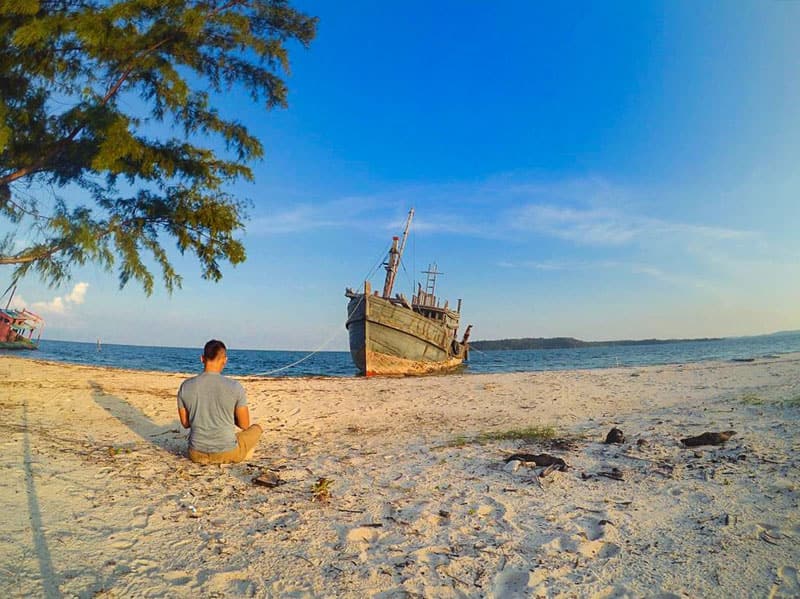 Credit: @othoy.martoyo
This little known destination is one of Batam's best-kept secrets even among locals. This is only because it takes a wee bit more effort to get to compared to other nearby destinations. If you're looking to discover something different though, there's a good reason to put in that effort: Pulau Tunjuk is the location for a very striking shipwreck!
To get to Pulau Tunjuk, head to Telaga Punggur port at Kabil and rent a pompong (local boat) for approximately $60 for a return trip. Parked along a stretch of beach with amazing white sand, the shipwreck makes for an impactful sight. If you're really adventurous, you could even venture in and explore the boat itself – just be careful when you do that, though.
The whole experience will take you a good 5 to 6 hours, including travel time. But since you've made it all the way out there, why not enjoy the night there by camping overnight? You can't beat sleeping underneath the stars and to the sound of waves in your self-brought tent!
Marvel at Barelang Bridges, an architectural feat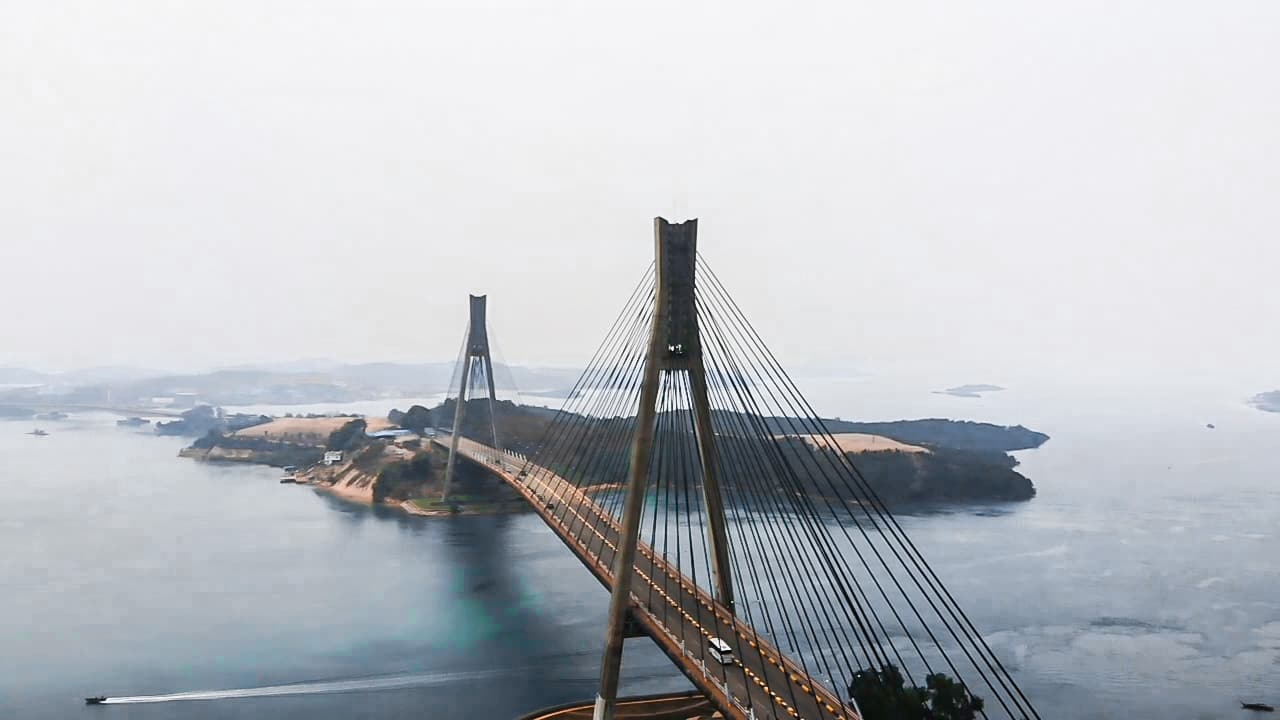 Credit: Batamliciouz
Like Batam's own Golden Gate Bridge, the spectacular Barelang Bridges are actually a massive infrastructure undertaking to connect the islands of Batam, Rempang and Galang. Completed in 1997, Barelang Bridges has become more than just a logistical item for the Riau Islands. The cable-stayed bridge is held up by 199m tall pylons, and is impressive against the scenic backdrop – the six of them have become an iconic symbol of Batam.
The longest and most impressive of the lost is the main section named Tengku Fisabililah Bridge. Here you can find a viewing platform to capture your signature shot with the structure. While the scale and surroundings are pretty enough on its own, the scenery is most magnificent during sunset.
You can have a picnic and wait for the sun to set, or just have dinner at one of the restaurants near the bridge. One such place is Kopak Jaya 007, where you can get a delicious seafood meal for two at under $50! Regardless, if you're one to appreciate architecture, make sure to put Barelang Bridges in your list!

Enjoy some nightlife, your style at The Promenade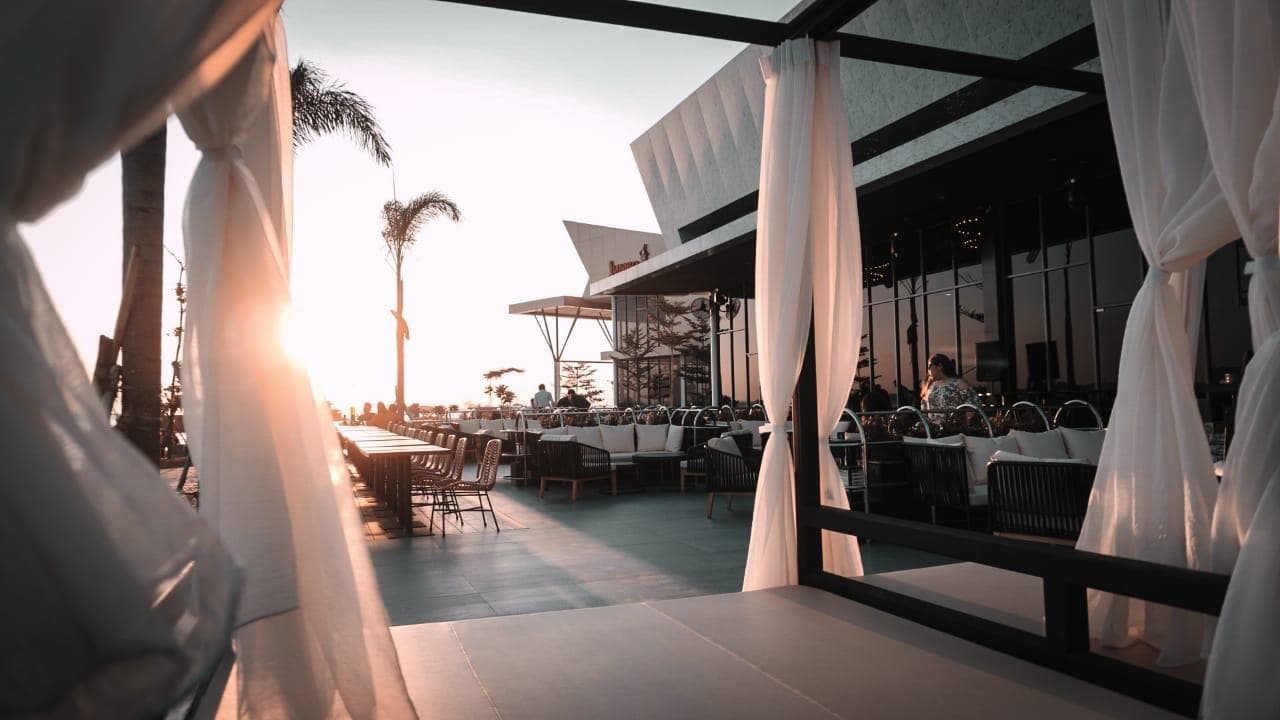 Credit: Nomad Lounge
The Promenade at Harbour Bay is one of the Batam's newest spots to emerge in 2019 and includes a stretch of waterfront businesses for their guests. If you want to experience Batam nightlife, then this is the place to go.
There's the Nomad Lounge with plenty of drinks and music in the form of a live band for those who love their tempo a little more mellow. Blue Fire Club turns things up a notch, with DJ sets and a more lively atmosphere, so feel free to dine from their western menu then burn those calories on the dancefloor. You'll find drinks are way cheaper than those in Singapore (because taxes) but if you just want a quiet evening with good food, Port House is your best bet.
Pick the nearby Swiss Belhotel Harbour Bay as your accommodation, and crash your night in comfort and style! A must-visit for nightlife lovers!

Dive into a rainbow habitat in the sea at Kepri Coral Island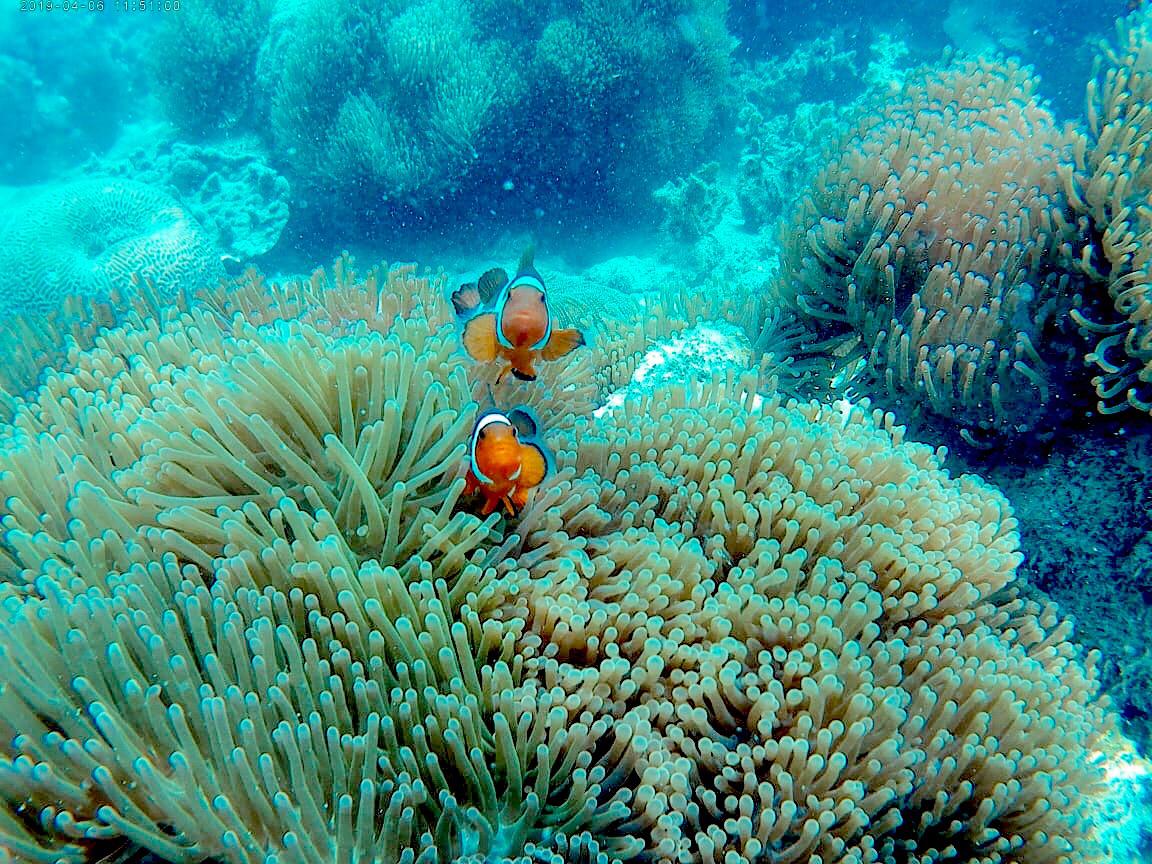 Another slightly less popular island to Ranoh, is Kepri Coral Island. It's not because it's any less beautiful, however! Quite the opposite actually – the resort that has popped up on this island leverages on the incredibly pristine waters here, that showcases the incredibly colourful and rich underwater marine life underneath. South of Batam, and about an hour's drive and another 30-45 minutes by ferry away, the beauty of the Riau islands really come through.
It's best to leave a full day for this place, as there's tons to do. Apart from the standard water sports, snorkelling and diving, you can even have close encounters with the fish and shark feeding sessions!
Get everything sorted out for you with an all-inclusive tour that costs about $75. This takes care of transport from Kepri Mall to the island and back. There's even a lunch on the island restaurant. If you really want to prolong the experience, you can even stay at their resort for $125 per person inside their unusual dome rooms with all the above included. But if not, stay at the swanky Radisson Golf & Convention Batam (with golfing facilities and an infinity pool!) nearby Kepri mall for some ease.

Eat at Batam's biggest foodcourt Nagoya Foodcourt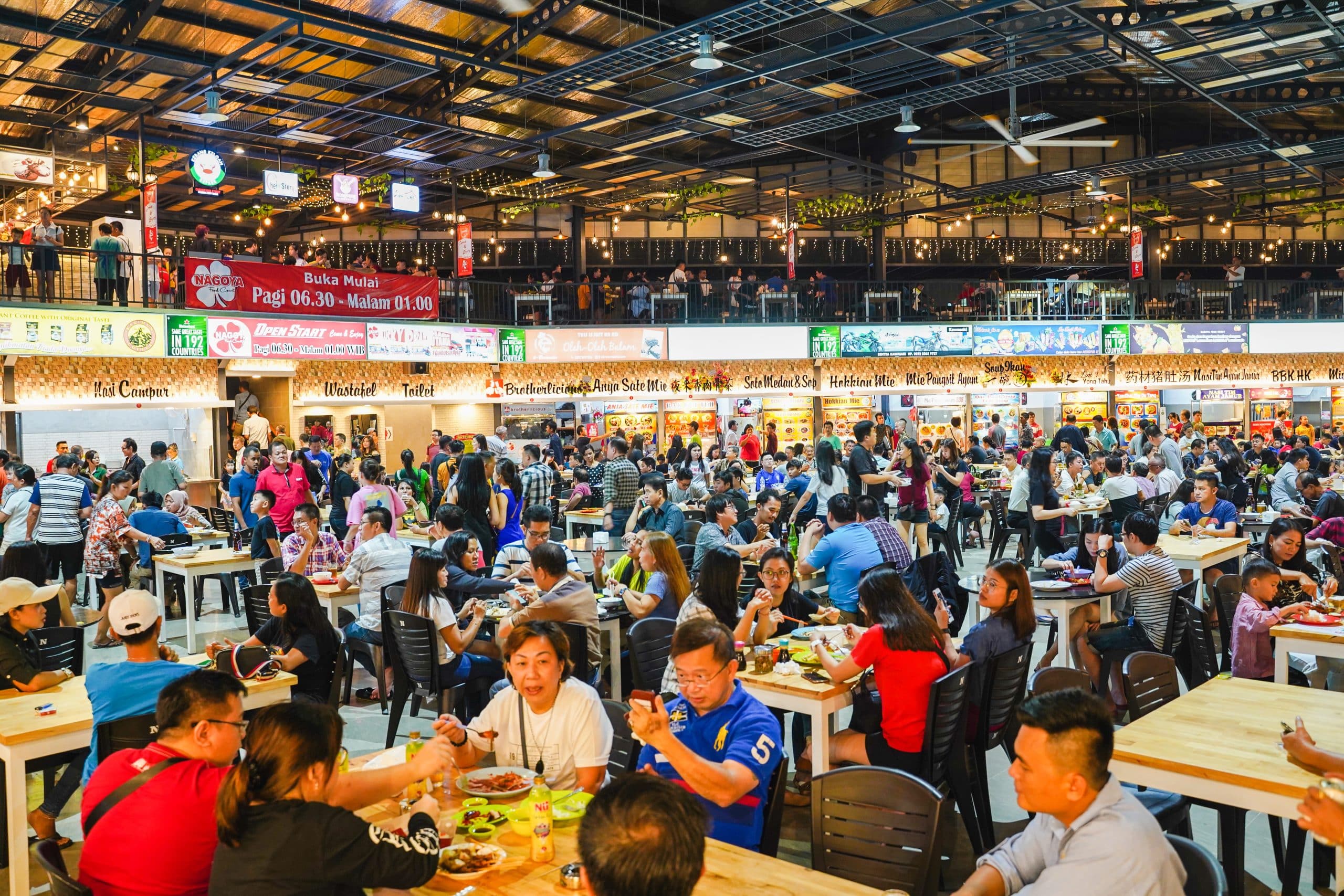 Credit: Batamliciouz
Another one of Batam's newest entries, Nagoya Foodcourt is devoted to the Asian's love for food. This large food court is an easy choice when you don't know what to eat in Batam – anything and everything is here! We're talking Indomie goreng, mie pangsit, Indomie rebus (all these noodles and sauces oh my!) along with ayam bakar, satay and ketoprak – all crunchy, savoury and ready to be devoured in small plates.
Order plenty to share between your friends and you if you're in a group, because sometimes these items can be as cheap as $1 to $2. A feast for 4 will usually come in at under $20. The scale and prices are simply unbeatable here! And because it's located not far from the famous Nagoya Hill Shopping Mall most Singaporeans are familiar with, it's a cinch to locate and go for some shopping after. Foodies, you'll regret missing this one!

Savour Batam's best cuisine at Batamliciouz Bazaar
Credit: Batamliciouz
Batamliciouz is like the Makansutra and go-to food guru in Batam (and frankly in the region), and he has been handing out his branded stickers for a while now to help people identify choice eats. Little did he know he would become such a respected figure, with some stalls even posting up his pictures on their posters as a signal of their standard to potential customers!
It's not uncommon for a quiet, unknown, stall to turn popular overnight just from a single post on Batamliciouz's social media. As a champion of local food and someone who understands the scatteredness of it all, he decided to bring all of these hardworking hawkers with their delicious dishes to one place and created the Batamliciouz Bazaar.
It's an event that happens approximately once every three months, but to really know the updates, keep a lookout on his social media feeds. The sixth edition just happened on 21 to 23 Feb at Mall Botania, and starts from 11.30am to 9pm at night – good thing because you might need 2 hours to really explore. But with 120 of the best stalls gathered in one spot, this event is totally worth timing your visit to, and will make your friends drool non-stop in envy. If you're visiting Batam, don't forget to check to see if the Batamliciouz Bazaar is just around the corner!

Go all out for this scenic perch at Sekupang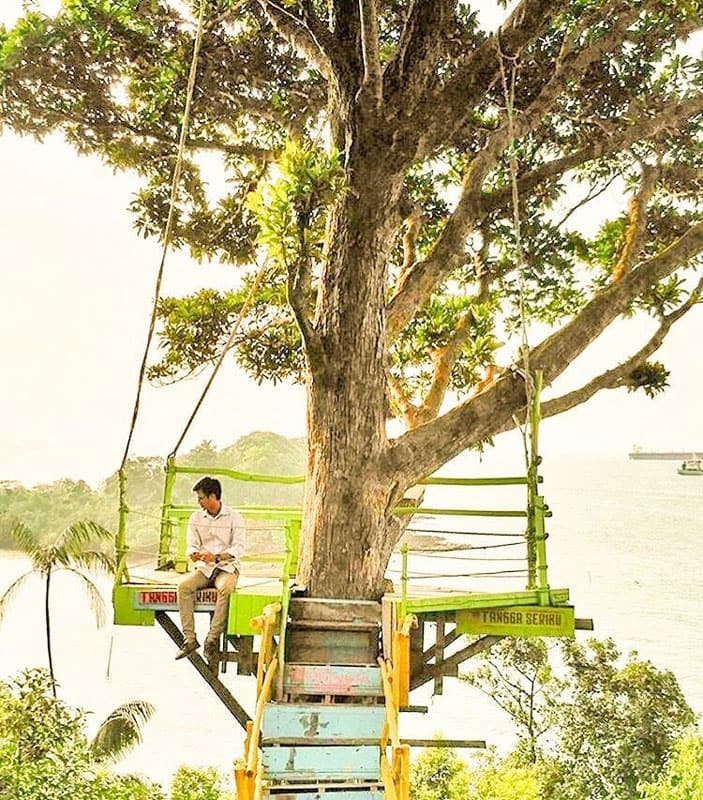 Credit: @zackamega
Taman Wisata Habibie 1000 Tangga is quite the mouthful, but it's worth repeating to your local driver to this spot in Sekupang. While this recreational park is a little rustic, it also gives you a very authentic, non-touristy, experience. That said, someone might collect a small entrance fee of $1 for your visit.
There are plenty of trails to explore in the green spot, and some humble but pretty cliff views. The sea in itself isn't particularly blue, but the coastline is varied and bears exploring. The highlight of Taman Wisata Habibie has to be the tree lookout point, however. Here you'll find a walkway on stilts extends out to a tree where a platform deck lets you gaze into the horizon. Simple but effective!
Take about two hours to enjoy the area, with some snacks made by the locals, so that it'll justify the one hour trip back and forth from the city centre. Since this location is pretty remote, we recommend renting a driver who is willing to wait for you there until you are done.

You don't need to fly there but you'll certainly want the best rooms to spend a night at Batam. Pair this Batam travel guide with these accommodation recommendations by Expedia, and get a vacation break that will have your friends amazed by the offerings from the Riau Islands!
[button style='blue' icon="entypo-suitcase" url='https://www.expedia.com.sg/Batam-Hotels.d6053277.Travel-Guide-Hotels' fullwidth='true'] Find Hotels in Batam [/button]