By April Chung, on March 1, 2019
How to get the Best out of Busan
In the 2016 box office hit "Train to Busan", Busan was touted by the protagonists as the only safe haven in South Korea during the zombie apocalypse. Well, it turns out the movie isn't wrong. Busan is a place to flee from an apocalypse but also makes for a nice vacay. Here are seven of the best things to do in Busan that will make your time in South Korea's well-loved port city worthwhile.
Best Things to do in Busan
1. Jagalchi Fish Market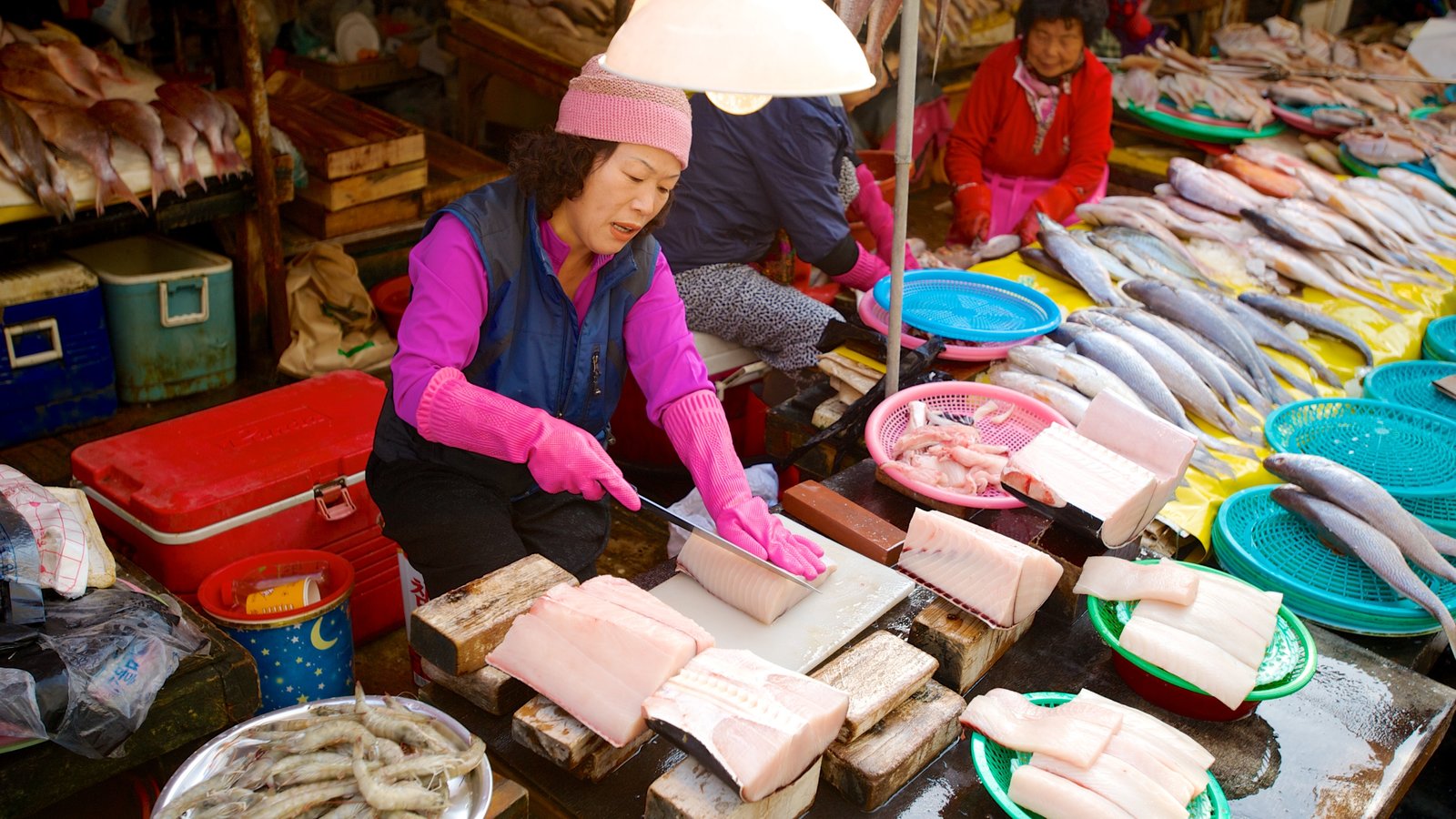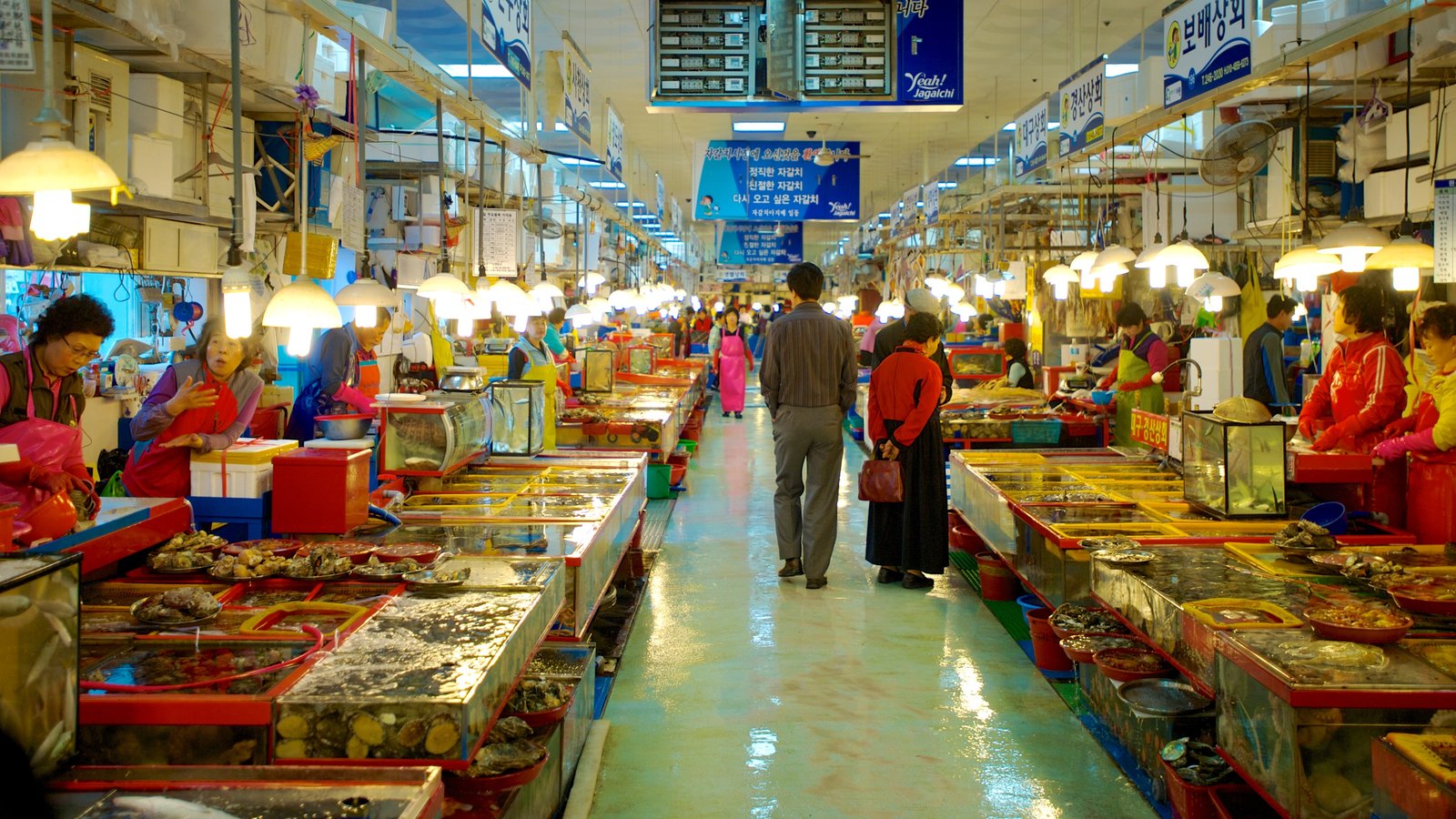 Jagalchi Fish Market is every seafood lover's heaven. It is the largest fish market in Busan, known for having some of the freshest seafood in South Korea. From dawn to dusk (except for the first and third Tuesday of every month), the marketplace is filled with giant live crabs, squids, and glassy-eyed fish. Popular choices among tourists are the live baby octopus, seasoned sea snails, and sweet tender scallops.
Here's how the Jagalchi Market works:
1) Choose your preferred seafood
2) Head to the restaurant on the second floor and inform them how you would like your seafood prepared
3) Within minutes, your pick of seafood has transformed into a delectable meal – that's about as fresh as seafood can get!
2. Oryukdo Skywalk
Oryukdo Skywalk features a bridge made entirely of bulletproof glass, built over a 35-metre high coastal cliff. The skywalk toes the division of the East and West Sea and was constructed in 2012 to replicate the feeling of "Walking Over the Sky".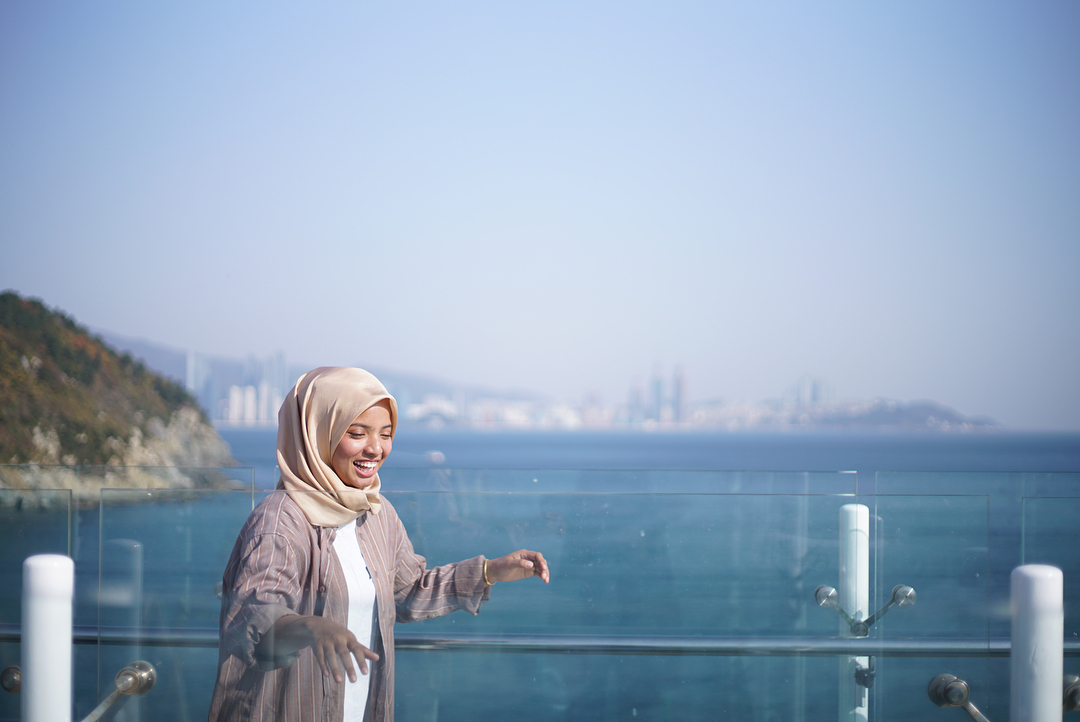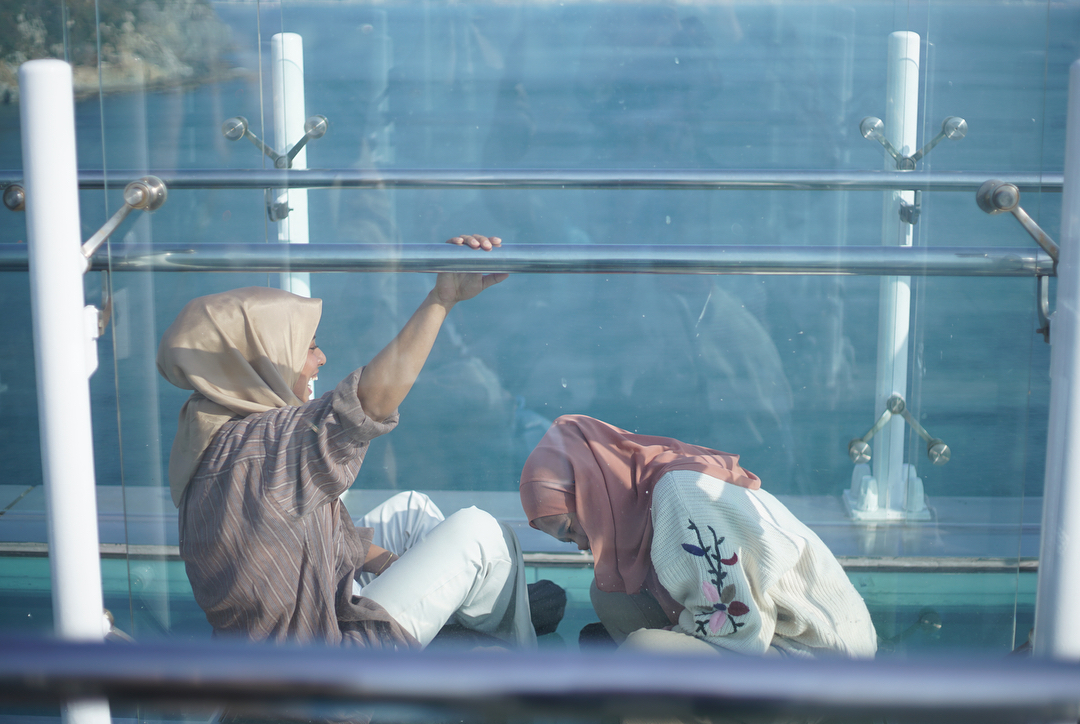 Credit/ Oryukdo skywalk, photo by @hamizahhhh on Instagram
Beware: out of all the Buan attractions, this one isn't for the faint hearted! Even grown men may feel a twinge in their gut when peering through the glass panes at the crashing waves and rocky below. Here, the cloudless skies and misty air creates an atmosphere that resembles a palace from the heavens. As cool sea breeze tousles your glossy hair, get ready to snap some #Instaworthy shots that may just sweep your followers off their feet!
3. Gamcheon Culture Village
This vibrant little town resembles something straight out of a nursery rhyme. The hill is decked with houses of varying colours, shapes and sizes, clustered in a childishly endearing sort of way. The former slum, with homes characterised with steep stairs and narrow corridors, was repainted nine years ago and has since attracted visitors and hipsters from all around the world who are searching for "The Santorini of South Korea".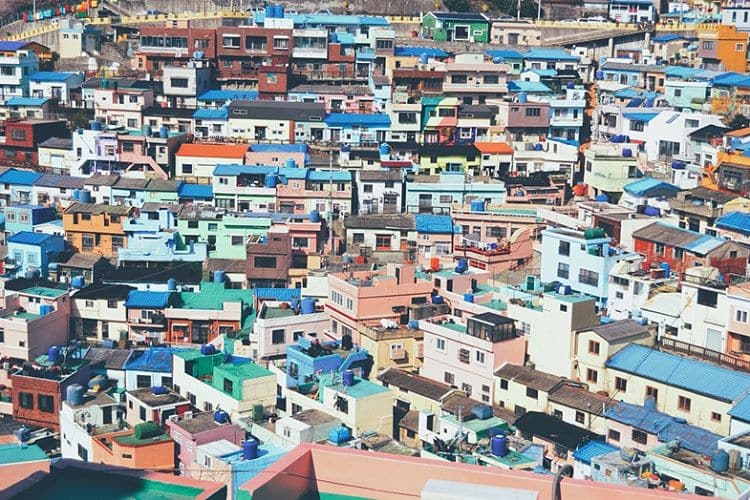 [Pastel-painted houses in Gaemcheon Culture Village (top 2), photo by @nastitibidara on Instagram, Night view of Gamcheon Village (bottom), photo by @gamuruk_96 on Instagram]
In the daytime, it seems as if the village may melt like candy under the warm sun. When night falls, the streetlamps cast a golden spell on the houses, and the village turns into a valley of glittering treasures. Hidden within the mural-adorned streets are a wide selection of street foods on pushcarts and a small museum. This is an absolute must when you're planning things to do in Busan!
4. Haedong Yonggungsa Temple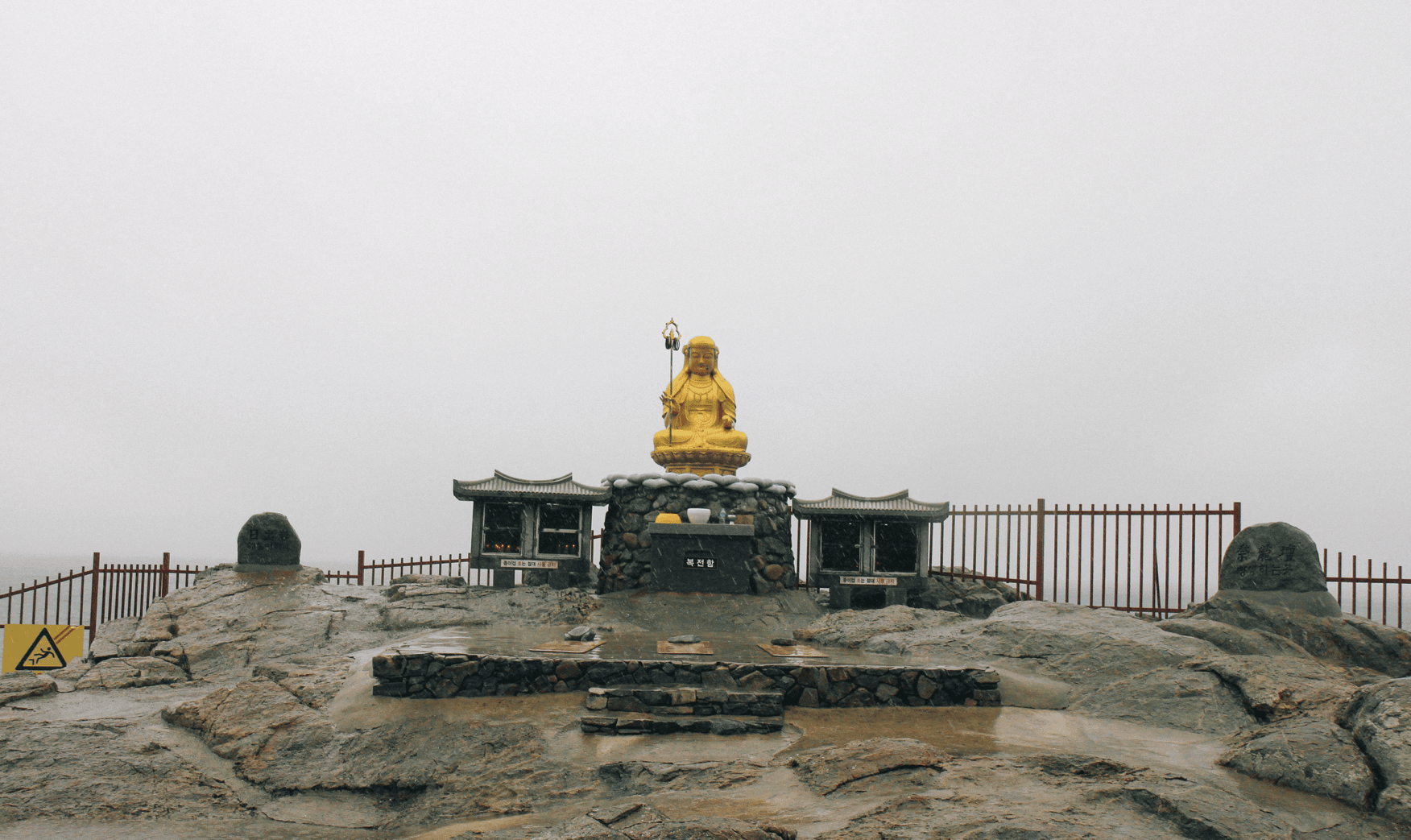 Credit / Yonggungsa Temple, photo by @superbutachan on Instagram
If you're an artefact enthusiast and wondering what to do in Busan, then Haedong Yonggungsa Temple is ideal for you. It was built in 1376 by a teacher during the Goryeo Dynasty of Korea. The temple features a large golden Buddha statue, pagodas, and intricate structuring. Many locals visit on New Years' Day to pray for a prosperous year, while mothers arrive on the day of college entrance exams for their children's academic success. The temple complex is one of the few in Korea to be by the seaside, framed by rocky shallows and a forest background. In the spring, cherry blossoms blanket the temple's mossy grounds.
5. Busan Canola Flower Festival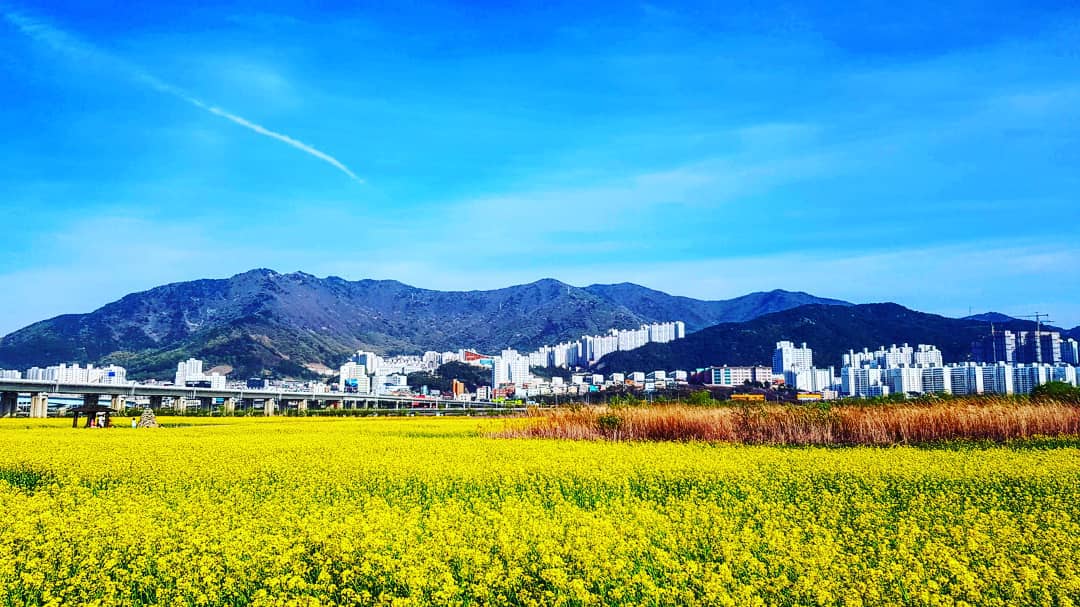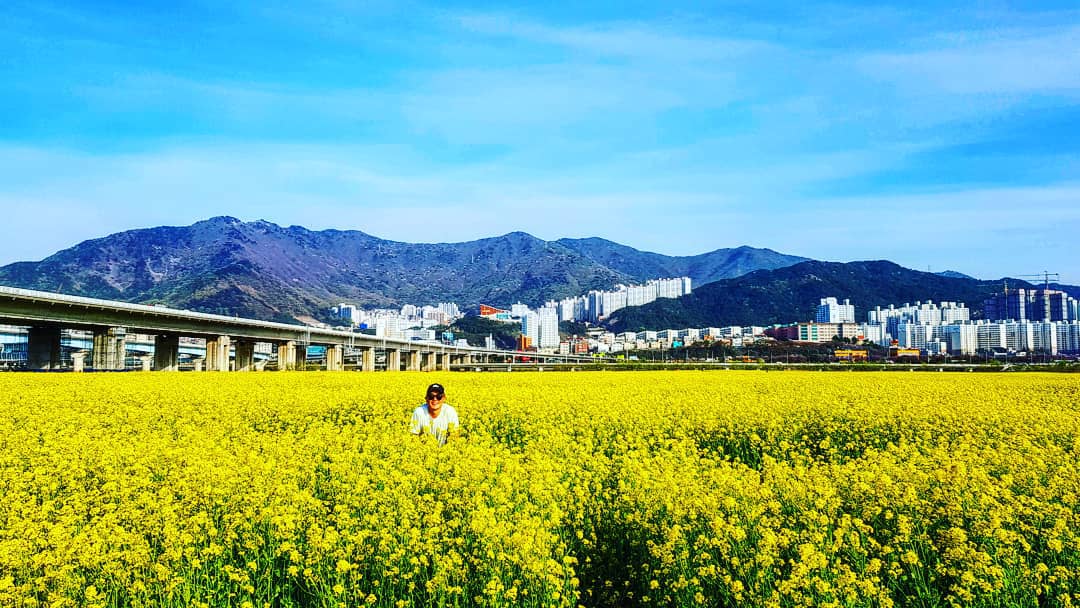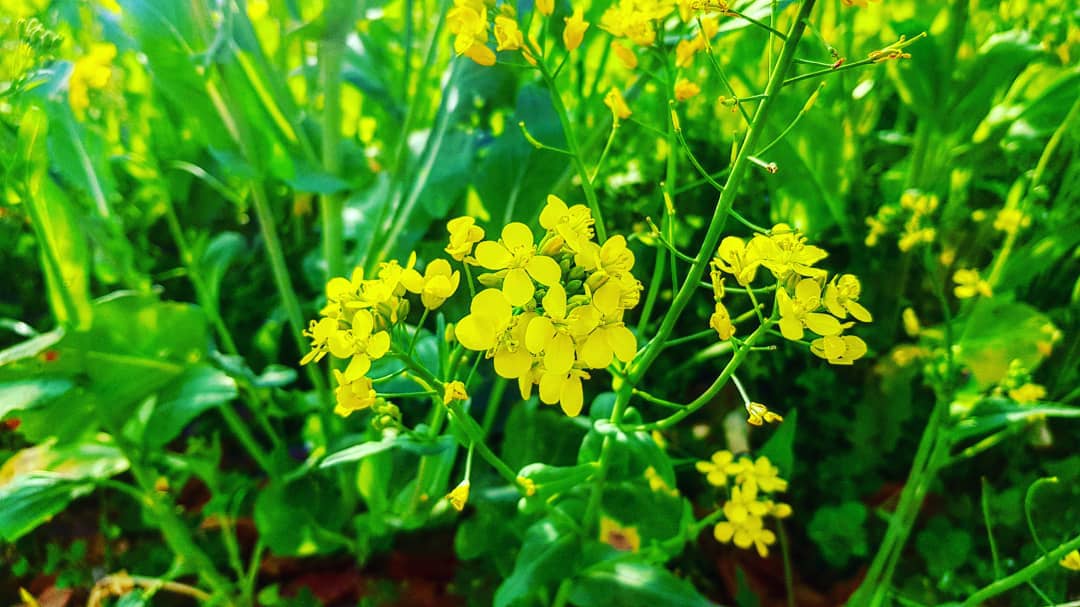 The Nakdongganang Yuchae Festival is held annually in Korea's biggest canola flower field at Daejeo Eco-Park – a magnificent park along Nakdongganang River. The blooming canola flowers signal spring's arrival and is the season's invitation to bask in the warm sun and celebrate life. From mid to late April, music is played, and hardwood tables and beach chairs are open to the public.
[Yuchae Flower Field at Daejeon Eco-Park, photo by @choiyongkwan_ on Instagram]
6. Café Hopping along Seomyeon "Café" Street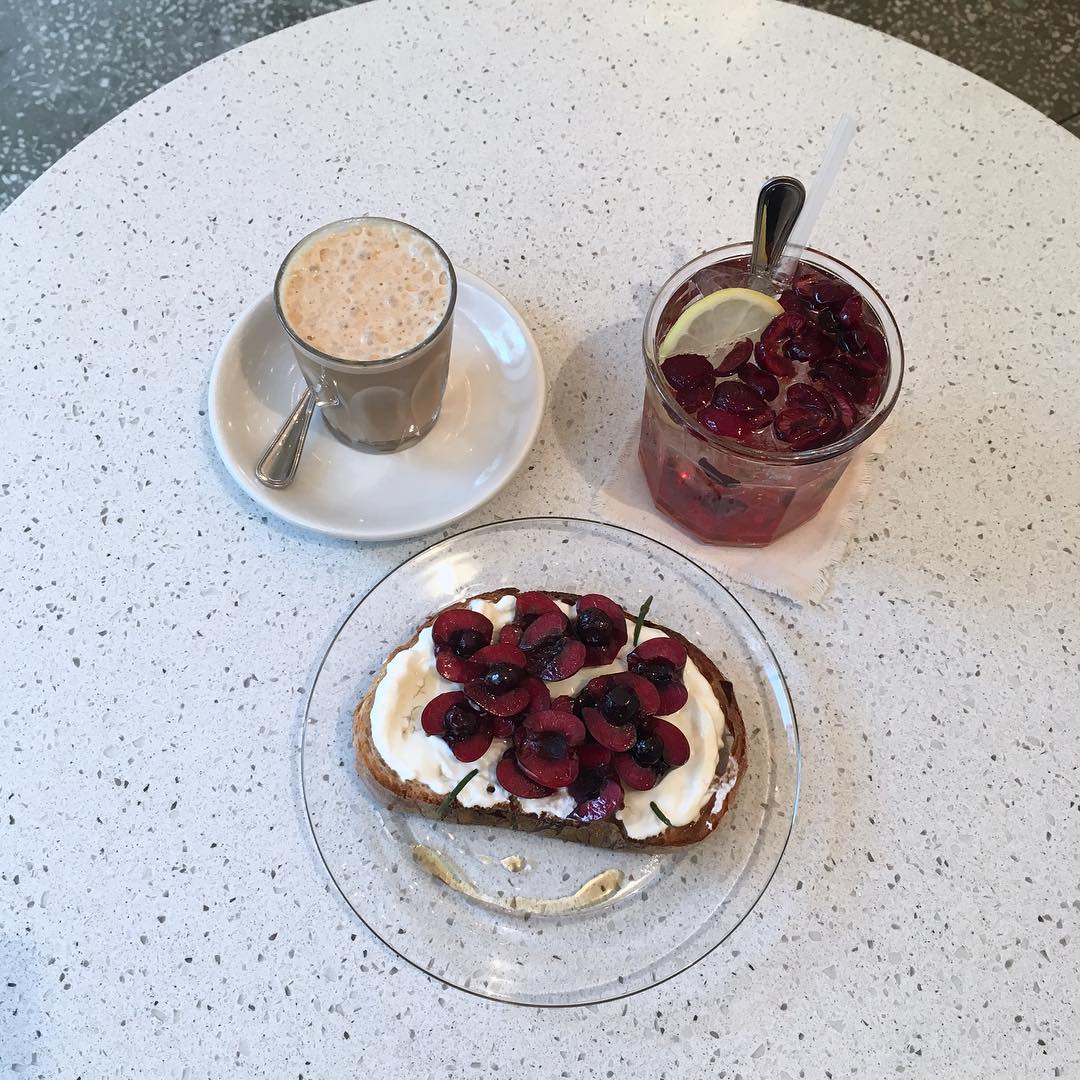 Credit / Cherry loaded toast and berry-infused drink, photo by @s_jinnny on Instagram
There's a street in Seomyeon that is known for brunch cafes and artisanal coffee shops. One bonus point: the cafes are surrounded by attractions and shopping streets – the best of both worlds for tourists! Inouf Café has a reputation for having innovative menu items such as loaded cherry halves on cream cheese-topped toast as well as a bucket-sized jar of berry-infused pink lemonade.
7. Busan's Street Food Markets
 Korean street food odeng (top) and tteokbakki (bottom) chewy rice cake / photo by @hungrynyc on Instagram
Korea is known for having some of the world's most tantalizing street foods. At most street food markets, you will find sweet and supple odeng, which is fried fishcakes served in soup. The fishcakes are threaded through wooden sticks or wrapped around a pork sausage.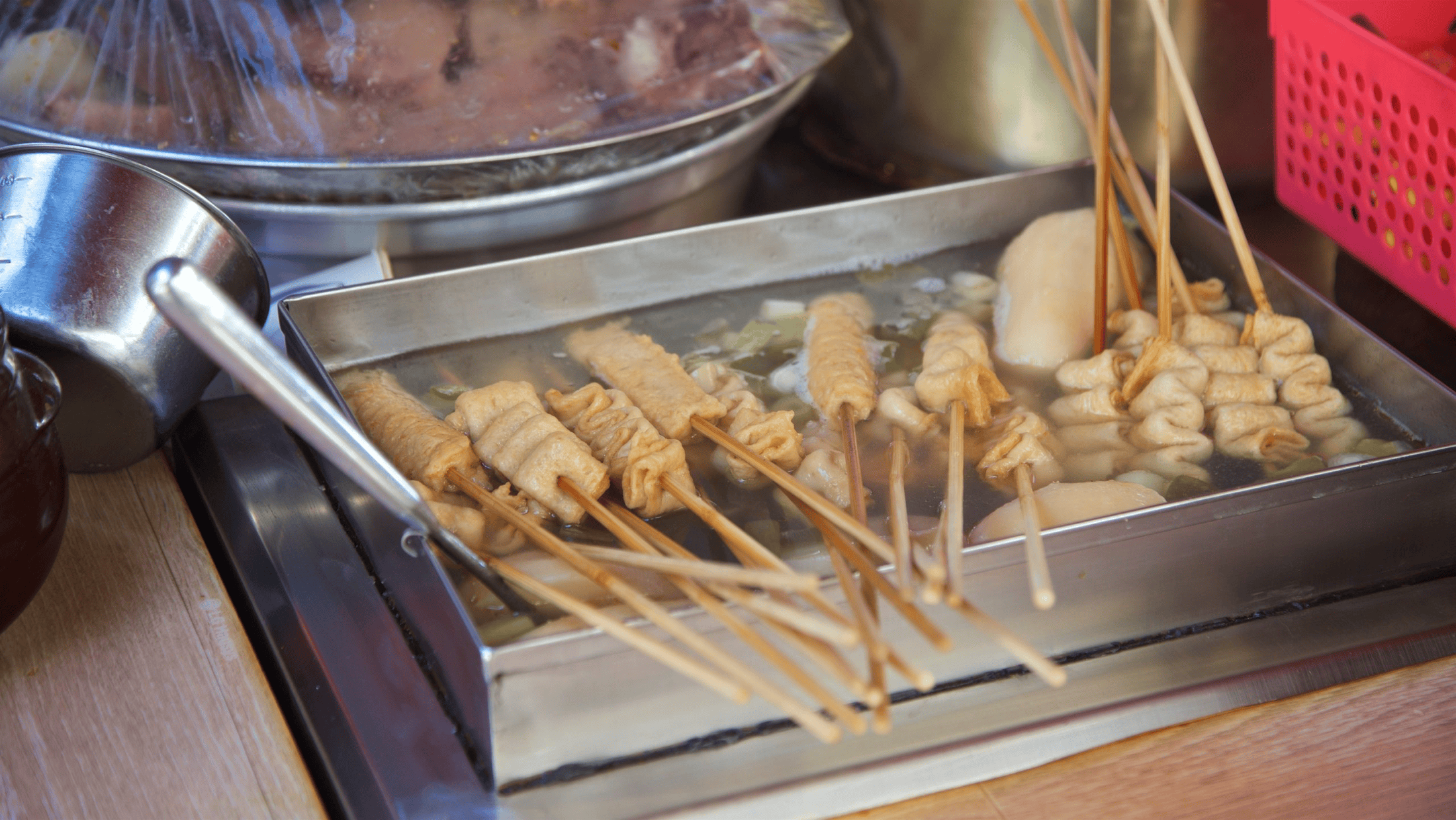 Another must-try when it comes to Busan food is ssiat hotteok, a variation of sticky rice pancake that's stuffed with ssiat (seeds). First, the glutinous rice pancake dough is stuffed with sugar and spice. The dough is then grilled until one side is golden and crispy, then the pancake is split open and loaded with seed toppings, rolled, and served in a paper cup. The melted sugar keeps the pancake sticky, crunchy and fluffy – a dangerously addictive combination.

Where to Stay in Busan

Park Hyatt Busan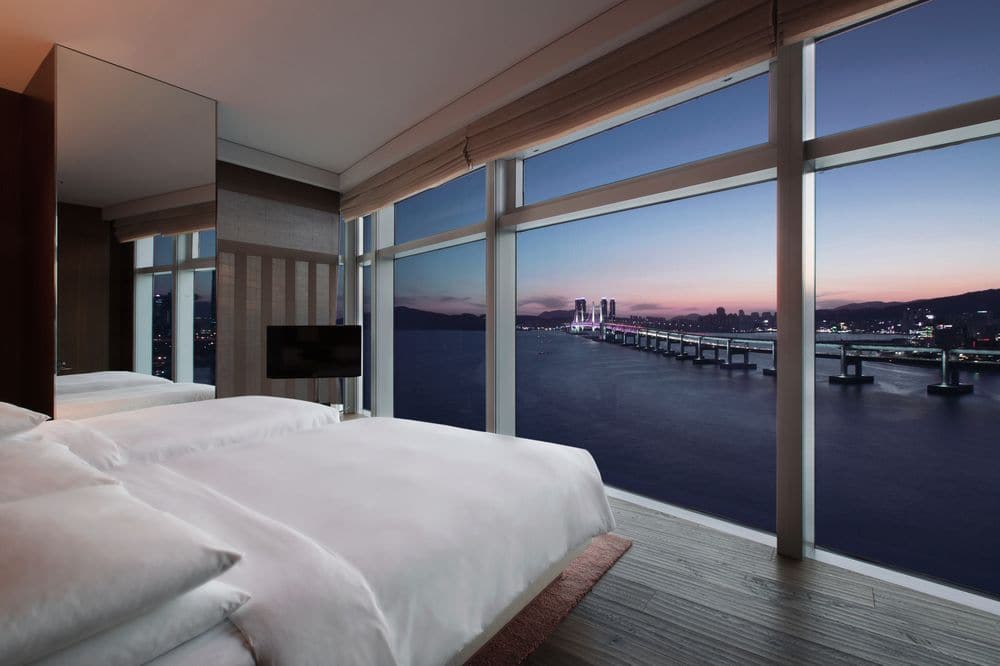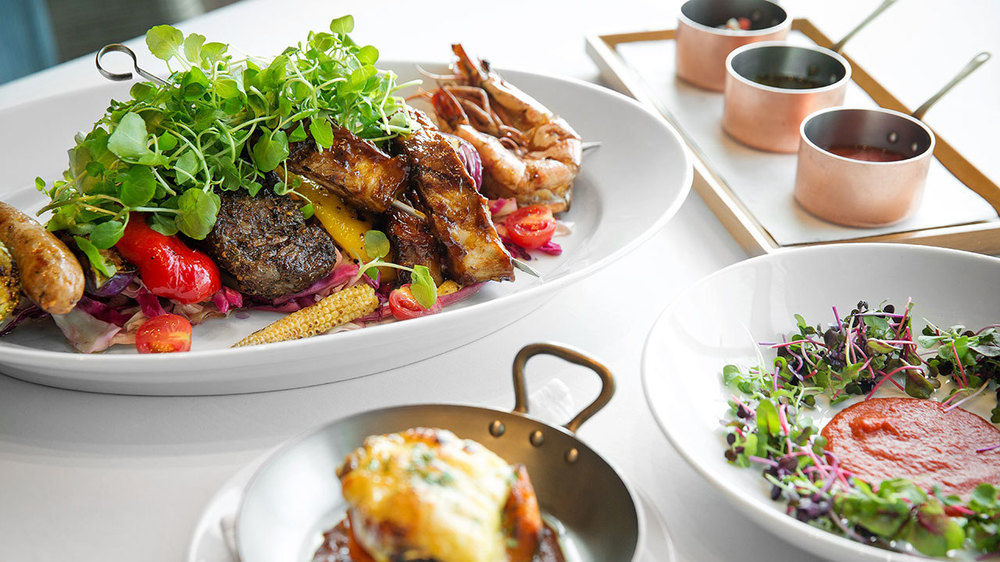 The beautiful five-star Park Hyatt Hotel is right by attractions including The Bay 101 and Dongbaekseom Park. Their rooms boast windows that stretch from ceiling to floor, which offers a gorgeous view of the ocean front or city.
Free internet and bottled water are available, and a breakfast buffet is served each morning from 6.30 to 10.30 am. If you find yourself far too tired to head out for dinner, the hotel has two restaurants and a coffee shop. Additionally, the hotel is decked with a 24-hour fitness centre, sauna, and indoor pool. Along with impeccable customer service and beautifully furnished rooms, it's no wonder the Park Hyatt Busan is rated 4.7/5.
2. Brown-Dot Songdo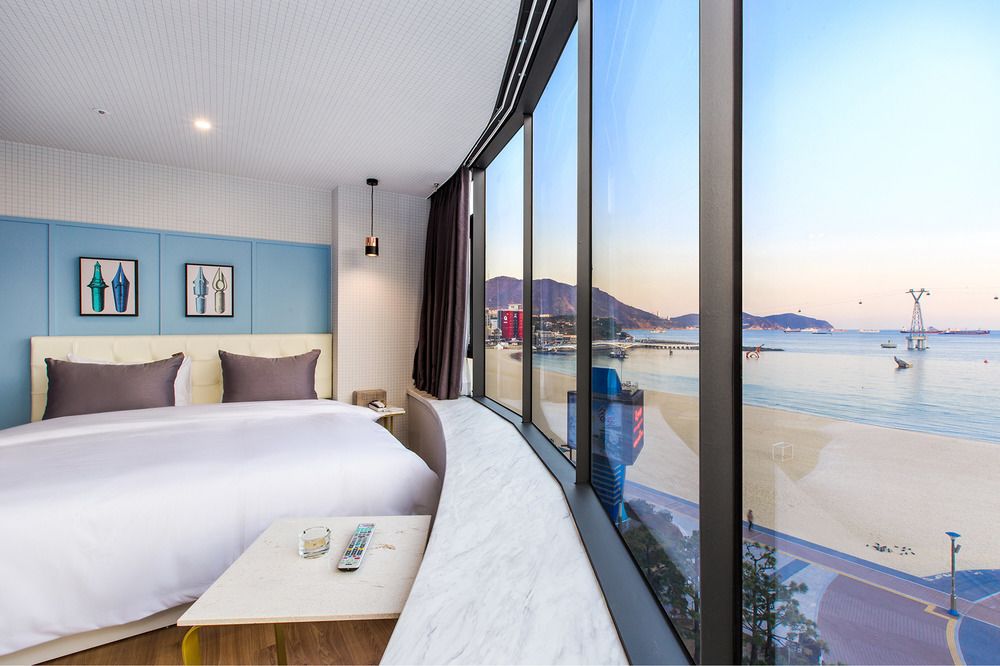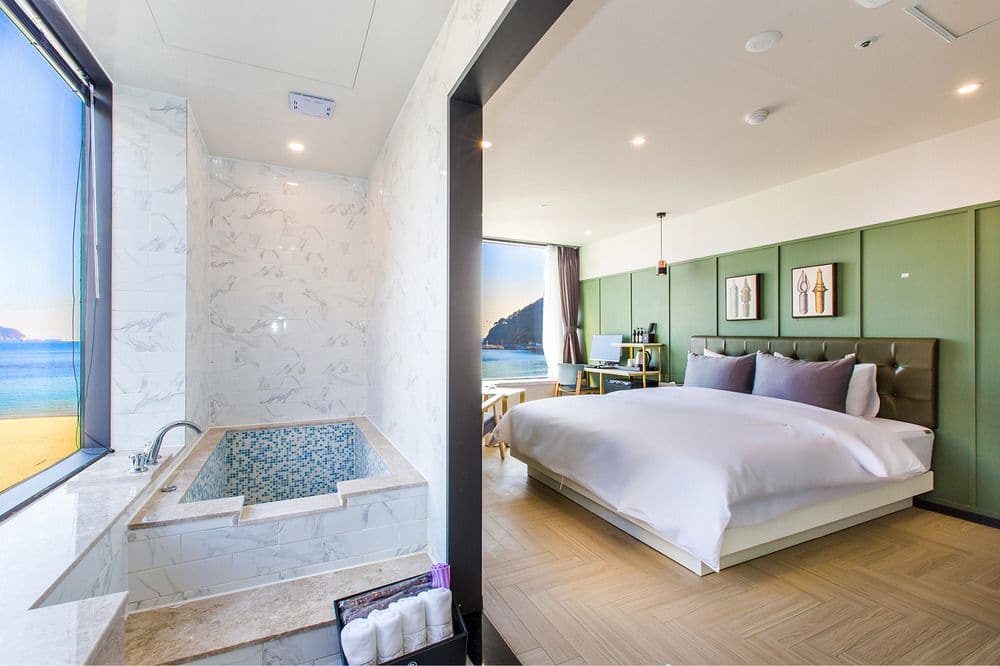 If you're on a budget and would like to stay near the beach, Brown-Dot Songdo is located near the wonderful Busan beach of Songdo Beach, Songdo Marine Cable Car, and Jagalchi Fish Market.
All rooms provide free Wi-Fi and are furnished with more than sufficient bathroom amenities. But the best part? The wide, polished windows of the hotel rooms make waking up to a full view of the beach or the city a possibility every morning. Breakfast is included as well.
[tabs]
[tab title="Where to Stay" icon="entypo-suitcase"]
[button style='blue' icon="entypo-suitcase" url='https://www.expedia.com.sg/Busan-Hotels.d6049721.Travel-Guide-Hotels' fullwidth='true'] Find Hotels in Busan [/button]
[/tab]
[tab title="Let's Go!" icon="entypo-flight"]
[button icon="entypo-flight" url='https://www.expedia.com.sg/Cheap-Flights-To-Busan.d6049721.Travel-Guide-Flights' fullwidth='true'] Flights to Busan [/button]
[/tab]
[/tabs]