By Marisse Gabrielle Reyes, on December 26, 2017
A Guide to the Seaside Town of Sihanoukville, Cambodia
The Cambodian seaside town of Sihanoukville is often used as a stepping stone to the pristine islands in the Gulf of Thailand. A relatively lesser known destination, it has gathered a following among Western tourists seeking out their own slice of SouthEast Asian paradise. Although this locale is known as a sleepy fishing village to most locals, travellers seek it for its offering of natural beauty, eclectic eateries, vibrant nightlife and luxurious hotels. Keep this guide handy on your next trip to Sihanoukville.
What to do in Sihanoukville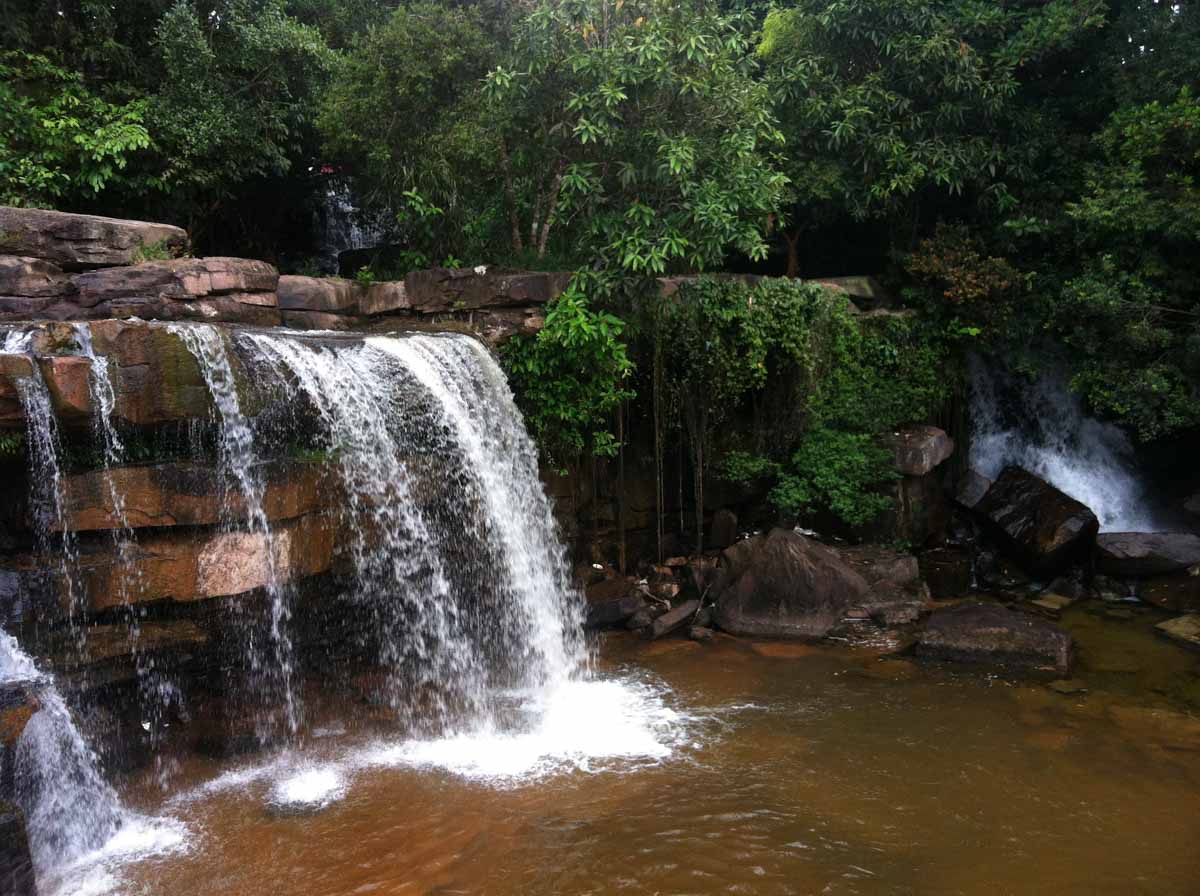 Photo: CC BY-SA 3.0 / Vladkras
Kbal Chhay Waterfall
For a outdoorsy day trip, plan to visit the Kbal Chhay Waterfall, a popular spot amongst local tourists. This 14 meter high waterfall is about 17 kilometers from the town proper. This spot is where three water sources converge, providing a beautiful backdrop for holiday selfies.
Vagabond Temple
Linger around the bohemian set at the Vagabond Temple where you can join yoga, meditation and reiki classes in a picturesque sea-front venue. Sihanoukville is filled with hippie-esque travelers and many of them seem to convene in this peaceful spot. Look out for retreats and events at Vagabond Temple as there are many.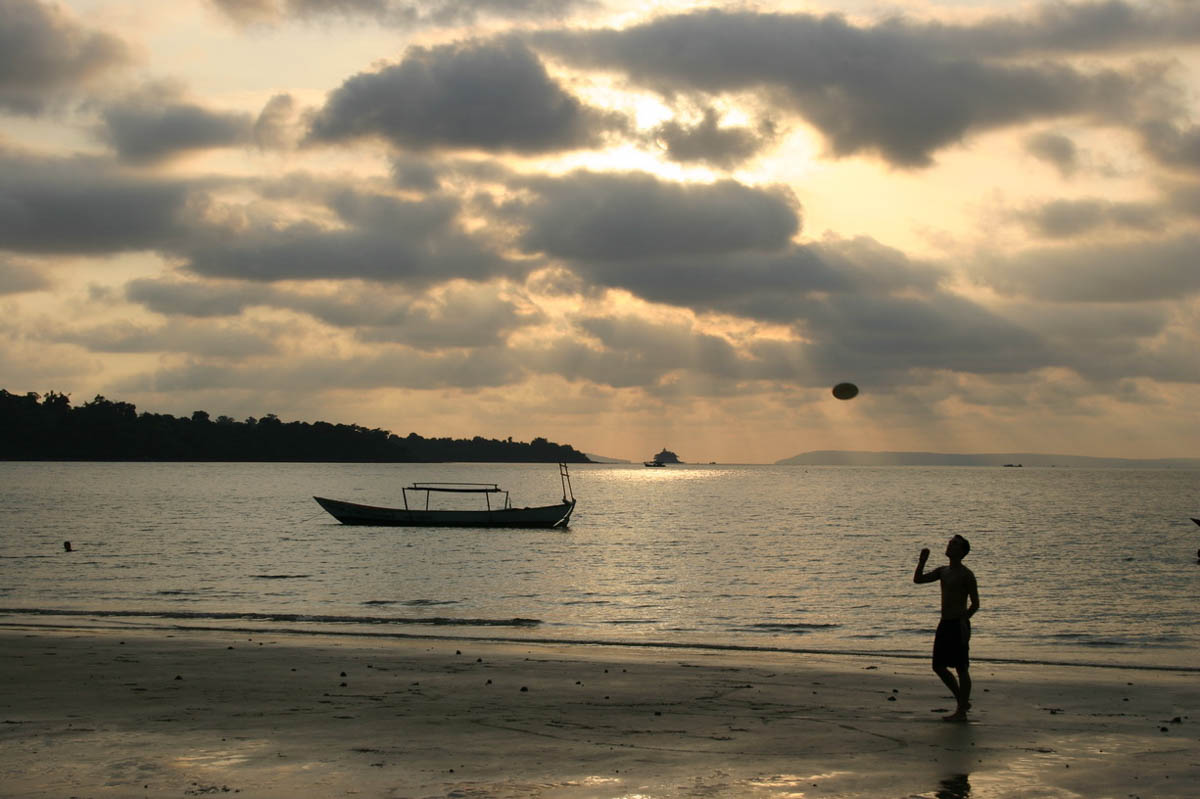 Photo: CC BY 2.0 / chem7
Serendipity Beach
This seaside town offers some of the most laid-back beach experiences that you'll find in Cambodia. For a chilled-out afternoon, take to Serendipity Beach, a long seafront stretch that caters to tourists with shops, beach bars and restaurants. Make sure to come through during sundown to take in romantic views of the sunset whilst sipping on a local beer.
Otres Market
But if you're looking to have a night out on the town, look no further than Otres Market. Although the name may be deceiving, this spot is less of a market and more of a nightlife mecca. Live music, flowing tropical cocktails, fun street food and hoards of party-goers is what you'll find at this Otres Market.
Where to Eat in Sihanoukville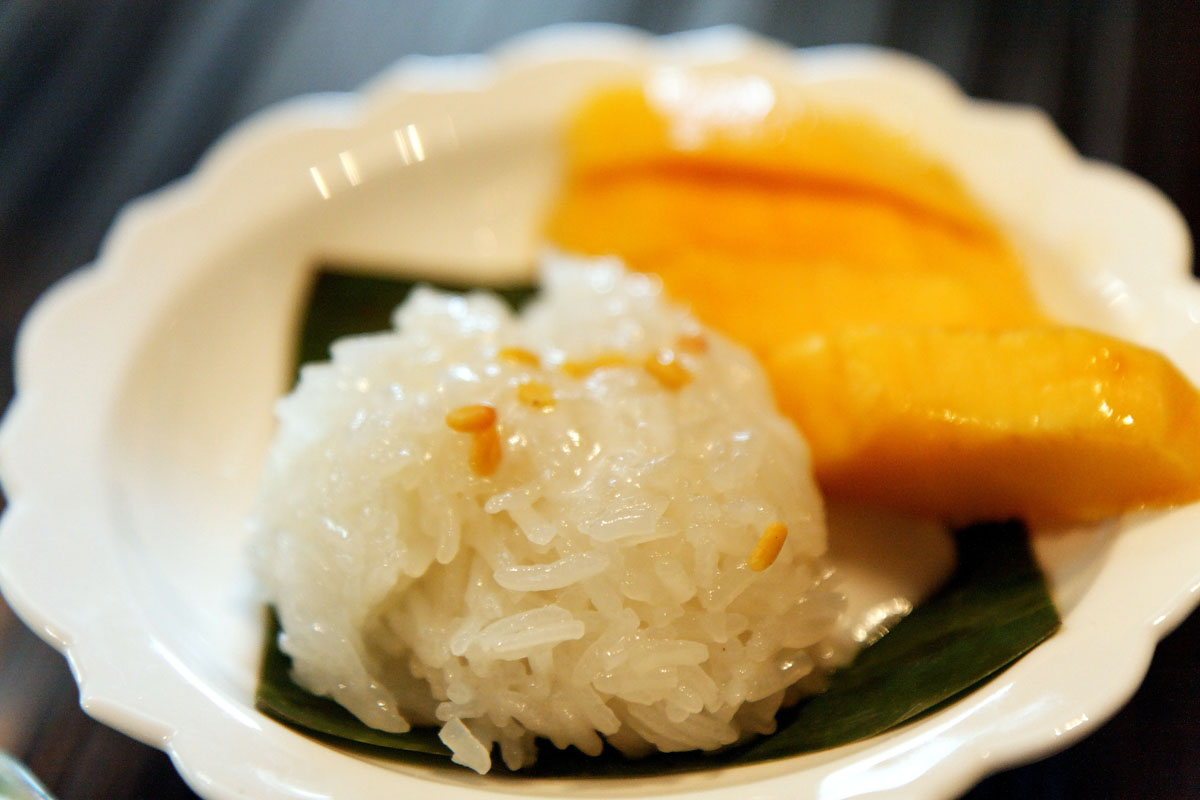 Photo: CC BY 2.0 / Dennis Wong
Khmer Food
Indulge your senses in local Khmer food at Sandan while helping to uplift the local community. The restaurant is run by non-profit organization, M'Lop Tapang, which works to empower Cambodian youth by providing them with education, training and a source of income. The restaurant is run by underprivileged youngsters and it offers a cozy setting as well as great vegetarian options.
Sink your teeth into local specialties like coconut glass noodle salad with taro spring rolls as well as chicken, basil and chili stir-fry.
Vegetarian Food in Sihanoukville
If you're looking to feed your body healthier options, try Dao of Life, a vegan restaurant and community space with bohemian flair. Tuck into plant-based dishes like veggie burgers, smoothie bowls and crisp salads.
Cambodian Cooking Class
If you're looking to immerse yourself in local food culture, then sign up for a cooking class at the highly-rated Tastes of Cambodia Cooking School. It's here where you'll get hands-on learning experience in traditional Khmer cooking by experienced local chefs. You'll learn how to create sumptuous dishes like fish amok, mango with sticky rice as well as green papaya salad.
Where to Stay in Sihanoukville
The modern lines of Tamu Hotel's pool deck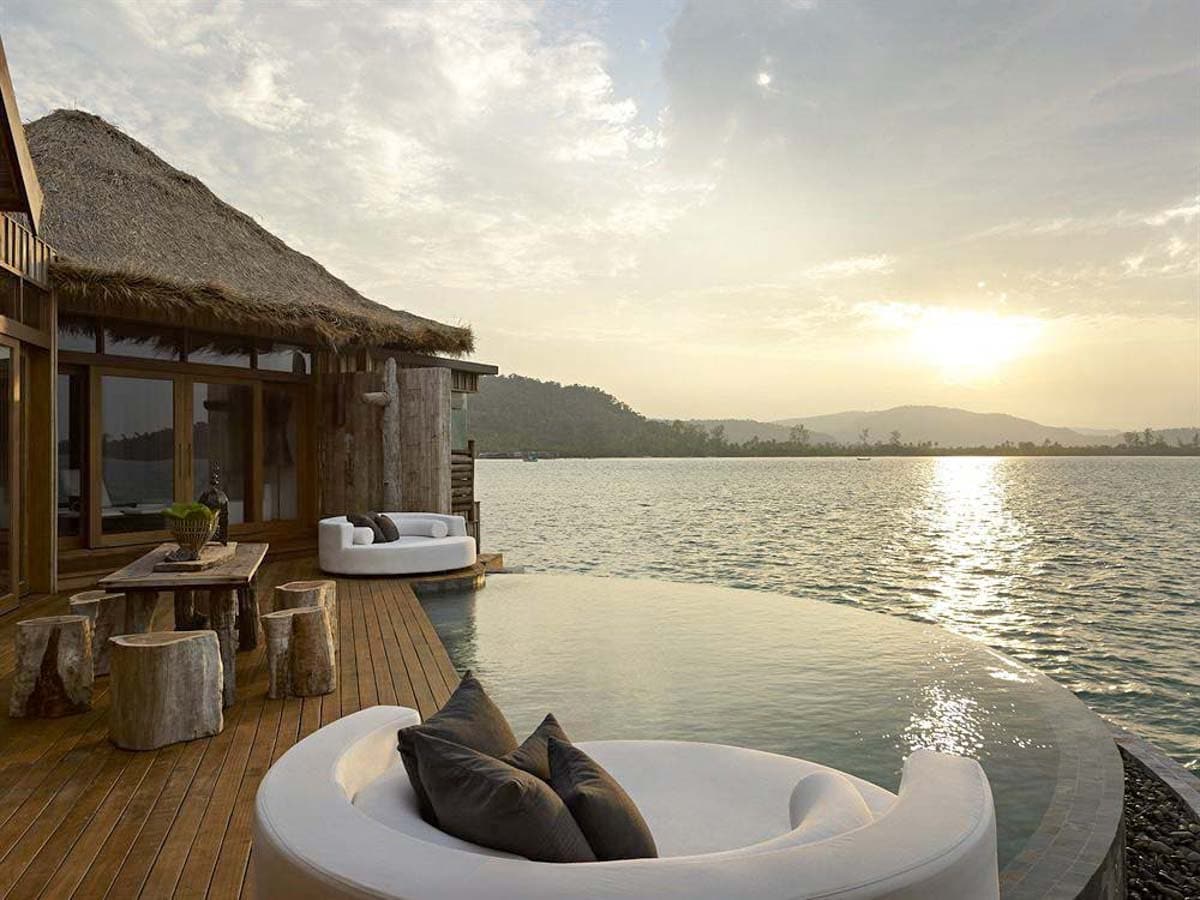 Song Saa Private Island Hotel's peaceful private waterfront villas
Located on Otres Beach is the 15-room boutique hotel, Tamu Hotel. Although your stay here comes with excellent service, great food, beach-front views and chic interior decoration, the room rates are surprisingly affordable. It's the perfect place to do nothing all day but sprawl out on the expansive beach beds and order up beach cocktail after beach cocktail.
If you're looking for something a little more remote and you're willing to splurge, consider the Song Saa Private Island Hotel, located on a private island west of Sihanoukville. Truly an experience of a lifetime, the resort offers 24 lavish but naturally-decorated villas, each with their own private swimming pool. Go for the ultimate indulgence and splash your cash on an over-water villa where you can dip into the warm ocean right from the comfort of your bedroom.
Feature Image: CC BY 2.0 / ND Strupler
[tabs]
[tab title="Getting around" icon="entypo-book"]Although public transportation isn't available, getting around Sihanoukville is easy as there are many modes of transportation available. You can get around via tuk tuk, private car or motorcycle taxi. The prices are relatively cheap and you can bargain the price with your driver, especially if you're hiring them for the day or the duration of your stay.[/tab]
[tab title="When to visit" icon="entypo-book"]A trip to Sihanoukville is pleasant all throughout the year, but take note of the rainy season which falls in May to October. The busiest times are from November to April. Summers in Cambodia can be very hot so if you're sensitive to heat, consider traveling in the cooler months of December and January.[/tab]
[tab title="Flights to Sihanoukville" icon="entypo-book"]There are several flights to Sihanoukville from Singapore each week. There are no direct flights offered yet, however travel time can be under three hours depending on your connecting flights.[/tab]
[/tabs]