By David Bowden, on January 23, 2020
A Short Break in Phnom Penh
In the 1960s, the Cambodian capital, Phnom Penh, was considered one of Asia's most charming cities and often likened to Paris. The Khmer Rouge put an end to that in the mid to late 1970s with its reign of terror that saw Khmers turn on each other with as many as three million citizens killed in one of the worst episodes of genocide the world has ever witnessed. During this period, the Khmer Rouge cleared the city and sent its residents onto farms with Phnom Penh becoming a ghost town.
The Khmer Rouge was eventually toppled and democratic elections since mid-1993 provide young Khmers with greater hope for their future. Tuol Sleng Museum is a reminder of the horrors of the Khmer Rouge and Choeung Ek, or the 'Killing Fields', on the outskirts of Phnom Penh, is a memorial to those who died.
While the Khmer people will never forget their dark past, the country is forging ahead and its capital Phnom Penh is as vibrant as other rapidly expanding South East Asian cities as I recently discovered. It was not my first visit to Phnom Penh and I have observed and enjoyed watching the capital evolve from its near ruin into the bustling city that it is now. Here is my guide to the best things to do in Phnom Penh.
The Best Things to Do in Phnom Penh: Paris by the River

To remind myself of Phnom Penh's unique setting, I headed straight to the riverfront (Sisowath Quay) near where the Mekong, Tonle Sap, and Bassac Rivers meet. This and the numerous colonial buildings enable visitors to imagine a city once known as the 'Paris of the East'.
The palace, built in 1866, is one of the best Phnom Penh attractions and is a place to admire from afar, although it is possible to visit the Silver Pagoda within the grounds. Named after its silver floor comprising over 5,000 tiles each weighing a kilogram, it never fails to impress me. A solid gold Buddha covered with an estimated 10, 000 sparkling diamonds gives an indication of the power and wealth of the Cambodian royal household.
Several restored buildings are located near the riverfront and around the Royal Palace.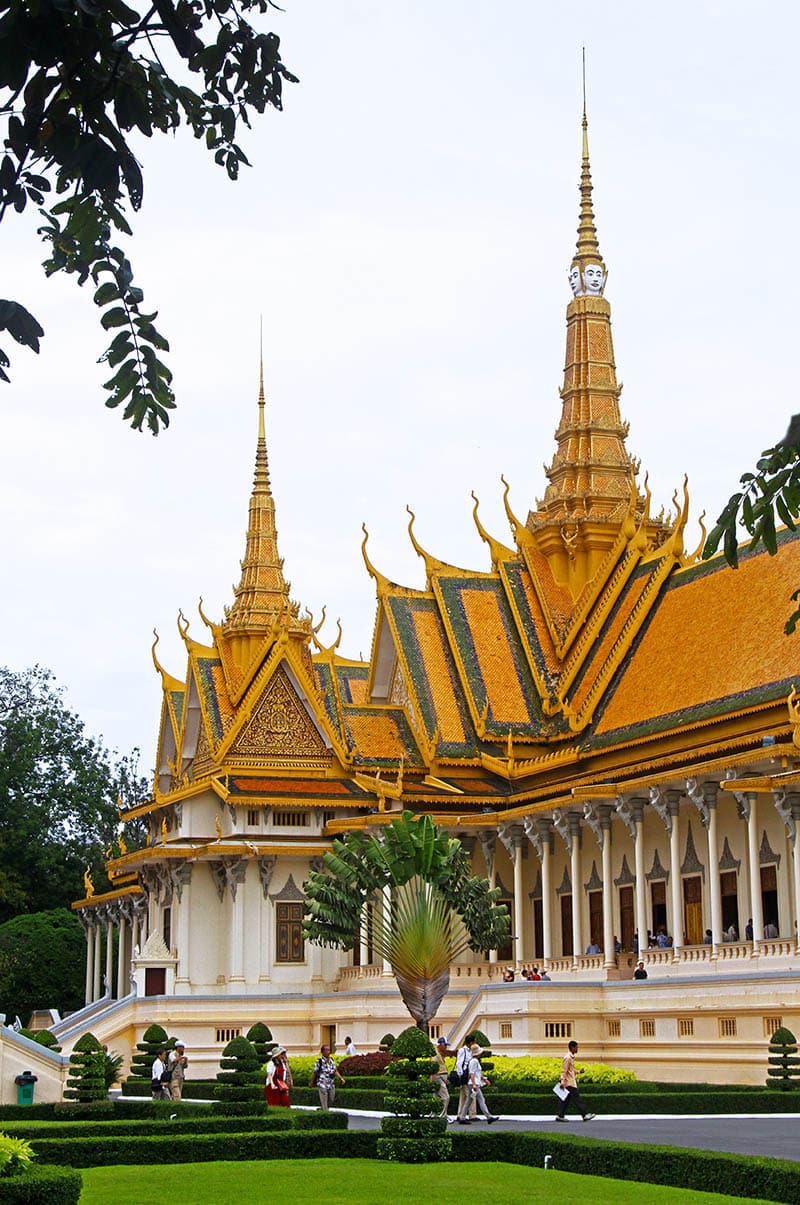 The exterior of the Royal Palace in Phnom Penh.
Just a short walk away, the National Museum is worth visiting to admire the world's finest collection of ancient Khmer antiquities as well as being a tranquil place to relax in between sections of the museum. The terracotta-coloured building is one of the capital's finest architectural structures with over 10,000-art pieces, some of which are on display. I admired the stately architecture and the museum's unique roofline from within the cool surrounds of the adjoining Museum Café facing Street 178.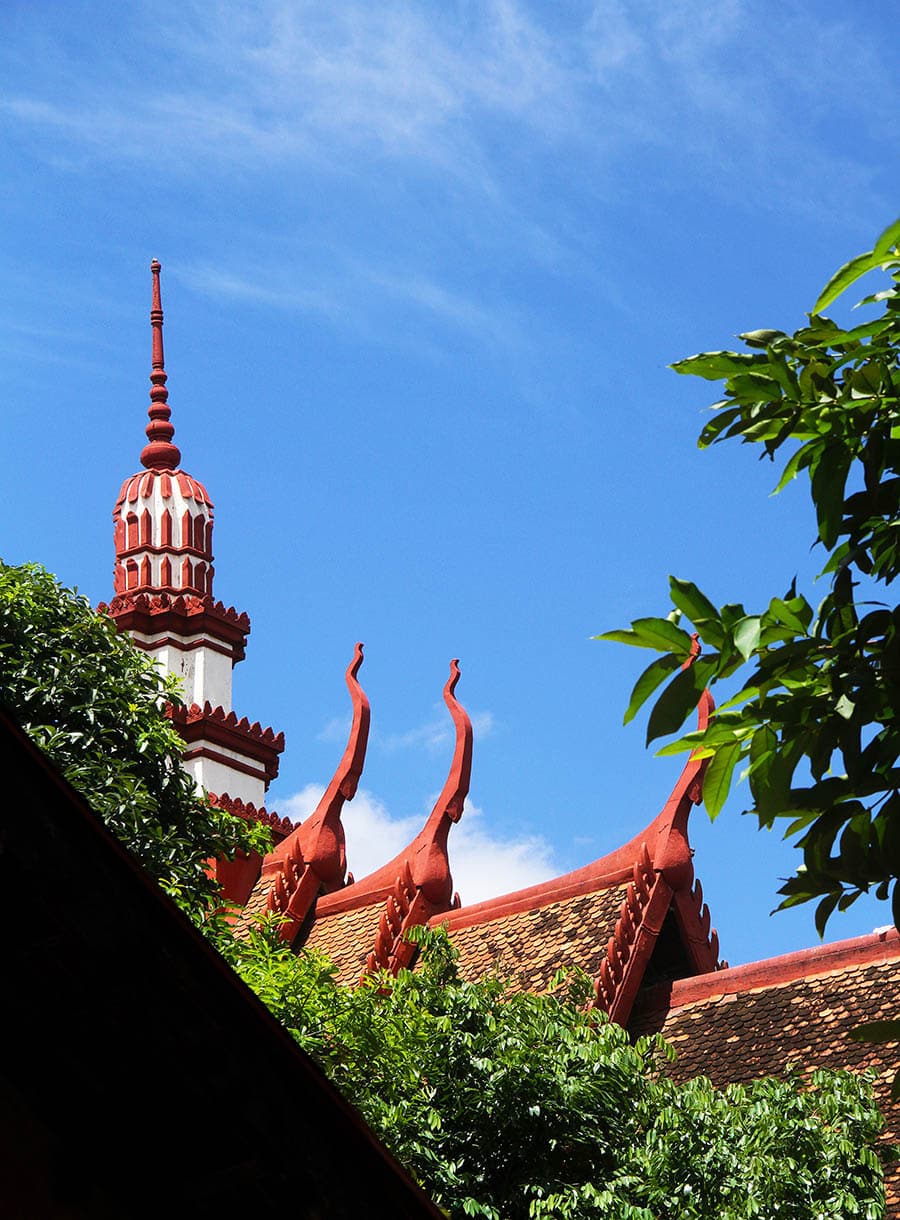 The exterior of the National Museum in Phnom Penh.
My recommendation for one of the best things to do in Phnom Penh is to enjoy the busy river life by spending a relaxing few hours cruising on a boat along either the Mekong or Tonle Sap Rivers. Sit back and take in village views, agriculture life and those fishing in the river. Alternatively, hire your own boat to relax and watch the ever-changing river life. This is one of the top Phnom Penh activities and is not to be missed.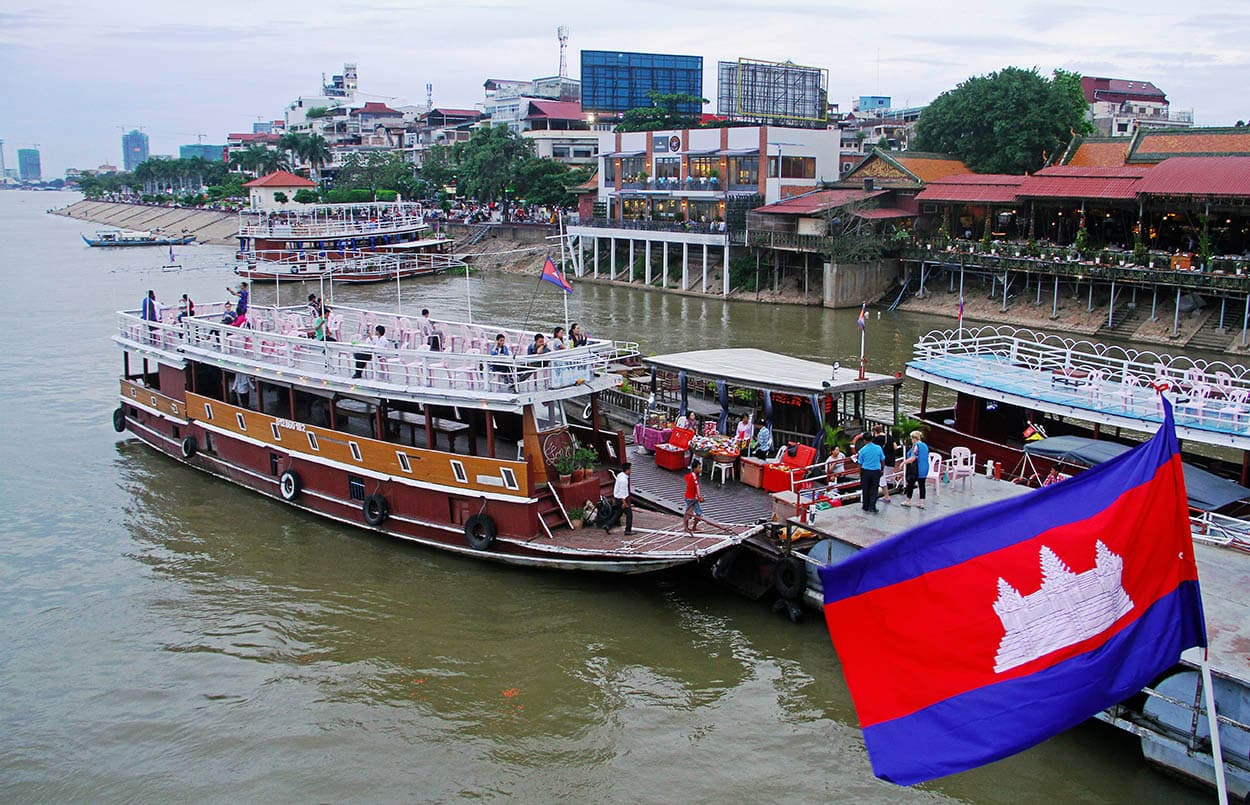 Take a river cruise along the Mekong River.
In the past, the best way to explore the capital was from the back of a cyclo or pedal-powered, covered bicycle propelled by a cycle driver. Now petrol-propelled tuk-tuks are available for single journeys (about US$2) or for a predetermined price over a set time (approximately US$15/day). The local currency is the riel but transactions in foreign currencies such as US dollars are usually accepted.
Tuk-tuk along the riverfront.
A Night in the Town

Visitors will find many great things to do in Phnom Penh for a great night out, with food being an important component. While there are similarities with some other Asian foods, Khmer cuisine has its own unique flavours. Some delicious local dishes I tried included amok (coconut and fish steamed in banana leaves), brohor tropeang (a light soup), nom banhckok (noodles) and samlor machu sre (fish soup). Prahok (fermented fish paste) and kapi (fermented prawn paste) are the Khmer equivalents of Malaysian sambal belacan and added to most dishes.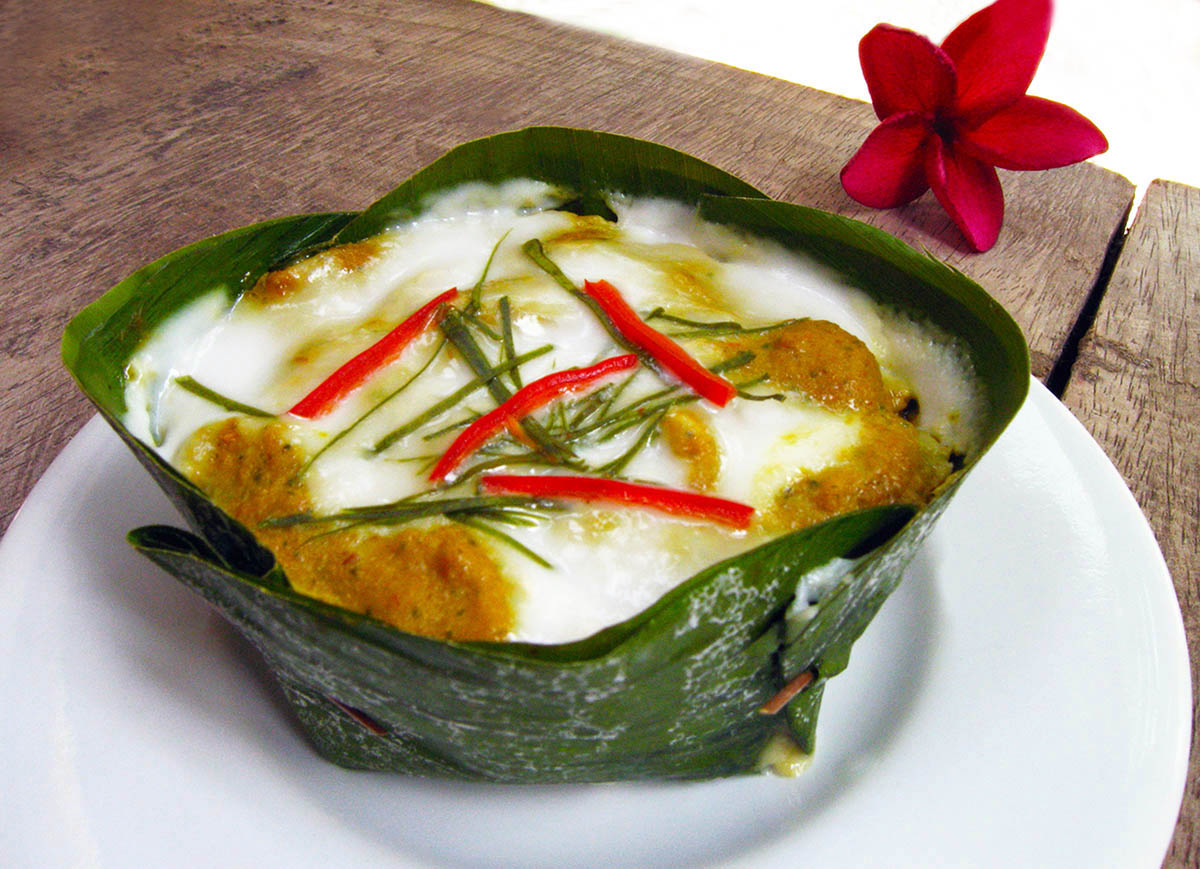 Amok is a popular Khmer dish.
Extreme cuisine is another feature of dining out in Cambodia with spiders, small birds and insects popular with many locals and adventurous tourists. I am yet to be tempted but did see many bugs and grubs for sale in the markets.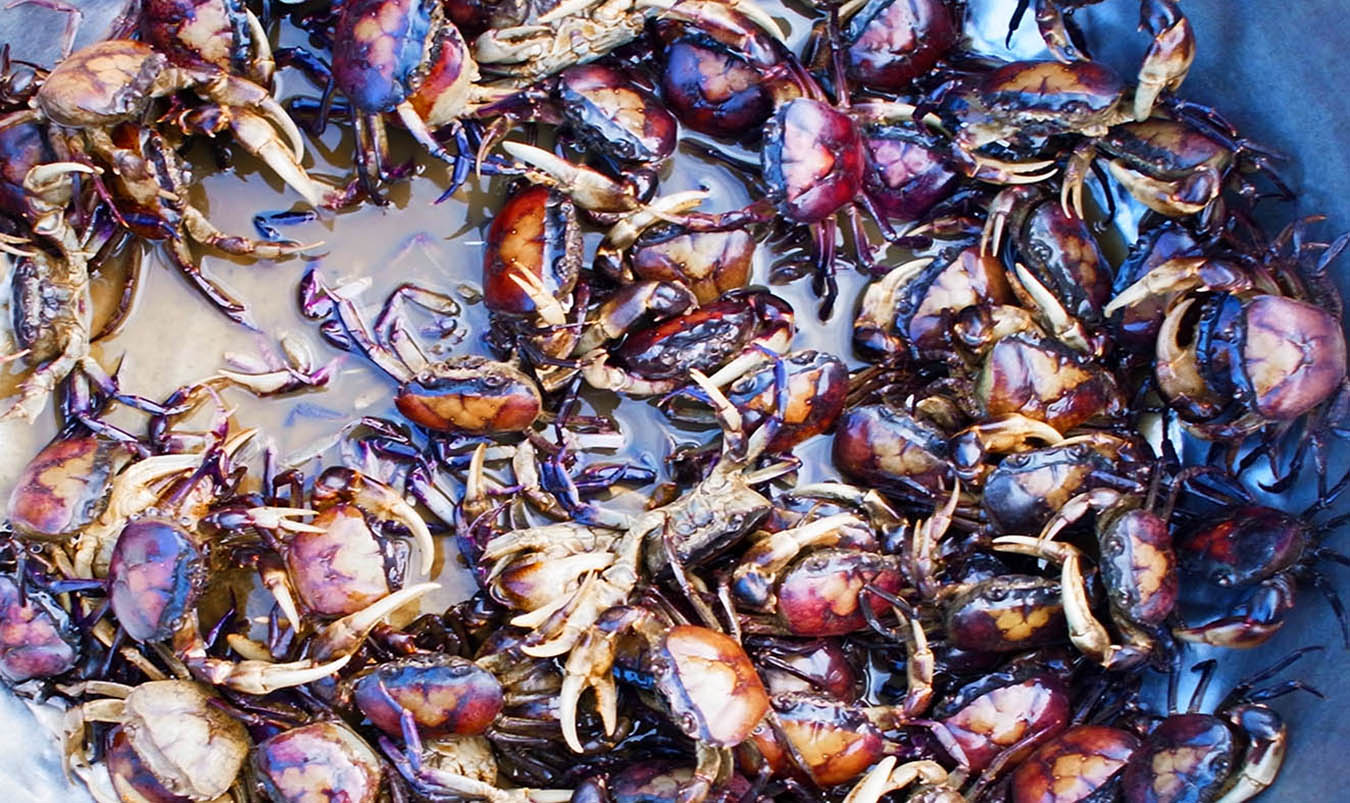 Small freshwater crabs are sold in the Phnom Penh markets.
France had a strong influence in Indochina and one venue that combines Royal Khmer and modern French cuisines is in the Restaurant Le Royal within Raffles Le Royal Hotel. Being Raffles, the experience is more expensive than other Phnom Penh restaurants but it is a place to impress and be impressed.
The Phnom Penh riverfront area is booming with restaurants, cafés, and bars. Recommended restaurants include Mali's, Backyard Café (healthy food), Topaz (French), Black Bamboo (a Phnom Penh restaurant that helps budding young Khmers with hospitality training), and Romdeng (proceeds go to help street children). Many outlets set tables and chairs up on the streets each day and serve tasty and affordable food.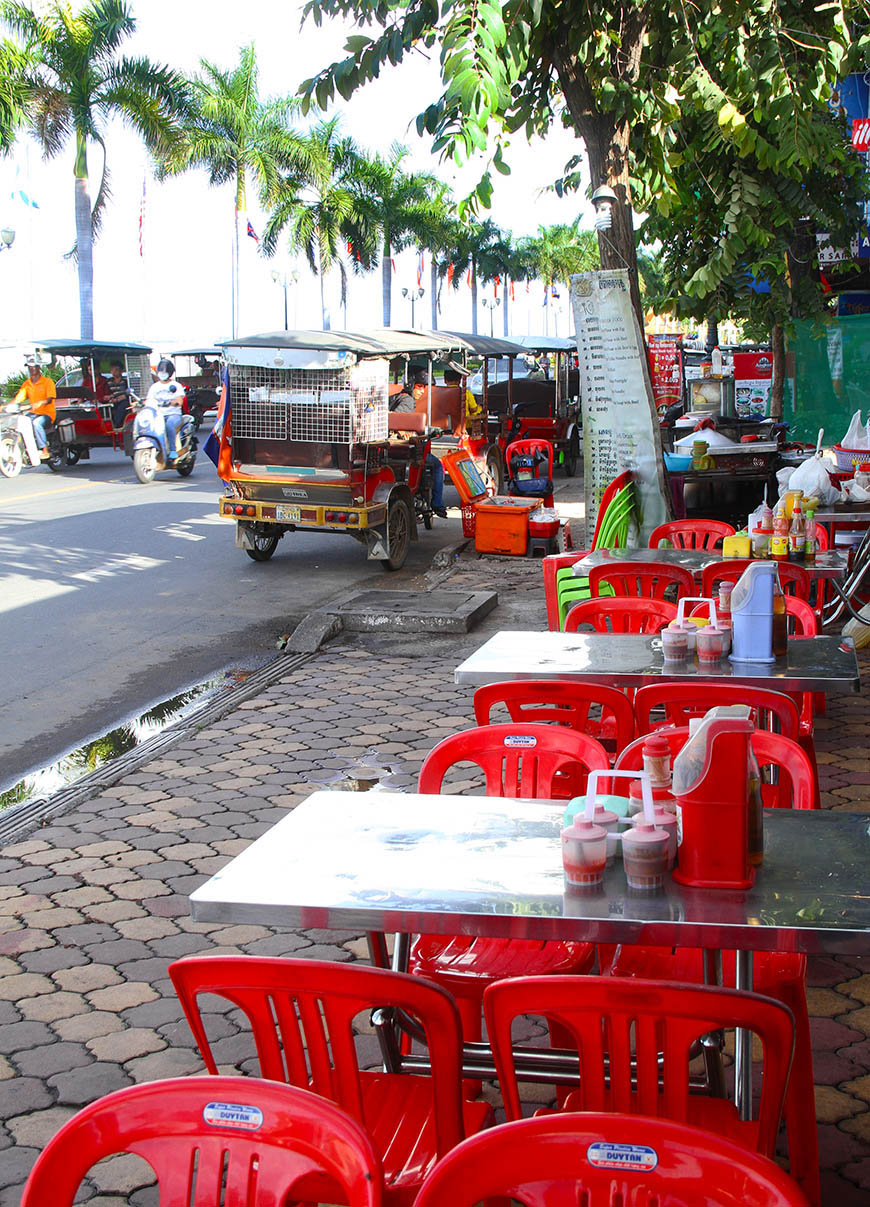 Simple streetside food outlet.
The Phnom Penh weather is usually hot and humid and it is a good idea to quench your thirst regularly. I used this as an excuse to sample the local beer called Angkor especially during happy hours when the prices made it some of Asia's cheapest beer (starting from US$0.50). Sisowath Quay along the riverfront has many bars and restaurants including the Foreign Correspondents Club of Cambodia (FCCC), which has a legendary reputation in Asia. While some claim that it has seen better days, the Angkor beer still flows freely and the panoramic river views are as good as they ever were.
Those in the know state the best streets for Phnom Penh nightlife are located on those numbered 104 and 136 while some other downtown streets are the domain of mostly foreign male visitors.
Another must-visit bar for me is the Elephant Bar in the Raffles Hotel Le Royal. While happy hours extend from 4pm to 9pm, the prices are obviously not as generous as those on the street are, but then again, there are few places in Asia that have the elegance and style of the Elephant Bar.
This discrete and chic bar is the place for those who enjoy reflecting upon a bygone era or simply relaxing in classy surrounds. Patrons can relax in comfortable leather lounge chairs and contemplate the good old days while sipping signature cocktails including the legendary Raffles cocktail, Singapore Sling (even though you are in Cambodia).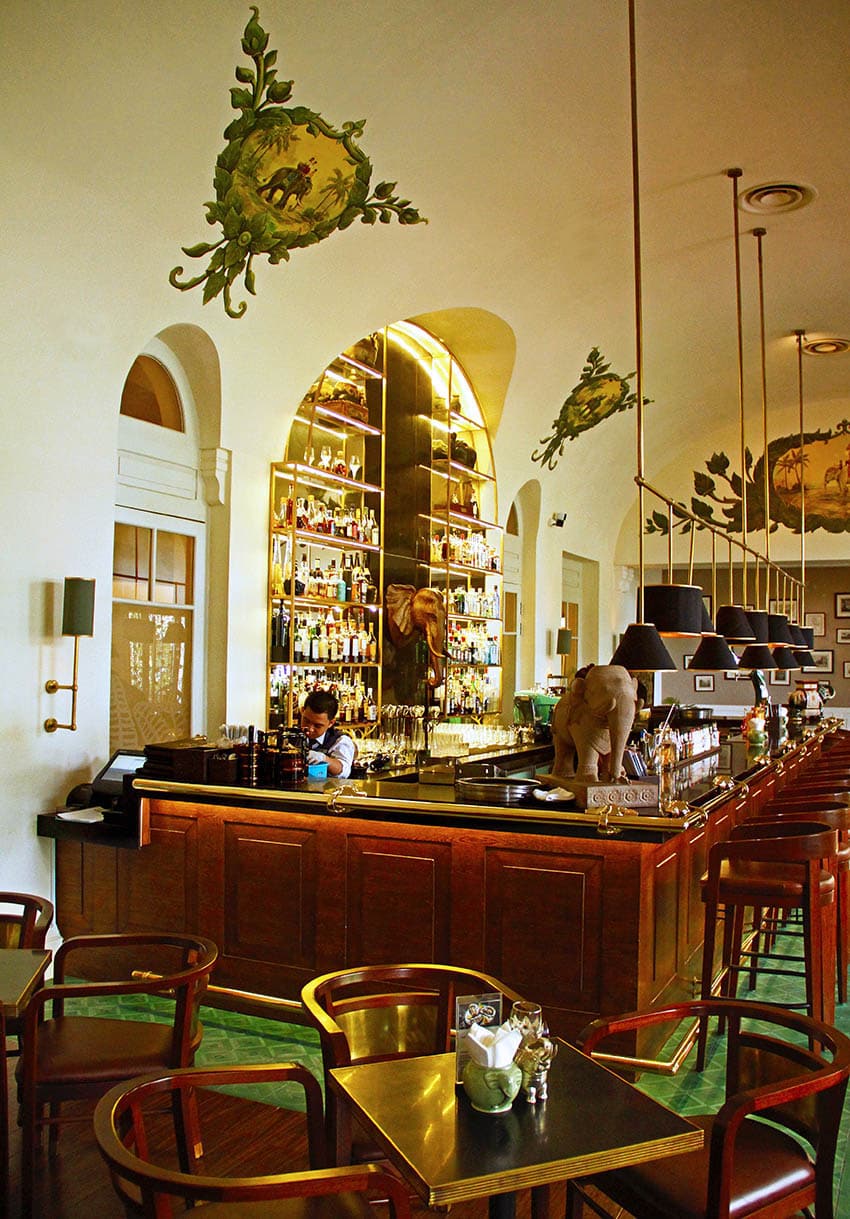 The Legendary Elephant Bar at Raffles Hotel Le Royal.
To the Market

There are numerous Khmer souvenirs to purchase and the Russian Market is a great place to start for those seeking silverware and textiles.
The Night Market (Phasar Reatrey) located along the riverfront is good for handicrafts, silks, art, and locally made souvenirs.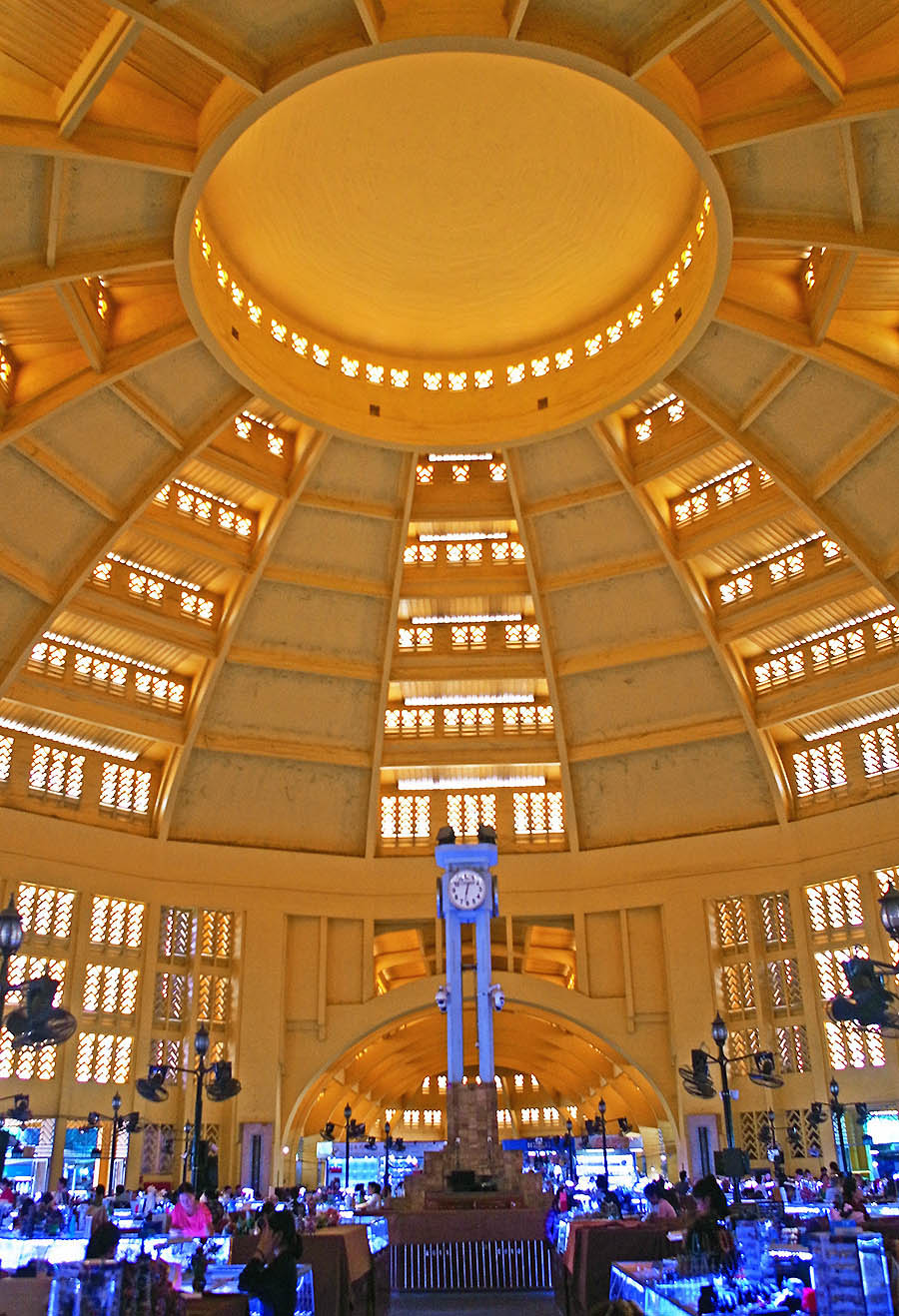 Interior of the Art Deco Central Market.
Central Market or Phasar Thmei is the largest market and delightfully Art Deco in design. It is home to traders who offer many products from clothing to silverware, gemstones, photographic equipment, and fresh produce.
Phnom Penh's Central Market.
Tropical Refuge
There is nothing as cool as the pool in the city's most prestigious five-star hotel, Raffles Hotel Le Royal. Its rooms have provided comfort and luxury to discerning travellers for decades and while new Phnom Penh hotels have opened, Le Royal appeals to those seeking an experience like the golden era of travel.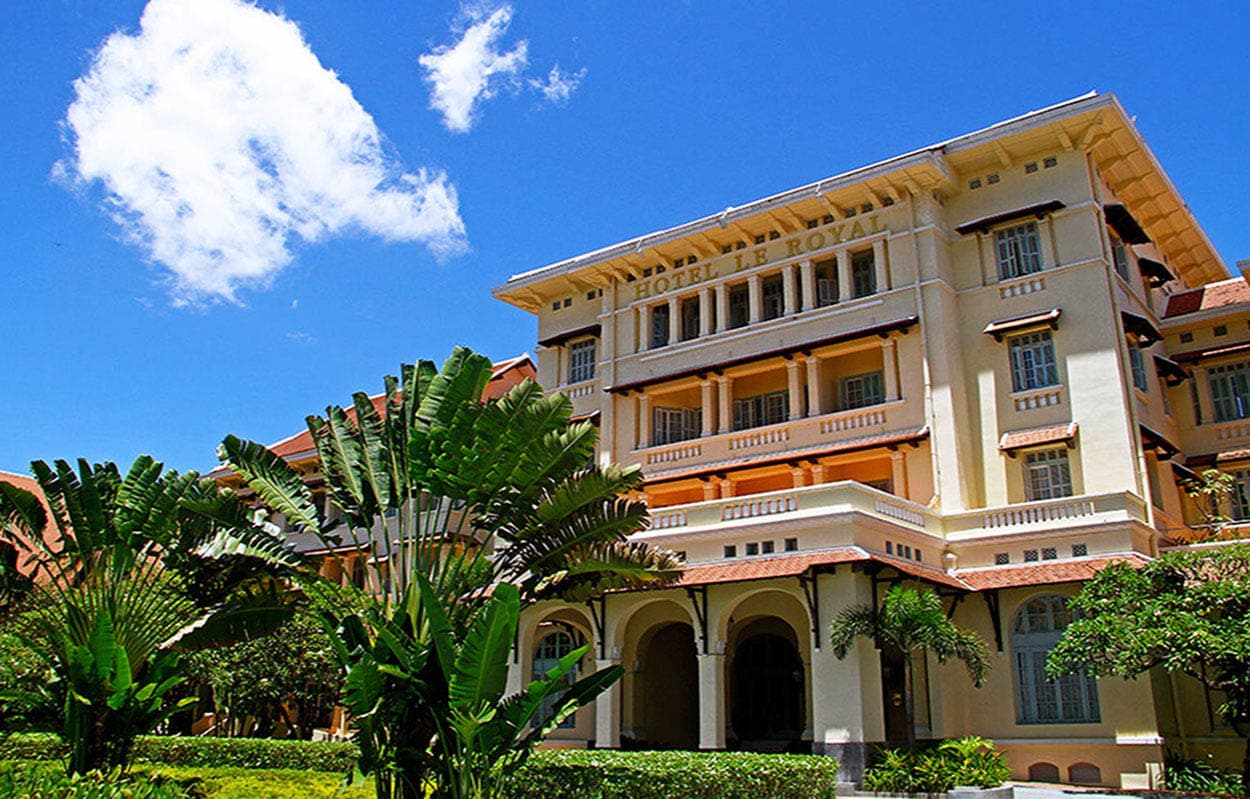 Phnom Penh's Raffles Hotel Le Royal
Opened in 1931, it was the residence for writers, travellers, and government officials. Jacqui Kennedy, the writer Somerset Maugham and French President Charles de Gaulle along with other celebrities all stayed here.
With international flights to both Phnom Penh and Siem Reap (for the temples of Angkor Wat), it makes good sense to visit both destinations on a Cambodian holiday.
[tabs]
[tab title="Where to Stay" icon="entypo-suitcase"]
[button style='blue' icon="entypo-suitcase" url='https://www.expedia.com.sg/Phnom-Penh-Hotels.d6191801.Travel-Guide-Hotels' fullwidth='true'] Top Hotels in Phnom Penh [/button]
[/tab]
[tab title="Let's Go!" icon="entypo-flight"]
[button icon="entypo-flight" url='https://www.expedia.com.sg/lp/flights/sin/pnh/singapore-to-phnom-penh' fullwidth='true'] Flights to Phnom Penh [/button]
[/tab]
[/tabs]
Travel Tips

While some nationals do not require a visa to visit Cambodia, many other nationalities must obtain one. These are issued upon arrival for a fee of US$30 accompanied by a passport photograph. Visas can also be done online prior to travel.
The streets of Phnom Penh can get blisteringly hot especially during the build-up to the raining season in April and May and using a tuk-tuk to get around is a comfortable option.
Show respect when visiting the famous Wat Phnom temple (after which Phnom Penh is named).
Phnom Penh is considered a safe city although visitors need to take the same precautions they would in visiting almost any other Asia city – be aware of your surroundings, keep your belongings secure and remember that any offer that is too good to believe probably is.