By Expedia Singapore, on August 8, 2015
36 hour Macau Itinerary
By Explorer Chung Wah Chow | With more than 450 years of colonial history, Macau has a rich cultural heritage and is more than just the world's gambling capital. It's the first and last European colony in China and its Portuguese legacy can still be seen in its meandering cobbled streets and colourful colonial houses. It's worth spending a day or two in this tiny city, for its wealth of historical delights and the wonderful Macanese food on offer. It is definitely possible to cover Macau in a weekend, a short ride from Hong Kong on the ferry. Here's a Macau itinerary for a short weekend exploring a few of the top things to do and Macau points of interest.
Where to Stay in Macau: Romantic Hotels or Casino Hotels
 Grande Praça, MGM Macau / Image courtesy of  MGM Grand Macau
Most hotels in Macau cater to moneyed leisure travelers, but if you book well in advance, it's not hard to find great value and atmospheric surrounds. Check in to the Pousada de Mong-Há, a hotel run by the charming students of the local tourism institute – it offers great bang for your buck. It's perched on the serene hillside of a 19th-century fortress and is the perfect spot for a stroll with great city views. While the patio and the verandas are Portuguese in style, the rooms are furnished with oriental fixtures. Rates include breakfast served in the elegantly decorated dining hall.
If you have deeper pockets, the MGM Grand Macau is a tastefully-appointed casino hotel with an artsy lobby, stylish rooms with sweeping sea views, an excellent spa and eight fine restaurants and bars.
[button style='blue' url='https://www.expedia.com.sg/Macau-Hotels.d8724.Travel-Guide-Hotels' icon='entypo-flight' fullwidth='true'] Where to stay in Macau[/button]
Macau's UNESCO World Heritage Sites
 Senado Square at Night
Macau arguably has the world's most compact collection of UNESCO World Heritage Sites. With more than twenty-four attractions packed into two areas in the Historic Centre, it makes a one or two-day walking tour in Macau the perfect itinerary. The Portuguese influence is clearly visible at these sites.
Senado Square
Start in Senado Square, as most sites are within walking distance of this point. Make sure you don't miss the beautifully restored 17th-century baroque Church of St Dominic (Largo de Sao Domingos) and the Treasury of Sacred Art contained within its timber roof.
St Paul's Ruins
The Ruins of the Church of St Paul, the most treasured icon of Macau, is a must, regardless of whether you're a new or returning visitor. This five-tiered facade, with its portals, statues and engravings, is one of the most significant monuments to Christianity in Asia. St Joseph's seminary and church (Rua do Seminario) has the oldest dome ever built in China and its hybrid of baroque and Chinese architecture makes it a sight to behold.
Temples
The Historic Centre also includes some fabulous temples and Chinese mansions. A-Ma Temple (Rua de Sao Tiago da Barra), located on the southern side of the peninsula, was built before the Portuguese settlement in 1557. Mandarin's House (10 Travessa de Antonio da Silva), which features more than 60 rooms, has been restored to its original splendor, showcasing the exquisite lifestyle of a Chinese literati-merchant in the 19th century.
Macanese Food Treats
As one of the world's oldest fusion cuisines, food in Macau marries the best of Asian and European cooking, blending local ingredients with culinary inspirations from former Portuguese enclaves in Africa, India and Malaysia. Similar to Portuguese cuisine, Macanese dishes are meat-based but spiced with coconut, chilli and shrimp paste.
The signature Macau dish is juicy African chicken, which uses coconut milk for the basting sauce. Bacalhau (cod fish) and stuffed crab are also Macanese delicacies. Serradura is one for the sweet tooths – it's a pudding made with crushed biscuits and condensed milk. Henri's Galley (Shop G-H, 4 Av. Da Republice, R/C, Sai Van) is one of the best places to sample these dishes.
If it's traditional Portuguese cuisine that you're after, the striking pink Clube Militar de Macau (975 Avenida da Praia Grande), with its elegant colonial setting will certainly not disappoint you. You don't need to be a member to book a table and the lunch buffet is excellent value.
The House of Dancing Water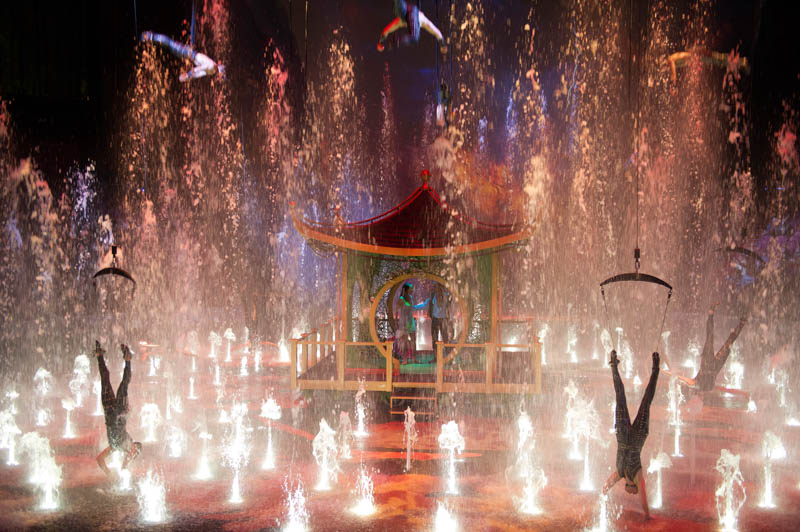 The House of Dancing Water Media
In this entertainment capital, Macau offers lots of choices to keep you busy in the evening. Watching world-class performances in the City of Dreams is high up the list of top things to do in Macau.
The House of Dancing Water is one of the most spectacular shows in Macau. This 85-minute water-based extravaganza features aerial artists and dancers performing acrobatic moves on water in a custom-built theatre containing 3.7 million gallons of water. The show's plot draws inspiration from classical Confucian beliefs, including the principle of 'seven emotions'. This is truly a spectacle to behold. If you're including this in your Macau weekend itinerary — and you should — be sure to book ahead. Tickets are in high demand and sell out, so book early. Prices range from HK$480 to HK$880.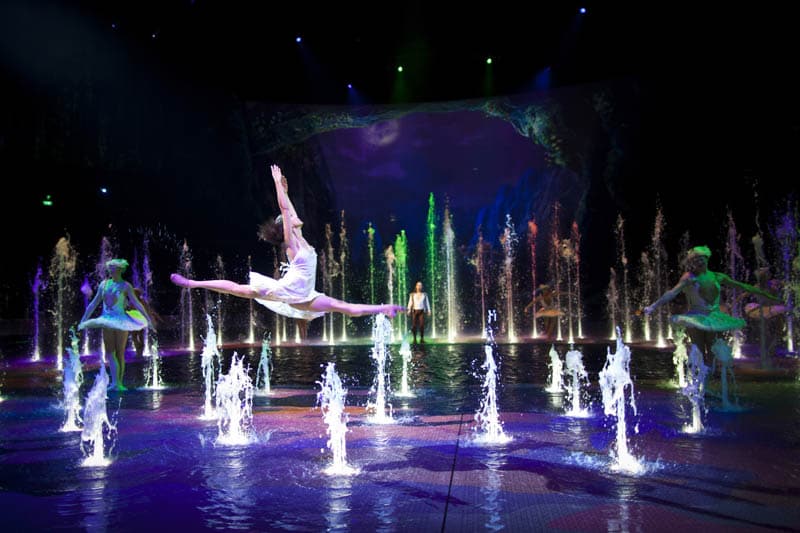 [button style='green' url='https://www.expedia.com.sg/things-to-do/?location=Macau,%20Macau' fullwidth='true']More Things to do in Macau[/button]
Taipa and Coloane
Hop over to the charming islands of Taipa and Coloane to take in more of Macau's old-world charm. Start at the historical Taipa village, where you'll see traditional Chinese shops and temples as well as colonial villas and churches. Taipa Houses Museum, to the north east of the village, is where you'll find beautiful villas by the lagoon, which were built by wealthy Macanese in the 1920s. Now the houses have been converted into a museum, showcasing the life and history of the vanishing Macanese community.
 Lord Stow's Egg Tarts
Lunch at Coloane
If you have more time, hop over to Coloane for an excellent dim sum lunch at Kwun Hoi Heen (2/F Grand Coloane Resort), before exploring the island's sleepy yet atmospheric village. The best place to start your village tour from is Largo Presidente Antonio Ramalho Eanes. Walk to the waterfront to catch a glimpse of the Coloane fishing village of old. You'll immediately see Sam Seng Temple, a tiny shrine built in 1865 and the well-kept Tam Kung Temple, located at the end of the road.
The lovely Chapel of St Francis Xavier (Avenida de Cinco de Outubro) was founded in 1928 to honour the pioneering missionary, Francis Xavier, and is a dominant presence in the village.
Portugese Egg Tarts
And finally, nope we didn't forget about Macau's famous Portugese egg tarts. Keep the best for last! Head to Lord Stow's Bakery (105 Rua da Cordoaria), which serves freshly-made pastries and sandwiches. Grab a seat out on the wonderfully relaxing patio and make sure you order the delicious egg tarts. And that's the tasty end to a little weekend in Macau, just enough time to cover several worthy Macau attractions and enjoy its famous egg tarts 🙂
[tabs]
[tab title="Getting There" icon="entypo-address"] The most popular trips to Macau branch off from a visit to Hong Kong, then hopping over to Macau for a weekend. Take the Hong Kong to Macau ferry with TurboJet or Cotal Water Jet. The speed ferry takes about an hour from Hong Kong to Macau.  If you're prone to seasickness, it's advisable to take preventive pills before the journey.
The Hong Kong to Macau ferry ticket goes at HKD132 to HKD172 for a single trip on economy class. 
[/tab]
Feature Image: Ruins of the Church of St Paul