By Stephanie Ong, on December 16, 2014
A Night in a Monastery: Mount Koya, Japan
We wanted to experience another side of Japan. We had overindulged in the heady consumerism of Tokyo and needed a break from that fast-paced city. And so it was decided: we'd spend one night in a traditional Japanese monastery in the hope of experiencing something simple; peaceful.
About Mount Koya
Mount Koya seemed like the ideal place. It was settled in 819AD by the monk Kukai and is now the world centre for Shingon Buddhism. The site itself has much to offer in terms of natural beauty. It is located in an 800m high valley amid eight peaks of the mountain and was chosen because of its auspicious resemblance to a lotus plant.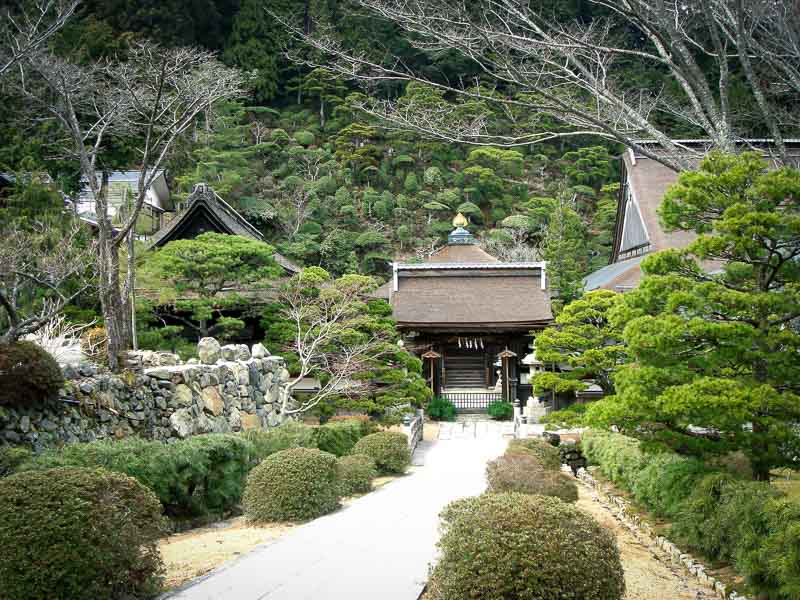 CC 2.0 / Flowizm …
We arrived on a wintry day. The last part of the journey involved a cable car to the mountaintop, from which we had a bird's-eye view of trees and slated roofs covered in snow. It was obvious that we'd left the city far behind. We made our way to Shojoshin-in – one of many temples in this town. It looked like something out of a movie, with its thick, curved wooden entry gate. As we walked in we were struck by the simple, natural wood architecture, which seemed to merge seamlessly with the surrounding nature.
Monks, Tatamis and Snow-Speckled Gardens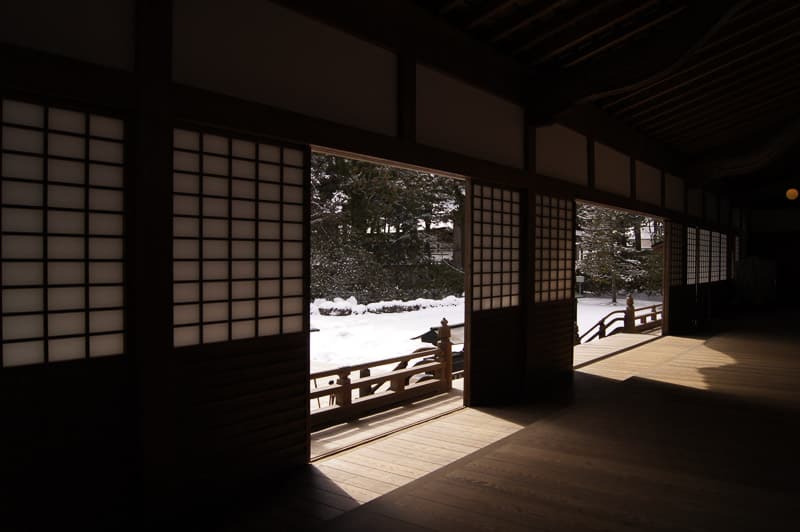 CC 2.0 / Kazue Asano
A yellow-cloaked monk greeted us and led us to our traditional Japanese room, complete with tatami mats and sliding doors. He explained the times for meals, bathing and the morning ceremony, and then bid us goodbye. As soon as he left we raced around the room exclaiming over every detail at once.
So strange and beautiful were the quaint set of cups and green tea in a painted box, and the yukata (cotton robe) we would wear during our stay. We opened the window and even just watching the snowflakes falling over the delicate Japanese garden seemed wondrous.
Okunoin Cemetary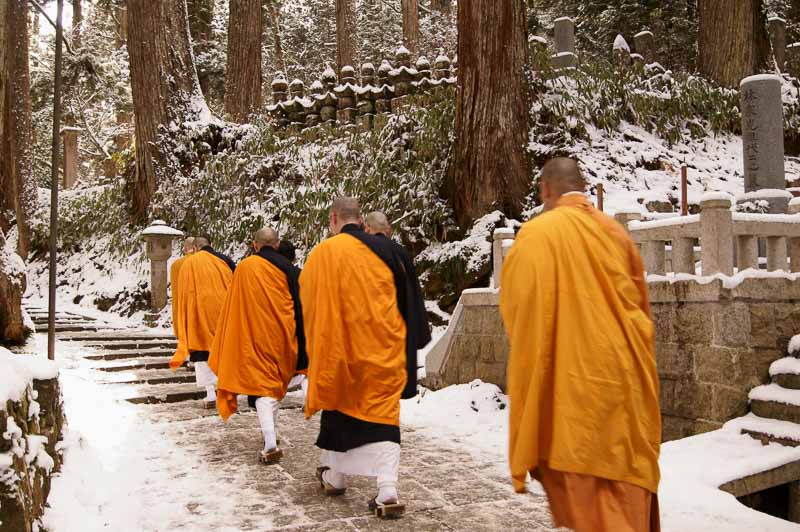 CC 2.0  / Kazue Asano
As the last traces of light were leaving, we wandered on, caught in this magical quiet time of few tourists and soft winking lights. We felt very much alone with the tombs (some dating as far back as the 10th century), looming cedar trees and statues. After some minutes we had to break the silence with our laughter – the kind that comes when you know you're supposed to be serious. It was time to go back. We linked arms, only a tiny bit regretful at missing the mausoleum and the Torodo Hall, which is said to house more than 10,000 lamps.
Dining in the Mountains: Shojin-Ryori
That night we enjoyed a monk's vegetarian meal known as shojin-ryori. We had it in a private room on a low table where we sat cross-legged on the tatami mats. The meal was unusual, tasty and incredibly filling. The monk who brought it was enormous, tall and solidly built – his back wide and strong like some of the trees we'd seen that day. We marvelled at how he could get so big on such simple fare.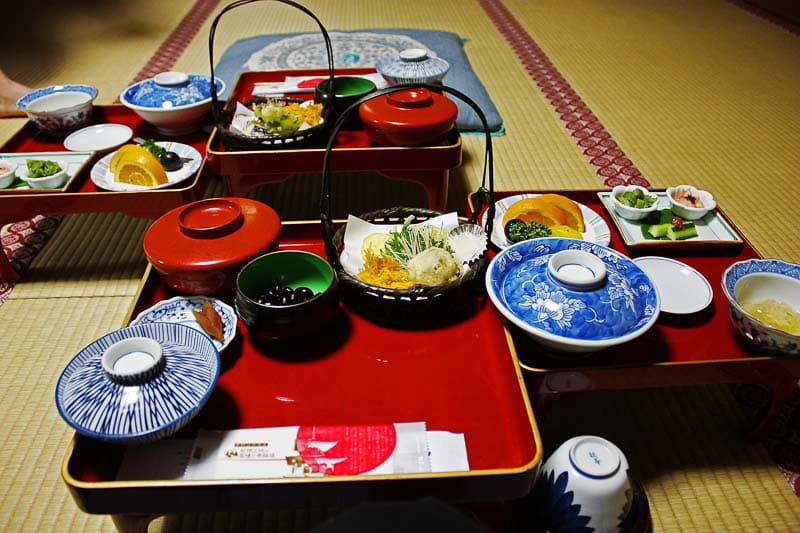 CC 2.0 / Andrea Schaffer 
We slept soundly on the simple futons laid out on the floor of our room and then woke to the sound of bells. It was still dark and the air was icy as we piled on everything we owned and headed to a decorated hall filled with incense and the sound of chanting. Initially, the lack of sleep and cold was torturous but as we started listening to the chants and the bells, we soon forgot our discomfort. When it was our turn to add incense to the shrine we did it with great solemnity, hoping we did it right.
We left later that morning, with the sun spilling through the cedar trees, feeling very much refreshed and ready for whatever was coming next.
For more information on temple stays visit www.japaneseguesthouses.com
Feature Image: Shojoshin-in, Mount Koya. Photo by Andrea Schaffer.
Image Credits: Various photographers under Creative Commons 2.0 License.