By Danial Ariff Bin Ahmad Nordin, on March 30, 2019
Family Trip to Luang Prabang
If there's an award for the most charming town in the whole of Southeast Asia, Luang Prabang would come out a champion.
Luang Prabang is the former royal capital of Laos, tucked in a peninsula by the Mekong River. The town's eclectic mix of former colonial French and native Buddhist architecture coupled with its laid-back vibe makes Luang Prabang an endearing destination to travellers who chanced upon this unassuming town.
We grabbed the opportunity to visit this UNESCO World Heritage Site as soon as we discovered the newly launched direct flights from Singapore to Luang Prabang Airport. Here are things to do in Luang Prabang over the course of three days.
Our Family Trip to Luang Prabang

1) Day 1, Afternoon: Arrive at Luang Prabang 
We landed at Luang Prabang International Airport in the late morning and, after breezy immigration and customs check, we hopped onto a minivan for a quick 15-minute drive to the city centre.
Our tummies were showing protest for being empty for too long, so we asked our driver for a good place to try some Laotian fare. The driver sped past the Nam Khan River, made some twists and turns and stopped right in front of Tamnak Lao Restaurant.
Tamnak Lao serves a whole list of local food — it was difficult for us to choose what to order. We went with the locals' recommendation of Khao Niew, brown sticky rice served in a bamboo basket paired with a rich pot of Or Lam, a veggie casserole of eggplants, onions, green beans, dill and rare jungle herbs. We wiped the bowl clean within minutes!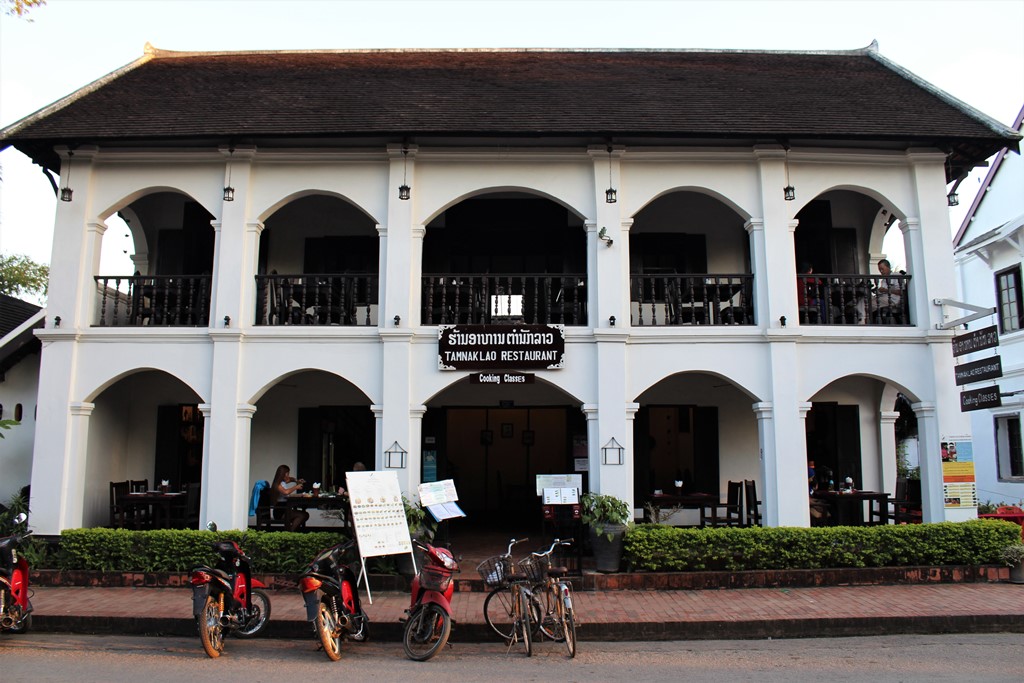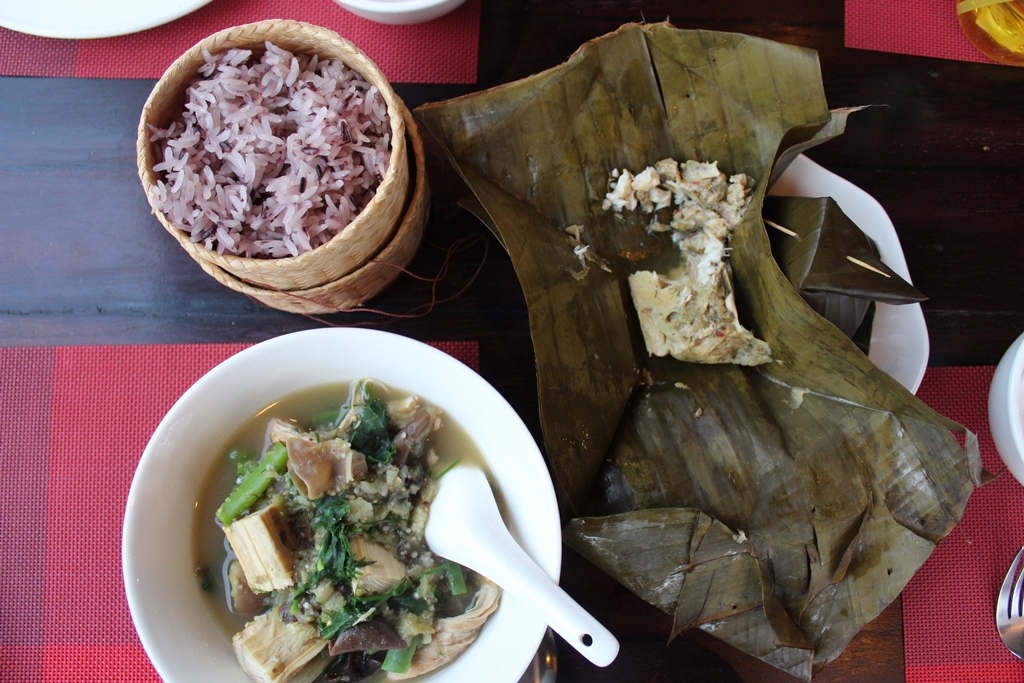 2) Day 1, Evening: Go on a River Cruise Along the Mighty Mekong River
After lunch, we checked-in at Villa Chitdara, a homey guesthouse run by a local Lao-French family. We loved this hotel for its strategic location right smack in the middle of Luang Prabang. Most tourist attractions are only a 10-minute walk away.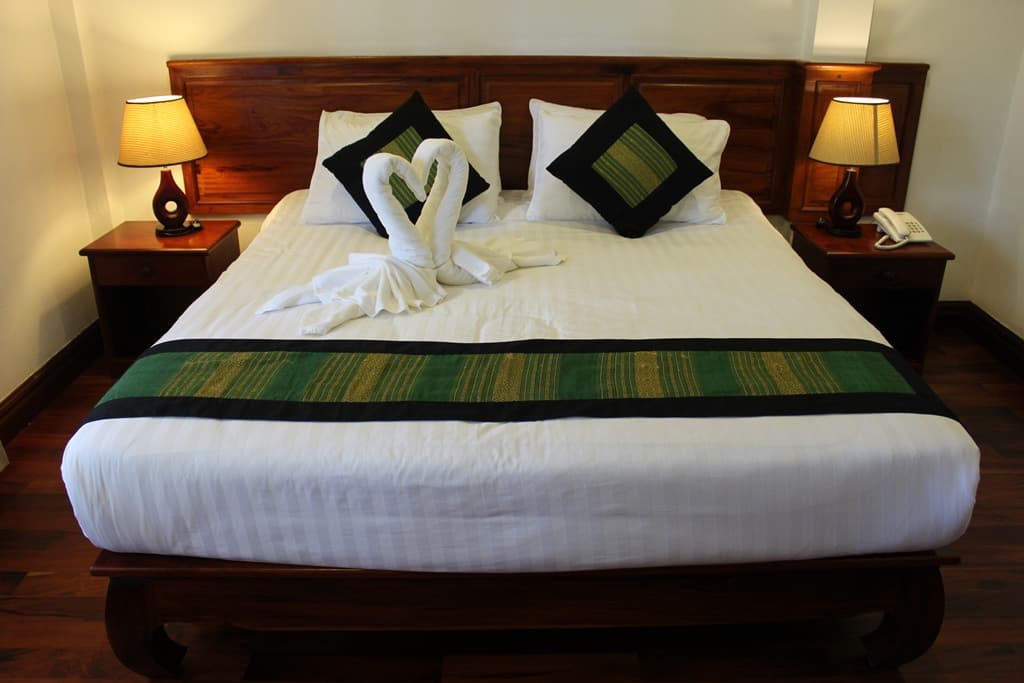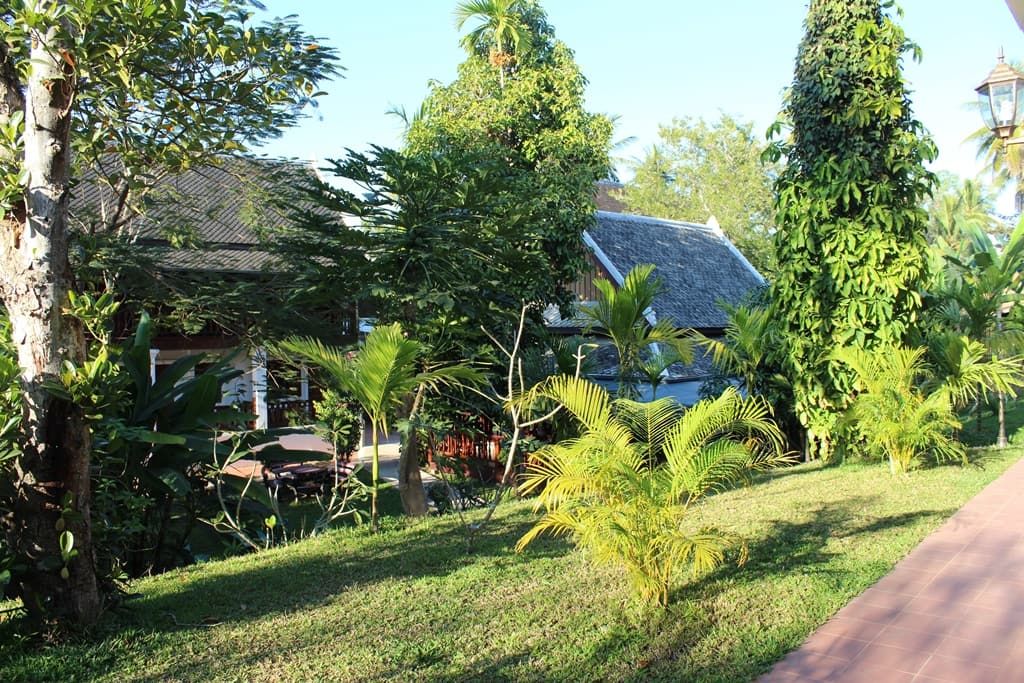 Later in the evening, we walked towards the Mekong riverfront and hopped on the Sa Sa Sunset Cruise. The 30-metre long-tail boat departed at 5 pm, meandering its way so we could watch the "busy" Luang Prabang on one side and the rolling hills on the other.
With chill-out music playing in the background, we sipped our fresh juices while witnessing the sun slowly slipping away behind the hills, over the horizon. On our way back, we were just in awe listening to the sounds of the jungle reaching a crescendo as darkness crept into the sky.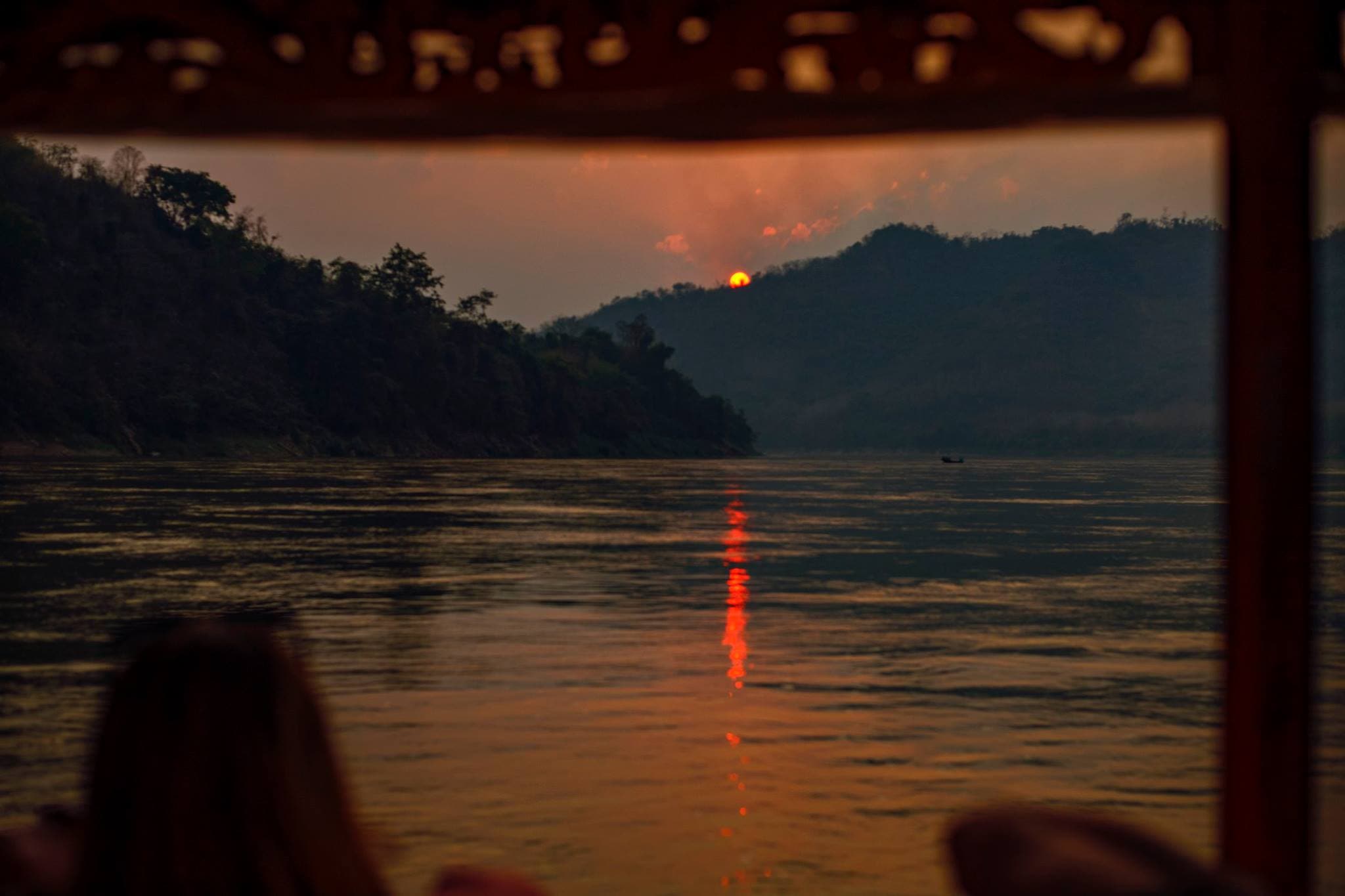 3) Day 2 – Morning: Visit the Golden Temple of
The wonderful buffet breakfast at Villa Chitdara got us prepared to start the day. The next thing in our agenda was an exploration of Wat Xieng Thong, a 500-year old Buddhist temple at the tip of the peninsula by the confluence of the Nam Khan and Mekong rivers.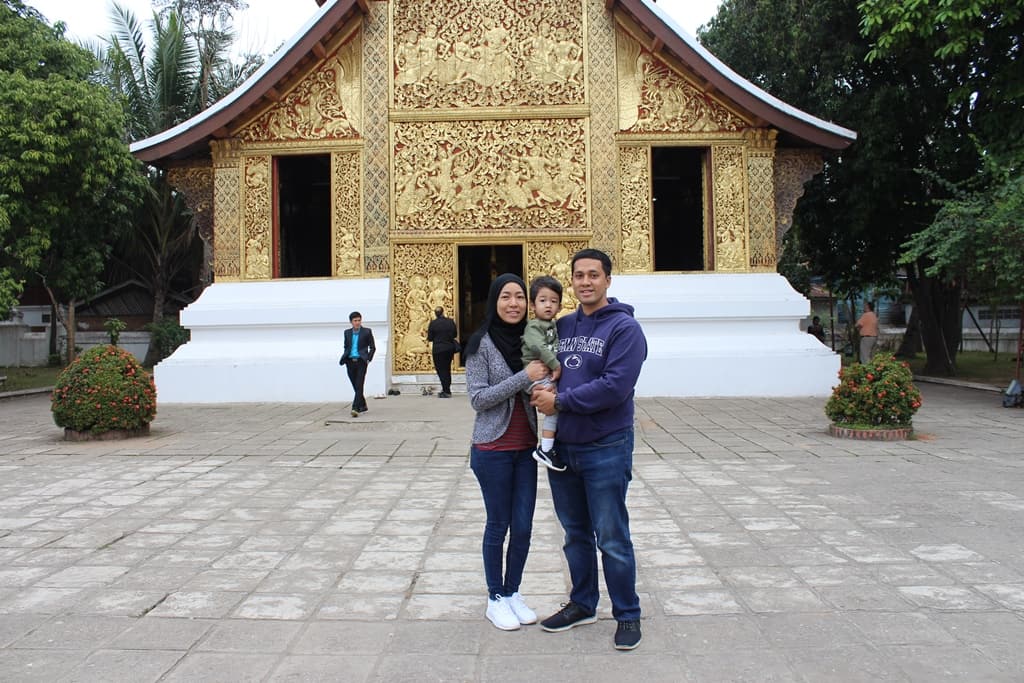 The temple complex was adorned with gilded wooden doors portraying parts of Buddha's life, just like in the golden outer walls of the main wat. Another sight to behold was the 12-metre-high funeral carriage with the head of five nagas, carrying urns of the royal family.
I was particularly impressed by a wall at the back of the main temple, which was splashed with thousands of colourful mosaics depicting the Tree of Life. A building behind the temple also carried a mosaic-full depiction of what the daily routines were like in the former kingdom.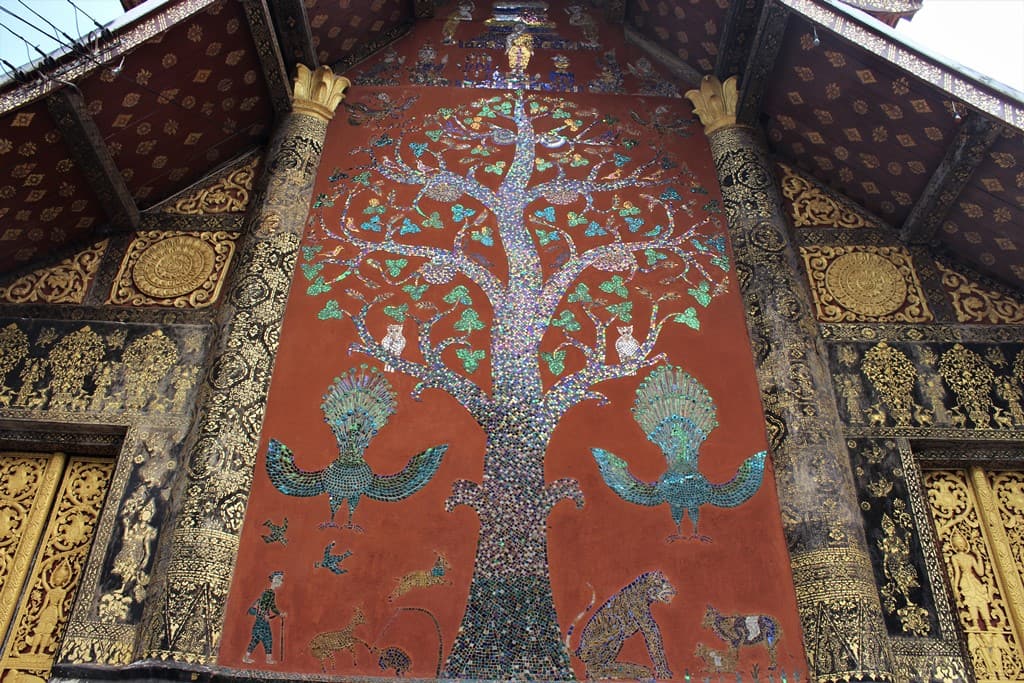 4) Day 2 – Afternoon:  Savour Laos' Vegetarian-Friendly Dishes at Tamarind
We were really impressed with yesterday's Or Lam and decided to seek out more green dishes. Our hotel receptionist recommended Tamarind Restaurant, which was on the quieter side of town.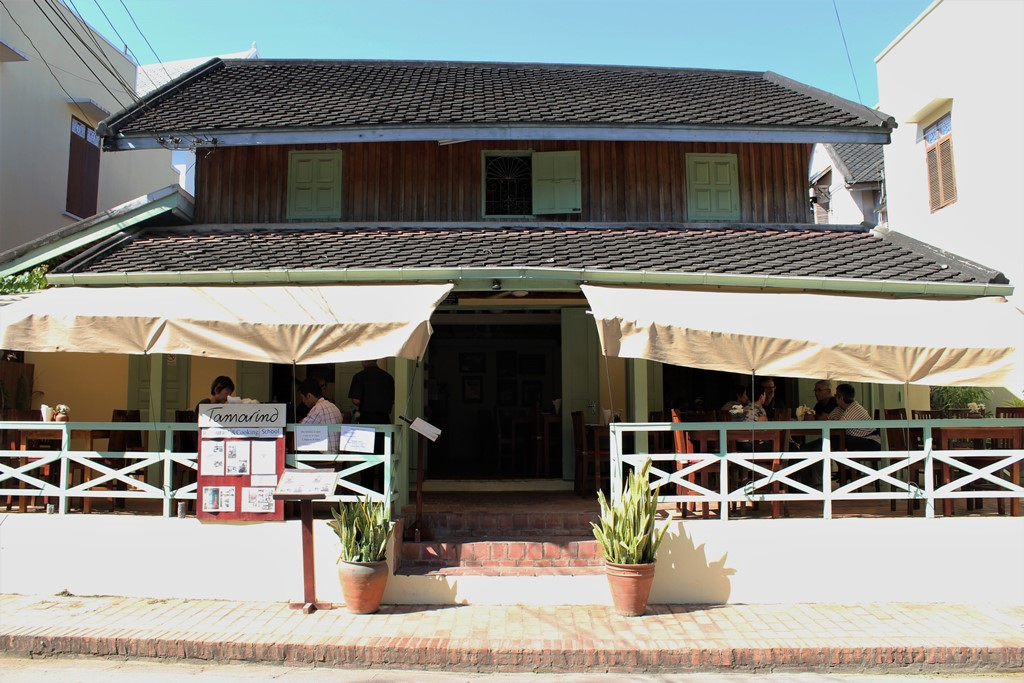 The best part about Tamarind Restaurant is probably the wide selections of food platters, to which we ordered the "Trio of Salad" of Tofu Laap, Tam Mak Hoong and Soop Pak.
All three salads carry a burst of flavour and texture from the crunchiness of the nuts and green papaya to the refreshing taste of jungle leaves and herbs indigenous to the Laotian. The greens were so tasty we nearly finished them before our rice even arrived!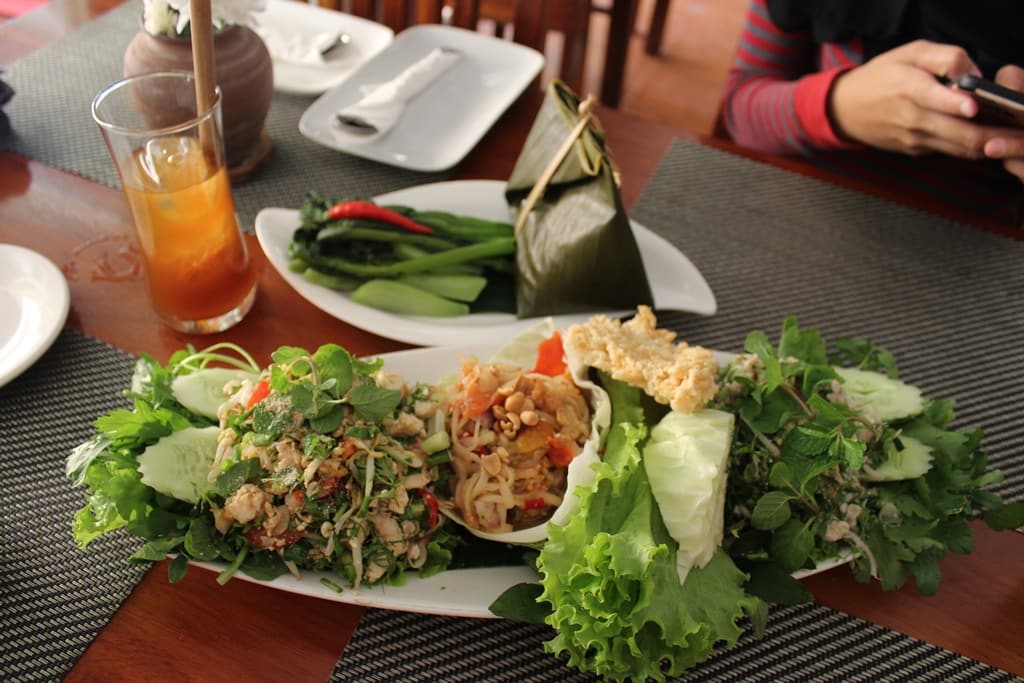 5) Day 2, Evening: Gaze at the King's Collection at the Impressive Royal Palace
Once everyone was full, we flagged down a tuk-tuk to take us across town to the Royal Palace. Now a museum, the palace was once the resplendent residence of former King Sisavang Vong.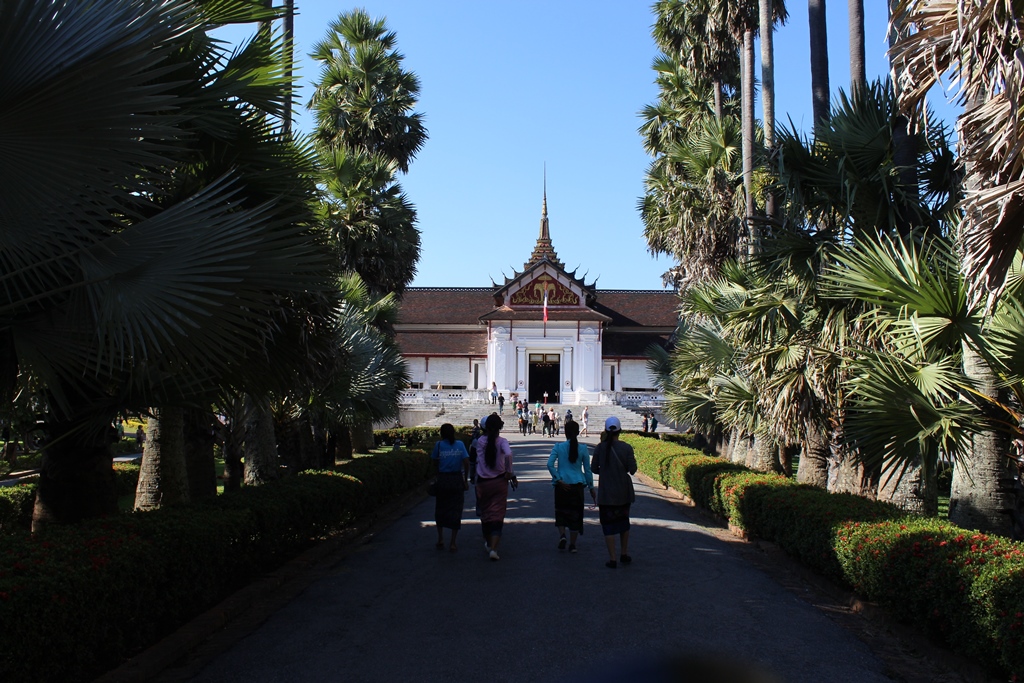 The Royal Palace is set in a lush garden of tropical trees with the equally impressive Haw Pha Bang Temple on one side and a statue of King Sisavang Vong holding the constitution on the other. The palace itself has a mix of French beaux art and Lao motifs flair to it.
Photography is not allowed in the palace, so we had to make do with just walking through the royal household's collection. We expected ornate furniture, but we were quite surprised to see the rooms and halls tastefully arranged with simple yet elegant décor.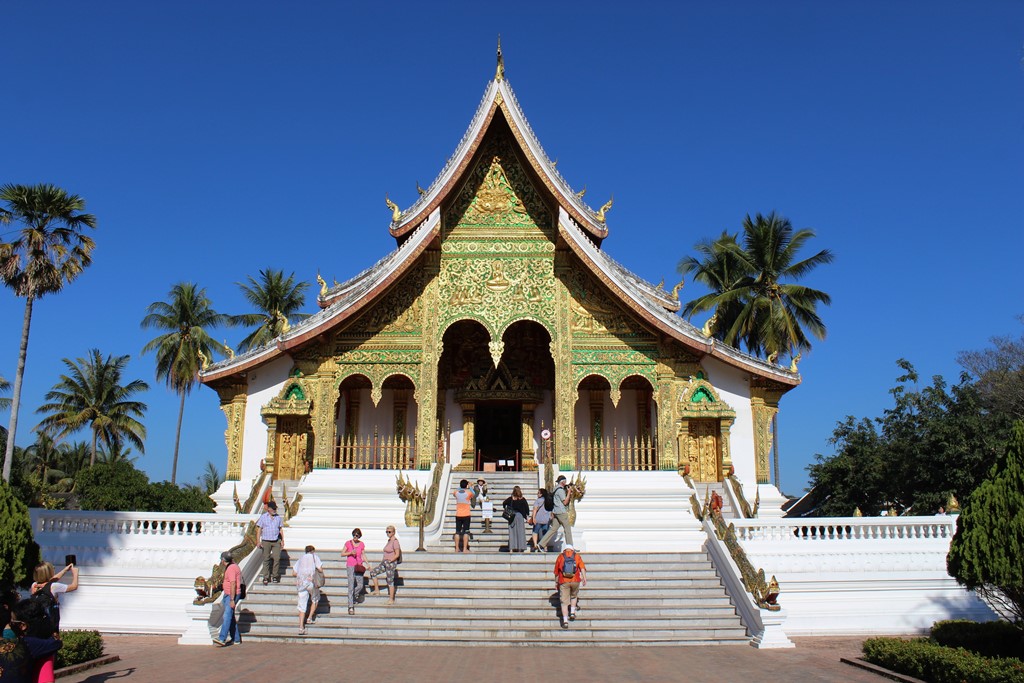 6) Day 2 – Evening: Hike Mount Phousi to Catch the Sunset from Above
Right across the Royal Palace is a set of stairs and switchbacks that takes us up to Mount Phousi, a 150-metre-high hill with sweeping views of Luang Prabang and its surroundings. Sunset was within an hour, so we started our hike early to grab a good spot.
We were clearly unfit to conquer this hill as throngs of visitors whizzed past us. By the time we reached the top, it was already crowded. The half-hour trek was not in vain though for we were able to witness the amazing sunset over the Mekong River from a totally different point of view.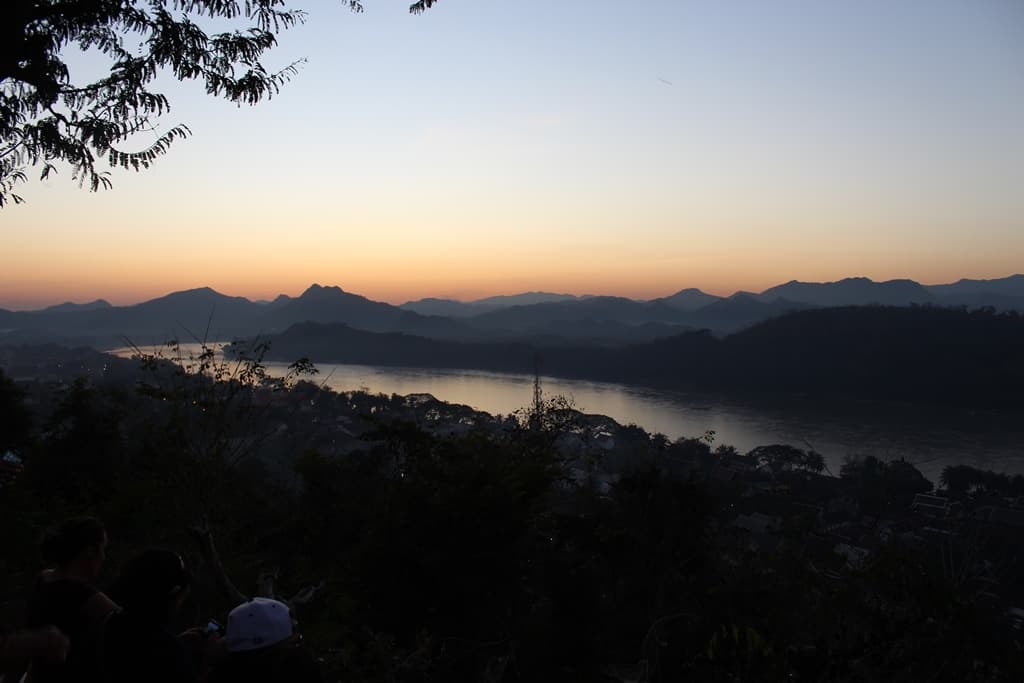 7) Day 2 – Night: Spend, Spend, Spend at Luang Prabang Night Market
Once night has fallen upon the valley, we went down the same way to check out the night market. Held daily on the stretch of road in front of the Royal Palace, the market offers anything from food to handicraft. Browsing through the market makes it difficult for us because we just couldn't leave one stall without buying something!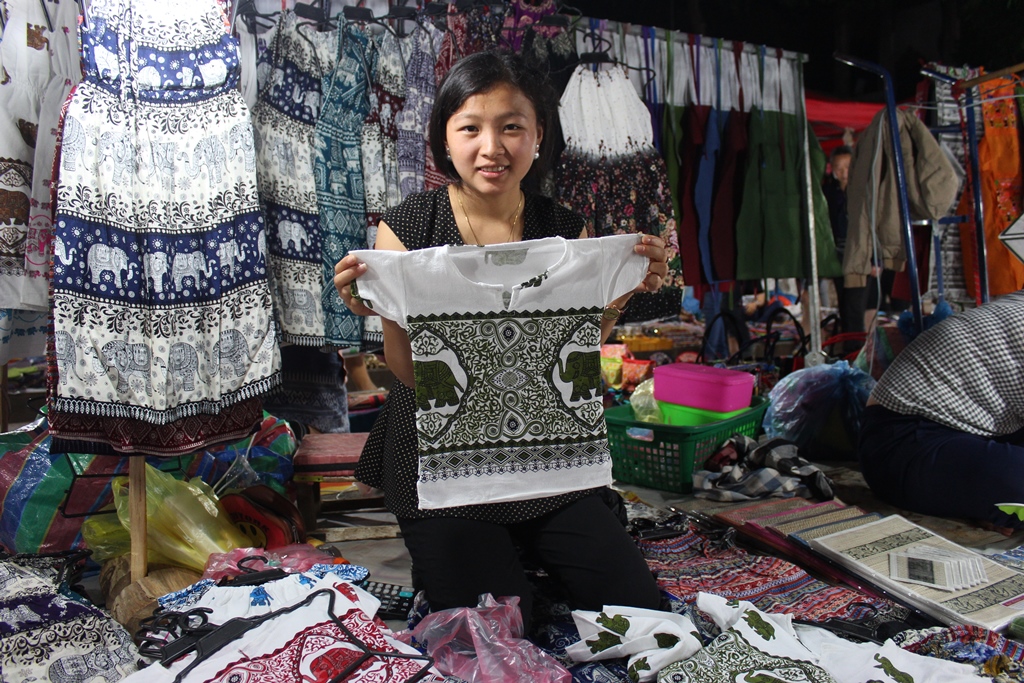 There were hundreds of stalls selling all kinds of handmade handicrafts, clothes and knick-knacks sourced locally. We bought a bundle of elephant-themed shirts for the whole family, a paper-mâché night lamp, floral pillow covers and cute little elephant slip-on. We would have snatched more items if not for the baggage limit we had!
If there's ever one ultimate reason for me to return to Luang Prabang, it has to be the night market!
8) Day 3, Morning: Dip Your Body at Refreshing Kuang Si Waterfalls
The first half of our third day was spent at Kuang Si Waterfalls, an impressive Luang Prabang waterfall with three cascading tiers and wading pools. It was about a one-hour drive away from our hotel, passing by villages and the countryside.
From the entrance, we walked down a well-trodden path running alongside the river. We were amazed at the turquoise blue water in the pool — we can even see tiny fishes swimming around.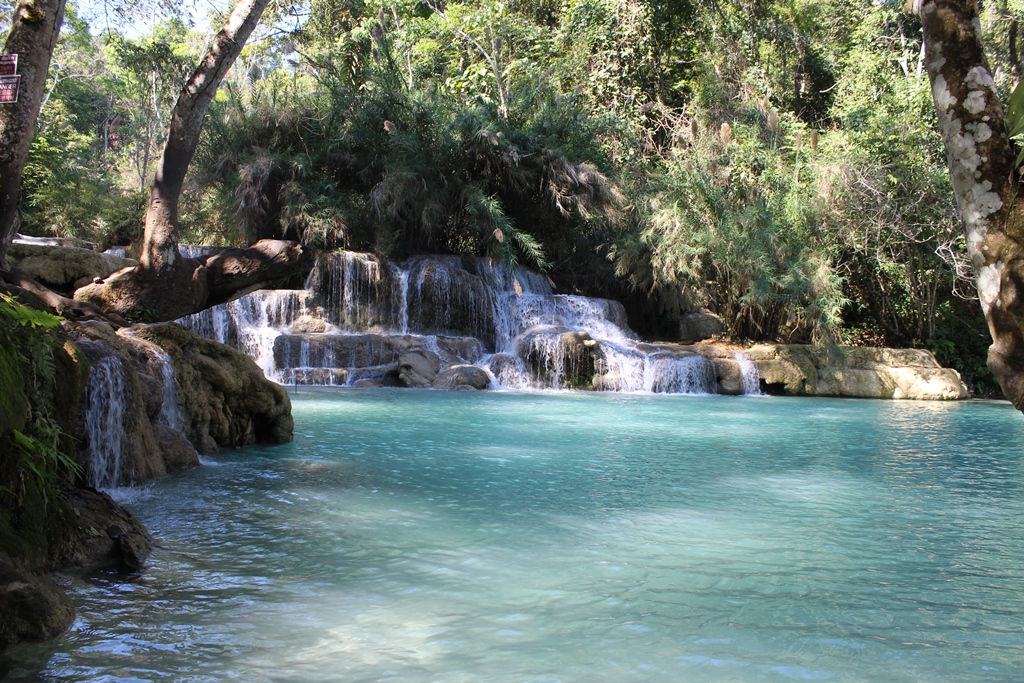 It was the cold season so the water was too frigid for a swim, but since we had come all the way here, we didn't want to make this a complete waste. We waded in a shallow pool, using our toes to play with the curious fishes. Before the Luang Prabang weather became too hot, we continued our trek to the massive waterfall – the 50-metre drop was so loud that it was near impossible to talk to each other!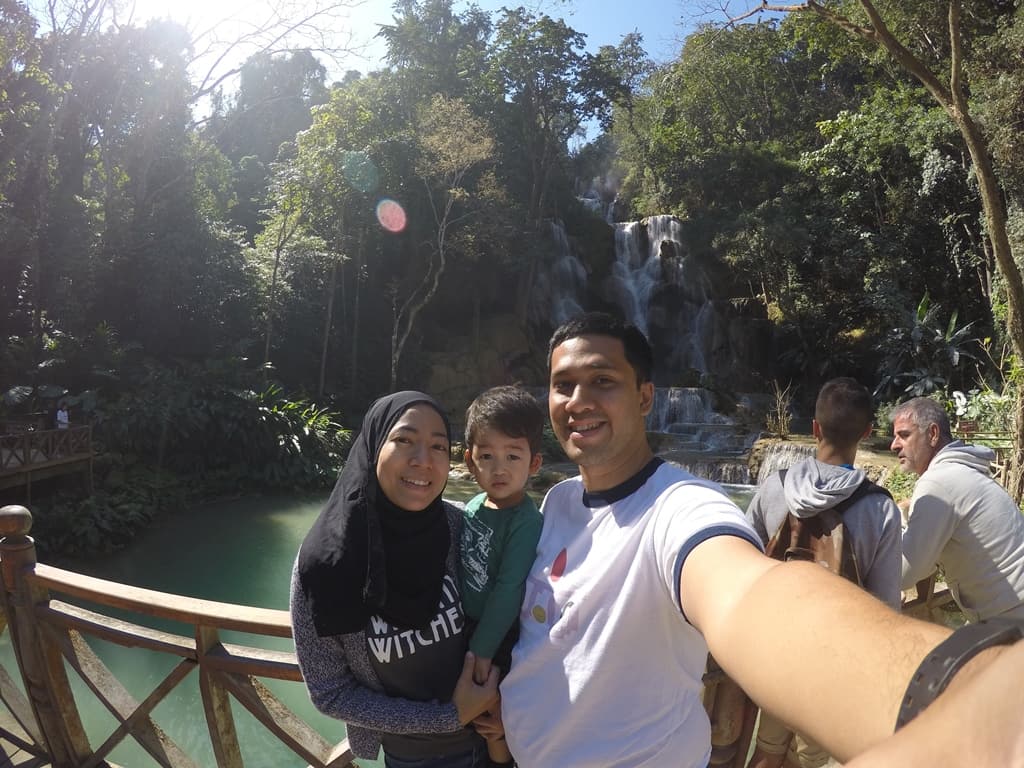 9) Day 3 – Afternoon: Learn about the Lovable Buffalo at Laos Buffalo Dairy
On our way back to Luang Prabang, we stopped by a cute purple roadside stall selling buffalo milk ice-cream! As we were eating our scoops of happiness, we learned that the ice-creams were produced by the Laos Buffalo Dairy.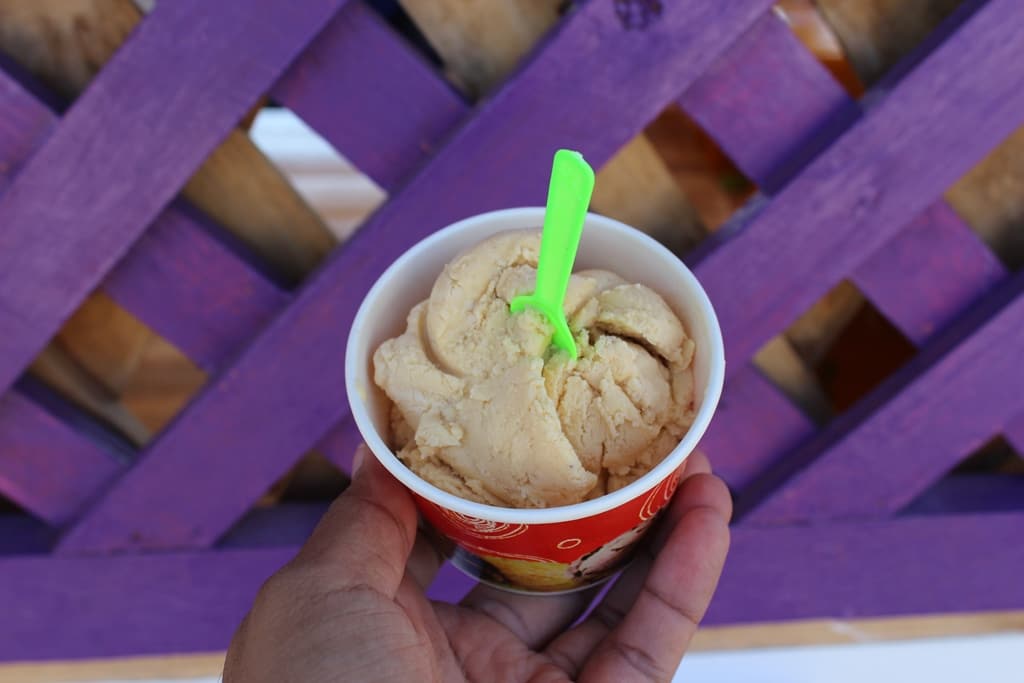 We decided to go on a free tour of the farm to learn about this social enterprise. They rent around 200 buffaloes from local farmers and milk them for dairy products. The buffaloes are then returned after 6 months to let them get ready to bear calves.
We were brought to the buffaloes' barn where they are treated like VVIP — that includes their very own pool for them to cool off. Our little one also got the opportunity to feed the calves with their mommies' milk!
10) Day 3, Evening: Sample the Best French Pastries at Le Banneton
One of the colonial French legacies was the art of making bread and pastries, and Luang Prabang has by far the best bakeries in the whole of Southeast Asia. We went straight to Le Banneton, a rustic bakery with wooden countertops and white-washed walls.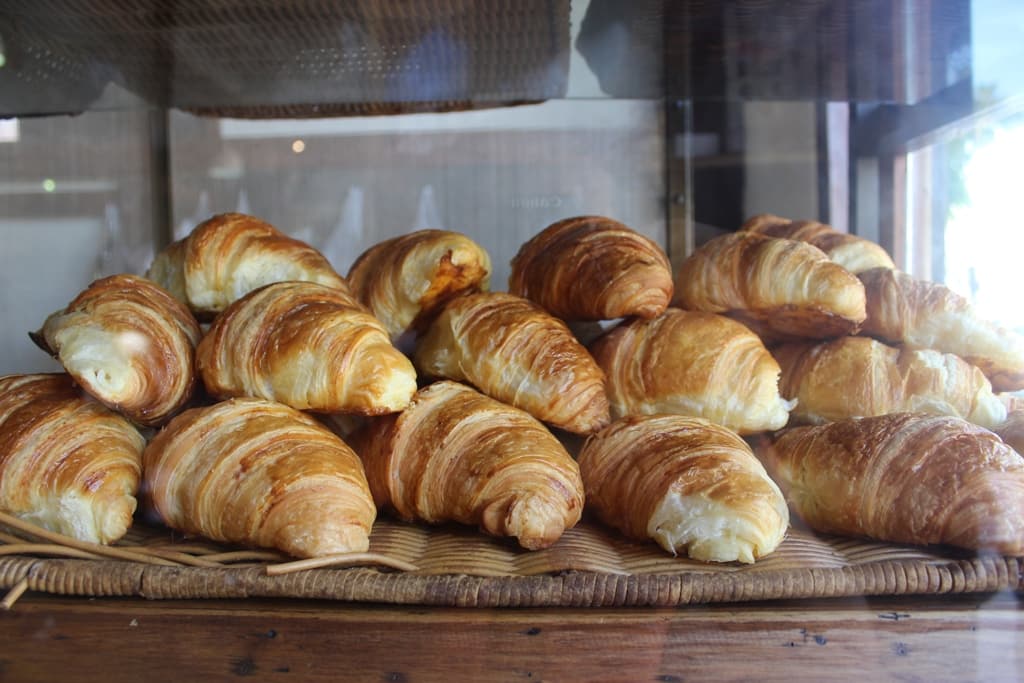 Although served at room temperature, Le Banneton's croissants had no problem melting in our mouth. My favourite pain au chocolat was generously filled with chocolate, satisfying my sweet tooth just after a few bites.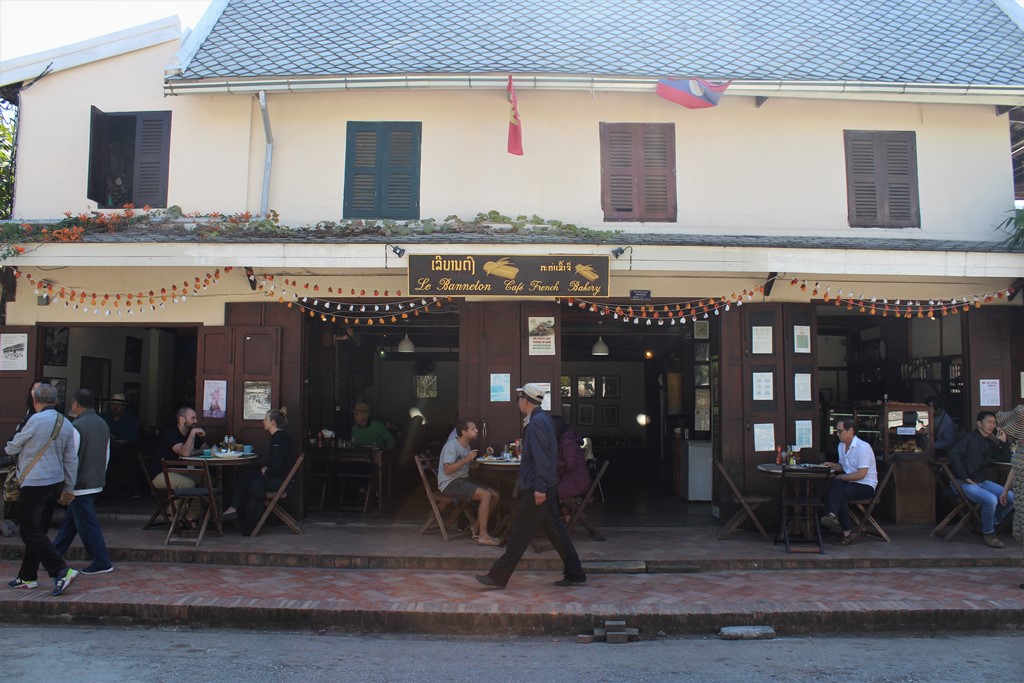 Three busy days call for a day to unwind, so we checked-in at Sofitel Luang Prabang. Sofitel is one of the few lush Luang Prabang hotels with spacious pool-front suites and villas for those looking for privacy. It's the best place to get pampered while you unravel your adventures in this alluring city.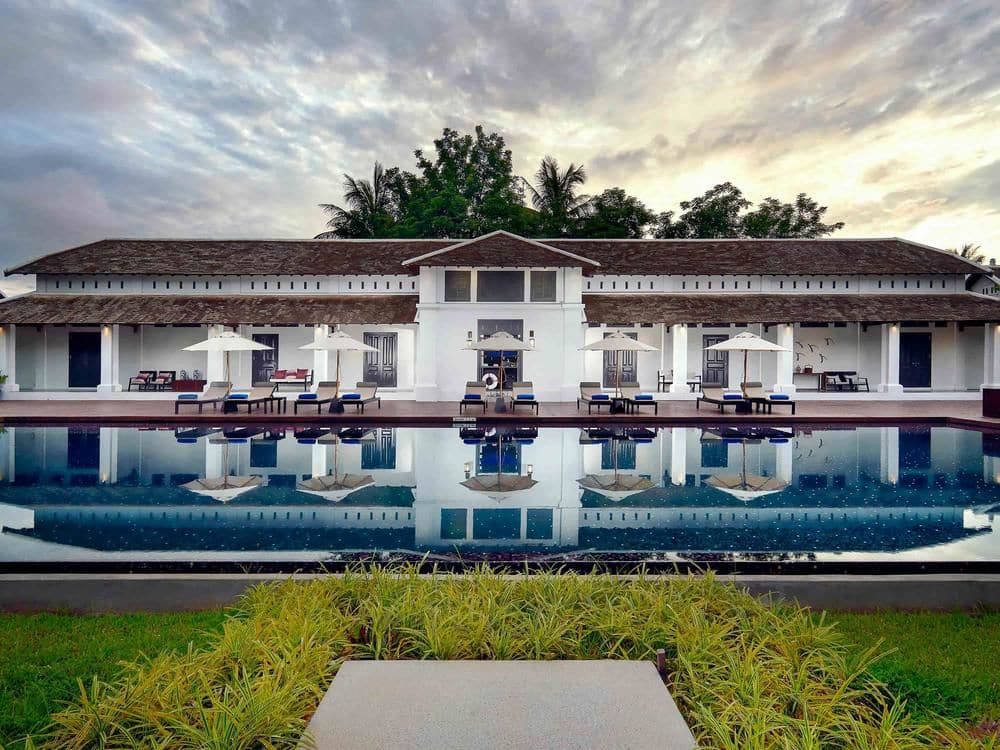 [button style='blue' icon="entypo-suitcase" url='https://www.expedia.com.sg/Luang-Prabang-Hotels-Sofitel-Luang-Prabang.h1742190.Hotel-Information' fullwidth='true'] Discover Sofitel Luang Prabang [/button]
If only I could fit all the synonyms of the word "charming" to describe Luang Prabang.
There are a few places in Southeast Asia a wanderer can easily fall in love with, and Luang Prabang is one of them. It's quite common to meet fellow travellers who had been staying here for months who never seem like wanting to leave.
For us, the same nostalgic feeling pops up every time someone mentions the word Luang Prabang, urging us to book another ticket to Laos.
[tabs]
[tab title="Where to Stay" icon="entypo-suitcase"]
Where to Stay during your Trip
[button style='blue' icon="entypo-suitcase" url='https://www.expedia.com.sg/Luang-Prabang-Hotels.d2125.Travel-Guide-Hotels' fullwidth='true'] Find Hotels in Luang Prabang [/button]
[/tab]
[tab title="Let's Go!" icon="entypo-flight"]
[button icon="entypo-flight" url='https://www.expedia.com.sg/Cheap-Flights-To-Luang-Prabang.d2125.Travel-Guide-Flights' fullwidth='true'] Flights to Luang Prabang [/button]
[/tab]
[/tabs]