By Expedia Singapore, on November 13, 2018
Island Hopping the Cambodian Islands
Cambodian Islands are not on too many travel bucket lists, despite recent development efforts. Neighbouring Thailand has successfully established itself as a luxurious paradise full of exotic experiences and amazing beaches, so that remains the more well-known and popular choice for beach holidays in the region. Which leaves all these Cambodian islands to enjoy the status of hidden gems along the same coasts, a treat for travellers who like to steer clear of tourist traps. Cambodia is home to several secluded islands waiting for us to explore, rejuvenate and revitalize.
Cambodian Islands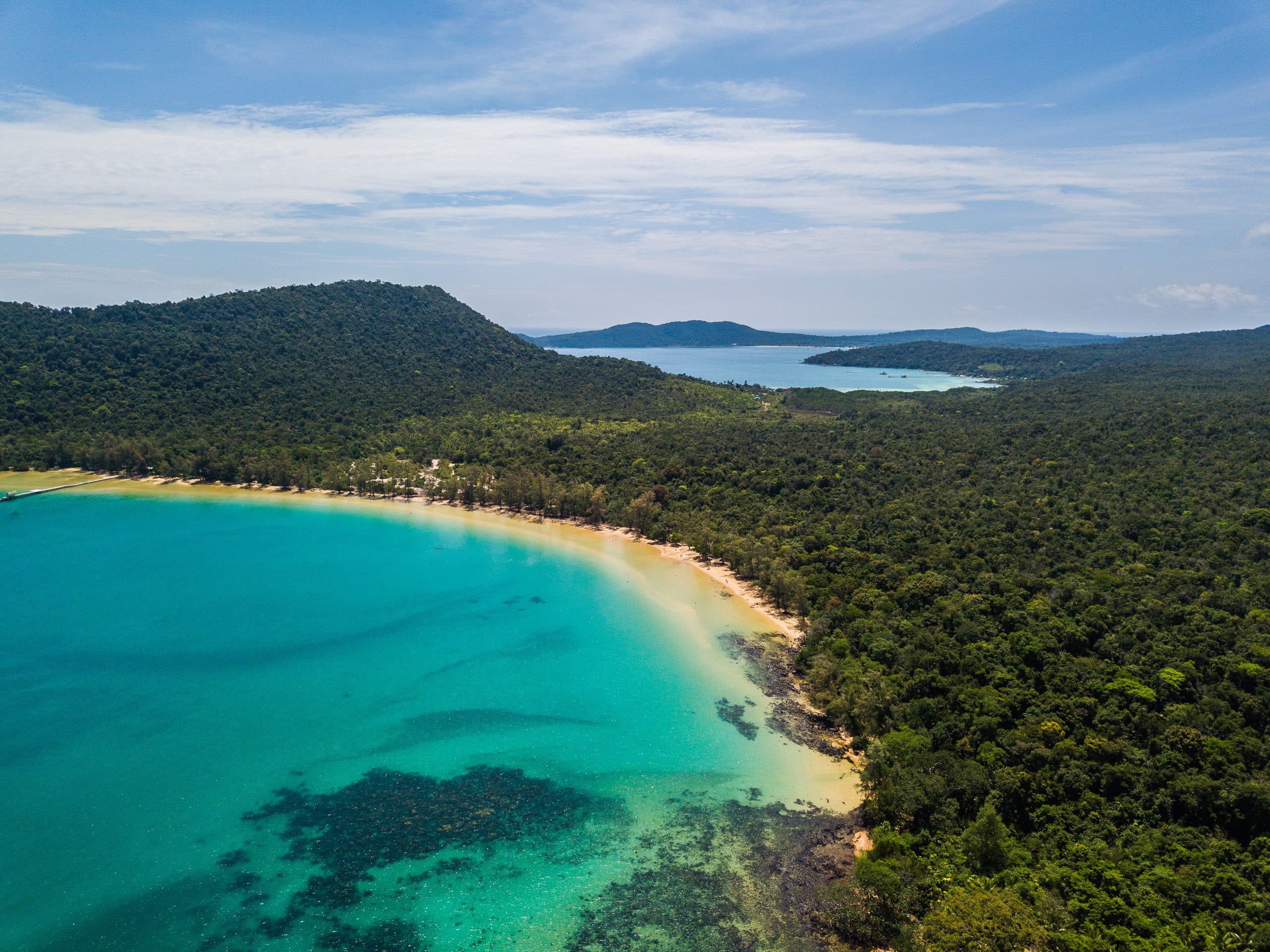 Image Credit: Jon Mesic
1. Koh Rong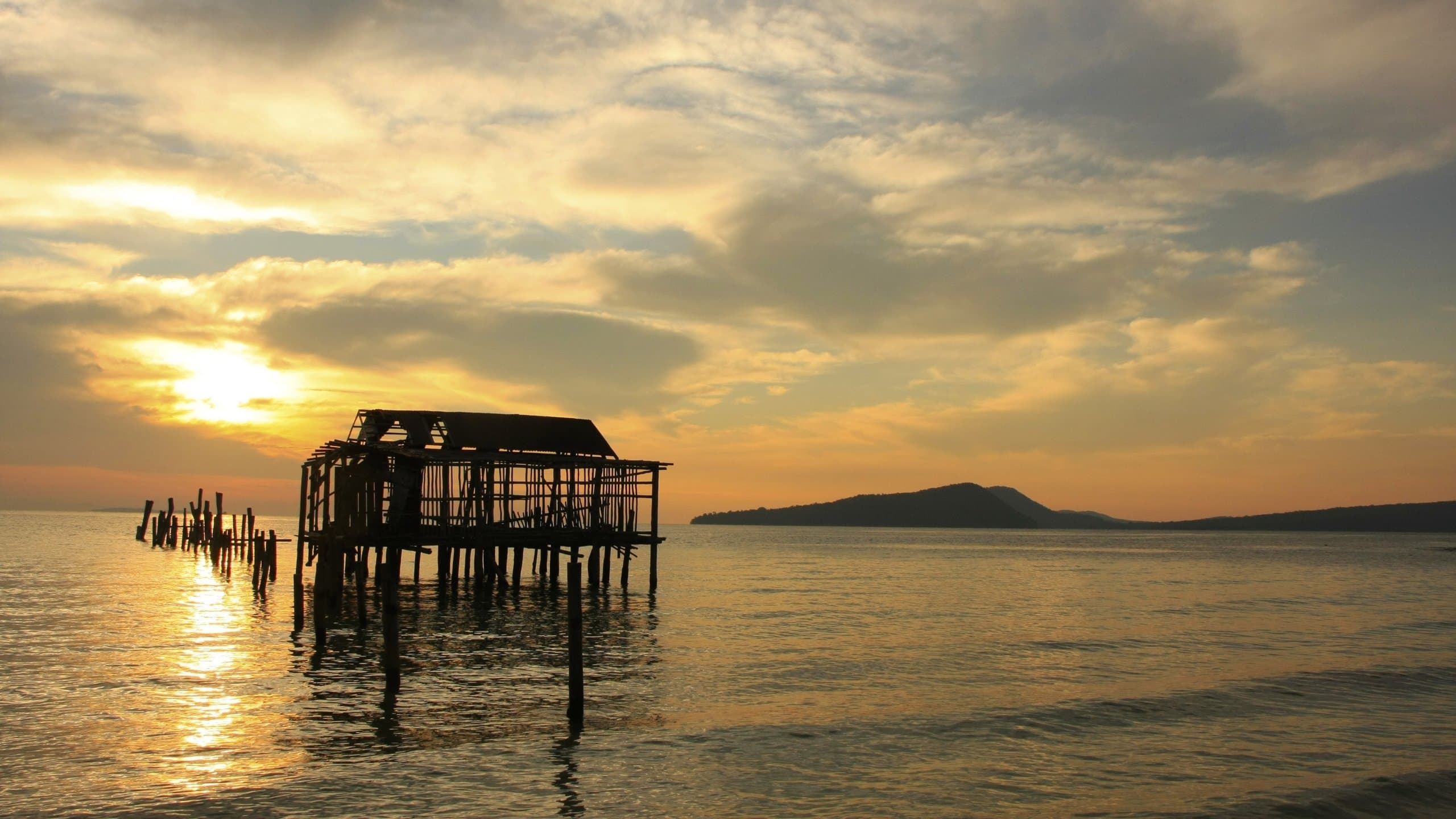 Being the largest and most popular island in Cambodia, Koh Rong is a great option for travellers to escape the chaotic city travels in Siem Reap. The pristine beach, lush greenery and crystal clear waters in Koh Rong make it a perfect destination for travellers to take a step back and immerse themselves in Mother Nature.
 Image Credit: Iveta Halászová
For an authentic experience, stay at a local backpacker beach bungalow in Koh Rong like the Palm Beach Bungalow Resort and Nice Beach Bungalow. Enjoy the laid-back and friendly night atmosphere over beers and local entertainment.
Late-night Swim
Besides typical water activities like snorkelling and water skiing, Koh Rong has something that most islands don't. Magic happens when you're taking a late-night swim at Lonely Beach at the northern tip of Koh Rong. The beach is illuminated like a mysterious avatar-like land filled with glittering bioluminescent microorganisms that washes off to the shore. They will brighten up as you gently brush your feet against them.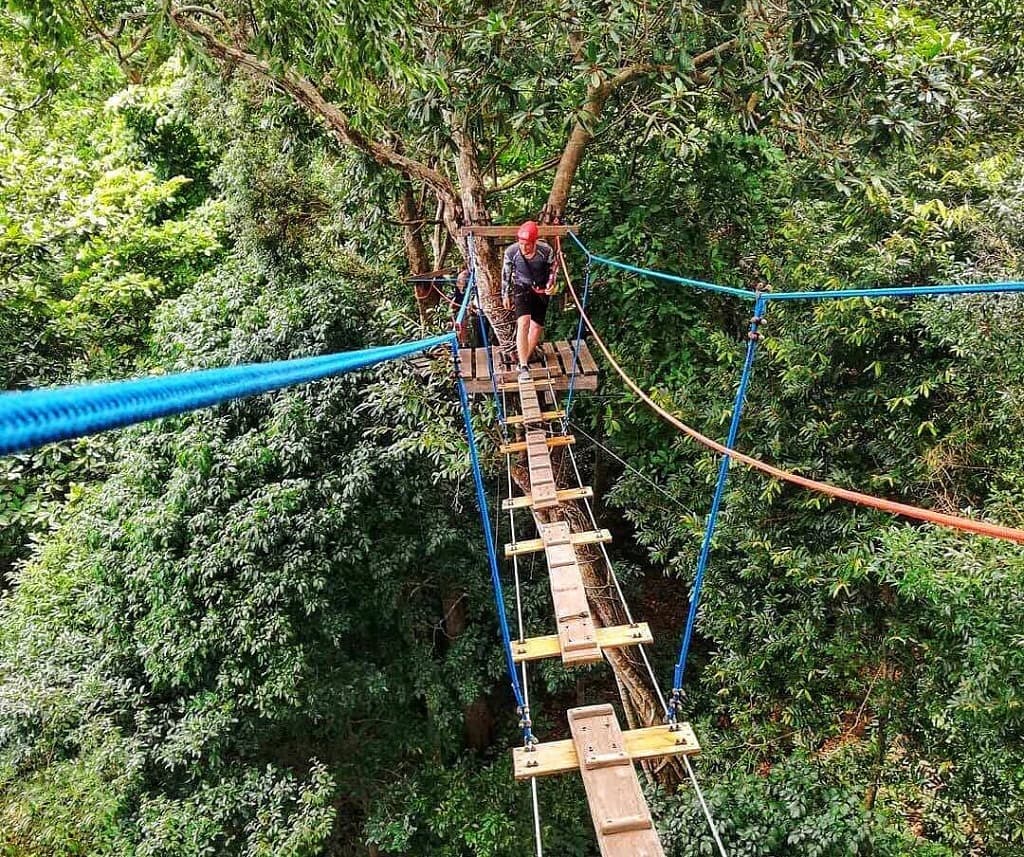 Image Credit: Nannapat Suwanpakdee
Adventure Park
Thrill seekers will enjoy the High Point Adventure Park at the outskirts of Koh Rong. It features an array of adrenaline-rushing activities like zip-lining and treetop hiking. Challenge yourself with different bridge obstacles to get rewarded with an amazing panorama view of the Cambodia Islands.
 Preksway Eco-Tourism
Cambodian Cooking Class in Koh Rong
Firefly Cooking Class by Preksway Eco Tourism offers an authentic Khmer cooking class that allows you to appreciate local ingredients and recipes.
Getting to Koh Rong
Take a bus from Siem Reap or Phnom Penh to Sihanoukville, then take a ferry to Koh Rong. I would recommend taking the Angkor Speed Ferry as it's new and clean. Alternatively, book a Cambodian Island-hopping tour to bring you around the islands with ease.
2. Koh Thmei
As a part of Ream National Park, Koh Thmei is the gem of Cambodia Islands. The unspoiled beaches, secluded coastline and alluring terrains are just some of the many reasons to visit this island and witness its beauty.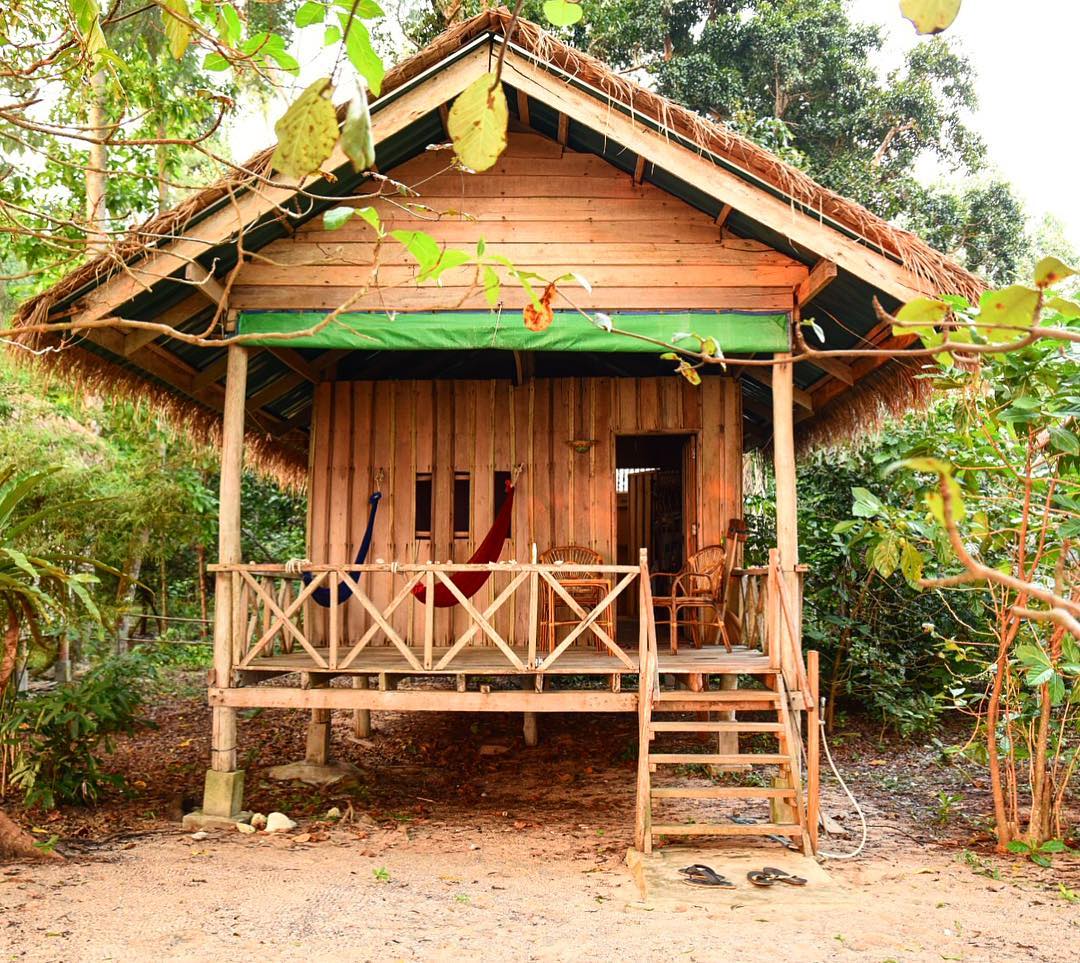 Image Credit: Jessica Fradono
Koh Thmei only opened its doors to tourists recently, so the island has remained largely pristine — except for several resorts that have emerged to serve the increasing number of tourists. One of them is Koh Thmei Resort. This resort screams eco-friendliness and sustainable tourism through its sea-view bungalows and recycling efforts.
Bird's Watching
 Besides the sweet Cambodian beaches, Koh Thmei is home to hundreds of species of wildlife. The dense jungle of Koh Thmei sets a perfect opportunity for explorers to feast their eyes on colourful and active parrots, cockatoos, parakeets and many more. After watching birds here, bird farms or zoos seem like a pale comparison.
Snorkelling
The clear turquoise water of Koh Thmei will entice most to snorkel. As it is pretty much a new island, the underwater life is rather diverse.
Getting to Koh Thmei
Take a cab from Sihanoukville to the village pier, and switch to a small boat to the Koh Thmei Resort.
3. Koh Rong Sanloem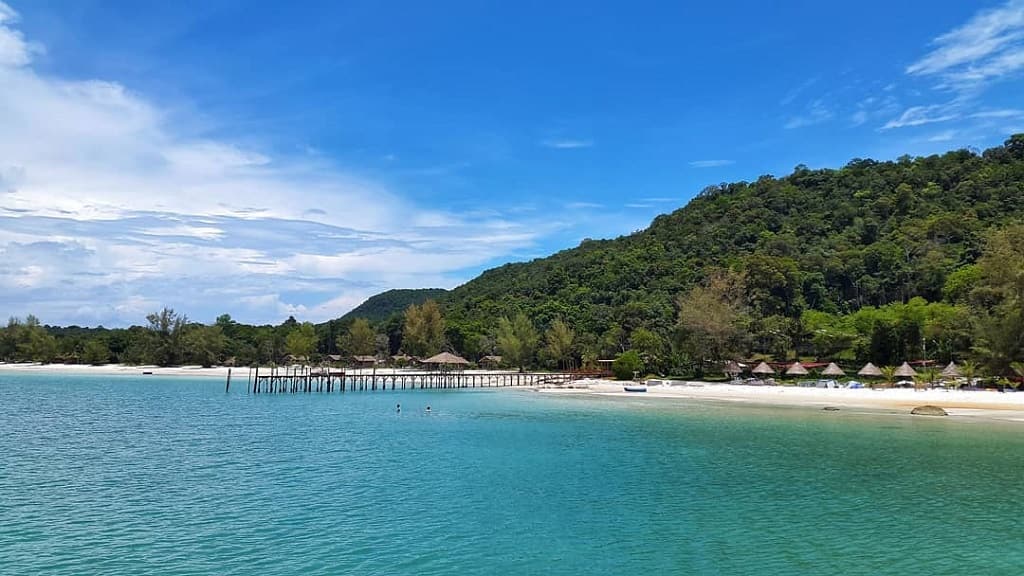 Image Credit: Bojana Coso
Another favourite destination for island-hopping around Cambodia is Koh Rong Samloem. This sister island of Koh Rong offers a more laid-back vibe with mustard-coloured beaches. And the best deal? The super cheap accommodations!
Koh Rong Samloem is popular among party-goers who charter party-boats from Koh Rong. The chatters and alcohols never seem to end on that boat! You can also spend your day basking in the sun on Lazy Beach, take a dip in the cooling seawaters or simply enjoy the sunset over the shore with a refreshing coconut in hand.
 Image Credit: James Upton
Exploring M'Pai Bay
M'Pai Bay may not be as popular or happening as the Saracen Bay, but it retains a nostalgic charm. You can walk to the local fishing village and feast on some of the freshest catches of the day.
Saracen Bay Waterfall
A sacred waterfall in a thick jungle, Saracen Bay Waterfall is a hit among travellers seeking natural spring water. If you want to stay close to the scenic waterfall, check Freedom Bungalow Resort out. The resort has direct access to the waterfall so you can go there whenever you want.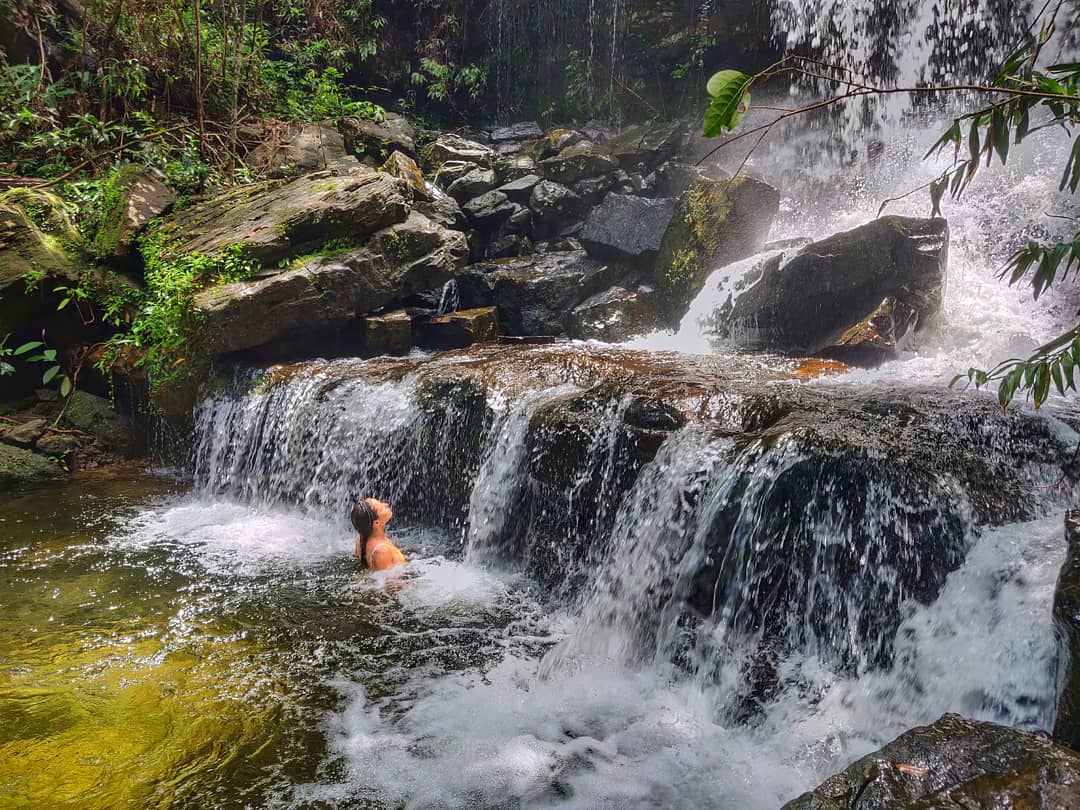 Image Credit: Tracy Azzopardi
Getting to Koh Rong Sanloem
Purchase your boat/ferry ride tickets from Serendipity Pier in Sihanoukville that departs from Koh Rong to Koh Rong Sanloem at $10 each trip. The journey takes around 40 minutes one way.
4. Koh Ta Kiev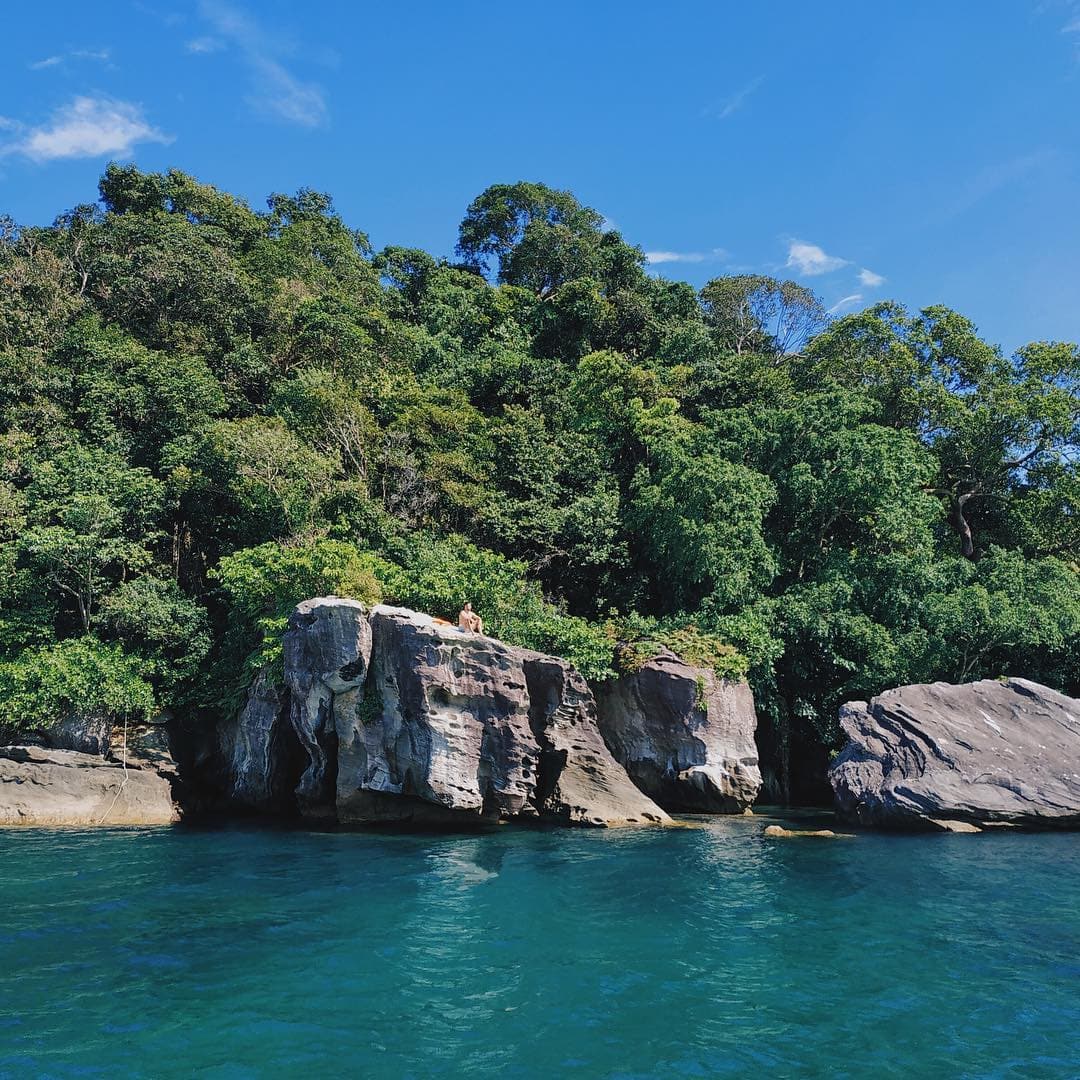 Image Credit: William Lin
The twin sister to Koh Thmei, Koh Ta Kiev shares similar characteristics to Koh Thmei. The island is mostly peaceful and tranquil, far away from all the parties and noise, perfect for travellers who seek an escape from the hustle and bustle of the city.
You will get your much-needed digital detox at Koh Ta Kiev. There are plenty of activities available here: from discovering diverse wildlife in the thick jungles to escaping the winter chills on Coral Beach.
Camping
Camp junkies will love this island as they can set up tents or hammocks on the beach for just a few dollars. You can enjoy the sunset and the endless sea breeze as much as you want!
Getting to Koh Ta Kiev
Sign up for an island-hopping tour or get on a longtail boat at Ream Beach from Koh Thmei that takes you across the water. It takes less than half an hour to your destination.
Must-Try Cambodian Food

You haven't really been to Cambodia if you don't try some of the country's iconic dishes. Here are a few that I recommend:
1. Amok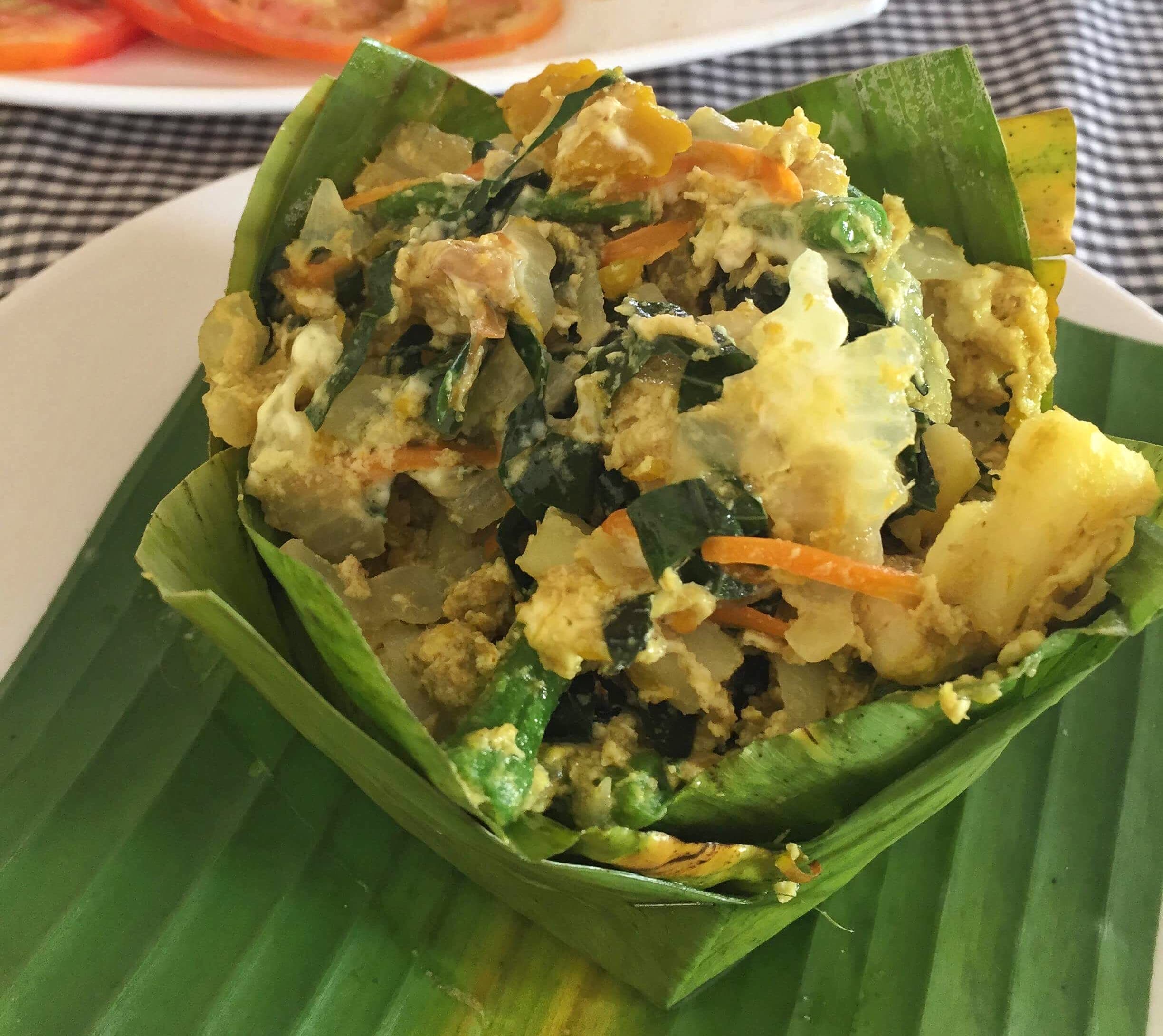 Amok is a fish mousse or paste, made from fresh coconut milk and Khmer curry paste — loaded with local herbs like lemongrass, turmeric, garlic, shallots, galangal and fingerroot. The fish or meat is then marinated, wrapped in an Amok leaf and is steamed upon ordering.
2. Khmer Broken Rice (Rice and Dishes)
'Bai Sach Chrouk' is probably the simplest and most delicious meal you'll find in Cambodia. Thinly sliced pork or beef grilled and served on rice with a side of sunny side egg and vegetables — it just cannot go wrong on anyone's palate.
3. Ang Dtray-Meuk (Grilled squid)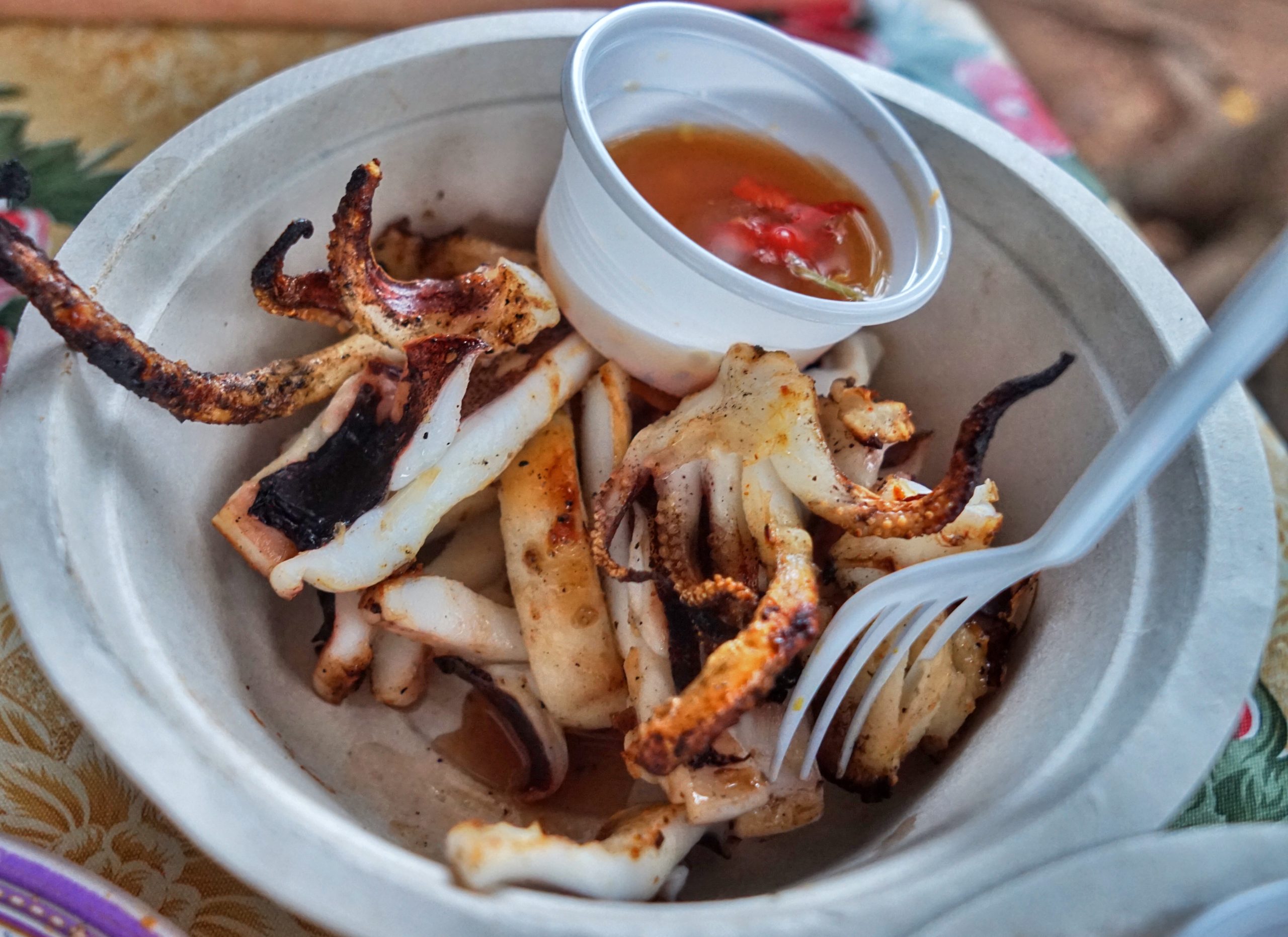 Cambodia Islands are known for their seafood, and one of the most popular seafood items is squid. As you spend more time on the islands, you will see many local vendors selling grilled squid along the beaches. You can either have them sliced or just grab the whole squid on the go. The smoky squids with tangy and spicy sauce is definitely a joy to snack by the beach.
4. Fresh Crab Feast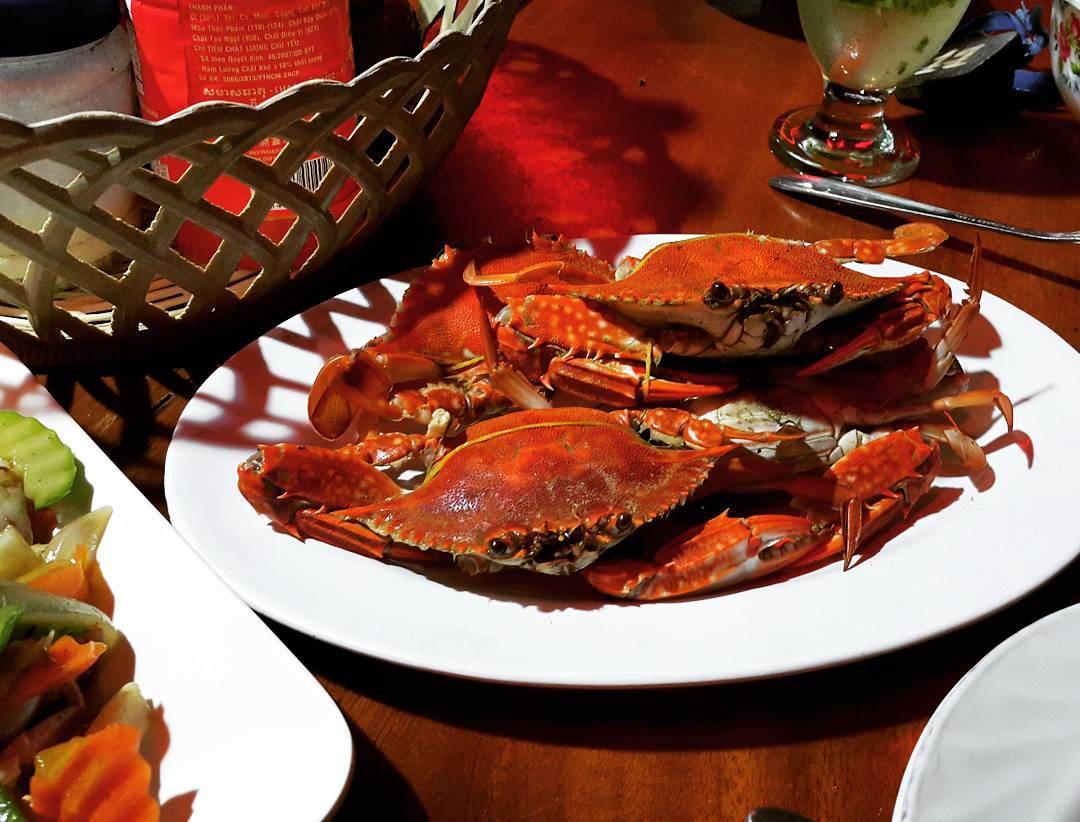 Image Credit: Elvan Tuncer
At Koh Tonsay, Kep, you'll find yourself lost in the crab market. Go for the authentic Khmer-style stir-fried crab to taste the local flavours. If you prefer having it fresh, order boiled crabs instead.
5. Moringa Tea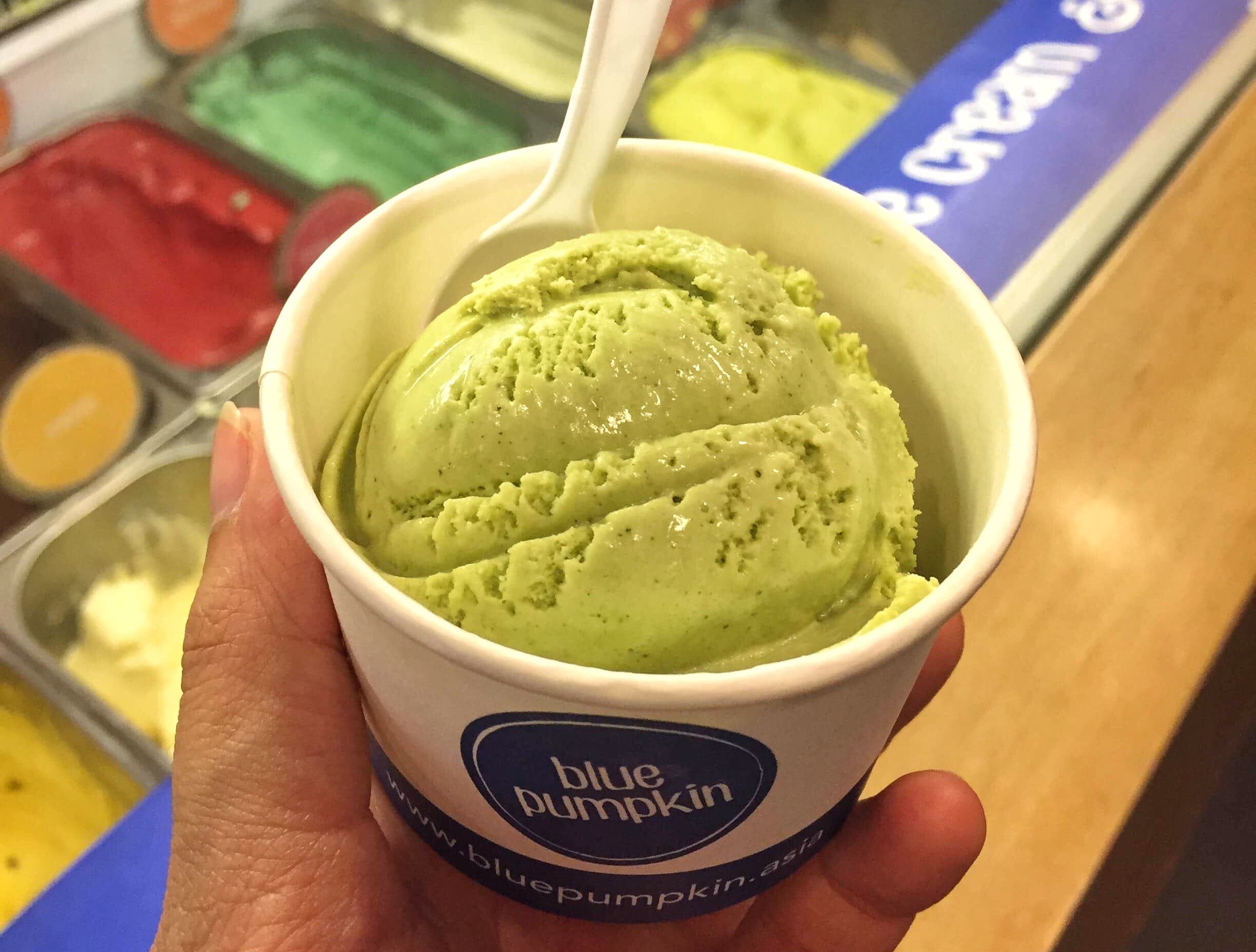 You shouldn't leave Cambodia without trying out Moringa Tea. It's just everywhere in Cambodia: in a hot boiling tea bag, in your food, in gelato. It's earthy and slightly bitter, and it has a similar taste to nettles. The "miracle tree" is considered a super food, good to revitalise your energy after a long day on the island.
Travel Tips for Island-Hopping in Cambodia

1.   Apply mosquito repellent to prevent bites.
2.   Bring sufficient cash with you. ATM machines are not common on smaller islands of Cambodia.
3.   Although the national currency of Cambodia is Cambodian riel, most transactions rely on USD. Keep a good amount of USD wherever you go.
4.   Most public transportations in Cambodia have no air-conditioning. Wear thin clothing.
5.   Almost all the Cambodian islands rely on generators for electricity. Don't expect constant electricity or internet connection.