By Rebecca Wurd, on June 7, 2016
Hotel Vagabond Review – Luxury, Art & Rhinoceros
Check-in over a golden rhino's back. Get lifted up to your room between two grand tusked elephants. Have dinner under a golden tree, its resplendence fanning out across the ceiling. Sip cocktails face-to-face with a gold monkey as poised as a Pharaoh. Art richly colours every space of Hotel Vagabond, elevating the boutique hotel into an almost theatrical space for guests to play in.
Art + Travel
Stepping off the humble streets of Jalan Besar, I found myself riveted immediately by the deep red and gold self-contained universe of Hotel Vagabond. Are we still in Singapore? Hardly seems so.
If the idea behind a staycation is to escape the ordinary and mundane in Singapore, then this is it. It is art; it is 17th Century France; it is a cocoon of modern re imaginings; it is a kindling of the luxury nomad.
"If you must get in trouble, do it at Hotel Vagabond"
About Hotel Vagabond
Hotel Vagabond on Syed Alwi Road is a brilliant cheeky tapestry of Art & Travel sewn together by revered French designer Jacques Garcia and boutique hotelier Satinder Garcha. It is a luxury boutique hotel with 42 unique rooms, housed in a heritage building.
From the outside, between the familiar grey pillars and green windows of this preserved building, the red awnings begin to hint that perhaps this building doesn't house any Brylcream-slicked-haired Ah Pek working on oily Firestone tyres. It is only when you step past the peeing-poodle-shrub into the lobby that you are transported from old school Jalan Besar into an immersive space reminiscent of a French saloon.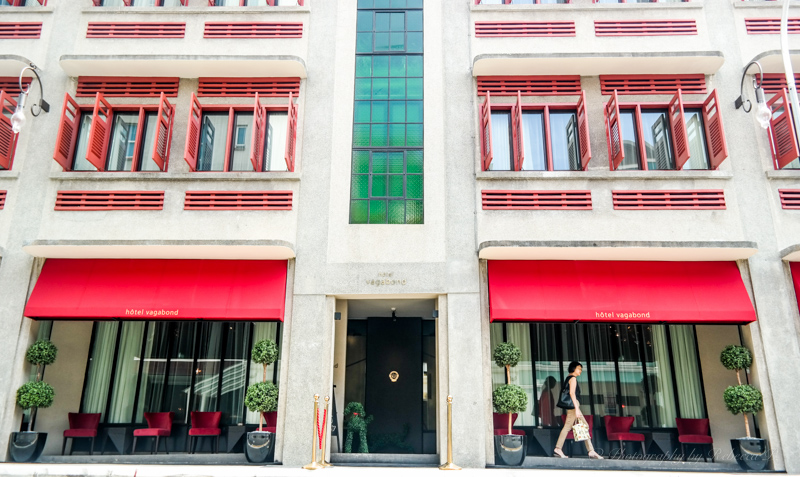 If you haven't already caught wind of it, I absolutely loved the character of Hotel Vagabond. I love art and I love travel, so maybe that's why it hit the sweet spot with me. What impresses me is the absolute originality of this space. It's red, but not gloomy. It's quirky but not kitschy. It's busy with art in every corner, but all tied together nicely – not overwhelming.
As a Singaporean, my imagining of a French space is quite different (and limited) so that's not the feel that stood out to me. Nor would I say 'heritage building' is the thing to draw you here specifically as the interior decor doesn't underline anything about Singaporean history. There are other hotels that do, if you're into a staycation in a heritage hotel. This one was given the lines and its colouring its own picture. And I definitely liked that picture.
Hotel Vagabond: The Lobby
The space is all quite interconnected on the first floor. So the lobby is the reception is the restaurant is the bar is the cinema is the lounge.
The Elephant in the Room
The lift is sandwiched between two massive tusked elephants who appear to be hoisting up the elevator that takes you up the 3 floors of the hotel. Ridiculously cool. Trunkster 1 and trunkster 2 here are sculptures by Frank Le Ray, who is also responsible for the iconic monkey in the bar.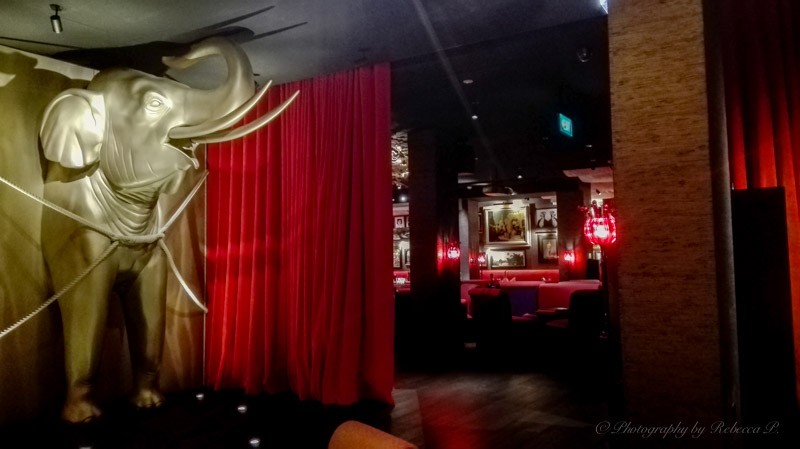 Hotel Vagabond Bar
The Bar Vagabond @ the Salon is a stylish space and functional bar that makes you wish you smoked cigars and pondered philosophy over a fancy cocktail — shaken or stirred by mixologists. I imagine hanging with Hemingway here while working on a hot new novel to grip society. Huzzah!
It's all about getting creative with the drinks and the mixologists are happy to impress you with their concoctions. Chat with them, or if you've tossed back enough you can chat with La Mona, the cool monkey in the middle.
Opening Hours: 5pm – Late O'Clock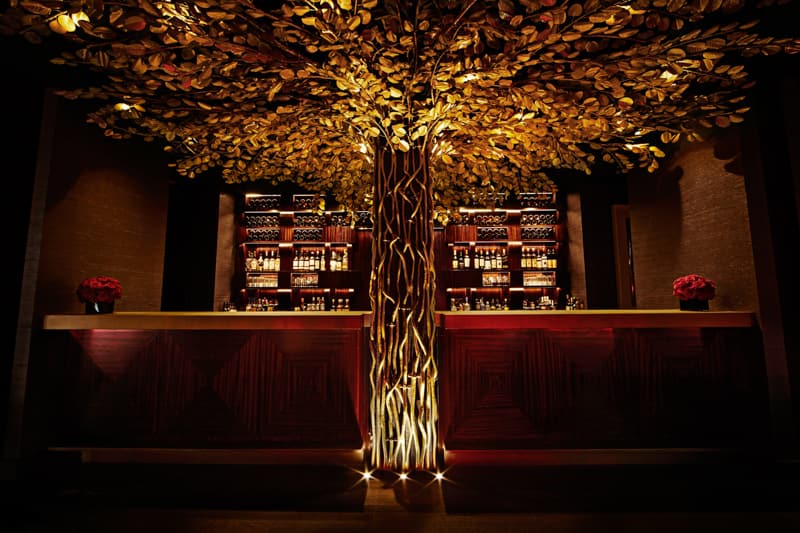 Photo courtesy of Hotel Vagabond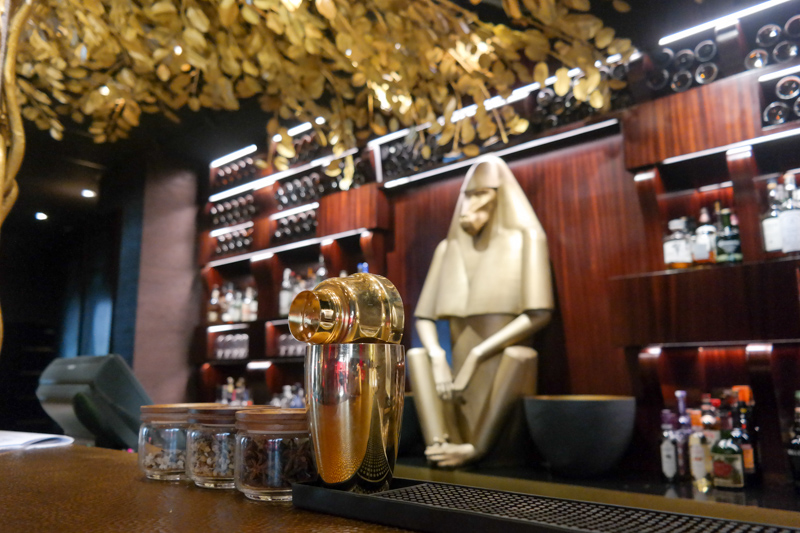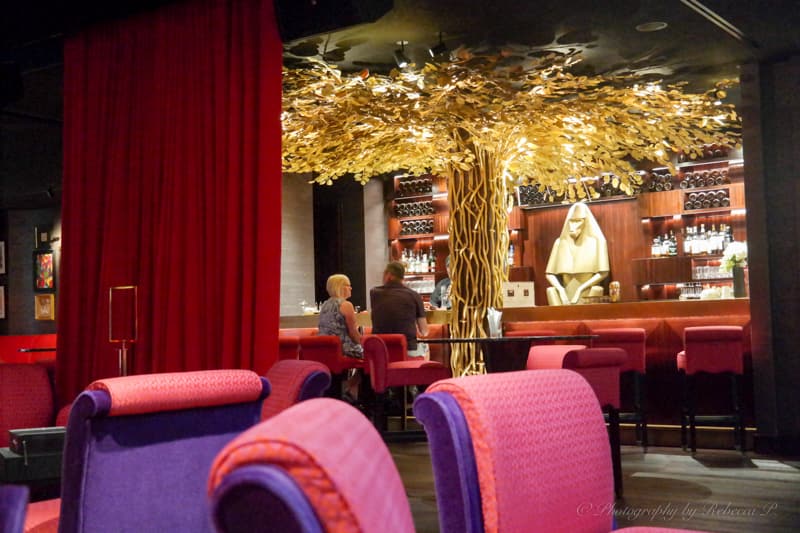 Horny Rhino Check-In
I mean, the rhino does have a huge horn. Though I must add, service was excellent at check-in, not thorny at all. Heh-heh.  Okay, okay, I'll stop now.
The iconic check-in desk is as far as you can get from being 'in the box'. At Hotel Vagabond, you are received at a life-size rhino sculpture that gleams golden against the black walls of the room. How fun! And actually pretty stunning. An art-piece in itself, the Rhino is crafted by a respected artisan family in India who have the proud multi-generation tradition of making armour for the Rajasthani royal family.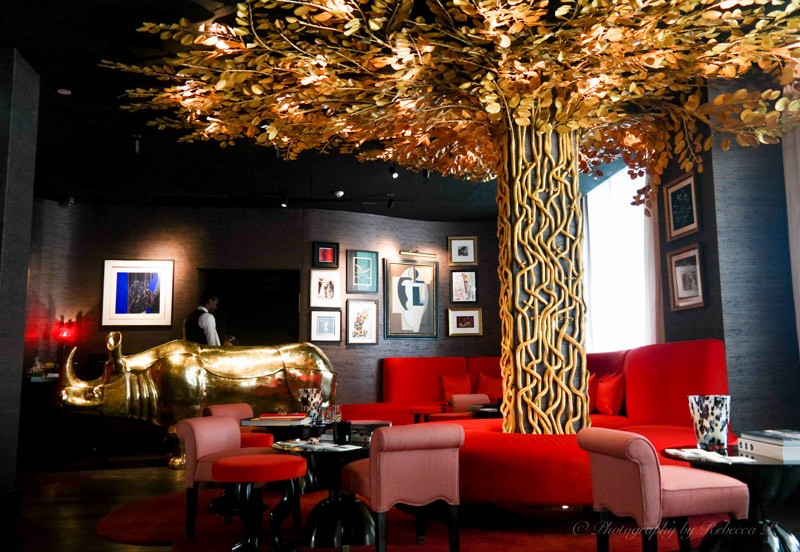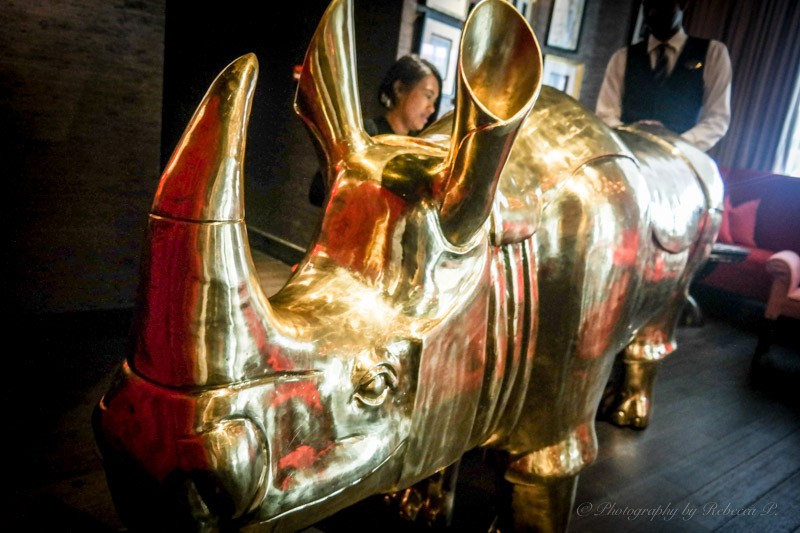 Hotel Vagabond: My Room
Given the space constraints and limitations of a heritage building, the hotel does an amazing job of delivering comfort in their rooms. I found the stylish spaces well-optimized — pretty sliding doors, rainfall showers in place of tubs, plenty of light through wide windows.
I was plenty comfortable and had a great sleep. Pretty good amenities too and definitely well-decorated.
It is a little small though so not really family-friendly if you are planning a family staycation with kids. But it's great for couples, singles, travellers and business travellers. Keep in mind, you get more space if you book the higher tier rooms which you can check out here on Expedia.com.sg.
The Human Touch
Generic, dated art on hotel walls annoy me 🙁
Far from generic, here you will find pictures from the family album of owner Satinder and his wife, Lady Boss Harpreet Bedi, who is General Manager of the hotel. Don't worry it's nothing over-indulgent, just great pictures from his exciting travels around the world. I'm not sure which were his and which were by other photographers, but they did strike my travel curiosity and urge to wander.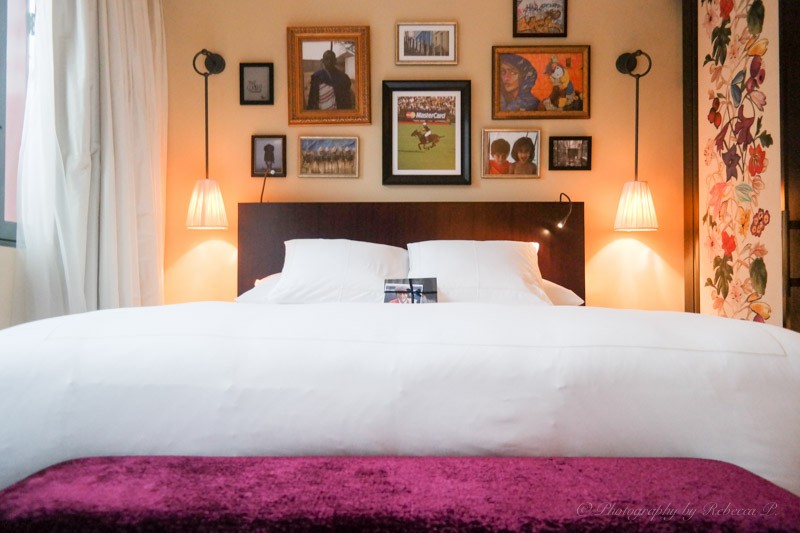 Rainfall Showers
Nuff said.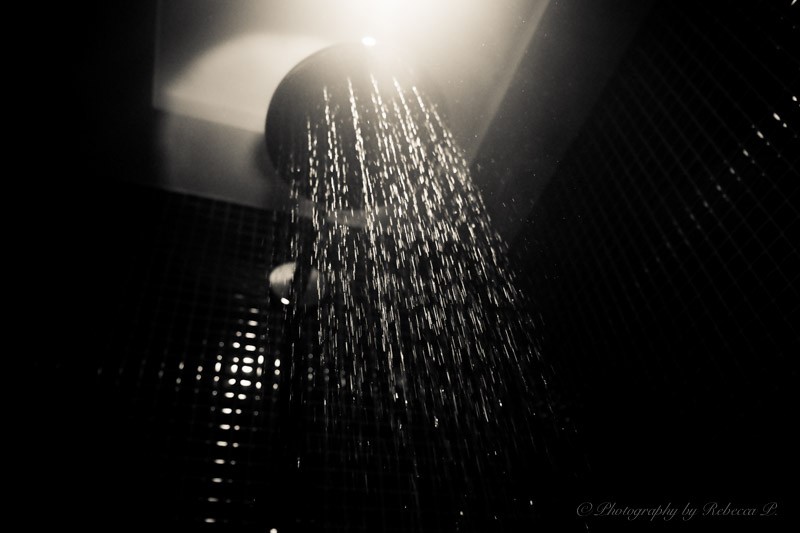 Rhino Book-Ends
Maannn these were cool! (You can buy them if you wish)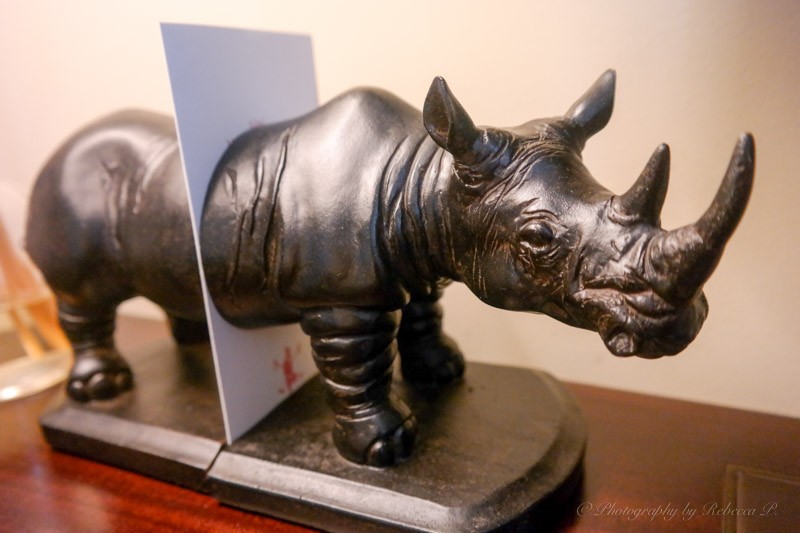 Picture Postcards
Came back to find cool postcards so beautifully presented on my bed. Lovely touch!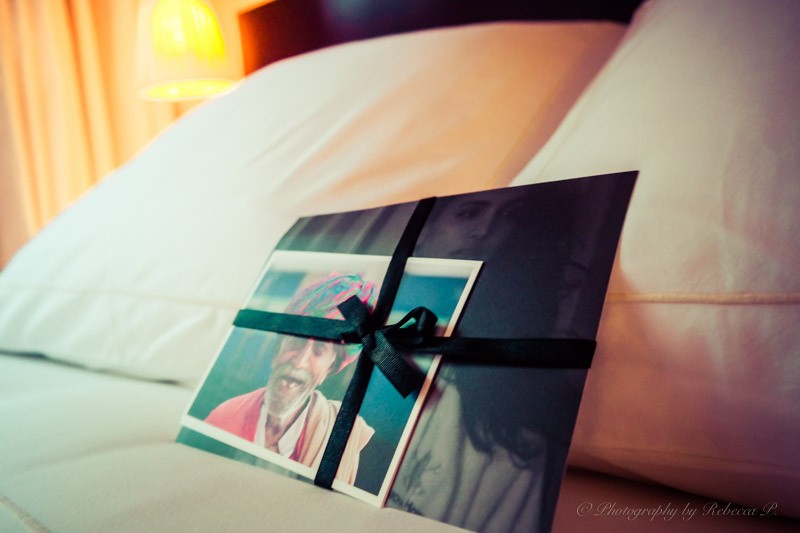 Free Movies
Staycations sometimes means veg out with movies amiright? They have a pretty decent selection of movies, new and old, classic and arty-farty, for kids and for horror buffs. Not extensive, but fine for a weekend.
The volume was too soft though. I struggled with watching 'The Martian' as I could barely hear anything Matt Damon was saying. So I watched an action movie instead and it was all good.
Free-to-Use Mobile
Great for travellers! It's a really cool thing that boutique hotels offer thanks to their attention to today's travellers needs. When I stayed in Hong Kong, they provided a similar phone and I found it extremely handy – zero data charges, no WiFi hunting, still reachable on my own phone.
It also suggests where to eat, things to do, shopping etc in the area. So if you have friends/family visiting Singapore, this is a great hotel to recommend.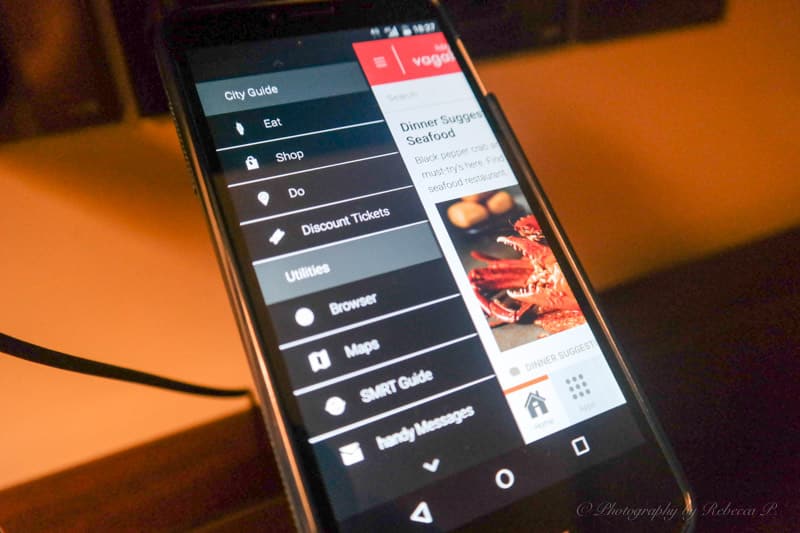 Hotel Vagabond: Food
No buffets to burst your pants buckle, but some lovingly prepared premium dishes. I had to ask what they were haha. But delicious! I had a kind of poached eggs on toast.
I really really liked all the art on the wall. I don't know how they managed to put such varied art pieces together and yet it works beautifully. From edgy photography to abstract art to classic paintings… Super like!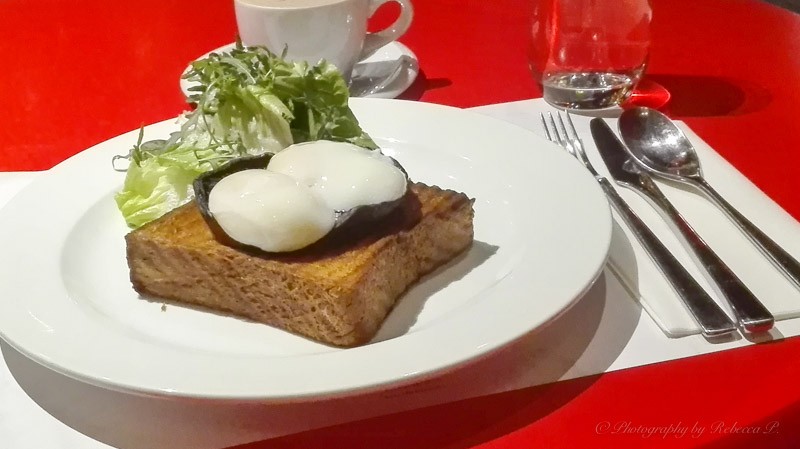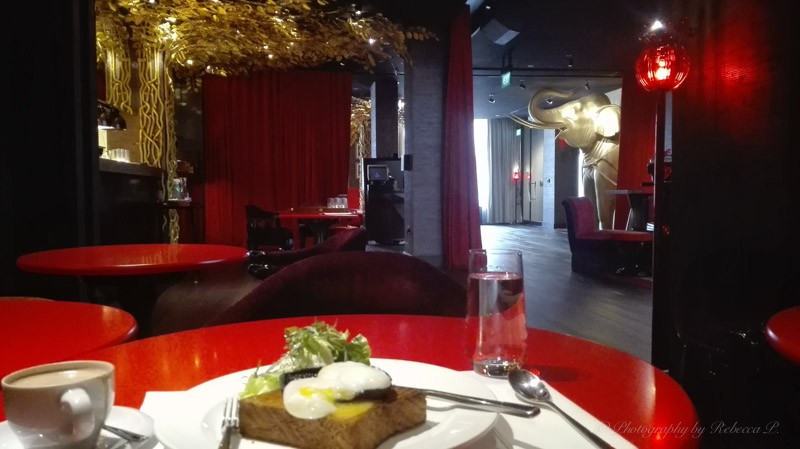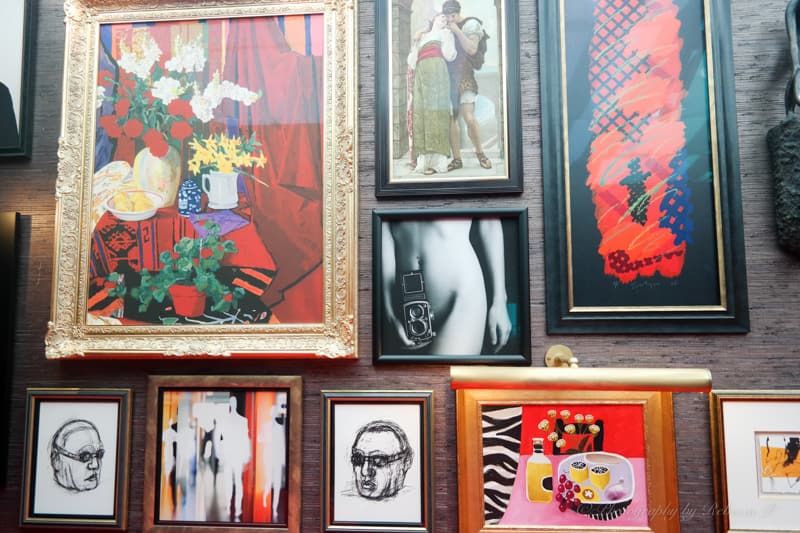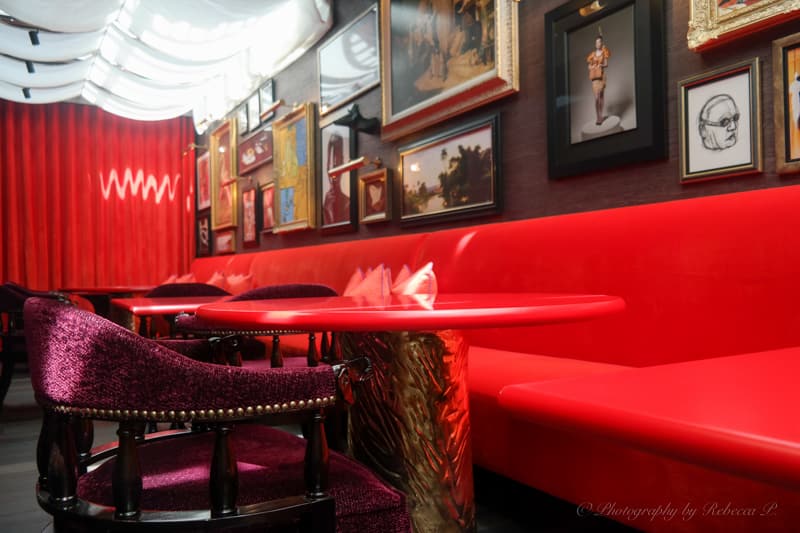 Food in Jalan Besar
The restaurant is temporarily closed, until it reopens as a hip modern Indian restaurant. So after enjoying a delicious breakfast in the morning, wander Jalan Besar to try out different eateries, hawker food and hipster cafes. There's also some of the best Indian restaurants in this area as it's close to Little India and Farrer Park.
Afternoon Tea, compliments of the Lady Boss
When I was peckish in the afternoon, I was delighted to find high tea served in the salon, compliments of the Lady Boss. It's a small spread of pretty delicious bites like quiche and gourmet sandwiches. I enjoyed the Moroccan Mint tea while chatting with the Lady Boss who was just lovely,  and the next day, with Alexander – the Artist in Residence.
Artists in Residence
My friend had joined me for tea at Hotel Vagabond. Lady Boss Harpreet came over to introduce us to the artist Alex, who sat down and showed us his cool visual art work which has been used in big events in Argentina. It went from informative, to inspiring, to feeling like friends. And then we were invited to join the Lady Boss and Alex at the Singapore Polo Club, where we watched a polo tournament.
Pretty amazed how my lazy Sunday afternoon brunch turned into a whole load of happenings!
[When you stay at Hotel Vagabond, you get to meet and mingle with talented writers, musicians, visual artists, costume designers and many other interesting people involved in the performing arts around the world. Hotel Vagabond is the first hotel in Singapore to host an Artist in Residence program, where they stay at the hotel for a period and engage with guests and perform their art in the intimate setting.]
Activities at Hotel Vagabond
You can retreat to the comfort of your room for alone time, wander the neighbourhood on foot where there's enough to do, and pop down when you want some company.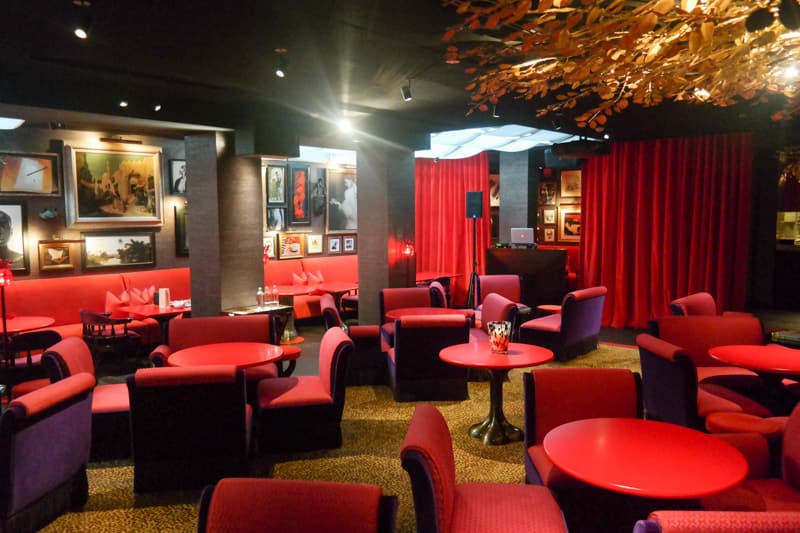 The bar is interactive.
Tea time is interactive (it's when you meet the artists).
The entire salon lounge is a very inviting space to sit and relax with friends. Beautiful furniture, spacious, full of artistic touches. I don't know many spaces in Singapore like this one.
And lastly, there's Saturday Movie Night at 5pm. Red curtains closes off the salon, transforming it from high-tea cafe to a darkened premium theatre, where you can enjoy movie screenings in comfort.
Also, the ground floor toilet is really cool and had this trippy art piece that make me do a double take.
Things to do Around Hotel Vagabond
Shopping at the massive 24hr Mustafa Centre. It's just a 5 minute walk down the road. A few minutes farther is City Square Mall, an underrated mall with the coolest food court on the top floor.
If you like stationery like me, you can get a serious haul at the rooftop shop next to the food court, or the scrapbook store "K"Rafers' Paradise.
Hipster Cafes in Jalan Besar come in quite a few interesting flavours. Walk down King George's Avenue and you'll have several concept cafes to enjoy an afternoon tea or all-day breakfast pancake stack. Chye Seng Huat Hardware has a nostalgic feel appropriate for this area full of hardware stores. The Refinery offers yakitori and cocktails in a cool setting. For some sweet indulgence, head to The Tiramisu Hero.
Hotel Vagabond is located on Syed Alwi Road. Take your camera and do a heritage walk to take pictures of preserved shophouses and buildings in the area.
Hop on a bus or MRT from Farrer Park, and you can explore Arab Street, Kampong Glam, Little India and Rochor Canal. Grab one of the cool maps from the hotel.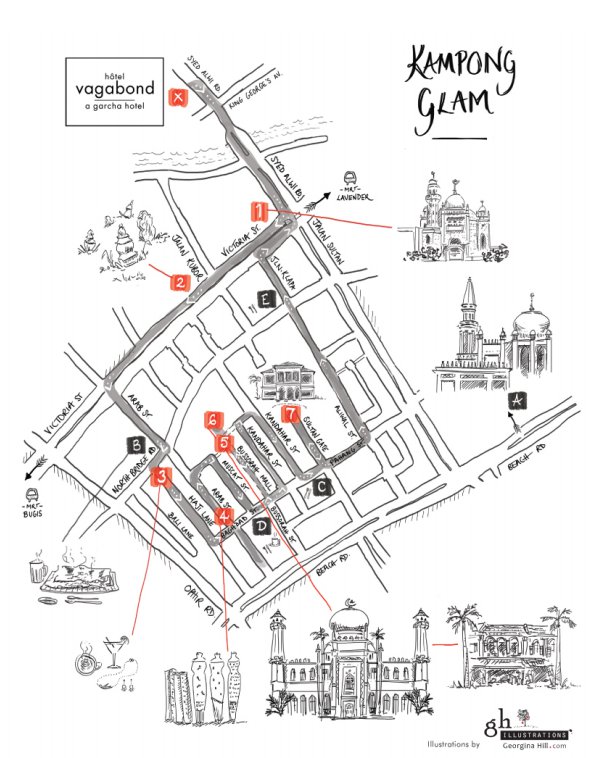 Hotel Vagabond's maps in collaboration with illustrator Georgina Hill
Verdict – Hotel Vagabond Review
Yesyesyes! Hotel Vagabond is a wonderful luxury boutique hotel in Singapore and I would stay there again. Design is excellent in every corner, making a very immersive experience that successfully whisks you away from the mundane everyday life in Singapore. And yet, thanks to its location I was on the doorstep of old Singapore. This creates a nice balance for a Singapore staycation (for locals) and equally inviting for tourists.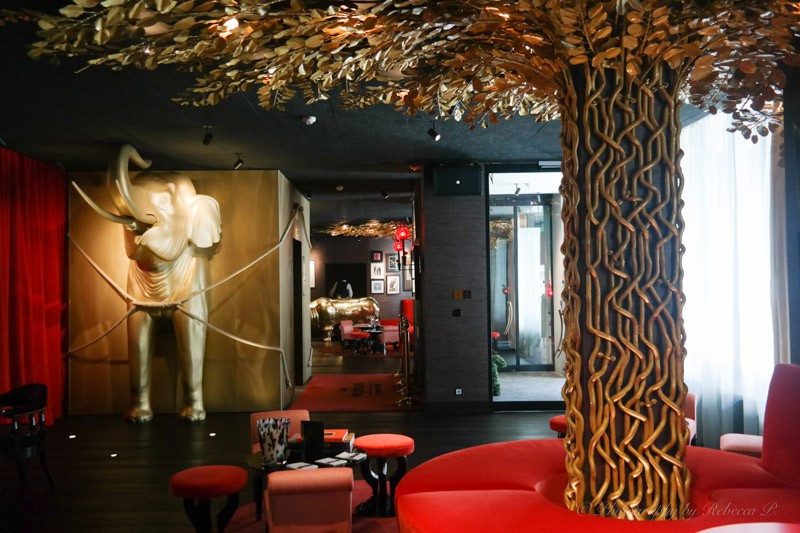 The space was perfect for me – giving me a colourful nook to relax by myself, stuff to do nearby and the option to meet new and interesting people by simply popping down to the salon. I could get as involved as I wanted. (And when I opted to wander off to do my own thing, no one bothered me).
I'd recommend it for young people, creative people or fans of art, and business travellers who want something a little cosier and with more character. If you like Wanderlust hotel, you will love this one.
It's probably not the best for a family staycation, or if you need all the frills like a big buffet and swimming pool. (Put a pool in and I might have to move in permanently.)  It's otherwise a great hotel. If you're in the area, pop in for the high tea (2-5pm), Saturday movie or cocktails.
Hotel Vagabond is still new, having only opened in January 2016, so it's fairly quiet but I see only great things kicking off as more people hear about a hotel as wonderful as this.
Totes recommend.