By Samantha Tan, on September 29, 2020
#ICYMI: Five Types of Staycations with Deals for Every Occasion
Unsplash image by Will Truettner
Expedia's 2019 Vacation Deprivation® Study revealed that close to seven in 10 Singaporeans feel deprived of vacations , and try to prolong their Vacation State of Mind by tapping into their memories, looking at photos from previous holidays or surrounding themselves with mementos and souvenirs from their last trip overseas.
But honestly, how many of us miss being able to travel to foreign destinations only because we then get to be pampered and fussed over by the hotels we are staying in? While there is still a lot of apprehension over travelling overseas due to the ongoing pandemic, it's good to know that many hotels in Singapore can now accept domestic and staycation bookings. But what should you be looking out for when choosing the right staycay venue? Well, like any good concierge service, Expedia has curated a staycation guide for every occasion so you can have a great time and feel right at home.
For Some Family-Friendly Fun
Though most of us are spending our office hours working from home, spending quality time with our family is still a commodity. If those precious moments are what you're looking for, a quick escape could be just what you and your loved ones need!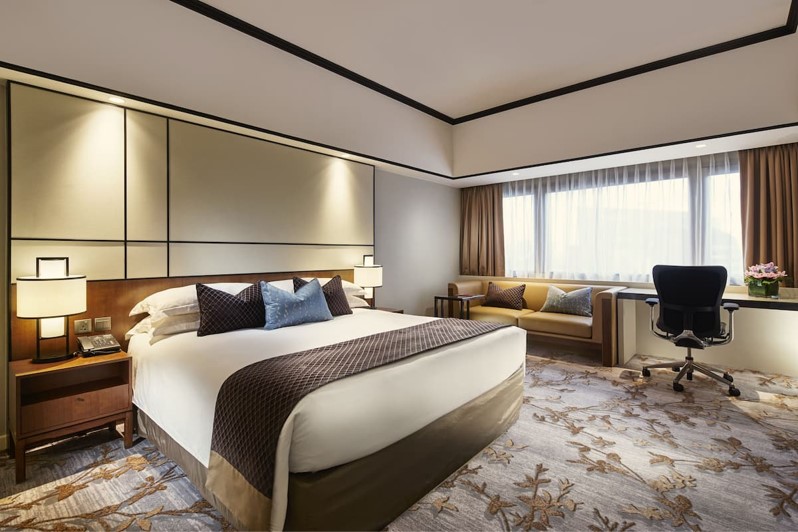 Superior Deluxe King Room at Mandarin Orchard (Photo by Expedia.com.sg)
To keep both the adults and little ones entertained, look for hotels with child-friendly amenities and perks such as discounted tickets to local attractions, planned activities and events for them to participate in, or even offer rooms that have been designed with them in mind.
One such family-oriented hotel is Mandarin Orchard Singapore, which is offering a special staycation package for a family of four that includes free breakfast for two adults and two children, as well as an additional S$80 food and beverage dining credit for use in any of the hotel's renowned restaurants for just S$268++ per night for bookings made before 30 November 2020*. And to make the deal even sweeter, all bookings made with Expedia will receive a complimentary room upgrade too.
Before you make your booking for a fun-filled family staycation though, check out Expedia's family staycation hacks here.
*Subject to availability. Terms and conditions apply.
For A Couple's Retreat
Planning for a staycation may be the only way you and your partner can have the time to yourselves, making it all the more necessary to make sure that the venue has the right amenities and luxuries to make it a staycation worth remembering. Instead of booking a stay in a luxurious suite, you might consider going with a boutique hotel that can offer you more bang for your buck. While often smaller in size, boutique hotels provide the perfect Insta-worthy shots with their chic interiors and tranquil scenery.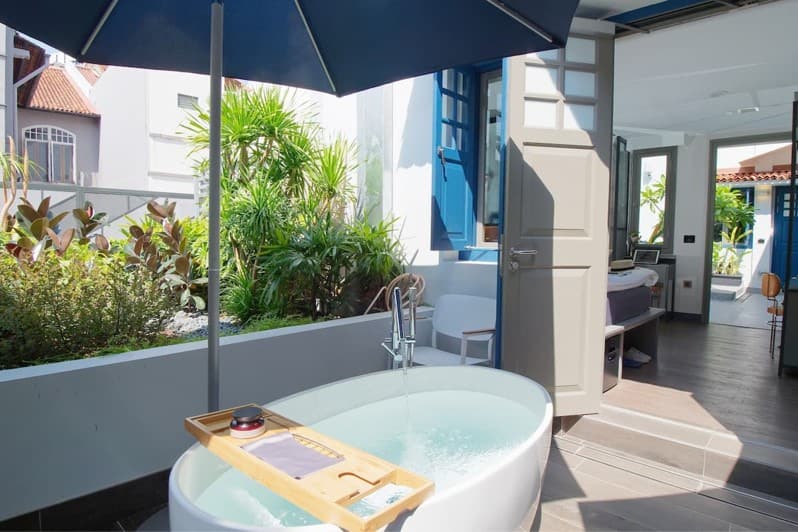 Enjoy soaking in an outdoor bath with a special one at Hotel Soloha (Photo by Expedia.com.sg)
Offering a hidden oasis within the Chinatown's iconic shophouses, each room at Hotel Soloha also comes with mood lightings to create that perfect romantic ambience. For stays from now until 4 January 2021, guests staying at the hotel for a minimum of two nights will receive additional perks including a complimentary bottle of wine, all-day happy hour and 1 for 1 Asahi Beer, as well as 10 percent off their total bill at Takeshi Noodle Bar, and a complimentary early check-in and late check out*.
If you and your partner much rather head out and explore the neighbourhood, the prime location of the hotel means that Chinatown's top eateries are all easily accessible and within walking distance. The nearby Keong Saik Road offers an endless array of foodie options including gourmet restaurants and trendy bars.
*Subject to availability. Terms and conditions apply.
For Some Much-Needed Self-Care
Sometimes, all you need is some alone time to re-align your qi before heading back to the hustle of our daily lives. A simple way to do so is to take a break and go for a solo-cation. And if you're conscious about getting a leary glance from the hotel staff when checking in, we're here to reassure you that you are not alone. In fact, the volume of searches for solo stays on Expedia.com.sg doubled in the month of July compared to June.
The biggest perk of going on a solo-cation is that you get to choose how you want to spend your time completely, without being influenced or affected by anyone or anything. And if you're keen to learn a new skill or cook a new dish, it might interest you to know that some hotels offer such classes for guests to sign up for. The schedules for these courses are often available for viewing online, so you can plan in advance when making your booking in order to make the most out of your solo-cation.
Premier Room at The Barracks Hotel Sentosa (Photo by Expedia.com.sg)
With a host of services and amenities at The Barracks Hotel Sentosa for everyone to be kept entertained, guests can begin their day with a relaxing yoga session at the Pamukkale Pool or choose from a range of complimentary recreational workshops ranging from art jamming, floral arrangement to building your own terrarium.
Not sure how to start planning for a solo-cation? Here are 5 easy steps to help you.
For A New #WFH Environment
Tired of seeing the same four walls as you work the day away? If you're like us and welcoming a new change of scenery, sans the noisy pets (or neighbour's renovations that seems to be going on for the last several months), perhaps opt for a work-from-hotel alternative to stay on top of your game throughout the day.
To make work life easier, several hotels have rolled out their own fantastic hotel deals to ride the #WFH wave so what better way to take advantage of these packages? We heard that some of these packages also come with additional perks such as gym and pool access for those longer lunches – sshhh, we won't tell!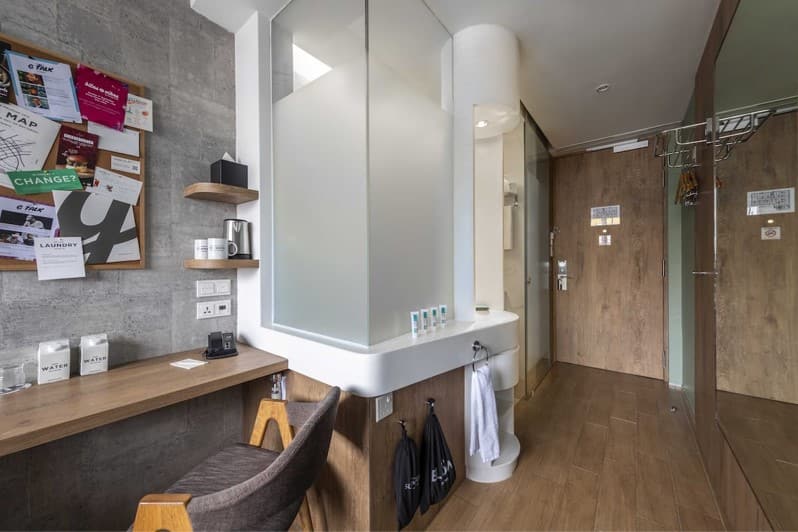 Good Room King at Hotel G (Photo by Expedia.com.sg)
For that optimal workation experience, head over to Hotel G Singapore to achieve that work-life balance. Situated in the bustling downtown core of Singapore, spend your workdays in a stylish and quiet space. Equipped with high-speed WiFI, stationery, drinks, and snack boxes, guests can also be sure to have all the essentials they will need to stay productive. For stays from now until 31 August 2021, all guests booking the Good Room King option on Expedia will receive complimentary late check-out and parking, in addition to a S$50 dining voucher at Ginett Restaurant & Wine Bar*.
*Subject to availability. Terms and conditions apply.
For The Time -Starved
If your notion of being reinvigorated means packing your day with events, opt for hotels located within the vicinity of the city. The location of these hotels means you get to shave some time off your journeys and not have to map out your routes in advance.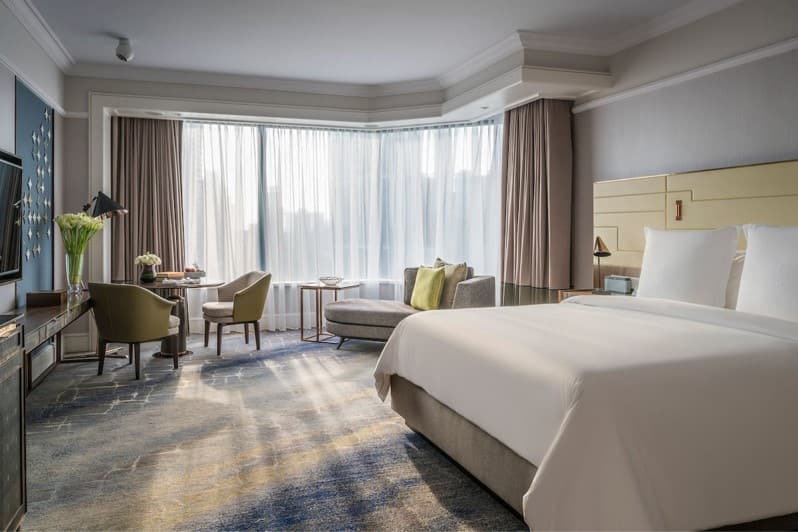 Greet your day right with the Premier Room at Four Seasons Hotel Singapore (Photo by Expedia.com.sg)
For a more well-rounded staycation package, head over to Four Seasons Hotel Singapore where guests can enjoy a complimentary breakfast* to start their day. Before heading out to explore what Singapore has to offer, dive in for a lap or two either in the hotel's rooftop pool or the outdoor lap pool connected directly to the Fitness Centre.
*Complimentary breakfast is available for two stays and more. Terms and conditions apply.
Expedia's Here To Make Your Day
With safe management measures still in place, be mindful of when you book your staycation to avoid the crowds and make the most of your stay. And to help you save on your adventure to rediscover Singapore, Expedia is also offering a 20% discount off selected activities with the discount code "ACTIVITY20SG" from now until 31 October 2020.
And be sure to download the Expedia app where you'll gain access to mobile-exclusive deals and double your reward points with each booking. If you want the best bang for your buck, make your bookings on Mondays to enjoy big savings on your next hotel stay.
For more #staycationhacks and tips to maximise your savings for any upcoming staycation, check out our guide here, and look out for the next edition of Expedia's Weekly Round-Up.