By Shanice Koh, on July 22, 2015
Eva Air Hello Kitty Flight – Onboard with Shanice Koh
Expedia sent Singapore blogger Shanice Koh to Taiwan on the inaugural EVA Air Hello Kitty Flight on 21st June. Shanice shares her experience onboard the flight, with an inside look at all the cuteness as she travels with Hello Kitty and friends.
◊◊◊
Hello from Taiwan!
Quick Facts about the Hello Kitty Flight from Singapore to Taipei
Brand new Hello Kitty themed flights known as the 'Shining Star Jet' was created exclusively for the latest EVA Air B777-300ER aircraft
Flights from Singapore to Taipei is available on Wednesdays, Fridays and Sundays at 3.10pm
Flights from Taipei to Singapore is availableon Wednesdays, Fridays and Sundays at 9.25am
These scheduled times are in addition to the existing EVA Air scheduled flights on non-Hello Kitty jets
This Hello Kitty flight from Singapore to Taipei is permanent in EVA Air's flight schedule following the overwhelming success of its chartered flights before
Now this is one boarding pass I'll keep!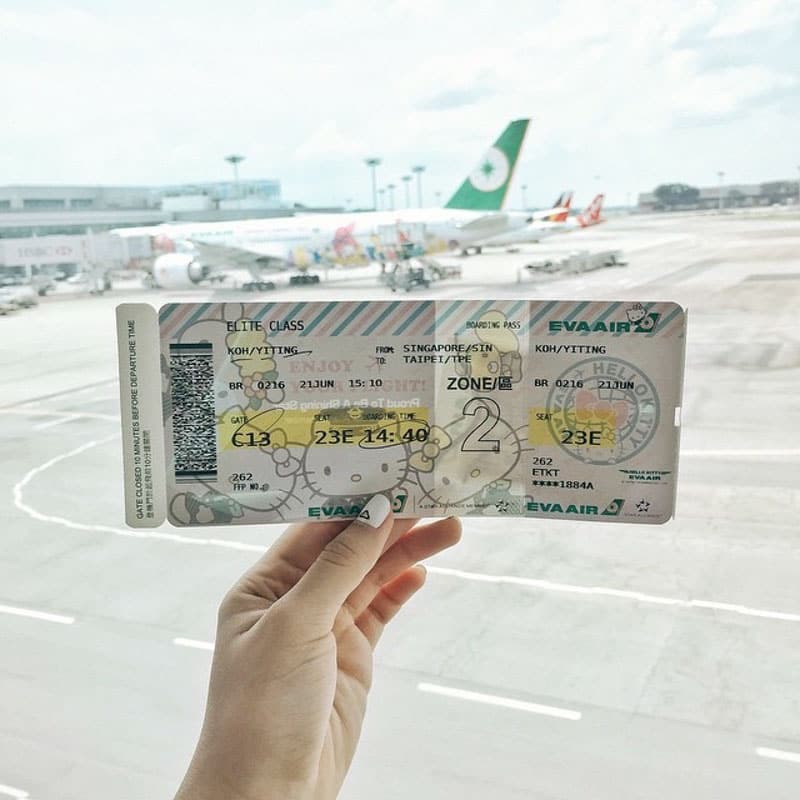 Travel with Hello Kitty Around the World
Being the first flight of the Hello Kitty plane, there's a photowall for passengers to take their pictures with before they board. Hashtag your pictures with #EVAAIRHellokitty, and your pictures can be printed out at the instant photo machine nearby.
The interior of the the plane was of course, Hello Kitty-inspired, from the pillows to what you see on the screens. Even the restroom wasn't left out! Think toilet paper, air freshener, etc.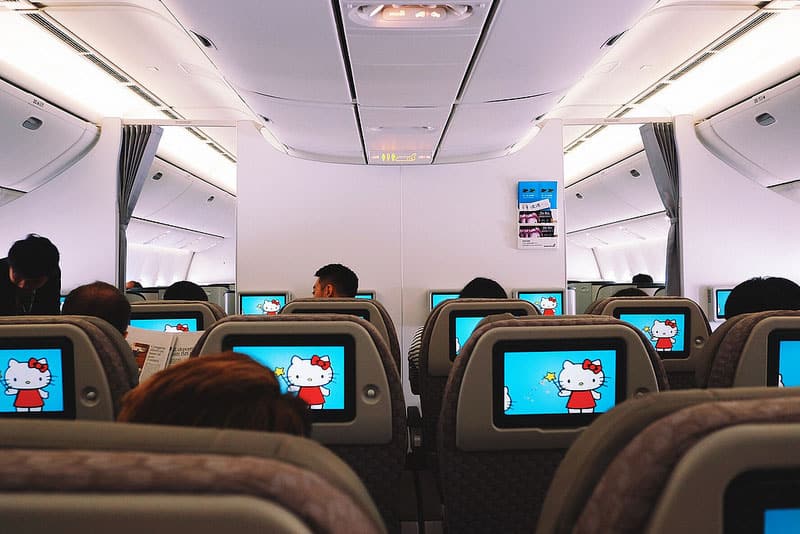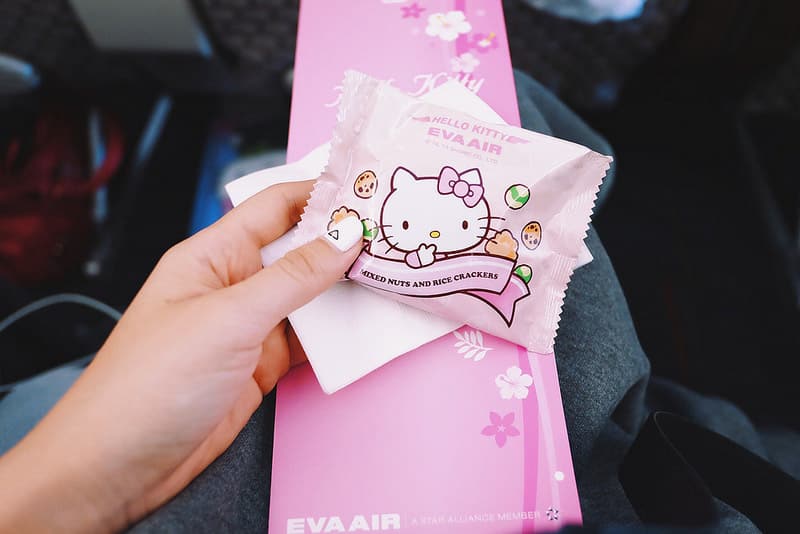 Food On Board the Hello Kitty Plane
We were given some light refreshments an hour after we took off before dinner was served 2-3 hours later.
I had the chicken meal since I don't take beef. Look, even the carrots are star-shaped!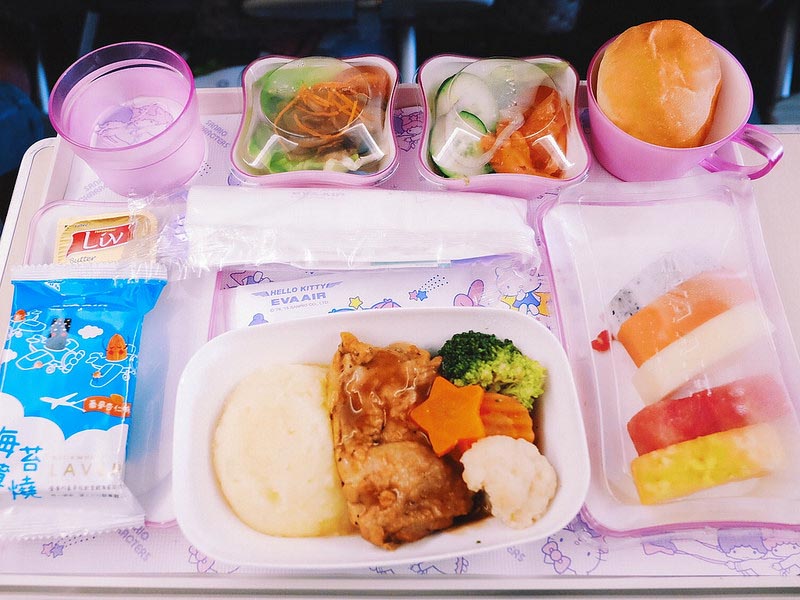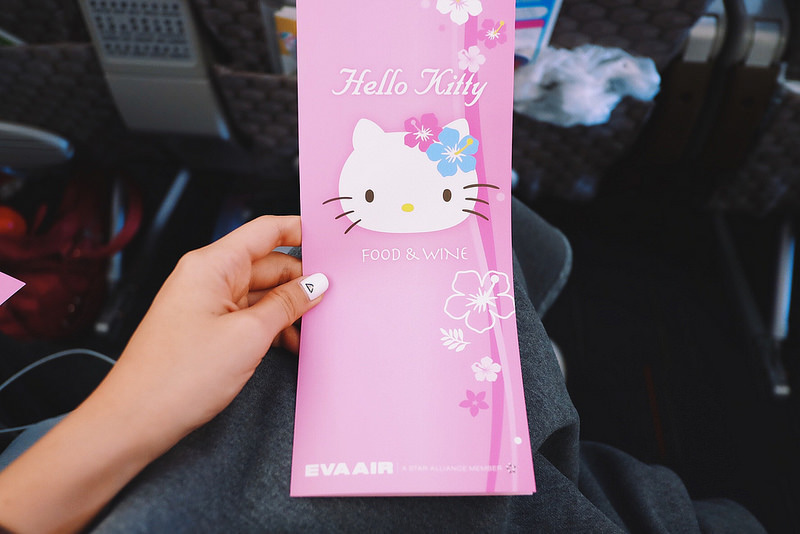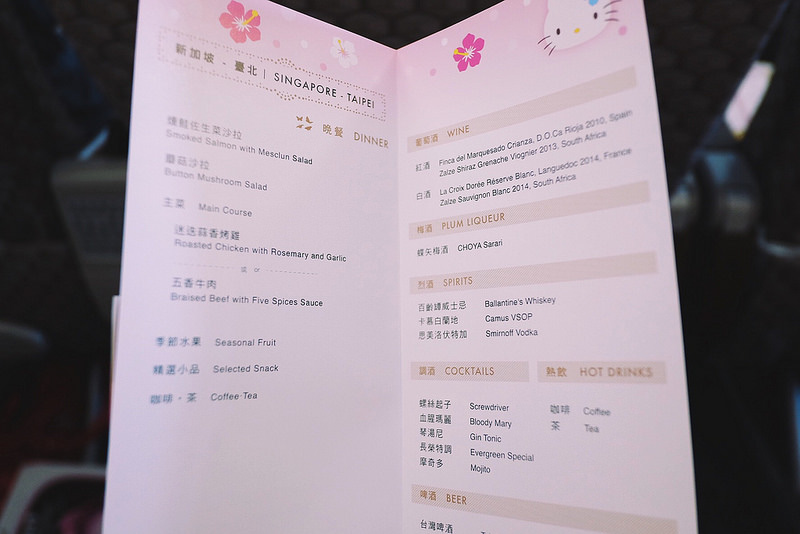 And check out the Hello Kitty utensils! And the placemat on the tray, wet towel and toothpick packaging. On a side note, my OCD side isn't too pleased with this picture cos well it looks off, layout is somewhat messy. But okay moving on.
The gentleman seated a seat away from me offered to help take pictures of me with my dinner. (The seat next to mine was empty which is a pity because the boyfriend who joined me for this trip surprised me by booking the same flight. Expedia and EVA Air put me on the Elite Class though and he'd bought his ticket on Economy Class. Ah well haha)
EVA Air Elite Class (Premium Economy)
But speaking of which, I'm happy I got to experience EVA Air's Elite Class seats because they're one of the first airlines (if not the first) to offer Premium Economy seats. Perhaps it's a good thing that the boyfriend was seated in Economy lol, because I was able to compare the difference between both classes. Premium Economy/Elite Class definitely had more leg room, it's way more spacious and the seats were able to recline further which are huge, huge pluses for me. Especially if it's gonna be a night/long flight.
Oh and here're some fun facts: Only the Economy class has Hello Kitty headrest covers on the seat!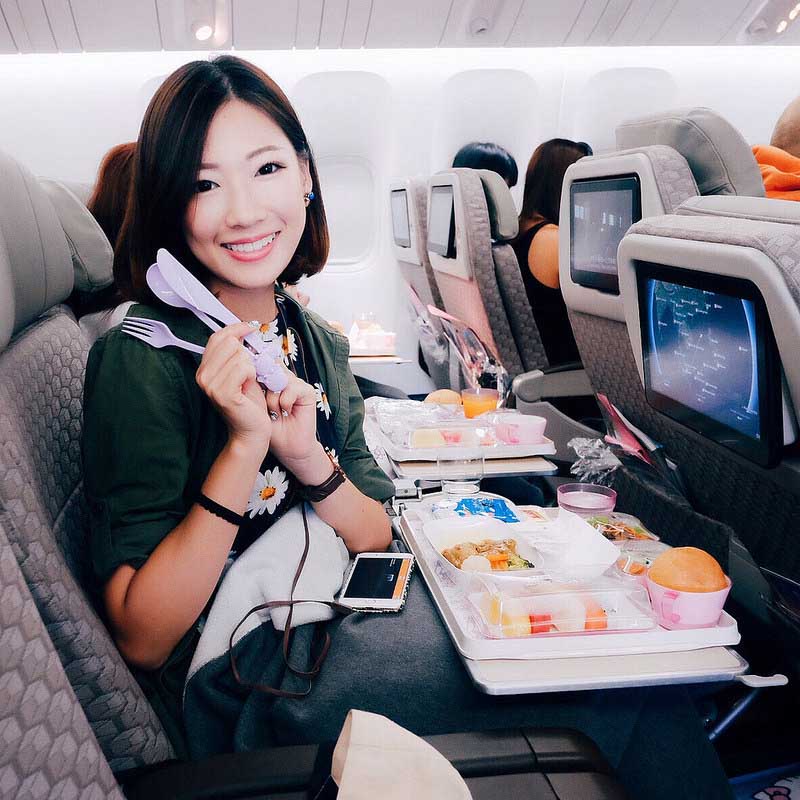 Waving Her Magic Wand over Singapore: Hello Kitty Flight Routes
Hello Kitty with Magic Stars is the theme of the Magic Jet. Hello Kitty waves her wand of sprinkling stars over Singapore, which is the first Southeast Asian country to fly the EVA Air themed Hello Kitty aircraft! Destinations that were already serving this happy flight before included Guam, Seoul, Sapporo and Paris.
Not just cute, EVA Air also recently won the world's Best Cleanliness cabin and World's Top 10 airline by Skytrax!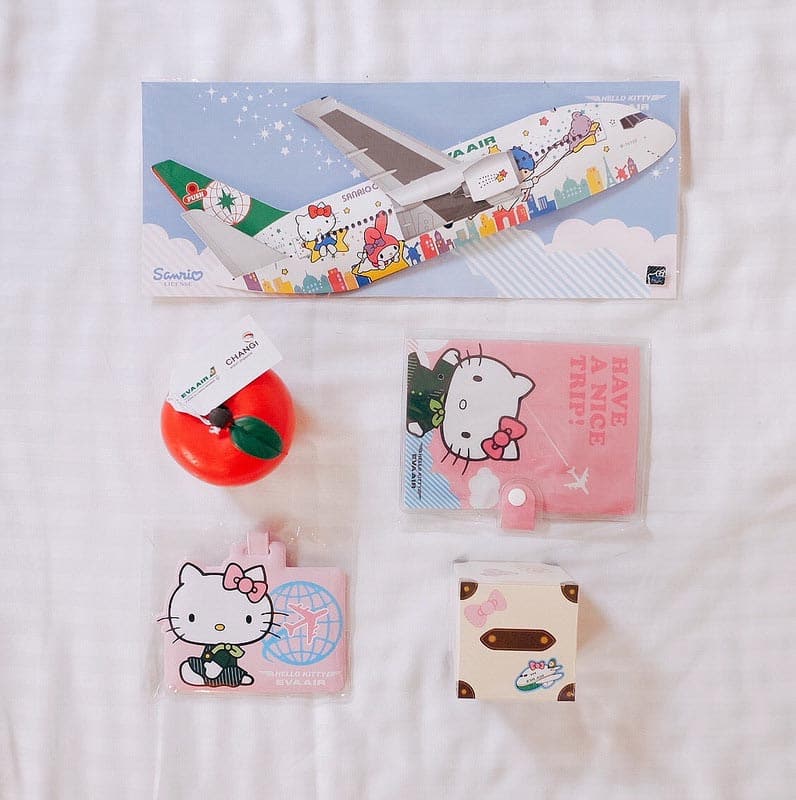 Happy Travels with EVA Air, Hello Kitty and Friends
Thank you so much EVA Air for having me on this inaugural flight, and for the very lovely Hello Kitty goodies in the media kit!
Special shoutout to Sy Yuan who checked on me time to time to make sure I'm alright and comfortable. 🙂
Meanwhile you can check out flight ticket prices on Expedia Singapore if you wanderlust as much as I do. You can find the cheapest flight tickets and may just snag yourself some really good deals (especially if you book it together with your hotel)!
Stay tuned for my posts on the rest of this Expedia x Taiwan trip! 🙂
 ♦♦♦♦♦
Read more of Shanice's Taiwan travel blog on her trip to Taiwan with Expedia: