By Rebecca Wurd, on August 12, 2016
M Social Singapore, a new Philippe Stark hotel
So you're the cool kid in an adult body, looking for a staycation with friends in a trendy space that has a splash of colour and modern awesomeness. You respect your elders but you're not that keen to take their word to stay at the classic hotels that have been around for a while and gained the uncle-and-aunty 'chop' of approval as the best hotels in Singapore. You want to chill out with your friends in a fun space that is nothing like home, enjoying a staycation that makes you feel like the cast of F.R.I.E.N.D.S living in a fancy city apartment. Look to M Social Singapore.
M Social Singapore is a new lifestyle design hotel that has been designed to tickle the fancy of millennials and global citizens. That's right, made for the cool likes of you. Located along Robertson Quay, its luxury apartments offer that little holiday nook feel just close enough to the city — perfect for a lively staycation in Singapore.
What cool beans does it have? Well, cool peanuts. Literally. The entrance to the hotel features 2 steel peanut sculptures. Doesn't the sight of a pair of nuts always promise some excitement?
Don't believe me yet right? K wait, I show you.
1) Your Modern Hut
Live out your HGTV fantasies and check into the Alcove Cosy Room, where the 4 metre tall pitched roof makes you feel you've got your own little hut. Plus it's mirrored so it looks all fancy and modern. Looks like they've mastered the art of making small spaces feel larger. Me Gusta.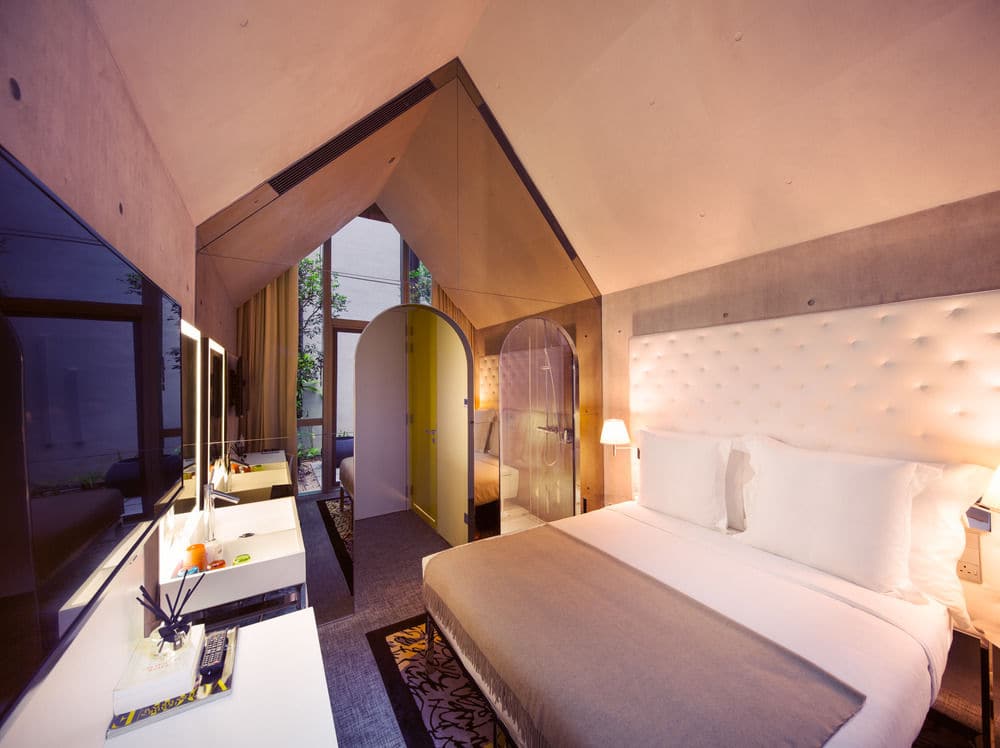 2) Duplex Dreams
If you like a little more room to play uno stacko, or seduce your partner with your sitar and wild bongo-drumming skills, enjoy the extra space in the Loft Gallery Rooms. Stretch out in bed with a Singapore Sling and toss peanut shells over the edge onto your partner's head downstairs. Hey, it's just like Raffles Hotel!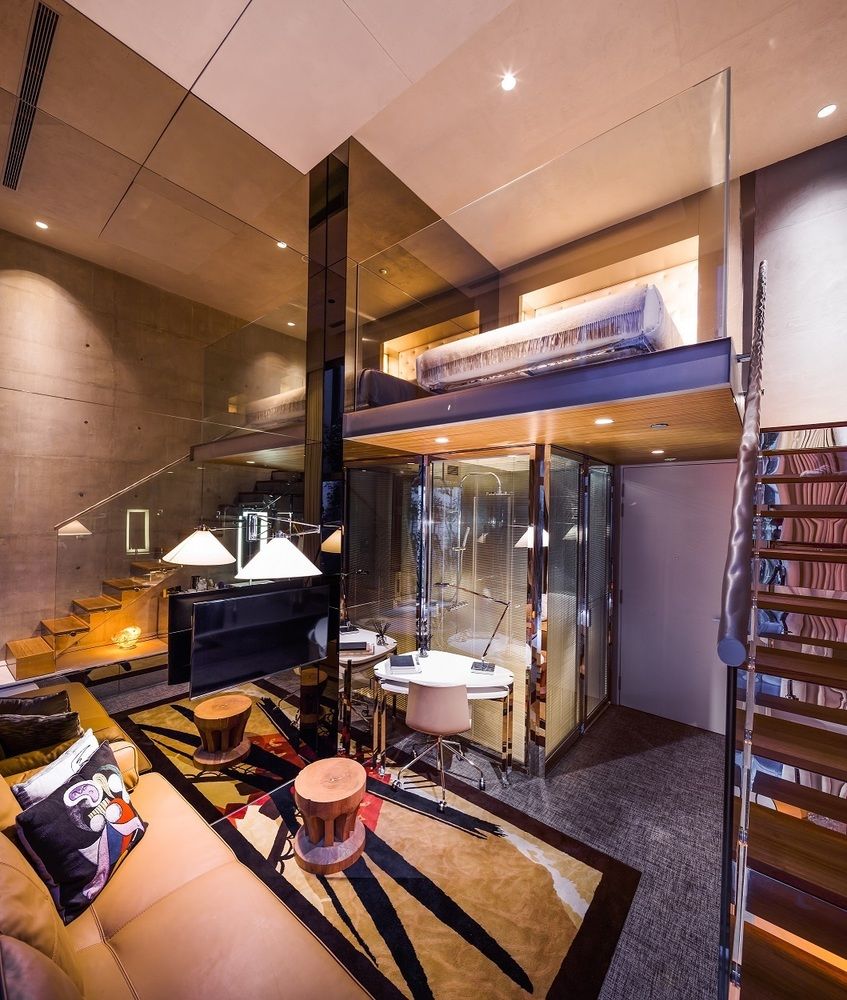 The rooms are all very well decorated. Interesting furniture, unusual placements, statement rugs or marble floors, open-concept fittings etc. It does say modern at a glance. The playful elements are unsurprising as the hotel is designed by Philippe Starck, renowned for this unique style.
There are also rooms with a private terrace.
I should warn you though that there's quite a bit of open-concept stuff going on here so look at the specific rooms a little closer before booking to make sure you have as much or as little privacy as you need for bathrooms etc.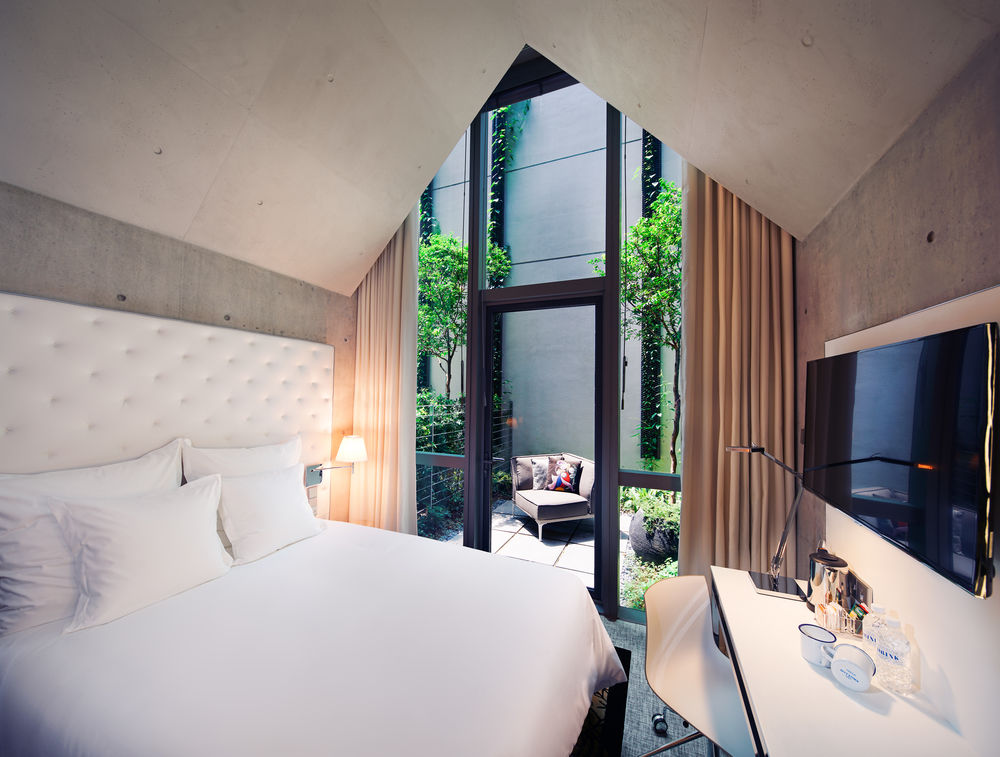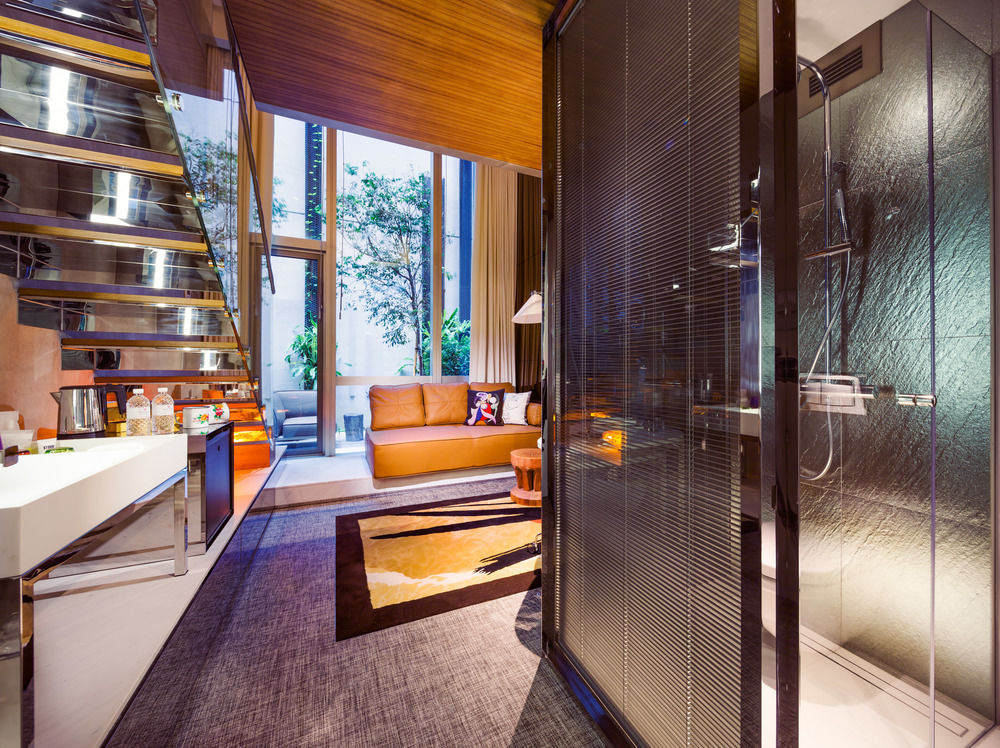 3) Mari Kita Together-Gether
As the name suggests, M Social Singapore encourage real-life gatherings and connections. So the hotel spaces are designed to offer comfort and create welcoming communal spaces, that encourage guests to gather and mingle. You'll find lots of customized furniture which are fun enough to make you want to chill out there for a bit and not just in your room. The setting is fairly open and casual.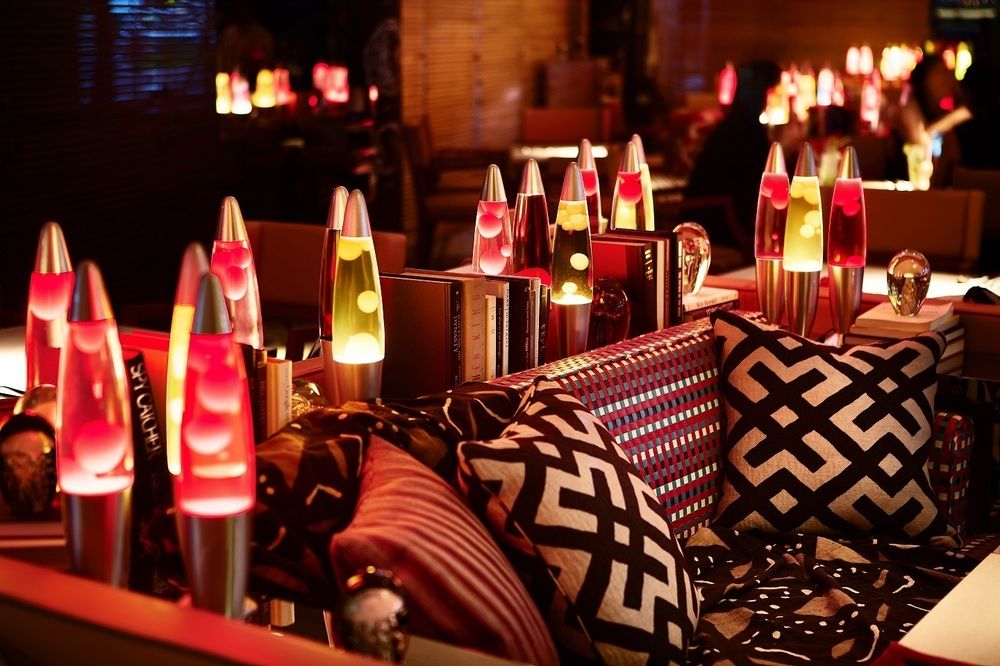 If the hotel interior reminds you a little of The South Beach (which I reviewed here), it's because M Social Singapore is also designed by the talented acclaimed French designer Philippe Starck. Starck's style is colourful, unstandardized and makes you take notice of decor you would usually skip past in hotels.
In the M Social he debuts the concept of "democratic design", where spaces are made to be accessible and flexible, not limited to one strict purpose. Far from the old vision of hotels as cold, generic and impersonal, the theme at this hotel feels wants to make you feel comfy and snuggley. Rooms have warm colour tones, pashmina throws and thick carpets.
4) Sia Lah, Chandeliers!
See what I did there? Singer Sia and her hit song Chandelier!
Spot the chandeliers around the hotel which add a whole lot of glamour. Housed in their own alcoves, they are occasionally lit up with psychedelic images, making the light dance as it bounces off the chandeliers. Find all 8 chandeliers.
5) Check Yourself Out In
When I was young, I was always fascinated by cashiers and dreamt of pressing all those buttons one day. Maybe that's why they sell toy cashier masak-masak sets?
Anyway, if you have any fantasies of being a wonderful hotel guest services receptionist, you can do it here. It's the first hotel in Singapore to have a self check-in kiosk in the lobby to make the process faster. (Note the iconic Philippe Starck metallic chairs)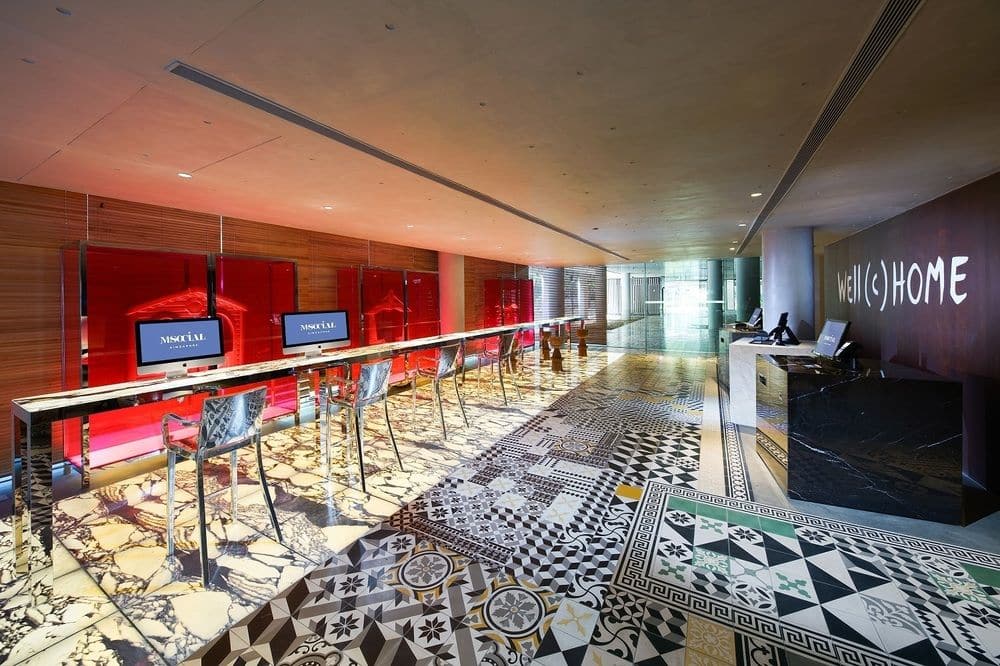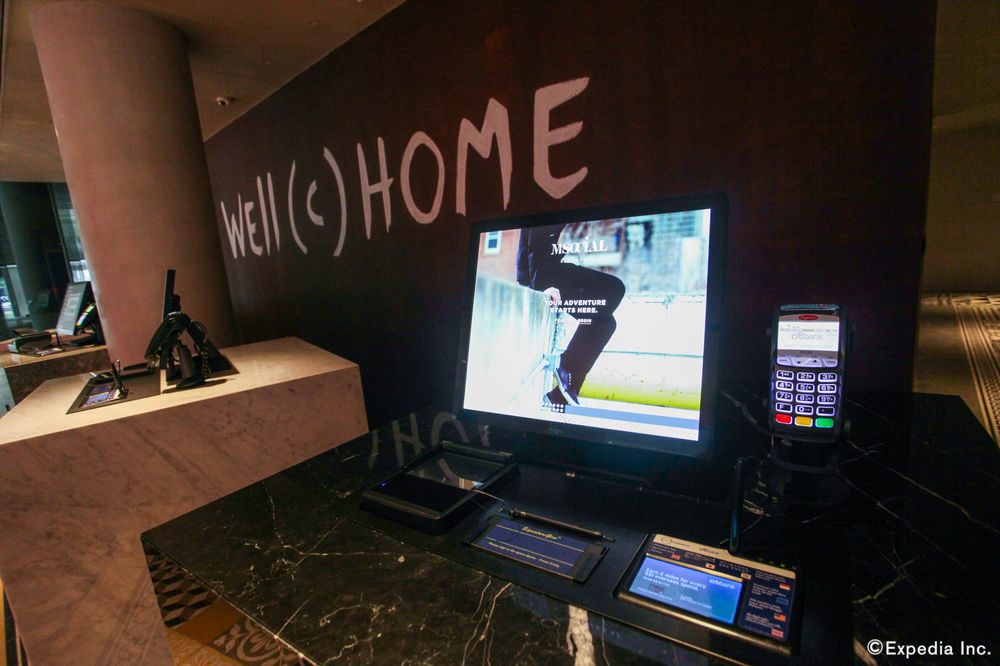 6) Eat Beasts & Butterflies
Okay that's kinda gruesome. What I meant is, you can enjoy some scrumptious food at the M Social Hotel restaurant, 'Beast & Butterflies'. Love the name! Keep calm while waiting for a juicy serving of the Great Rack of China, a rack of lamb flavoured with Sichuan spices. Fight over whose dish is better, yours or your friends juicy Wagyu beef burger – the Demoburger.
Don't be embarrassed to go halfsies and share. The hotel celebrates the spirit of getting together and sharing, and it extends to the restaurant.
Unlike your usual restaurants, the M Social Hotel has styled their restaurant to have lots of unique features like mix-and-match chairs, colourful throw cushions and lava lamps dancing on sidetables.
There's also an area where tablets are hooked up on the walls, displaying colourful images. During restaurant hours, it displays the menu too.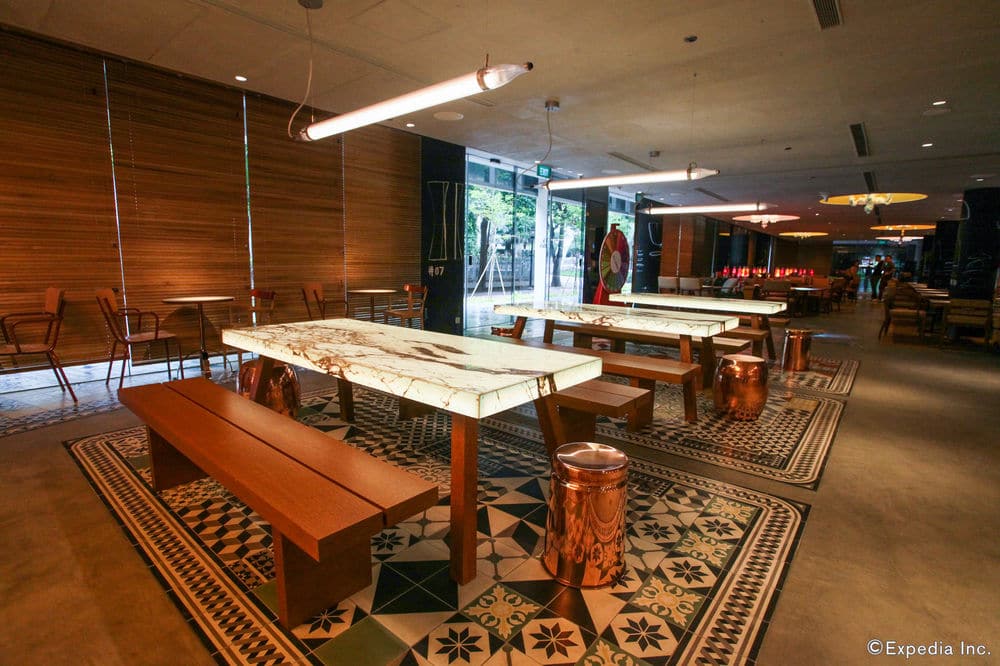 7) Yam Seng O'Clock
The bar in the middle of the lobby is manned by mixologists who will likely outdo your cool factor. Sorry.
Stretching 13 metres, after you are done going ooh and aah at the mixologists working their magic, you are asked to speak to 1 new person at every metre of the bar.
Not really, I made that up. But what's true is the hotel celebrates the social spirit — as the name suggests — so this is definitely not a 'Do Not Disturb' type of bar. You are encouraged to talk to others at the bar and swap stories of your adventures. You're only allowed to look at your phone if you're showing off instagram pictures and conversing about where you've travelled after booking Expedia flights and hotels. (Again, not really, I made that up too. But still you should listen to me!)
What's fascinating are the playful lights. In a clever move, the bulbs stretching over the tables light up and glow brighter when more people are at the table. A wonderful way to spark conversation, even between strangers. I see the social element at play here!
The bar is noticeably modern, between metallic elements, screen table tops and playful lights from top to bottom. The tiles on the floor too are particularly pretty.
8) Free Wifi, Free Data
I recommend putting away your phone and truly being social the old-fashioned way.
But if you must show off your amazing staycay pictures, and snap instagram shots of the neighbourhood as you wander around Robertson Quay, you can use the complimentary smartphone. Yes, you can take it outside the hotel with you.
No data charges. Steady!
9) Channel Joseph Schooling
After eating at Beast & Butterflies, do some butterfly strokes up on the rooftop swimming pool to work off your meal. The pool is bordered by some leafy arches. Pretty!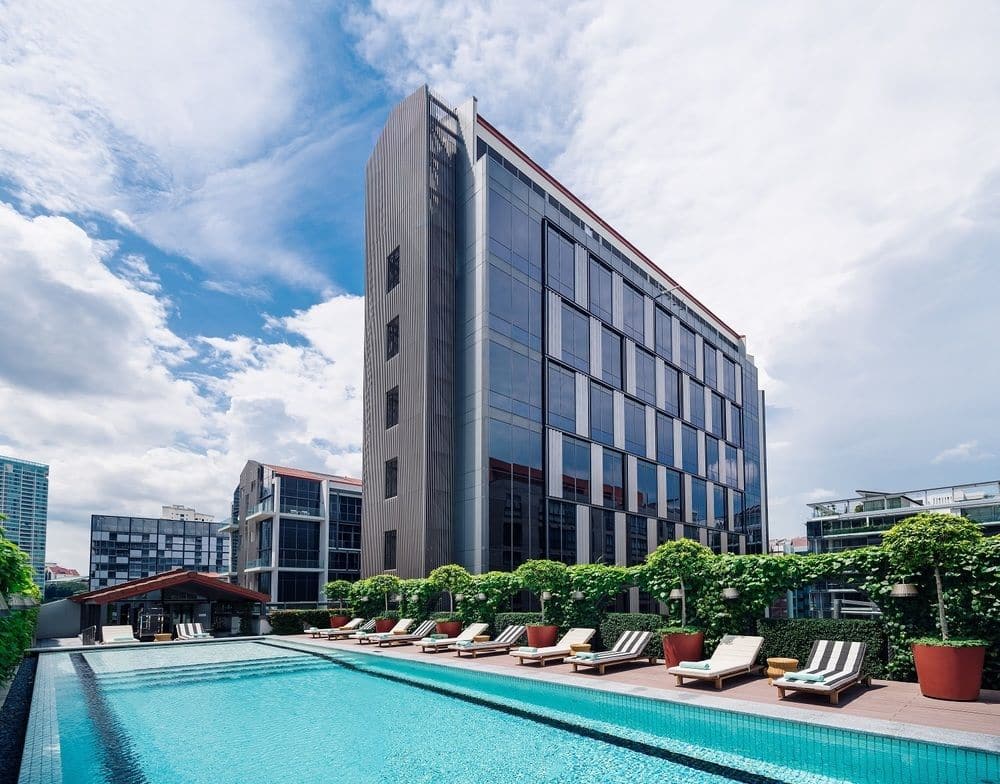 10) I M Social
M Social Singapore is designed to be a lifestyle experience. They have a committee comprised of opinion leaders and local personalities, who are creating a programme to host fun gatherings and activities such as morning tai-chi sessions and yoga on the pool deck. More to come!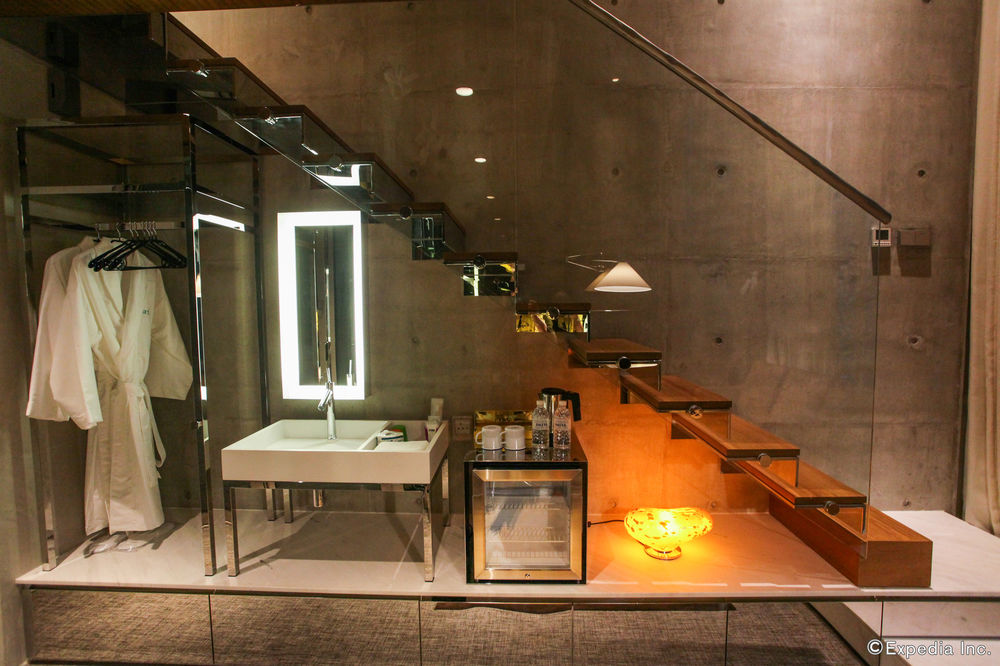 There you go. A wonderful place for a lively staycation in Singapore with lots of interesting elements, communal spaces to make new friends and comfortable rooms laid out in a unique way. So how, ready to bergotong royong in M Social Singapore?
[button style='blue' url='https://www.expedia.com.sg/Singapore-Hotels-M-Social-Singapore.h14873377.Hotel-Information' icon='entypo-suitcase' fullwidth='true'] Book a Staycation in M Social Singapore[/button]