By Rebecca Wurd, on January 13, 2016
Hotel Review: The Luxe Manor, Hong Kong Boutique Hotel
"Ooooooo" That's the first thing that came out of mouths when our taxi pulled up outside The Luxe Manor.
My friend and I had just got off the plane at Hong Kong International Airport. Still in a groggy haze, we got in the same cab (why are three different coloured taxis?? which one do we take?? halp!) and eagerly headed to our Hong Kong hotels. We had booked our stays in different hotels on either side of the harbour, so we got translation help from friendly local officials to make sure the driver understood everything and got us to the right places.
Peering out the taxi windows we saw Hong Kong's streets lined with lots of grungy looking buildings, typical to Kowloon. So when the taxi stopped in front of Luxe Manor, we were surprised, oohing at the fancy canopies and classy exterior. I gave myself a mental high-five for choosing this hotel when I was searching online for a nice boutique hotel in Hong Kong.
In a Manor of Speaking
Sure, this little gem tucked on the corner of Kimberley Street, Tsim Sha Tsui Kowloon, doesn't have the size befitting the term 'manor', but the name is apparently a little tongue-in-cheek commentary on the extravagance of the high-end luxury hotel market. Wittiness from my hotel? Second high-five!
All that said, the hotel rooms in The Luxe Manor were pretty spacious considering the precious square-foot situation in the city, so relatively speaking the hotel is a Hong Kong manor. And I'm so ready to be the Lady of the Manor.
About The Luxe Manor, Hong Kong
Located in Tsim Sha Tsui since 2006, The Luxe Manor (De-luxe manor. Get it, get it?!) has 153 guest rooms and 6 themed suites. The hotel is a proud member of the exclusive Small Luxury Hotels of the World. This title is only bestowed on a very select group of strictly handpicked hotels around the world. The SLH collection seeks out small independent hotels, "little gems that offer genuine, one-of-a-kind experiences".
There are 6 themed suites in The Luxe Manor: Nordic, Safari, Liaison, Royale, Chic, Mirage. Everything in the hotel includes a stylish interpretation of surrealism. Oh a stay of myth and magic!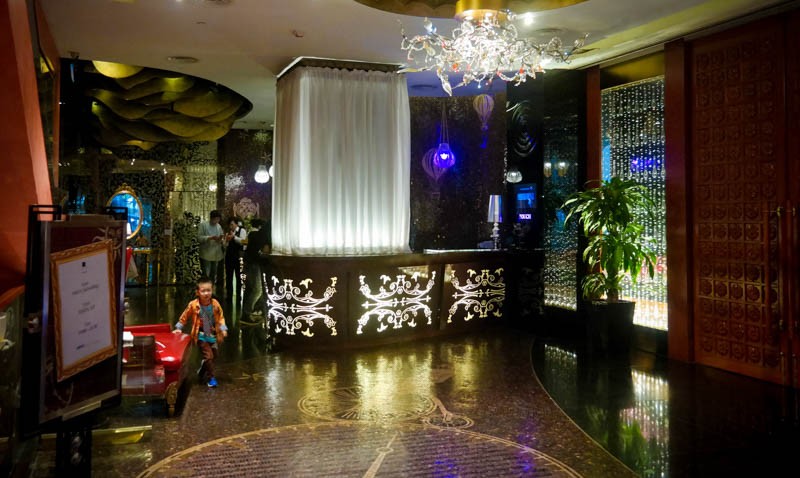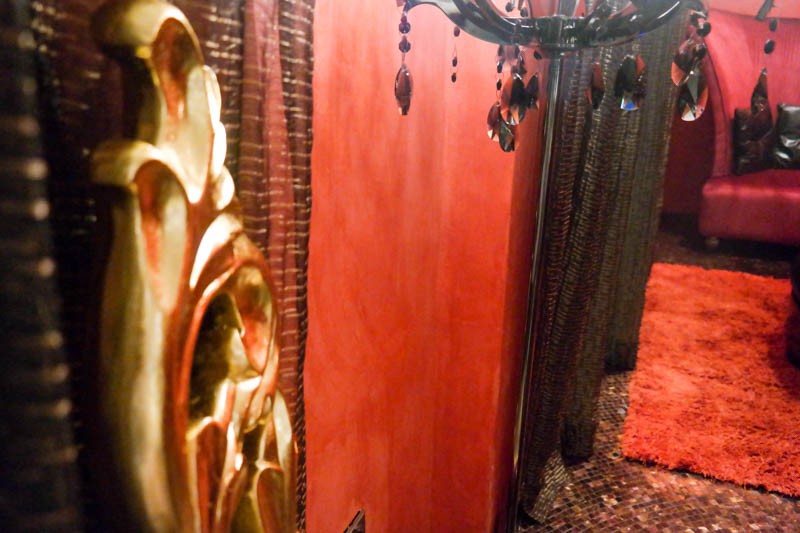 The Lobby of Myth & Mystery
I absolutely loved the lobby!
It's dark and glittery and has so much personality. When searching for a hotel in Hong Kong, I specifically wanted a boutique hotel with lots of quirky interesting elements. The Luxe Manor certainly did not disappoint. It was stylish, but not in the usual gleaming, pristine white, kind of way.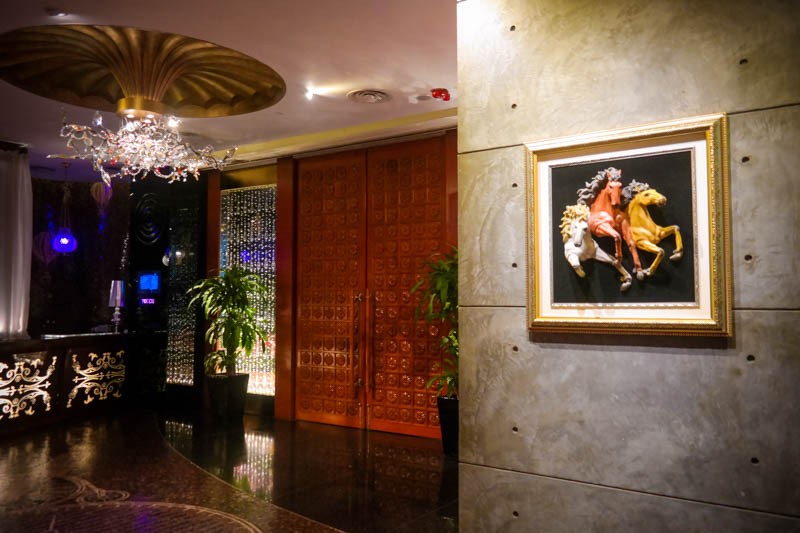 Instead, it was more dark. Intricate. With an air of mystery almost. The doors, the chairs, even the floor made an impact. I personally loved the mosaic floor. It is inspired by master Spanish architect Antonio Gaudi. Not surprised there's Spanish influence here with all that red, black, gold and symbols.
I'll let the pictures do the talking.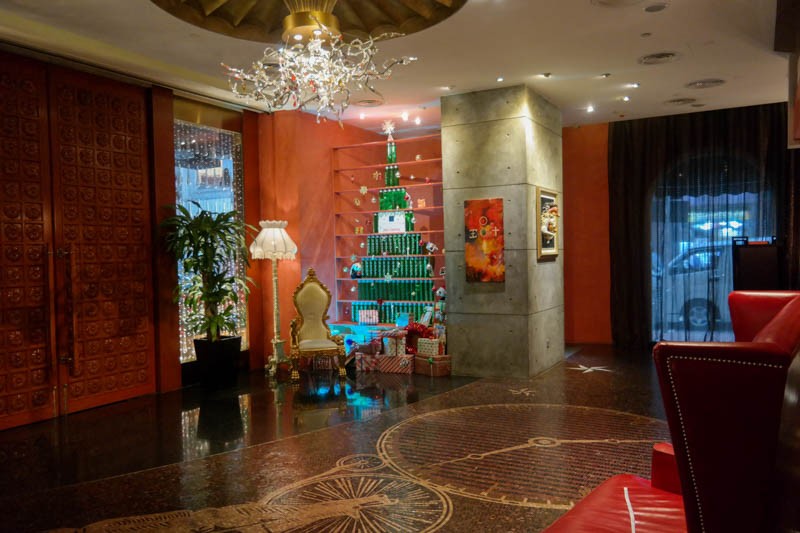 The large clock and compass on the mosaic floor represent a distortion of time and space.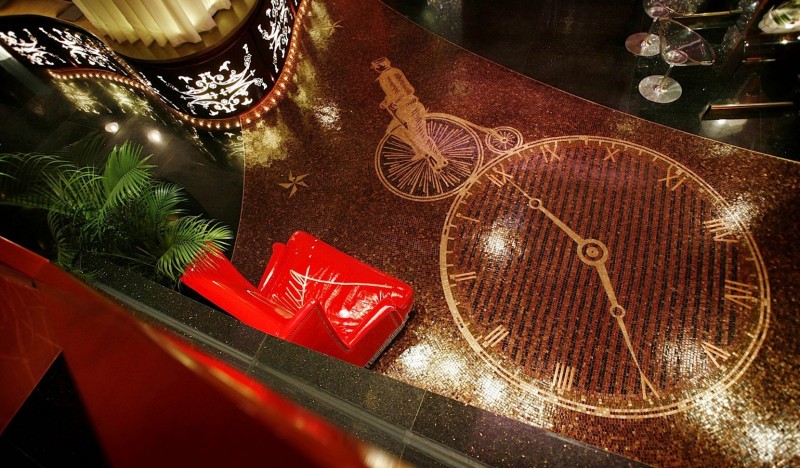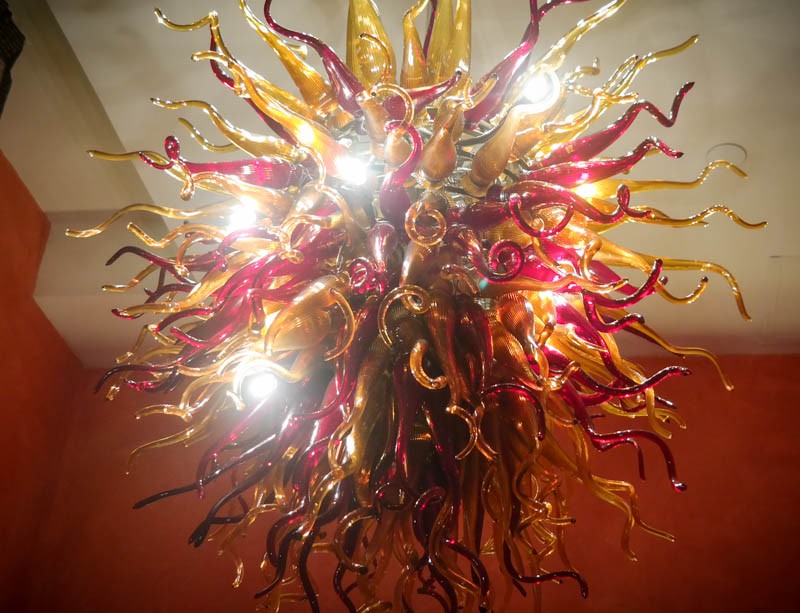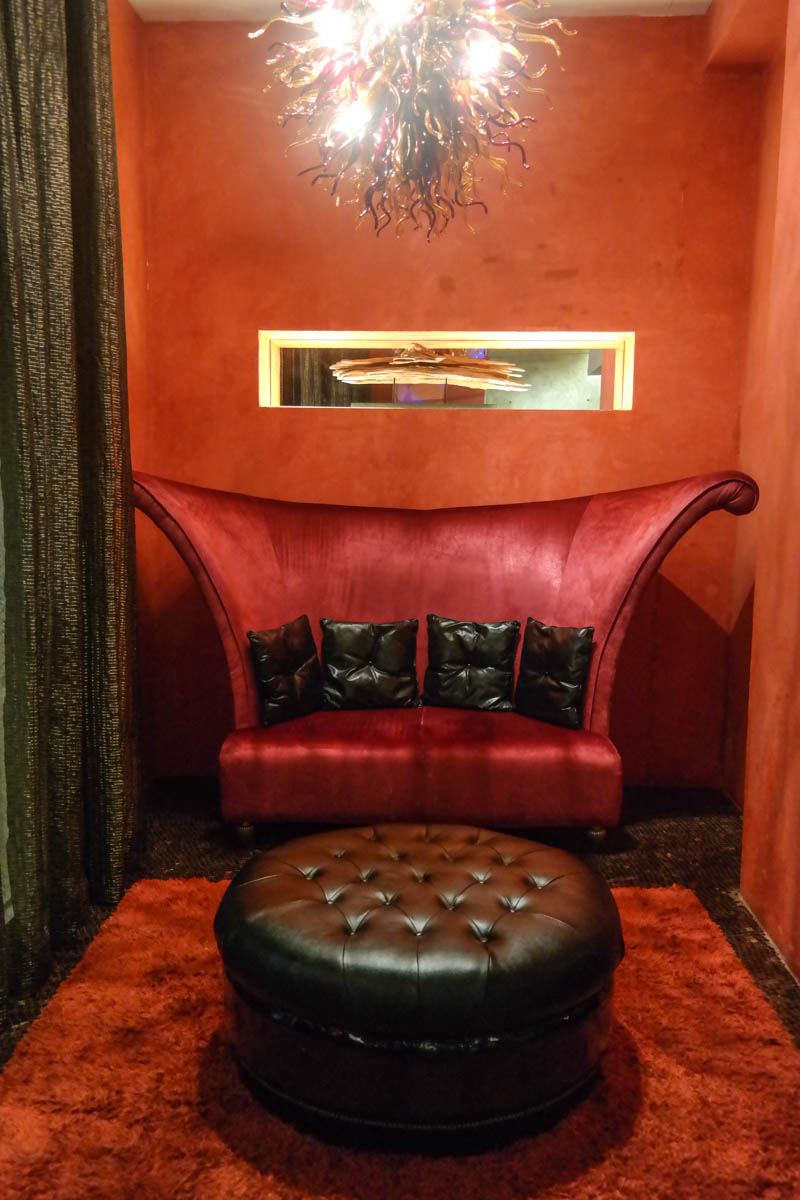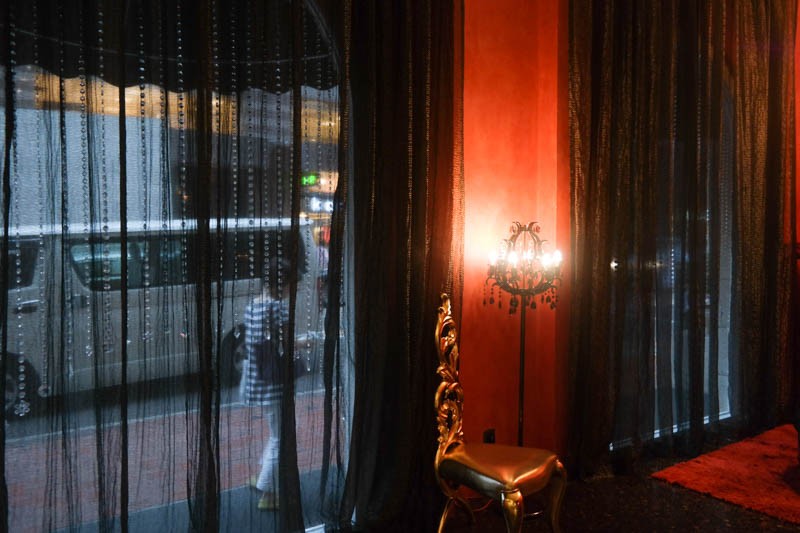 Location, Location, Shopping, Location
In the evening, tired as I was, I popped out for a bit just to make the evening count. I was thrilled to find there's lots of good stuff in the immediate area so I didn't have to wander far at all to experience Kowloon. Without a map, I just walked around and managed to get dim sum, mango mochi at Hui Lau Shan and a bunch of travel-sized bottles of designer perfume from SaSa – the few simple things I had on my Hong Kong checklist!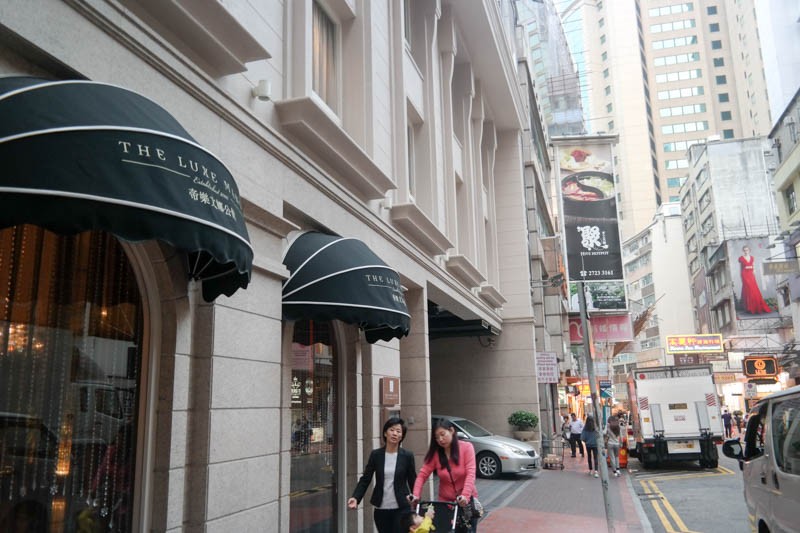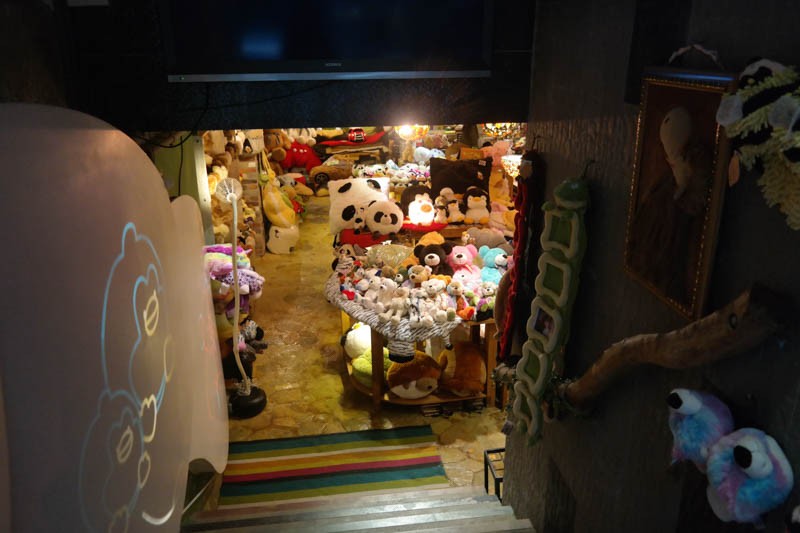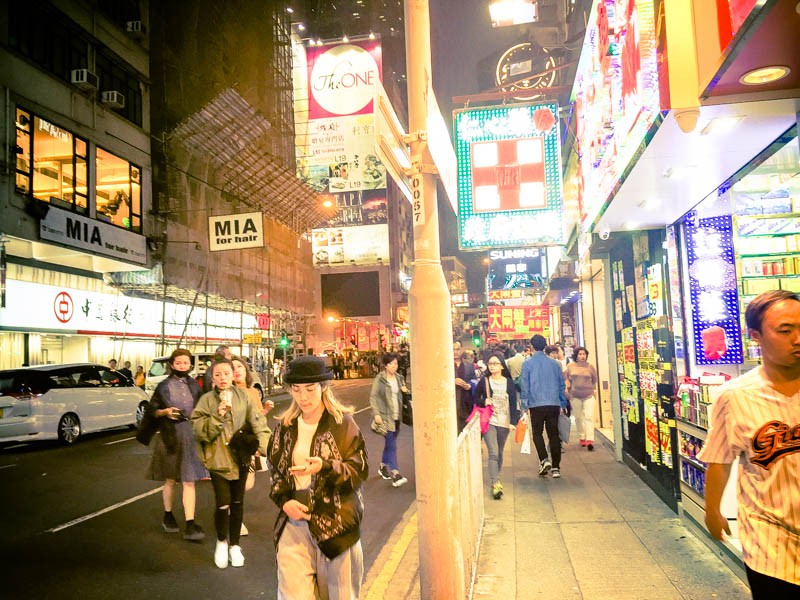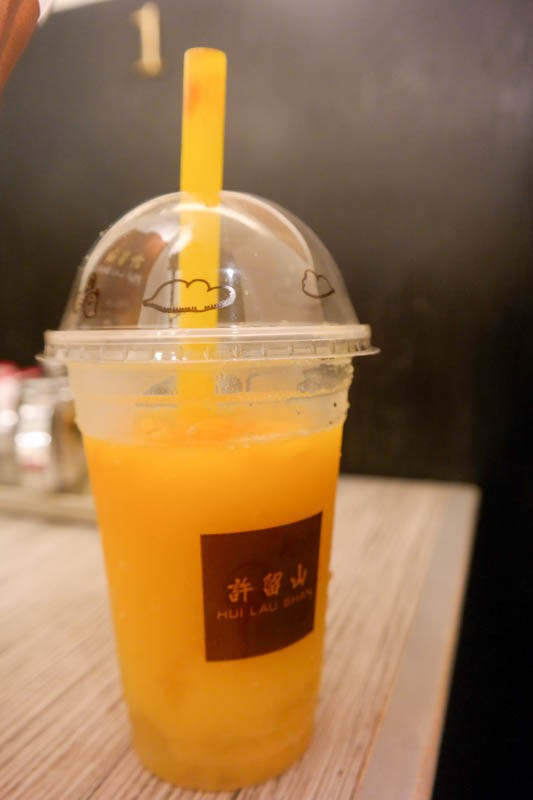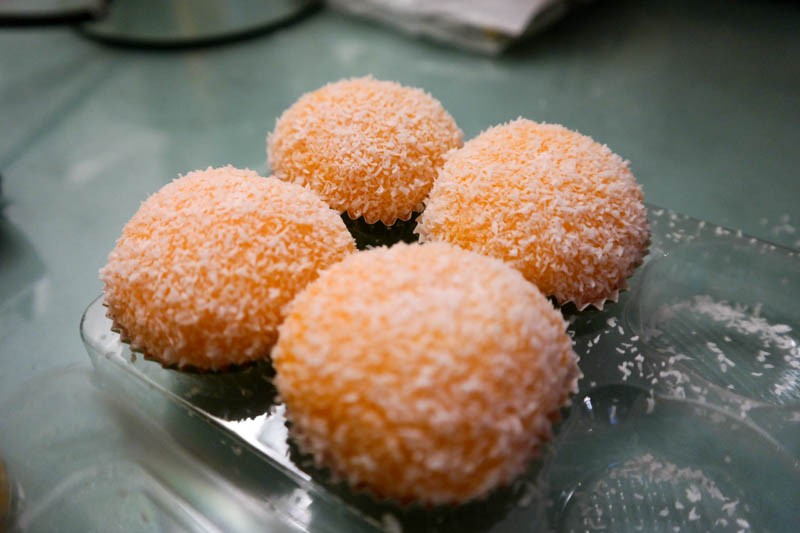 Mango mochi!
The next day, I wandered around more. Tsim Sha Tsui is the nearest MTR station, which is really convenient. I only wandered on foot though because I had a busy day. So I did a bit of shopping in iSQUARE, Miramar Shopping Centre, walked down Nathan Road past  the MTR and Kowloon Mosque, and took in the sights before stopping just short of the Avenue of Stars.
Luxe Manor has an awesome location! It's just a little off the noisier streets but within walking distance of all the good stuff.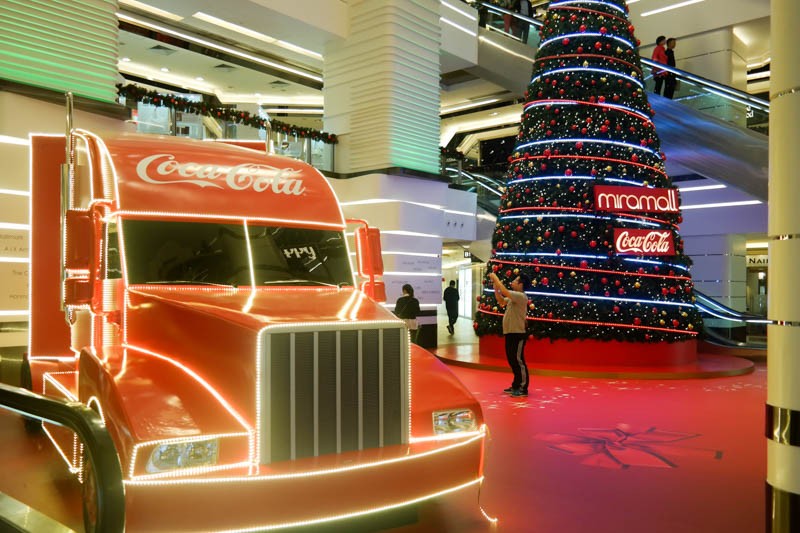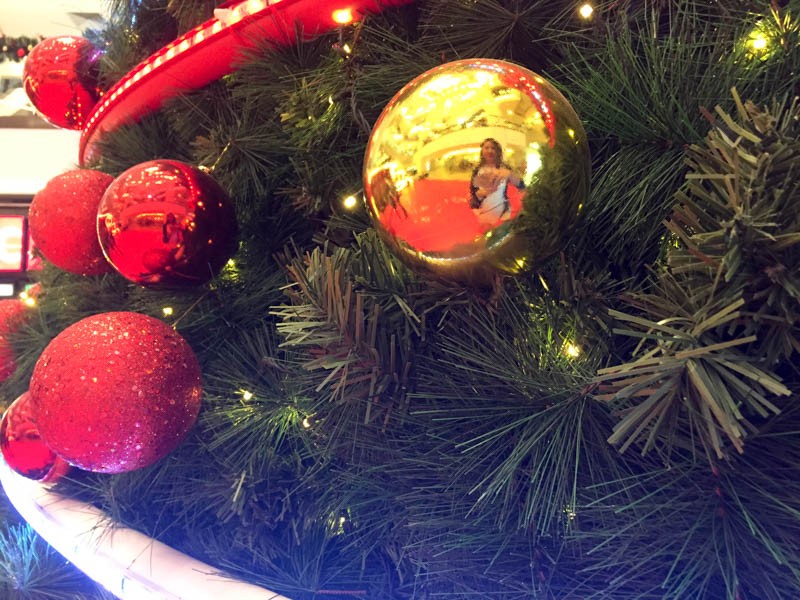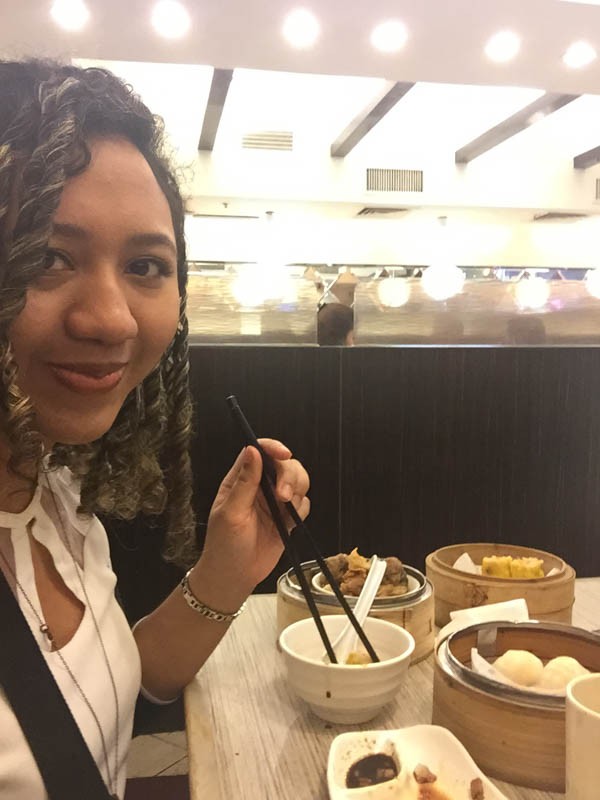 On my way back, I went by the infamous Chung King Mansions for an instagram shot and tagged some friends. We'd stayed there a few years back when we were broke backpackers. Their replies: "Haha aww! Such a lovely creepy place!" + "Haha omg that hellhole! But I miss Hong Kong!"  Haha 🙂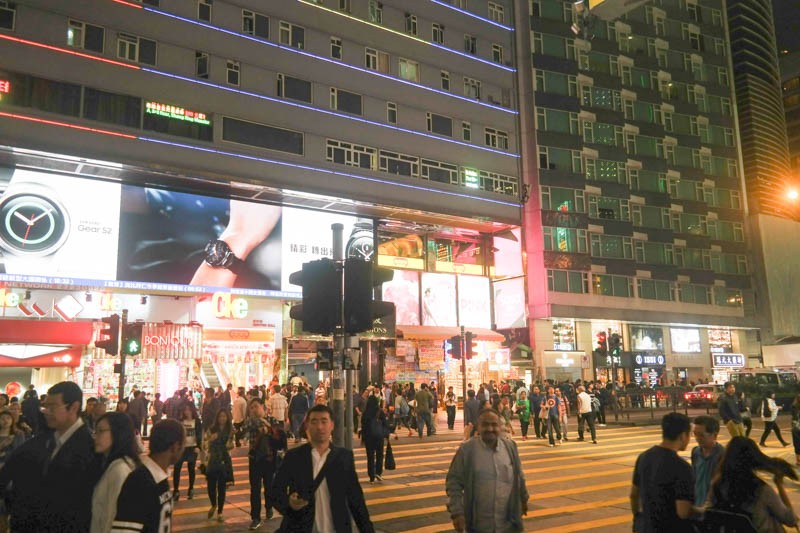 In the evening I nipped over to Lan Kwai Fong for a wind-down drink with a friend. To get to Hong Kong Island is only 1 stop away on the MTR. 2 stops to Central.
Faux Classic – Rooms in the Luxe Manor
Now back to the rooms. Here's my room, with lots of cheeky references to classic European luxury finishings.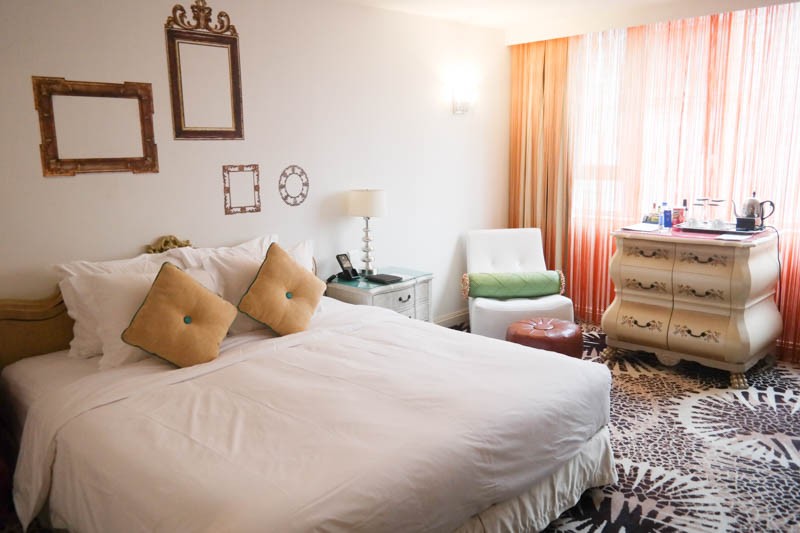 The room was spacious and I frankly wish I had more time to chill on that little chair on the side. Looks pretty royal doesn't it, with the fancy bolster and all? Perfect for enjoying a cup of coffee and a book.
Speaking of which, how cool is this chest of drawers?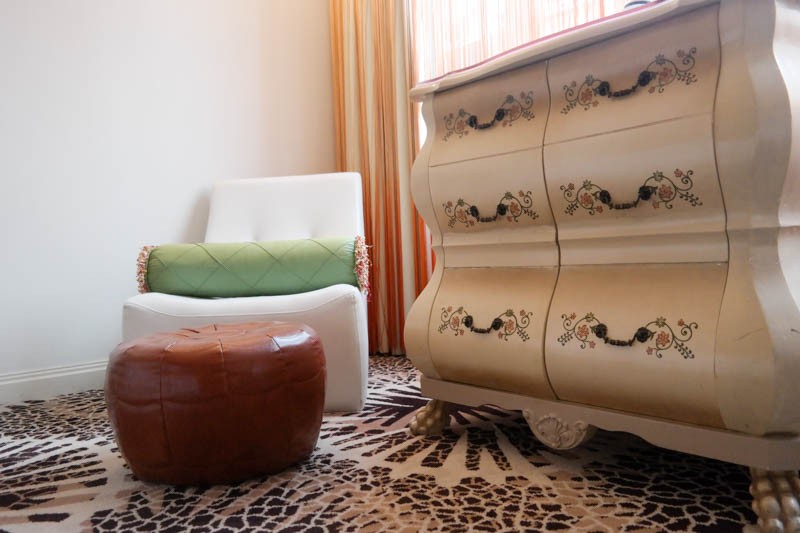 Up top you see the complimentary coffee and tea laid out. And inside when you whip open this classic-looking cabinet.. Nope, not a chest of drawers. It's the mini fridge! Neat! Sorry, in my excitement I forgot to take a picture of the fridge inside.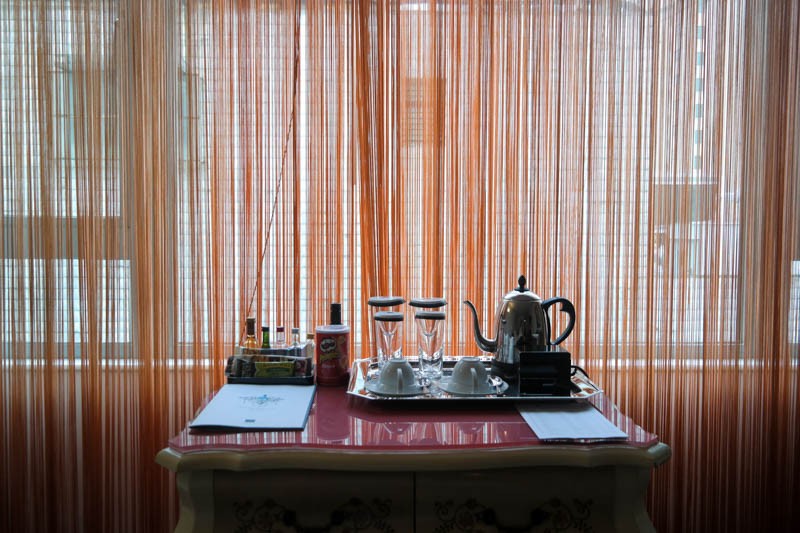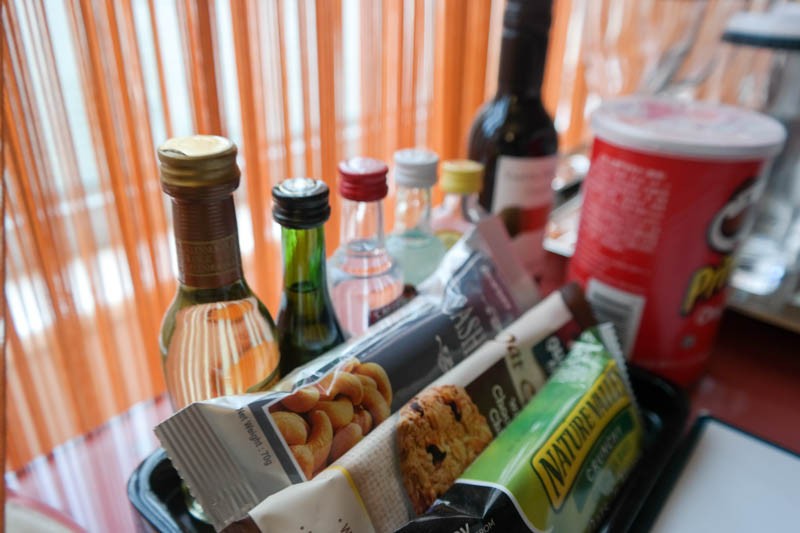 And the most important thing — sleep comfort level? The bed was superb, no complaints from me!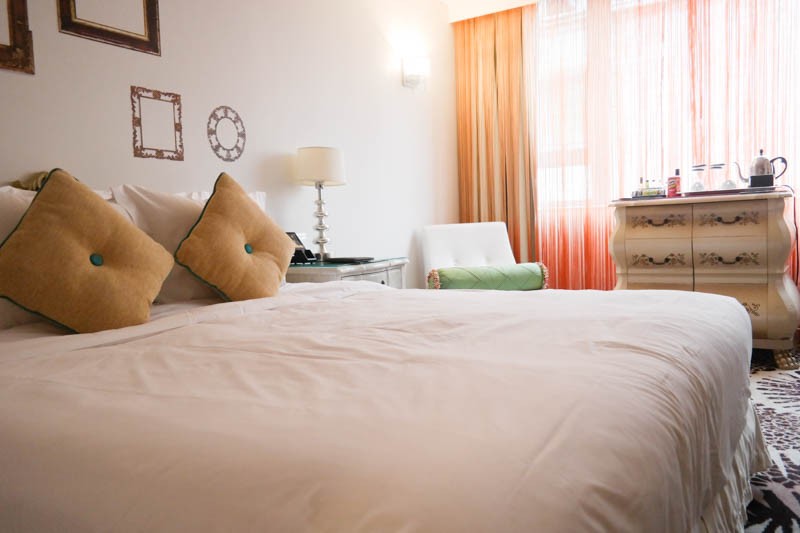 I didn't spend any time watching TV but it was there above my faux fireplace guarded by two dog lamps. I'm not one for cutesy things but this pair was adorable 🙂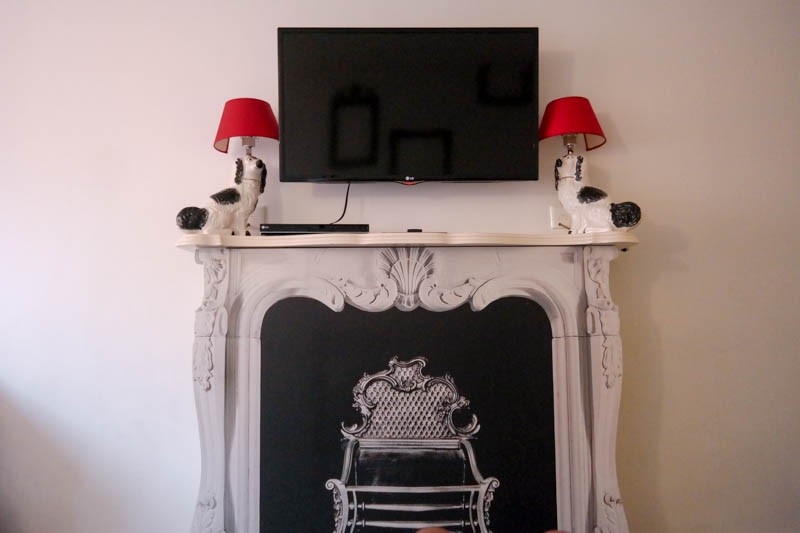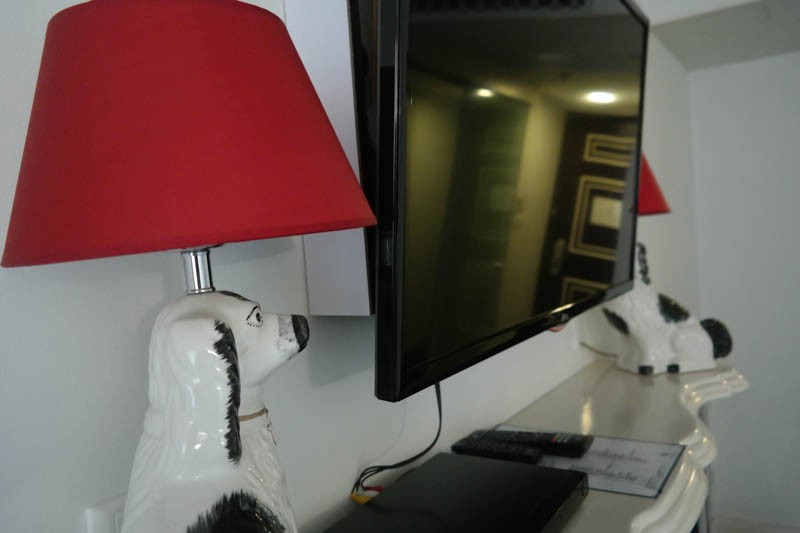 As I said, the room is very standard by Hong Kong hotels standards. I was very comfortable. I've also come to realise that a good carpet in a hotel room somehow makes me feel very cosy and at home. I liked this one a whole lot.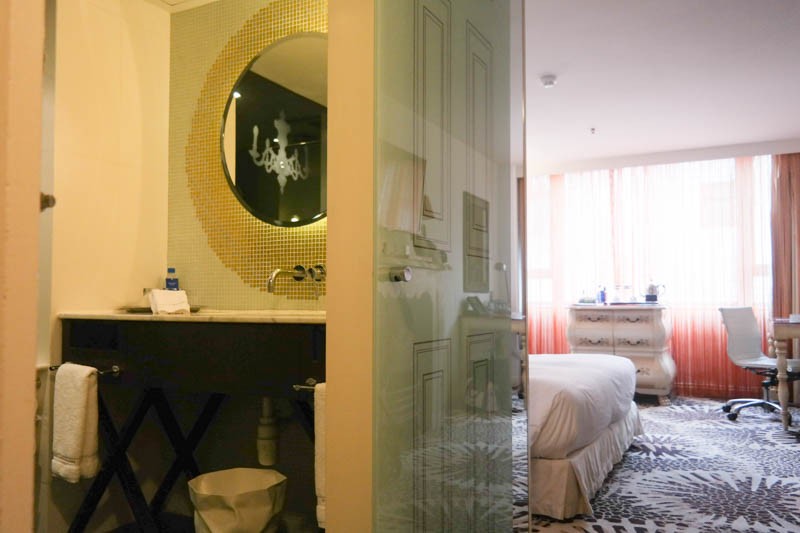 You've also got a desk, 2 side tables, switches in convenient places, closet with more faux-classic detailing. There's no view from the windows in The Luxe Manor. You're literally looking at a wall. But the window still provides plenty of sunlight and the room is very inviting so I was perfectly happy and I wouldn't complain about this one bit.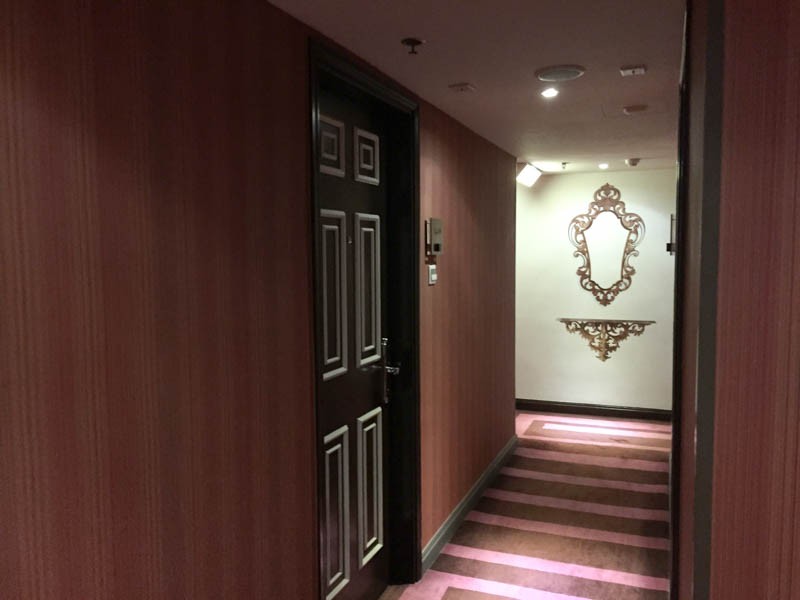 The corridors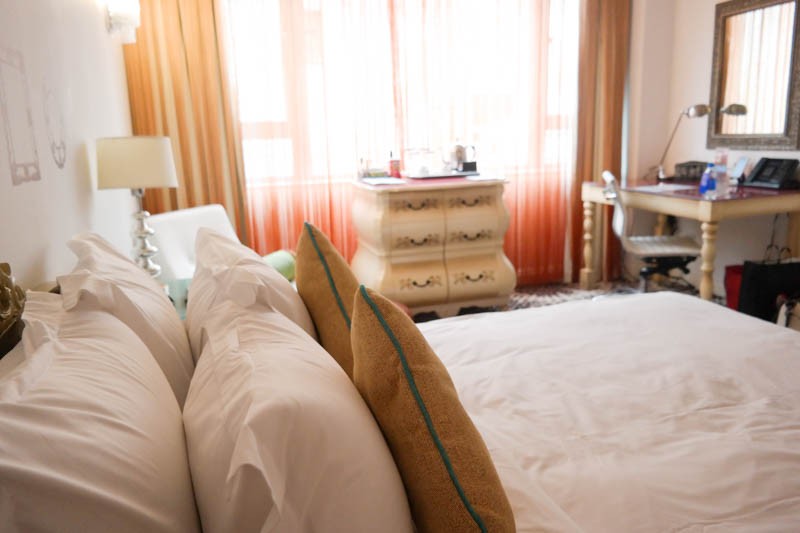 Hello from the Other Side
No really, you can call me from the other side. The other side of the Harbour, or from the far side of Singapore… no problem. Free!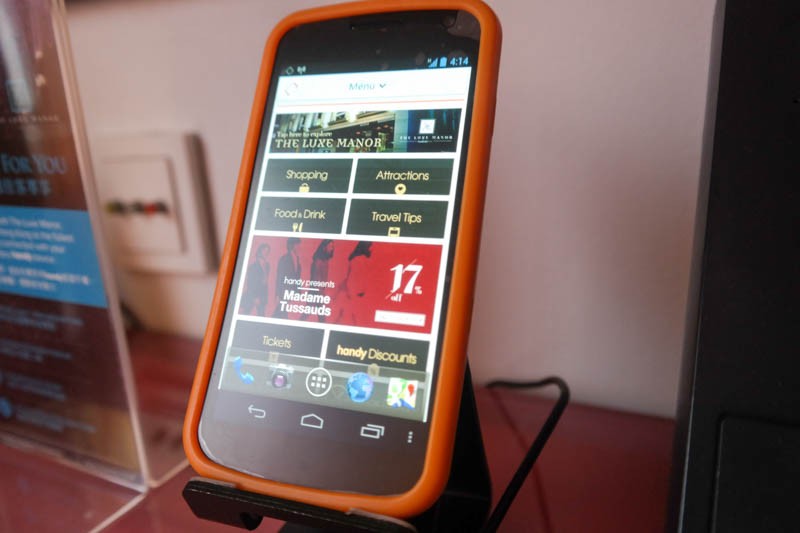 This boutique hotel comes equipped with a smartphone in every room so you instantly have a mobile phone, a local number with free local calls and free calls to some other countries including Singapore. You also don't have to worry about data. You can take the phone with you when you leave the hotel and boom, Google in your pocket for free. No Wi-Fi or sim card hunting needed.
This is one of my favourite new features of boutique hotels. Really saves travellers so much hassle. The phones also come pre-loaded with tips on what's good to see, do and eat nearby.
The best tip I got from the staff was to turn on the phone's hotspot so I could continue using my personal phone but stay connected using the hotel phone's data. It was super convenient. Big big plus!
Mr Moon & Friends in The Luxe Manor
The bathroom is not huge but it's more than sufficient for everything you need. I really liked the shower curtains!
You have both a removable shower head and a rainfall shower head up top. Yesss!
The free toiletries are lined up in a wall of mosaic, and that design consistency follows through to the facing wall with a large round mirror over a marble sink. The only tiny problem was that the toiletries kept falling off the shelf when I placed them back.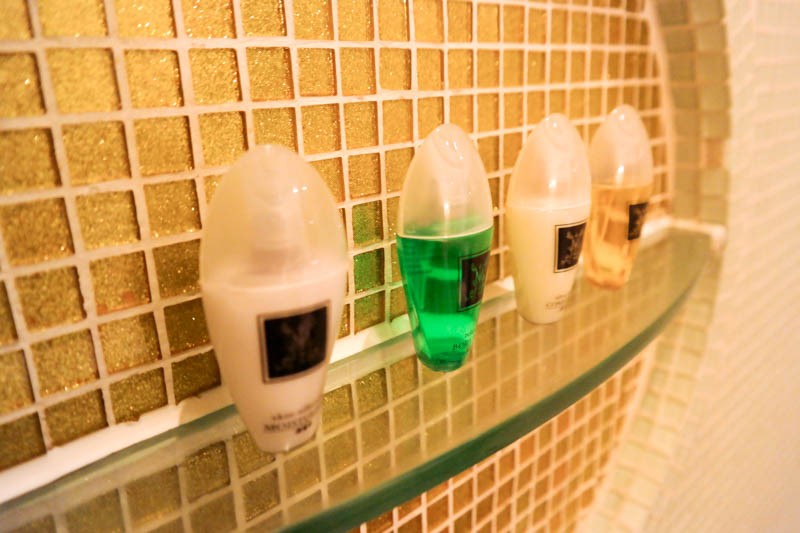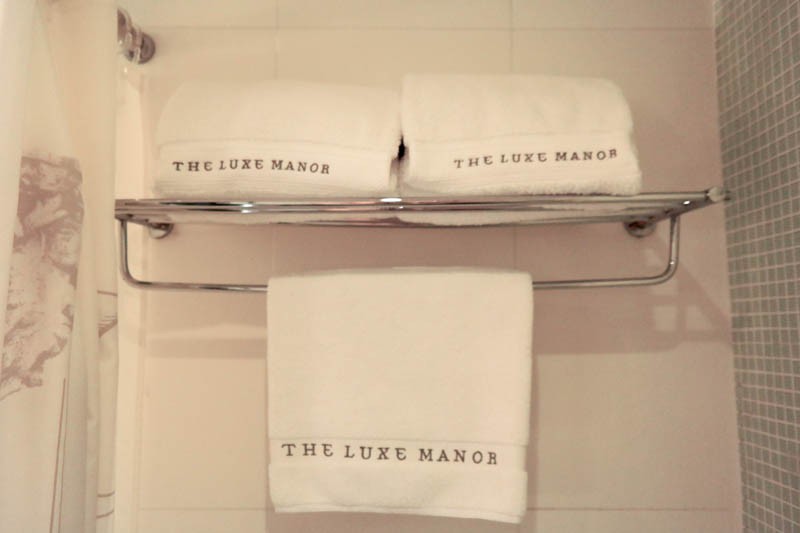 Big fluffy towels with classic embroidery.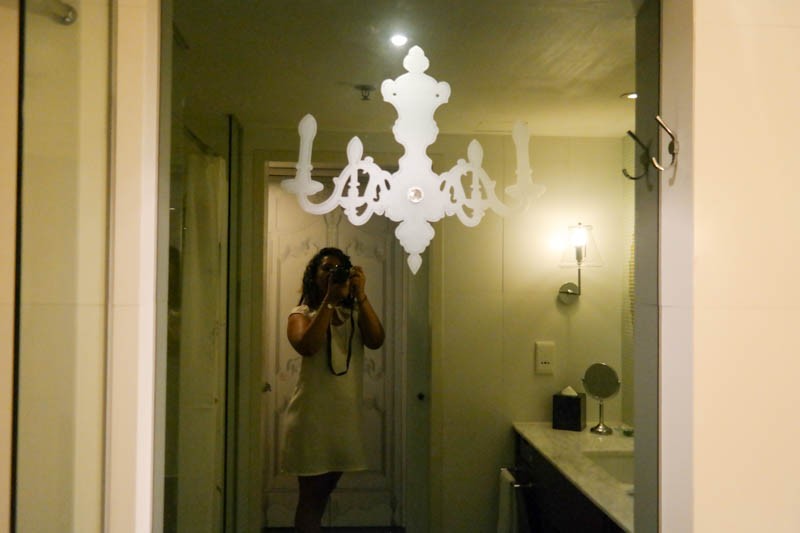 And a stick-on chandelier in my manor's pee-pee room :p
Celebrity Chef Restaurant at The Luxe Manor Hong Kong
Breakfast was amay-zing. Seriously.
The best scrambled eggs I've ever had
I was pleasantly surprised to learn that FINDS, the hotel's restaurant, was a Nordic restaurant run by celebrity chef Jaakko Sorsa. But do Singaporeans prefer hotel chicken rice to old fashioned hawker chicken rice? I think not. So I still didn't expect too much.
However, the food completely exceeded my expectations. I wish I'd woken up earlier and had time to slowly work through the breakfast buffet. It was sumptuous!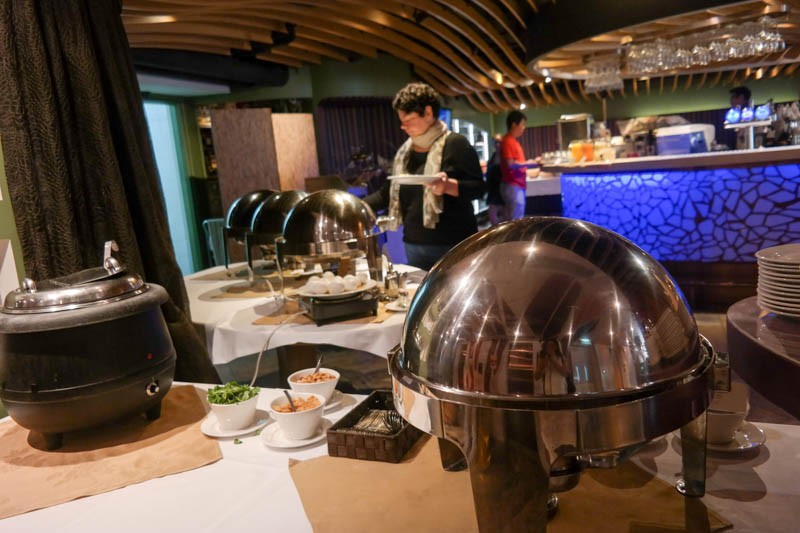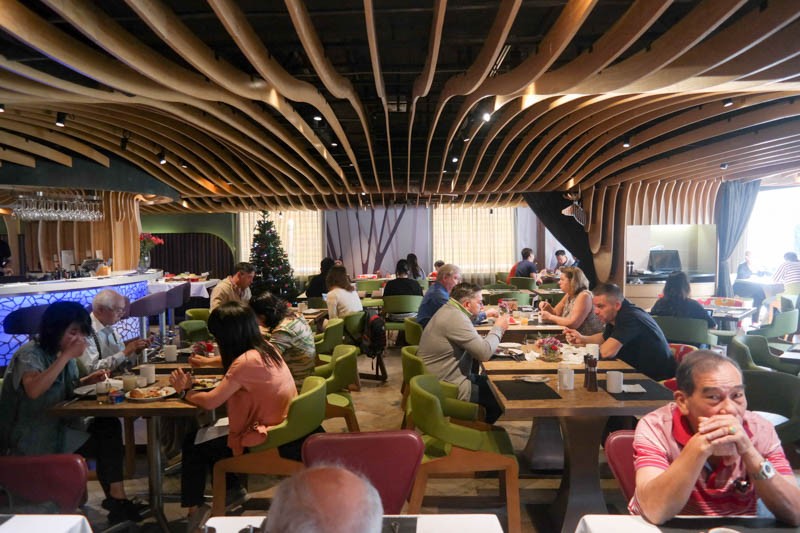 My favourite thing at hotel buffets are the eggs prepared on the spot by a chef. My favourite is scrambled eggs.
At Luxe Manor, there was a whole pot full of scrambled eggs ready for the taking. And this was the best scrambled eggs I ever had.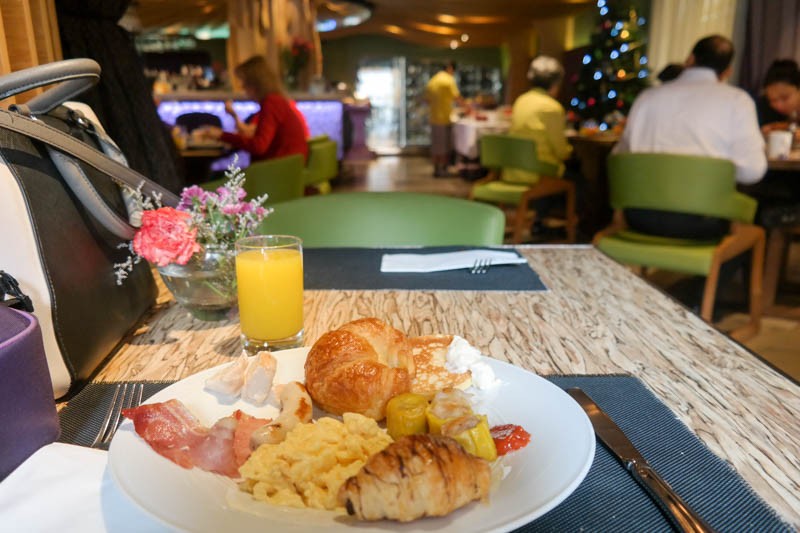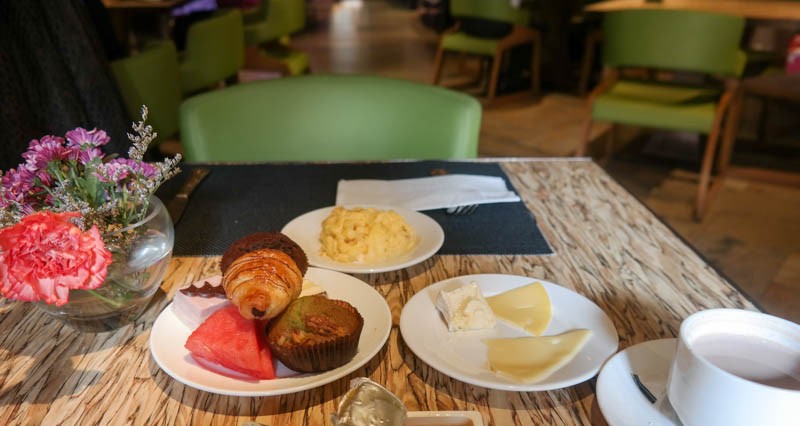 Next up, chocolate croissants. Delish and devilish.
Some siew mai.
And very delicious congee. I don't like to have rice at breakfast so I don't think I've ever had congee, but for the sake of trying I took a small scoop. I had to go back for more 🙂
I also requested hot chocolate and was served a lovely creamy hot chocolate. None of that disappointing milk +chocolate syrup stuff. It was very good and the perfect way to make me happy in the morning.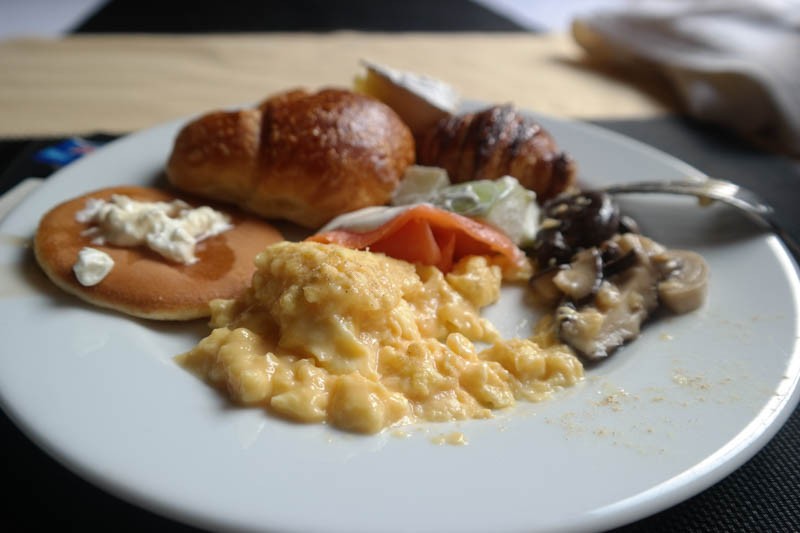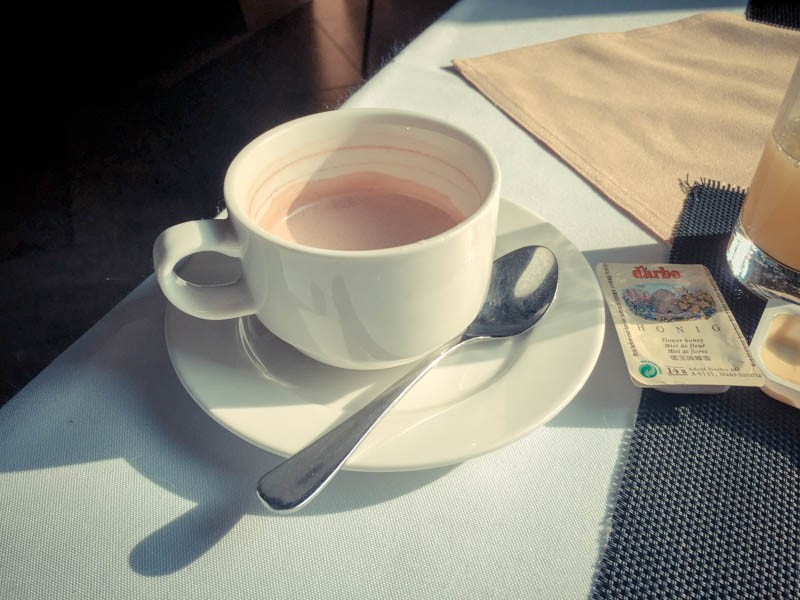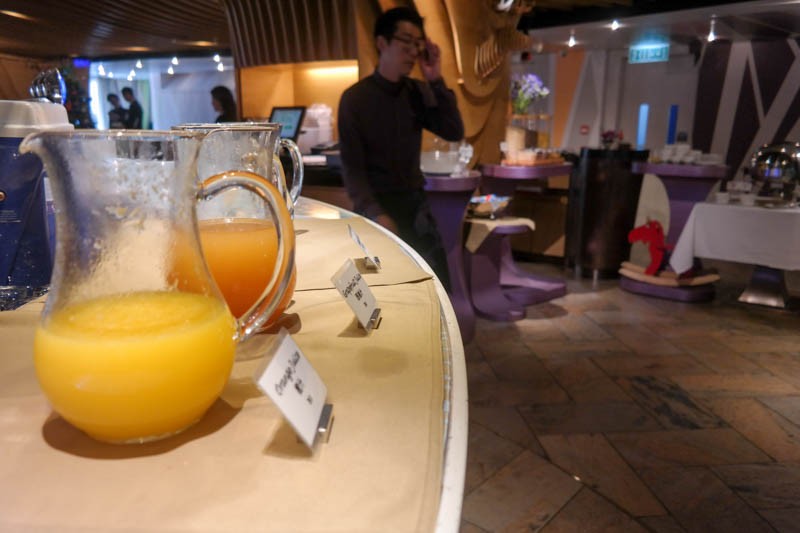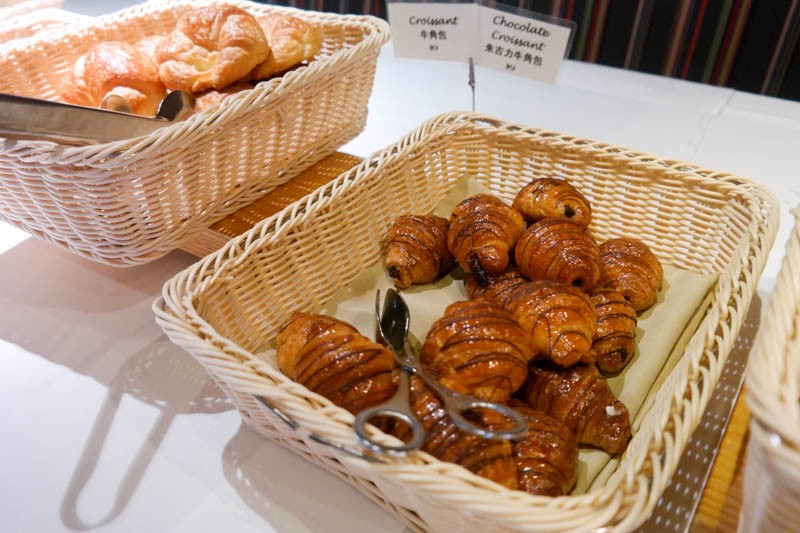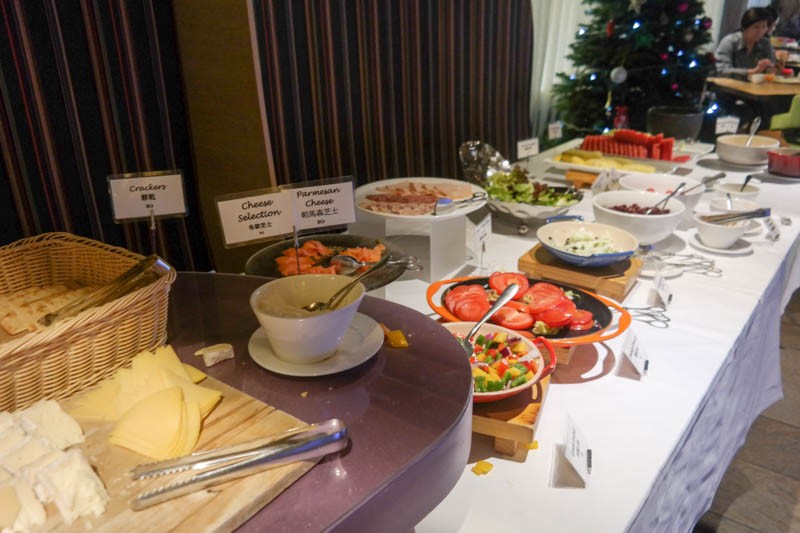 Under the Bridge Downtown
Things went smoothly from check-in to check-out so I didn't need to call on the service too much. When I did ask for directions or food recommendations, they were incredibly helpful. So service at The Luxe Manor was ace!
It was never a case of pointing and letting me figure it out myself. They circled maps, gave me several options, and even when they said "my colleague will help you", they would come out from behind the counter, accompany me those short 8 or 9 steps over to their colleague so it was seamless and I was never lost.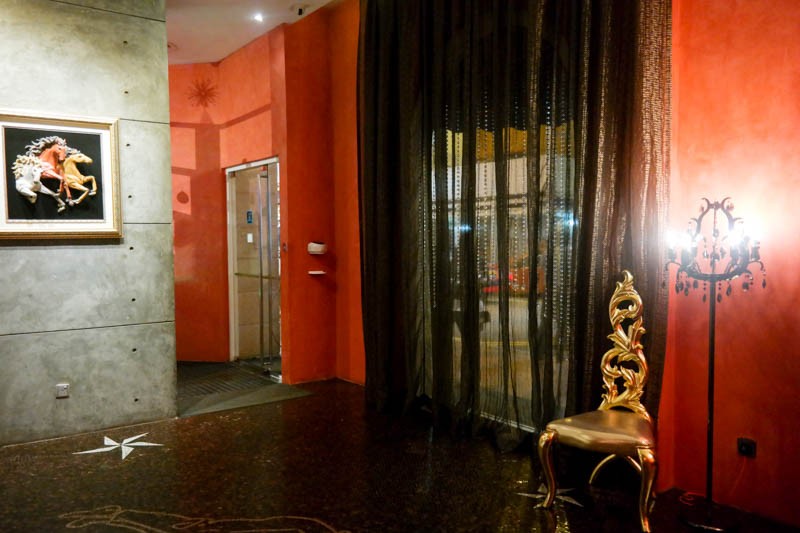 I really liked the amount of attention they paid to guests. It was enough to feel welcome, but they weren't watching you like hawks either, constantly asking how they can help. They were just smiley, approachable and helpful. Just the way I like it.
I never had to struggle with any taxis. They took care of that each time so I never had to struggle with language barriers. I even learnt something. It was fascinating watching the concierge give this hand signal which drivers understood immediately. It meant I want to go under the bridge to Hong Kong Island, so only drivers willing to go across would stop. Nice!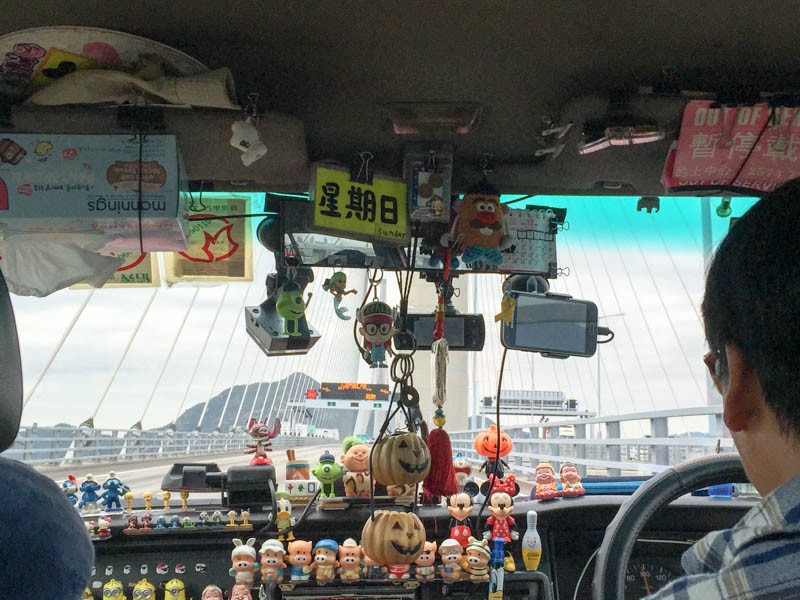 One of my taxi drivers had a very lively dashboard 🙂
I also learnt 2 useful nuggets of information from them!
1) Many taxis don't want to go across the bridge between Hong Kong Island and Kowloon so you have to ask beforehand. The hand signal is to hold out your left arm, and motion under it with your right hand.
2) And there are 2 tunnels you can take – the regular one that gets bad traffic jams at peak hour, or pay a premium for the faster one. It cost around SGD $20 to go across, so it was a decent option when I was tired (although MTR is as convenient as taking the MRT from Dhoby Ghaut to Outram Park).
Verdict – The Luxe Manor Hong Kong Review
Gold star! I loved my stay at The Luxe Manor.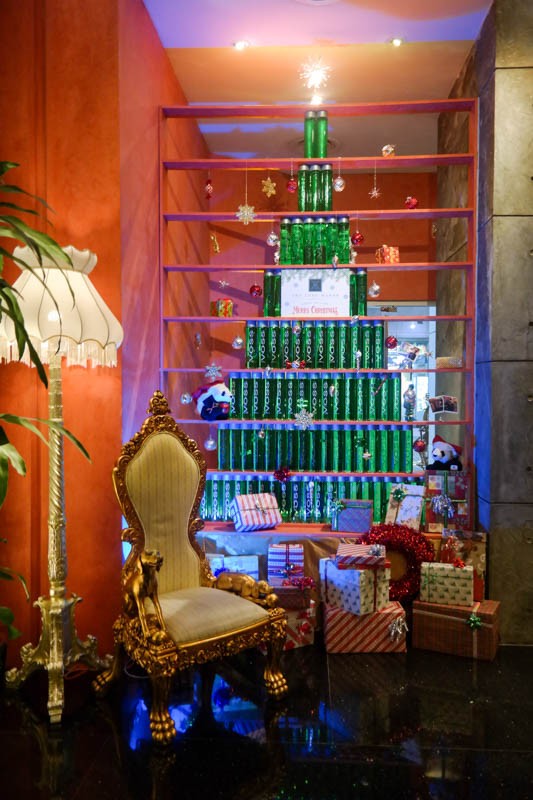 Service was excellent. The room and bed was very, very comfortable. The design was interesting around every corner, but very tasteful and never too loud. I like that there were many statement pieces, balancing the dark and mysterious with the classic and luxurious.
Food was absolutely amazing. Highly recommended!
There is also a bar that sounds very cool but I didn't have time to check it out.
Location is also great in Tsim Sha Tsui, placing you close to lots of good attractions/food/shopping on foot, plus getting to Hong Kong Island is easy.
They are completely worthy of the Small Luxury Hotels of the World inclusion. If small, luxurious and unique is your style, this is fantastic hotel to stay in Kowloon, Hong Kong.