By Lavinia Rajaram, on December 19, 2018
Expedia Singapore's 2018 Year in Review Trends Report
Singaporeans Love Their Neighbours – Malaysian Cities Rise as Most Travelled to in 2018
As we gear up for our year-end festivities, it's a sobering realisation that 2018 has passed by with a blink of an eye. Being in the business of helping people go places means that Expedia gets to see first-hand what's trending in travel – from the top cities Singaporeans travelled to, to up-and-coming destinations to put on your bucket list.
To gain a deeper insight, Expedia analysed thousands of data points as part of our annual Year in Review trends report to find out what types of travel experiences Singaporeans are after. 2018 has been an exciting year for travel in Singapore, with remarkable growth seen in both internal and outbound travels.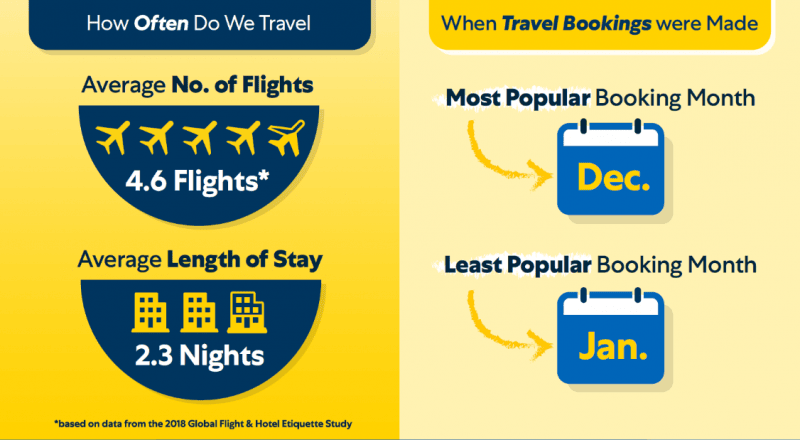 In 2018, frequent short getaways remained popular among Singaporeans, with an average of 4.6 overseas trips, lasting an average of 2.3 nights. While the season of giving (December)[1] is the biggest trigger for Singaporeans' wanderlust, the time for new year resolutions (January)[2] was the least popular booking month.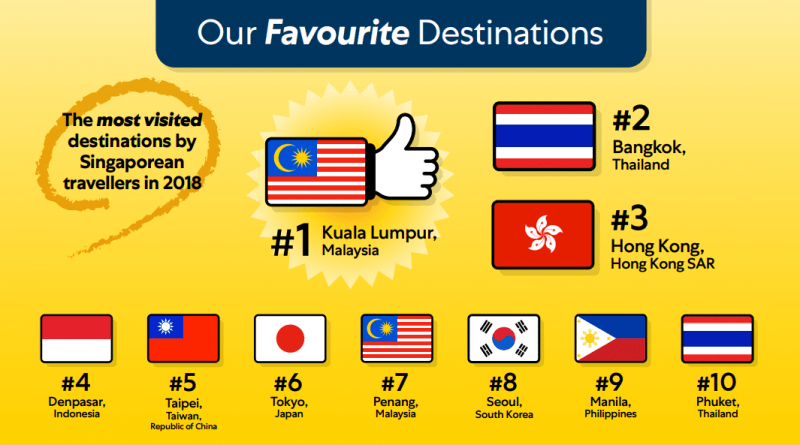 Source: Expedia.com.sg flight demand between 1 January – 20 November 2018
This year, Singaporeans chose to stay closer to home, with Asian cities topping the list of top 10 most visited destinations. Based on Expedia's flight data, cities like Kuala Lumpur, Bangkok and Hong Kong topped the list as Singaporeans' most favourite destinations. But what do these cities have in common? Food and shopping! As cities famous for two of Singaporeans' favourite pastimes, it's unsurprising that Singaporeans keep going back for more!
Aside from filling their stomachs and getting our retail therapy fix, Singaporeans are also revving to explore the roads less travelled. Smaller cities such as Quanzhou in China, Angeles City in Philippines and Kuantan, Malaysia, have seen more than double growths in travel demand for the year. Translation: if you want to visit these trending travel destinations, book now, before everyone catches on!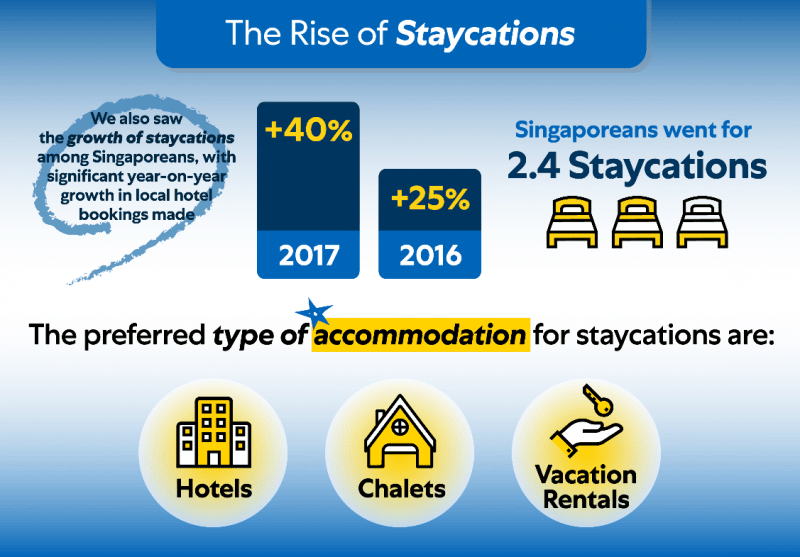 Not every trip requires months of planning and deliberation. Sometimes Singaporeans just want a quick and easy escape without the hassle of leaving this sunny island. This year, we saw the growth of staycations, with Singaporeans taking an average of 2.4 local staycays, a significant increase in year-on-year growth for local hotel bookings made since 2017.
We also combed through our data to look at top properties Singaporean's booked to stay at in 2018 and the top 5 are, Resorts World Genting – First World Hotel in Genting Highlands; KSL Hotel and Resort in Johor Bahru; Hotel Boss in Singapore; Hatten Hotel in Malacca; and Glow Pratunam in Bangkok.
We looked at accommodation types that saw increased demand this year, and the results show travelers are increasingly interested in staying somewhere novel or unique during their getaways. "Tentalows" (a cross between a tent and a bungalow, usually outfitted with plumbing and other modern-day comforts), agritourism properties (think farms, ranches, etc.), castles and chalets all saw increased demand this year. But when it comes to preferred property type, Hotels continue to be a top choice amongst Singaporean travellers, followed by Chalets and Vacation Rentals.
So what's on your travel wish-list for 2019? Need some inspiration? Check out our Expedia Travel Blog for some travel inspiration, tips and more!
[1] and 2  Source: Expedia.com.sg flight booking demand between 1 November 2017 – 31 October 2018