By Samantha Tan, on September 18, 2020
Expedia Staycation Hacks: When to Book and Tips to Save
Unsplash Image by rupixen.com
It may be a few months more before we can eagerly tuck our passports into our knapsacks and purses, and flash them at immigration counters with a huge grin on our faces (hidden behind a mask no doubt) once again. Until then, why not treat yourself to a staycation at one of the approved hotels in Singapore? After all, you deserve a reward for complying with all the safety measures and movement restrictions all these months.
To take the load of your staycation search, planning, and booking processes, the Expedia team has put together 4 tips on how to stretch your dollar and get your money's worth when booking your next staycation:
Book hotels on a Monday night[1]
Weekday staycations could save you close to 20% versus weekends
Book on the Expedia App to earn 2 x the rewards points
Leverage partner discount programs for additional savings (banking or retail partners)
Monday blues no more – book hotels on a Monday night
Believe it or not, booking your accommodation on the correct day of the week can actually help you save! Drawing from Expedia Group's historical data on the average daily rates (ADR) across different reservation days for hotels in Singapore, we discovered that the lowest ADRs are most commonly found when booking on a Monday*.
Hence, book your next staycation on a Monday night to save! In addition, don't forget that most hotels these days offer a range of staycation packages, each with different benefits and perks.
*www.expedia.com.sg hotel demand data for dates between 1 September – 31 December 2019
Weekday solitude – it saves you 20%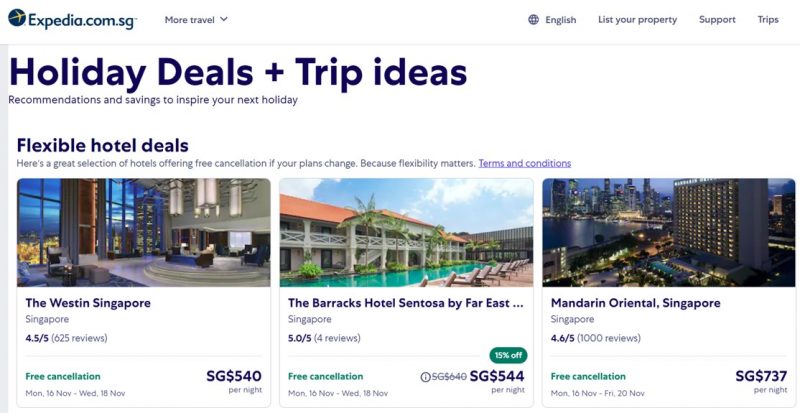 Want to avoid the crowd, have the hotel facilities to yourself and save some money that could go towards your year-end Christmas treat? Book yourself a weekday staycation! Expedia data showed that booking a staycation for check-in on weekdays can potentially get you up to 20% in savings as compared to checking in on a weekend.
If life throws you a curveball and things don't go according to plan, check out the Flexible Hotel Deals page on Expedia.com.sg for hotels offering flexible deals with free cancellation in case your plans change.
Go mobile – use the app for extra perks and rewards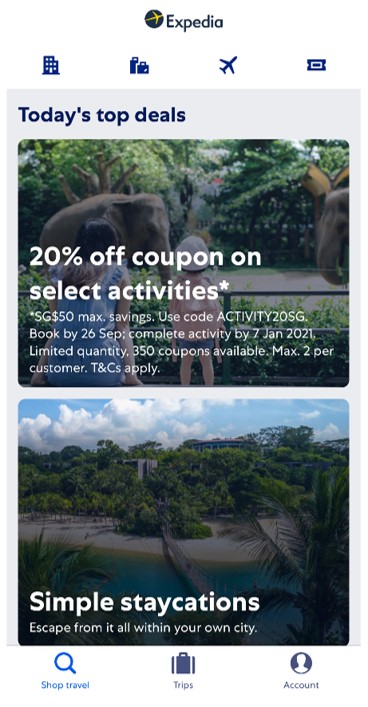 One of the best travel savings hacks is to use the Expedia mobile app to book. Not only will you enjoy double the Expedia Rewards points for every booking made on the app, you also get access to mobile-exclusive deals with savings of up to 30%, flexible fares with free cancellation up to 24 or 48 hours prior to check-in and have the ability to chat with the hotel front desk for any specific arrangements you require for your stay.
If you haven't already done so, sign up to be an Expedia Rewards member to rack up points, and get a host of freebies when you hit Gold member status (read: you can get access to free room upgrades when available, free breakfasts and spa credits at VIP access hotels). For added flexibility, you can redeem as many (or as few) available points as you want to shave a couple dollars off or to cover the full booking.
Double dip on savings with Shopback, credit card deals, and coupons
At Expedia, we've partnered with major banks and payment providers – including Mastercard, American Express, and UOB – to provide customers with additional discounts for hotel bookings. To find out if you can enjoy the additional discount, check if your credit card is included in the list of eligible cards.
What's more, you can also earn up to 6% cashback* on any Expedia hotel bookings through Shopback, and save with the coupons available on the Expedia coupons page. (*Terms and conditions apply).
More details on the credit card deals can be found below.
Mastercard
Offer A:
15% hotel coupon for selected destinations (Indonesia, Malaysia, Singapore, Taiwan, Thailand, Vietnam). Coupon code: MASTER15EXP
12% hotel coupon for all destinations. Coupon code: MASTER12EXP
Both (1) and (2) are capped at SG$50 off per transaction.
Offer B:
Save your Mastercard in your Expedia account & receive 1,000 Expedia Rewards Points
Booking period: 1 July – 30 September 2020
Stay period: 1 July 2020 – 31 March 2021
Learn more here: www.expedia.com.sg/mastercard
Terms and conditions apply.
AMEX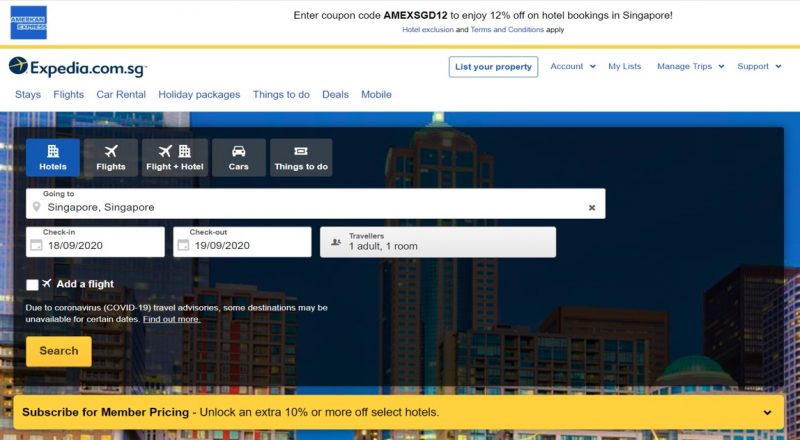 Offer: 12% hotel coupon for SG hotel. Coupon code: AMEXSGD12
Booking period: 25 August – 8 November 2020
Stay period: 25 August 2020 – 30 April 2021
Learn more here: www.expedia.com.sg/amex
Terms and conditions apply.
UOB
Offer: 15% hotel coupon for SG hotels. Coupon code: UOBSEP15
Booking period: 1 – 30 September 2020
Stay period: 1 September – 31 December 2020
Learn more here: www.expedia.com.sg/uob
Terms and conditions apply.
Now that you have the best tips to save on your next staycation, visit expedia.com.sg/staycations to start planning your next vacation or look out for the next edition of Expedia's Weekly Round-Up.
Happy saving!