By Expedia Singapore, on March 10, 2020
You Don't Want to Miss the Best Night Markets in Seoul
Exploring Seoul doesn't have to end once the sun goes down! If you're on a business trip, working a 9-5 job, or just want to have fun, Seoul's night markets are the perfect place to explore in what limited free time you have. A whole other part of Seoul comes alive in these night markets and most of them stay open until the early hours of the morning. Whether you want Seoul's trendiest street food or a traditional hanbok, there's a night market for you.

THE TRENDY

Here are some of the Seoul's trendiest night markets: they've got you covered if you want stylish new digs or the trendiest and tastiest street food. What's a trendy thing to eat in Seoul right now? All things bacon, it seems. Bacon toast, bacon cheeseburgers. You get the idea. These places do it well.
1.   Dongdaemun Night Market
Oh, this is the big one. Dongdaemun is home to one of Seoul's busiest night market in the evening. Tourist or local, this is the market of choice.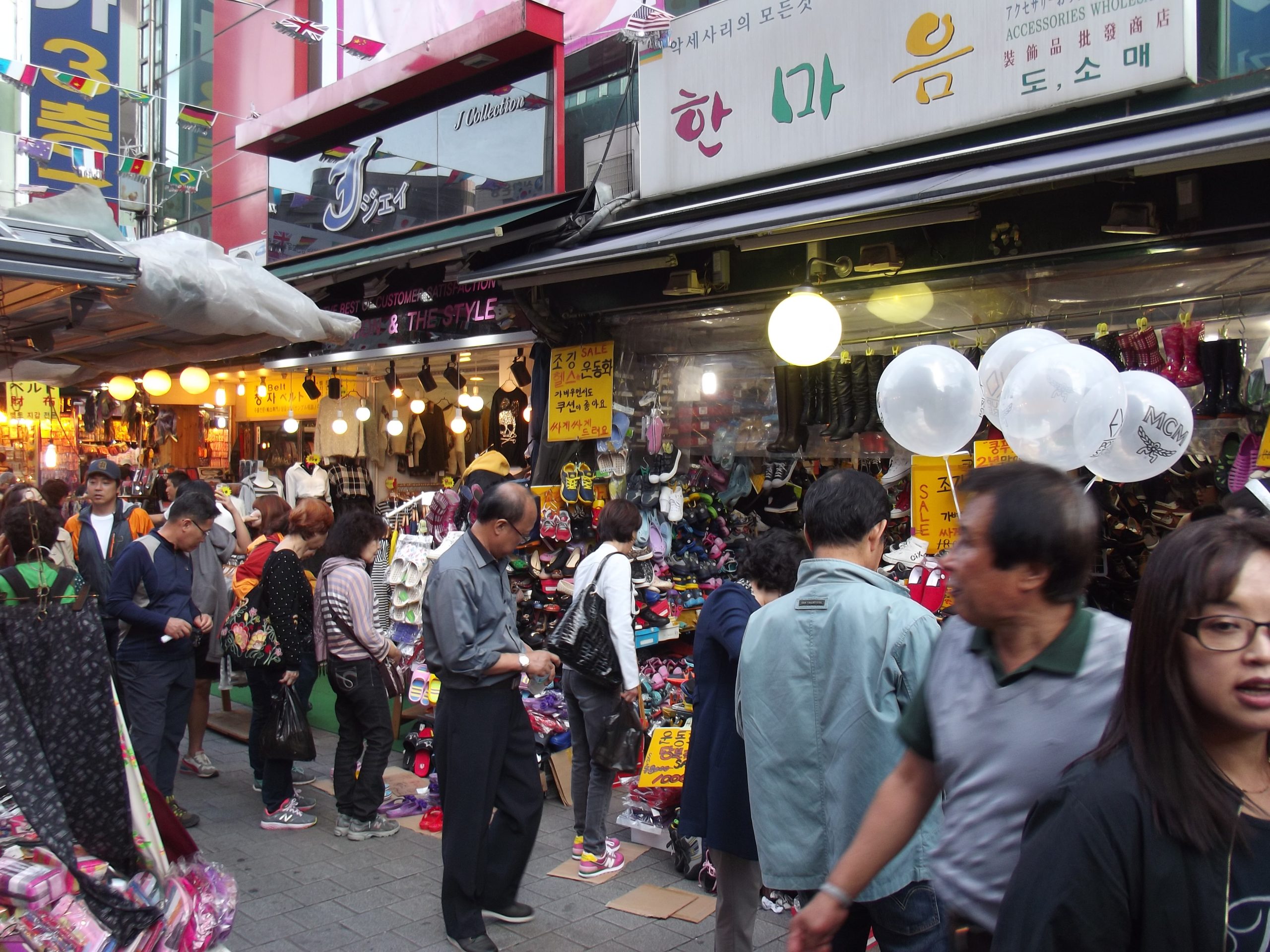 Dongdaemun in the Evening / Source: Wikimedia Commons
If you're on the hunt for the latest and trendiest clothes, you can't go wrong with the fashion malls like Hello apM or Migliore. These malls are huge (and can be overwhelming) but are very well organised, with each floor selling a specific type of clothing. And if you're brave enough, bargain! Certain buildings also cater to men's clothing and fashion, such as Gwanghee Fashion Mall, where you'll be able to find stylish menswear (and great leather goods)!
Nearby, there's also the wholesale market, where boutique owners and retailers go shopping. Clothes here are usually only sold in large quantities, but some stores here do sell their stock individually at phenomenal prices.
Dongdaemun Market Food Street / Source: Feline DaCat
If you're looking for street food, you can't go wrong with Dongdaemun. Around Gwanghui Market and Jeil Pyeonghwa Market, you're spoiled for choice with street food stalls. You can get the very in-vogue bacon toast, or oldies-but-goodies like tteokbokki (stir fried spicy rice cakes) and odeng (Korean fish cake soup).
Getting here:
Dongdaemun Station (Subway line 1 & 4)
Dongdaemun History & Culture Park Station (Subway Line 2, 4 & 5)
Also walking distance from Gwangjang Market
2.    Myeongdong Night Market
One of Korea's trendiest neighbourhoods, Myeongdong, like Dongdaemun, doesn't quit once the sun goes down. If you're in the area by day shopping along their many shopping streets, this night market is a super convenient place to grab dinner or a late-night snack. Even if you're not hungry, or not particularly keen on shopping, Myeongdong at night is itself a breathtaking sight. The bright neon lights are pretty incredible, and I don't know anyone who could resist the delightful aroma of street food.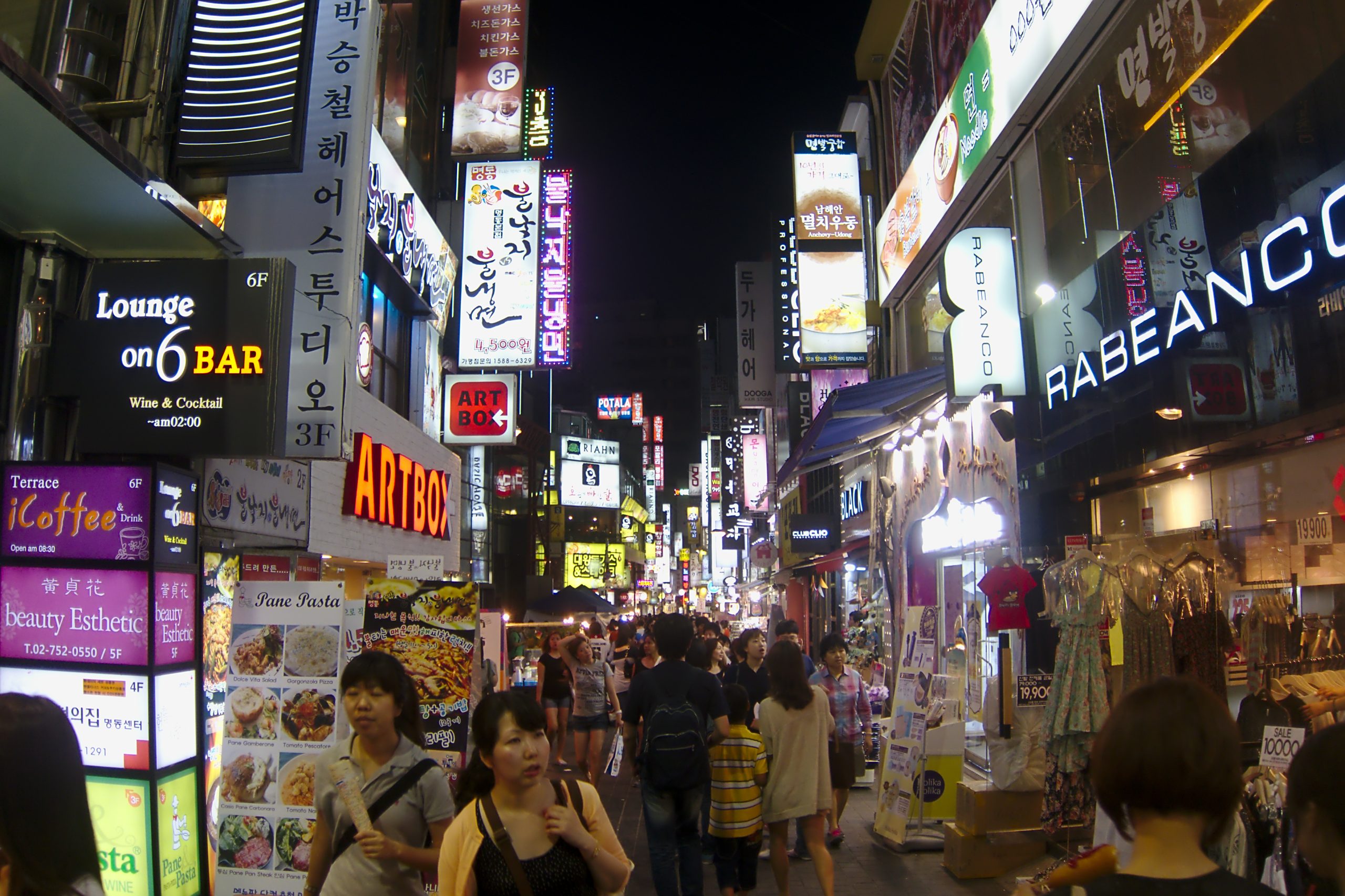 Myeongdong Shopping Street / Source: Adrián Pérez
The Myeongdong night market is famous for its incredible assortment of food (at similarly incredible prices) – whether you're looking for a cheap snack or a casual restaurant. The hotteok (stuffed Korean pancake), gyeran-ppang (egg bread), tornado potato, and grilled lobster stuffed with cheese are some of the amazing foods you'll be able to find here!
Crowd at Myeongdong / Source: ProjectManhattan
Much like your traditional night market, Myeongdong also has street vendors that sell an assortment of clothes, toys, and souvenirs.
Be sure to bring cash!
Getting here:
Myeongdong station is on Subway Line 4. Take exits 6 & 7 to get Myeongdong Shopping Street and the night market.

THE TRADITIONAL

For more of Korea's authentic fare, I recommend these night markets. Most of them have a long history and are often favoured by locals who have frequented the markets for years. If you're looking for traditional Korean food and goods, you'll likely find them here.
3.   Namdaemun Market
With over 10,000 stores, this market located in Namdaemun is Korea's largest traditional market. It first opened in the mid-1300s and reopened in the 1960s! Namdaemun market is a favourite among the locals as the premier wholesale market. Here, you can find a wide variety of products ranging from fresh meat, fish, and produce, to traditional oriental medicine. All for a great price. And with so many stores, it's easy to make price comparisons to make sure you're getting the best deal. Don't get lost! Make sure to get yourself a map from the information booths!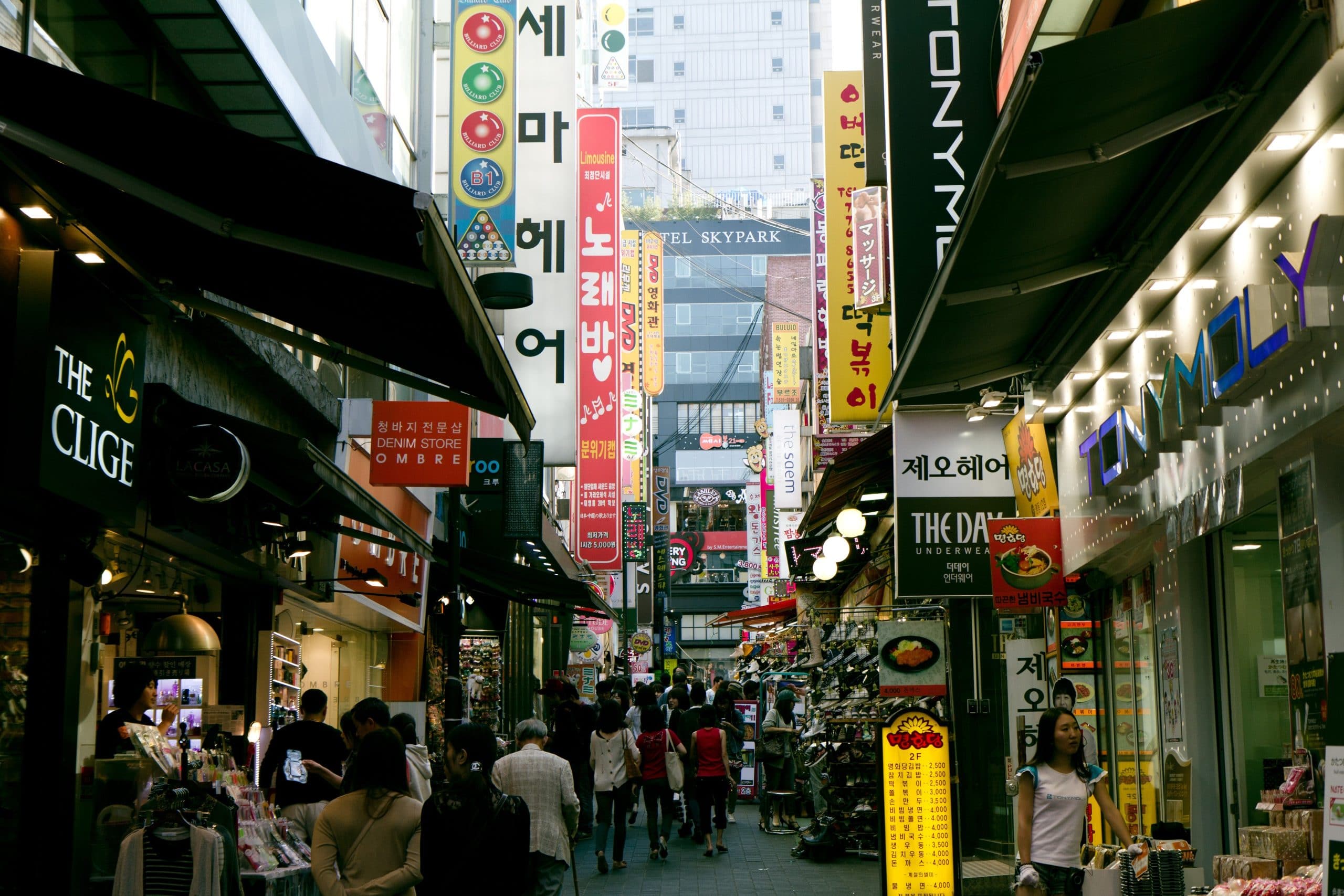 Shopping Street in Namdaemun / Source: tragrpx
At night, however, Namdaemun market becomes a popular food destination. There are fantastic street food vendors everywhere, so be sure to take your time and explore so you don't fill yourself too early. They have great homemade makgeolli (a lightly sparkling rice wine), mandu (dumplings) made fresh on the spot, and heot bba (deep-fried fish cake). I'm barely scratching the surface of what they have to offer so definitely check out Namdaemun market!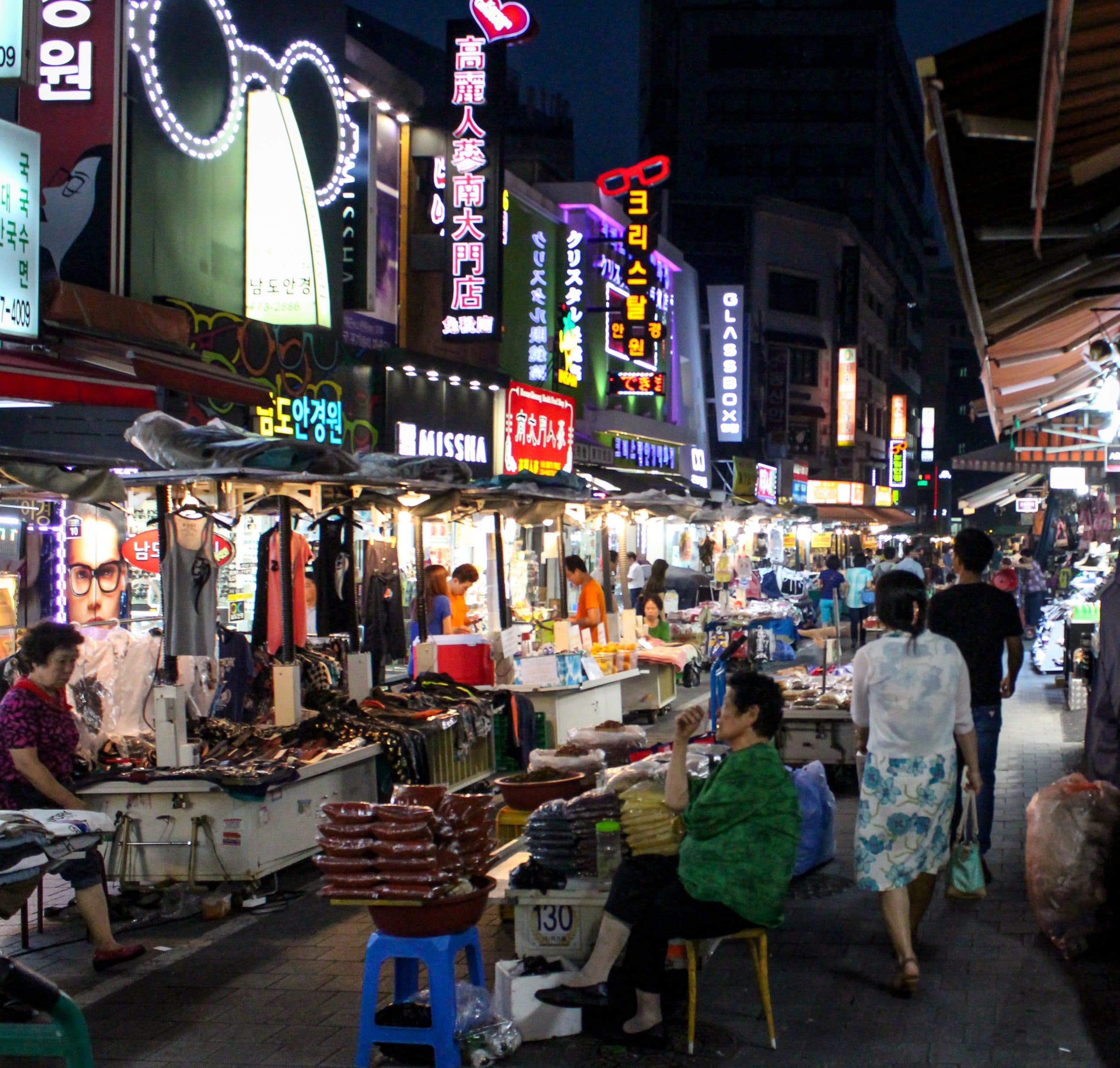 An Evening at Namdaemun / Source: Doug Sunbeams
Keep in mind that most stores close on Sundays.
Getting here:
Hoehyeon Station (Subway Line 4)
4.   Gwangjang Market
Another one of Korea's largest traditional markets is the Gwangjang market. It's predominantly known for high-quality silk, linen, and hand-made goods and textiles. Gwangjang was Korea's first permanent market and is still incredibly popular till this day. Personally, Gwangjang market seemed to have a more traditional experience as compared to the other more bustling spots.
Gwangjang Market Food Zone / Source: tongeron91
This market may also be familiar to some – it was featured prominently in Netflix's Street Food series, where delicious foods like kalguksu (knife-cut noodle soup), mung bean pancakes, and marinated crabs were showcased. Now you'll have to check this place out.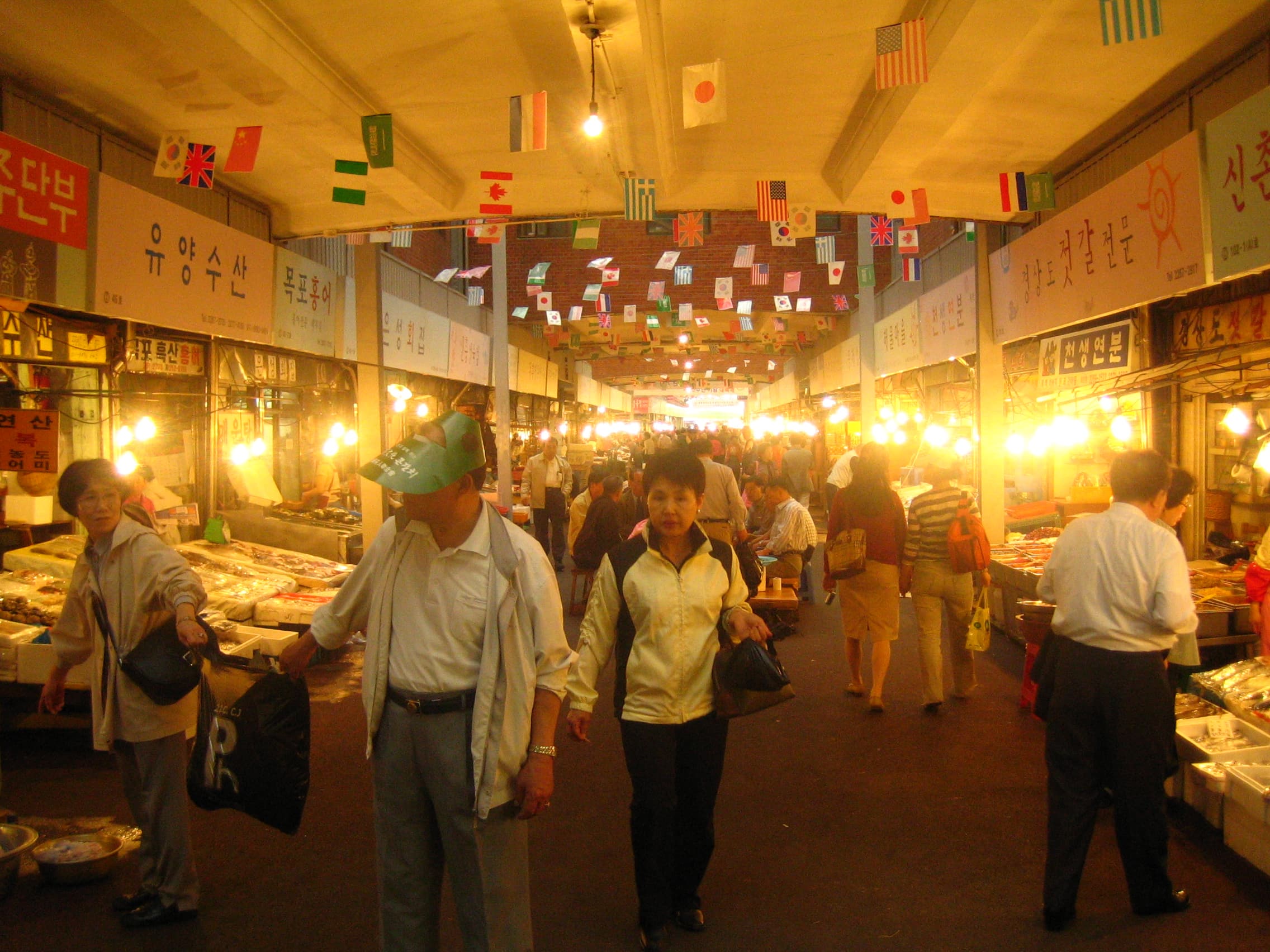 Gwangjang Market Lit Up / Source: ayustety
Gwangjang is also a short walk away from Dongdaemun Market (they were famously separated into two separate markets in the mid-1960s). Pretty convenient, I would say to be able to easily check out both markets in a single night.
Getting here:
Jongno 5-ga Station (Subway Line 1). Take exit 7.
Euljiro 4-ga Station (Subway Lines 2, 5). Take exit 4
5.   Noryangjin Fish Market
I would perhaps call this Korea's answer to the Tsukiji fish market. Noryangjin is a lively, chaotic, wet fish and seafood market. If you're looking for some of the freshest seafood in Korea at an affordable price, Noryangjin Fish Market is definitely a highlight.
Overhead view of Noryangjin Fish Market in Seoul. Greg took me here for my birthday and let me choose any fish I wanted.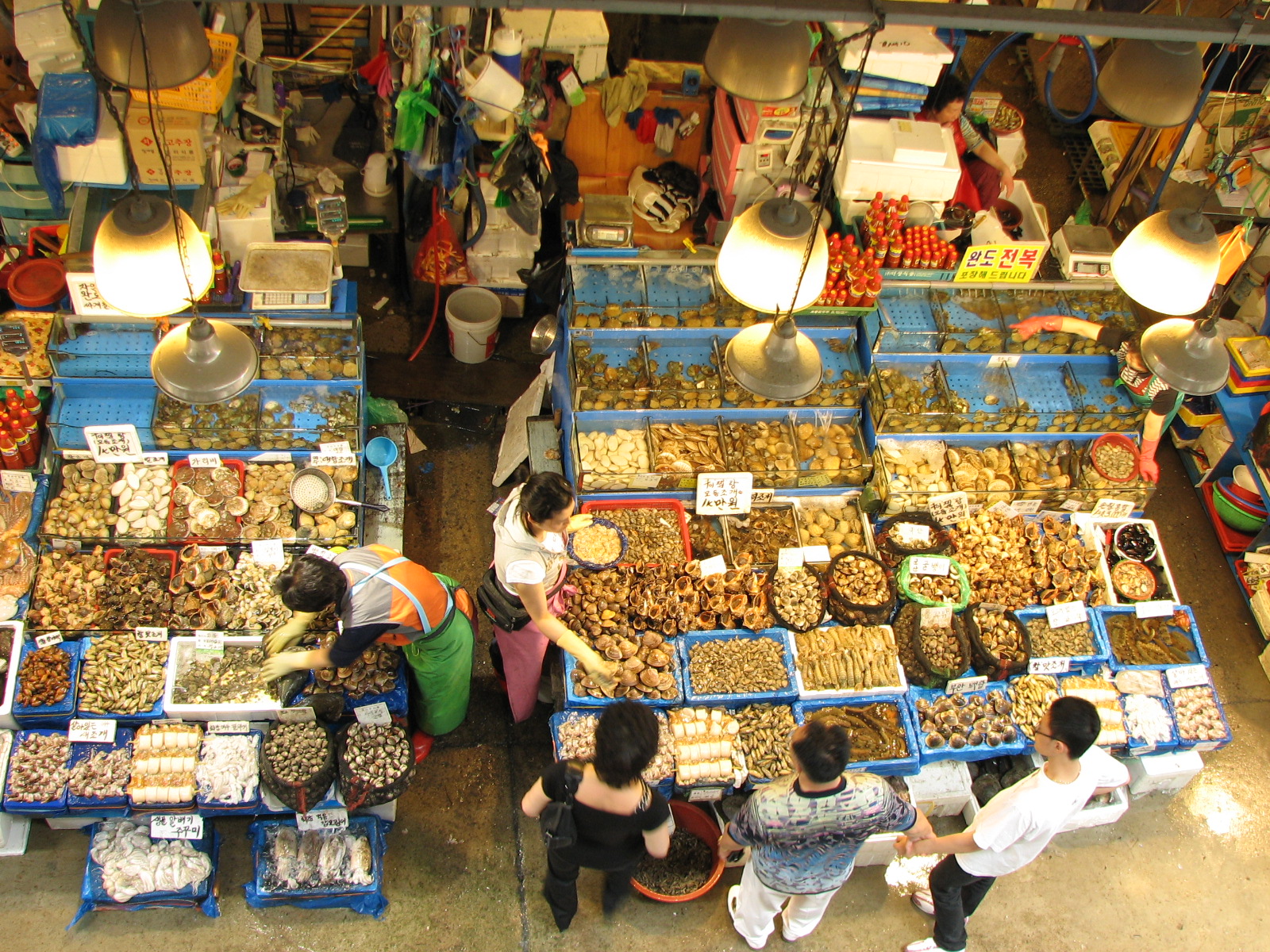 A Bird's Eye View of Noryangjin / Source: Marie
Most locals come here for hwe, which most call Korean sashimi. Raw, fresh fish is thinly sliced and served with a gochujang (hot pepper paste) dipping sauce. Also keep a lookout for premium seafood like lobster, king crab and abalone. The prices you'll get for them here is virtually unrivalled, especially if you're willing (and able) to bargain for it.
Fresh Seafood on Display at Noryangjin / Source: Jirka Matousek
If you're only intending to visit and not bring with your bags of raw seafood, don't fret! Noryangjin has many restaurants on its other floors that can expertly prepare the seafood that you've just purchased for a reasonable price.
While Noryangjin Fish Market is open 24/7, their famous fish auction happens at about 3 a.m., so be sure to set your alarms if you want to catch this!
Getting here:
Noryangjin Station (Lines 1 and 9)
With some of the most unique (and impressively large) night markets in the world, you're missing out if your tour of Seoul ends at 7pm! Get some coffee in you and explore all that Seoul has to offer after the sun sets. I recommend staying at the Sotetsu Hotels The Splaisir Seoul Dongdaemun. It's pretty affordable and walking distance from both Dongdaemun and Gwangjang Market.
[button icon="entypo-flight" url='https://www.expedia.com.sg/Seoul.dx178308′ fullwidth='true'] Flights to Seoul [/button]